Today, at a time when almost all the existing information in the world is available to a person, time is the most valuable resource that we have. With the development of technology, people began to devote a lot of time to the phone and various kinds of applications – both useful and not so much.
Applications created to track the time of using the phone help to significantly reduce the waste of our irreplaceable resources. The following are the 9 best programs that help you keep track of the time spent on your phone.
1. Rescue Time
If you've ever thought for a second that you wouldn't mind improving your productivity, trust Rescue Time. The time manager will closely monitor your activity and point out the weaknesses of your pastime.
The application is intended for corporate use, however, it can also be used for your personal needs.
Rescue Time is one of the best apps for optimizing the quality of your time on the phone: after installation and your consent, it automatically tracks the actions taken on the phone and divides them into categories: productive and unproductive actions.
This program allows you to track your or your employees' work activities. It consists of two parts – a program that directly tracks your activity on the device, and an online service where this data is automatically uploaded, processed, and given to you in the form of a report.
The statistical information received from the service is convenient, understandable, and easily editable.
Time Tracker offers four types of reports based on the following indicators: applications used and websites visited, activity category, activity productivity, and goals set. All reports are made in the form of easy-to-read charts.
In Rescue Time, you can evaluate the effectiveness of your time for free, but by purchasing the premium version for $9 per month, you will receive many additional features, as well as a detailed report on your time on the phone.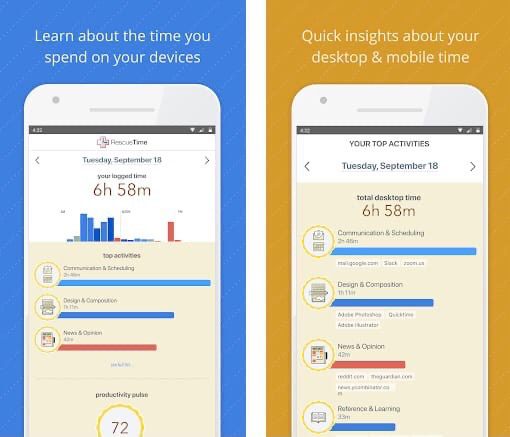 Downloads: 500000 +
Customers rating:

(3.5 / 5)

You may also like: 10 Best Android Apps to Organize Home Routines
2. aTimeLogger
If you want to get a simple and intuitive application for tracking the time spent on your phone, then meet aTimeLogger.
This program has a very simple interface and the simplest possible setup. You will need only a few minutes a day to enter data and configure, in return you will receive statistics on the device's operating time by day, week, and month in the form of graphs and diagrams that are understandable for analysis.
But that's not all. With aTimeLogger, you will be able to create reports in various formats for convenience when analyzing results.
Surely you've wondered at the end of the day where your time goes? This application will tell you what you are distracted by and you will be able to increase your productivity!
Qualities that aTimeLogger can boast of:
Simple and intuitive interface. There is no need to spend a huge amount of time setting up applications anymore. Everything is as accessible and understandable as possible!;
Run several activities in parallel, use the application's capabilities to the maximum. Separate work and rest;
Pause and resume if you do not want to take into account the time spent on work matters;
Connect friends and relatives, share the results of productivity improvement.
Creation of reports and graphs, and most importantly, the ability to export them to save and analyze the results on your PC;
aTimeLogger supports smart watches, your time is always at your firgertips
A large number of widgets for greater clarity
Keep track of your time and use it for pleasant moments!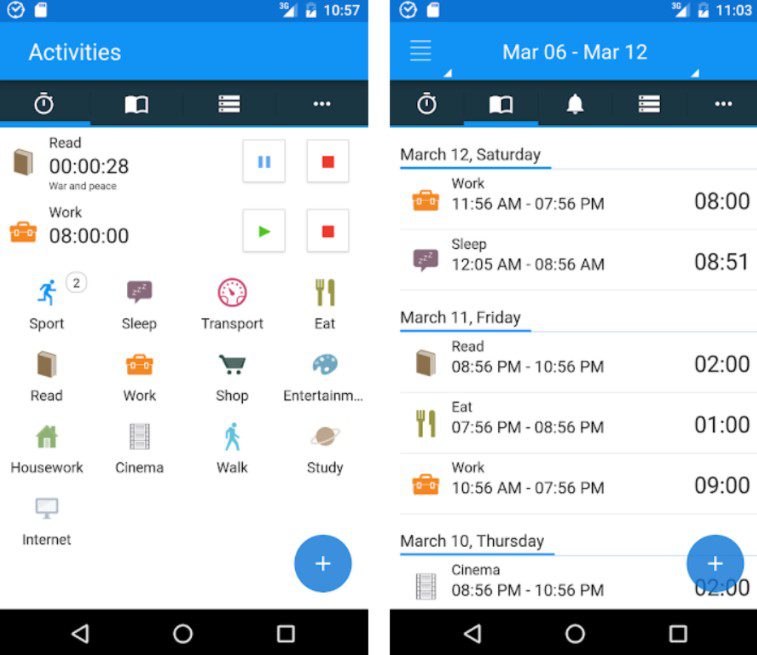 Downloads: 500000+
Customers rating:

(4.8 / 5)

3. Toggl Track: Hours & Time Log
This application is designed for both personal and group use and is available on almost all digital platforms, including iOS and Android. With Toggl, you can evaluate the productivity of time on your phone from any device. Here are some of the features Toggl provides you with:
Connect the calendar function in the app and it will remind you of your plans with a notification!
Toggl supports Siri function – manage your time with just a couple of words out loud!
The application provides reports on the time spent on the phone. Save them, analyze and optimize them at any time!
The app automatically saves the place where you finished time tracking, and you can easily return to that place to continue!
The application is available as a web interface, there are browser extensions, a mobile application, and a desktop application. However, the latter may seem a little inconvenient, which is a disadvantage of this program.
The application provides even more functions when purchasing the premium version for $9 per month.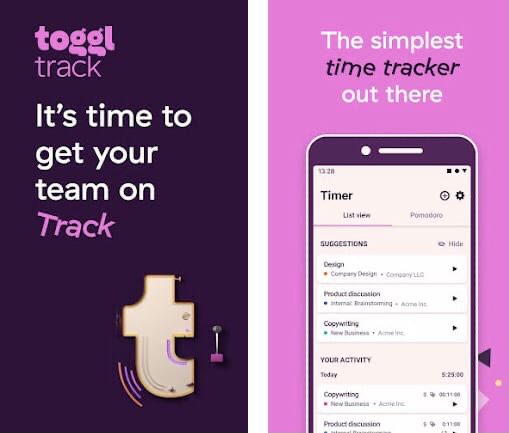 Downloads: 500000+
Customers rating:

(4.6 / 5)

4. Timely
This time tracking application can be successfully used by both an individual user and a team.
A unique feature of Timely that distinguishes it from many applications is an automatic time tracker. Everything that the user does in their device is recorded in the system, and then it itself offers suitable folders, tags for more convenient sorting of data.
All the functions that the program offers can either be rejected or edited manually, depending on what you need.
The Timely application has a self-learning function, the more you manage it manually – enter data, adjust functions, the better the application understands your requirements. Thus, it is ideal for those who have separate requirements and an irregular work schedule in the device.
The application allows you to track the productivity of your employee's working day without thinking about constantly switching from application to application. Also, with Timely, you can be sure that you will be reminded of deadlines, important projects, and dates.
The built-in Project Health Dashboard function allows you to be sure that the team does not go beyond the fixed budget.
The application does not have a free version, for one user the price will be $ 8 and $ 15 will cost maintenance for the team.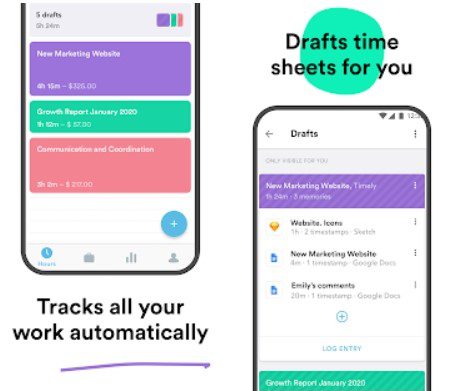 Downloads: 10000+
Customer rating:

(3.8 / 5)

5. Proofhub
Proofhub is a combination of the functionality of several applications in one. If you have several projects, you need to work together with colleagues, monitor deadlines and time on your phone – all at the same time, this application is exactly what you need! The application has an intuitive interface, many tools, and a wide range of functions.
Here are some of the features that Proofhub provides to the user:
Multiple timers: Team members can start and pause the timer by switching between existing tasks.
Manual time setting: Employees can also set the time manually.
Estimated completion time: Managers or team members can set the time for which the task should be completed. In the future, it will be possible to compare what time was allocated for the task and the actual execution time.
Also, Proofhub provides:
Messaging and file sharing
Time tracking
Calendar
Setting deadlines and notifications about them
Task Management
Built-in file editor
These and many other functions are available to the user in Proofhub when purchasing the Ultimate Control package for $ 99 per month. The subscription with this package is corporate, that is, you do not need to pay for each individual user.
This application is available on all widely-used platforms – Android, iOS, and web versions.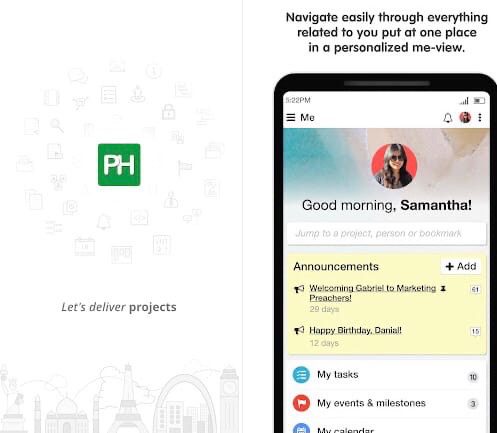 Downloads: 10000+
Customers rating:

(4.4 / 5)

6. Harvest
This app is the perfect solution for you if you want to track your or someone else's screen time and time on your phone. Harvest is suitable for corporate use.
The application has a wide functionality for time tracking, it also provides offline data tracking. It provides a synchronization function, but it can be disabled.
When the application is running, it displays a timer, that can be configured depending on your needs – you can set tracking for a specific client or project.
There is also a "downtime" function, which gives the employer the opportunity to track and analyze the work schedule of an employee or freelancer – when he was at the workplace, and when he was distracted, talking on the phone, talking with a client.
You can also customize the application to your needs – set the type of work performed, the hourly rate, and other additional data. Tasks that were not tracked in the application can be added using manual installation mode.
This application has a list of functions to help track financial issues. For example, with Harvest, you can track expenses, make reports on them, and basic invoices.
The cost of this application is $12 per month for one user. Also, Harvest has a free version that allows users to create up to 2 projects.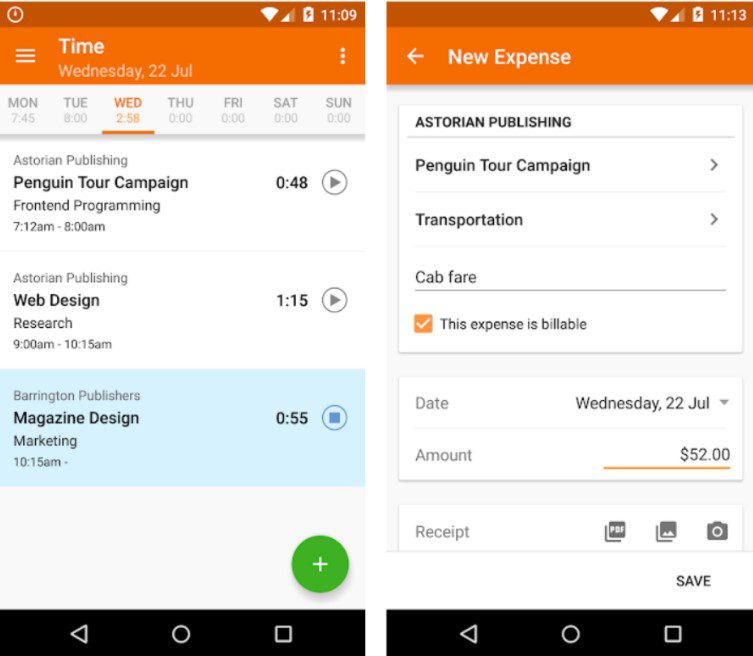 Downloads: 10000+
Customer rating:

(4.4 / 5)

7. Time Doctor
This application is equally well suited for both individual users and companies that want to improve the efficiency of their employees. The basis of its operation is a method of eliminating distractions.
By installing Time Doctor, you will be able to see what your working time is spent on the device, which sites and resources have been visited, which applications have been used.
Also, the program provides an opportunity to receive reports for a group of employees showing when you or your employees conducted activities during a break, at meetings, etc.
Some useful features that the Time Doctor app provides:
Automatic time tracking
The ability to track visited sites with a built-in passive tracker
Detailed activity reports to regulate the performance of your staff
High level of privacy and data protection
Useful integrations
The Time Doctor app is supported on iOS, Android, and in the web version. This program has a free 14-day version, and further maintenance will cost you $ 9.99 per month. Also, a discount is provided, see the details in the description of the application in stores.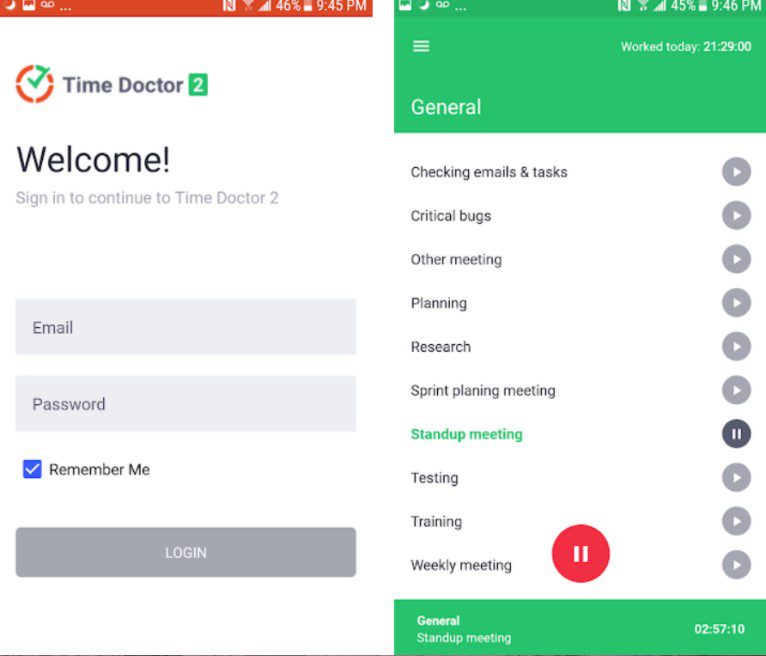 Downloads: 10000+
Customer rating:

(2.5 / 5)

8. OFFTIME
With the OFFTIME app your phone becomes not just a time-consuming gadget, but a convenient tool and personal assistant.
OFFTIME does not monitor your phone but helps to remove intrusive notifications that you choose. It will also give you time to take a break from the constant flow of information and recommend blocking other annoying applications.
During the time of use, OFFTIME will collect the history of your blocks for the day, week, month, and year.
Interesting functionality:
Isolation time: The app allows you to take your mind off the gadget. Plan the time of disconnecting calls, notifications. Feel free from your mobile phone.
Advanced setup allows you to disconnect on different dates from different applications.
How many times, when you finally got out with friends to sit in a cafe, you were distracted by the phone. OFFTIME will solve this problem, invite friends and relatives and disconnect together. Spend an interesting evening together forgetting about your device.
You can always see how many locks you have made: daily, weekly, monthly and annually.
Sync your devices and OFFTIME will monitor your attention on all devices according to a common schedule.
Choose how you want to interrupt your free time. It may not be canceled, but only after a long press a waiting time will be given to unlock.
The app is free, but has a Pro-version, providing more useful tools.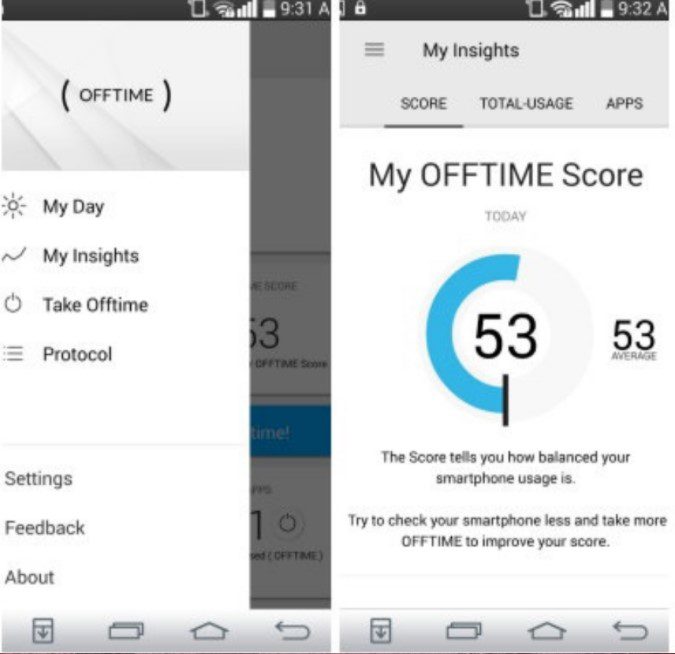 Downloads: 1000000+
Customer Rating:

(3.4 / 5)

You may also like: 11 Best Time Calculator Apps for Android
9. TMetrick
Do you want to track your working hours? And if you can also see how much time your employees devote to work? Welcome, TMetric!
This is a convenient application for freelancers or small companies. It allows you to track your work schedule, breaks, and if the deadline is on, you can set the time to complete a specific task. Stop wasting your working time on the phone. Do your tasks early, and there you can expect an unscheduled vacation or a bonus.
Easily syncs with Google Calendar. This allows you to transfer tracks to the calendar for better tracking of tasks created events in Google. In this application, there are many accessible and understandable widgets that can be installed on the home screen.
TMetric contains a wide list of integrations with other services.
Features of TMetric:
Shows the working day in the form of a convenient ruler that takes into account breaks and urgent tasks.
Allows you to quickly switch from task to task
Convenient and detailed reports on working hours indicating activities: projects, tasks, negotiations with clients.
Tags for instant creation of tasks and determination of their urgency and importance.
Convenient personal accounts for employees and clients
Integration with common applications for task and personnel management.
Tracking sick days, vacations
Usage of this application is free for a team of 5 people, the paid version starts at $ 48 per year.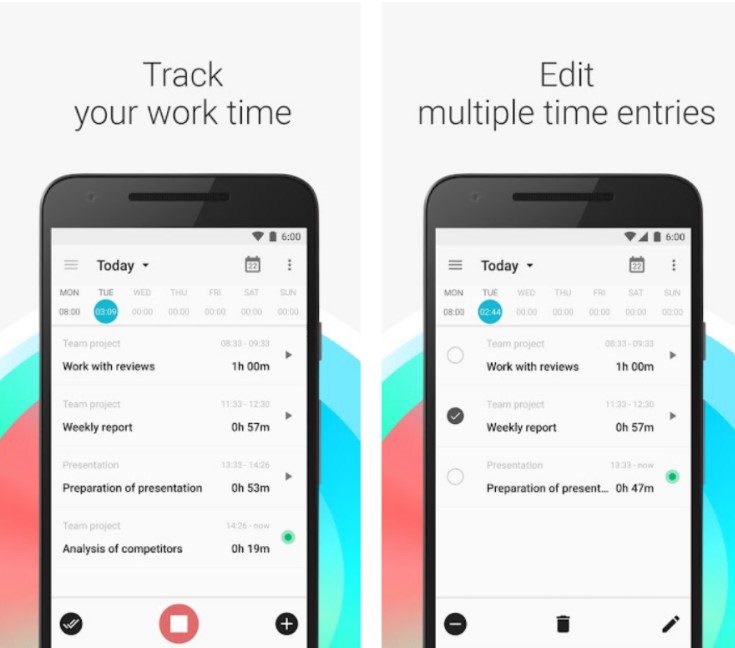 Downloads: 10000+
Customer rating:

(3.7 / 5)