Looking for a smart technology that allows you to plan and effectively manage corporate meetings, optimize corporate processes, and make better use of corporate premises? We have found a modern way of management!
Regus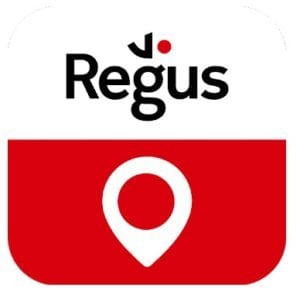 Regus leases offices, co-working and meeting rooms around the world. The international network now includes 3000 business centers in 120 countries.
Regus centers are sometimes referred to as "business hotels". There's no need for tenants to spend extra effort and money on setting up an office: hire a secretary, order cleaning and security, set up the IT infrastructure, and take care of office maintenance. All these services are included in the terms of the contract with the network of offices.
This approach helps businesses to focus on the work process, outsource work that doesn't bring profit, and, accordingly, save on operating costs.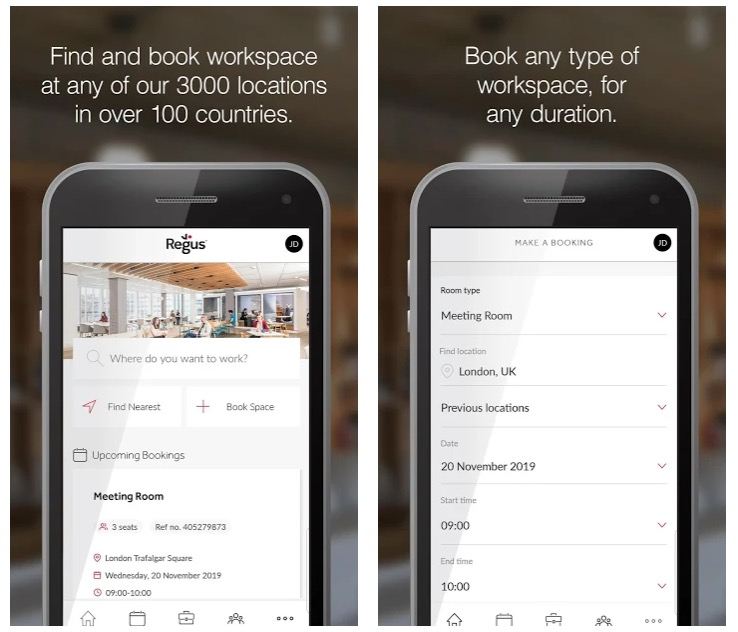 For freelancers and businessmen working from home or abroad, Regus provides the opportunity of a "virtual office" – receiving calls and incoming correspondence will be made by a certain person – without the personal presence of an employee.
Customers with a transnational network in one country can work in Regus' business lounges around the world. This is possible thanks to the Business World card: it can be attached to a rental agreement or purchased separately.
If a company plans to change locations, Regus can provide fully-equipped premises immediately after the request – in another district, city or even country.
Finding Regus space nearby is easy – just download the Android app.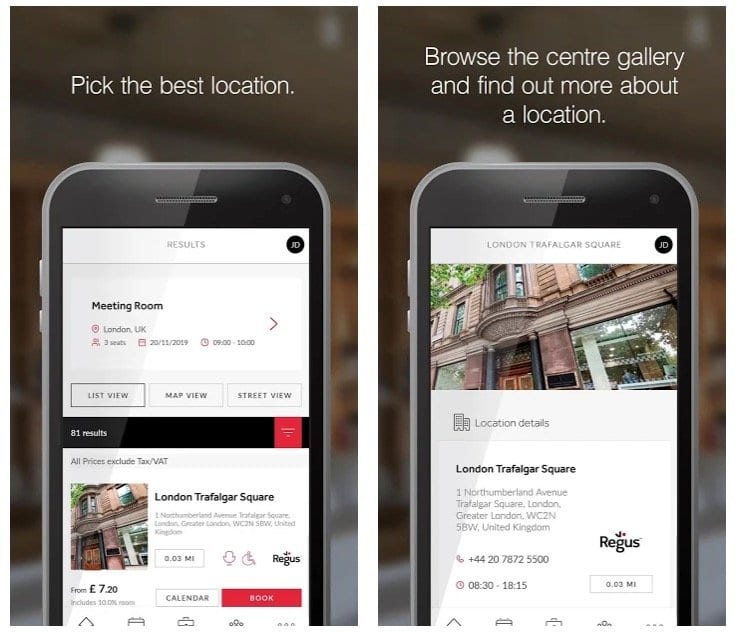 Downloads: 500 000 +
Customers rating: 

(4.0 / 5)
You may also like: 5 Best projector apps for Android
Joan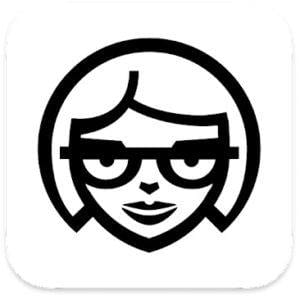 Book and manage meeting rooms on the go with the Joan app installed on your Android. This is a perfect solution for booking meeting rooms!
To use the application you need to create a Joan Portal account, subscribe to one of Joan's plans and have a Joan device.
The Joan solution for booking free meeting rooms is a small display for placing directly on the room door + room congestion tracking software. Works through the Wi-Fi, connecting to the corporate calendar. There is also a large display where you can see the whole picture.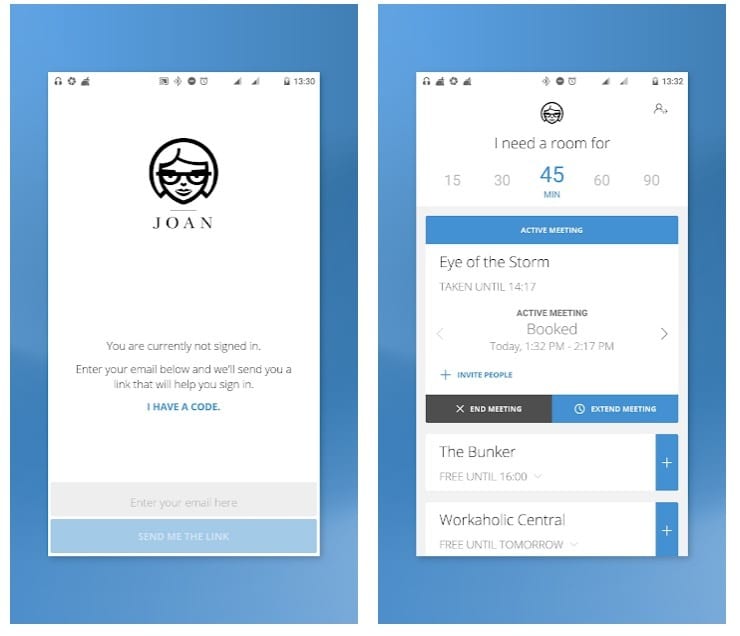 You can book meeting rooms directly on the display, through the web interface, mobile application, as well as through the bot, which is integrated with Slack, Nexudus, Zapier. In March Joan-bot was integrated with Alexa for Business and Cisco Webex Teams. In the first case, it is possible to book rooms by voice, in the second case – with the help of the built-in bot.
The main features of the application:
Get notifications and reminders for meeting start/end times
If you need to extend your meetings you can keep the room booked
Cancel a meeting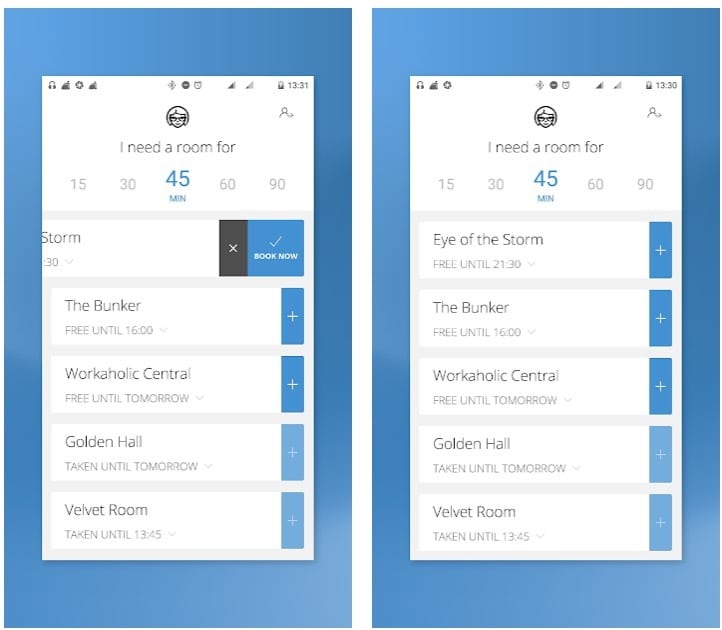 Downloads: 1 000 +
Customers rating: 

(4.7 / 5)

Robin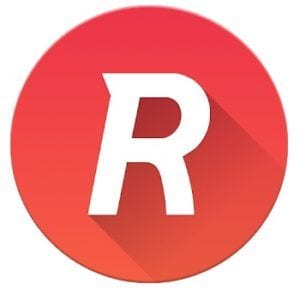 Robin is an official Android application for meeting room booking. It is created for offices powered by Robin.
With Robin, you can schedule your day easy and fast.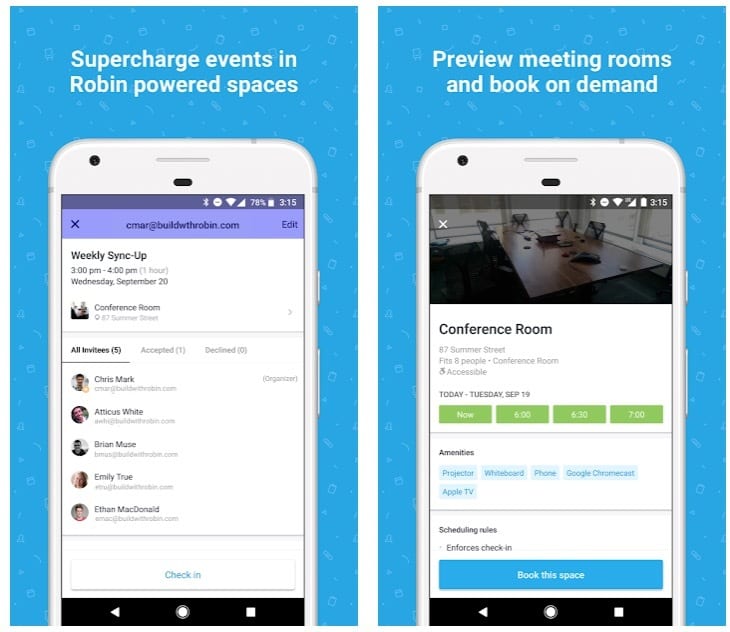 The main features of the application
Manage your schedule
View all the events created through Robin on your existing calendars
Search your office to find the best meeting room for your event
Notifications
Meeting integrations
To use all the features of the application you need to have an account on Robin.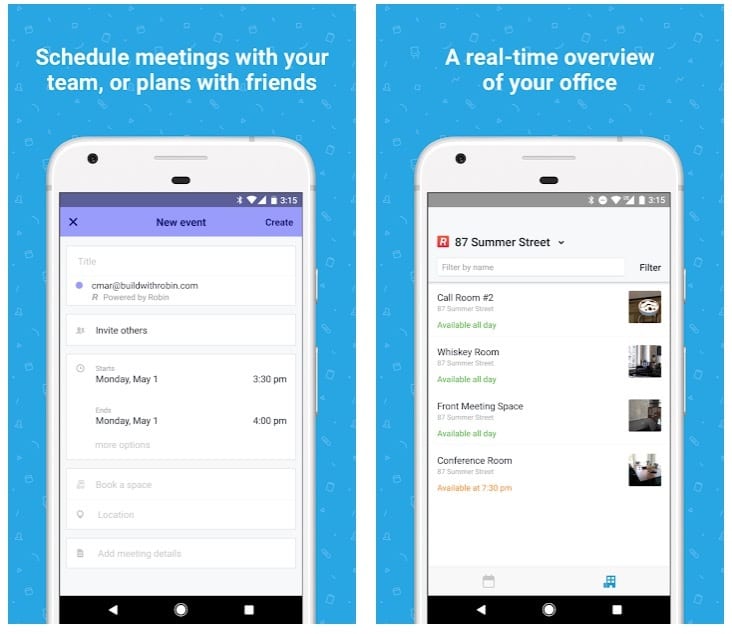 Downloads: 10 000 +
Customers rating: 

(4.4 / 5)
You may also like: 7 Best wifi walkie talkie apps for Android
Meeting Room Display 5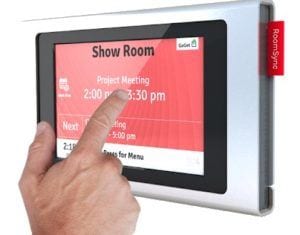 Meeting Room Display 5 is a professional service for meeting room booking. It is available for Android devices. It syncs with Exchange, Office 365 and G-Suite (Google Apps).
Now you can book meeting rooms from anywhere and anytime from your smartphone.
The main features of the application:
Book any room with just a few clicks
Control your meeting room booking (manage room reservations via the email calendar or the convenient touch-screens outside each meeting room)
Landscape/portrait mode
Support many languages
The Meeting Room Display 5 application has simply the best, intuitive and friendly interface. The app works well, fast and can be set up on any tablet.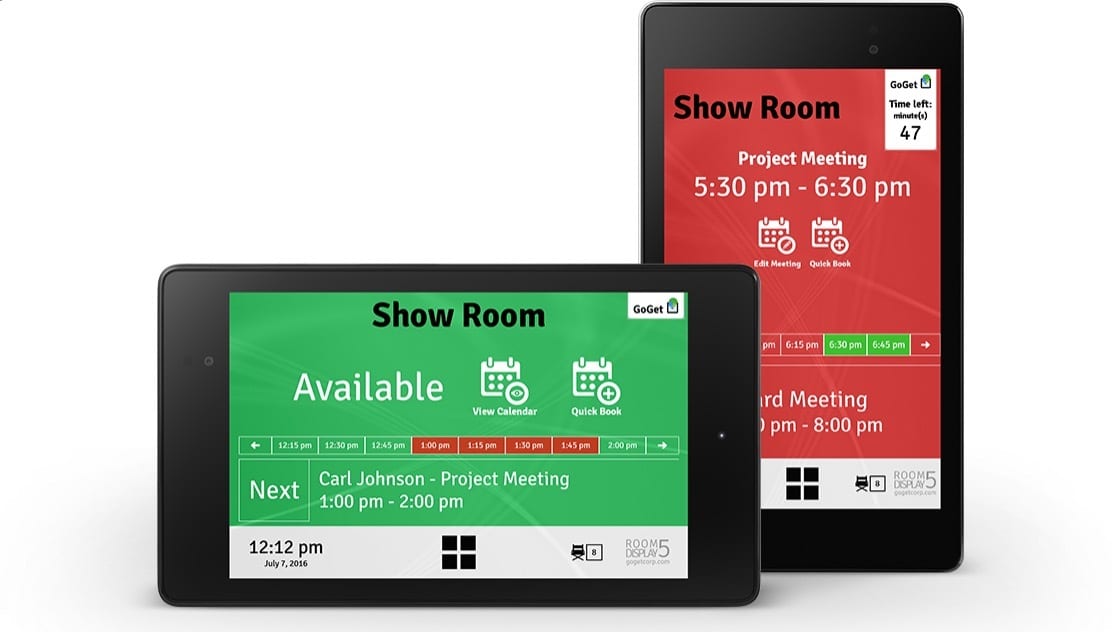 Downloads: 1 000 +
Customers rating: 

(4.0 / 5)

Cisco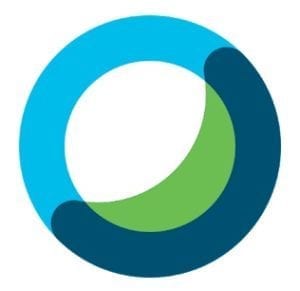 Don't let your absence from the workplace affect your company's workflow. Hold exciting and productive meetings wherever you are. Cisco Webex offers the best tools on the market for audio and video conferencing with screen sharing, chat and more.
Join any meeting, event meeting or training session and make presentations.
One-touch accession directly from your calendar or a customizable widget.
Schedule meetings directly from the app.
Share the screen with others.
New features of the Version 39.10:
Simple meeting mode without distractions.
Share and annotate local photos.
Support for running personal rooms in a browser using the webex.new command.
Support for MDM configurations.
Support for dual-screen Samsung DeX.
Improved usability.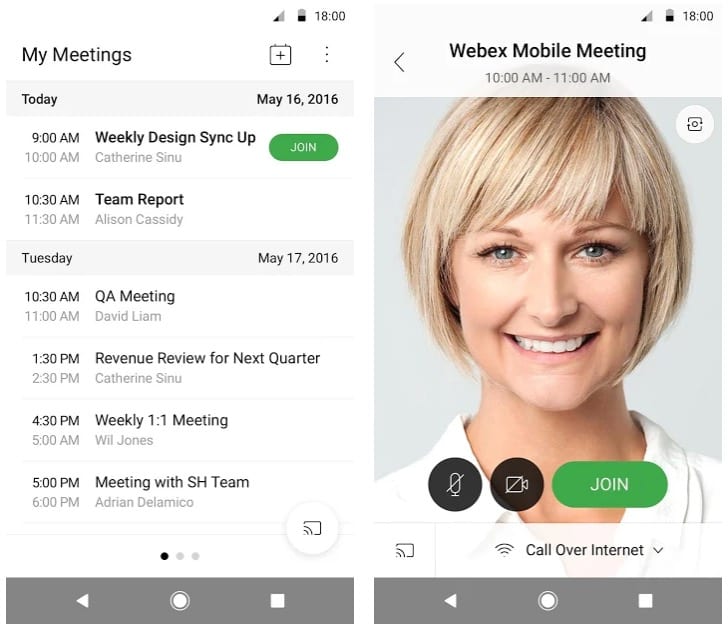 Downloads: 10 000 000 +
Customers rating: 

(4.5 / 5)
Teem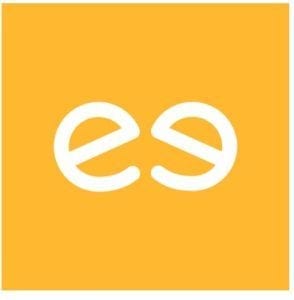 Teem – Collaborate & Connect is a smart way to find spaces and reserve meeting rooms. The Teem application makes Check-ins much easier.
This useful tool will be with you wherever you are. Teem gives you turn-by-turn directions to your upcoming meetings.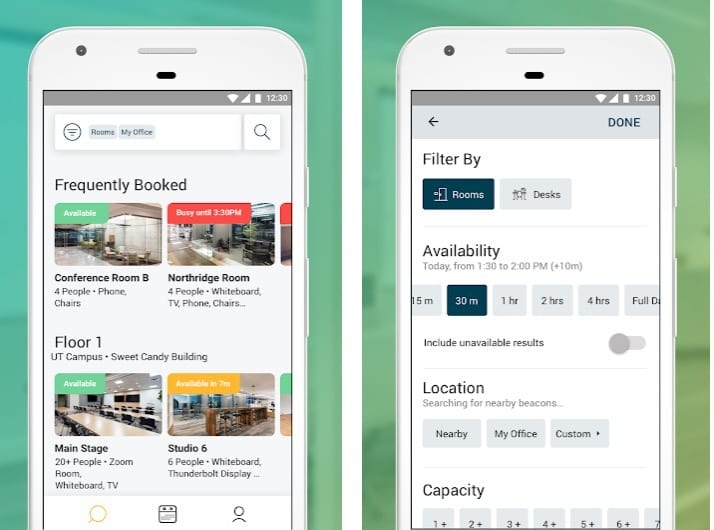 The main features of the application
A quick search for what you exactly need
Automatic Check-in
Use filters for fast and more convenient search: filter by rooms/desks, availability, capacity and location
Use categories: Nearby Spaces, Frequently Booked, and My Office
Manage meetings from anywhere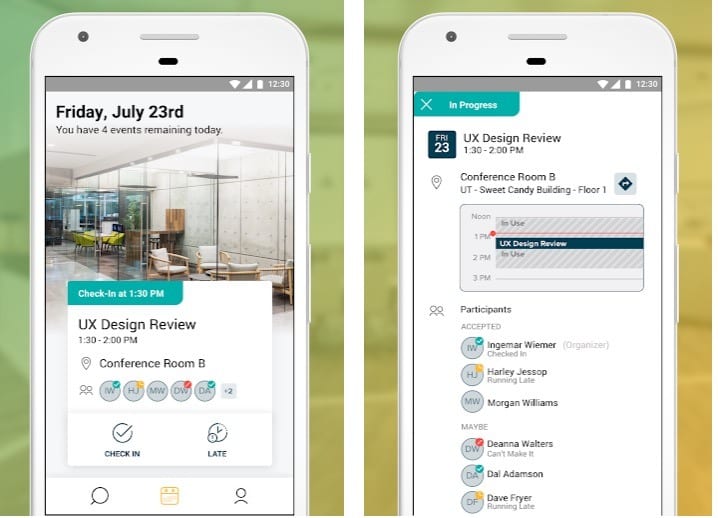 Downloads: 1 000 +
Customers rating: 

(4.0 / 5)
You may also like: 15 Best Wi-Fi analyzer apps for Android
MeetingRoomApp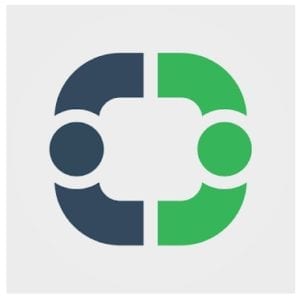 MeetingRoomApp is a modern booking system for meeting rooms and conference rooms. Smart technology that allows you to plan and effectively manage corporate meetings, optimize corporate processes and better use of corporate premises.
Companies often face problems with the availability of meeting rooms, and they also have to deal with the issue of overcrowded or inefficient use of meeting rooms. This can lead to confusion and a waste of time. This application gives you an immediate overview of the availability of a particular space – simple, easy and stress-free.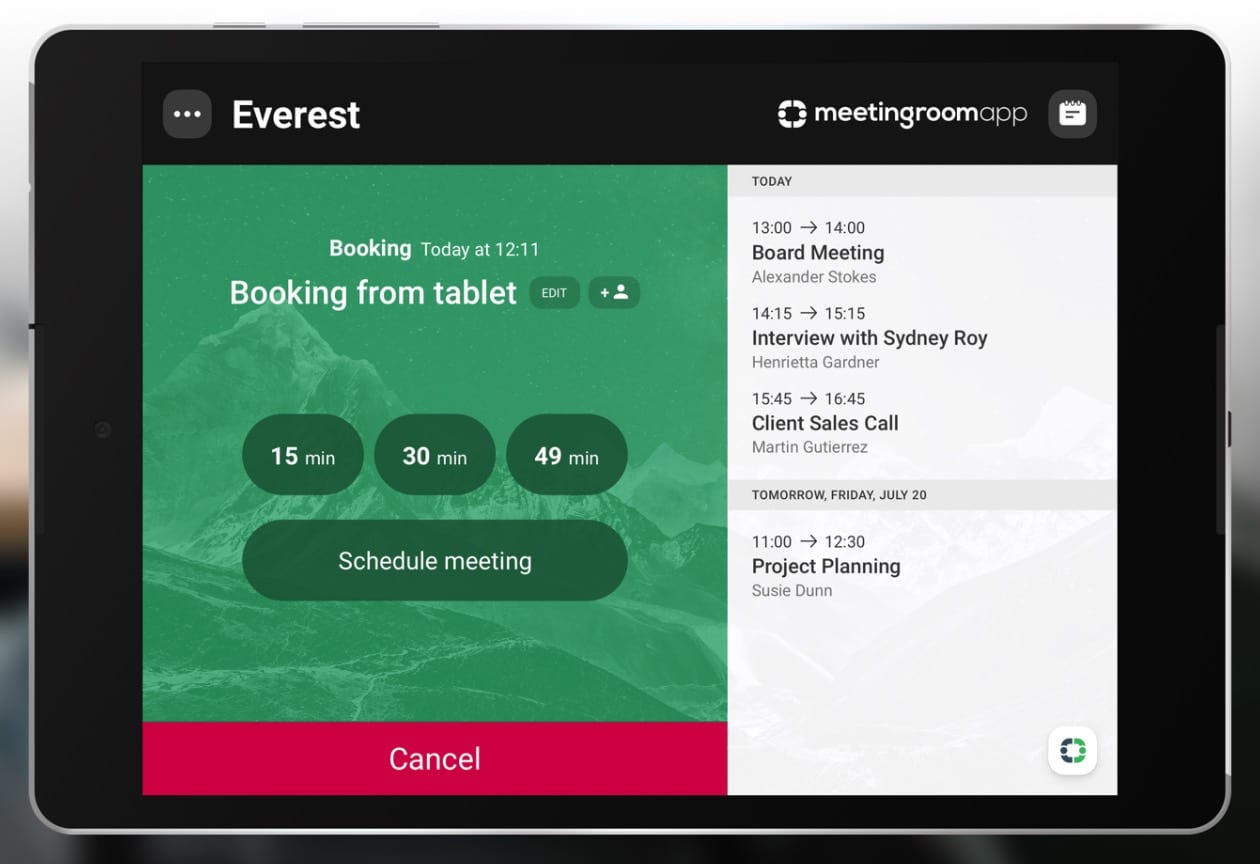 BOOK YOUR MEETING SPACE PER SECOND. You can book a meeting room directly from the panel screen in front of the meeting room door, from your mobile device on your way to work or from your computer. Just a couple of clicks is enough. With this system, all information about current and upcoming meetings is centralized and digitized.
Integration with other systems such as Google Apps, Microsoft Exchange or Office 365
Cloud or On-Premise decision
Simple user interface and beautiful design
Many great features that help you plan and organize meetings
Ease of implementation and individual integration
Meeting data analysis and statistics in MeetingRoomApp Reporting
High security
Proven by thousands of satisfied companies around the world
Basic smart features
Ad-hoc & calendar booking
Daily agenda
Green x Red signals
Canceling the event
Full-screen mode
Screen saver
Best functions
Confirmation of arrival
Booking a conference room in the immediate surroundings
Planning meetings
Extension of the meeting
Cleaning, catering or calling a maintenance worker
PIN code protection
Notification system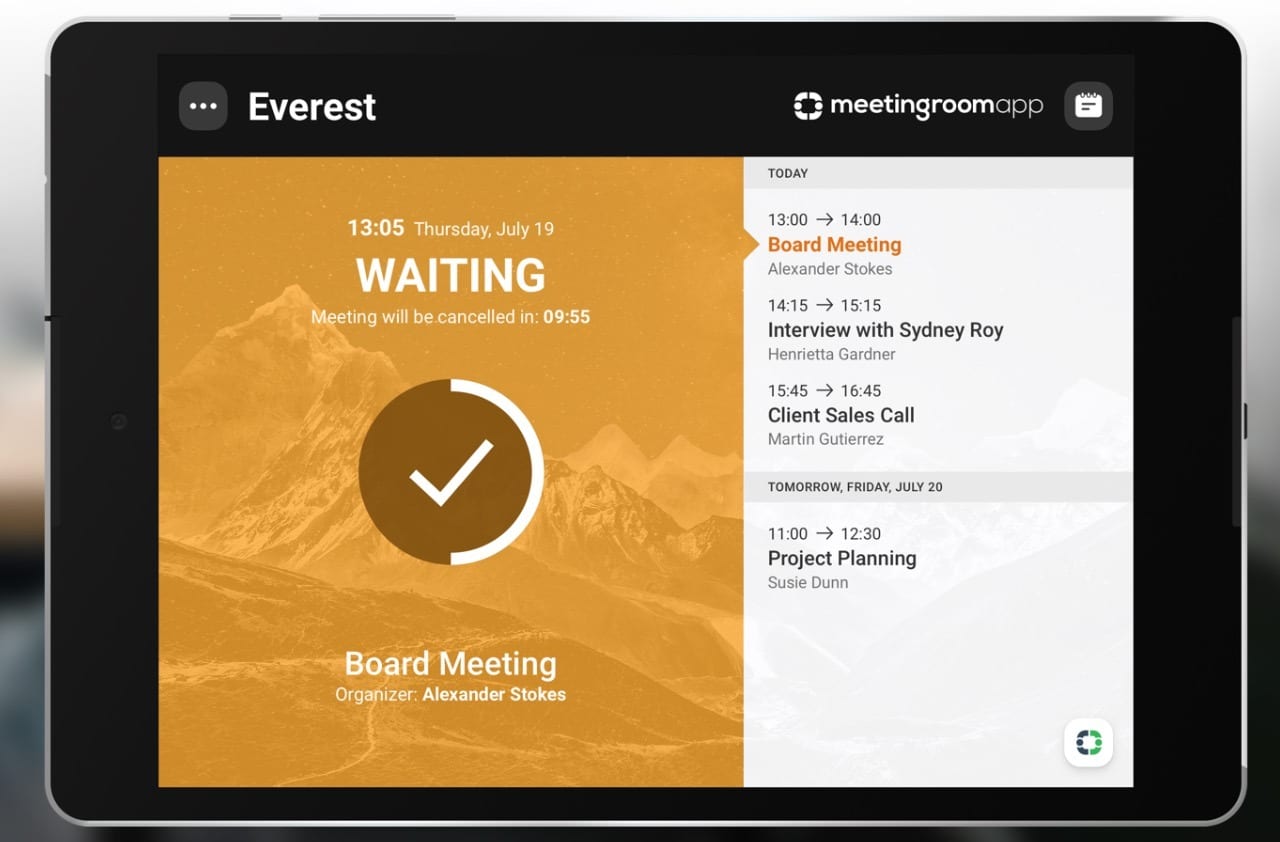 Downloads: 5 000 +
Customers rating: 

(3.4 / 5)