A Wi-Fi analyzer app is simply necessary for a large number of users, from beginners in the world of the Internet, ending with professionals in the IT industry and experienced network administrators.
WiFi security is becoming an extremely important aspect of data protection. Using such applications, you can constantly monitor the status of your network, not allowing hackers to get your data. So, we have compiled a list of the best Wi-Fi analyzer apps for Android:
Wifi Analyzer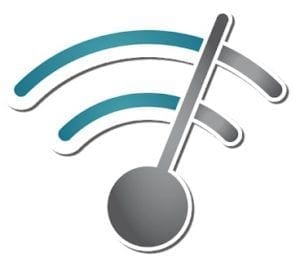 Wi-Fi Analyzer is a free Android application that allows you to get comprehensive information about the available wireless networks. Its most popular function is the analysis of wifi channels to identify the freest and suitable for use.
The Wi-Fi Analyzer application can display various summaries of information. Click the View button in the main application window and select the information display mode.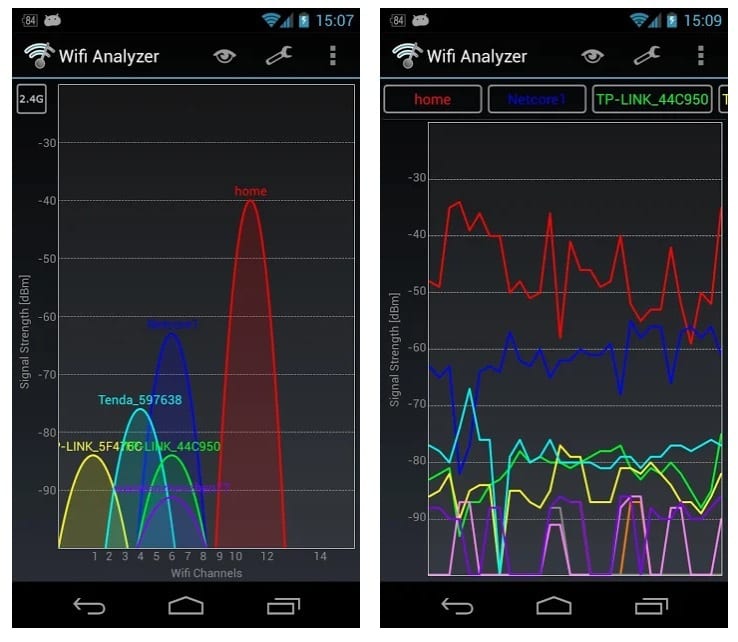 In the first tab of the WiFi Analyzer program, you will see a table with the signal quality of the nearest WiFi networks. Thanks to this, you can quickly find out which network is best connected. In the second tab, you will find a counter that will show the info about each network individually.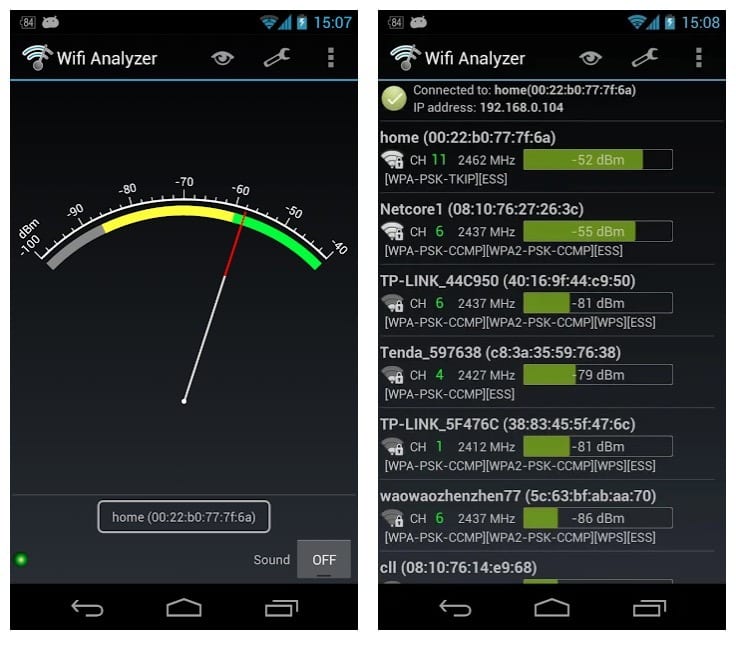 The program analyzes all available networks and graphically displays them, in order of signal degradation. Also, the application is able to determine the method of encrypting the network, determine the IP, the properties of Ad Host – which in turn will help to find a password for Wi-Fi.
The main advantages:
New Access Point Notification;
Internet speed measurement;
Built-in noise meter.
Downloads: 10 000 000 +
Customers rating: 

(4.0 / 5)
You may also like: 9 Best virtual assistant apps for Android
WiFi Data – Signal Analyzer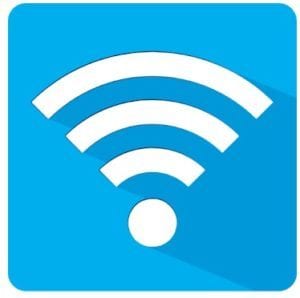 Keep track of the status of your current WiFi network, and also find active networks near you using the Wifi Data – Signal Analyzer application.
Wifi analyzer is very easy to use, and the application interface is so simple and clear that just one glance is enough to get a lot of information about your WiFi network. With this application, you can find out what signal level, check the connection speed, look at the list of available networks, check your IP address, netmask and net gateway with DNS addresses.
There are 4 tabs:
Connection (info about the current connection, net and access point you are connected to).

Access points (a list of all visible network access points with detailed info).

Channels (graph of used channels with actual signal strength).

Signal (WiFi signal strength-time graph).
Use Wifi Data – Signal Analyzer, and ensure that your Android device works with the WiFi network with maximum efficiency.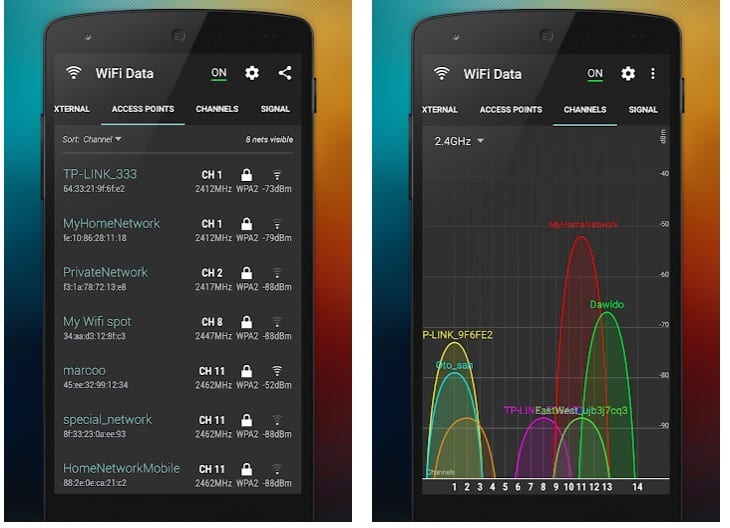 Downloads: 100 000 +
Customers rating: 

(4.5 / 5)
WiFi Monitor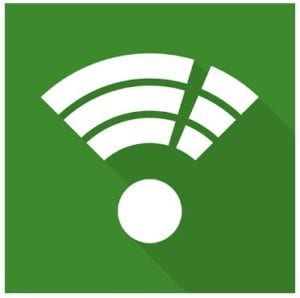 WiFi Monitor is a powerful WiFi monitoring tool that allows you to collect information about available wireless networks and their settings. An indispensable tool for configuring the router and checking the operation of devices connected to it.
The Connection tab displays information about the connected Wi-Fi access point:
• name (SSID) and identifier (BSSID),
• router manufacturer,
• connection speed,
• signal strength,
• frequency and channel number,
• security settings,
• еhe IP address and MAC address of the device,
• the subnet mask, default gateway, and DNS.
The Networks tab allows you to compare available Wi-Fi wireless networks by the following parameters: type, manufacturer, signal strength, security protocol. It is possible to group access points with the same name (SSID).
On the Channels tab, you can see hotspots signal level depending on its frequencies. The spectra of signals with close frequencies can overlap and affect the quality of signal reception, so when setting up a router, it is important to ensure operation in a free-range.
The signal power graph allows you to compare the signal levels of available Wi-Fi access points and track the dynamics of their changes.
According to the speed graph, you can check the real data transfer rate in the connected Wi-Fi network.
The Scan section allows monitoring devices connected to the current network and viewing their parameters. If unknown devices are detected, you should block them in the settings of the router.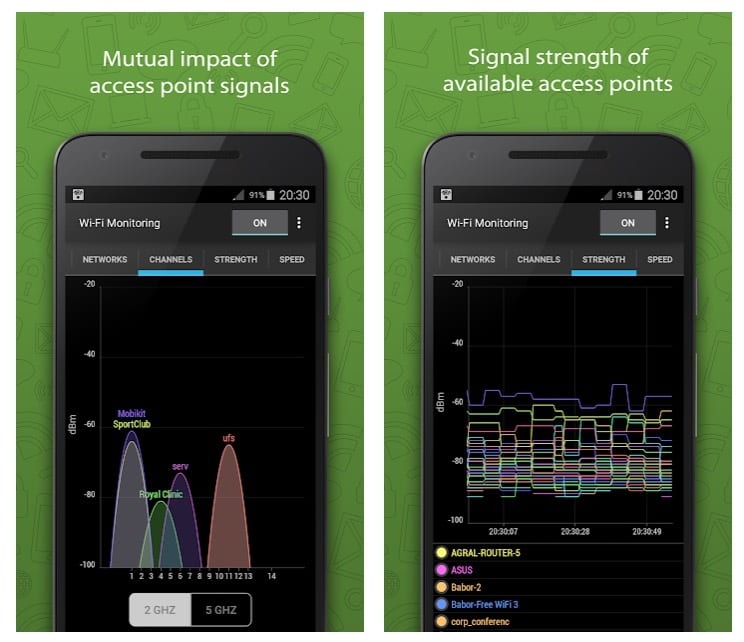 Downloads: 1 000 000 +
Customers rating: 

(4.5 / 5)
IP Tools: WiFi Analyzer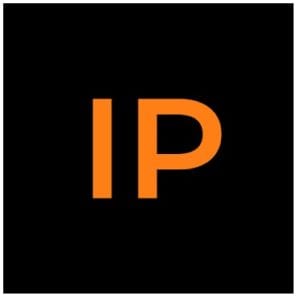 IP Tools is an application that combines many utilities that are responsible for checking networks. It is much easier and more convenient to install one application than to clog the device's memory with a large number of disparate ones.
Within a couple of seconds after starting IP Tools, detailed information about the network to which the device is connected is available. IP Tools will help you configure the router, conduct diagnostics, exchange data about networks, and much more. At the same time, you don't even need a laptop or PC to work, a tablet or smartphone is quite suitable.
The developers carefully thought out the interface, not forgetting the many features familiar to the user. Need to copy information to the clipboard? Easily! Want to save it with a text editor? No problem! Planning to share diagnostic results with someone? Mail, SMS, cloud storage, various applications supported by the device – the whole range of exchange options to choose from.
On the application screen – only the information that is needed. For example, a widget for the notification panel displays network information, starting from the IP router and ending with DNS addresses.
The application's main page displays information about the network to which the device is connected. There is also a page with a set of network utilities included in the application through which you can run any of them.
There are a lot of utilities in the application, but not a single useless one – all can come in handy when conducting network diagnostics. The port scanner is useful for system administrators: it can be used to quickly diagnose the network and identify possible vulnerabilities if they exist.
Instruments:
Ping
Network Scanner (LAN Scanner)
Port Scanner
DNS Lookup
Getting data about the site and its owner (Whois)
Router Setup Page
Traceroute
WiFi Analyzer
My IP function (My IP)
Connection Log
IP Calculator
IP & Host Converter and much more…
It is possible to list the utilities worthy of attention for a long time, but the above examples are enough to make sure: the IP Tools application can significantly facilitate "communication" with a smartphone, tablet, putting the user on a par with the PC user.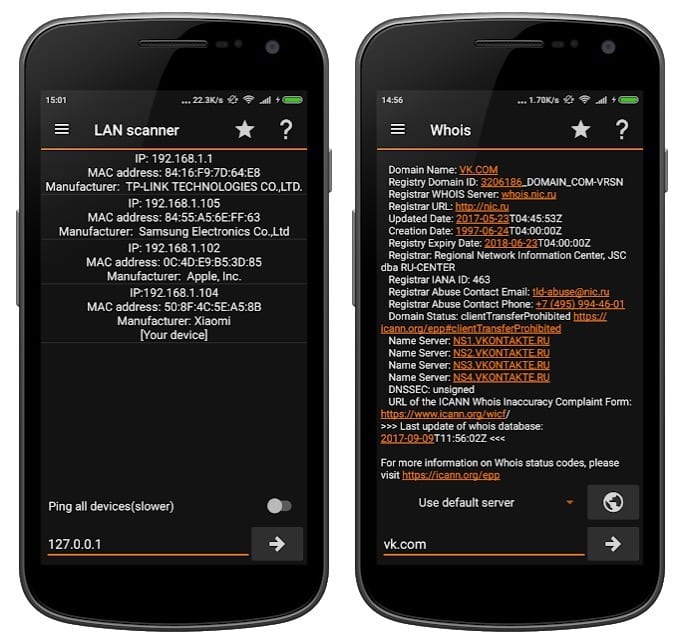 Downloads: 10 000 000 +
Customers rating: 

(4.4 / 5)
OpenSignal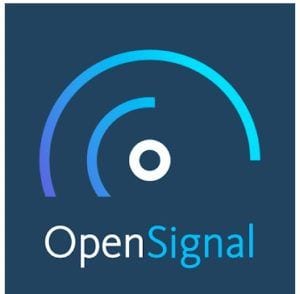 In your hands is a practical solution to the problems of poor cellular communications, supported by all users of the application. The compass will direct you to the place of the best connection, and coverage maps will help you determine the best operator (especially useful if you want to change it). The WiFi hotspot map lets you know where the nearest free internet is.
The application includes:
✓ Map of Wifi points
✓ Test speed download, upload, and ping
✓ Connectivity maps specify the best – and worst – 2G, 3G, and 4G communication locations
✓ Independent speed comparison of each operator
It also includes:
✓ Widget
✓ Ability to share your results and compare them with friends
✓ Personal statistics of the quality of your connection
✓ Setting the background
✓ Ability to save data on SD card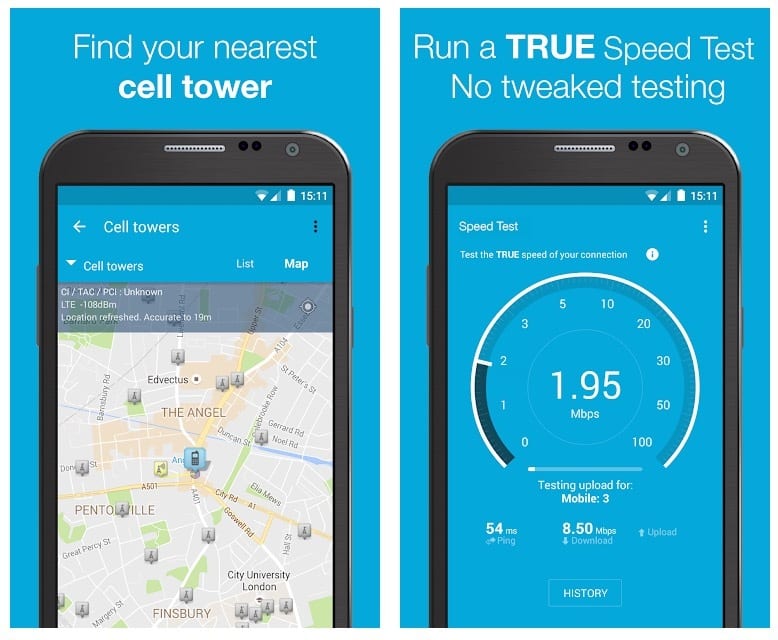 Downloads: 10 000 000 +
Customers rating: 

(4.3 / 5)
Wifi Analyzer – Home & Office Wifi Security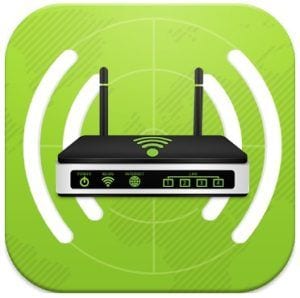 The Wifi Analyzer app has been named one of the most impressive network settings apps on the Google Play app store.
This analyzer offers its users a wide range of IP tools for tracking and controlling a home or office wireless network, measuring signal speed and strength, and drawing up a detailed map of devices with wired and wireless connections!
Key features:
The ONLY google play app that can draw up a graphic map of your network!
• Tab for network research:
1) Displays IP addresses
2) MAC addresses
3) Names of suppliers
4) Wireless access points (WAP, AP)
5) Customizable icons and editable names for devices
6) Ping, port scanning and blocking wifi users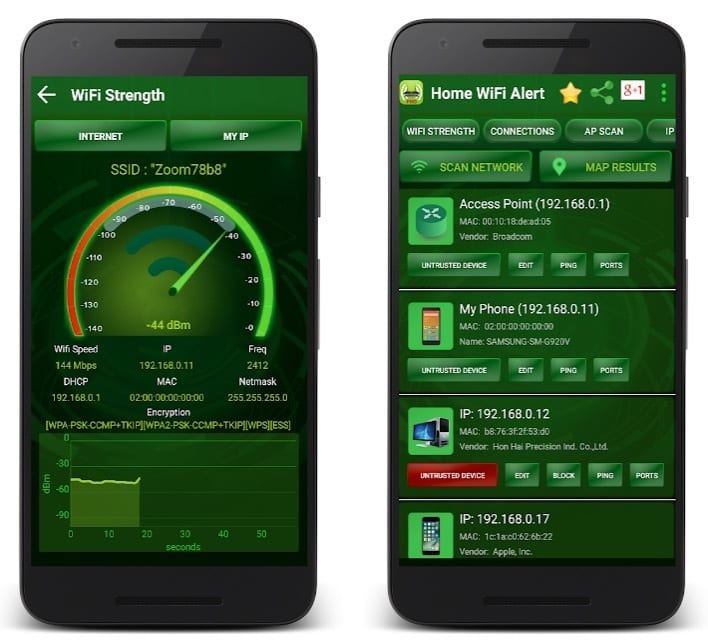 • Tab with signal strength:
1) Displays Wifi signal strength and connection speed
2) Allows you to check your connection
3) Displays public IP addresses
4) Encryption, frequency, MAC address, DHCP and DHCP lease time
• Scan tab of access points:
Displays all available access points around you, including information about MAC addresses, working channels and signal strength in dBm.
• Tab with the scheme of access points:
It contains information about the current channel that your router uses, as well as information about neighbors whose devices operate on the same channel. The channel rating page allows you to determine the best channel that will allow you to achieve maximum speed and excellent quality of your wireless connection.
• Tab with connections:
It contains information about ALL connections of your device. It allows you to monitor other people's connections, listen to IP interfaces and secure connections.
Each of the found IP addresses are checked in 35 blacklisted databases, allowing you to determine the security of the address and the possibility of threats!
Using such IP addresses can adversely affect the speed of your network connection.
• The tab for blocking devices on the network:
This tab will redirect you to the page for managing your device, where you can log in and include the MAC addresses of unknown devices in the blacklist, blocking access to your network.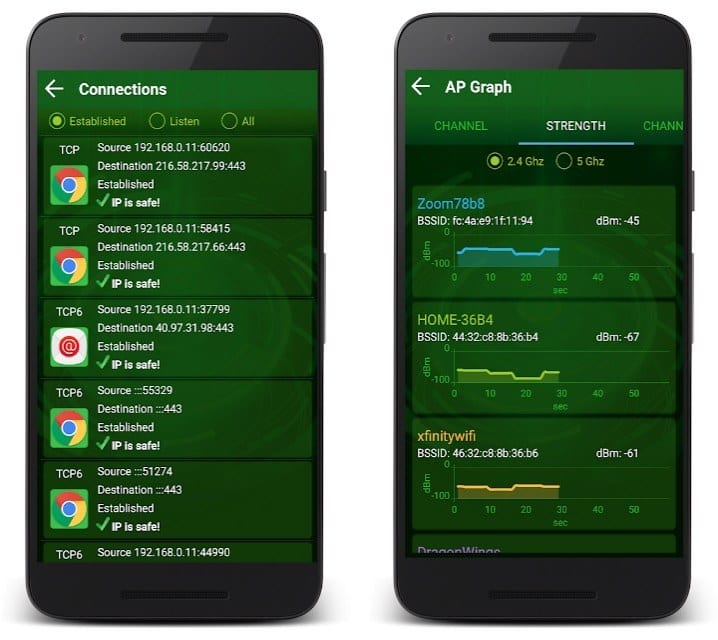 Downloads: 5 000 000 +
Customers rating: 

(4.0 / 5)
WiFi Router Master
WiFi Router Master is a convenient and simple WiFi network analyzer. This program will provide you with all the data about the network, including Internet speed. Also with this application, you can always find out who and how uses your network. On top of that, the program will show you all the available WiFi points near you, providing the most recommended option.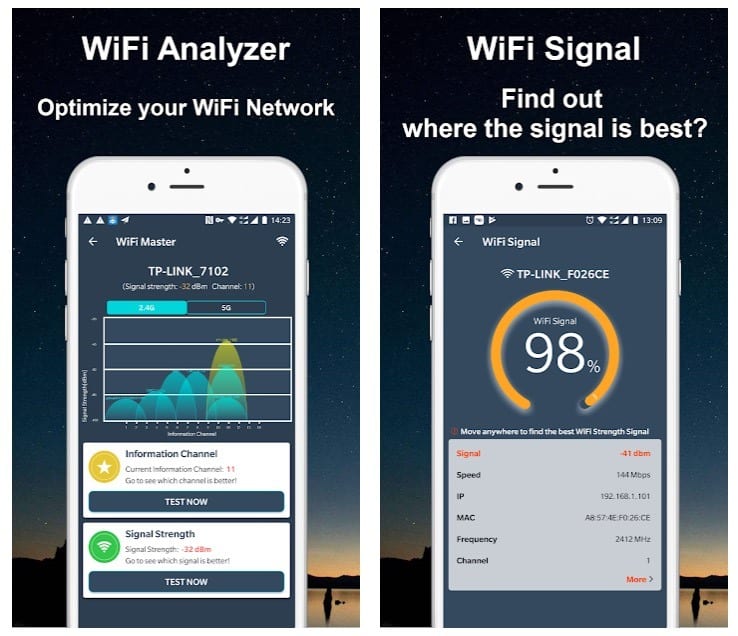 Analyze a large number of parameters of your WiFi network. To do this, simply click on each option and analyze all the data received, which, for your convenience, is grouped into categories.
WiFi Router Master not only allows you to measure the speed and quality of your WiFi connection but also allows you to see which suspicious devices are connected to your network. In addition, you will have access to various log files of your router.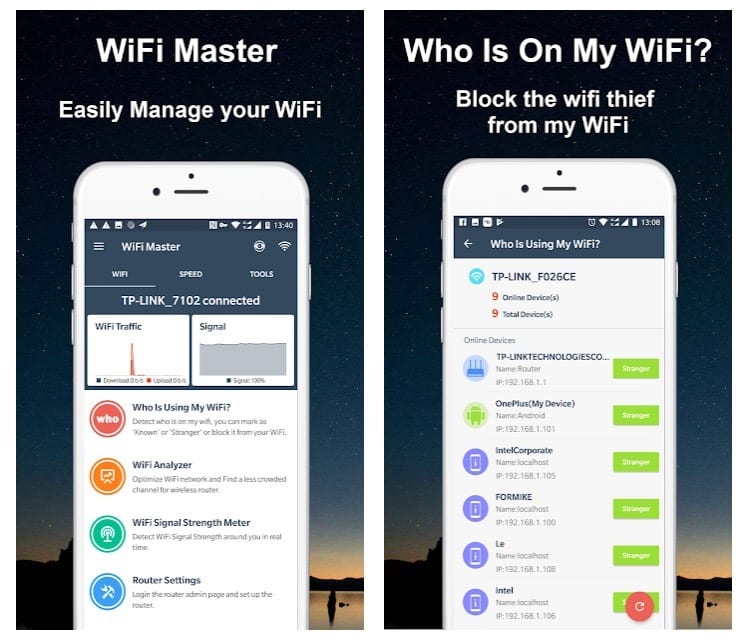 By going to the tool tab, you will get access to many options for managing the WiFi network to which you are connected. Now you will gain control over all folders and duplicate files created within this connection.
Features:
Complete Network Information
List of Access Points Around You
Website Information
Convenient and simple interface
WiFi Router Master – a tool thanks to which you can manage almost any aspect related to your WiFi connection.
Downloads: 1 000 000 +
Customers rating: 

(4.0 / 5)
Fing
Fing – Network Tools is a universal Android application for researching network parameters. Works with wireless networks. It works very quickly and immediately after launch. It helps detect intrusions, assess network security, and troubleshoot issues.
Features of Fing – Network Tools:
LAN / Wi-Fi scanner devices connected to the same network;
Display of a complete list of devices and information on them (MAC address, IP address, device name, manufacturer's brand, and much more);
advanced analysis of the network and devices;
analysis of provider and connection ports;
network monitoring (offline tracking mode).
Application features:
The application works in automatic mode. It's possible to select one host and make a separate scan for different parameters. The application's functionality is useful to system and network administrators for scanning home and work networks.
Benefits
universal tools for scanning networks in one application;
autonomous operating mode;
display detailed information on the network.
It can be used not only by professional system administrators but also by ordinary users. The program gives a lot of useful information. For a home wireless network, this program is useful at least because you can check at any time and find out if someone else is connected.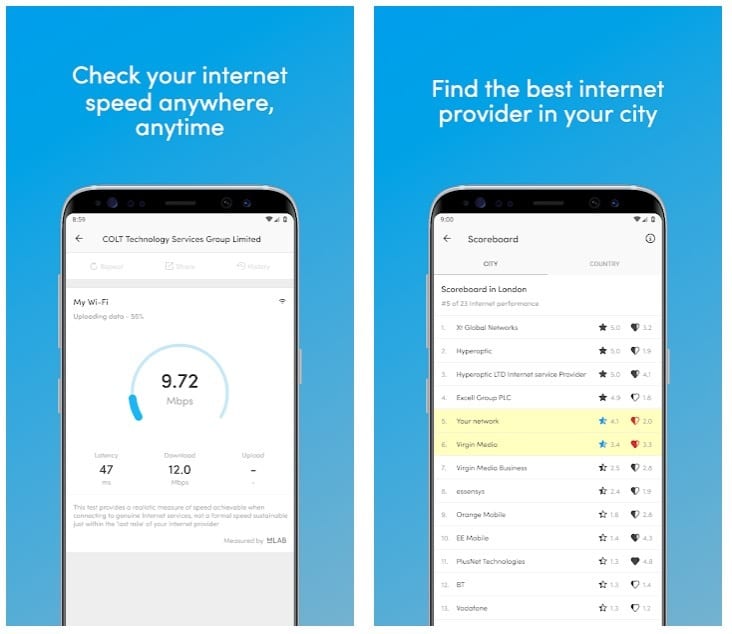 Downloads: 10 000 000 +
Customers rating: 

(4.6 / 5)
NetX Network Tools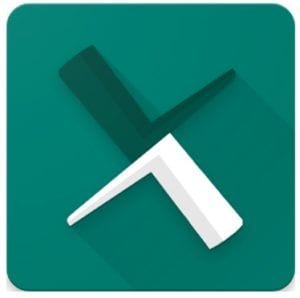 NetX Network Tools is a necessary application, more clearly – a number of options with which you can analyze the wireless network on your mobile device. What's more, with the help of this program, any user will be able to find out who is connected to your network, and therefore, you will be able to detect unauthorized access. There are also a lot of other necessary options in the application.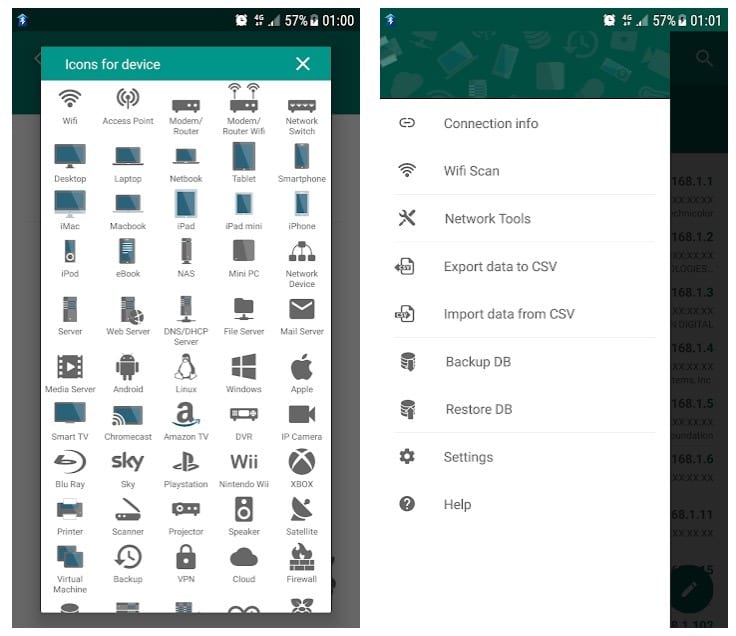 By opening the main menu of the application, the user can see all the settings that someone has in this fantastic application. For example, you can ping the appropriate network address to get availability information. In addition, you can get additional settings for scanning in the main menu. There are a lot of them, so there will be a lot to choose from.
Features NetX Network Tools for Android:
Port scanning
Disconnect all found devices.
Network scan: detects all devices connected to the network.
WiFi access monitoring. Notify when a new device is connected to the network.
Remote Device Monitoring and Diagnostics.
Design themes.
Ability to ping any connected device.
Displays network provider information: IP address, signal strength, download speed, CID, LAC, MCC, MNC
Displays the necessary information for any detected device: IP address, MAC address, vendor name, NetBIOS name, and domain.
Secure Shell (SSH): disables or inactively transfers the remote device from the phone or tablet. Demonstrate the version of the operating system installed on the remote device. (Must be installed and run on the SSH server).
Wake On LAN (WOL): activate the remote device from your phone or tablet.
Scan and discover WiFi networks and view SSID, signal strength, channel, encryption.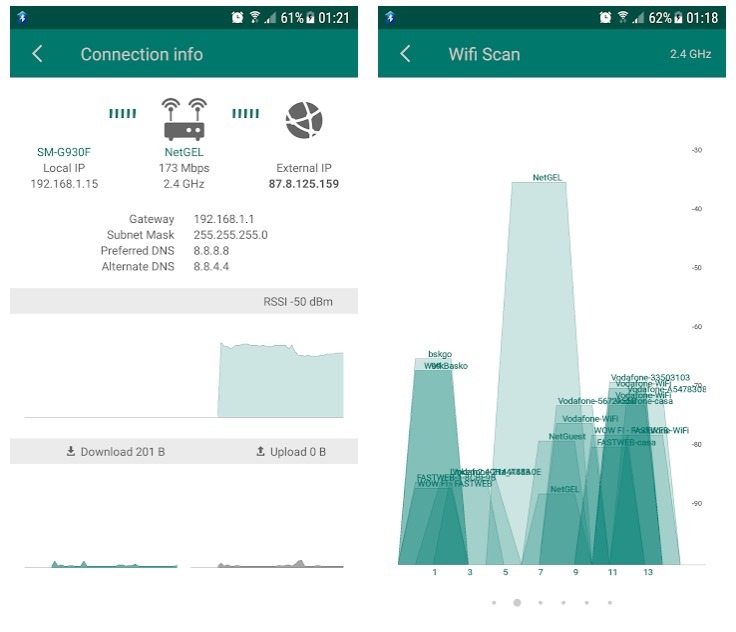 Downloads: 500 000 +
Customers rating: 

(4.4 / 5)
WiFi Analyzer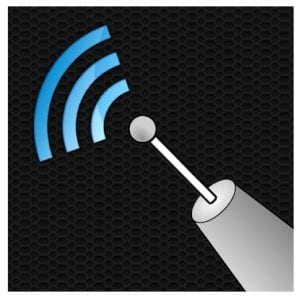 WiFi Analyzer is real-time analysis and monitoring tool that allows you to monitor various wireless network indicators: signal strength and quality information, info about hidden points for connection, fast data processing function for storing on the internal or external memory of smartphones and tablets with Android operating system.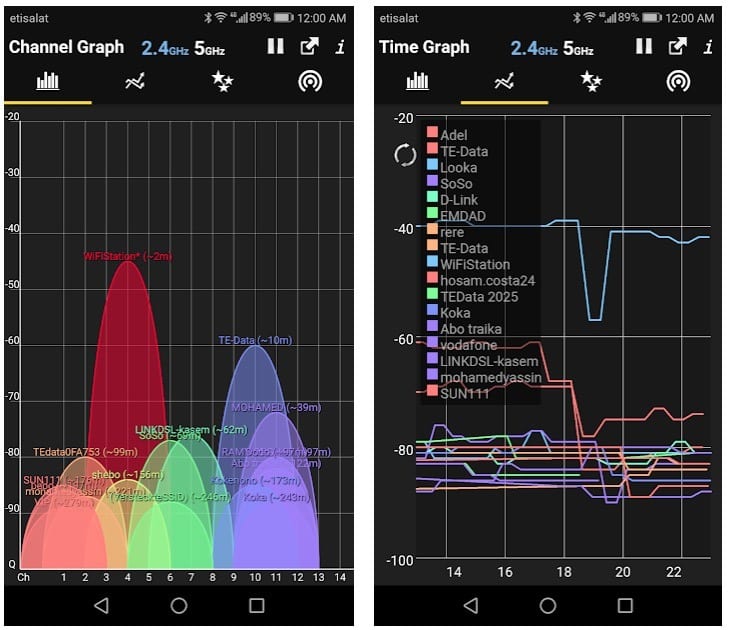 In just a few seconds, WiFi Analyzer will tell you how to get rid of a signal that "echoes" with competitors, how to achieve maximum speed at 2.4 and 5 GHz, and how to stop worrying about bugs and all sorts of errors.
Features:
Registration. The interface is convenient and informative. Developers have taken care of adding all kinds of charts, tables and text notifications to track the performance of the configured wireless point.
For beginners. Available in the main menu instruction immediately tells you how everything works.
Additional features. To the above-mentioned functionality, it's necessary to add the possibility of copying and sharing the MAC-address added to the network of devices, and at the same time – step-by-step optimization of some connections for even distribution of traffic.
WiFi Analyzer tool is the best wireless network assistant and the main guide for speed, security, and convenience, where the minus is just advertising.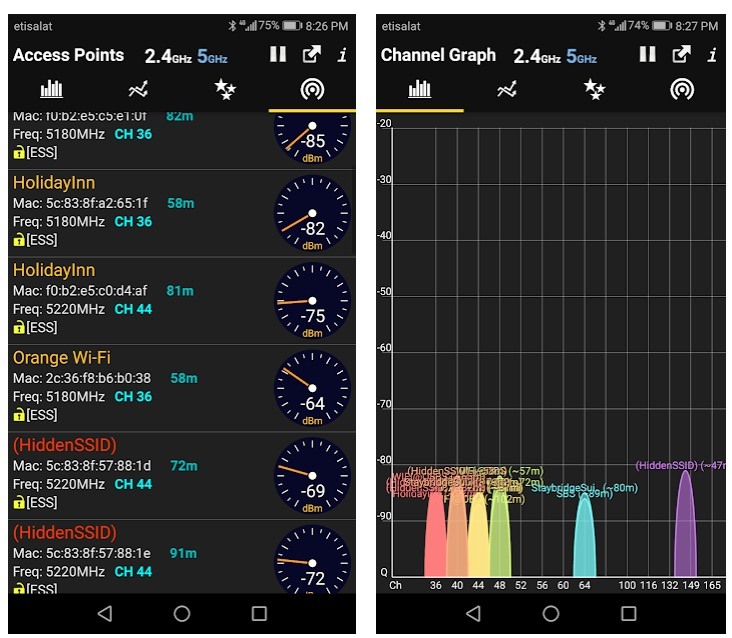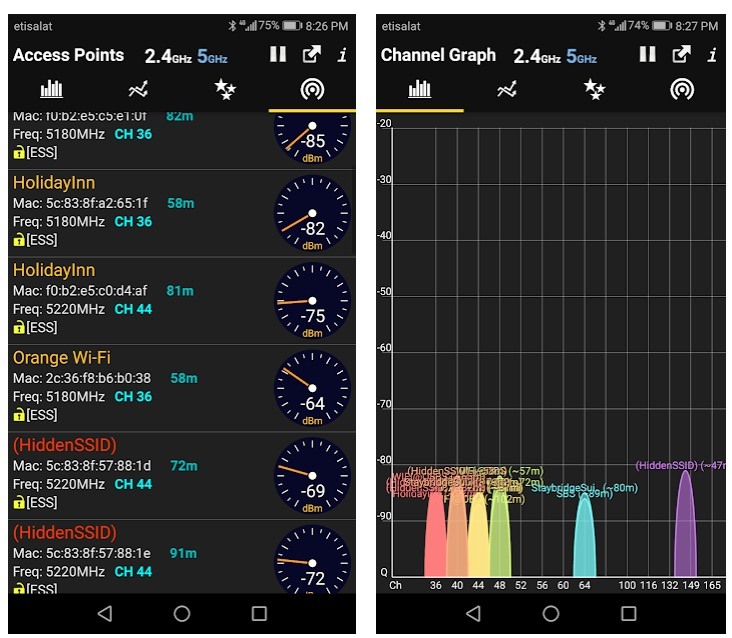 Downloads: 1 000 000 +
Customers rating: 

(4.7 / 5)
WiFi Analyzer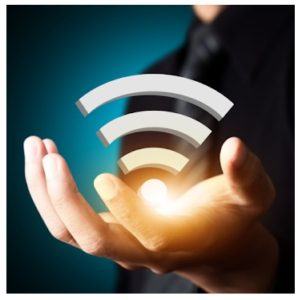 The application examines and analyzes your network and warns you about existing problems if any are found.
For beginners: everything is simple and easy to understand, there is no need to be a professional in the IT field. You can easily identify network problems, and for this, you don't need to know how to determine the RSSI level or connection speed, and what these terms mean in general.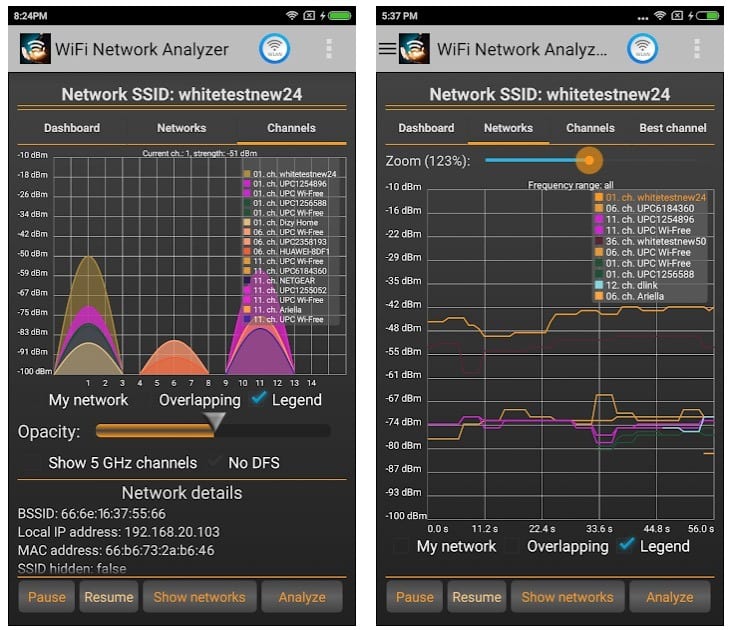 For professionals: the application not only provides static information but continuously measures the latency of the WiFi network and verify DNS working.
Functions:
Real-time display of information on network latency, connection speed, and signal strength;
Analysis function: network latency, signal strength, etc.;
Wireless network information in graph form;
Detailed information about your network and your access points, such as the manufacturer of the access point or the exact operating frequency, as well as information about DHCP settings.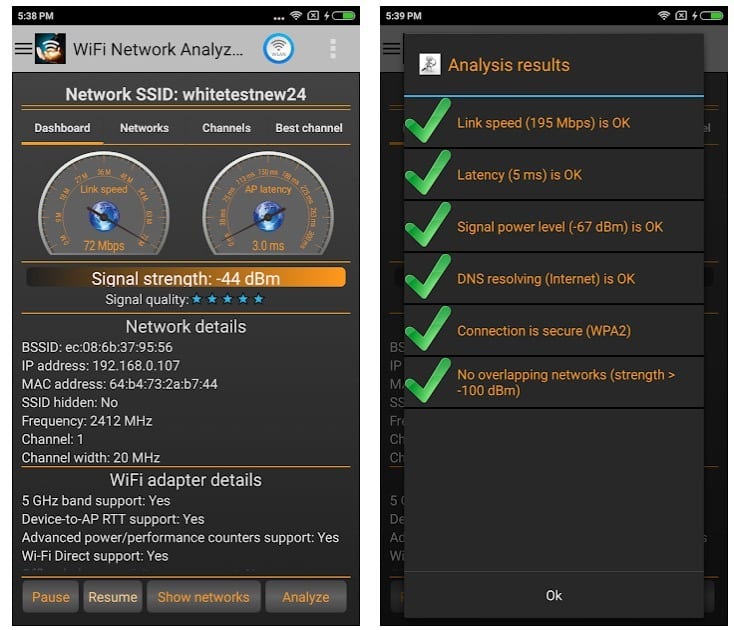 IMPORTANT for Android 6 (Marshmallow): please enable location (Settings> Location). Otherwise, the application will not work correctly. The application doesn't require this function, this is a problem with the version of Android 6.0 (without enabled location, the application will not see the available networks).
Downloads: 1 000 000 +
Customers rating: 

(4.0 / 5)
WiFi Warden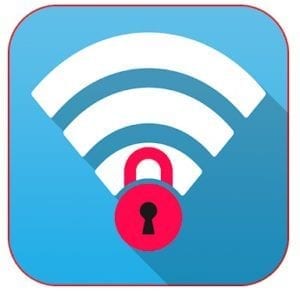 The WiFi Warden application (WPS connection) is designed to analyze all the components of a WiFi network. This includes frequency, encryption used, security type, modem identification, calculation of the distance to the access point, and more.
Additional functions
The program can check the vulnerability of the network and by default, they will not join it. WiFi Warden can generate complex and strong passwords. If you have BusyBox, you can recover the password from the saved root. There are a channel scanner and wireless security guide.
Features WiFi Warden:
Using the analyzer, you can get all the information about the network.
You can connect to the network using a passphrase.
Generate complex passwords.
Useful safety guide.
Requirements for use:
To recover the password, you need to root Android.
Some smartphones and tablets require additional BusyBox software.
The program is compatible with versions 4.0 and higher.
Using a WPS connection requires root access on Android 4.4 and below. OS 5 versions don't require root.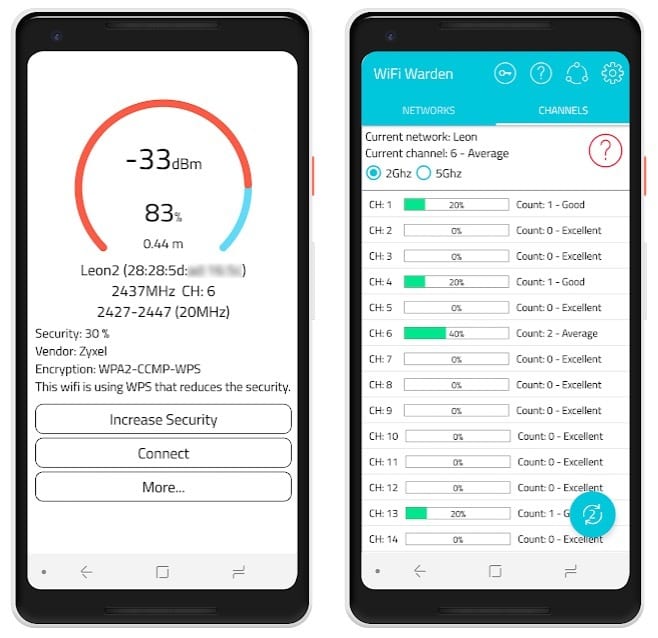 Downloads: 10 000 000 +
Customers rating: 

(4.1 / 5)
WiFi Expert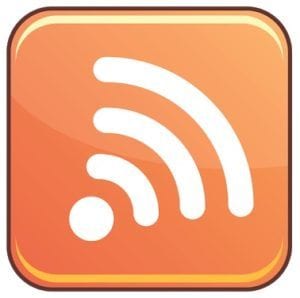 Wi-Fi Expert is an Android app for analyzing and troubleshooting a Wi-Fi network. It can scan all available Wi-Fi networks and display connection quality information, which includes signal strength analysis as well as interchangeable channel data and interference from neighboring channels.
This application can also display the network SSID, AP/Router provider, authentication/encryption type, IP address, and other useful information to help you troubleshoot your wireless network. The Expert Advisor also provides a ping utility to display the gateway or DNS servers. Wi-Fi Expert is a little-known, but very useful application, unfortunately, unreasonably underestimated by ordinary users.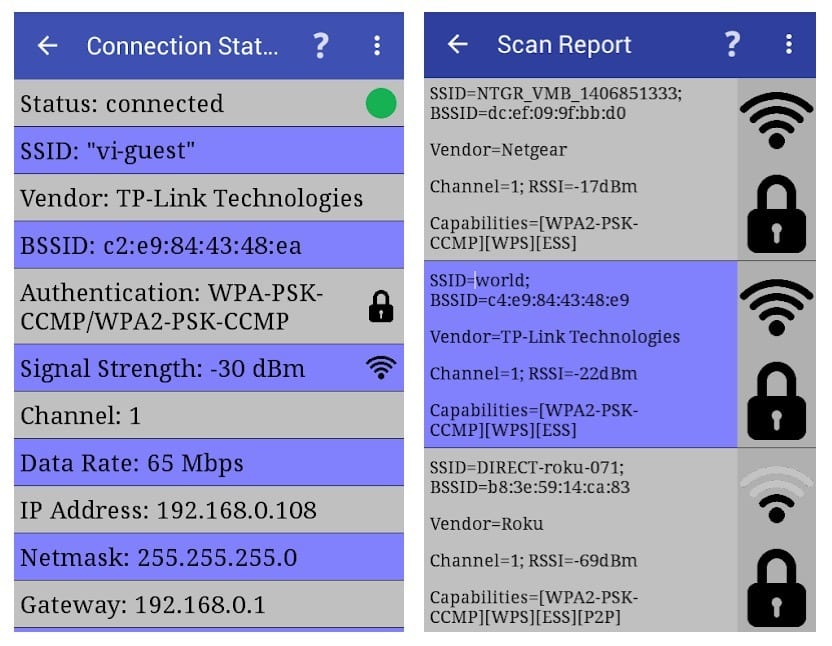 Downloads: 10 000 +
Customers rating: 

(4.2 / 5)
You may also like: 5 Best wireless charging apps for Android
Wifi Analyzer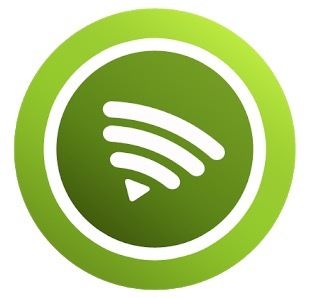 WiFi Analyzer is an application that is capable of analyzing wireless networks and so you should get acquainted with it. After all, if you are having trouble connecting, it may happen that this application will help you to solve certain issues. As you can see, the program contains many incredible features that allow it to get positive feedback from users. It is in this application that you will find something that is not available in other programs.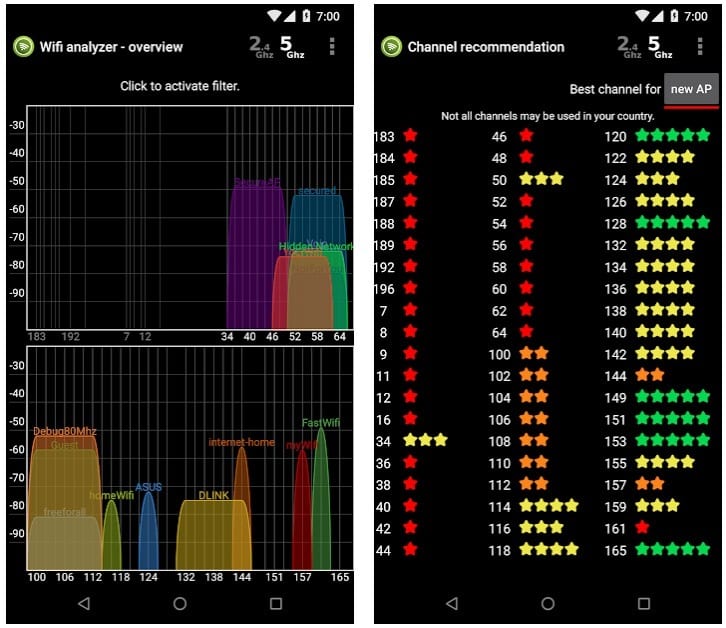 Many users have commented positively on the application. It has convenient settings that will allow you to master the application qualitatively. In principle, there is nothing complicated in it. The application is really useful, it is enough just to set it up a little bit and you will see the real result.
As a result, it turns out that WiFi Analyzer is an interesting application that allows you to analyze wireless networks and troubleshoot any problems. That's why the program will come in handy for you.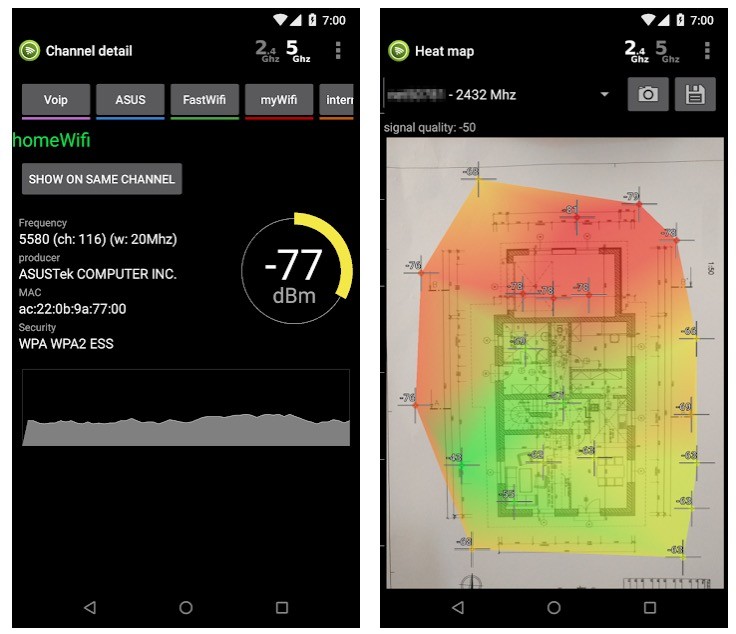 Downloads: 1 000 000 +
Customers rating: 

(4.3 / 5)
WiFi Analyzer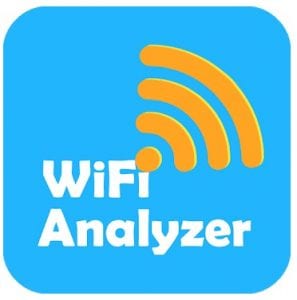 Wi-Fi Analyzer – WiFi Test & WiFi Scanner is another application for Android devices, helping you quickly test WiFi Signal and scan signal strength. The program will be useful in the following cases:
Increase network performance;
Scan Wi-Fi channels around you;
Find a less crowded channel;
Detect who is using your Wi-Fi;
Block unwanted devices.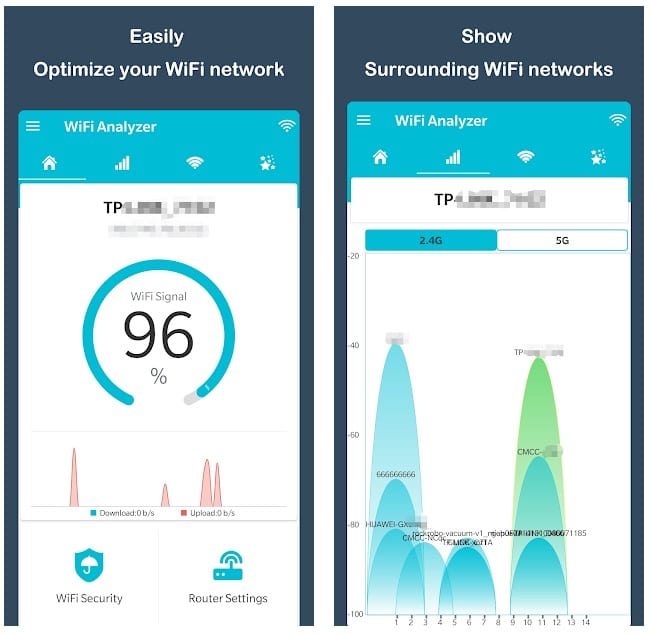 It's easy to use. An intuitive, thought-out interface in a minimalistic style, allows you to quickly get to all the functions literally in one or two clicks. Summing up, we can safely recommend this product to everyone, from beginners in the world of Android to specialists in the field of mobile security.
Do you want to know the speed of your Wi-Fi network? Then right now download Net Master for free!
Downloads: 1 000 000 +
Customers rating: 

(4.2 / 5)
With a large number of Wi-Fi networks, there is a need to protect them. So, you should definitely have one of the free WiFi blocker apps on your phone that we observed in this review: 9 Free WiFi Blocker Apps for Android