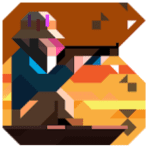 Have you ever caught fish in an electronic simulator on the Android? If yes – forget it! Nothing traditional in Ridiculous Fishing is not waiting for you.
Ridiculous Fishing is an arcade project on Android, in which you can test yourself as a fisherman. And you'll have to catch a fish not in a standard way, but very original one because such an effective weapon as a chainsaw or even a bomb will be at your complete disposal. Catch big fish, gut it and make beautiful hats out of it.
Gameplay
The game has an extremely addictive gameplay and playing it at least once you no doubt become its fan.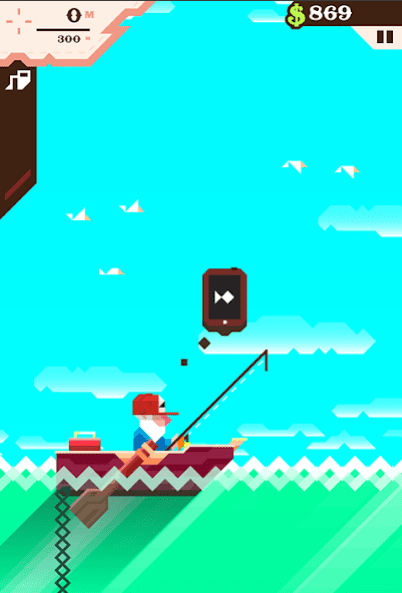 In Ridiculous Fishing, four locations are available, opening as the gamer gains experience. The game itself consists of three stages: lower the lure as far as possible, pick up the right fish as much as possible and finally shoot everything that we could catch. The control is extremely simple – the lure is moved to the right-to-left by tilting the gadget, special abilities are activated by tapping on the screen and the direction of shooting is indicated. One fishing rod throwing lasts a minute or two depending on the strength.
You can also check: 21 Free Offline Action Games for Android
Technical devices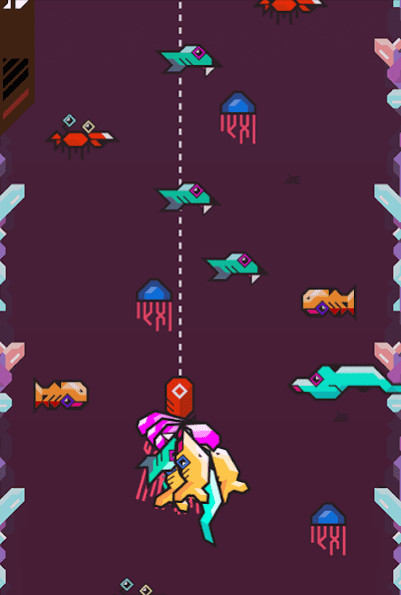 As you know, for successful fishing you need warm clothes, a good fishing rod, a proven lure, a bowling ball and a minigun. But seriously, for successful fishing, it is better to use a $ 10,000 "Orbital Ray" rifle, a Swiss-made lure and so on. The practice of the game Ridiculous Fishing shows that you can not do without all this tool.
You can upgrade your technical arsenal in the drifting shop nearby – afloat. The goods are divided into categories: fishing line (increase the depth limit), guns (allow you to shoot more fish), lures, tech (light space, silence the fish) and various things (decorate the character).
In the seas of Ridiculous Fishing, 66 species of sea dwellers float, conditionally divided into "useful", that is, income-generating, and "useless", minus your score. The first group includes most of the brightly painted creatures: fish, turtles, arthropods, cetaceans, birds (penguins) and crustaceans. The jellyfish are listed as harmful. It is difficult to say why, perhaps, they splash hard in the process of shooting.
Our fisherman has a phone where he can see the map, information about the types of fish, go to the store, see the developer tweets and statistics.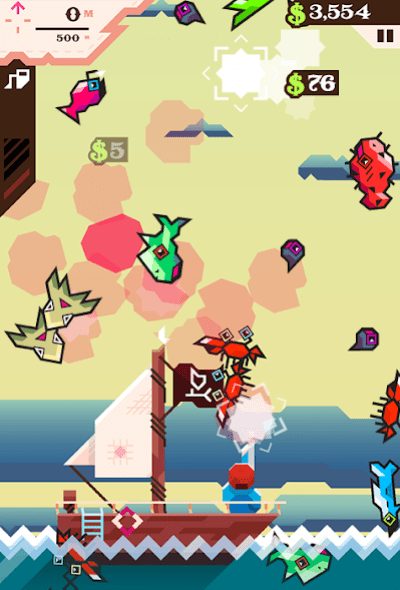 Graphics and sound
Pixel graphics are great! This is not an "antique" stylization, but a completely independent, verified and balanced design. After playing for about five minutes, it's hard to imagine how the charm of the game could be conveyed in newfangled 3D. The music matches the graphics part. It is extremely simple, a little crazy, sometimes background, sometimes annoying, but always relevant.
Conclusion
This is a hit! Ridiculous Fishing is an excellent fishing arcade, the originality of which is visible in almost everything, from the graphics to the gameplay. To be honest, we don't know where the developers have so much fantasy from, but it will be difficult to break away from this "fishing" for quite a long time.