Real-Time Strategy games or RTS are quite popular among PC users. Unfortunately, not all of us have got the time and the opportunity to be with our dear computers day and night. There is a solution though! Now, you can play almost any of your favorite RTS games on your Android phone without having to be at home or suffering from other inconveniences. Check out the list below to know exactly what games you have on hand!
The most awesome RTS for Android
1. DomiNations
Dominations is a great strategy game that'll take you on a journey from the Stone age to the Space age (nobody knows why the Space age, but apparently, Elon Musk is right). On your journey, you will grow civilization, lead a mighty nation through the centuries, battle with other nations (with players all over the world) and a lot more.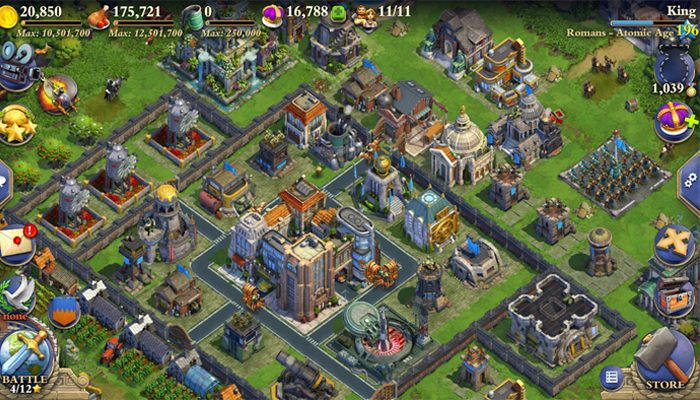 The game is full of possibilities. You gotta create the most efficient war strategy, form alliances, meet famous historical figures. One of the things I personally liked is discovering new technologies. It kind of reminds us that not all in this world depends on corrupted politicians. The technological progress is what actually moves us forward.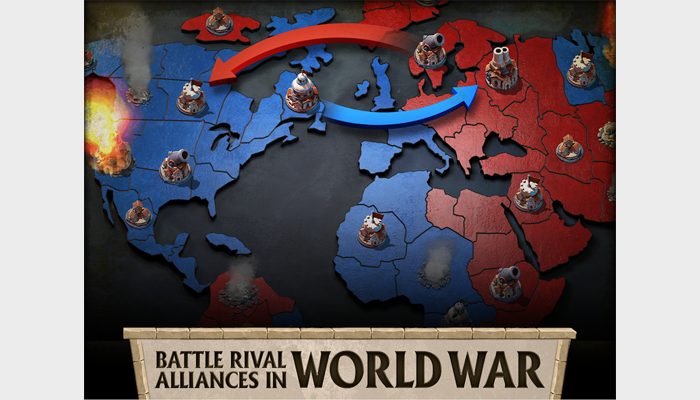 So, if you love history or enjoy being engaged in meaningful battles, you will like this game. DomiNations' theme is one of the most topical today. Get the game and create the best strategy the world has ever seen!
Downloads: 10 000 000 +
Customers rating: 

(4.3 / 5)
2. Total War Battles: Kingdom
Total War Battles Kingdom is a game created by SEGA. If you are not really into 'the Space age', you can try this strategy! Kingdom will transfer you to the medieval times when they had real security problems in the west. Raids, non-stop battles, struggle for power and all of that.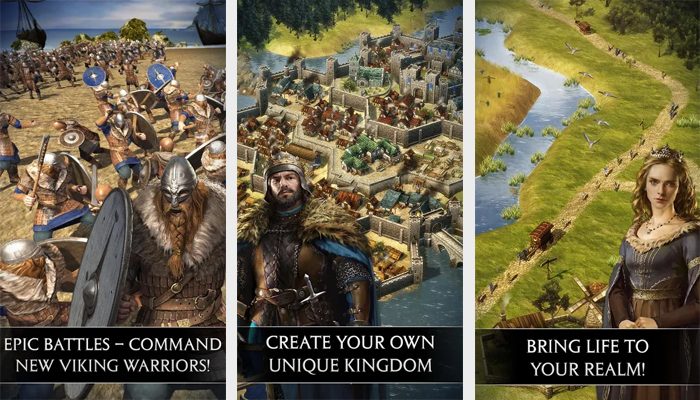 You'll have to build your own kingdom and protect it by recruiting soldiers, training them and going to battles to conquer new lands. Of course, it is not just a state of constant war. You gotta make civilians work for you too – create farms, blacksmiths and other facilities to bring prosperity to your kingdom! Are you ready to immerse into the era of feudalism? Then get the game and start playing right now!
Downloads: 1 000 000 +
Customers rating: 

(4.3 / 5)

3. Viking Village
A special strategy that talks about the ancient time and the Vikings. If you download Viking Village on Android, you can get complete pleasure from such a chic and multifunctional gameplay. There are no timers that limit the hero's ability in time and other obstacles. Everything is simple and affordable. Enjoy your time with this strategy.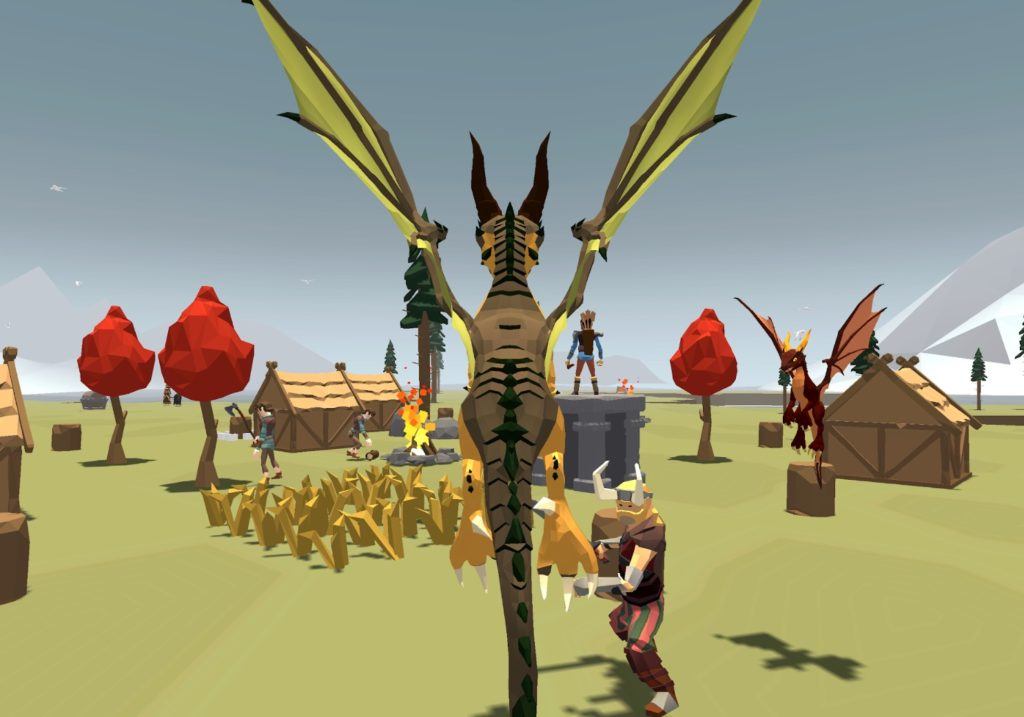 The main character will have to deal with the classic defense of the tower and his settlement. In the process of passing the game, you will need to build your settlement and buildings. Sometimes evil and heavily armed knights will try to organize an attack on the Vikings. You will need to engage in constant fights and take all the weapons.
In addition, explore the huge map and collect a lot of resources. Place a tower with archers and strengthen all the positions that you consider strategically important. Gather your own army on campaigns and conquer villages of other villagers together. The barbarians will fight in the forests and fields and try to do everything for their generation.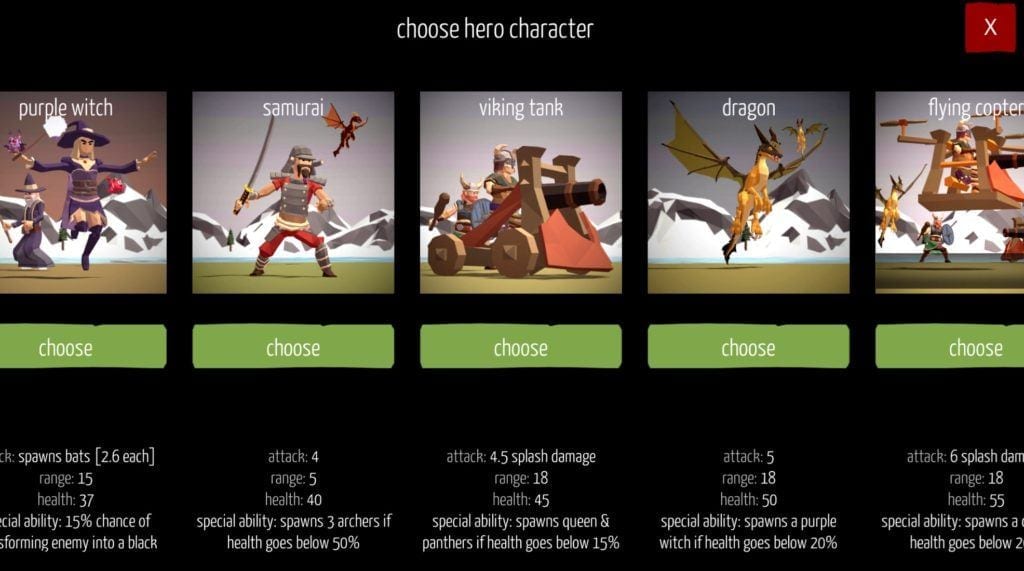 You will find amazing adventures in this wonderful world. Face the robbers and destroy all the towers of the enemies. The player will survive for 20 days and all this time to keep the defense. Take rapid development in the storyline and try to survive in such an atmosphere by all means. Engage in the construction of the ship on which you make your first voyage.
Downloads: 155 800 + 
Customers rating:

(4.5 / 5)
4. Mushroom Wars 2
Well, if pirates don't suit you, then you might be into some really weird stuff… Like mushroom wars! It sounds strange, but there is a strategy (two parts of it actually) that turns you into a leader of mushrooms. Biology is exciting!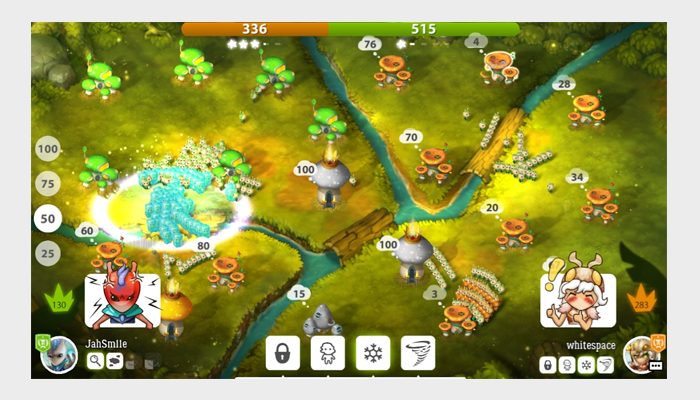 There are about 200 missions to accomplish. And, have you seen these cool graphics? They really do add up to the overall gaming experience.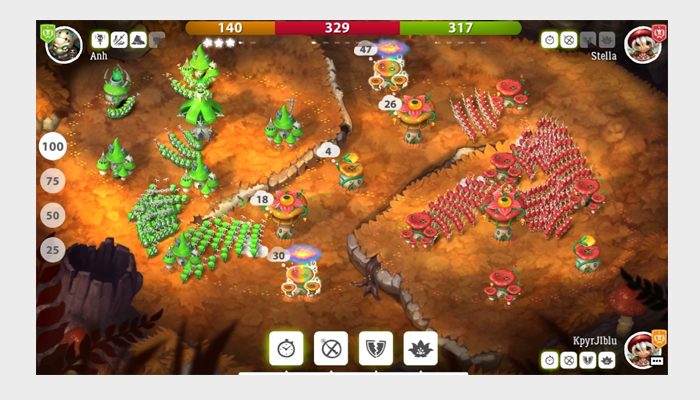 Mushroon Wars has received lots of rewards – it is quite unique in its genre. Download this RTS today and find out whether the game is worth it!
Downloads: 100 000 +
Customers rating: 

(3.8 / 5)
5. Art of War 3
Art of War 3 is a modern warfare RTS that has a PvP mode. Lots of other RTS also have PvP mode. This one stands out from the rest in another way – it gives you a thrill by taking you to 'the nearest future', which is a world war between two factions – The Confederation and The Resistance (the author of this article is more optimistic about the future than the game developers and hopes that we will all live in peace).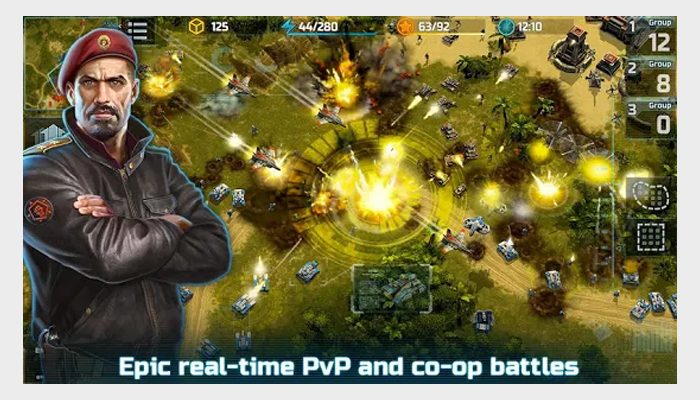 Still, if there is a conflict, both sides will require good strategists! Are you ready to become one? Сhoose your side and join this intense and dynamic war against real opponents in real time. Try to take control of as many objects as possible – armors, ships, aircraft, etc. Explore state-of-the-art weapons and create a powerful army.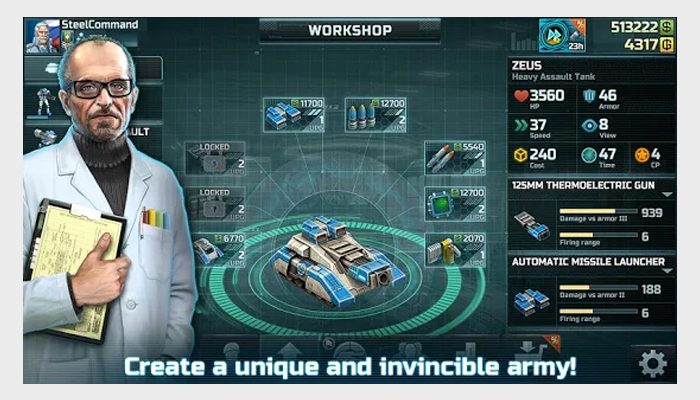 The strategy is very engaging. Start playing now and see how far you can go!
Downloads: 1 000 000 +
Customers rating: 

(4.7 / 5)
6. Forge of Empires
Forge of Empires is a bit similar to DomiNations. It features the plot in which you have to travel through different eras, create your own empire and amass wealth to be efficient in trade, battles and so on and so forth.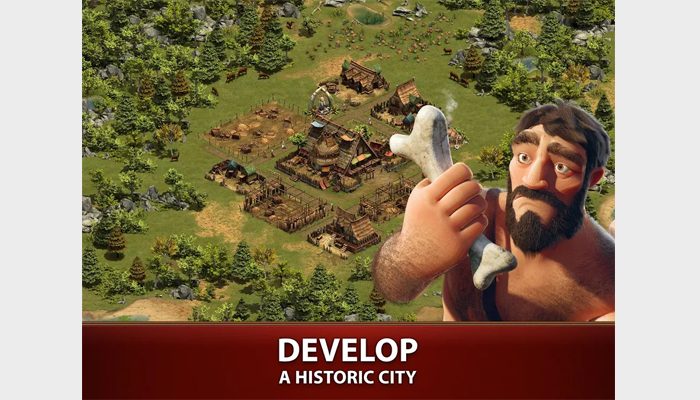 Besides, you will explore new technologies, choose between military actions and negotiations and a lot more.
If you are looking for something historical, this is one more great option! It might not be as specific as DomiNations, but it has its advantages, so… Get the game and see what can be done to create an empire!
Downloads: 10 000 000 +
Customers rating: 

(4.4 / 5)
7. RedSun
RedSun is a relatively new RTS done in a classic RTS style with 2D graphics. The developers claim that the game will be improved in the future, but even now it is quite fun to play. The game stands out from other RTS (which are 'so-called strategic') in that you can build any number of units and buildings. Needless to say that since the game is RTS, everything is happening in real time, so you can get attacked at any given moment.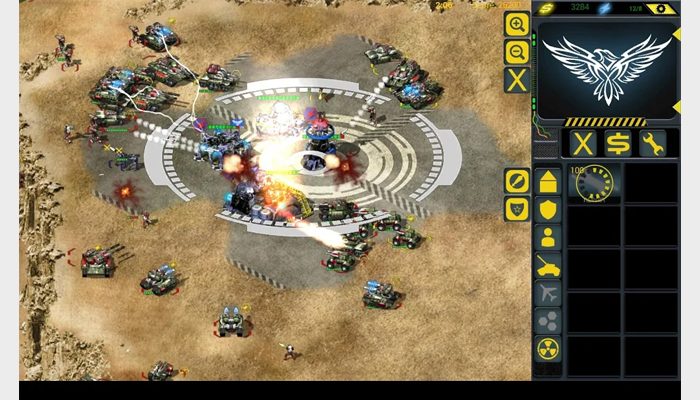 Build bases, strengthen your security and search for crystals with special mining machines. RedSun is still to be improved, so there are lots of other features coming soon.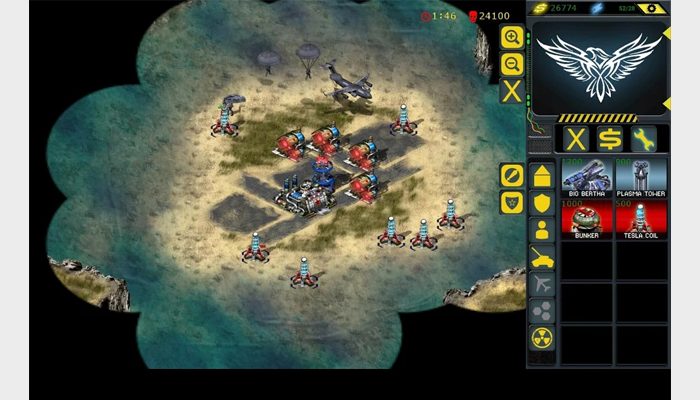 If you want to try a classic RTS that is adapted to our times, this is your option!
Downloads: 500 000 +
Customers rating: 

(4 / 5)
8. Dungeon Keeper
Dungeon Keeper is an awesome gorgeous RTS by Electronic Arts. The game will make you glued to the screen creating an underground dungeon and amassing your army to protect it. Here, it is good to be bad! Don't just use defensive methods – attack your enemies' dungeons and plundrer their loot!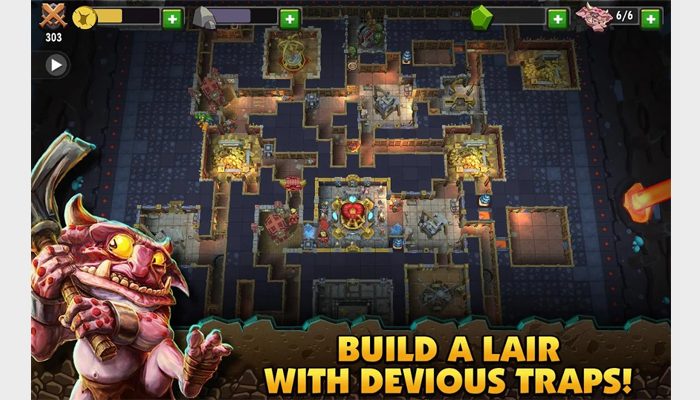 Your army may include such creatures as trolls, demons, mistresses, and warlocks (a good company, ain't it?). Use their special forces to defeat the enemies! If there are too many adversaries on the field, you can turn them into chickens! The game has a lot of surprises like this.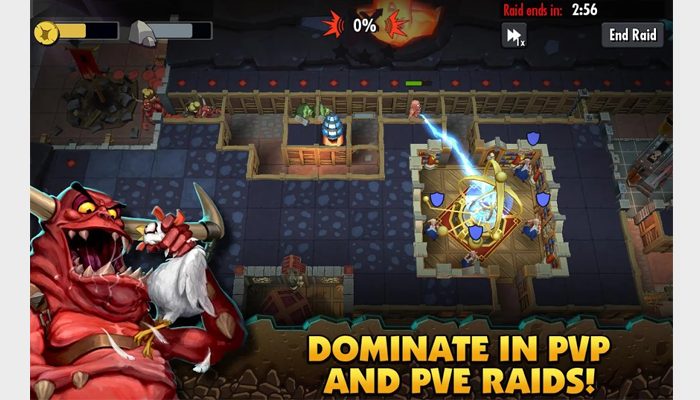 If you're still wondering whether this game is worth a try, just don't! Get it today and let your dungeon journey begin!
Downloads: 1 000 000 +
Customers rating: 

(4 / 5)

9. Clash of Clans
This one is a true hit! The game has over 100 millions of downloads. Clash of Clans is a name that speaks for itself. In the game, you will have to create a clan and defend it by any means (like improving your warriors, building special facilities, destroying other players' clans and so on).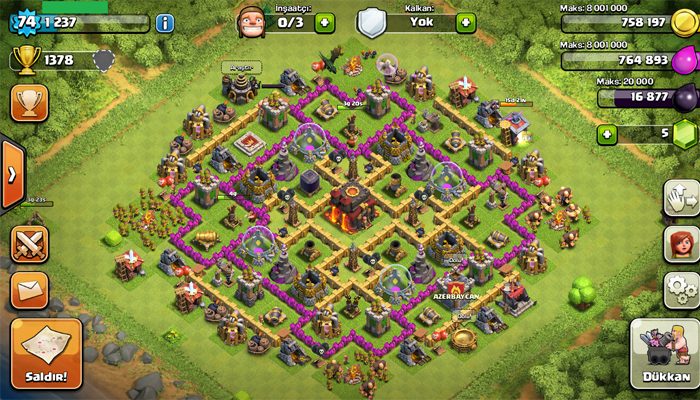 The game has PvP mode – you can invite your friends and play with them (or against them). Engaging in a gameplay with people all over the world – what can be more exciting? (Ok, many things, but this is definitely one of the most exciting experiences).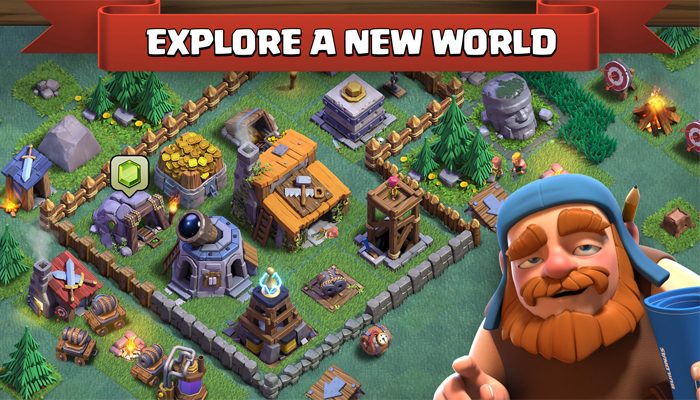 If you are still not convinced that this game is awesome, it should be noted that the game is well-developed and there are lots of cool features like, for example, you can set off for a boat trip to a builder's village to explore new facilities and meet new characters. So, if you prefer playing with others, consider this option.
Downloads: 100 000 000 +
Customers rating: 

(4.6 / 5)
10. Rusted Warfare
Rusted Warfare is a true RTS (at least this is what its developers say). Well, it is definitely authentic in terms of graphics and a classic gameplay.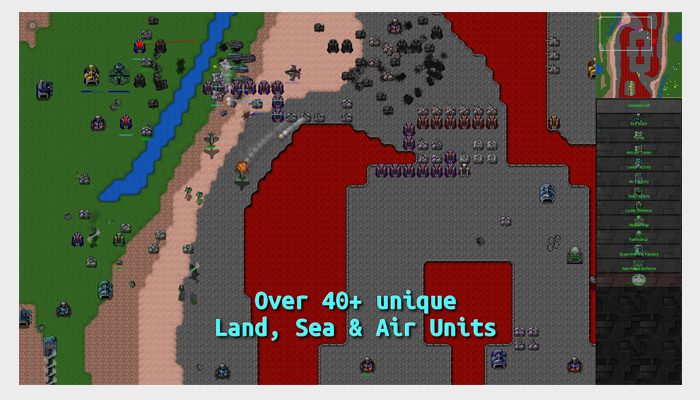 The game includes lots of strategic opportunities, such as using flying fortresses, jets, hovertanks, lasers, and a lot more. Besides, you can create your own maps so that the game will be played under your rules.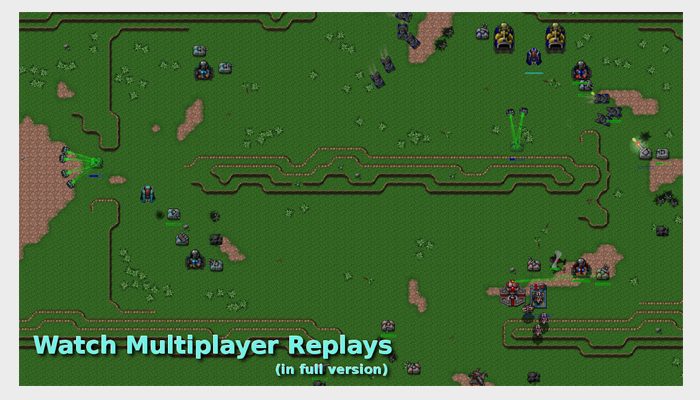 There is a multiplayer mode that might include up to 8 players – no matter whether these players use PC or smartphones. Get this cool classic RTS right now and explore its kooky laws!
Downloads: 100 000 +
Customers rating: 

(4.4 / 5)
11. Haegemonia: Legions of Iron
This one is not free and, apparently, quite old – the last update was in 2014. But it is still worth mentioning on this list. The game features a fantastic story – you are transferred to the 22nd century when 1 billion of people are already living on planets other than earth. As their military powers grow, the planets start competing with each other. At some point they decide to hold peace talks on the moon. How cool is that?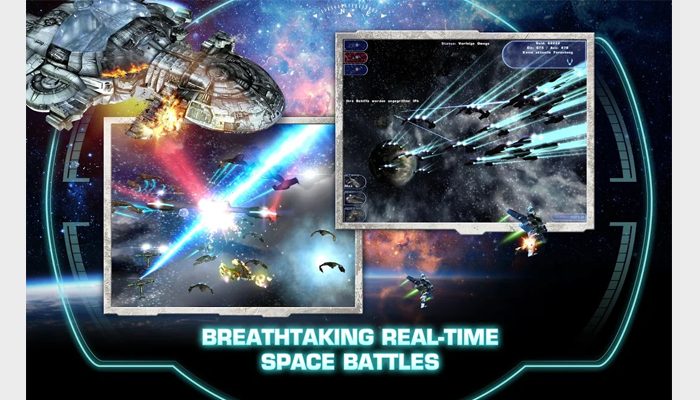 Of course, it is just a story. Practical actions of yours will include real-time space battles, building vessels and bases, developing technologies, colonizing planets, etc. Ok, now that is also very cool! Besides, you will encounter many unusual events, so keep your mind sharp not to miss anything!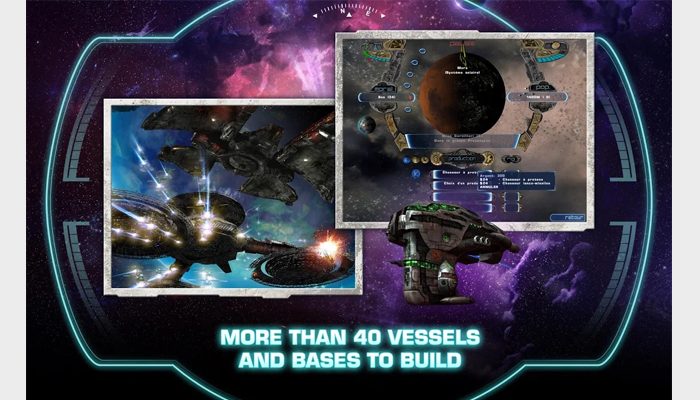 Black holes, wormholes, nebulas, asteroids… If you are a space conquest fan, definitely try this one!
Downloads: 10 000 +
Customers rating: 

(3.9 / 5)

12. Heroes of Order & Chaos
Heroes of Order & Chaos is one more MOBA on our list (the first one was Clash of Clans). This RTS is quite dynamic. It is not a pure RTS actually – it is also RPG because there are about 60 heroes to choose from, all have different sets of skills that better be developed if you want to win battles!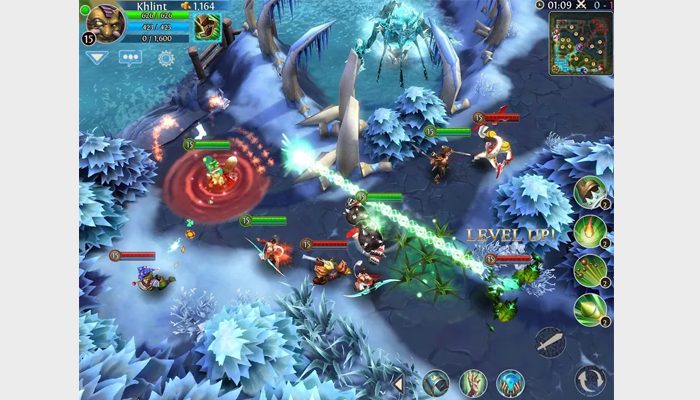 As we have already learned, the game has a multiplayer mode – it can be used in two variants – 3v3 and 5v5. Playing in teams is really one of the strengths of HoOC.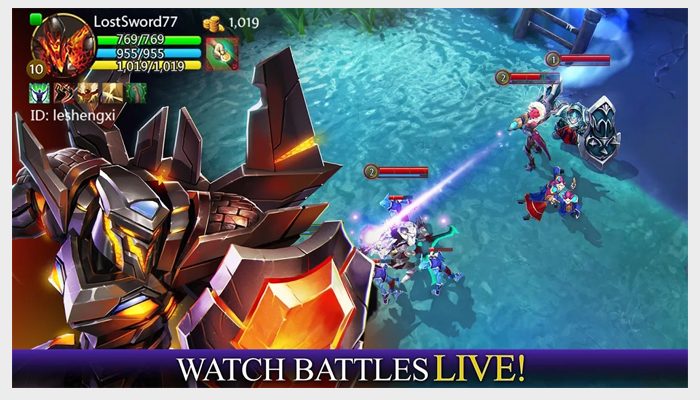 If you are a sucker for cool modern MOBA strategies, try this one!
Downloads: 10 000 000 +
Customers rating: 

(4.2 / 5)

13. Auralux
If you are into space theme (or a fan of ambient music), you'll love this RTS. Auralux represents a cool space arena in which you have your own planet that you need to upgrade. Expand your influence all over the space! Build a strong army to conquer other planets.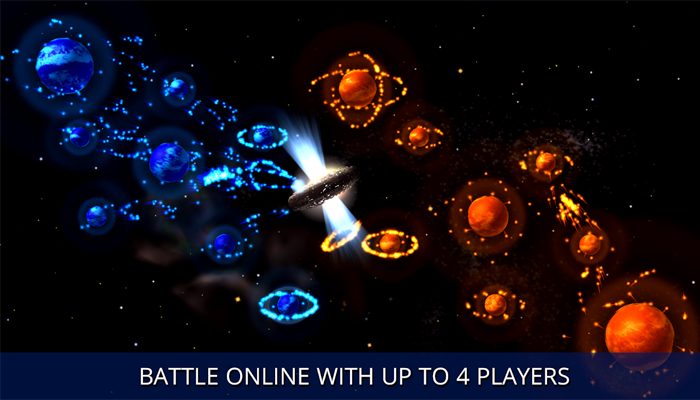 There are two modes – local and multiplayer. The local one has 150 levels to get through, so be sure tasks won't end in a day!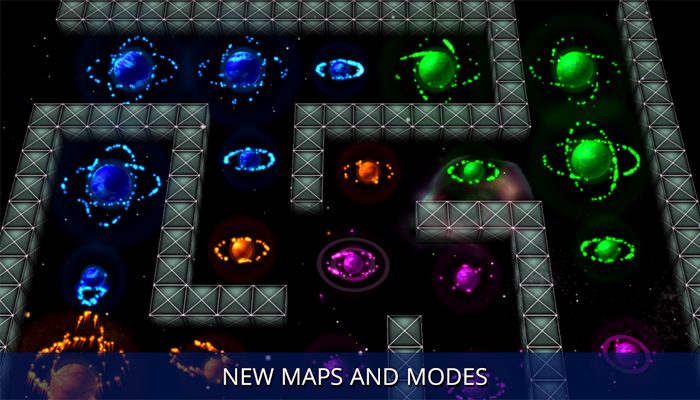 This RTS is a bit simplified. It has minimalistic design and although you gotta be a good strategist to get through this game, there are not so many details to deal with. So, if you're looking for something easy and cool, Auralux is for you!
Downloads: 500 000 +
Customers rating: 

(4.7 / 5)
14. Castle Burn
Castle Burn – RTS Revolution is a fantasy strategy game with real-time battles.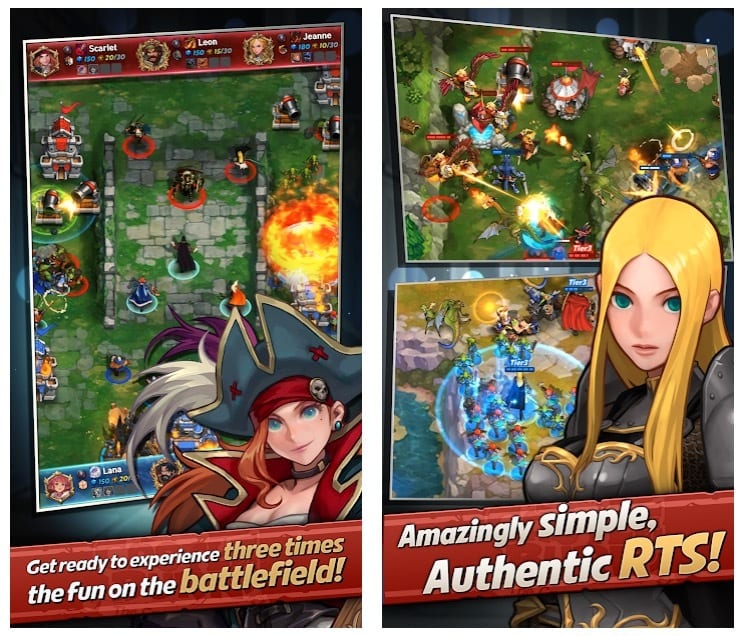 To win the battle you will need to destroy the enemy castle. On the territory of your own castle, you can place towers, as well as warriors who can both defend and attack enemies. The construction of the camp allows you to expand your territory, as well as increase the capacity of soldiers, which will defeat enemies much faster.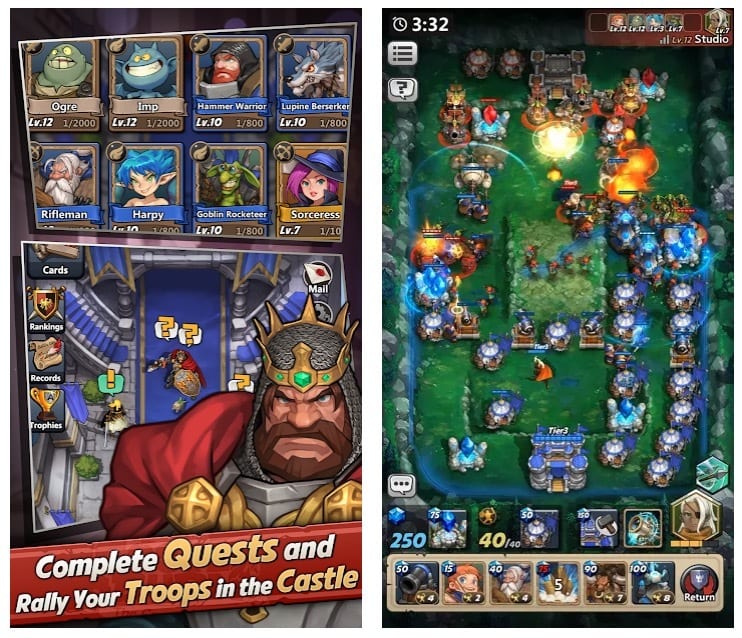 The gameplay reminds popular Clash Royale card strategy, but in some ways, it's still different, which makes the game no less interesting. You still have to collect cards, make decks, improve them and try to win in each battle, moving to new battlefields and gradually raising your own level.
The more rating points you manage to earn, the higher you can get in the league. There, opponents are also smarter and the battles themselves turn out to be more epic.
Downloads: 35 200 +
Customers rating: 

(4.6 / 5)

15. War Robots
War Robots is actually an action game in which you can choose and customize your own robot, create clans and fight with other robots in real time! But, of course, we didn't include this game on our list just because it is so cool even if it is not RTS. War Robots has lots of spaces for strategic thinking – in order to win battles, you gotta think through your tactics and strategies.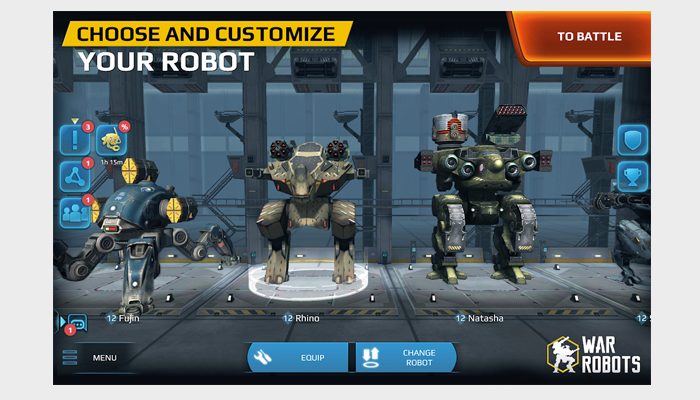 The game has an amazing multiplayer mode up until 6v6. You can battle with your friends or people from other parts of the world – there are about 50 million downloads!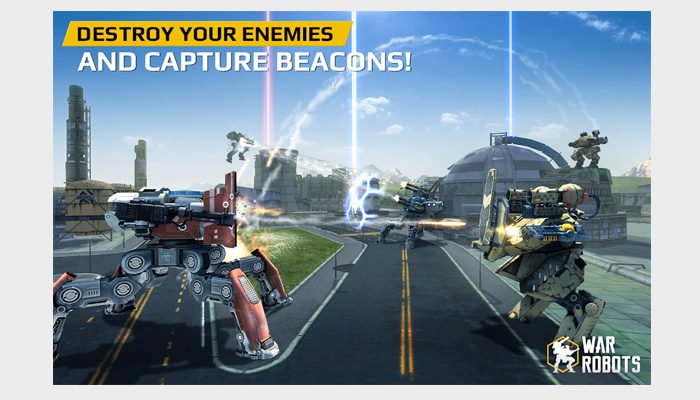 It is not to mention a mind-blowing graphics that won't leave anyone indifferent! So, if you don't mind action combined with strategy type of games, this one is a very good choice!
Downloads: 50 000 000 +
Customers rating: 

(4.6 / 5)
16. Dawn of Titans
Dawn of Titans is one more action-strategy game. Just as the game above, this one has stunning 3D graphics. There may be nothing outstanding about the plot of this game – just battles, titans, alliances, etc – but it is really good in the details, mechanics, and stuff.
Be ready to non-stop events, daily quest campaigns, and more. Your goal is to capture new lands that are already taken by other titans. You don't have to act alone, forging alliances is one of the key opportunities in this game.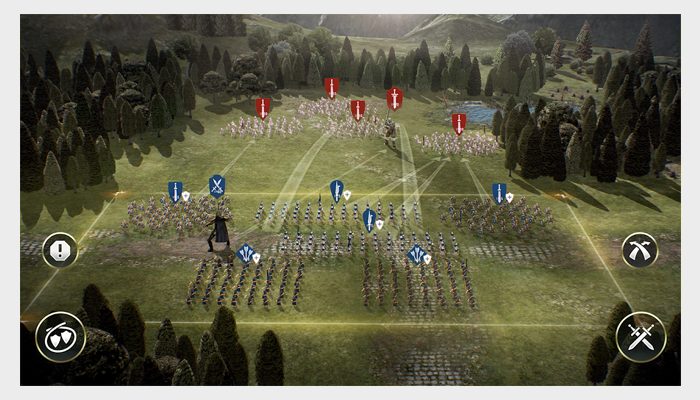 So, if you like modern strategies with realistic 3D graphics, this is one more amazing option for you!
Downloads: 5 000 000 +
Customers rating: 

(4.5 / 5)

17. Iron Marines
Iron Marines is not free, but it is chosen by editors of Google Play. This RTS is a bit bizarre and takes you to two different worlds with strange and interesting creatures. The art is truly fantastic!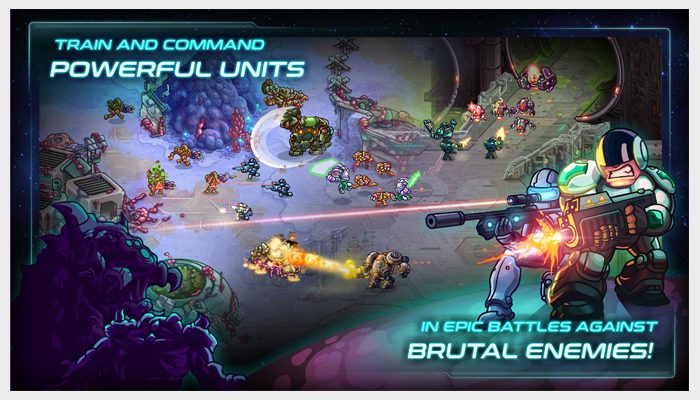 To get through the missions, you gotta think strategically and improve all the means that you have – first of all, your loyal units that consist of heroes of your choice, then special facilities like towers that defend your bases and strengthen your positions, and, finally, your arsenal – equip it with the best weapons!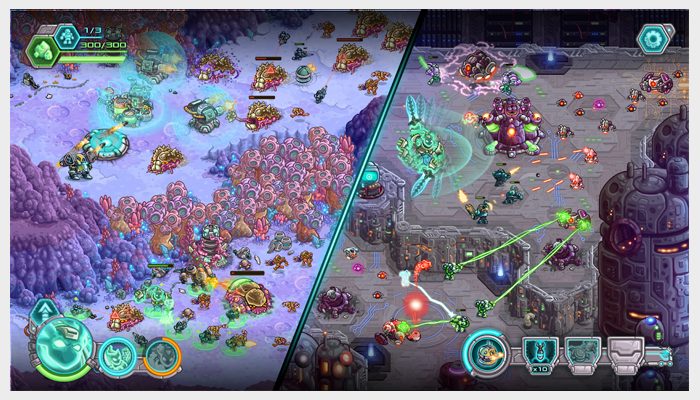 This space odyssey is really worth a try! It is lots fun and full of surprises. So, if you're ready to spend some of your 'pocket money', go ahead!
Downloads: 100 000 +
Customers rating: 

(4.7 / 5)
18. Oil Rush
Oil Rush is an awesome game created in 2013. It seems that the creators were so inspired that even now the game remains up-to-date. And I am not even talking about this amazing 3D display – just look at it!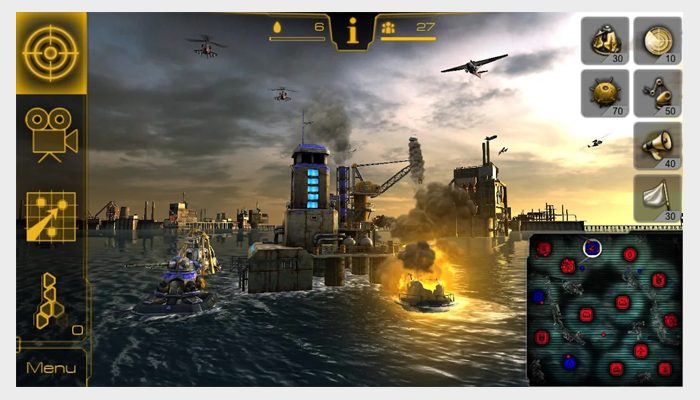 As you may have guessed from the name of this game, the gameplay pursues the struggle for oil – the remaining resource owning which means survival. Oil Rush represents a post-apocalyptic environment in which war is a normal state. You gotta go through different types of missions in order to stay alive. Global-scale decisions are to be made!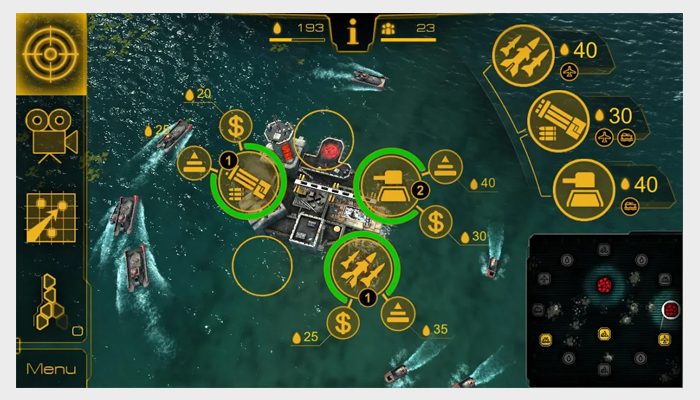 Lots of cool environments like jungles, underwater cities, Asian villages and so on are waiting for you! This game was quite a sensation when it first appeared on mobile platforms. Now it hard to astonish anyone with 3D graphics, but still Oil Rush is worth your download! It is not free though, so you might want to think twice.
Downloads: 5 000 +
Customers rating: 

(4.4 / 5)
19. Tropical Stormfront
Well, this is another one with a price. Tropical Stormfront is a cool RTS based on the geopolitics of the 20th century (and not only that). You choose your side – good or evil – and fight against your adversaries! As easy as that. Of course, there are some other details you need to take into account – otherwise, it wouldn't be a strategy, right? What distinguishes this game from the rest of them is a tropical setting, so be sure beautiful pictures will please your eyes.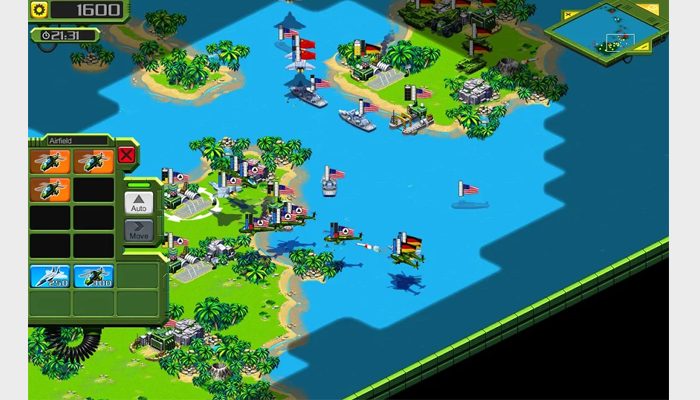 There are several types of missions, such as capturing enemy's flag, defending your own one, sea battles, air battles, tank fights, and so on. That's not just about 'cold war', no, there are different kinds of countries, so you've got the choice.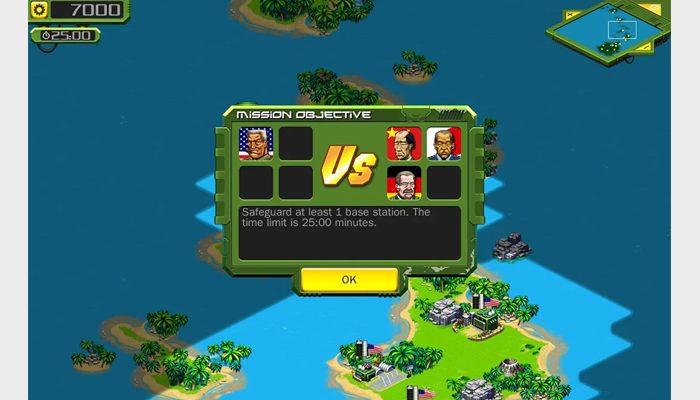 All in all, one more RTS with an unusual story behind it. Check it out and see if you like it!
Downloads: 5 000 +
Customers rating: 

(4.5 / 5)

20. Army Men Strike
Army Men Strike is a game in which you can realize your childhood dreams and become the commander of a toy army of plastic soldiers. The concept of the game is such that the gamer is transferred to his childhood. The battles of the toy army themselves take place at various locations, which gives an additional variety to the gameplay as a whole.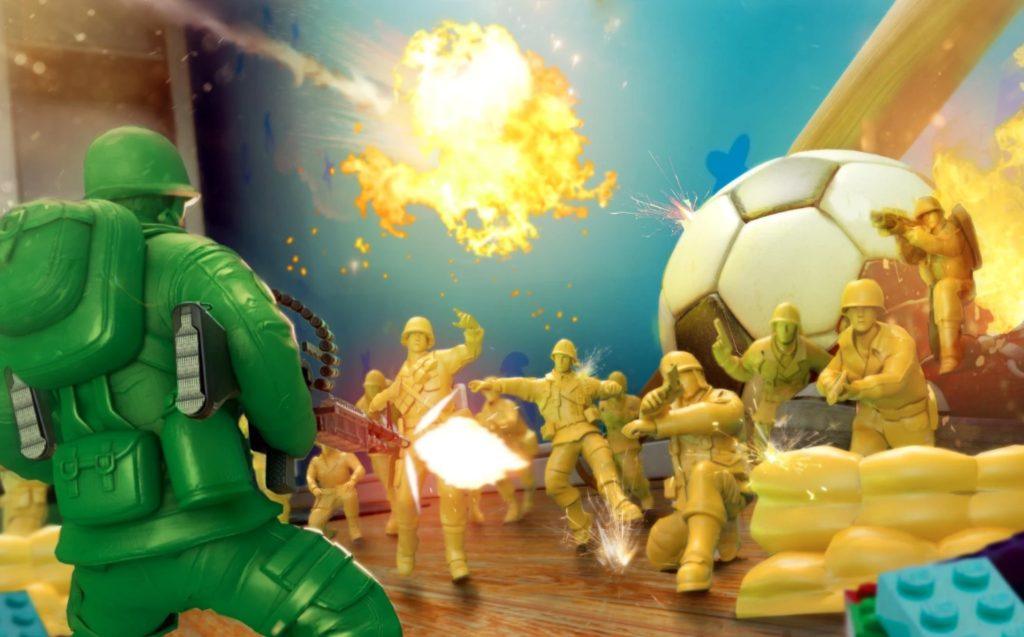 The game itself is a real construction site. All buildings in the game are subject to additional improvement. It includes military bases, barracks with recruits and even warehouses that can act as an additional piggy bank for game currency. Being outside the boundaries of the military base, the player will have to deal with the construction of additional structures that will bring valuable resources.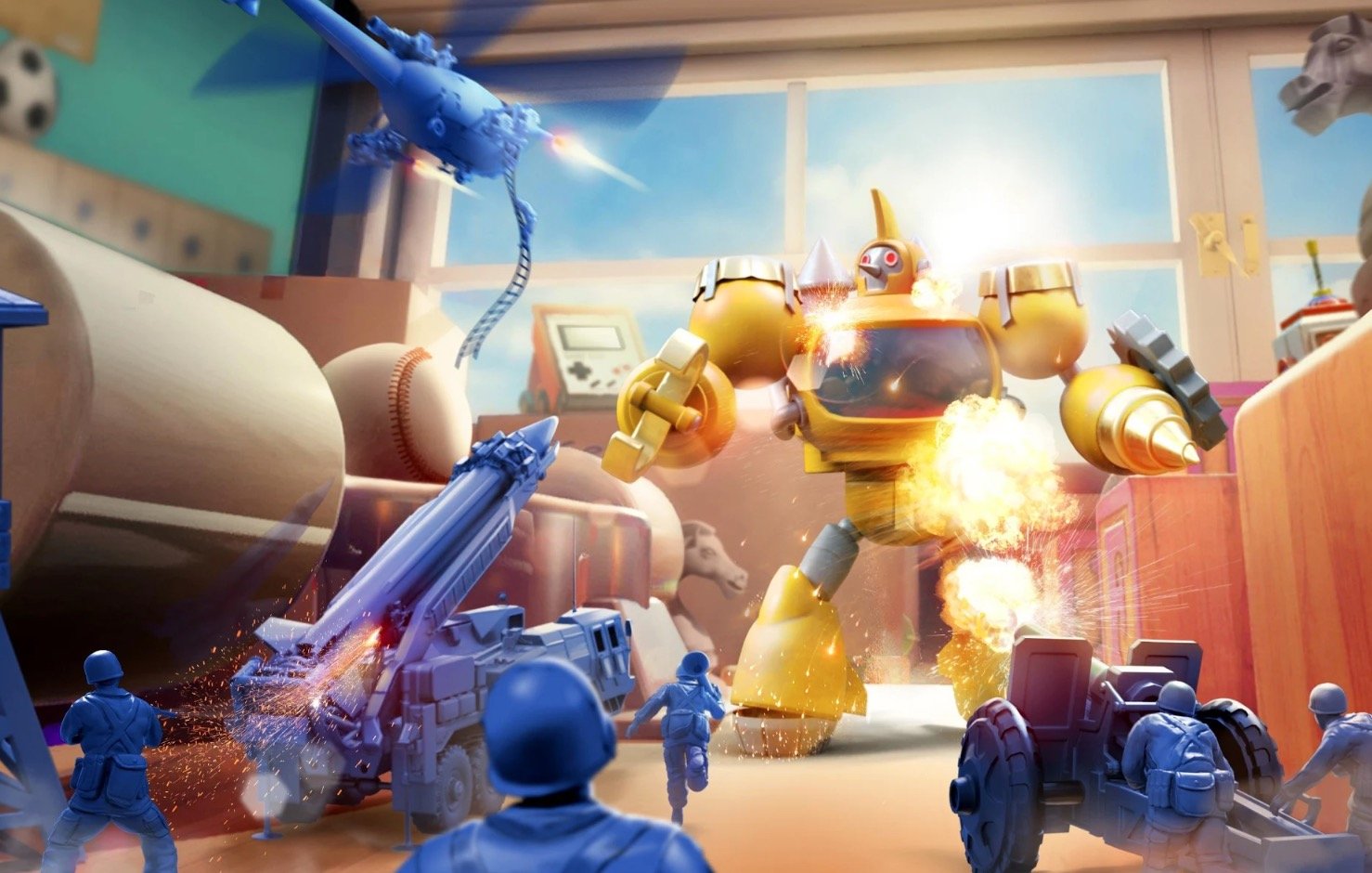 It has an excellent visual design that pleases the eye, and a soundtrack with a bright military motive takes the player into the thick of the military conflict. Not only toy soldiers, but also radio-controlled airplanes and even combat robots go into battle. Everything resembles childhood fantasies! The game is suitable for those who are looking for something unusual and colorful.
Downloads: 560 00 +
Customers rating:

(4.4 / 5)
21. Expanse
Remember RedSun? Expanse is one more classic RTS created by the same developers. Even the looks are pretty similar! This game, however, is different. It has an exciting background story.
It is the 25th century and you are on some planet that is far away from Earth. Its conditions are far from perfect and resources are few. Three factions compete with each other to carry out their plans – the scientists, the workers, and the military.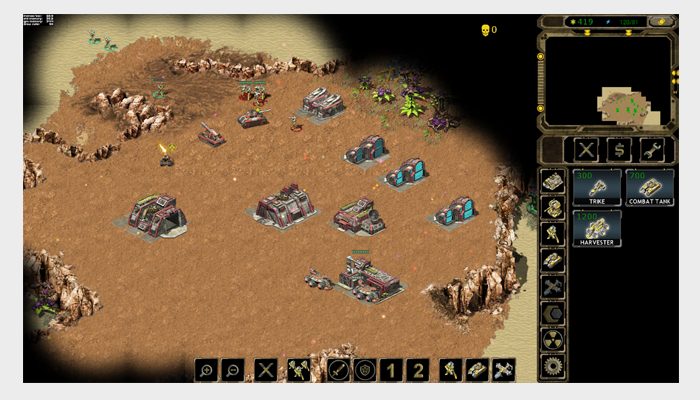 You've got to choose one of these factions and help it reach its goal. The goals of different factions are the following: to stay on this unfriendly planet, to fly on some other planet, to return home. It is impossible to satisfy all of them, because the resources are limited. So how is it all going to be settled? Download the game, get through 30 missions and find out!
Downloads: 100 000 +
Customers rating: 

(4 / 5)
22. Guardian Soul
Guardian Soul is a popular RTS game in which you have to fight the evil.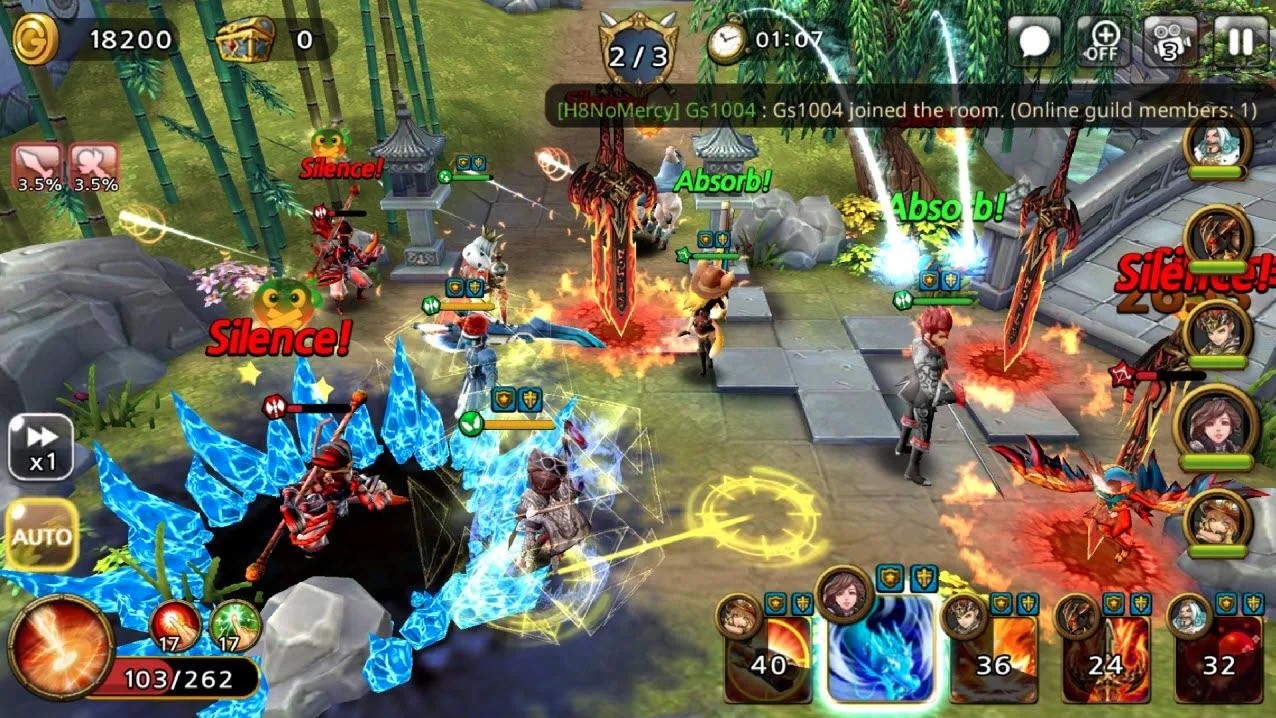 The ancient prosperous kingdom was attacked by demons and other evil spirits, who were able to open the portal to another dimension. Endless reinforcements come to them from there and our task is to stop this Evil, destroy the leaders of the demonic armies and close the gates.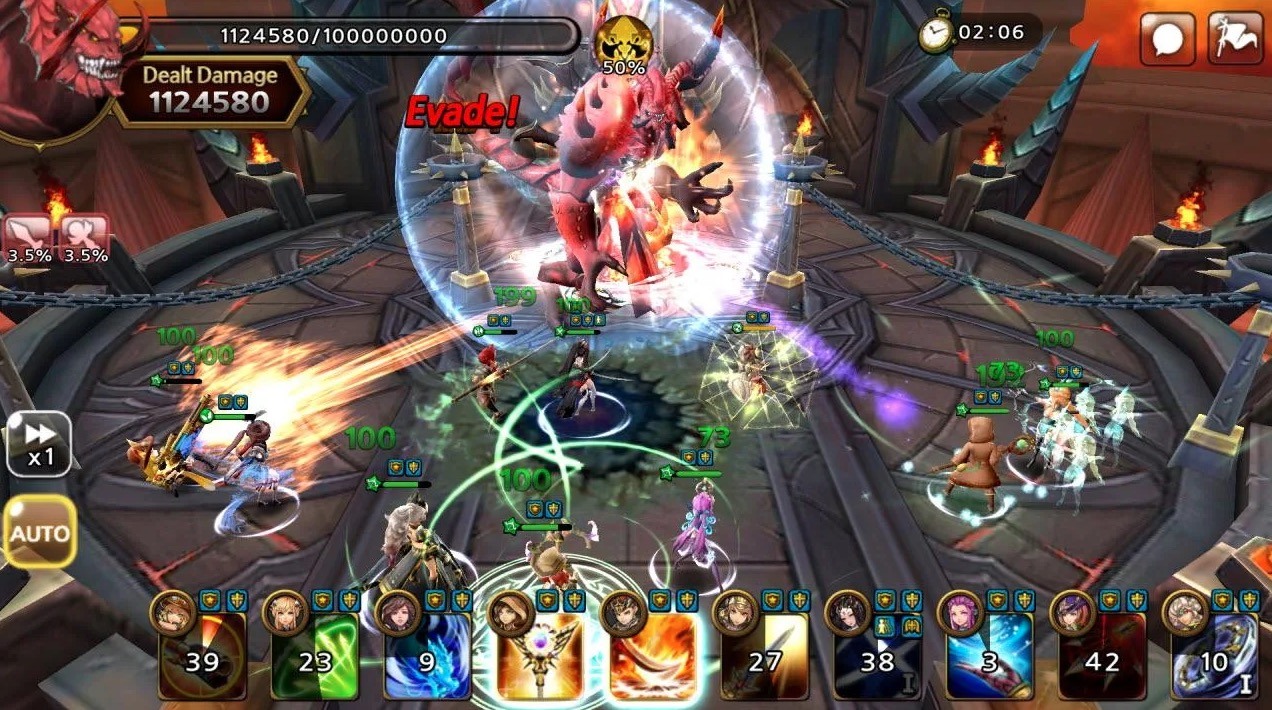 Your combat team consists of three different heroes, each of which specializes in a certain skill. We will have a swordsman taking all the damage and not weakly destroying enemies, an archer who supports him and a magician who can heal allies. Each hero has a unique special attack that inflicts huge damage, deafening, freezing or another.
After the battle, as expected, you return to base and improve the characteristics of the heroes and their equipment. As you progress through, it will become available to join various guilds and participate in network battles with other real players.
Downloads: 44 000 +
Customers rating:

(4.6 / 5)

23. The Battle of Polytopia
The Battle of Polytopia is an excellent real-time strategy in the spirit of the legendary Civilization but in a more simplified form. We select one of the four available nations (the rest can be unlocked for real money) and set off to explore a new world. To do this, we build an infantryman or cavalryman in our capital and send him outside the borders of our empire.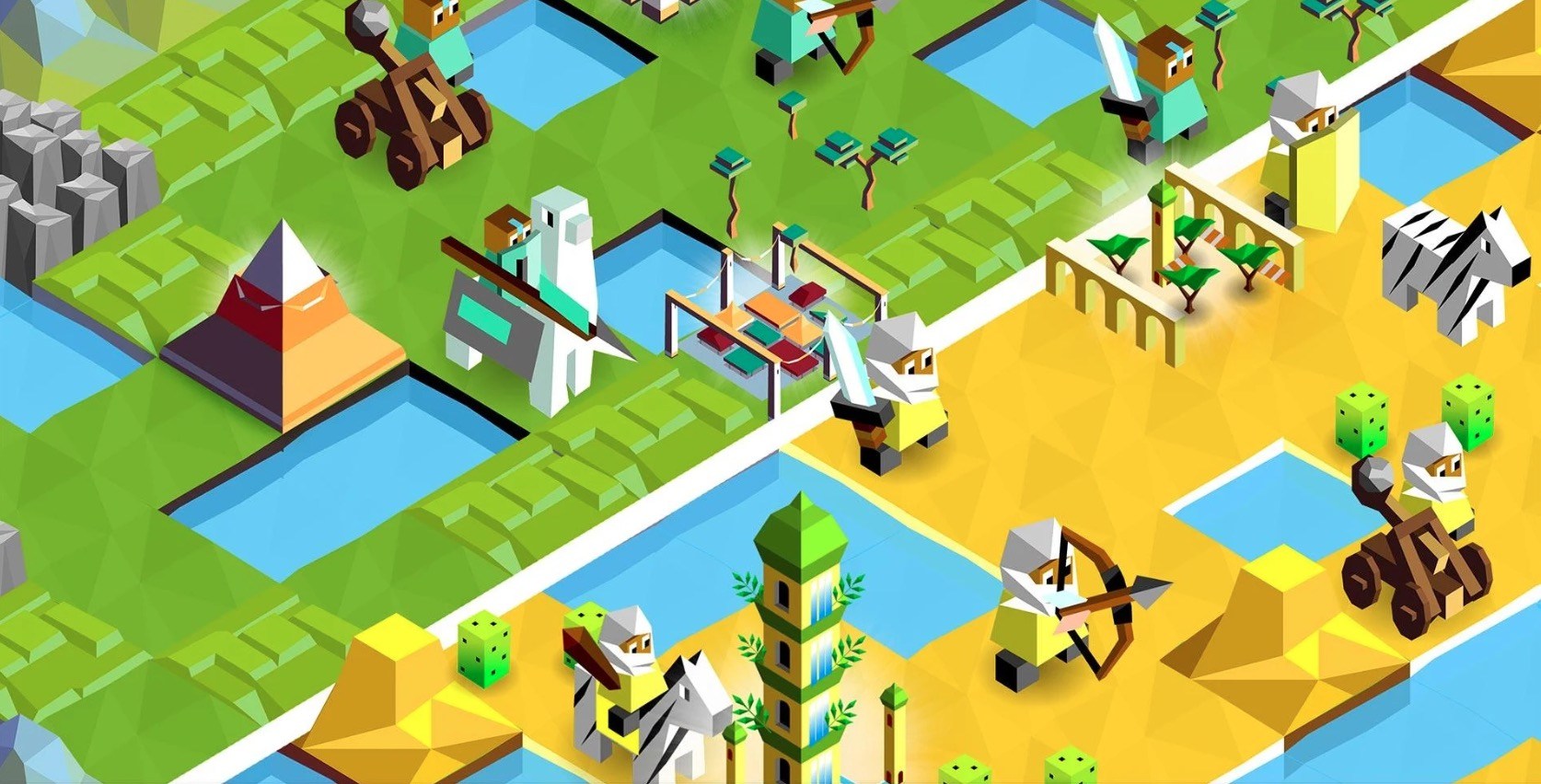 Initially, the capital brings us 2 stars each turn. These stars are spent on researching new technologies, such as agriculture, hunting, fishing, roads, construction, and others. Also, this main resource is spent on various activities, for example, building farms around the city, picking fruits, etc.
The more we build buildings and produce products, the faster the population of our city grows. Raising the level of the capital, we get some kind of bonus, for example, hiring a super unit.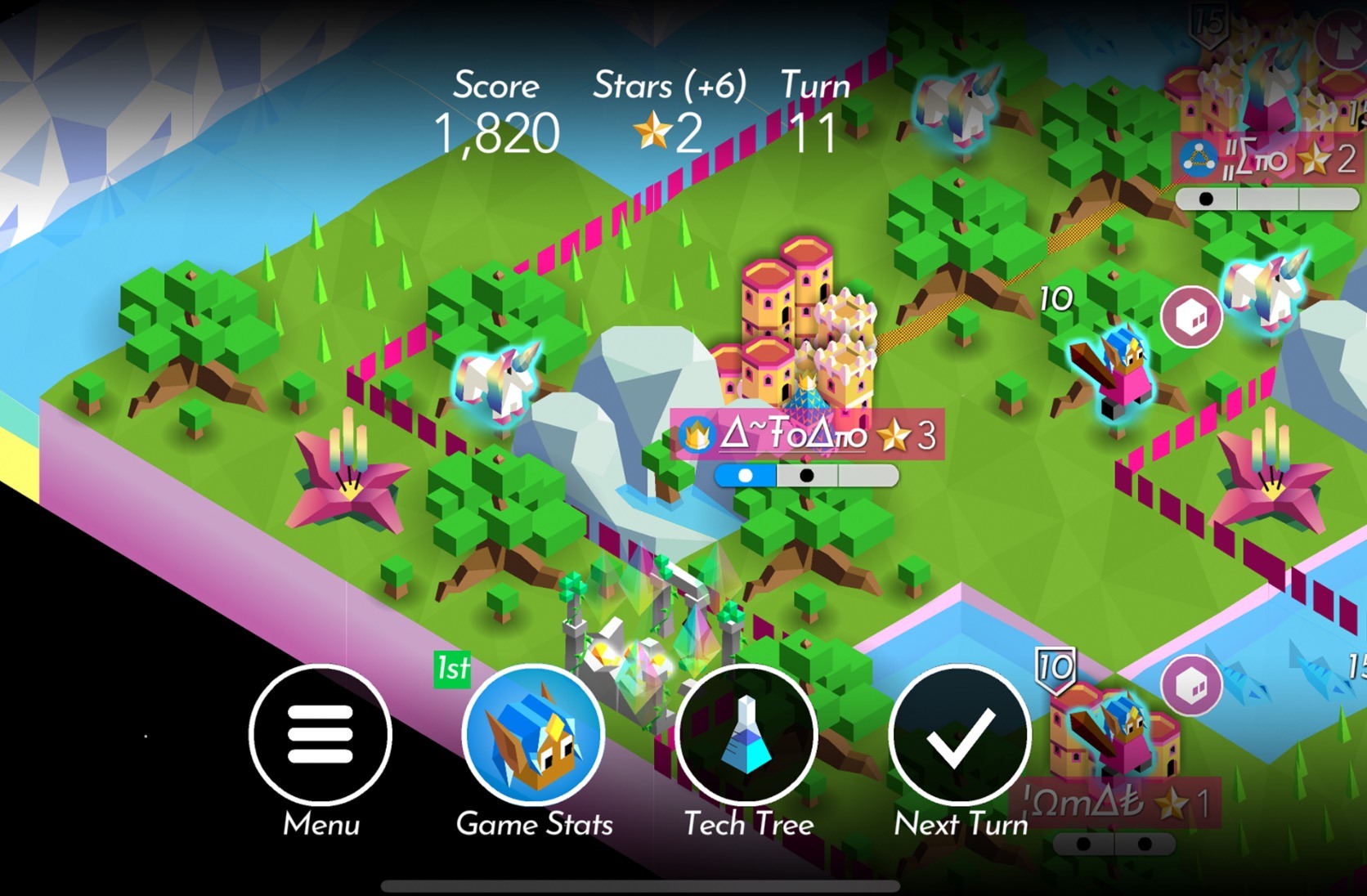 Around us there are many villages that need to be captured, thereby expanding the borders of the empire. The captured settlement is developing, as well as the capital, increasing its level.
The polygonal design of the game immediately catches the eye. It looks unusual, especially for a game of this genre.  The Battle of Polytopia is a small masterpiece that many players will love!
Downloads: 120 000 +
Customers rating:

(4.6 / 5)
24. Machines at War 3
NOT FREE. But still worth it. Machines at War 3 is based on an interesting story about scientists who suddenly disappear leaving a note 'We were forced to do it'. The cornerstone of the story is the secret weapon that they created before leaving the lab. Now the fate of the whole nation is in danger. You gotta find those who did it and prevent dangerous weapons from falling into the hands of enemies.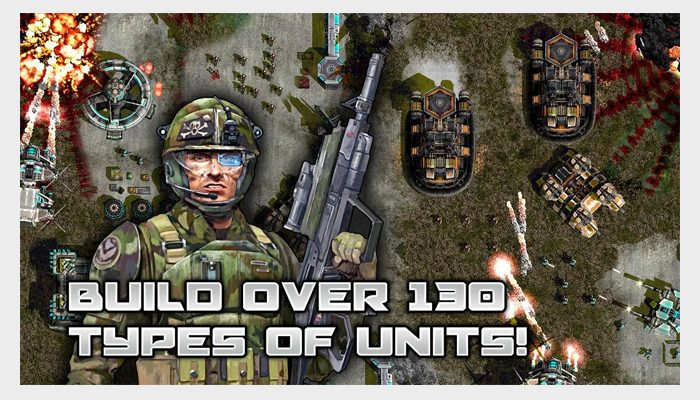 The game consists of 21 mission, 130 types of units and an unlimited number of random maps! Get through the game alone or make your friends join you to play in PvP mode.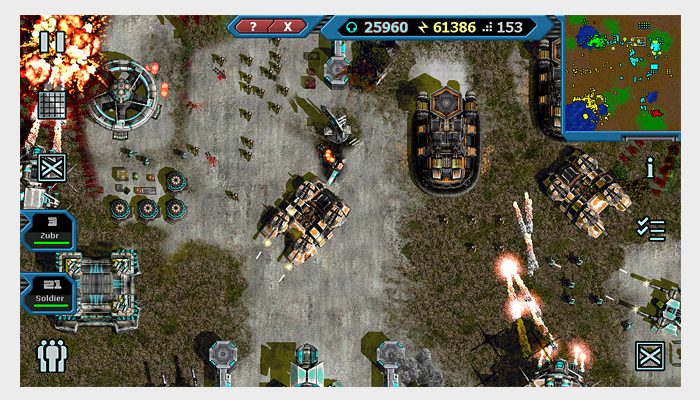 The game is well-developed – you'll find lots of interesting details in it. In short, this is a very good RTS that's defintely worth trying out!
Downloads: 5 000 +
Customers rating: 

(4.7 / 5)
25. Clash Royale
Clash Royale is a hot mixture of RTS and RPG. It is an extremely popular game with over 100 million downloads. Clash Royale deals with cards of different kinds, such as cards with troops, cards with spells, cards with royal family members (princes, knights, etc), and so on. All of these cards are, of course, to be used in battles.
By the way, check out 33 Best RPG games for Android for more cool RPGs.
Battle with players from all over the world, invite your friends and create your own community where you can share cards with one another! Download this wonderful game right now and explore all the possibilities it can offer!
Downloads: 100 000 000 +
Customers rating: 

(4.6 / 5)
26. Vainglory 5V5
Vainglory is MOBA, which settings are a fantasy world full of heroes, monsters, dragons and other cool creatures. The game has different kinds of modes – if you haven't got much time, you can go on a sprawl which will take you about 5 minutes; if you have lots of time on your hands – get involved in a full-scale experience with other players!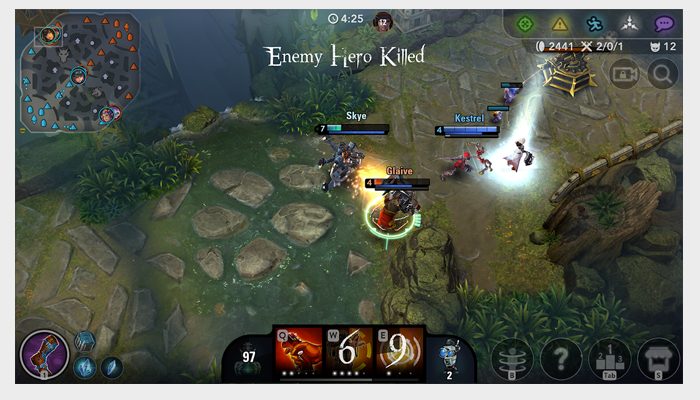 While playing, collect skins and heroes talents. By the way, there are over 37 heroes in this game! The number of marvelous maps is also impressing.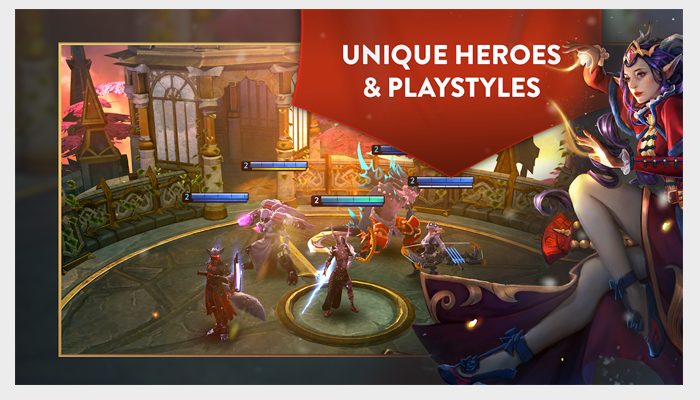 So, this is just one more MOBA strategy! An extremely beautiful and engaging MOBA strategy.
Downloads: 10 000 000 +
Customers rating: 

(4.4 / 5)
27. BattleTime
You have to test the role of leader of a real army. You obviously will not be bored in this game, as the creators have developed about three hundred dynamic and exciting battles.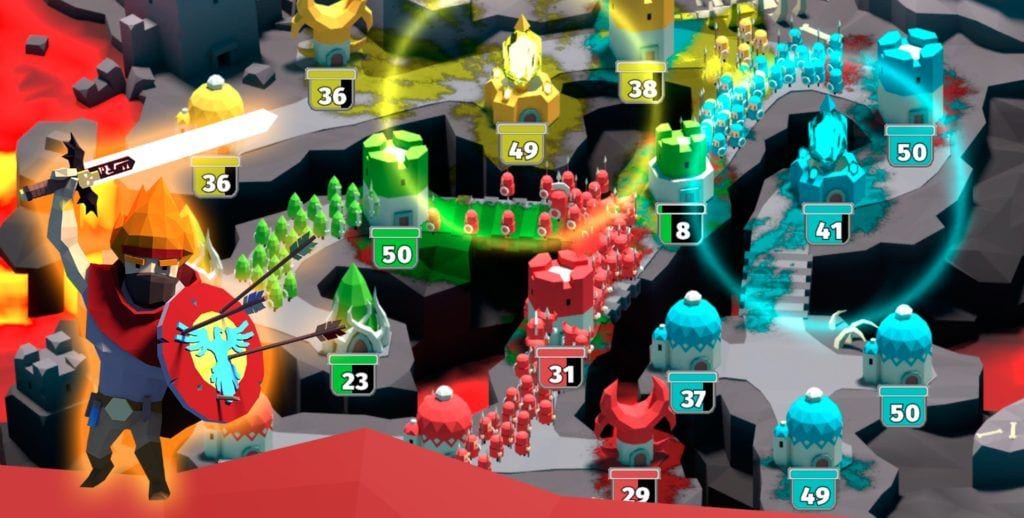 You have to experience all the "charms" of battle, you will need to capture the enemy fortresses, as well as increase the strength of your army. In the game, you will be provided with many different maps to choose from, each of which has a unique tactical task. In addition to a variety of maps, the game also attracts with bright and beautiful graphics.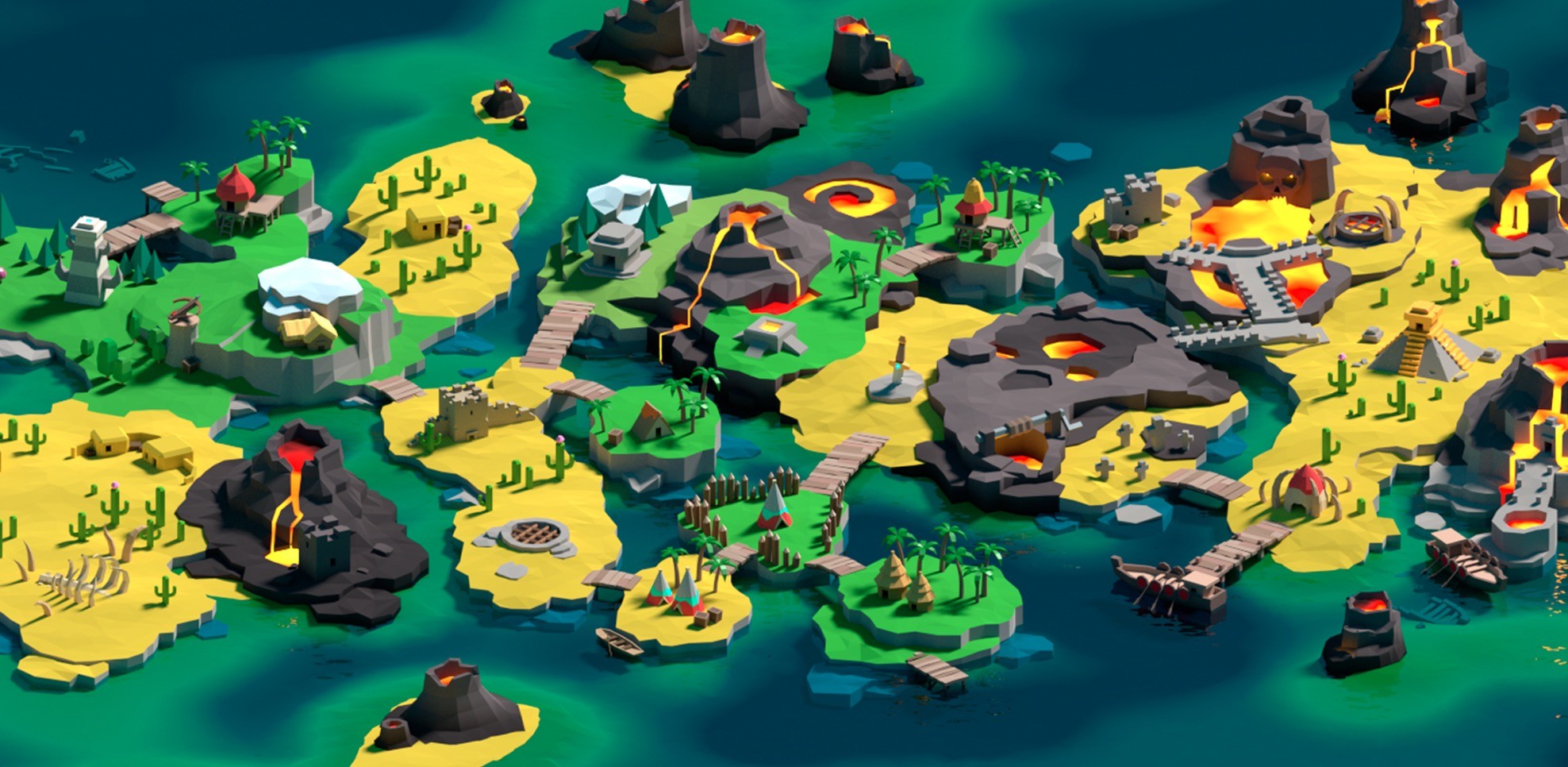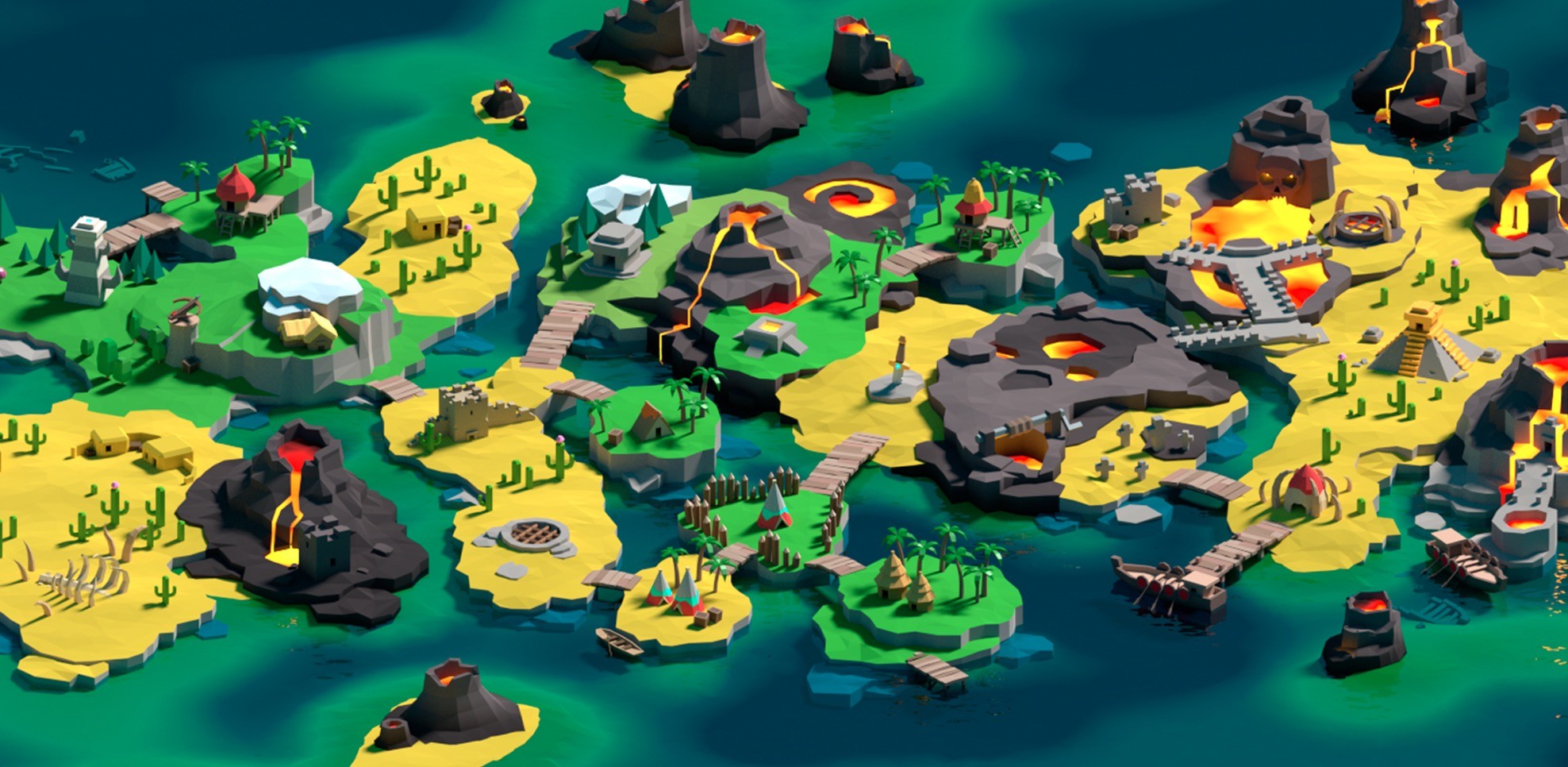 Management of the game is not something complicated and unimaginable, everything is quite simple and clear. You have the right to choose a commander, each of whom has his own unique abilities and powers. Don't forget about improving the skills that will help you in capturing land.
Downloads: 31 000 +
Customers rating:

(4.2 / 5)

28. Samurai Siege: Alliance Wars
Samurai Siege is a cool RTS with a pretty much standard set of features. You have to build a powerful stronghold in your village, improve your army of Samurais, Rams, Monsters or Ninjas, and fight others in order to get loot (as well as victory, popularity, and so on and so forth).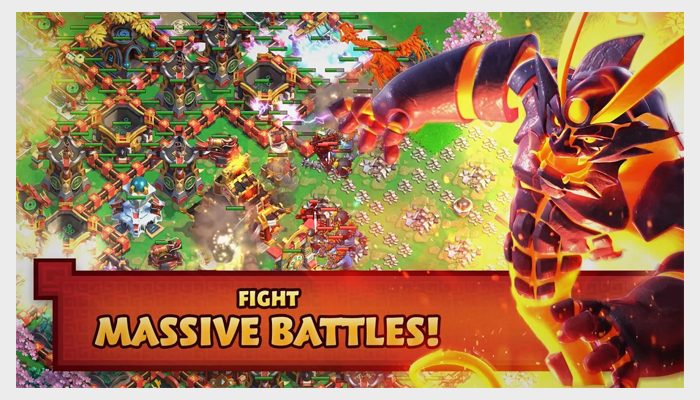 You can be a lonely fighter or you can create an alliance. Going in battles with allies is fun, so try that if you decide to download the game! Besides battles, there are cool stunning places to explore – you can travel across the map to see forests, mountains, deserts.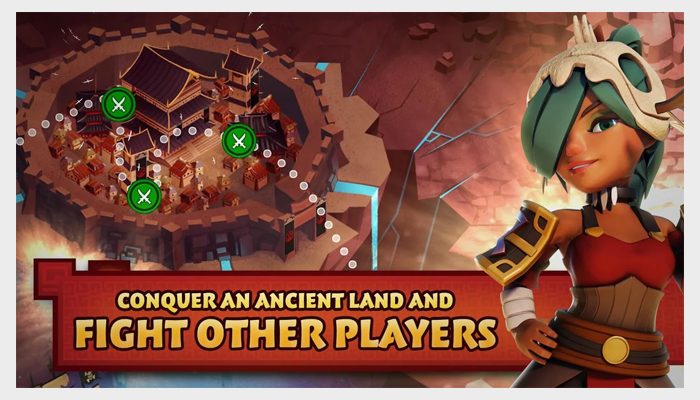 All in all, Samurai Siege is a game that is definitely worth your attention!
Downloads: 5 000 000 +
Customers rating: 

(4.2 / 5)

29. Plague
Plague differs a lot from all the other games on this list! But still, this is a strategy and all the events are taking place in real time. So, let's contemplate it as well. Plague is an extremely popular game, in which you have to infect the humanity with a deadly pathogen. Patient Zero is already infected. So, what are you going to do next?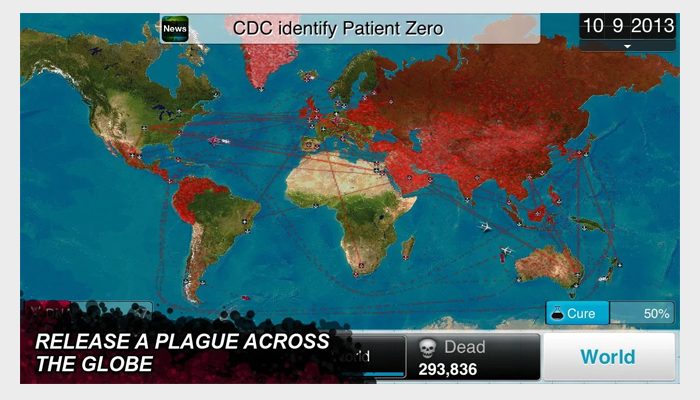 There are 12 disease types, each one requires special strategy. You've got to spread the plague across 50+ countries using various events and other methods.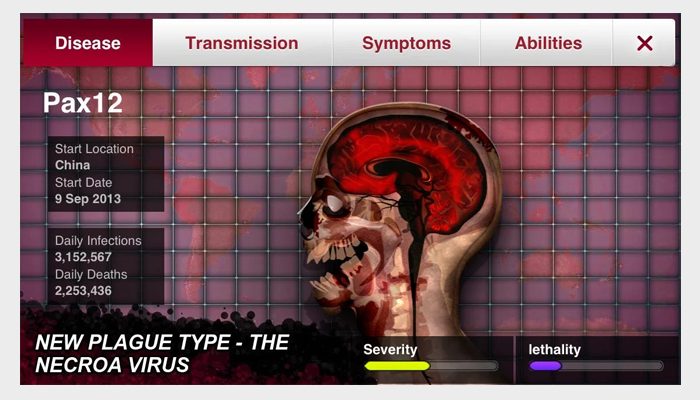 The game is extremely fascinating! And, more than that, it informs players of potential threats that might arise in the real world. Download it now and be conscious of the problem!
Downloads: 50 000 000 +
Customers rating: 

(4.5 / 5)
30. Anomaly: Warzone Earth
NOT FREE. And the last update was in 2013. Still, the game is fine. First of all, the music playing in the background is dope. Then, you've gotta really use your brain to plan a perfect mission against alien gangsters ('alien horde'). You've gotta choose the appropriate squad, arm it with necessary weapons, and choose a route.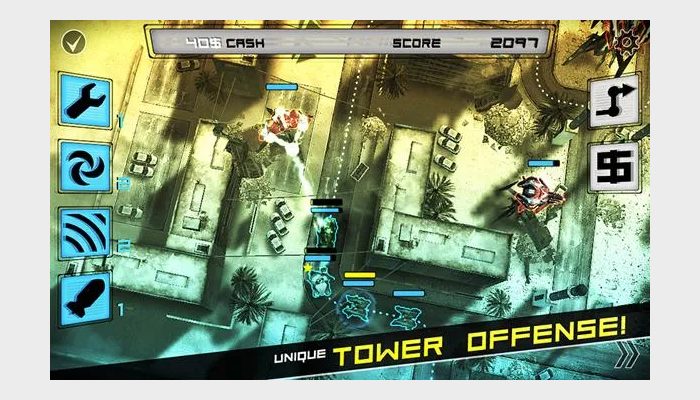 On your way to the enemies' base, destroy their fortresses and towers with special weapons – you have to get through their defense carefully and at the same time cause as much damage as possible!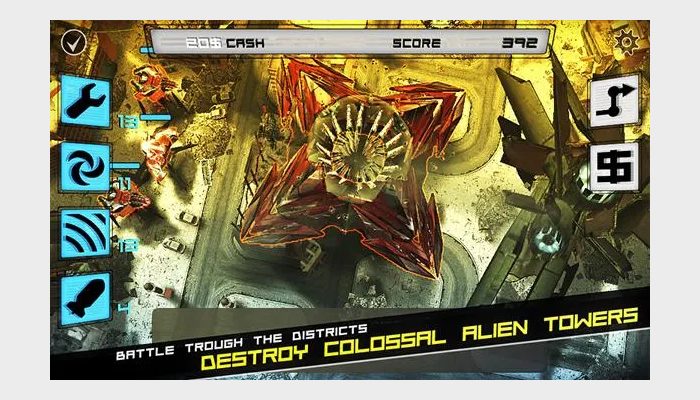 What I like most about this RTS is that it has urban settings that are so near and dear to most of the players. So, if you find the described gameplay interesting, consider getting the game!
Downloads: 50 000 +
Customers rating: 

(4.5 / 5)

31. Galaxy Reavers
Galaxy Reavers is one more space RTS. This gorgeous game allows you to build up your own fleet, customize spaceships that are specially designed for war purposes and, of course, engage in real-time battles!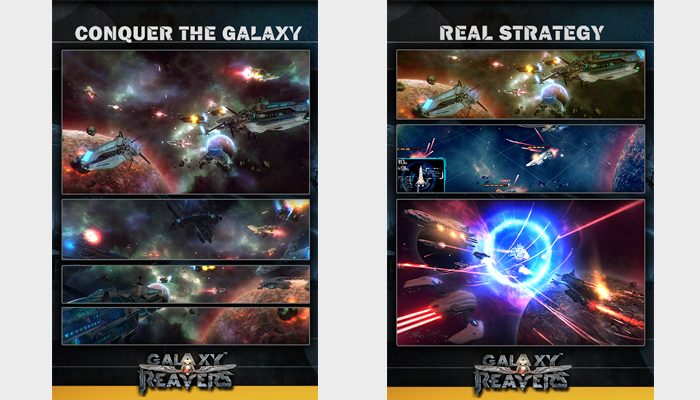 The 3D graphics look amazing. Plus, all the events in battles are happening extremely fast, so keep your eyes on the ball!
All in all, another space exploration & conquest game that's really worth a try!
Downloads: 1 000 000 +
Customers rating: 

(4.5 / 5)
32. Crush Your Enemies!
Crush Your Enemies is a funny RTS. It is certainly not what you usually expect from the games of this genre – no princesses, no kings, no other subtle details… Welcome to Generia! Here, you will encounter brazen barbarians who drink beer, use strong language and plunder with no regrets. One tiny fact – you're their leader!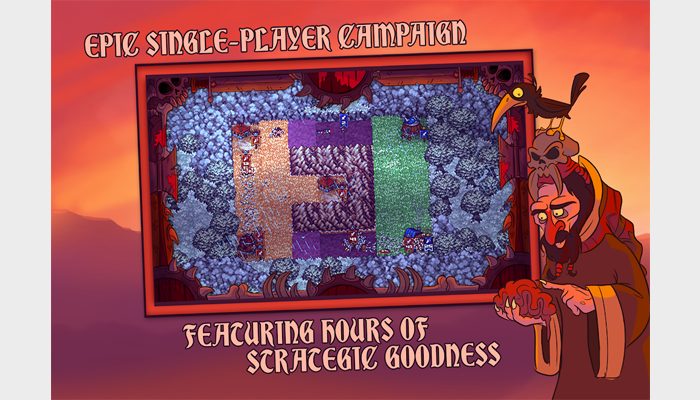 Go through missions & explore the fantastically appealing world of this game! The missions don't take lots of time and preparation, although you've gotta plan them and improve your positions (after all, this is still a strategy).
I strongly recommend you to watch the trailer for this game – it is hilarious! For some reason, a barbarian speaks with a Russian accent :/ Anyways, another cool strategy game to expand your choice. Get it now and crush your enemies!
Downloads: 50 000 +
Customers rating: 

(4.3 / 5)
33. Clash of Lords 2: Guild Castle
There are lots of clashes in RTS genre. This time we will review Clash of Lords. Clash of Lords is a very popular free game that is all about building your home and protecting it from other heroes. But don't just protect yourself – challenge others as well!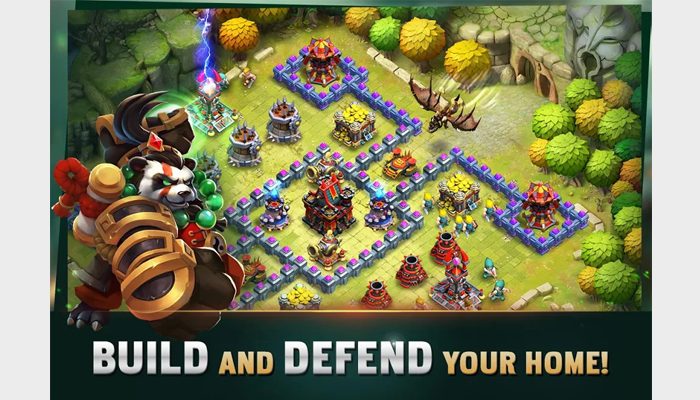 There are about 50 types of heroes with mercenaries. Recruit them to own the most powerful army, master up to 10 features and become an invincible lord! You can battle with players all over the world – there are different ways to do so including PvP.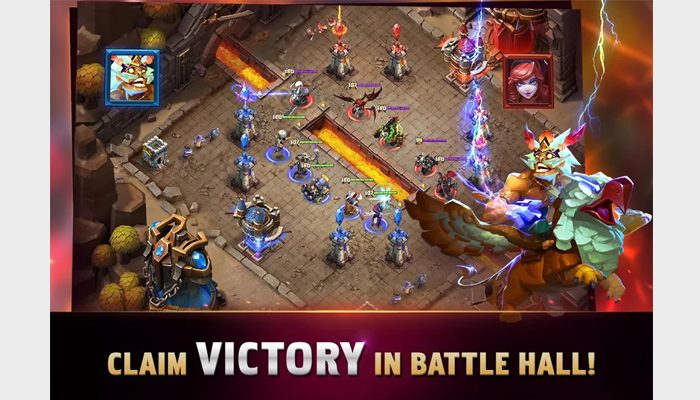 So one more great modern RTS! Whether to choose this one or some other game is up to you. Anyways, Clash of Lords 2 certainly deserves consideration!
Downloads: 10 000 000 +
Customers rating: 

(4.5 / 5)
This article has covered some of the most awesome RTS for Android that exist out there. If you know other cool strategies, please, share them in the comments down below. Stay tuned & choose apps wisely!