Do you like to read scary stories? Can not find good literature? Download one of these apps, which have a lot of exciting horror stories!
Planet of Horrors
Fans of reading horror stories before bedtime can breathe a sigh of relief. Now they will need just download the Planet of Horrors – Scary Stories on Android for this. Just imagine a lot of stories that have been selected from most resources. Each of them unique in their own way. Moreover, the application continues to be updated with new ones.
Already millions of people read these horror stories and go crazy about them. You must become part of this fearless community. Only the best stories, about which many have not heard so far, are collected in the app. All of them have a qualitative plot. The application itself will provide unsurpassed comfort for reading and using functions.
The main features:
An unlimited number of scary stories.
You will find the info about the evilest demons and their images in the app gallery.
You can use creepy sound as a ringtone on your phone.
Eerie ambient music will accompany while reading.
You can share the stories and facts via popular social networks.
The interface is made in dark colors.
Built-in search system.
You can read the stories in offline mode.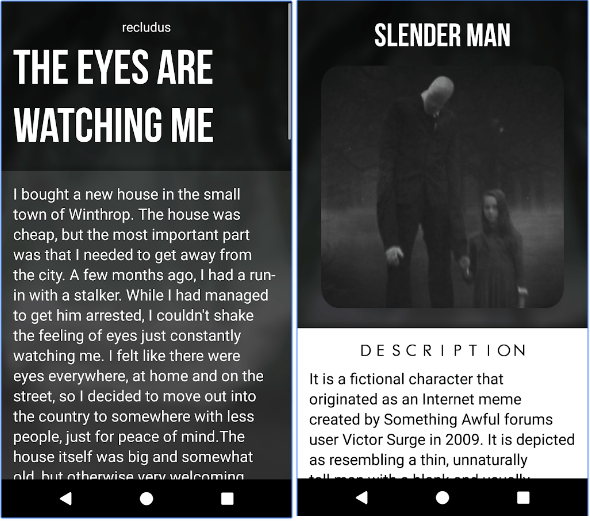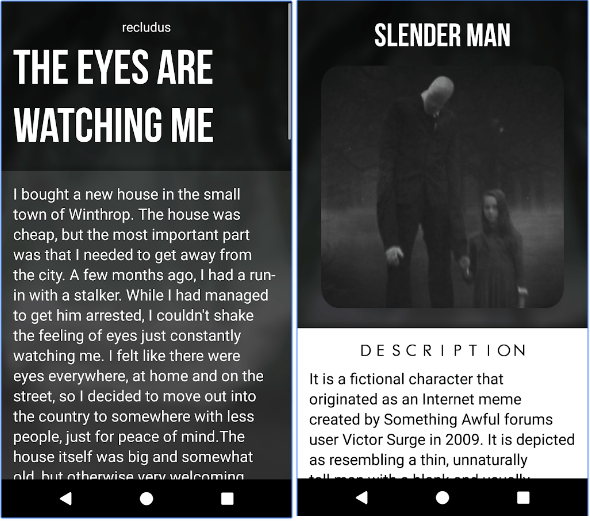 Downloads: 100000 +
Customers rating:

(4.4 / 5)
You may also like: 16 Best ghost detector apps for Android
Creepypasta
If you are a fan of tickling your nerves, especially if you are alone at night, you do not want to sleep, and the computer is already turned off, why not use the best application, which is a huge collection of eerie stories and photographs? The Creepypasta app for Android is an excellent alternative to such sites and books. It contains a huge number of incredible stories, from which the hair stand on end.
The app has a notification system that helps you to always be aware of new stories posted. Moreover, every happy hour, this app will give you a recommendation to read creepypasta. It is also possible to leave comments, discuss any scary story with friends, or even with its author. Try to use a random feature of the app. It will select one of the scariest stories for you to read.
Yes, the stories are really terrible. But it's good. For a lover of horror stories, this program is very suitable for entertainment. In addition, the number of stories in the application is quite large, so you will not soon read them all. And we hope that in the future the number will increase. It is recommended for all fans!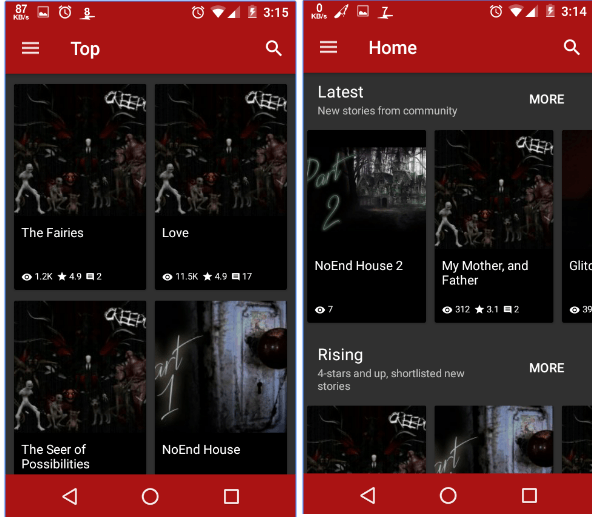 Downloads: 500000 +
Customers rating:

(4.7 / 5)
Scary Chat Stories – Hooked on Texts
Why is this application so popular among users? There are many reasons why you need to download Scary Chat Stories – Hooked on Texts on Android. First of all, it is the possibility to read scary stories of various genres, themes, and styles in absolutely any place and at any time. The ability to find those stories that you wanted for a long time.
To read horror stories, fantastic stories you just need to download this app on your device. Really terrible and horrific stories will make your hair stand on end. You'll be scared to read such a story.
All stories are made in a unique form of dialogue. It seems to you as if you open someone's phone and read his terrible correspondence. It will be very interesting and inexpressibly cool. Each story can be read in 5 minutes. Every day the library is replenished with new stories. All authors are real nuggets.
They write original stories that all readers дшлу. If you have creative talent, you can share your story with readers and get an appreciation of the creation. It is quite real that your story will rise to the top of the rating of horror stories. You can try it! Do not be afraid!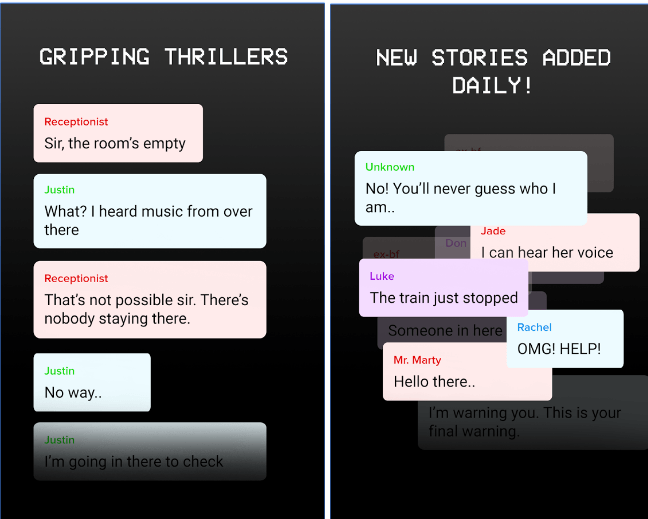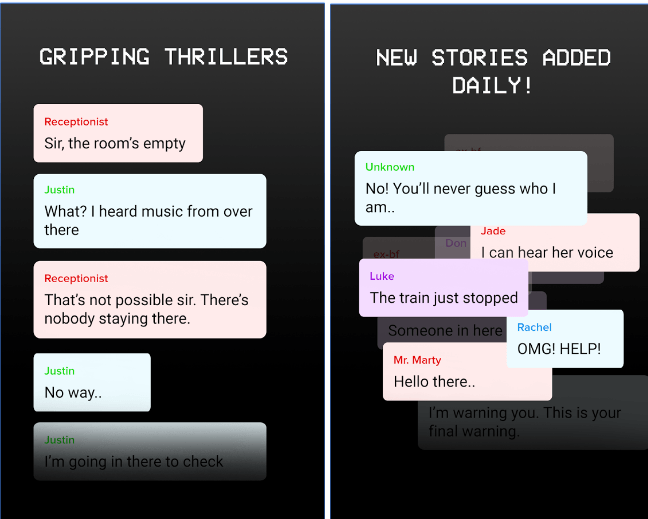 Downloads: 1000000 +
Customers rating:

(4.6 / 5)
500+ Scariest Horror Stories
The stories collected in this unique application are very different from those that are written in ordinary books. They are really unique and unrepeatable. Here is the most diverse collection of interesting subjects, which draw into reading for many hours. The entire interface is made in nice colors and is quite convenient for users.
The reader will be able to feel at the center of events that occur in this book.
The main features of 500+ Scariest Horror Stories app:
• You can read free short scary stories collected from all over the world. All stories are divided into several sections to choose from.
• The app contains stories about real ghosts experiences from real people like you.
• You will read stories that you may never forget about.
• Such stories will make you stay awake at night.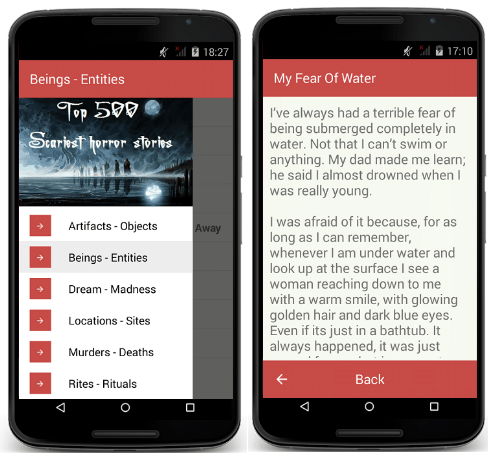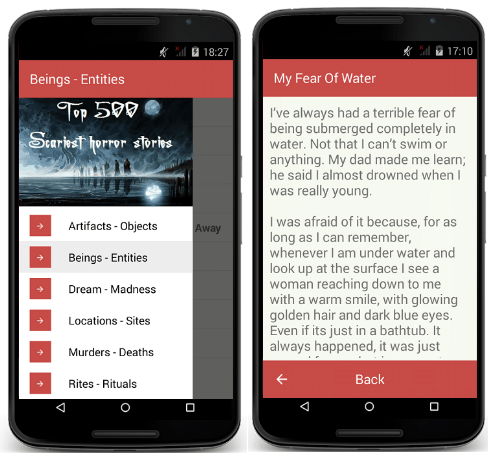 Downloads: 50000 +
Customers rating:

(4.2 / 5)

Ghost Story
Download the Ghost Story app on your smartphone and you will never regret it! In this collection, there are stories of all kinds that even the most persistent users will like. Witches, werewolves, and ghosts… there are many different categories, among which there is surely something that everyone will like.
The horror book is perfectly made in the style of a real collection of horror stories. The black background creates an eerie atmosphere, on which bright white letters appear. Despite the peculiar appearance of the menu and the list of stories, the text itself is convenient to read due to a nice font.
You can save the scariest stories to your Favorite list and read them later again and again. There are different categories of stories to choose from: Campfire Stories, Funny Ghost Stories, Halloween Stories, Urban Legends, Scary Stories, Yellowstone Ghost Stories, Real-Life Ghost Stories, Creepy Ghost Stories, True Paranormal Stories, Terrifying Ghost Stories, The Spookiest Scary Stories.
They are all so breathtaking that you will forget about the time reading them. After reading a certain story you can share it with others. The app also contains a section with horror videos that immerses the reader deeper into the story, creating the right tense atmosphere.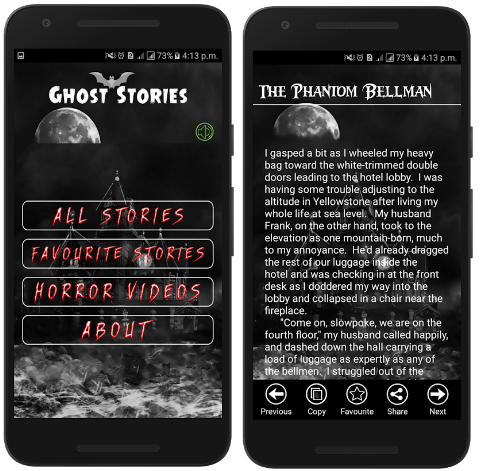 Downloads: 10000 +
Customers rating:

(4.5 / 5)
Horror & scary stories
Horror & scary stories app is a real finding for a fan of creepypastas and horrors. Here, you will find more than two thousand scary and horror stories. They are all divided into categories. You can sort the stories by name, date, rating, a number of votes or duration. The app offers several themes to choose from, different backgrounds, fonts, font-sizes, text colors, and orientation.
In addition to the user-friendly interface, modern design, and a nicely selected font for reading, this horror book on Android has a few more pluses. For example, it can work without connecting to the network. Therefore, if you are stuck somewhere on the roadside or somewhere in the woods, you can always find a couple of interesting stories to pass the time together with your wild imagination. And, of course, it is worth noting that you can save your favorite stories in the Favorite list, to re-read again.
In addition, it is possible to disable read or not read stories from the search to find only fresh or, conversely, read all those stories that have already been read.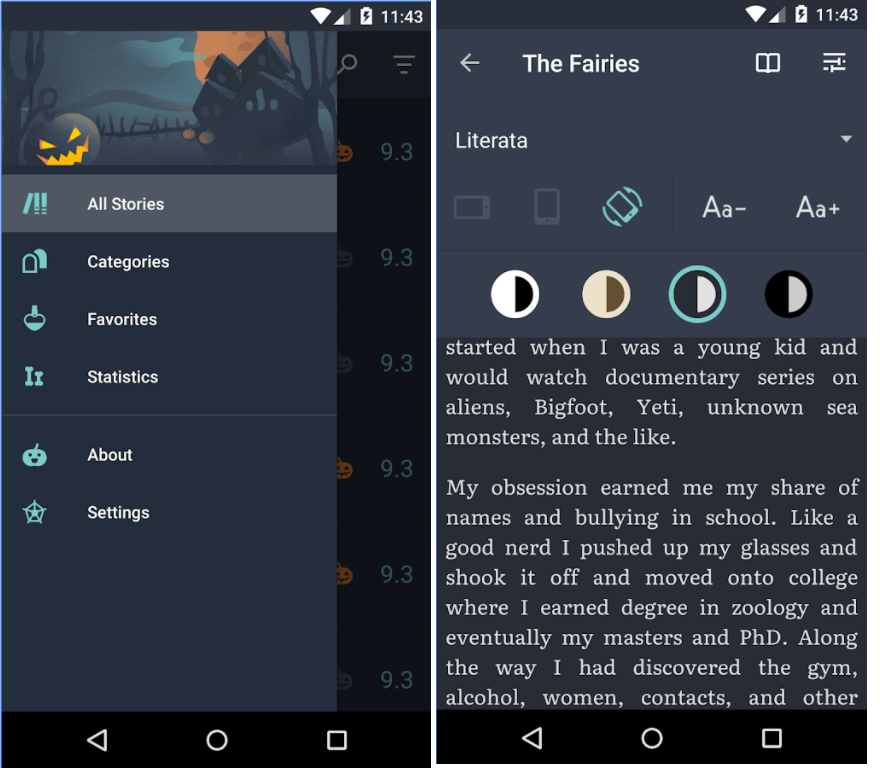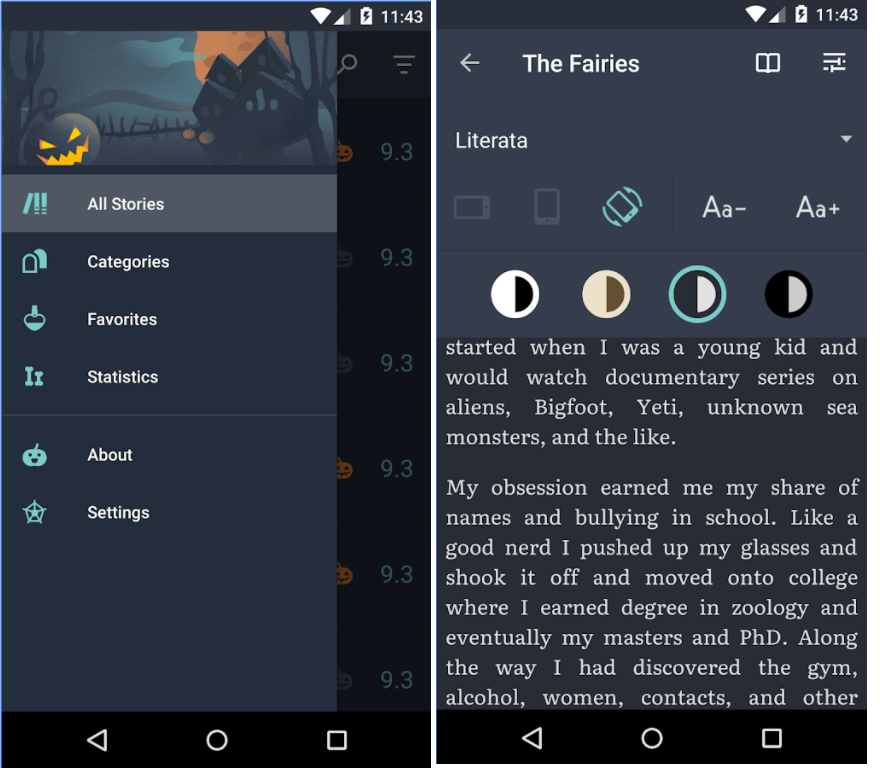 Downloads: 500000 +
Customers rating:

(4.4 / 5)

Scary Stories
You can download Scary Stories on Android and read terrible stories right from your phone no matter where you are. This is a collection of horror stories with horrific pictures. It consists of stories written by different authors. By the way, you can also become one of them and add your stories with scary images. You can estimate other author's stories and like-minded users will estimate your works.
This perfect app will tell the most horrific stories for the night. An eerie performance! And for this, you do not need an internet connection. From the stories, goosebumps will run through the skin even among the most audacious readers. If you like the reception of such emotions then surely try to download the Scary Stories app on your phone.
This book presents a huge number of the most popular and horrible stories. You can read horror stories during the hike, at night, and near the fire. They can terrify you and your friends.
The main advantage of such an application is that all stories are available offline. Also, you can leave comments and communicate with the authors of stories. All you need is to create a profile and start communication. Look through the profiles of other users and read their stories.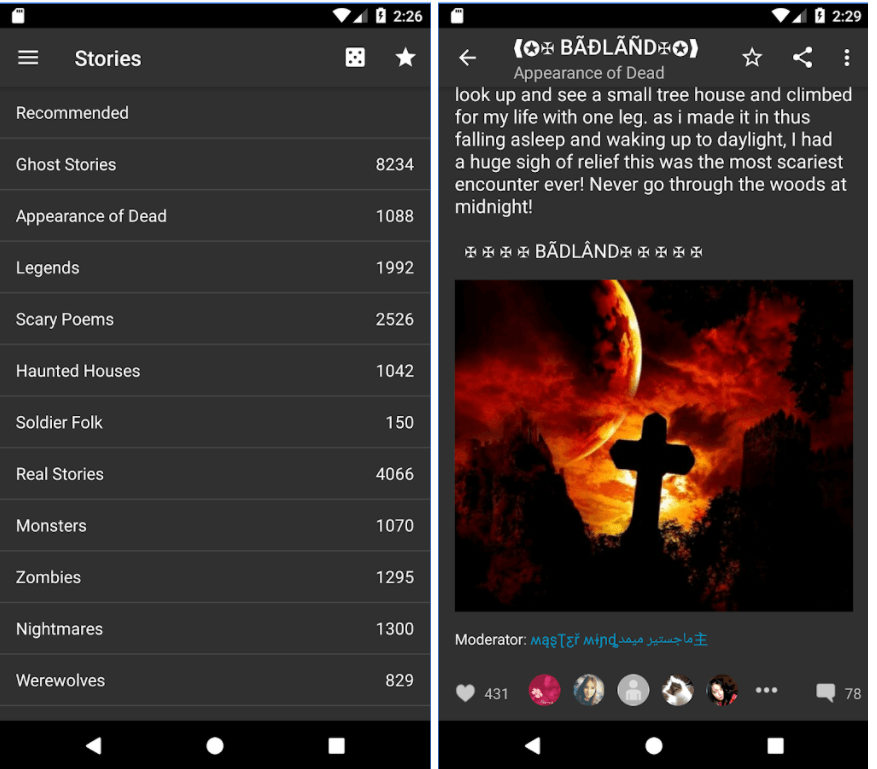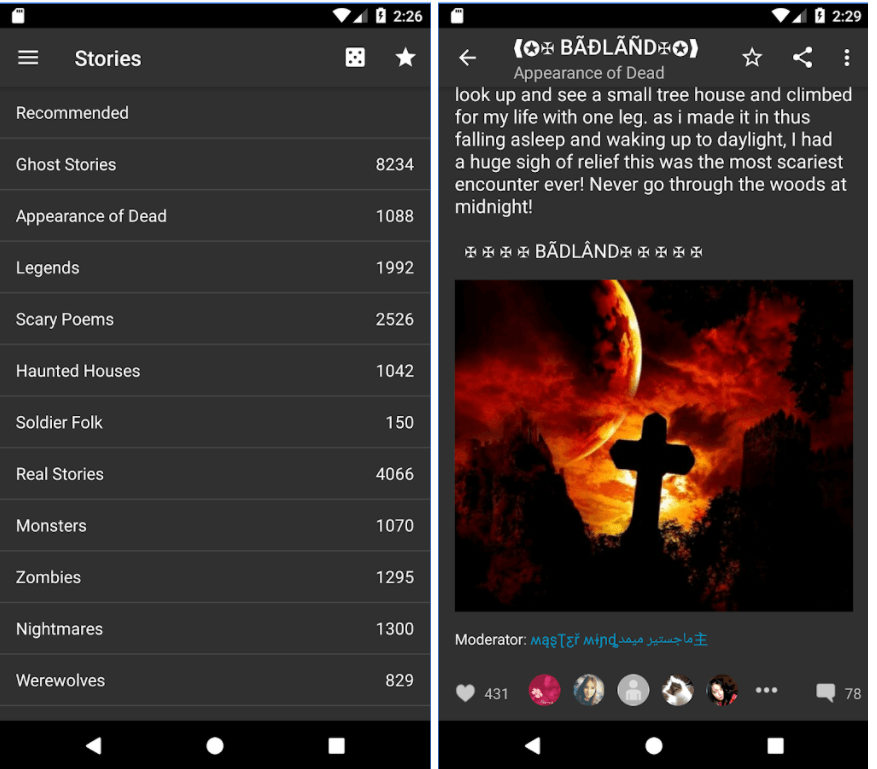 Downloads: 1000000 +
Customers rating:

(4.3 / 5)

Horror Stories
Are you a fan of creepy stories? Then, we have found a perfect application for you! It's Horror Stories – one of the best horror books on the market.
Here you'll find a large collection of scary stories that will not leave indifferent any lover of such genre. It contains more than one thousand terrifying horror stories and spooky tales.
What is remarkable about this application is that it represents a mix of classics and recent stories. Moreover, you can read a book offline.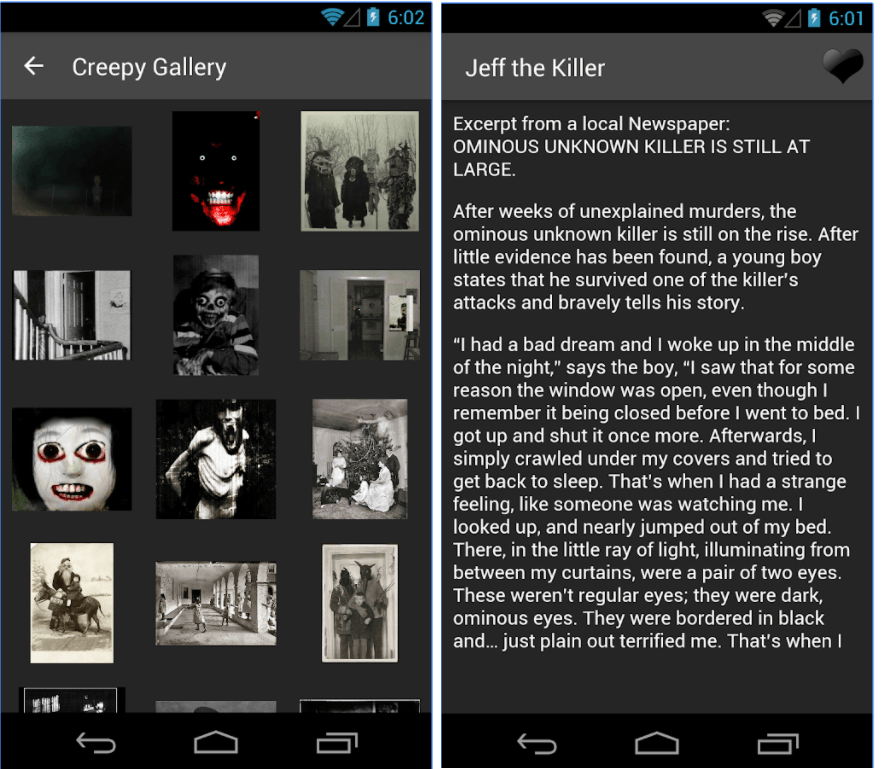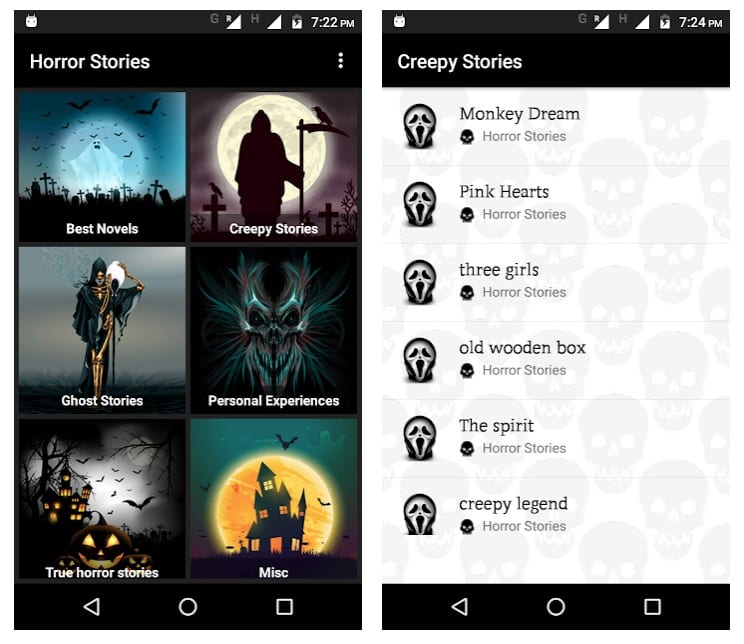 Downloads: 100000 +
Customers rating:

(4.3 / 5)
You may also like: 9 Best Offline Indie Games for Android
Scary Chat Stories
This is a cool application for enjoying scary tales. What's unique here?
It offers realistic free chats where you read a story as a bite-sized text message conversation as if you were reading someone else's chat history. Also, during a conversation, in the chat room photos appear. They will create an even more terrifying impression.
We all know that reading text stories can be boring and many people will like this format. The Scary Chat Stories app makes reading snappy, spooky, and fun.
This application was included in the list because on the whole, it is good. The stories are really interesting. But there is too much advertising.
Downloads: 1000000 +
Customers rating:

(4.6 / 5)