Are you tired of constantly struggling to fit your favorite pics into the perfect IG square? Well, we're here to change that!
We've rounded up the best free Android apps to resize photos you could try. With a wide range of options and features, these apps make it easy to crop and resize your pics to fit any platform.
These apps are easy to use, efficient, and did we mention, completely free of charge? Say goodbye to the frustration of dealing with wonky aspect ratios and say hello to handy apps at your fingertips. Take a look!
Photo & Picture Resizer
Have you ever found yourself stuck with a ton of photos that are too big to upload or share? Fear not, because this app is here to save the day (and your photo album)! It is an absolute game-changer when it comes to resizing multiple pics at once.
The best part? The original pics remain intact, so you can resize and modify them effortlessly. And with just a few taps, the pics get saved in a designated output folder.
Herewith, the quality of the resized photos stays top-notch, even after multiple tries. Plus, the browsing feature lets you easily swipe through your photos with ease. When it comes to customization, the possibilities are endless.
You can alter the pic resolution to SM standards, printing, and more. You can also modify the ratio to your liking, or even create a custom one. And the compressor does not disappoint: you'll get to shrink down the pics as needed. You can even enlarge the pics and try banner templates.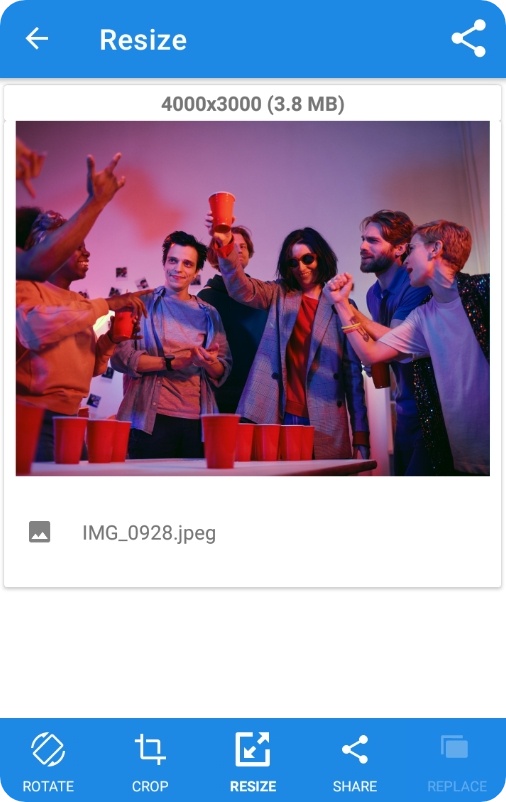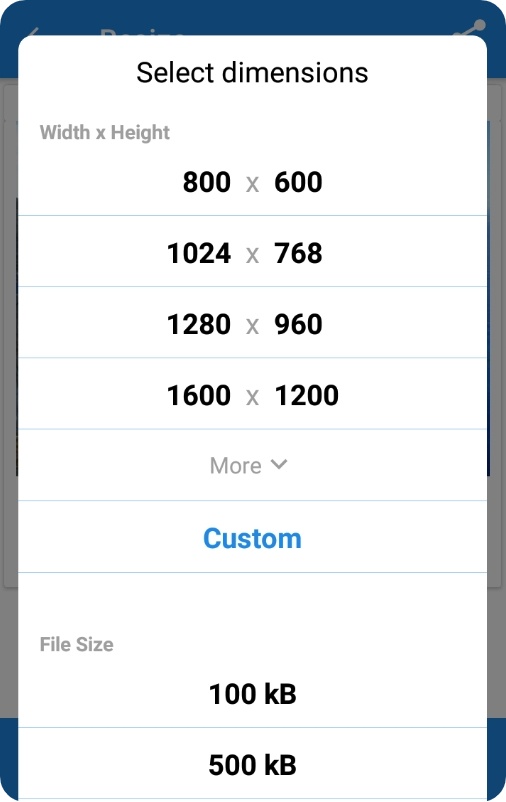 Downloads: 10M+
Customers rating:

(4.7 / 5)

You may also like: 10 Free Android Apps To Crop Photos Fast
Image Size
This app is a lifesaver for anyone needing to resize a pic fast. With a few clicks, you can alter your pics to any size needed. Herewith, the app is so easy to use! You simply enter an output size and voilà! You have a perfect pic in secs.
One of the best things about this one is that you can save output sizes, to quickly reuse them for future projects. Plus, you can rotate your pic 90 to the left or right, giving you more control over your masterpiece.
But wait, there's more! The app also covers an editor with a bunch of filters, text, and stickers because, let's face it, who doesn't love a little extra flair? And, if you're particular about image quality, you can modify the quality in the settings.
You'll also get to modify the storage path for the pics. Exif data is automatically copied from the original pic, but if you prefer, this function can be easily halted in the settings.
Downloads: 5M+
Customers rating:

(4.8 / 5)

Photo Resizer
Next, we have an app that is a dream come true for anyone who's been searching for a reliable and easy-to-use photo resizing tool. It's all about simplicity and makes batch resizing a literal breeze. You can even decide whether you want to resize or crop your photos individually: talk about convenience!
And the best part is, you don't have to worry about the authentic rate being affected. The app preserves the aspect ratio and ensures that the images look just as stunning as the original ones. Plus, you can compare the original and modified versions to see the contrast for yourself.
It also comes with a scope of most-used resolutions to select from, and you can even define a custom resolution if needed. Once you've resized the pics, they are automatically saved, so you don't have to worry about losing any of your hard work.
Finally, the app makes it super easy to share pics with others in various formats. You can zip them up if you need to share them via email or text message, or you can share them directly on social media.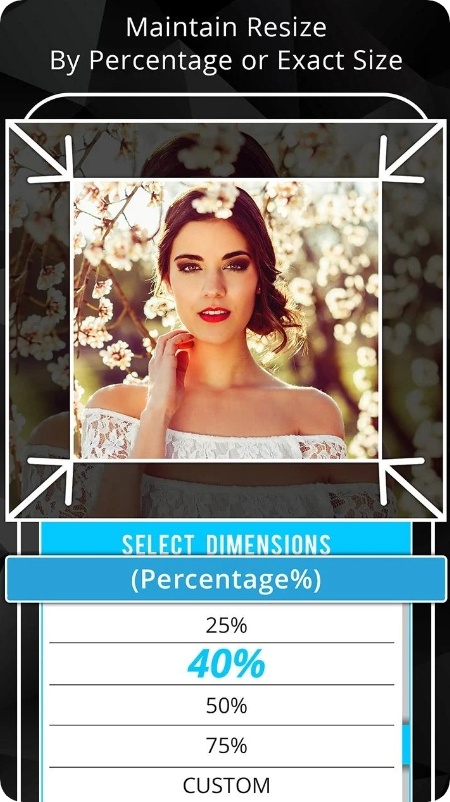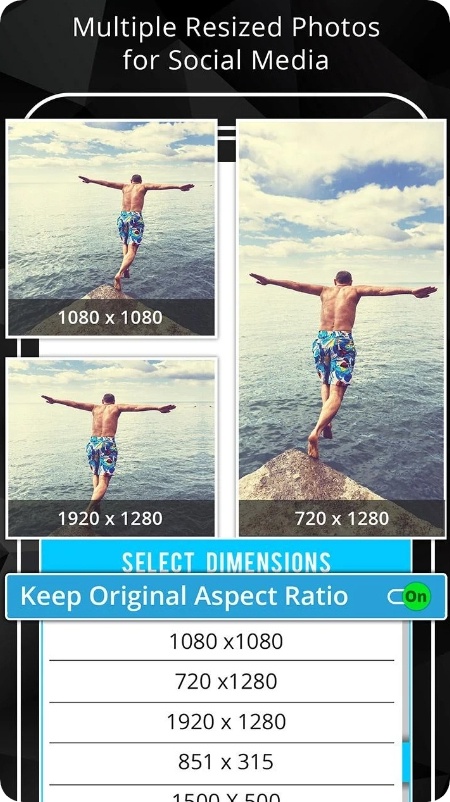 Downloads: 1M+
Customers rating:

(4.7 / 5)

Photo Compressor and Resizer
This app can be your ultimate solution if you want to condense and resize your pics with no quality loss. It lets you alter pics to a defined size or use auto compression, so you don't have to worry about technical details.
Hereby, the authentic pic is not impacted, so you have nothing to lose! There's also an instrument that helps you reclaim the space occupied by pics, which is perfect for those who have storage space issues on their mobile devices.
Plus, you can regulate the pic size or resolution as needed. You'll get to o keep the original ratio of the pic when adjusting its size, so you don't have to worry about accidentally cropping out vital details.
There's even a built-in converter that supports all the popular formats. Besides, there's a tool that lets you take out the colors from pics and pick complimentary colors for future designs.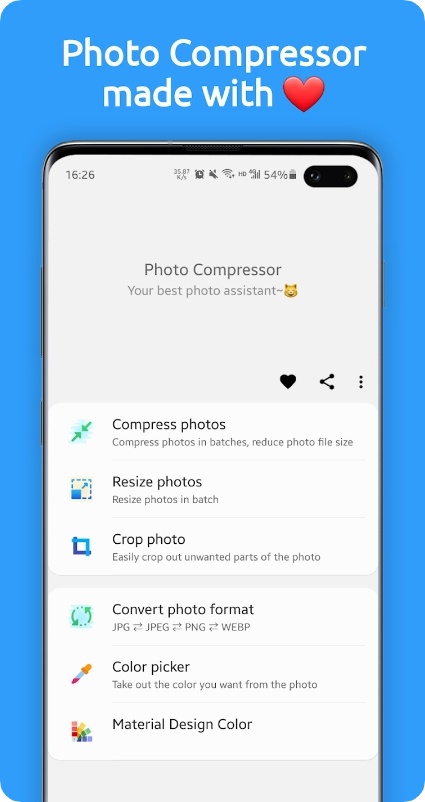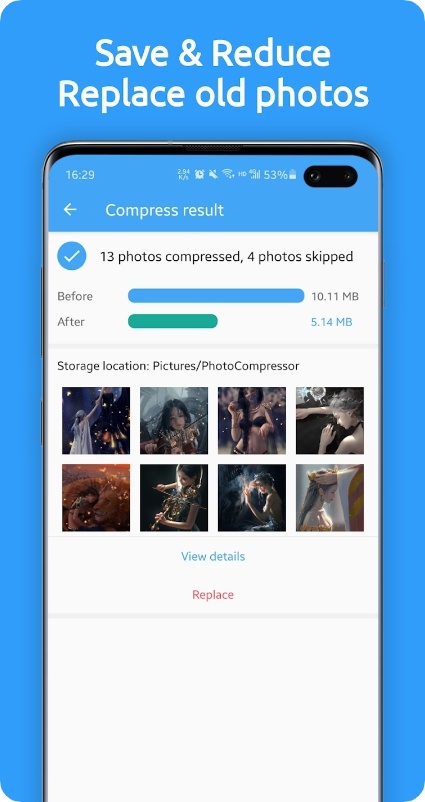 Downloads: 1M+
Customers rating:

(4.8 / 5)

Photo Resize
Having trouble resizing images without compromising their quality? Don't get past this app, then. It covers a wide scope of functions to help you modify pics with ease. No matter if you need to compress an individual image or a whole batch, resize them to suit your needs, or even crop out unwanted bits, this app is your go-to solution.
Best of all, the original pics remain intact, so you can make changes without fear of losing your precious memories. You'll also get to modify your pics' quality, resolution, and size, giving you complete control over the final product.
And if you need to switch photo formats, the app has a built-in converter with all the most-used formats. You'll be able to preview all the pics in detail and easily pick the ones you would like to share.
Speaking of sharing, you can send the pics right from the app. Moreover, you can delete the pics directly from the app, saving you valuable time and effort. It's fully free to use, but the ads pop up all the time.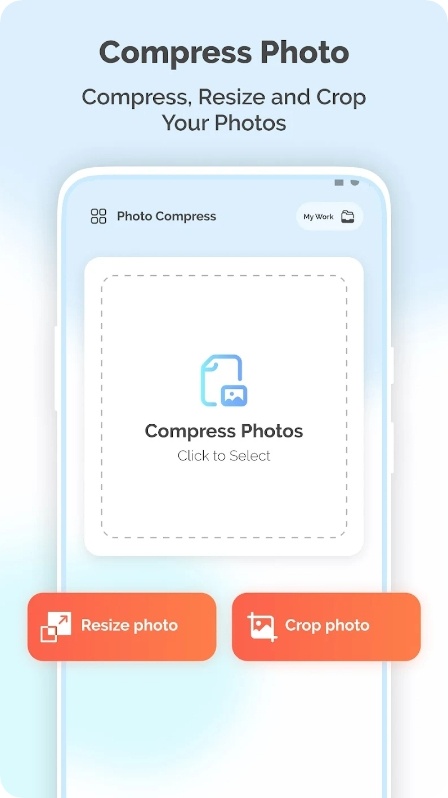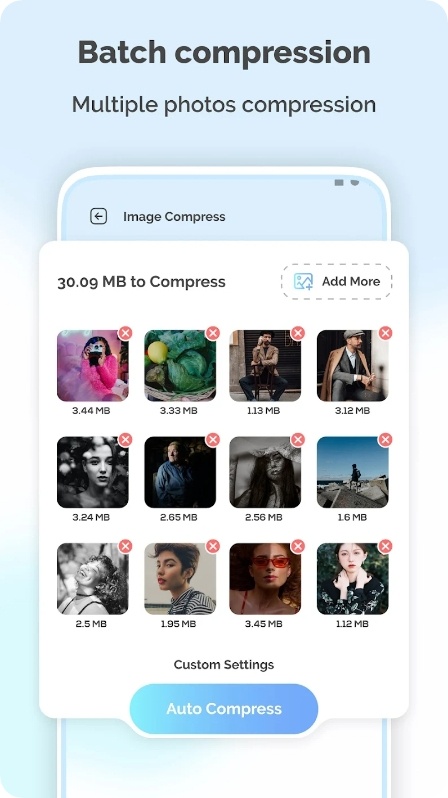 Downloads: 100K+

Check also: 11 Best Apps to Enhance Photo Quality
Photo Tools
This handy app is a treat for those needing to edit pics on the go. It has an intuitive UI that neatly displays all the tools you could ever need in one place! You can easily find the resize tool, which can scale your pic to any dimension or even reduce its resolution. You can even maintain the original ratio for the perfect fit!
The crop instrument is included as well, and it lets you get rid of all those unwanted areas in your pic effortlessly. You can just crop them out and voilà: your pic is better than ever! The app also lets you grab a certain color from a picture and use it in other projects. It's a small feature, but really helps bring the aesthetic together.
And if you have a problem with pics taking too much of your memory space, feel free to use a compressor. It lets you save space without decreasing quality, so you can store even more amazing photos on your phone without worrying about eating up all your memory!
Downloads: 100K+
Customers rating:

(4.6 / 5)

Photo Resizer
This app will change the way you edit your pics. With just a few taps, you'll get to resize your pics to the desired resolution. Whether you need a pic for printing, or a lower-resolution one for sharing online, this app is here to help.
This app has a lot to appreciate, but one of its top pros is its ability to reduce photo file size while maintaining the quality of the pic. So if you'll find yourself running out of storage, this feature will be a lifesaver. Plus, the fact that you can finely modify the quality means that you can get the perfect balance between file size and picture quality.
Another thing you'll appreciate about this app is its simplicity. The UI is easy to navigate, and the list of common options makes it super easy to select the perfect size for my needs.
Of course, you can always adjust the resolution by percentage if you need smth more specific. The app also supports a variety of image formats, including all the most used ones. So no matter what format your pic is in, the app has got you covered.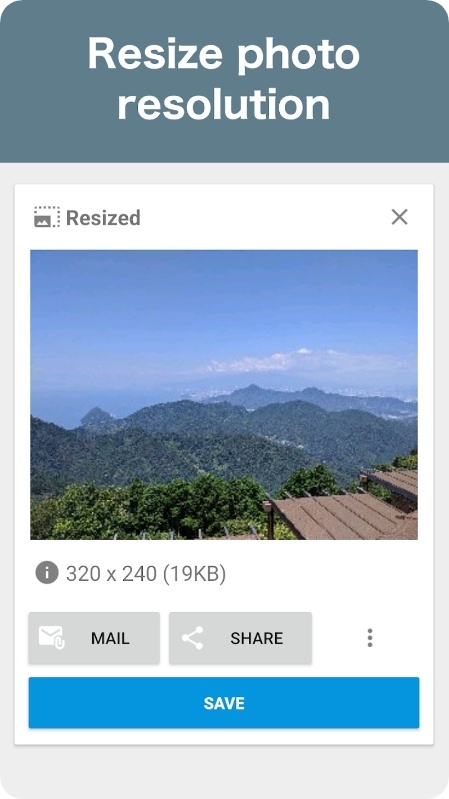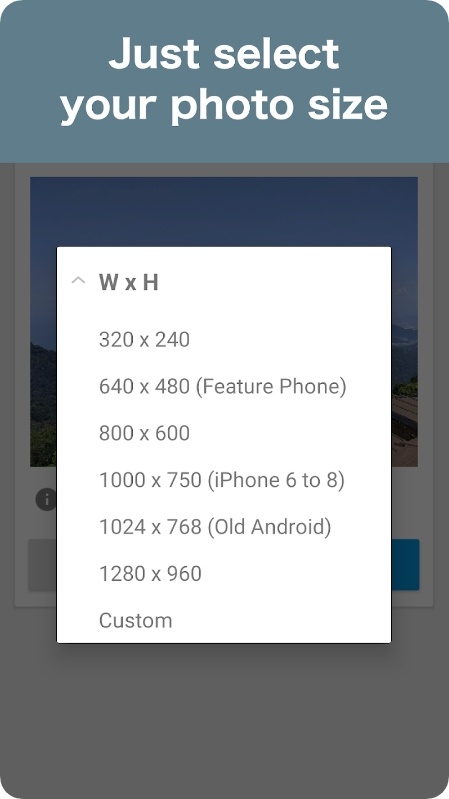 Downloads: 100K+
Customers rating:

(4.4 / 5)

Image Compress and Resize
Do you love taking photos but hate running out of memory space on your phone? Then you need to try this app ASAP. It lets you compress pics to a custom resolution or size without impacting the authentic pic.
Plus, with batch compression, you can work on multiple pics at once, making it perfect for a quick, hassle-free clean-up of your gallery. The best part? You can fine-tune the pic by comparing before and after versions side-by-side, helping you get the best visual appeal.
And if you need to adjust the pic size, you can easily do that too. The app lets you decrease the pic size to fit your needs, or even enlarge pics without quality loss. It supports multiple formats you can switch as needed.
Plus, there's a tool that lets you reclaim more space by overwriting compressed pic with authentic ones – it's like magic! You can also share the pics right from the app and even post them with one tap.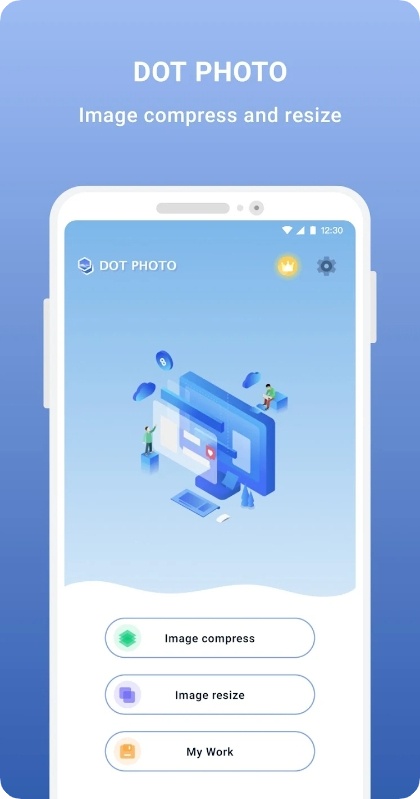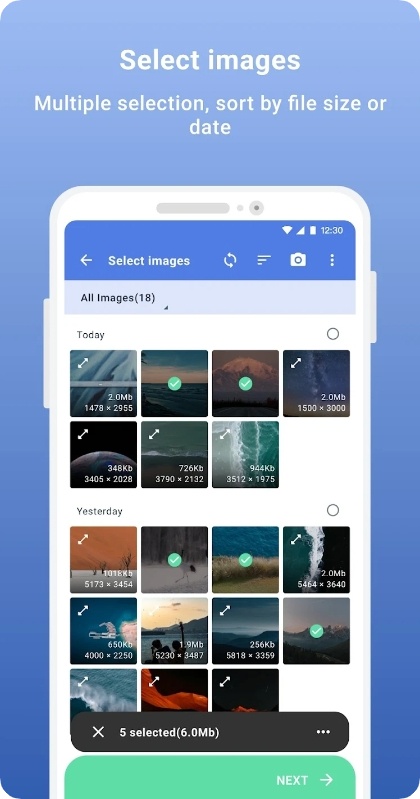 Downloads: 500K+
Customers rating:

(4.9 / 5)

Photoczip
This one will quickly become your one and only app for pic resizing. It lets you easily condense and resize your pics without losing quality. There are tons of useful functions for you to try, and the UI is easy to navigate as well.
One of the things that make this one stand out is the cam widget. It lets you compress your pics with just one click. It is great for when you're in a hurry and need to quickly free up some storage space on your device.
Above that, you'll get to edit your pics' metadata. Thus, you'll get to easily add captions or geotags to all of your pics without having to use a separate tool. And with the resizing instrument, you can easily decrease the size without compromising on its quality – making it hassle-free. And if you want to keep tags intact, you can do that too.
The app also lets you condense and shrink pics with various sizes, which is great if you need to edit a variety of pics at once. And if you need to share multiple pics at once, you can use the batch instrument to quickly zip all of your pics together.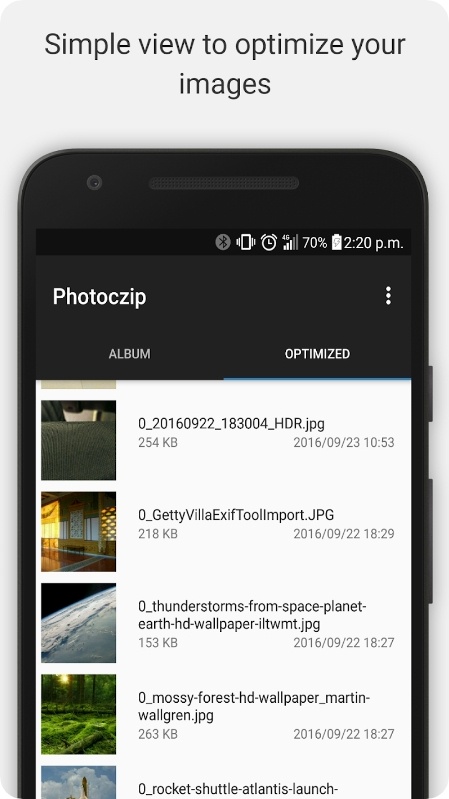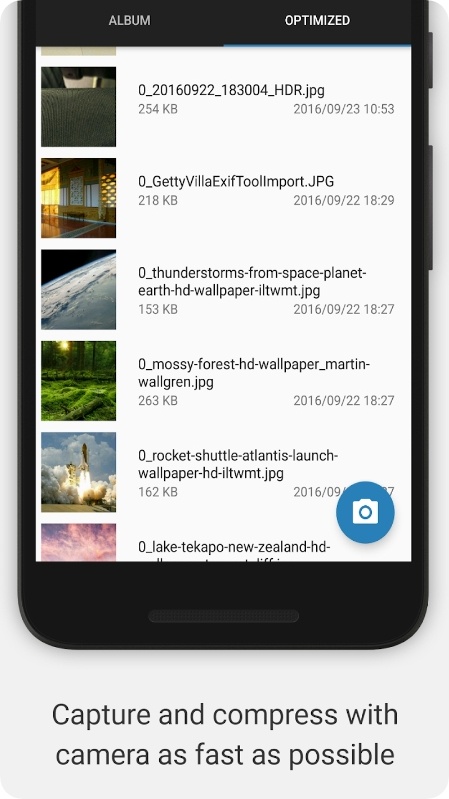 Downloads: 100K+
Customers rating:

(4.4 / 5)

You may also check: 13 Best Photo Organizer Apps
Photo & Image Resizer
And lastly, there's an app to simplify the way you resize your pics. The app lets you easily modify the size of your pics to any desired width and height, using multiple units of measurement.
And forget about losing the aspect ratio, it won't change at all. This feature ensures that your pic remains crisp and aesthetically pleasing even after resizing.
But that's not all! You'll also get to rotate your pic a full 90 to the right or left, ensuring that your pics are always displayed the way you want them. And where will your newly-resized and edited images be saved? You decide! The app lets you easily change the storage path for all of your output images.
And if you're feeling extra creative, why not try the brand-new editor? You can add filters, text, stickers, and more to really make your pics pop. Plus, you can adjust the quality in the app's settings, giving you even more control.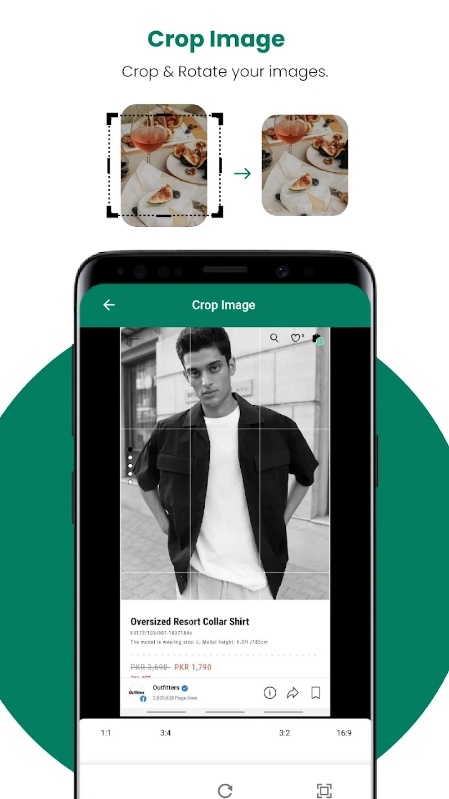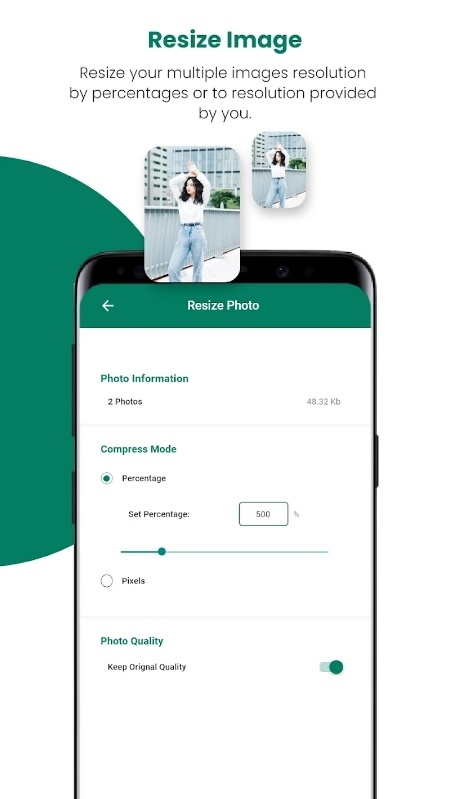 Downloads: 50K+