Planning to have a bright winter weekend at a ski resort? Then you need to consider a few important nuances beforehand. First – to prepare special clothing, second – to gain energy and good humor to conquer new peaks, and third – to download useful apps for skiers, which will make this adventure comfortable and safe.
We offer a selection of the best mobile services for professionals and beginners. With their help, you can keep track of your sports performance, build routes, track progress, acquire new skills and be aware of all the good deals on vacation.
Slopes: Ski & Snowboard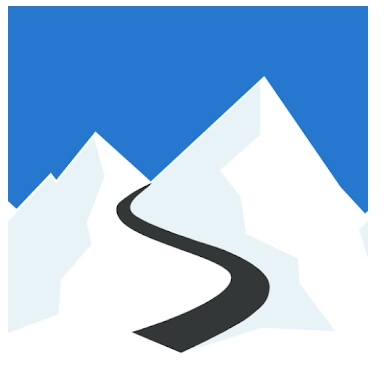 Slopes is a tracker for Android, which uses GPS to record movements while skiing and not only counts statistics but also draws a dynamic map of slopes. The app is friendly, but full-fledged stats in it are paid.
In the free version, the tracker automatically tracks all the necessary statistics: the number of ski lifts and runs, elevation differences, speed, distance, and other indicators.
The data you get can be compared both with your previous results and with the achievements of other users. In addition, the app reports on the weather conditions at the resort in real time.
Here you can import data from GPS trackers and other apps and devices. And if you're planning a trip to the mountains, you can create a reminder and the app will let you know it's time to activate it when you get there.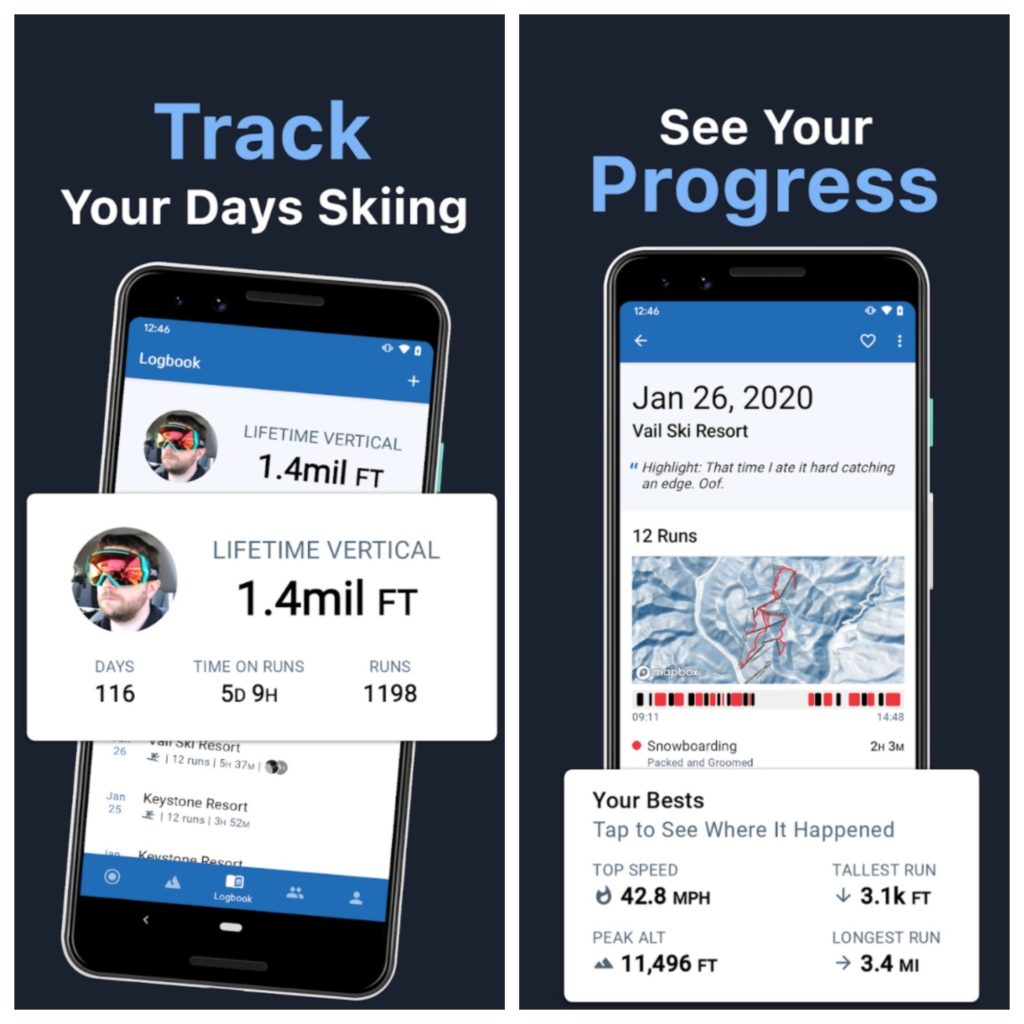 You will be able to start recording the run that is coming right now. Before you start recording, you can specify the resort where you are now. And in the recording itself, you will get a little statistics: number of lifts and runs, distance, calories, and more. All this can be compared with the previous run
Keep in mind, if you did not create a trip in the Logbook, all data will be saved to nowhere when you finish recording. And if everything is done correctly, you will be able to view all the statistics broken down by season and slopes.
In the Resorts Tab, you can find popular resorts and see useful information for the skier. For example, find out the quality of snow, according to riders over the past week, or see the weather conditions.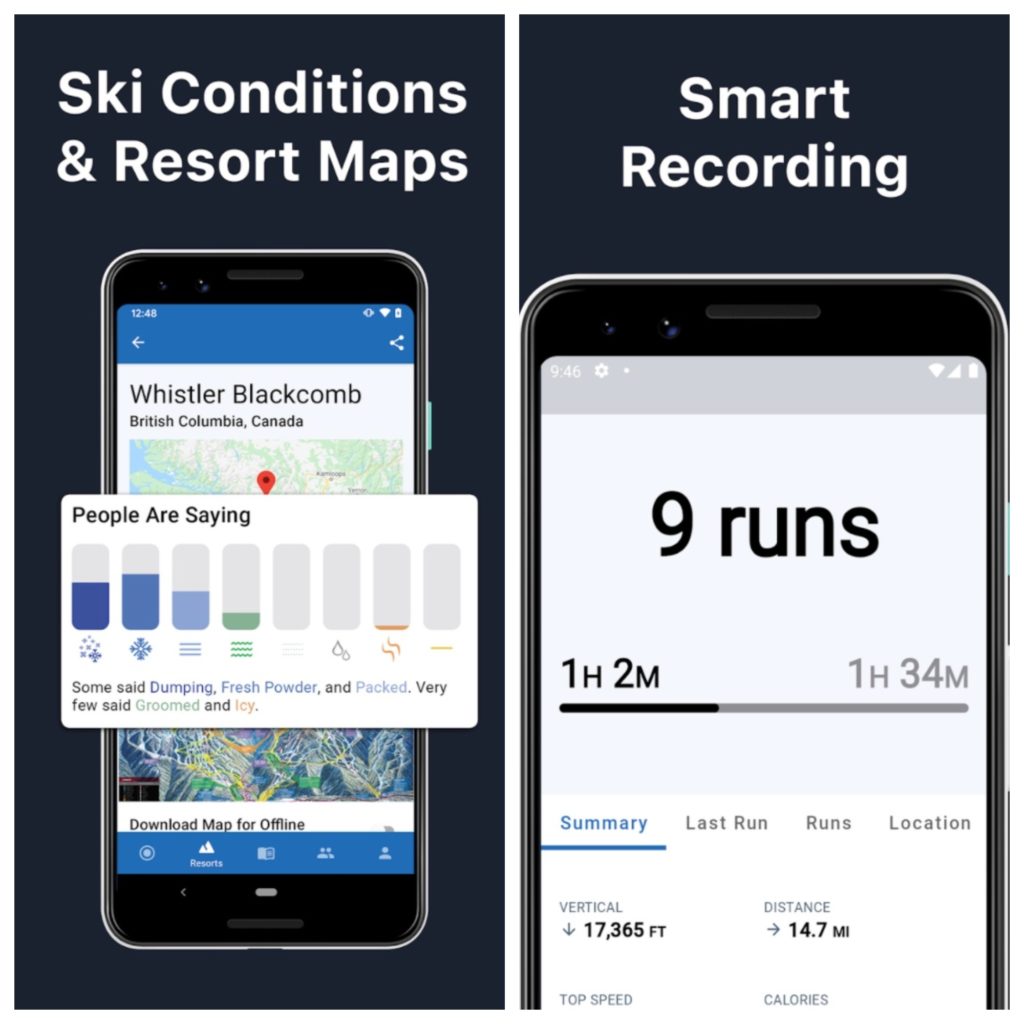 Downloads: 50000 +
Customers rating:

(4.4 / 5)

You may also like: 7 Best Health Electronic Records Apps for Android
Sportler Ski Tracker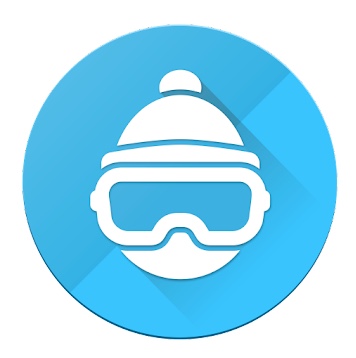 This is a cool program that captures all the statistics of skiing. Time, altitude, maximum speed, number of runs, distance, and much more.
Sportler shows the speed and trajectory clearly and reliably. It is easy to run and install – no need to figure it out for a long time and you don't even have to register. Also shows the track point and the time when the maximum speed was reached.
The app works steadily in forest areas. All measurements – speed, slopes, and so on all clearly tracked and displayed on the screen. You can view all your indicators on the ski track on the map. There is a history of previous runs.
It accurately shows, works smoothly, consumes little battery power, easy to configure. While it is free, there are no ads and all functions are available.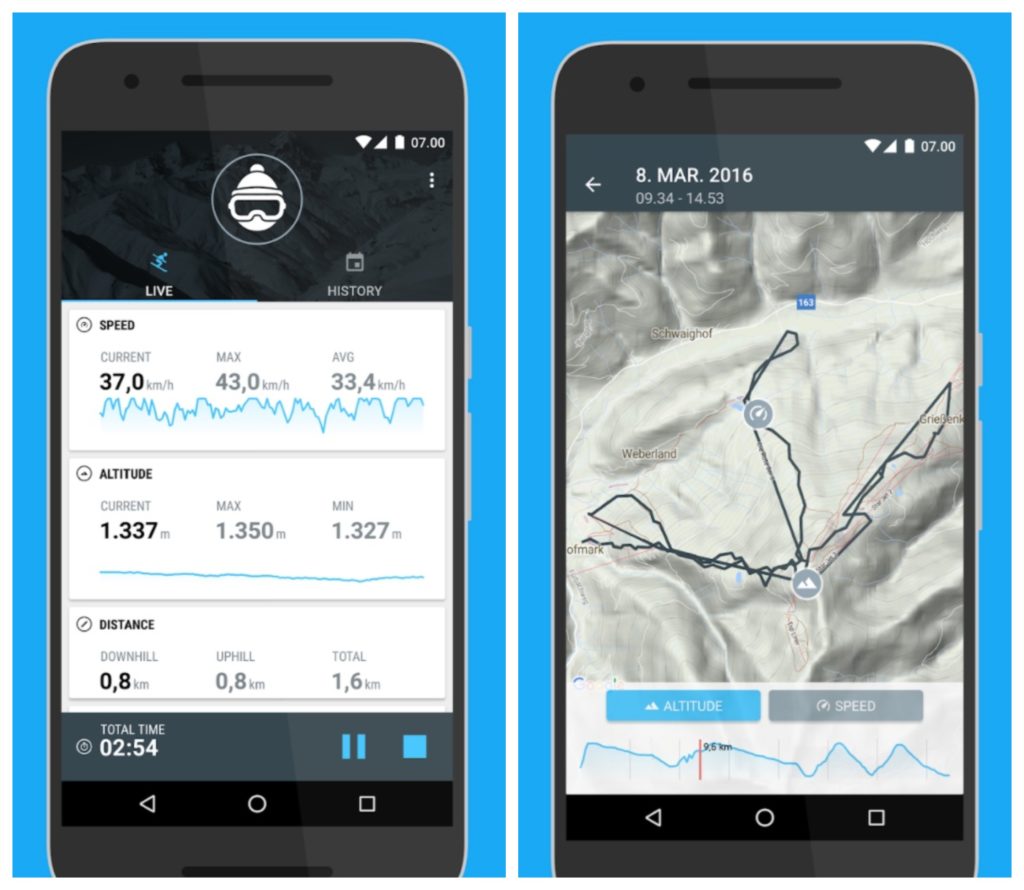 Downloads: 100000 +
Customers rating:

(4.5 / 5)

Skill – Ski&Snowboard Tracker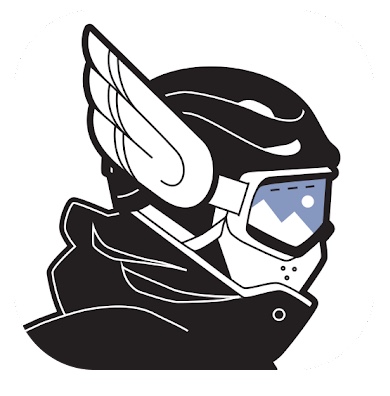 Download Skill before your trip to the ski resort and make your skiing and snowboarding even more fun and comfortable!
Skiing with friends or family? You can track them on a map of the resort in real time! With this ski tracker, you don't have to worry about losing your loved ones on the slope or getting lost on the slopes.
Skill is a handy ski tracker. No need to press "Start" before each run! Just start Skill before you start skiing – and the GPS tracker will figure out by itself when you're up on the elevator, resting, or skiing. The recording of runs works even without the internet.
How much speed can you reach on a slope? How much distance are you going to cover during the day? View the trajectory of your runs, set new records, keep track of your progress, compete with your friends and with yourself! See stats for each downhill, day, trip, or full season.
Skill works all over the world: with this ski tracker, you can ski and snowboard anywhere.
Please remember, continuous use of GPS in the background can significantly reduce battery life.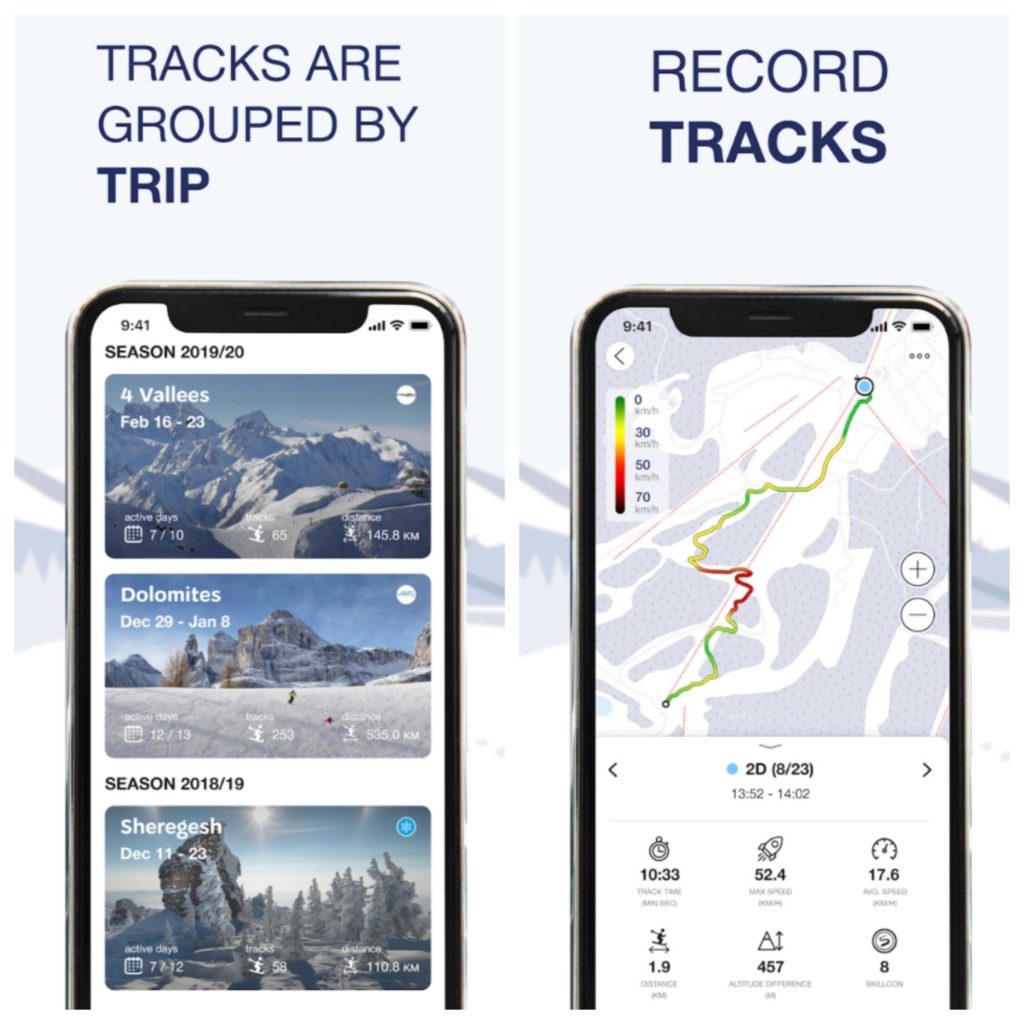 Downloads: 10000 +
Customers rating:

(4.8 / 5)

FATMAP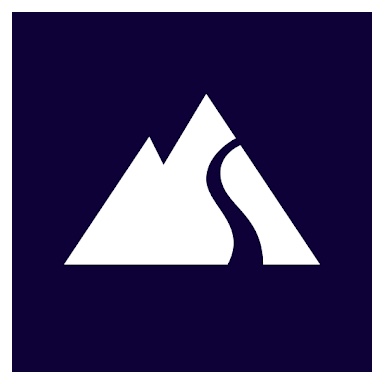 A beautiful app with information about tracking and ski routes in the mountain area. To see slope exposures, steepness zones, danger zones, or zones with the same elevation, check the appropriate box, and the slopes will be colored accordingly.
The app has a feature to record your routes. It's nice that the app is free and covers the mountainous regions of Europe, America, and Canada.
The main feature – is the ability to study the exposure of the slope and assess the avalanche risk at the time of formation of the route. You can record your own track or use a route prepared by qualified mountain experts.
In the application, you will find three-dimensional autonomous maps with up-to-date information, tracks for different types of activity, satellite images of the terrain in summer and winter.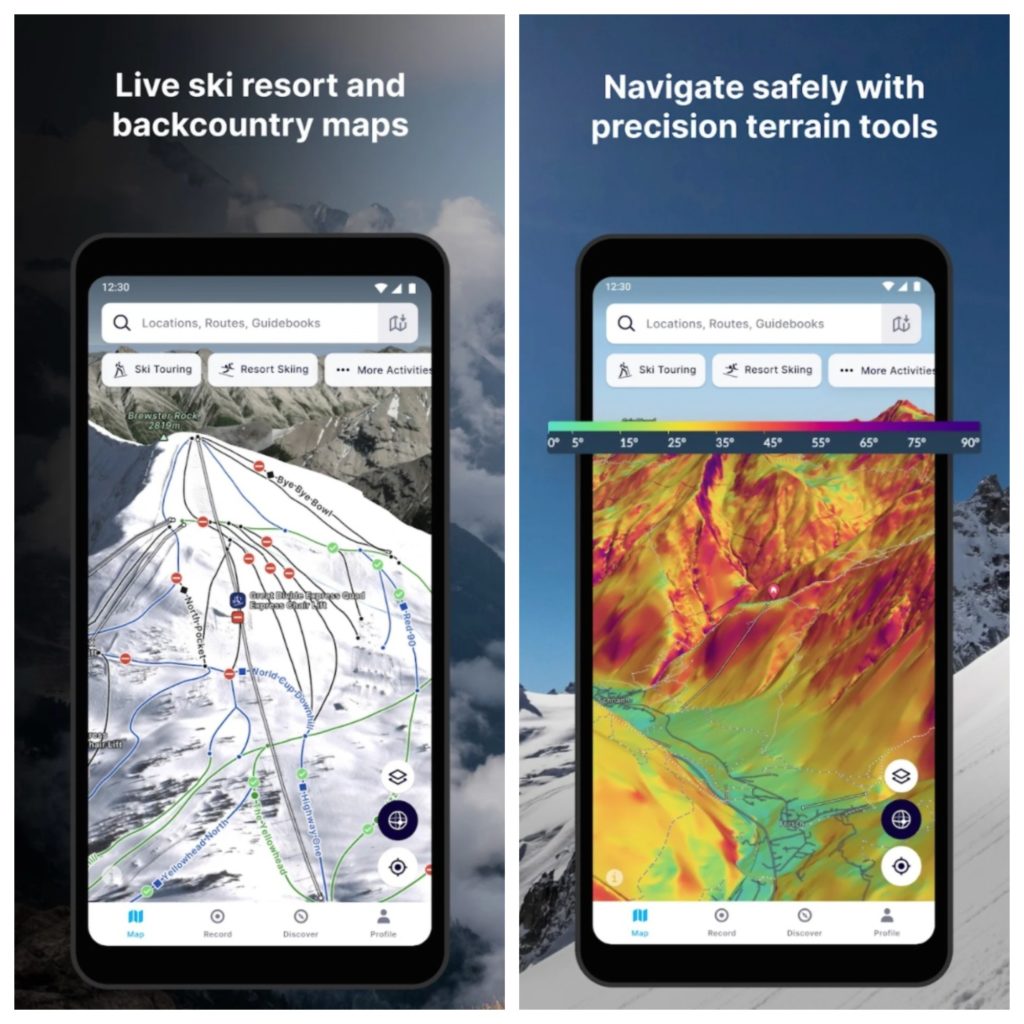 Advanced terrain analysis tools including slope, elevation, and an avalanche can help you think of the most interesting and safest route.
What is most useful for skiers:
The current snow depth, fresh snow and snow forecast right on the map;
ski elevators and trails work in real time (at supported resorts);
3D map with slope exposures for avalanche safety assessment;
tracks by experienced guides.
Once you've completed a route, you can view it in 3D, as well as explore other people's routes. As is often the case, the app has a free version and an extended paid version.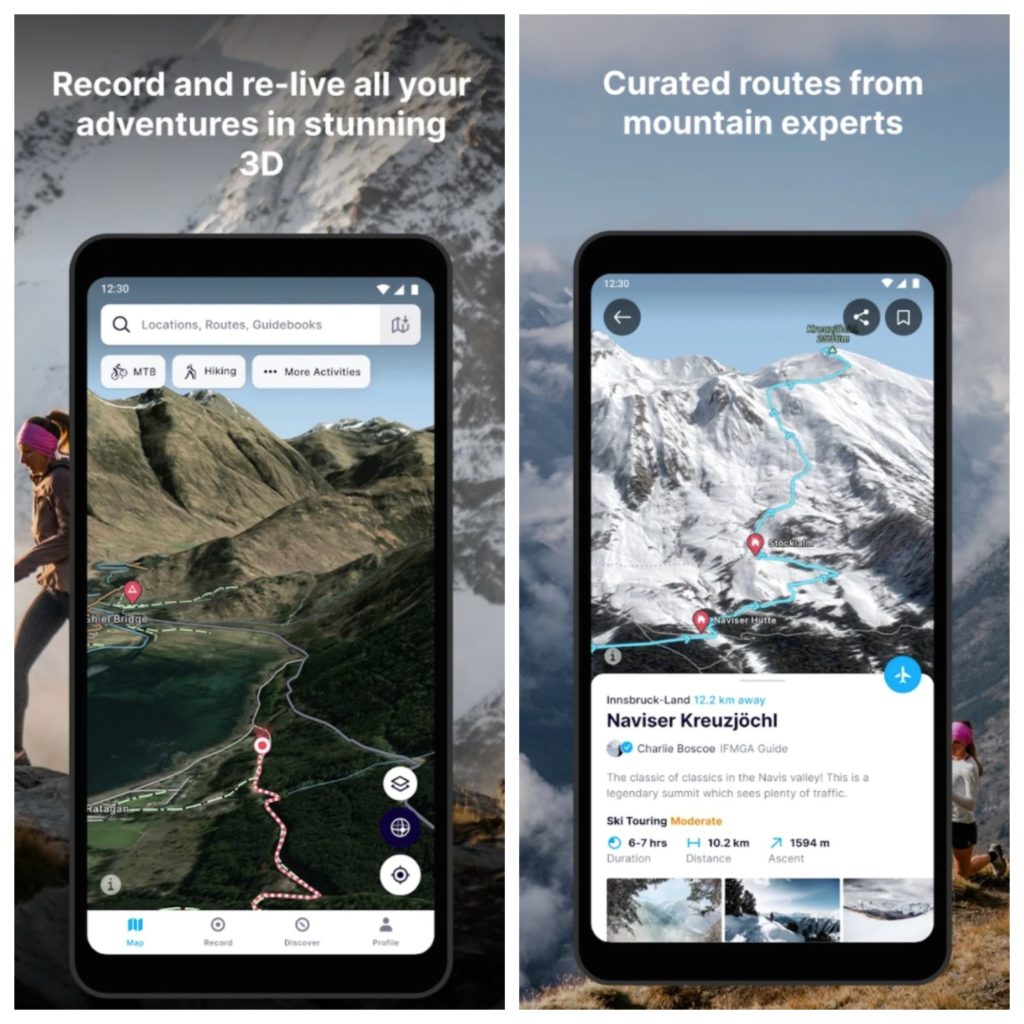 Downloads: 100000 +
Customers rating:

(4.2 / 5)

Ski Tracker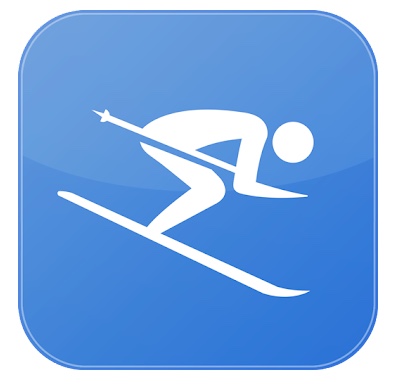 Ski Tracker also has a good rating with users because of its functionality.
This app will be an indispensable assistant if you want to measure your skiing speed, distance, see a map of the slopes or get general statistics of your winter sports activities.
Statistics, tracks on the map, graphs of speed, lifts and their combinations, max downhill speed and everything else like that. There is a history of downhills and map of movements on the slope.
The app is very handy for skiing/snowboarding, everything is very easy to use. The app has a free trial period after which you have to pay.
However, some users do complain about crashes. In order for the application to work correctly you need to turn off the power saving mode of your phone and allow the application to work in the background.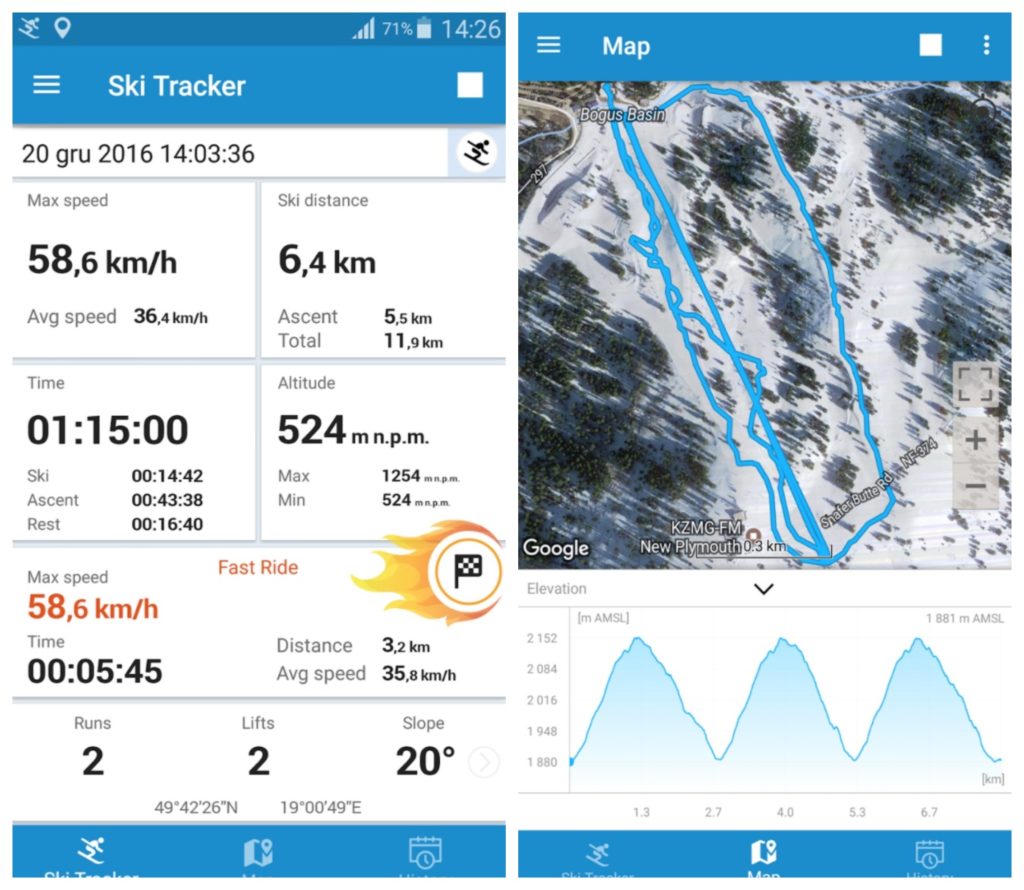 Downloads: 1000000 +
Customers rating:

(4.2 / 5)

Ski Tracks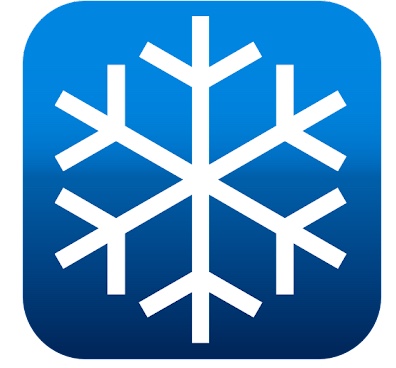 One of the most popular and most professional program of all the trackers for skiers. In terms of richness of functionality and stability it has no analogues.
The app even adapts to the skier or snowboarder. Although noticed that on low slopes, the app can not accurately count the number of runs. But this is a trifle, if you want, you can see the number of peaks in the altitude chart.
So, the program with altimeter and GPS navigation shows: how many times you run, the altitude difference, the speed (average, maximum), the maximum duration of the run, which elevators you use…
What is convenient, the program saves data for the seasons separately. You can analyze them in the future separately or together for a certain period.
It's also convenient that detailed statistics is displayed on one screen. The application saves the parameters without access to the Internet. Useful functionality, will save money in the roaming area.
A great addition is a 3D Google Map that works in standard and satellite mode. Take photos, they are automatically geo-tagged. Share your tracks then in social networks, it can be done instantly. See who skates where, when and how.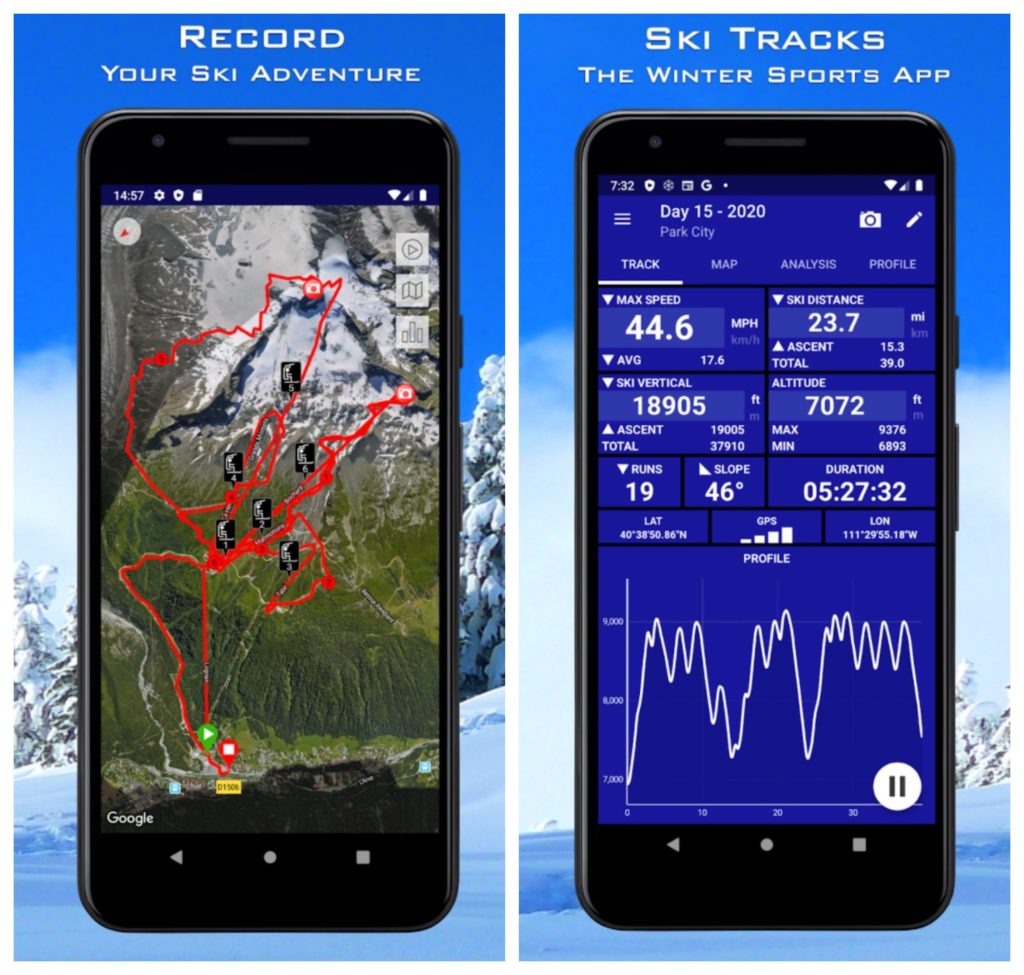 Downloads: 100000 +
Customers rating:

(3.6 / 5)

iSKI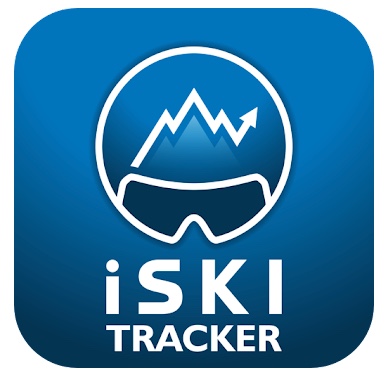 Planning a vacation in a ski resort? Install a program that gives you the most complete information on the ski resorts of a particular country: Austria, France, Italy, Switzerland, Germany, the Czech Republic, Slovakia, Poland, Finland, Canada, America, and other countries around the world.
iSki offers you a number of tabs, sections where you can find out the weather for the near future in the valley and the mountains, the condition of the snow cover, including data on artificial snowing, see web cameras, data on the work of the slopes and elevators.
You are also given data on equipment rental with the ability to calculate its cost. And, of course, a map of the ski resort, which you can save on your phone and send to your friends or social networks.
The same programs can be used as a tracker, although there are more specialized. You won't need internet access, the apps work offline.
Add your favorite places to your favorites and they will always be quickly accessible. All in all, install and dive in. All apps are available for free.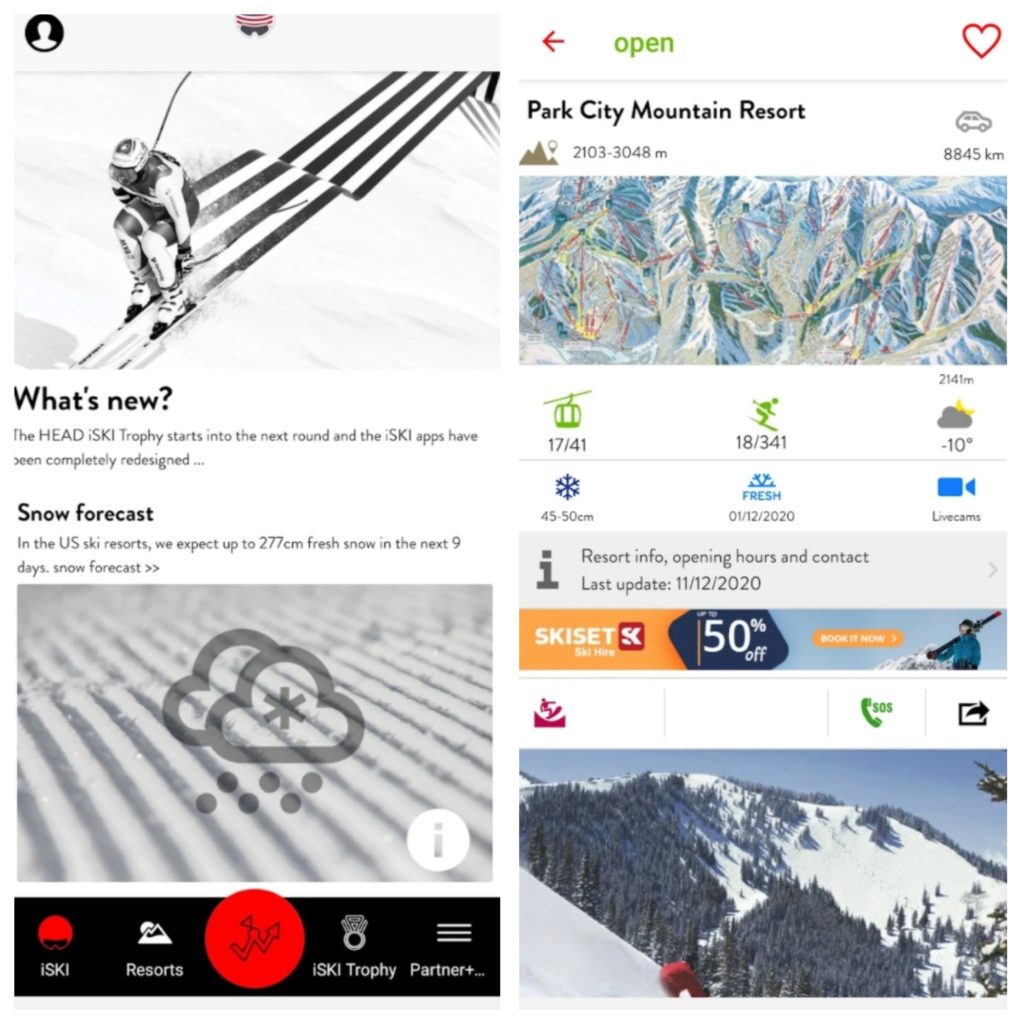 Downloads: 500000 +
Customers rating:

(3.5 / 5)

SkiPal – Accurate Ski Tracks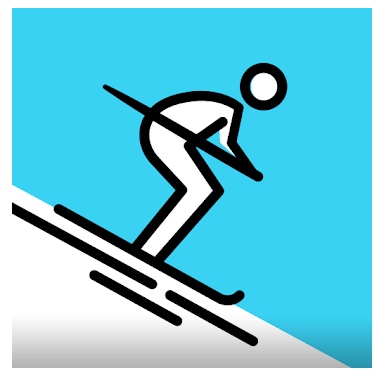 SkiPal allows you to keep track of all your ski adventures. There is also support for smartwatches. You will be able to track your ski routes even without your phone and synchronize the data afterward.
The app calculates average speed, current speed, total time spent skiing, remaining time, and lift time. The app logs and tracks your routes in real time and then map them.
Maps can be saved for offline viewing. You will also be able to track popular ski routes that are marked on the map. If you take a photo in a scenic spot it will show climbs, average speed, location, and even route information. Cool feature!
In your travel history, you'll see graphs of your route, map segmentation, and details, as well as photos taken during your journey. Just tap or swipe on the graph to see where and when a particular value was.
The app will work like a speedometer, keeping track of checkpoints, alerting you with audible alerts when you reach the goals you set, and even pausing itself when you decide to stop for a cup of coffee or to take a photo.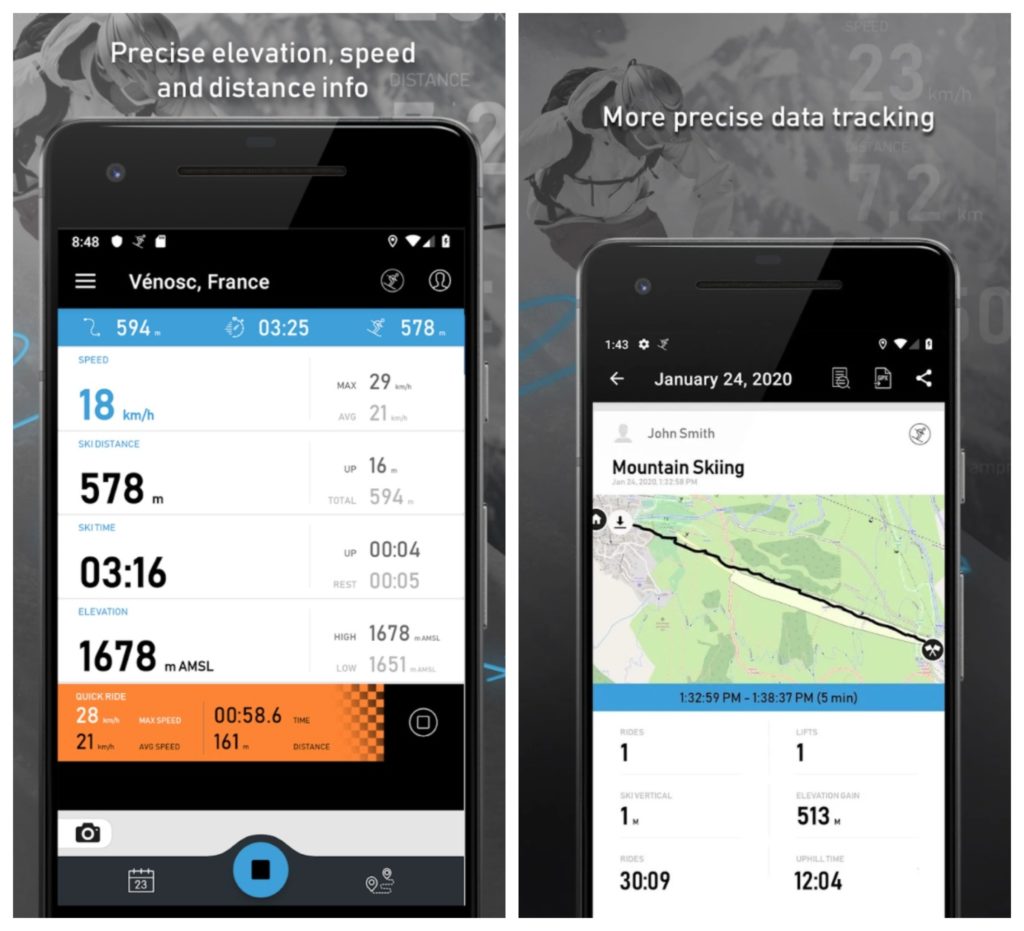 Downloads: 10000 +
Customers rating:

(3.4 / 5)

You may also like: 9 Best Android Apps for Gaining Weight
Snoww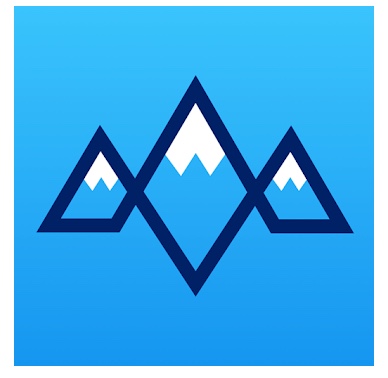 Snoww is a social tracker for those who ski.
Social networking inside Snoww doesn't mean that you have to add as many followers as you can to make friends (although you can). The main thing is to add a couple of your friends with whom you often go skiing, so you can compare and evaluate how you ski together.
If you don't have any skier friends, you can watch how other users are skiing at the same resort. The social component is the main difference between Snoww and other apps, and the app is also completely free.
However, the app has a low rating specifically on Android. The app can crash and doesn't work correctly. Perhaps in the future, the problem will be solved. As on the iPhone paired with the Apple Watch all work smoothly.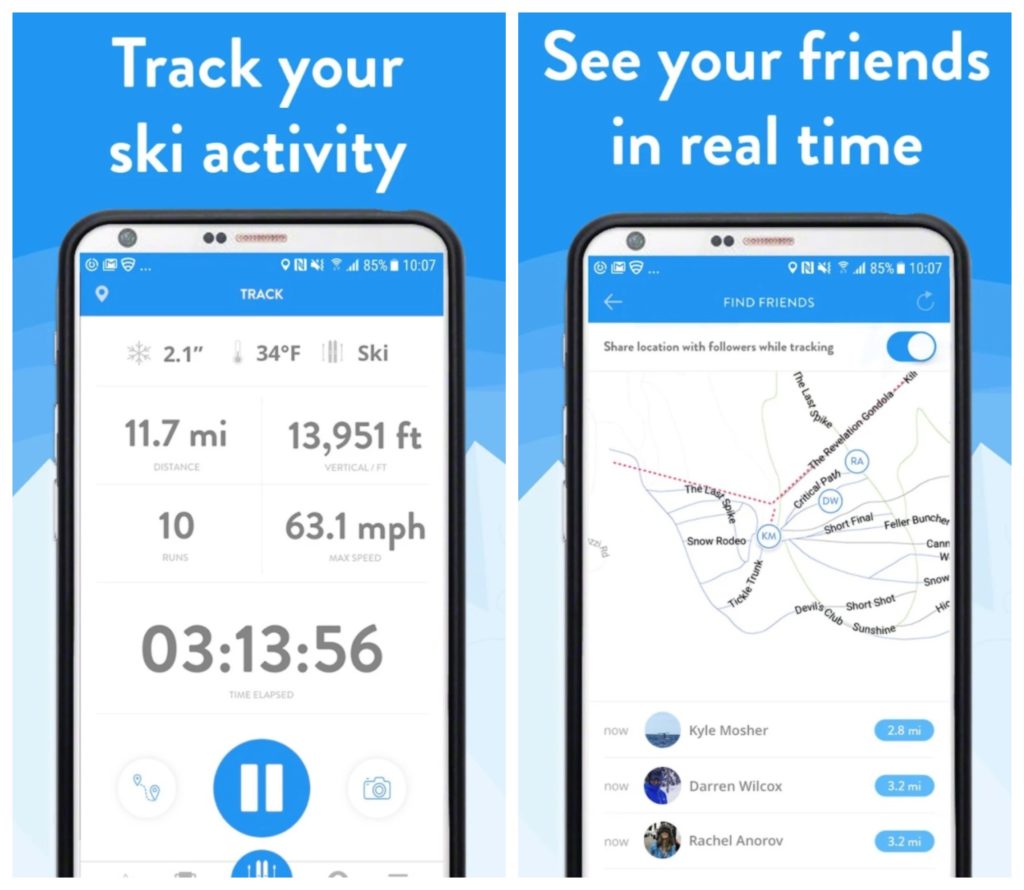 Downloads: 50000 +
Customers rating:

(1.2 / 5)