What is Hyperlapse video? Hyperlapse is a more advanced approach to frame-by-frame shooting.
Time-lapse shooting shoots a series of images at a lower frame rate than conventional video and then plays them back at a faster rate than they were shot, allowing long episodes – like a sunset – to unfold in just a few seconds, with dramatic results.
Hyperlapse takes the idea further. It's designed more for shooting first-person videos, so the camera moves with you and the resulting video is stabilized.
There are some decent Android hyperlapse apps you can try:
Microsoft Hyperlapse Mobile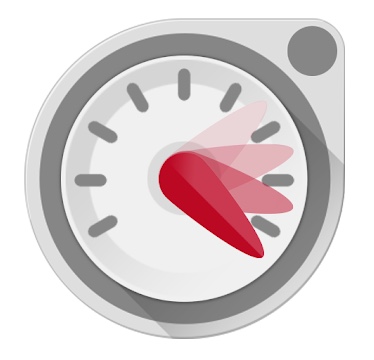 The Microsoft Hyperlapse Mobile app has learned to stabilize the picture while shooting by using the accelerometer of the smartphone.
Special algorithms allow you to process the captured video directly on the mobile device, obtaining the output of the finished hyperlapse movie.
For optimal results, it is best to use video captured with Microsoft Hyperlapse Mobile. To do this, you just need to click on the button with the camera image, and on the next screen – on the red button to start recording.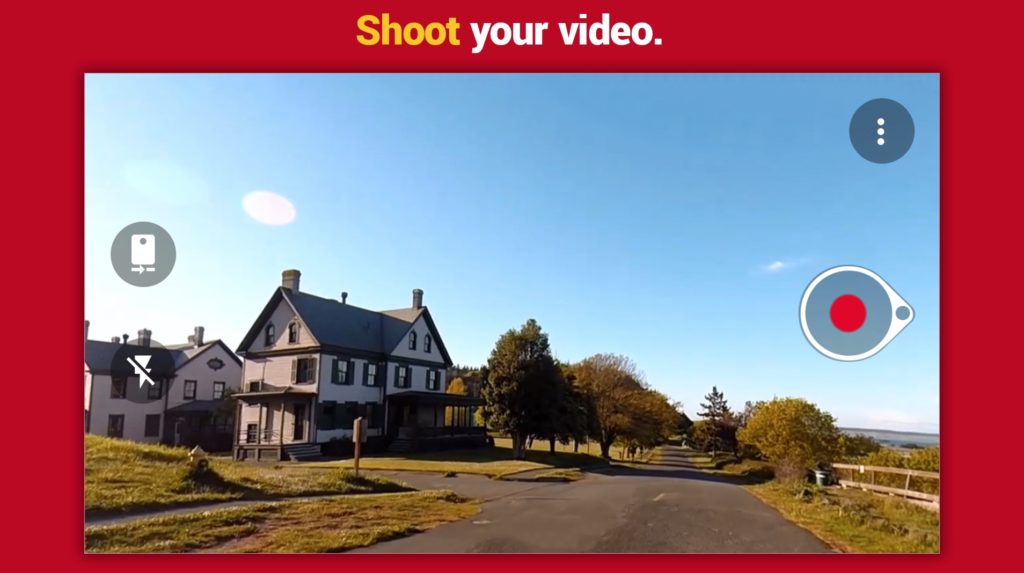 Once the recording is complete, a slider will appear at the bottom of the program window, moving it will allow you to select the desired video playback speed. Then you need to click on the checkbox on the right and be patient enough for the app to process and save your video.
When the process is finished, the file will be saved on your smartphone and you will see a window asking you to share your video, try processing it again at a different speed, or make a new video.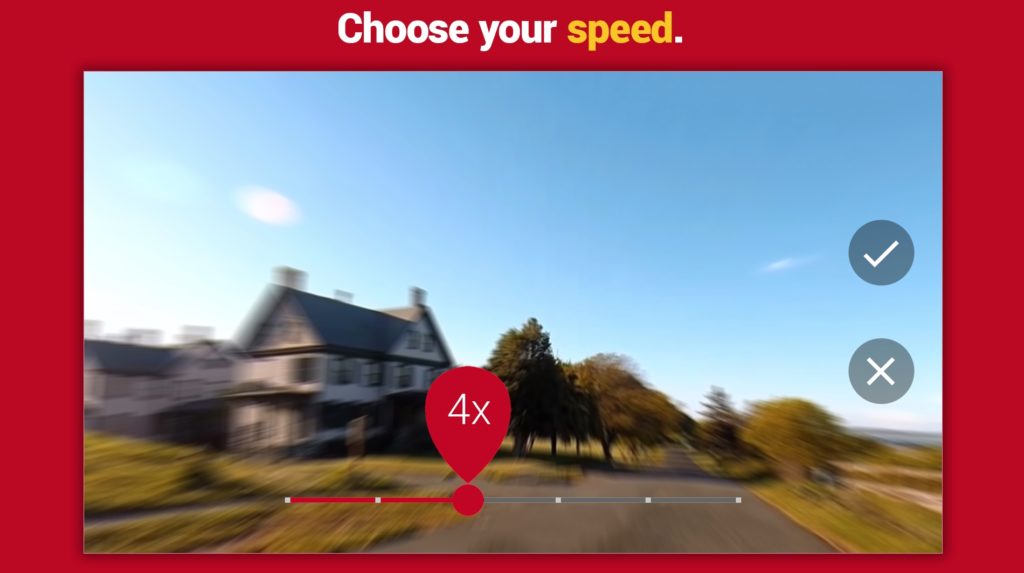 The main features of Microsoft Hyperlapse Mobile:
Easy to use – you record a video and you can do Hyperlaps right away;
Importing clips you've already recorded;
Video speed settings;
Selfie-lapse;
Accelerated videos can be easily shared on social networks.
Downloads: 1000000 +
Customers rating:

(4.1 / 5)

You may also like: 11 Best loop video apps for Android
PicPac Stop Motion & TimeLapse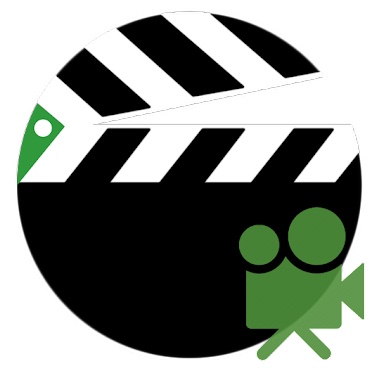 Exceptional program PicPac Stop Motion on Android – thoughtful application from the hopeful developer. The quality basis of PicPac Stop Motion will be confirmed by the number of installations of this application on your devices. This is a remarkable indicator of quality.
The main advantage of this program is worthy of your attention graphics, and together with the wonderfully made technical filling and convenient control buttons and cool music we get a good program.
It allows you not only to shoot, but also to import or convert already shot videos into hyperlapses. Even after the video has been imported, you can still edit it. A nice bonus is the ability to add audio.
Picpac Stop Motion app has a Pro version with even wider functionality.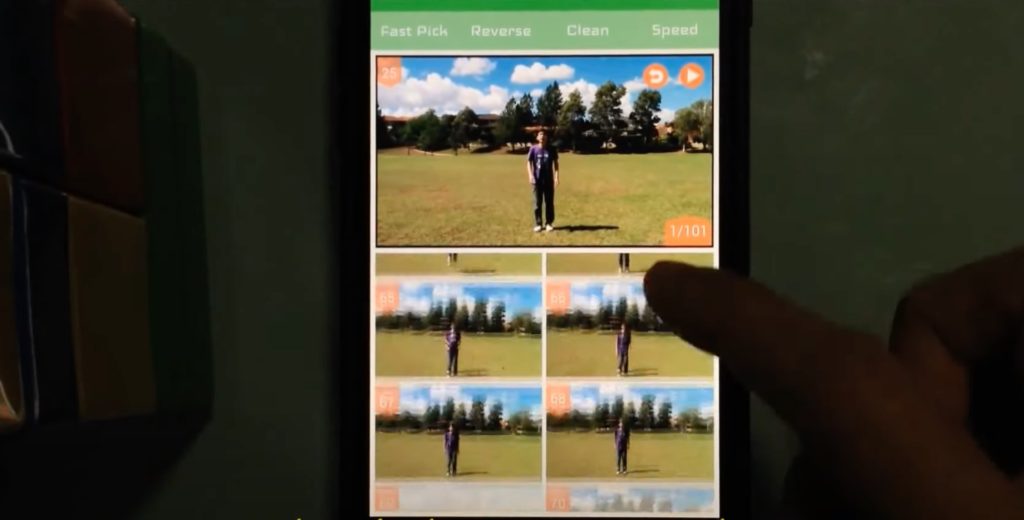 Downloads: 1000000 +
Customers rating:

(4 / 5)

Framelapse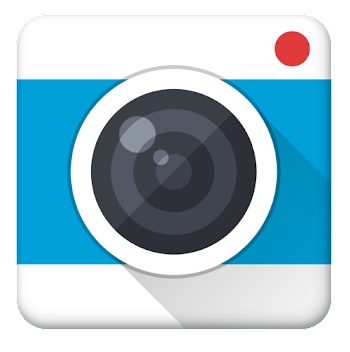 Why spend a lot of time or money on creating videos when you can trust all the donkey work to the best hyper-lapse app Framelapse. Enjoy the great results yourself and share them with friends.
Among the features of one of the best apps for timelapse and hyperlapse are:
The ability to set the shooting duration to auto stop, as well as interval shots from 0.1 seconds all the way up to 24 hours;
Zoom and autofocus tools allow you to control the subject;
Built-in calculator keeps track of video duration;
Ability to create a high quality clip in mp4 format;
Advantage of viewing the frame before trimming to determine the best fragment;
Allowed selfies shooting with timer setting;
Locking white balance, exposure and other settings will provide ideal conditions for recording special frames;
The ability to activate sleep mode while the device is working ensures the preservation of battery power;
The availability of help and guide will ensure easy work with the application.
In addition to all of the above, the program has a solid arsenal of all kinds of templates and substrates, for a spectacular addition to your personal works.
Downloads: 5000000 +
Customers rating:

(3.5 / 5)

Lapse It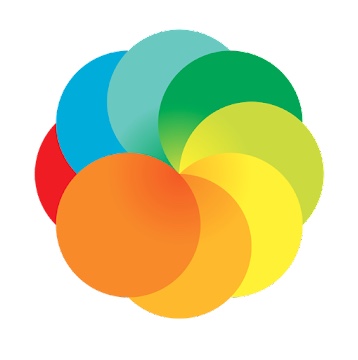 Lapse It is another app that extends the capabilities of your mobile device's built-in camera. Users will be able to create hyper-lapses without much difficulty.
It's enough to set the parameters of a series of photos, and then follow a sequence of actions that meet the situation and the main goal.
High-quality performance, automatic processes that simplify the task, various tools, ease of operation, and much more will not leave indifferent anyone who wants to create an impressive result without resorting to more serious and professional technique or software.
The program will do everything for you. Of course, it can be a bit difficult to set it up. But if you understand it, of course, it's easy.
You can choose the quality of the video, the interval in which the picture will be taken, and of course the time of the shooting. In general, the program is very handy and useful.
If you want to shoot in quality higher than 480p, add sound and visual effects, and want to get rid of ads in the application, you can buy a paid version.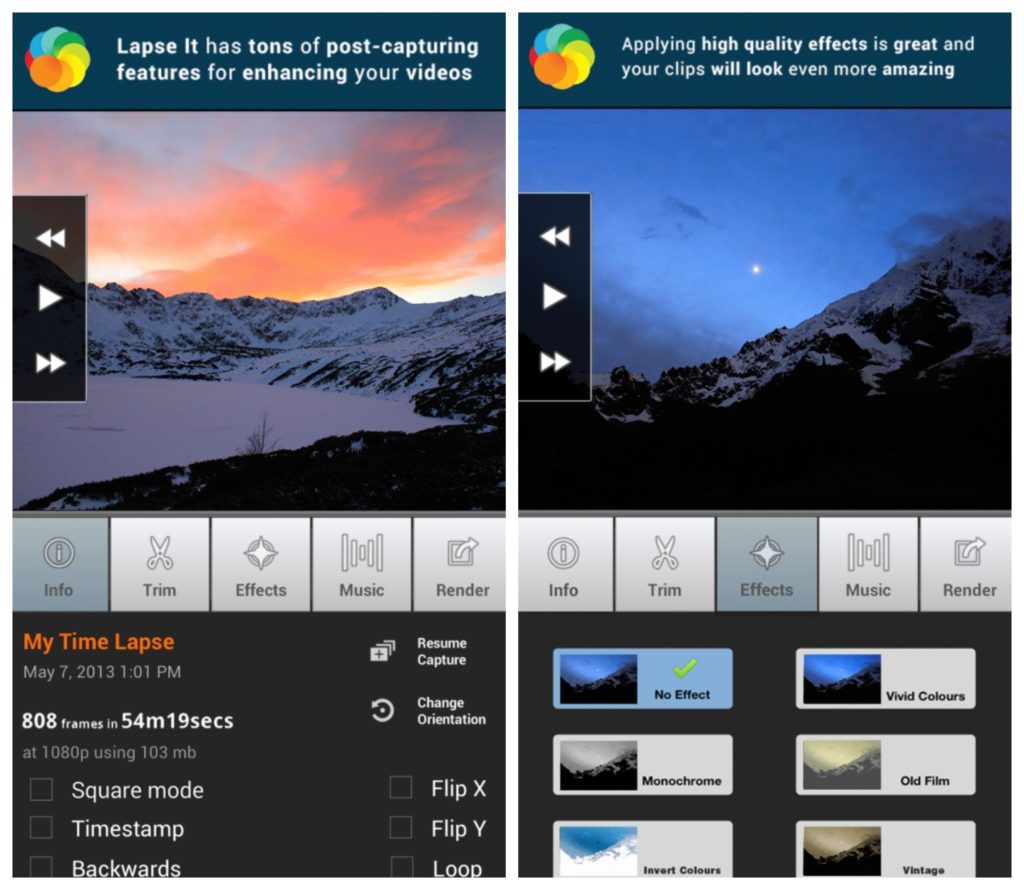 Downloads: 1000000 +
Customers rating:

(3.1 / 5)

TimeLab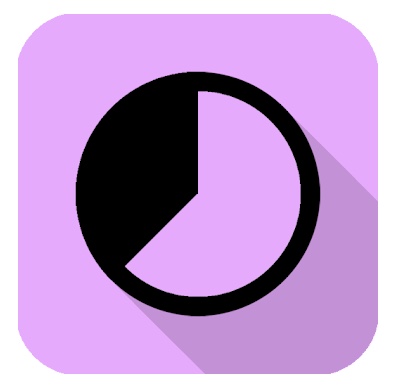 TimeLab – slow-motion camera and video rendering. With this application, you can create interval videos, as it's easy to capture a frame-by-frame shot and you can render a video from a series of images.
Features and specifications:
You can perform customizable single frame shooting, adjust the time interval, frame rate, resolution, bit rate and other parameters;
Motion blur can be captured;
Hyperlapse with motion blur effect;
Can convert multiple images with video resolution and frame rate correction;
Transform multiple images into final video by superimposing images for lighting coloring;
You can perform frame-by-frame editing before rendering into the final product;
The app is free, but there are ads.
Downloads: 10000000 +
Customers rating:

(3 / 5)

Life Lapse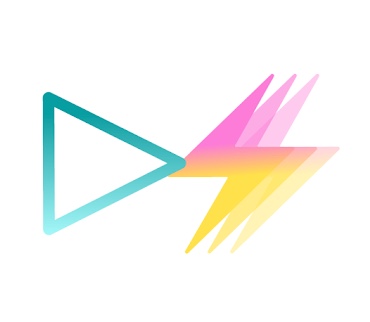 Download the app Life Lapse and become a filmmaker. It's never been easier!
Life Lapse is a video editor that makes it easy and simple to create frame-by-frame videos on your smartphone or tablet. Take photos or upload them and arrange them in order.
Then augment your animated video frame by frame with music tracks, filters, formats, and effects such as slow-motion, fast motion, and boomerang effects. In addition, the professional version of the app includes an editor for adjusting image settings.
But that's not all, because this app also has a test project so you can learn how to use it by example, as well as an academy with various video tutorials to inspire and delight you with other ideas.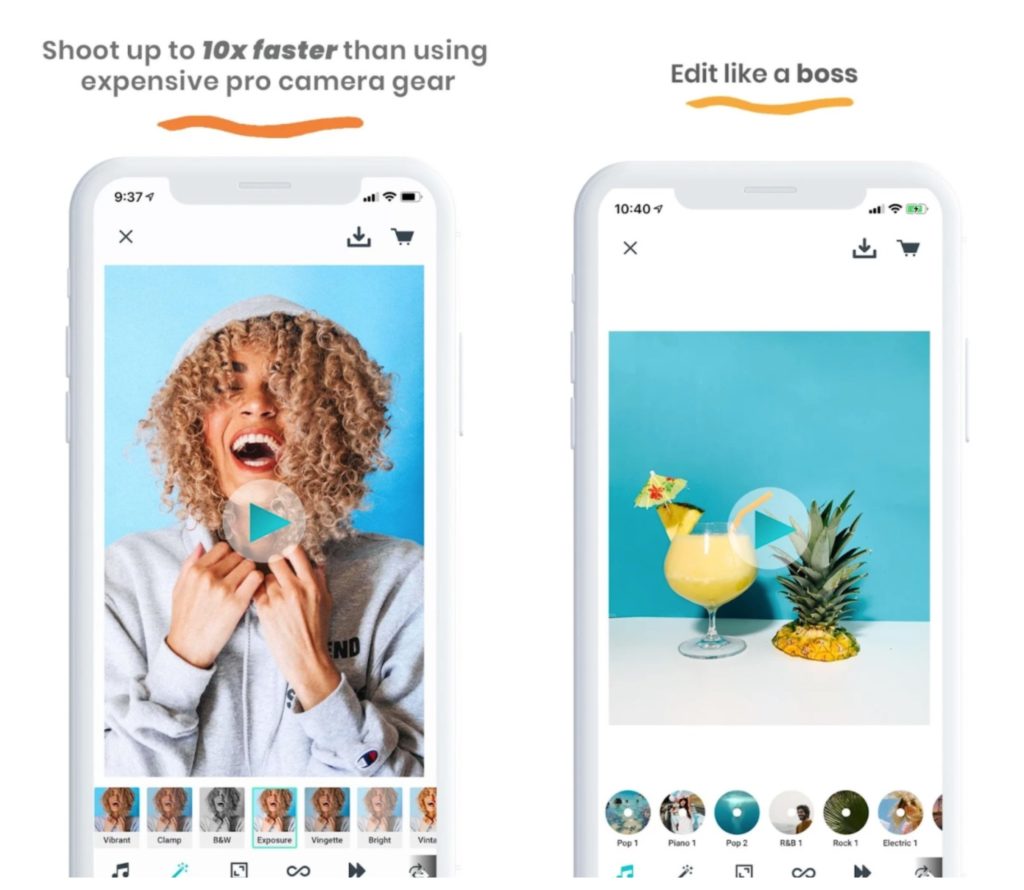 Downloads: 500000 +
Customers rating:

(4 / 5)

You may also like: 11 Best Reverse Video Apps for Android & iOS
Superlapse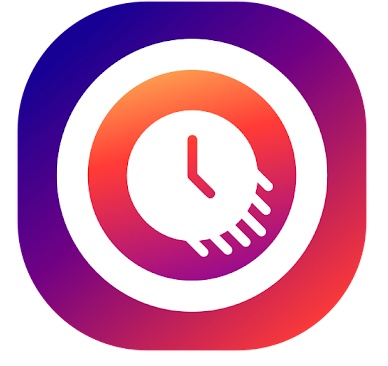 A simple application for frame-by-frame shooting. You can set the frame rate, the interval between frames, and even select the resolution.
You are offered to choose from 10+ filters. There are zoom effect settings, and the ability to add background music.
It also has autofocus and the ability to speed up the video by a factor of 4. Those who tried the app recommend shooting in 4K quality – then the program can process every detail and the video will be stunning!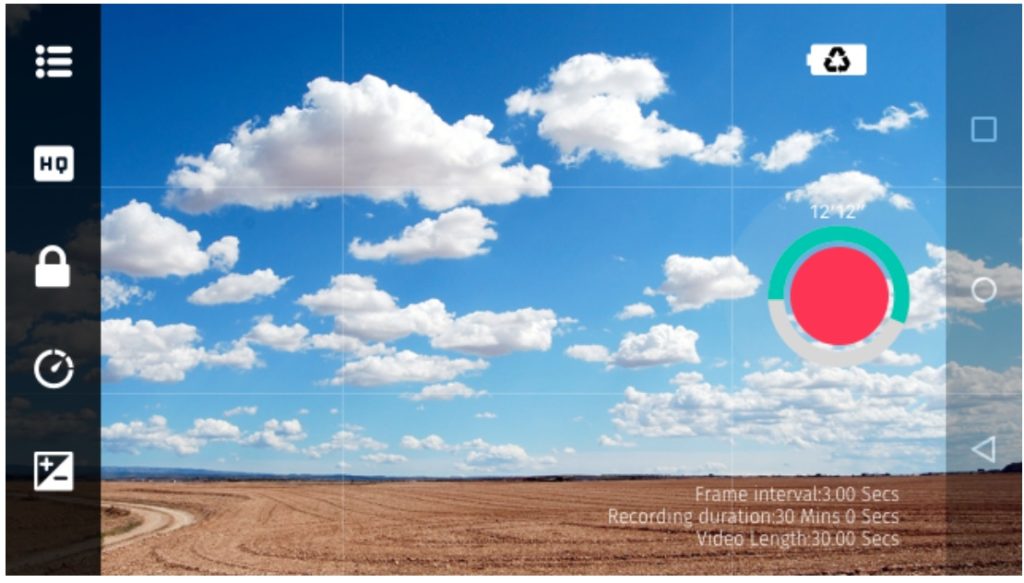 Downloads: 100000 +
Customers rating:

(4 / 5)

You've probably seen stunning hyperlapse videos on YouTube showing natural phenomena, sporting events, or simply beautiful views.
This technology used to require expensive equipment and painstaking revisions in an editor. But the new hyperlapse apps make these problems a thing of the past and allow anyone with an Android smartphone to try their hand at this art form.