Do you want your phone to understand you with a half-word? Would you like to send a text message with a voice command? Then see the review of the most popular voice to text apps on the Android operating system.
The idea of recognizing the user's speech by the program is not new. It has long been implemented by Google and implemented as a voice search, which is present as an add-on to applications on almost every smartphone with the Android OS.
ListNote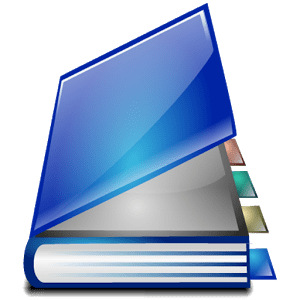 A simple application for creating notes on devices running Android OS. It will please those users who often use voice input, as this is one of the main chips of the application. But there is a classic method of typing.
Demonstrates simplicity, reliability and good compatibility with Android OS from version 2.3.3 onwards. Recognition of the said words occurs almost without glitches. He understands a wide range of words, but not unlimited. In general, the users of the application are satisfied with the operation of this application. In it, there is nothing superfluous, with the set task it copes well. Has an intuitive menu and a good reference.
You can create different groups, and place notes in them. Any note can be edited or moved to another group. After installation, you will be able to find a small number of notes.
Advantages
partition creation;
detailed information is available;
there are record markers for partitions.
Disadvantages
limited functionality – can only be used as a notebook;
does not recognize rare words, obscene vocabulary;
there is no possibility of a built-in text translation;
speech recognition does not work without an Internet connection.[/one_half_last]
Downloads: +1 000 000
Customers rating: (4.2 / 5)
Voice to text Messenger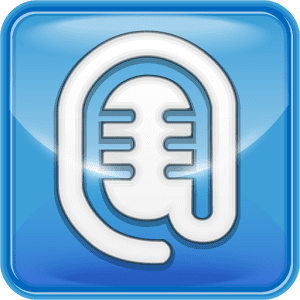 Less popular but very convenient application for Android. A notable feature of this application is the convenient ability to edit and send the received text.
The menu doesn't bother the eye with its coloring. In the main menu, there are only 4 buttons, from which you will need 2: "notes" and "add." In the first case, you can see previously created notes. In the second case, you can create a new record. Send the received text in the way you like: SMS, email, Bluetooth, Skype, Gmail, and others.
Advantages
a comfortable menu, in which there is nothing superfluous;
good recognition of almost all words;
the possibility of Internet search for received text, sending SMS, e-mail messages, etc.
Disadvantages
there is no possibility to recognize speech without an Internet connection;
there is no text translator.[/one_half_last]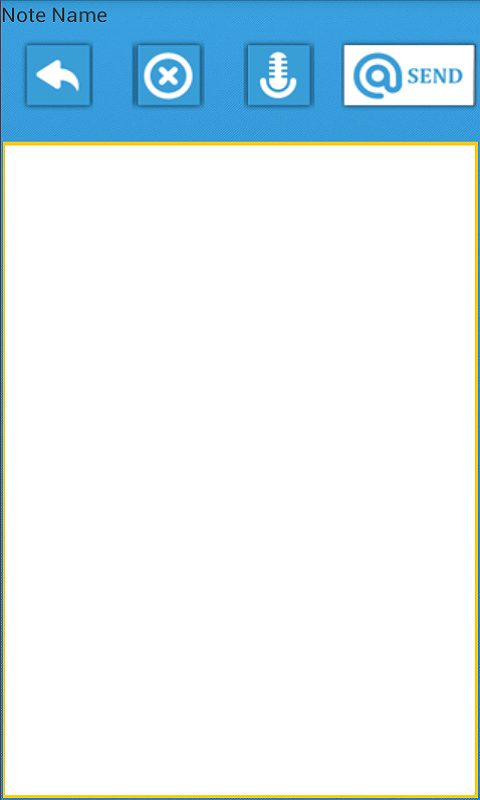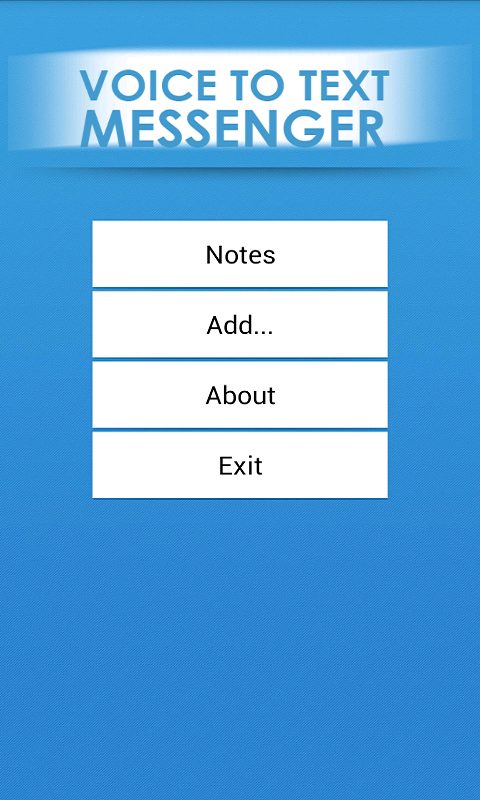 Downloads: +100 000
Customers rating: (3.6 / 5)
Google Keyboard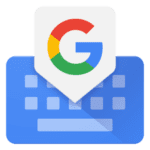 A very high-quality and comfortable Android-keyboard from Google with a mere and uncomplicated interface.
Among the innovations, in edition 5.0, there are some new "smart" functions, wonderful design solutions and maintenance for all major languages of the world. Some of the new features include text input by gestures and voice, special attention is attracted to voice text input, using the pluses of voice search from Google and the input of smiles.
Do not forget about the predictive text input, automatic correction, and prediction of the following words based on the printed.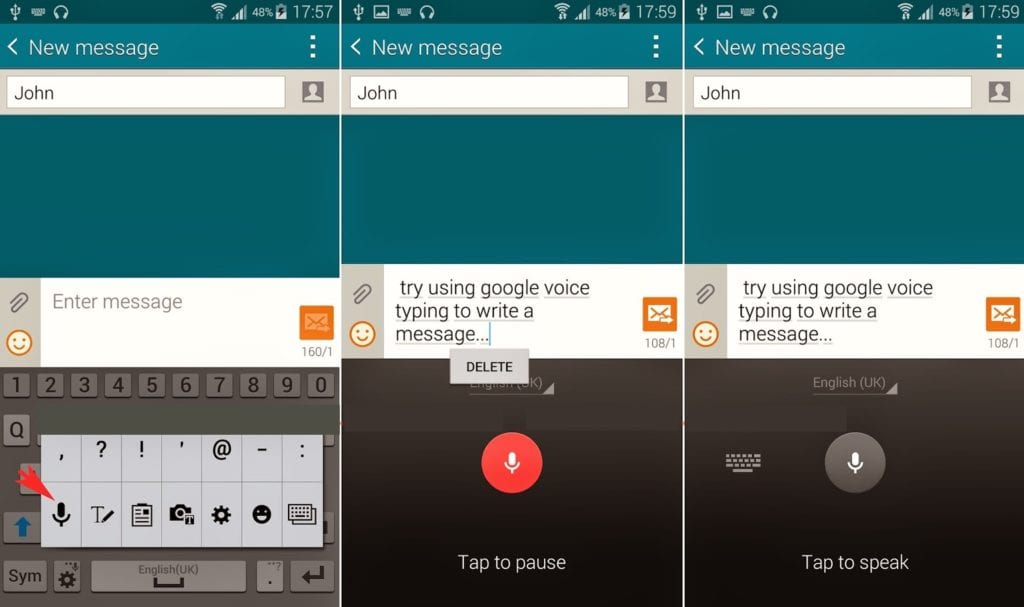 Downloads: +1 000 000 000
Customers rating: (4.2 / 5)
You may also like: Bluetooth apps for Android
Voice Writer
Free mobile application for recognition of dictated speech. The program can recognize a large number of languages and their varieties, allows you to edit the text and send it to the email, social networks or copy to the clipboard. For work, you need an Internet connection.
Downloads: +100 000
Customers rating: (3.9 / 5)
Hands Free Notes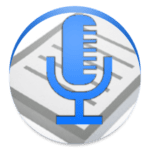 Hands Free Notes is an excellent program for recording voice text from the Heterioun studio to the Android operating system. Previously, people used pen and paper, then came handles. Now almost all documents are typed electronically. However, progress did not stop there. At the moment, voice typing is becoming more popular. This is the purpose of this program.
To get started, you need to create a new text document. Open it and click "Start recording". Then you can dictate the text. It is not immediately printed on the screen but simply saved as an audio file. Select it and click "Recognize Text". Within a few minutes, you will receive an electronic version of the dictated passage. After the end of recognition, double-check the contents and make some changes. Despite the fact that the program recognizes the speech fairly well, there are occasional misfires and prints of words that are close in sound.
The finished file can be opened not only with the program Hands Free Notes but also with other text editors that are installed on the mobile device.
The program is fairly simple and has several interesting functions. Go to the settings and read them. The interface has a pleasant visual appearance. This application is completely free, so the developers were forced to add several advertising banners that are placed at the bottom of the screen.
It is worth noting a good optimization because the program works well even on old mobile devices. Download the Hands Free Notes app for OC Android, use the convenient voice dialing, edit the received text.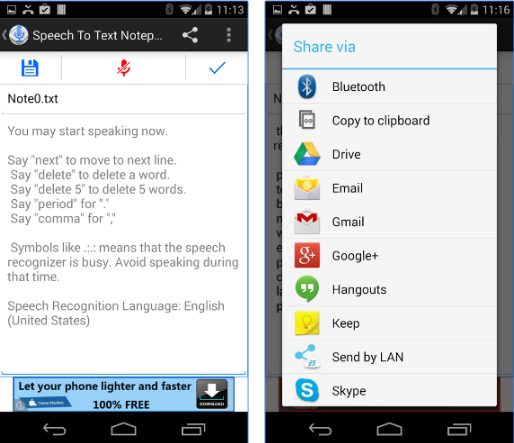 Downloads: +500 000
Customers rating: (4.6 / 5)

Evernote Voice-to-Text Extension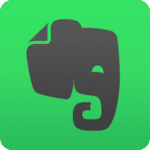 Voice notes from the first day were a key function of this application. Today, the developers have provided you another opportunity – speech recognition. To use it, click on the dictation icon in the toolbar above the keyboard. As you speak, the application will immediately begin to place the spoken words in the text of the note. It looks fantastic.
After you finish recording, the application will add to the note the original audio file so that you can always refer to it if necessary.
If you want to record a voice memo without speech recognition, just hold the dictation icon for a while. Then click the microphone icon to start recording.
Voice input features
The speech recognition function uses the corresponding Google Android service. It requires an Internet connection. In addition, this feature is only available for devices with a version of the Android 4.0 or higher operating system (Ice Cream Sandwich), as well as some others. If you see the speech recognition function after the update, then your phone or tablet supports this functionality.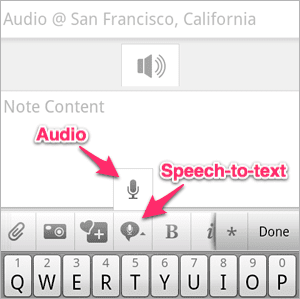 Downloads: +100 000 000
Customers rating: (4.6 / 5)
TalkBox Voice Messenger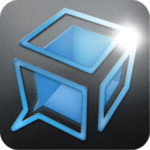 A popular application that works on smartphones based on Android. The application allows you to record a voice message up to 1 minute and post it on your Facebook or Twitter page, as well as in the application itself. Now the voice dialing function is added. TalkBox finds access to your contact list and adds to your contact list those people who already use the application.
Capabilities:
Voice messages with push notifications.
Text messages.
Voice typing.
Group chats with 9 interlocutors.
Identify and transfer your current location to your interlocutors.
Synchronize with the address book or the list of Facebook contacts.
Customizable tile color.
Adjustment to the color of the theme installed on the phone.
Work from WIFI, 3G or another network.
Send a voice message to Facebook, Twitter or your friends.
History of messages.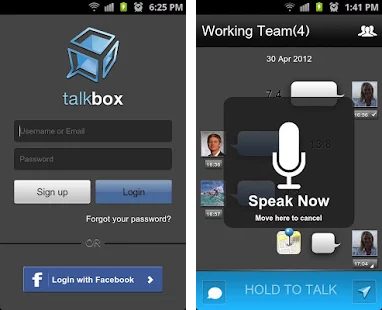 Downloads: +1 000 000
Customers rating: (4.1 / 5)
Speech To Text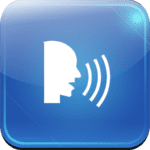 A handy utility for text input using voice, which can be sent via SMS or e-mail. It is also possible to copy and place text in any other application.
In addition to recognizing text, the application has the Text Pronunciation function. The intuitive interface makes working with the program even easier. The dictated text can be sent to any contact from your phone book.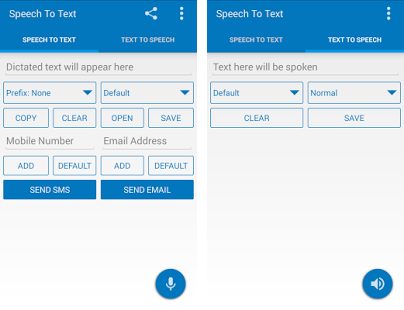 Downloads: +1 000 000
Customers rating: (3.6 / 5)
Voice to Text by Roke Studio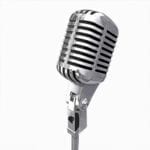 Now you have the opportunity to record your notes, résumés, articles in just one voice. The recorded text can be further edited on a computer, sent by email, through a messenger or social network. In a text editor, you can also work with a voice, for example, delete a letter, put a punctuation mark.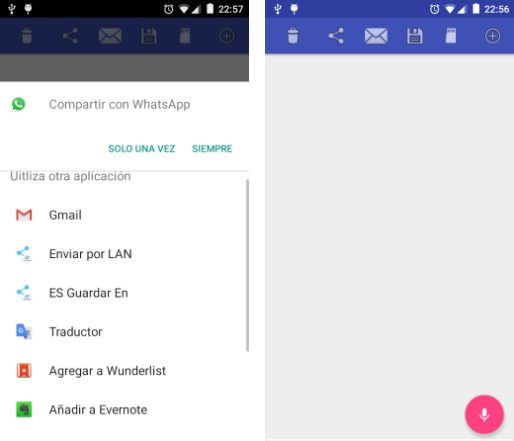 Downloads: +100 000
Customers rating: (3.1 / 5)

Speechnotes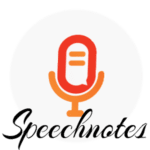 The Speechnotes application was created in 2015 by the teams Speechlogger and TTSReader in order to assist people around the world to reproduce their thoughts, stories, and notes in a more convenient and easy way. That's why Speekhnotes is a free and affordable online application.
The program is convenient for all users: it does not require special skills, fast and easy to use, with a very simple design. This is done in order to allow users to expand their capabilities and focus on their own thoughts.
The developers were striving to make their tool the top online program for writing texts and achieve the most precise results due to the use of advanced speech recognition technologies. It should be noted that the program is multilingual, in its arsenal is available about 30 languages and adverbs. In addition, built-in tools (automatic and manually customizable) have been added to improve the effectiveness and productiveness of users, as well as their comfort.
The Speechnotes application can be useful to those who are tired of the usual typing on the keyboard, it may also be necessary for those people who, due to their physical condition, face difficulties in typing. This program also represents a great practical value for people learning foreign languages, because it allows you to practice conversational skills and pronunciation.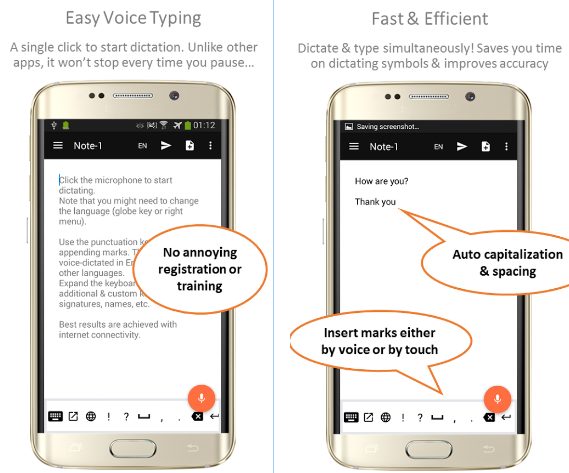 Downloads: +1 000 000
Customers rating: (4.3 / 5)
Voice to Text Text to Voice
Voice To Text Text To Voice is an application that allows you to quickly and easily convert any text, be it voice to text or vice versa.
To make Voice To Text Text To Voice read text aloud, all you have to do is enter text and click on the speaker icon. If you want to convert your words into text, then all you have to do is click the microphone icon and start talking slowly with pauses from time to time.
One of the most interesting things about Voice To Text Text To Voice is the huge number of settings it contains, including an extensive collection of voices to read your words aloud.
You can also adjust the speed and tone of your voice. Create and organize as many folders as you want to store your voice recordings and converted texts made with this app.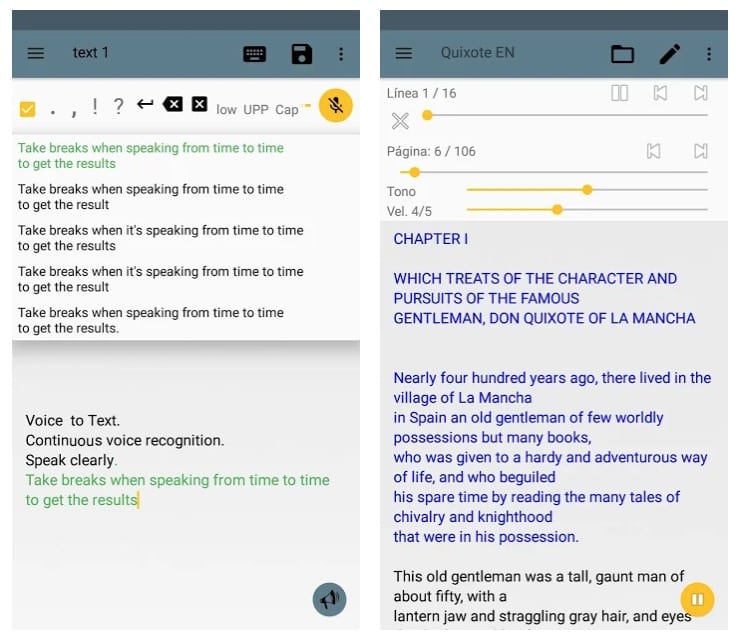 Downloads: +1 000 000
Customers rating: (3.8 / 5)
SpeechTexter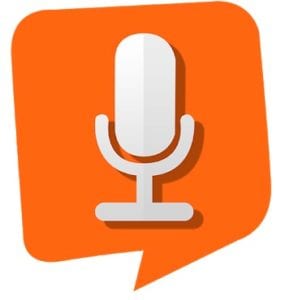 SpeechTexter is a powerful voice typing application. It provides continuous speech recognition with a custom dictionary while helping you create essays, messages, reports and more. In addition, you can add your own punctuation commands to make writing easier.
This application depends more on your network connection than anything else, but it also works based on data from Google and is great if there is nothing wrong with your internet.
Main Features:
Easy notes creation;
Dictionary;
High recognition accuracy;
Support for over 60 languages;
Simple and intuitive interface.
What makes Speechtexter special is its own dictionary, where you can enter any abbreviations and transcripts for them and then use them during dictation. Speechtexter contains advertising, but thanks to this it is absolutely free.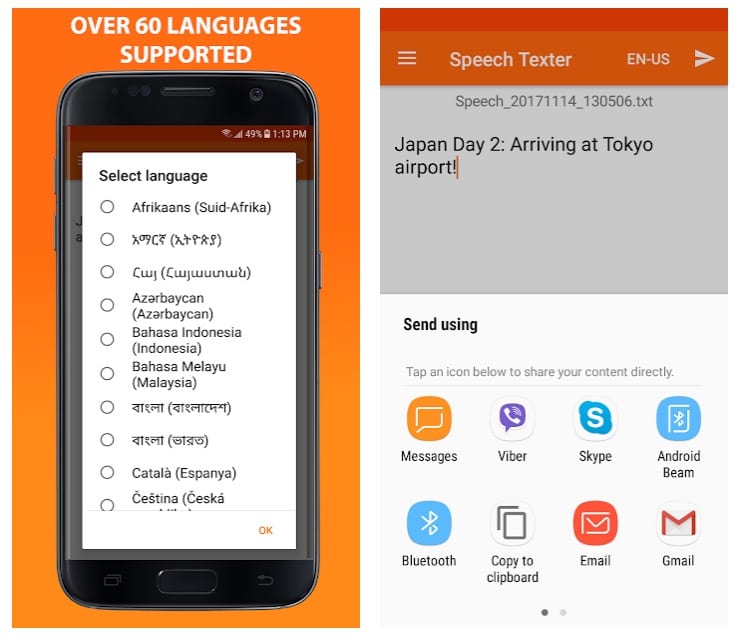 Downloads: +500 000
Customers rating: (3.8 / 5)

Speech To Text For WhatsApp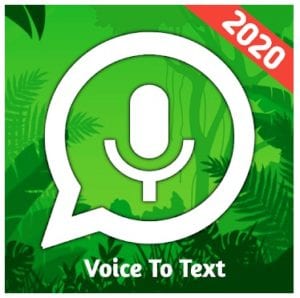 This is a simple speech typing application where you are free to speak and convert your voice into text and share it with your friends.
Now no longer needed to print messages. Just dictate and send!
It also easily translate audio to text in other languages as well.
Main functions:
Progressive

voice

dialing

technique;

Mere

and

comfy

technique;

Rapid

Recognition;

Share your voice message in the shape of text;

Multilanguage.
No extra and hidden fees! Without limits on the number of text and messages! Download to your device and enjoy!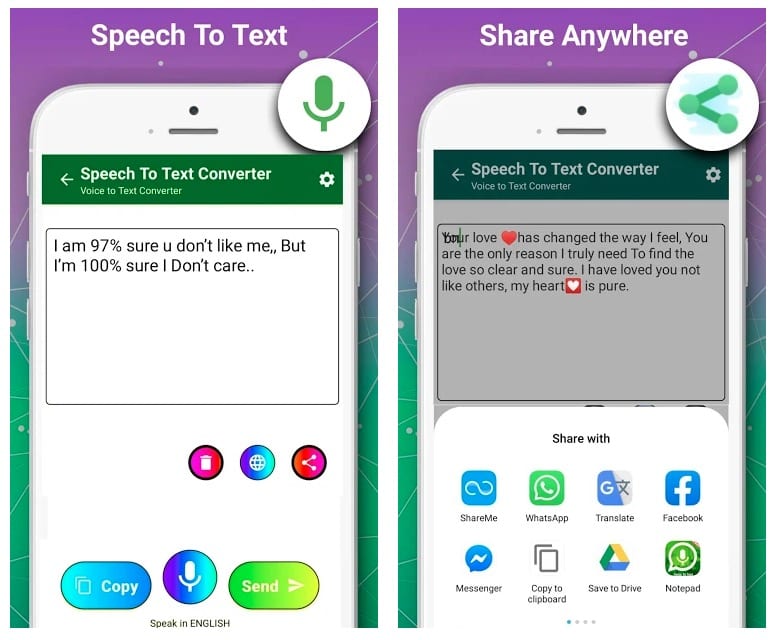 Downloads: +100 000
Customers rating: (4.3 / 5)

Write SMS by voice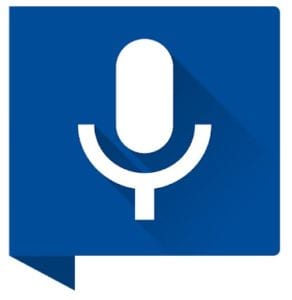 Write a text by voice! Now you can write quickly and conveniently via Write SMS by voice! Write SMS by voice provides you with a powerful and easy-to-use system for writing SMS messages by voice.
Main Features:
Write messages by voice and edit the text conveniently;
Dictionary recognition (just say "comma" and the application will write ",");
You can edit the dictionary;
You can also select a recipient or enter a number by voice;
Continuous Recognition Mode – Recognition continues until you stop it;
You can send not only SMS (send your messages via e-mail, Bluetooth, Facebook, and other applications);
Built-in SMS messenger (control your incoming and outgoing messages);
Quick and easy interface;
Pleasant design;
More than 70 recognition languages.
Attention! Internet access is required for this application to work.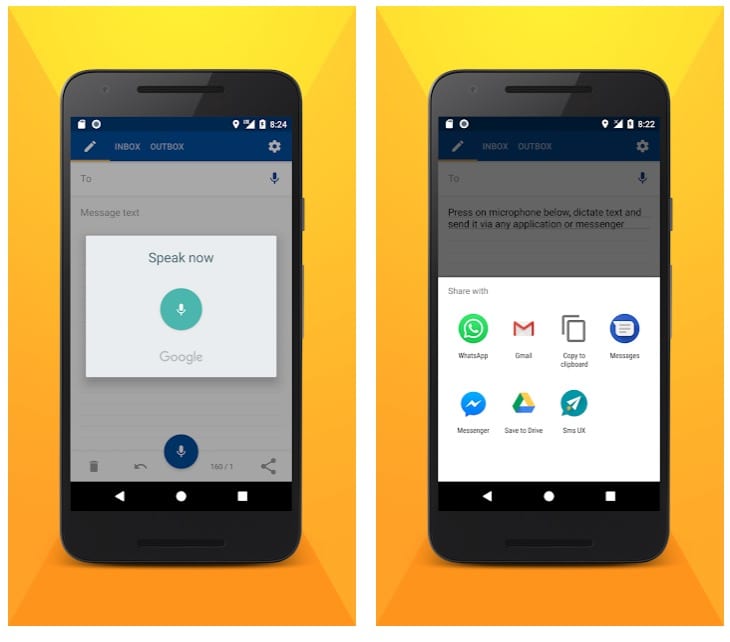 Downloads: +5 000 000
Customers rating: (4.4 / 5)
Voice Notebook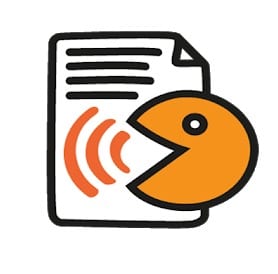 In many life situations, it may be easier and faster to dictate the necessary text than to write it down yourself. The Voice Notebook app lets you create voice notes at any time and either save them on your mobile device or send them to cloud services.
You can dictate all the time. There's a list of replaceable words and punctuation for voice input. You can manage all capital letters. You can undo the last speech input and delete the last spoken command (with a button or by voice command).
It also contains words and characters counter. Convenient for bilingual voice input.
In addition to other advantages, it is worth noting that the application can recognize speech even in offline mode.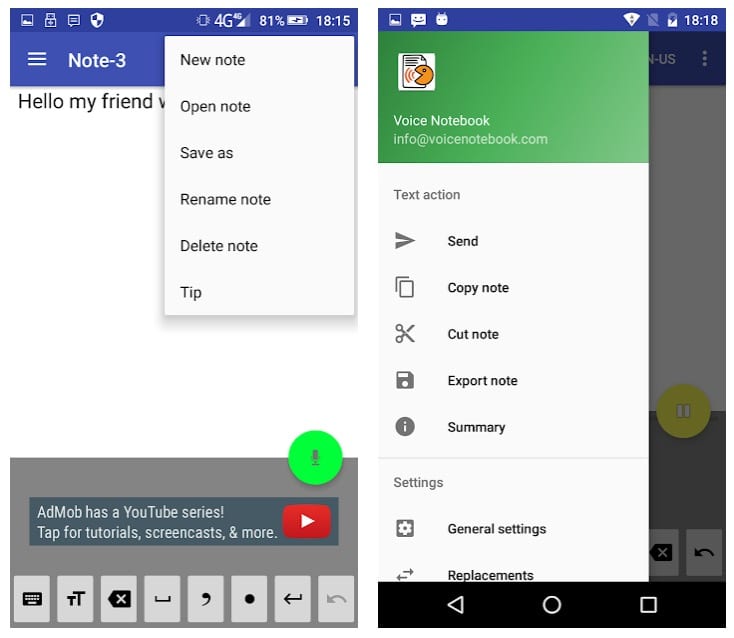 Downloads: +500 000
Customers rating: (4.3 / 5)
Live Transcribe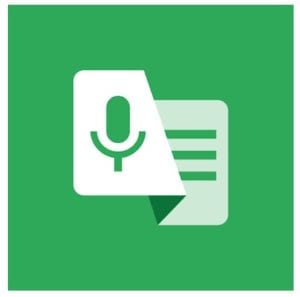 The application turn speech into text in real time. It works in full-screen mode, uses a smartphone microphone (or external microphone) and uses the Google Cloud Speech API.
All you have to do is run the application and it immediately starts displaying what you're saying on the phone screen. Live Transcribe understands the context and knows how to correctly set punctuation marks, but requires a constant connection to the Internet.
The app includes an ambient noise level indicator that makes it easy to see if you should bring the microphone closer to your mouth.
In Live Transcribe, you can select two languages that are easy to switch between. The application supports over 70 languages and dialects. You can include a dark theme and change the size of the text.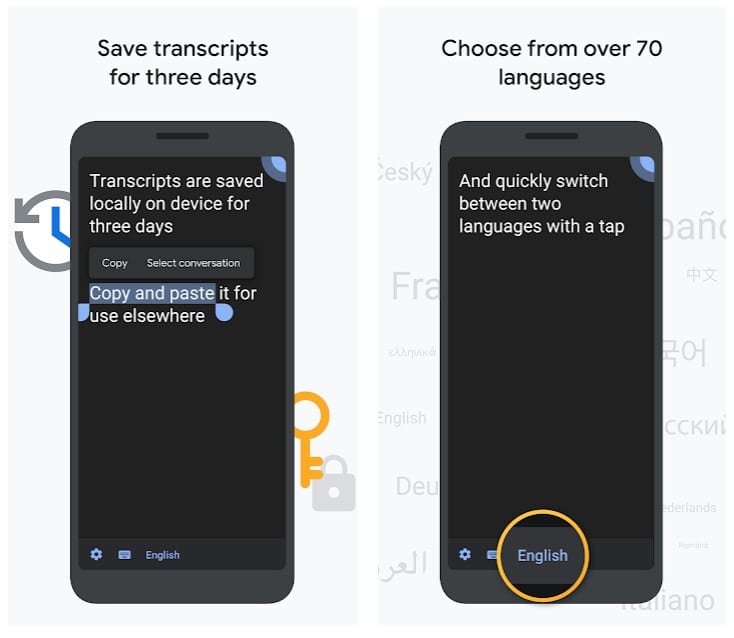 Downloads: + 50 000 000
Customers rating: (4.2 / 5)
Voice notes
An application for quick and easy recording of small notes, important ideas and setting reminders using speech recognition.
Have you ever had a situation where an interesting idea came to your mind at the most inopportune moment? Now you can record it effortlessly and it won't get lost in your head.
Notes are one way to capture the most important ideas and thoughts. Voice memos allow you to take notes very quickly, you just dictate the text into the microphone and it will recognize the text you say.
Create a note. You can quickly create a new note using speech recognition and, if necessary, edit the resulting text. Alternatively, you can record an audio recording of important information and listen to it later in person.
Create reminders. Create reminders for important notes, select any time and set an audible alert, vibrate, repeat if necessary. In the settings, you can select a unique reminder sound and set the time when the notification will be repeated.
Custom categories. You can create as many categories as you like – Family, Work, Birthdays or any others you need. Then, when creating or editing your notes, you can select the categories you have created.
Share your notes. Send the text of a note or a few notes to yourself or your friends on social networks, in the mail, etc.
Online note creation application allows you to create notes anywhere if you have your phone at hand and the application is absolutely free.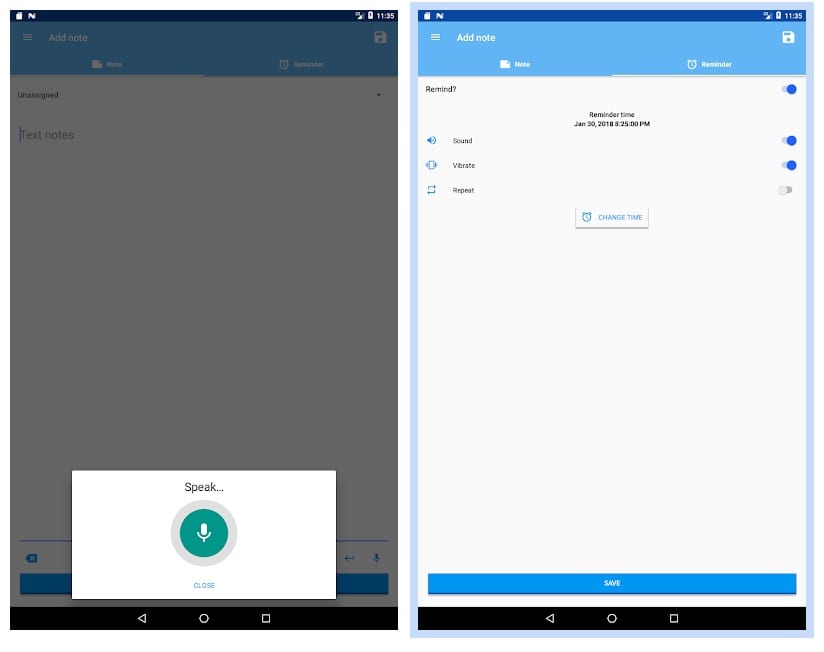 Downloads: +500 000
Customers rating: (4.6 / 5)
You may also like: Best voice changer apps
For some people, voice-to-text translation services will become toys, for others, an indispensable tool. Each will allocate for itself any pluses at work with the programs described above, there will be also minuses. However, we recommend that you personally download and test any of the applications discussed in this article.
Well, after productive work with the text, you can relax a little and get distracted from your current affairs. We suggest you read the article 17 Best Sudoku apps for Android to spend time with benefits!