Programs for changing the voice can be a good tool, both for entertainment and for keeping confidentiality. Applications of this kind usually give a wide choice of voices and effects, with the help of which you can change the sound of your voice.
Voice changer with effects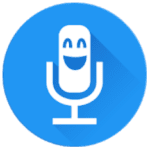 This voice converter is considered to be one of the most popular because it contains a lot of funny sound effects that will change your voice beyond recognition. The Voice changer with effects game is very easy to use. You just need to record your voice or upload any voice to your mobile device and impose the desired effects. In addition to voices, effects can also be imposed on audio tracks.
This game will help you have fun. For example, you can impose a sound effect on your favorite song and listen to how the singer sings with the voice of a chipmunk or a space mutant. The game also has the function of sharing the created tracks, so you can make your friends laugh by sending them a funny message.
In addition, in the game, you can attach an audio track to pictures or videos to create an original video. Effects from the application can be combined or you can create ringtones from them. Now you can create an original sound for your mobile, combining the voice of an alien with a drunken voice.
The application is supported by all mobile devices running on the Android platform and is provided absolutely free of charge.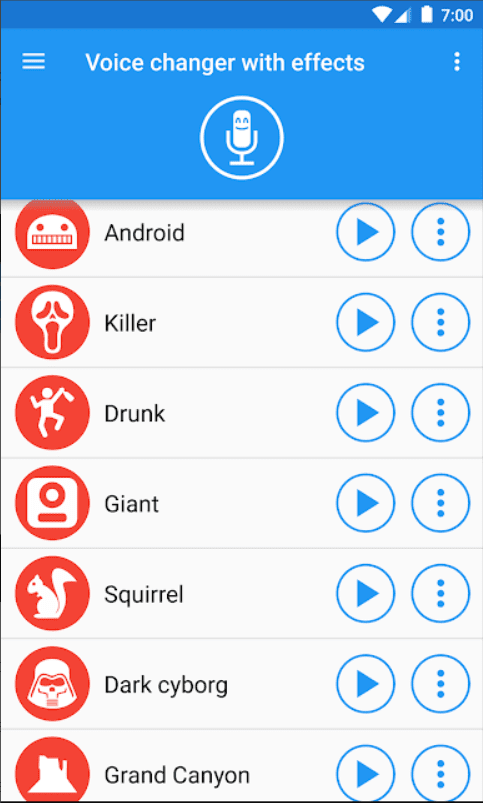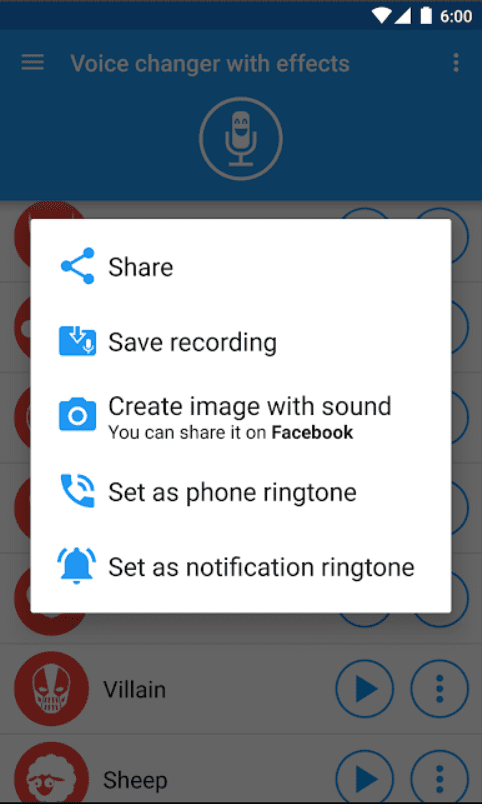 Downloads: 100000000 +
Customers rating:  (4.2 / 5)

You can also check: 17 Best voice to text apps for Android
Voice Changer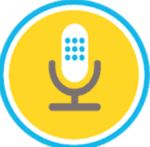 Voice Changer is an amazing entertainment tool. It changes the voice with the help of various effects. So, you can play your friends and relatives with its help and send the recordings using social networks.
Bored of the usual pranks? Then, try an interesting application for changing the voice. Play your boss, record your voice on the recorder and impose various effects on it. The voice can be changed beyond recognition, adding noise or interference.
It is no longer necessary to use additional items or efforts to change the voice: to put a scarf on the mouth or to change intonation yourself. The application has extensive functionality. After recording a track, you can experiment with changing the voice or sound. You can create interference so that the interlocutor thinks that there are problems with communication. The voice can also be changed to the comic voice of a chipmunk, a monster, an alien, a squirrel or a robot. Or change it from a male to a female or vice versa. The finished result can be sent via e-mail or, popular today, the program WhatsApp. Funny sound can be set as the phone ringtone.
Downloads: 10000 +
Customers rating:  (4.1/ 5)

Voice Changer by Androbaby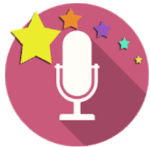 Voice Changer by Androbaby is a fun software for giving unusual effects to the voice, which will help to cheer the company with Android smartphones.
The application was created by young ambitious developers, due to what it attracts with its brightness and unusualness. It is compatible with devices with Android version 4.0 and higher. Record your voice and make your friends smile, or scare your loved ones, uttering the phrase with a terrible wheezy. Slow down the recording and on the output, you will get a voice of a lazy person who is tired and wants to rest. Using the echo filter you will feel yourself in an empty room or forest, where the surrounding echoes your words. Pronounce the phrase with the voice of a monster or a cute chipmunk. Now it's easy to imagine how you'll sound if you inhale helium or sulfur hexafluoride.
Experiment with your friends by sending a message with the voice of an alien or telling a story that you are a robot. Announce a test of the weapon with a message from an old radio or sing a song in a huge chorus. Apply filters "dwarf", "bee" or "bathroom" for funny audio. Create a mournful voice, talking like death, or imagine that you are underwater and decided to call a friend. Have a lot of fun! Download the Voice Changer app on your smartphone.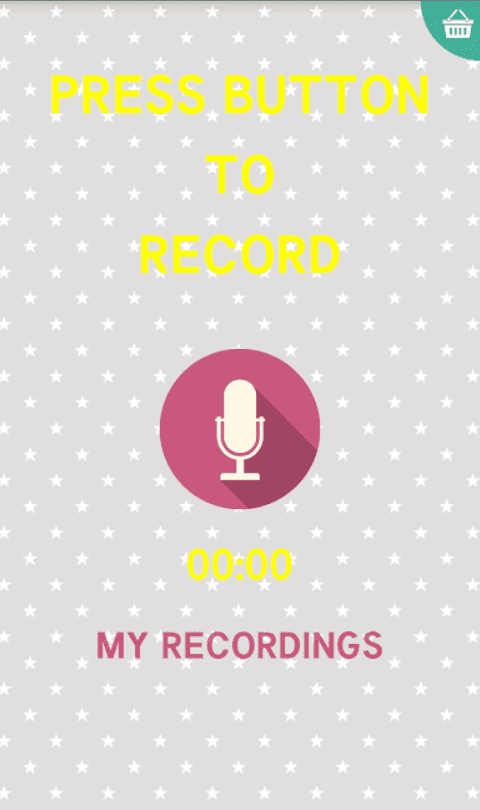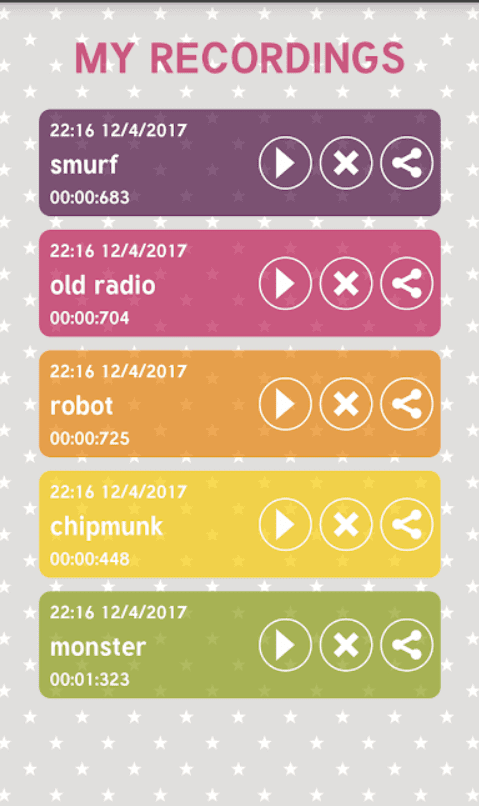 Downloads: 10000 +
Customers rating:  (4.1 / 5)

Change My Voice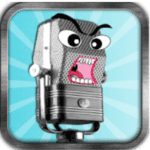 Change My Voice is a fun application that will help to change your voice beyond recognition. you can record yourself and then use some tools to change the sound of your voice. For this, you will have the following instruments at your disposal:
tone control,
speed control of playback,
the regulator of metallic sounds in the voice,
volume control,
effects of echo and chorus.
If you do not want to experiment with the settings yourself, you can use the ready presets for changing the voice: boy, man, woman, robot, cat, etc. All the adjustments made to the sound of the voice occur instantly while listening, so that you can immediately assess the degree of this or that effect.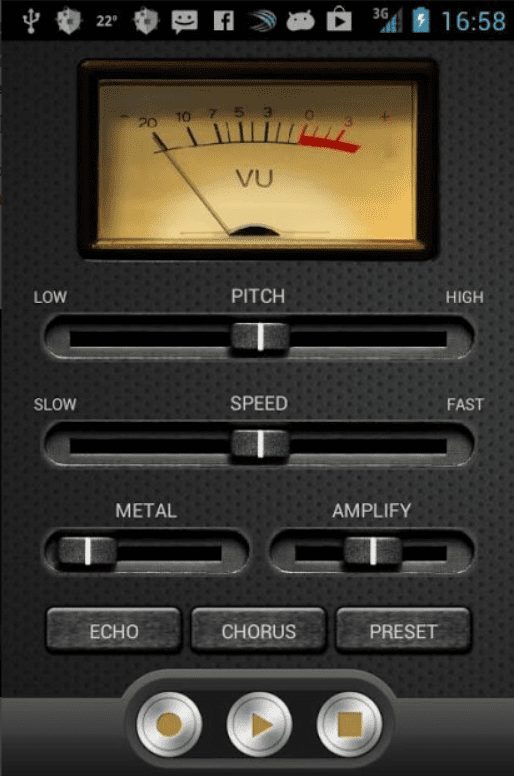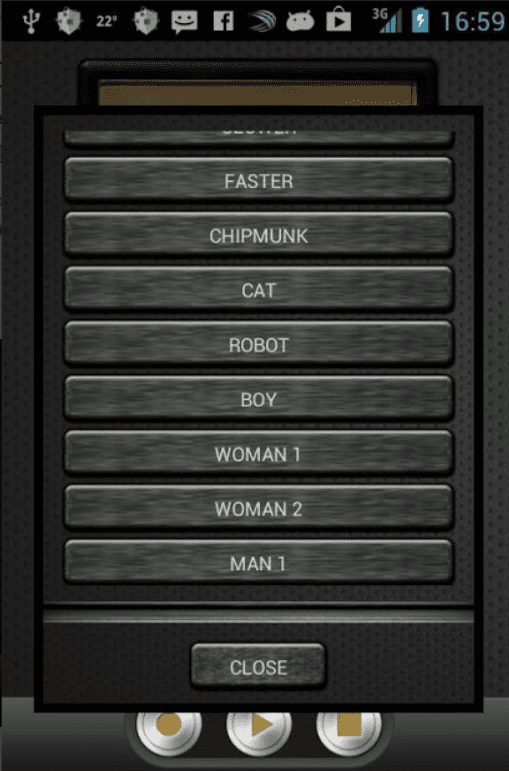 Downloads: 10000000 +
Customers rating:  (3.7 / 5)

Scary Voice Changer – Horror Sounds Voice Recorder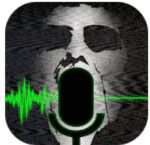 Scary Voice Changer is an instrument that allows you to record your own voice, and then play it with frightening sound effects. The application is easy to use. Just click on the record button and start talking into the microphone of your Android. After you finish, select any sound effect that will be superimposed on the voice, and click on the play button. It's simple.
With the help of Scary Voice Changer, you can make your voice sound like a mummy, a witch, or even a robot. Whatever horrible creature you choose to be, it is likely that this application has its voice effect. All in all, Scary Voice Changer is a fun application with which your voice can sound like all kinds of frightening creatures.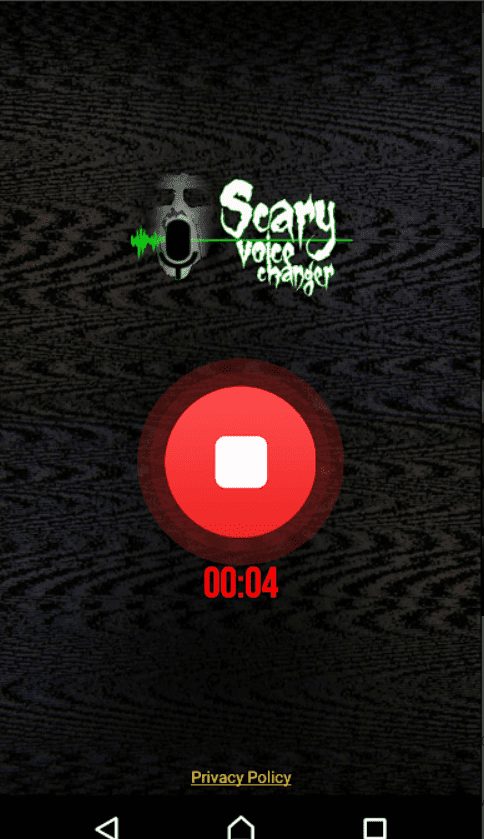 Downloads: 1000000 +
Customers rating:  (3.6 / 5)

Voice Changer by Suttung Software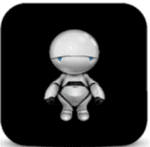 Do you want to turn your voice into an Android voice? And perhaps, you want to sing like a bird, or speak the voice of a beautiful maiden? This application will help you. With Voice Changer by Suttung Software, changing the voice is easy.
How does it work? Click the "Record" button and say the phrase. Then choose which voice you want to simulate and click the processing button. Wait a while and play the resulting file. Interesting? Use the capabilities of this application to have fun or to use the recording in a variety of videos or audio tracks. You can not record your voice, but enter text that will be read by the program.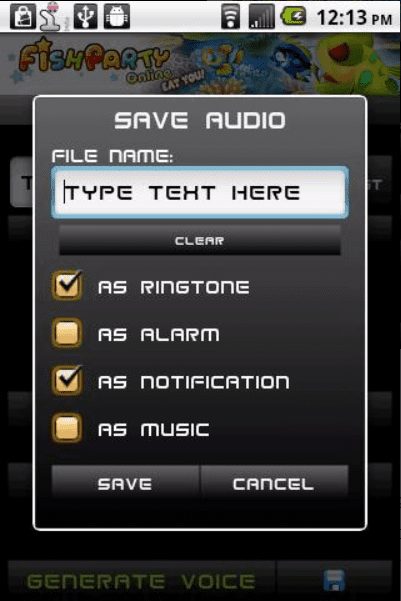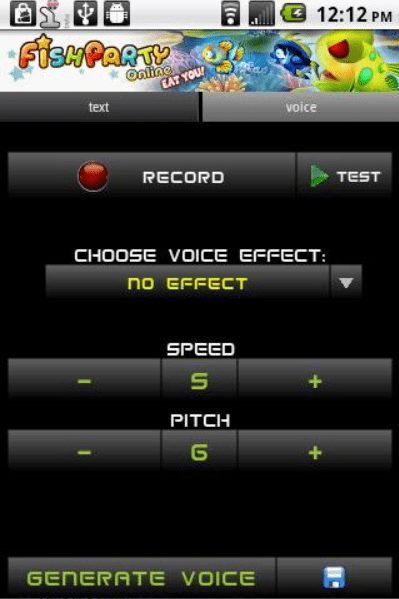 Downloads: 5000000 +
Customers rating:  (3.6 / 5)

Video Voice Changer FX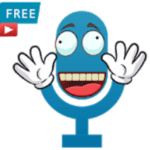 Video Voice Changer FX is an entertainment service which allows you to change your voice in a video so that it sounds completely different. You should just record a video or select it from your video collection, select an effect and create a video with a funny voice in a matter of minutes. Everything is simple and fast.
There are a lot of sound effects to choose from: a squirrel or chipmunk, the effect of helium, an alien and a spaceship, devil, a sound of the robot, echo, and much more. The ready-made video can be saved or published on social networks.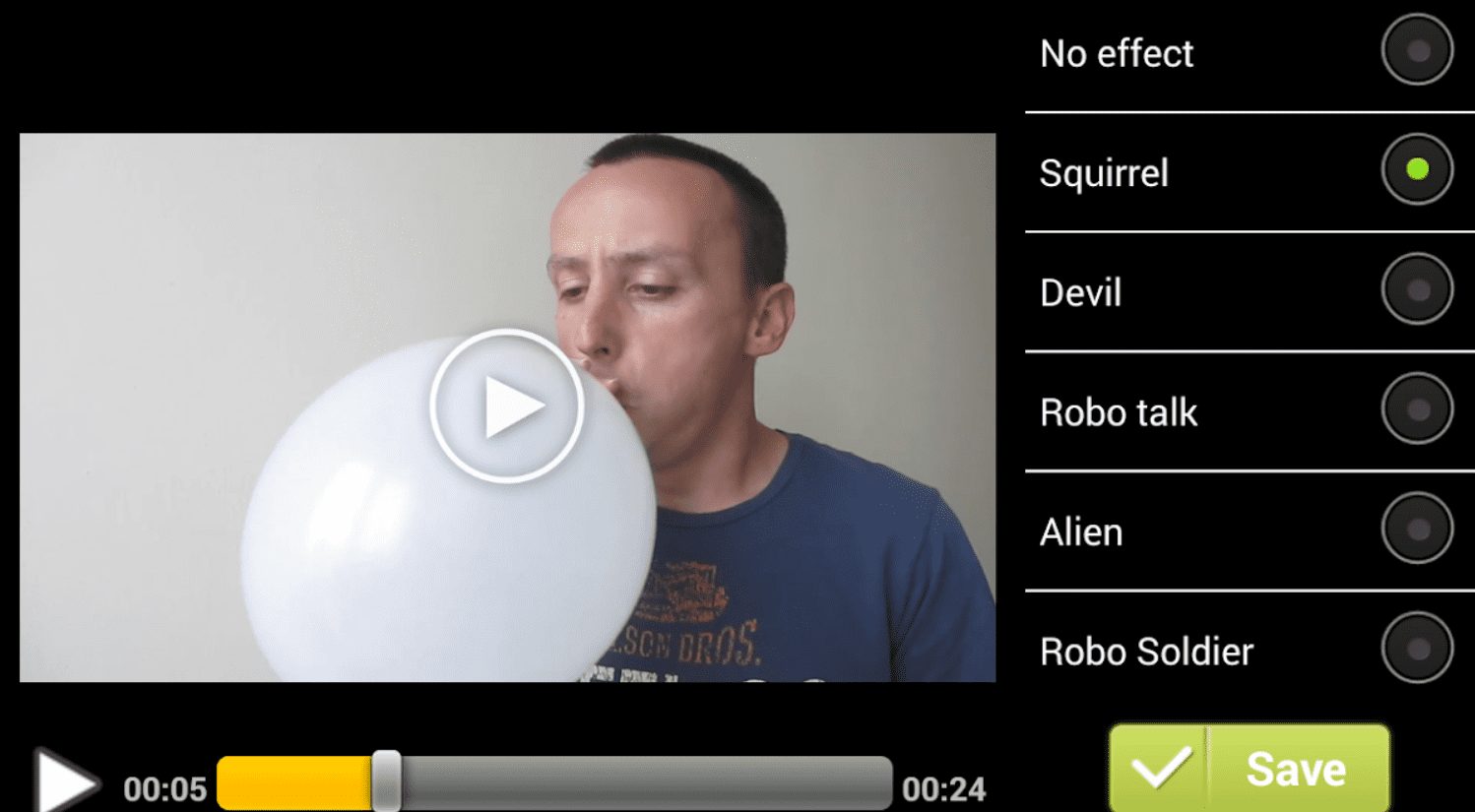 Downloads: 1000000 +
Customers rating:  (4.2 / 5)

Voice Changer by AndroidRock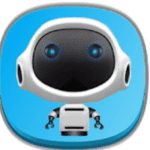 Voice Changer by AndroidRock is an excellent application for changing and editing a voice where you can easily superimpose various sound effects on audio recordings.
The application allows you to easily record voice in high quality and superimposes a variety of sound effects on the finished recording. Also, instead of creating new records, you can open the finished audio files and music on your device through the application, and then edit them as you want. Thanks to the history of work in the application, you can access the viewing and editing of pre-composed audio recordings. The results of the work can be easily shared with friends through the built-in sharing button or Bluetooth.
The application has various sound effects for imposition, such as the sound of a robot, various animals, a children's and senile voice, a Martian, an echo, a chorus, a foreign accent, a giant, underwater, hoarse and dozens of others. All effects in the application can be easily combined, applying the same effect several times to achieve a unique sound.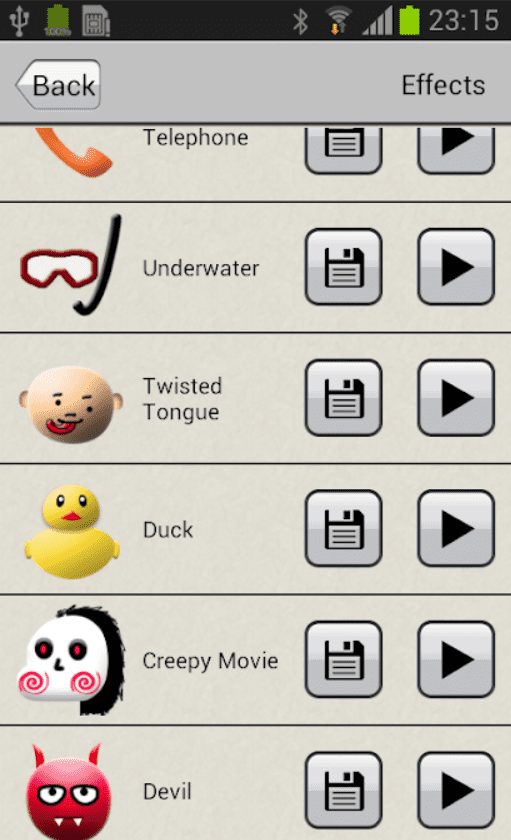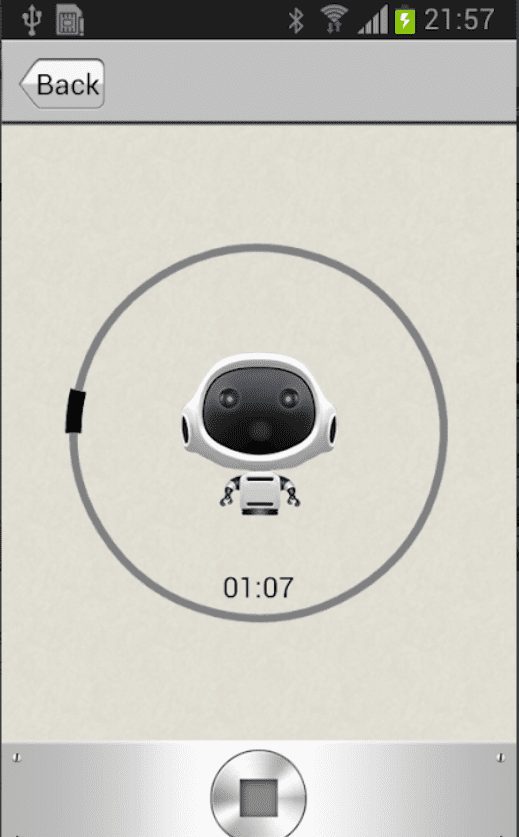 Downloads: 10000000 +
Customers rating:  (4.4 / 5)

Narrator's Voice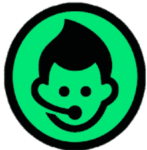 With Narrator's Voice, you can make funny videos and share funny messages with friends!
Multi-language program changes the voice beyond recognition. The phone will record the text you say. Now you can use the voice of Cortana. The device translates your phrases into any language.
The application supports the creation of funny videos, allows you to voice them through TTS applications. You can include the bleating of pink sheep, the voice of a robot, as well as the voices of famous people, right up to the presidents of Bush and Obama. So, take advantage of numerous effects, work offline and share created videos on the YouTube channel.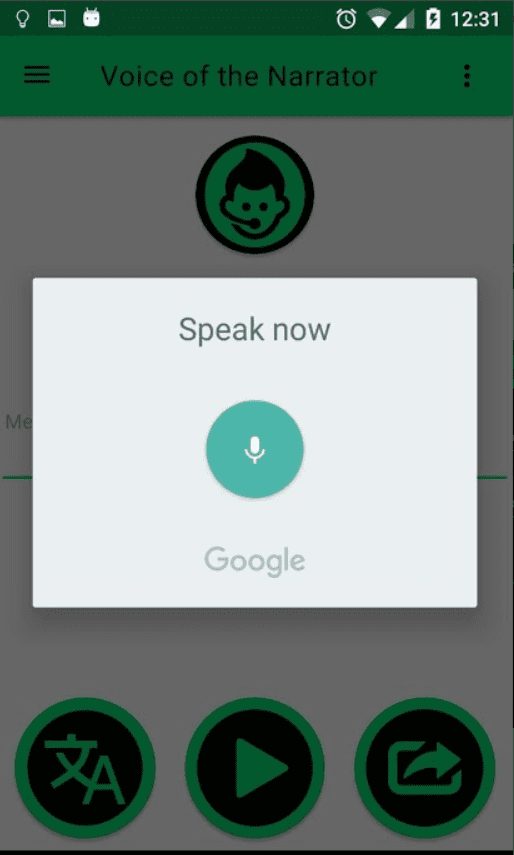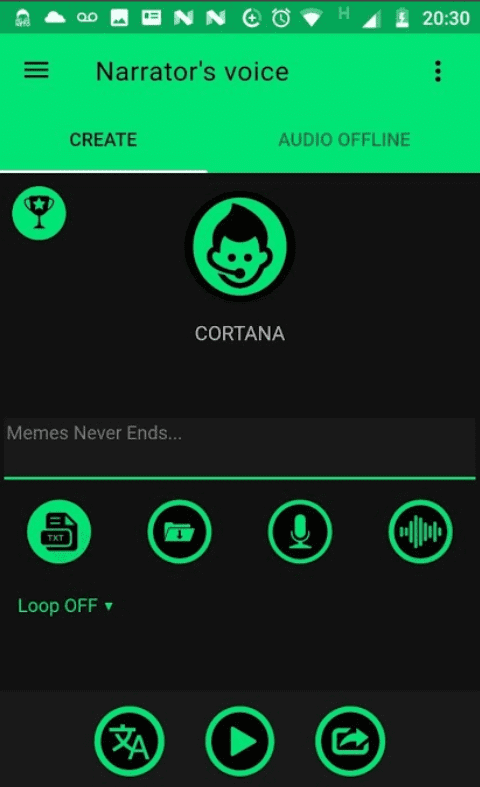 Downloads: 10000000 +
Customers rating:  (4.5 / 5)

Funcall – In Call Voice Changer & Call Recordings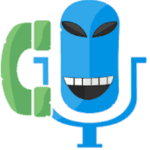 Funcall – In Call Voice Changer & Call Recordings is another popular application for funny phone calls with voice changes. It has a completely understandable and simple interface, which is easy to understand. So, you will get only pleasure using the program.
How does it work? Using the Funcall application, you can make phone calls over the Internet (VOIP technology) and prank your co-workers or friends using not your voice, but, for example, the high voice of a chipmunk, the voice of a man or woman, a low frightening voice or use your natural voice. Also, various sound effects such as feline meowing, wailing, voices of different animals and so on are available.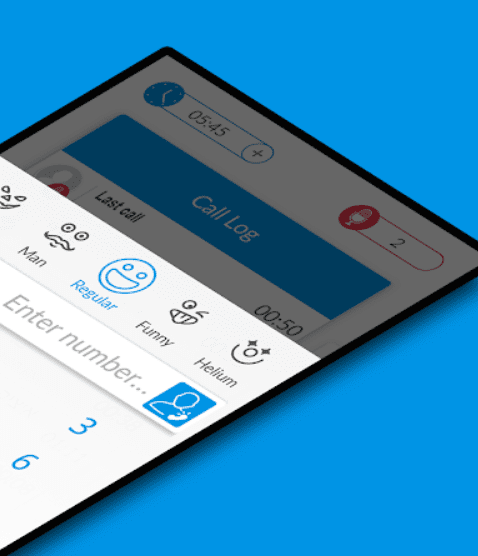 Downloads: 100000 +
Customers rating:  (3.8 / 5)
Call Voice Changer – IntCall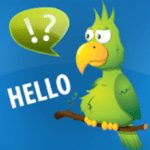 IntCall is one of the best voice converters for phone calls for Android.
With this program, you can change your voice during a phone conversation. So, laugh and prank your friends as much as you want. In addition to the various voice effects, the application allows you to use the voices of cartoon characters, birthday songs, congratulations in different languages, and much more right during the phone call!
Attention! You should have a strong Internet connection while using the app as all calls are made over the Internet ising VOIP.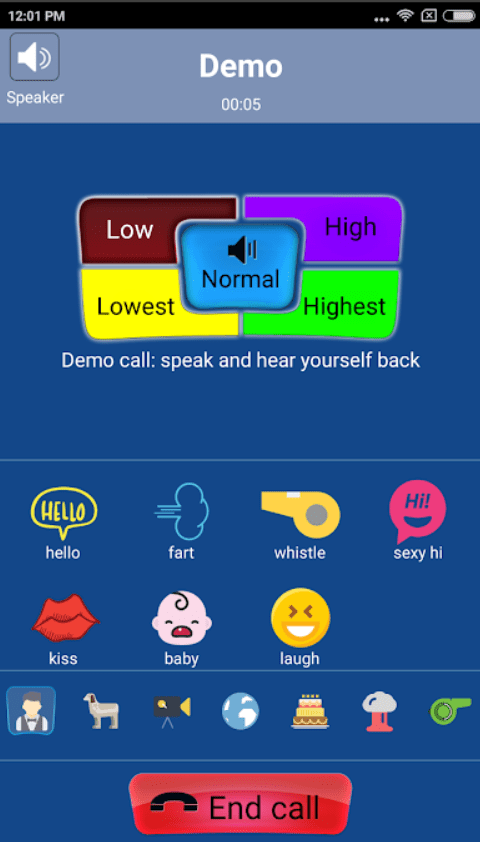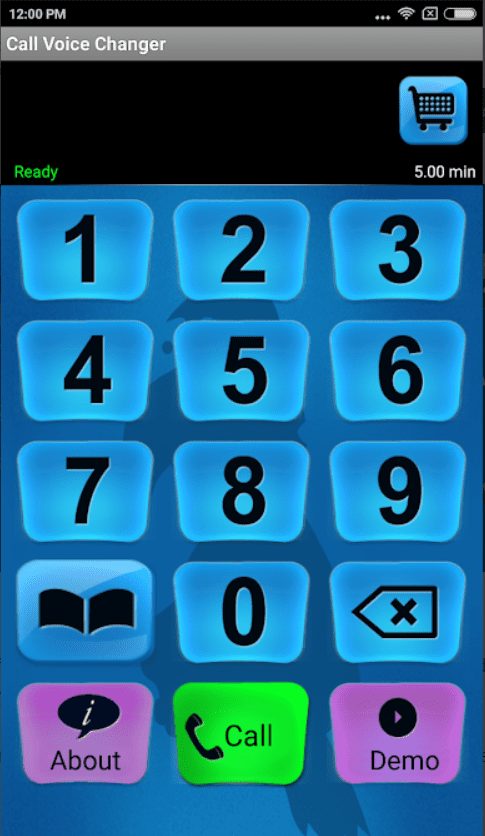 Downloads: 10000 +
Customers rating:  (4.6 / 5)
Best Voice Changer by xApps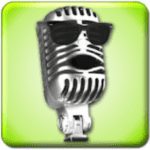 Best Voice Changer app developed by xApps will please you with the possibility to change your voice beyond recognition. Prank your friends! It; s so easy! The app's functionality is very simple. After pressing the "Record" button, you can speak into the microphone and then listen to the recorded file with putting one of several available effects and filters. It is possible to save the best variant. The possibility of making calls is not provided.
Be sure this program for changing your voice will give you a lot of unforgettable hours of irrepressible fun and laughter.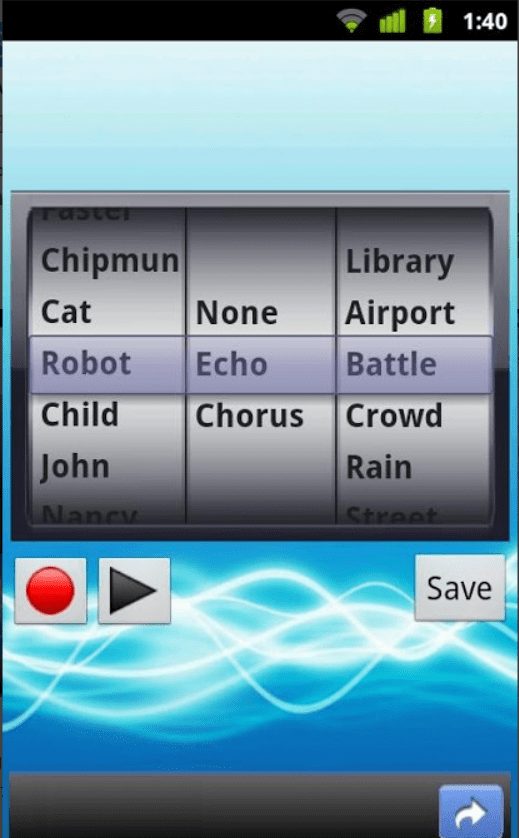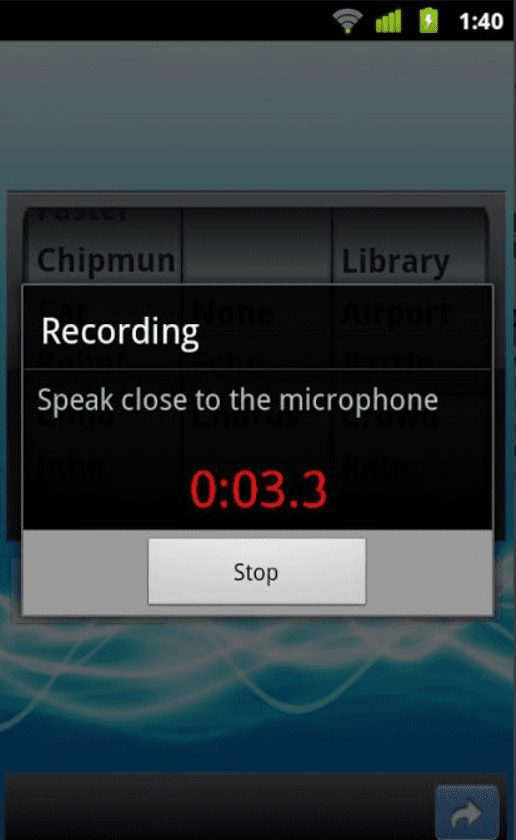 Downloads: 100000 +
Customers rating:  (4.6 / 5)
Comparing the capabilities of the presented applications, you easily make the right choice. Download the program to change the voice to surprise the interlocutor in Skype, make a cool ringtone, send funny commands in an online game or create a voice acting for a video clip – whatever you want, in this collection you'll surely find what you need.