When your wedding date is set, all you have to do is count the days until it happens and hope that you have enough time to prepare. These uncomplicated but cute wedding countdown apps help you do just that. You can also count down the days to other events.
And to make wedding preparations less of a hassle, the following list of apps will help you: 10 Best Wedding planner apps for Android
Wedding Countdown App
In order not to lose track of time and not to run in a panic a week before the wedding, set a countdown. The Wedding Countdown app will remind you how much time is left before the exciting event.
All you need to do is enter the date of the event. The app will do the necessary calculations and show you the remaining time until the approaching date. You will see not only the days but also the hours, minutes, seconds…
In terms of design, there are no minuses. You choose the background and style of the countdown, as well as the color of the text. You can even add a phrase to make waiting more pleasant.
Share the countdown in any way you like right from the app. In the app, you'll see the love quotes that you can also share with your lover.
A pre-wedding organizer and to-do list are just as important, and they're in the app! All in all, it's very convenient. Not only do you always have a countdown at your fingertips, but also what needs to be done before the wedding.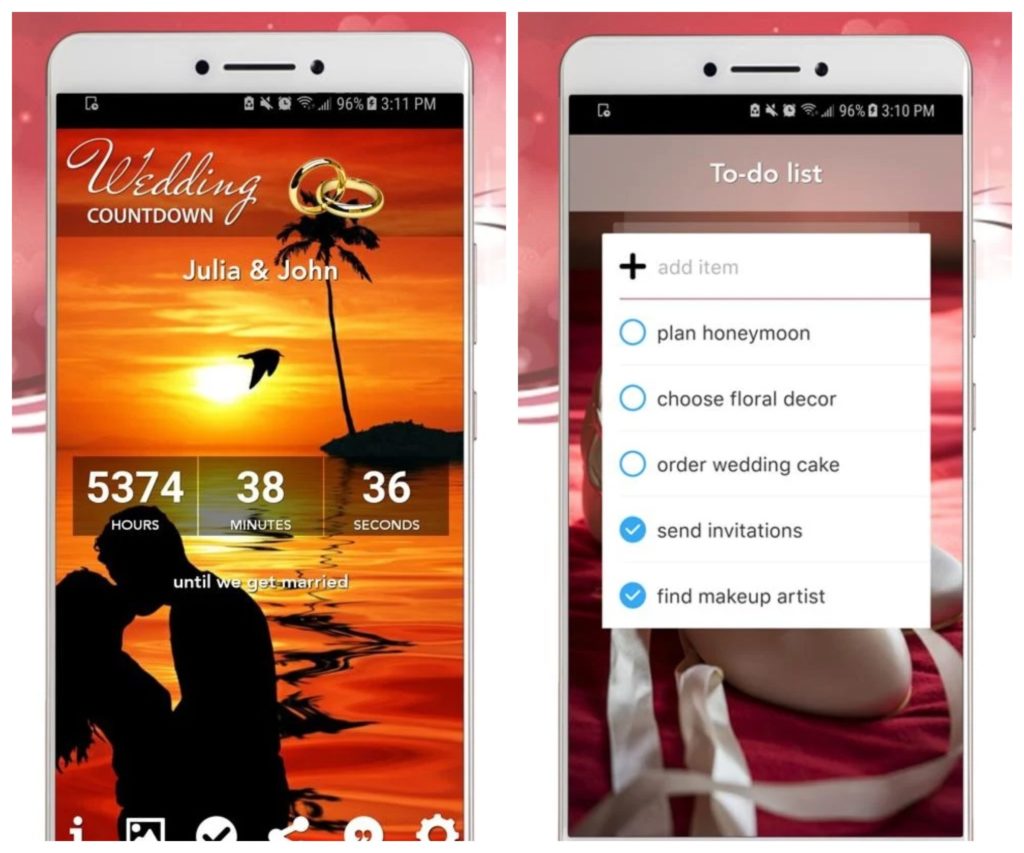 Downloads: 500000 +
Customers rating:

(4 / 5)

You may also like: 5 Best Skin Tone Detection Apps For Android
The Big Day: Wedding Planning
Newlyweds will love this app because it's not just a countdown. It provides many other useful features for wedding preparations. It's convenient to plan your most important day with The Big Day app on your phone.
The app is handy, especially the fact that there is event planning (restaurant, rings, guest list, etc.). Interesting design themes and a place for a photo. It will be convenient to calculate the budget, make a to-do list, time the day, etc.
A good tool for those who don't know where to start and what to expect to spend. Simple and straightforward app. With it, you can bring romance to the anticipation of one of the most important days in your life. Also, while testing I liked the fact that the design can be chosen to your taste.
For the countdown, you need to enter your wedding date and your name. The color, font, and background image can be selected manually.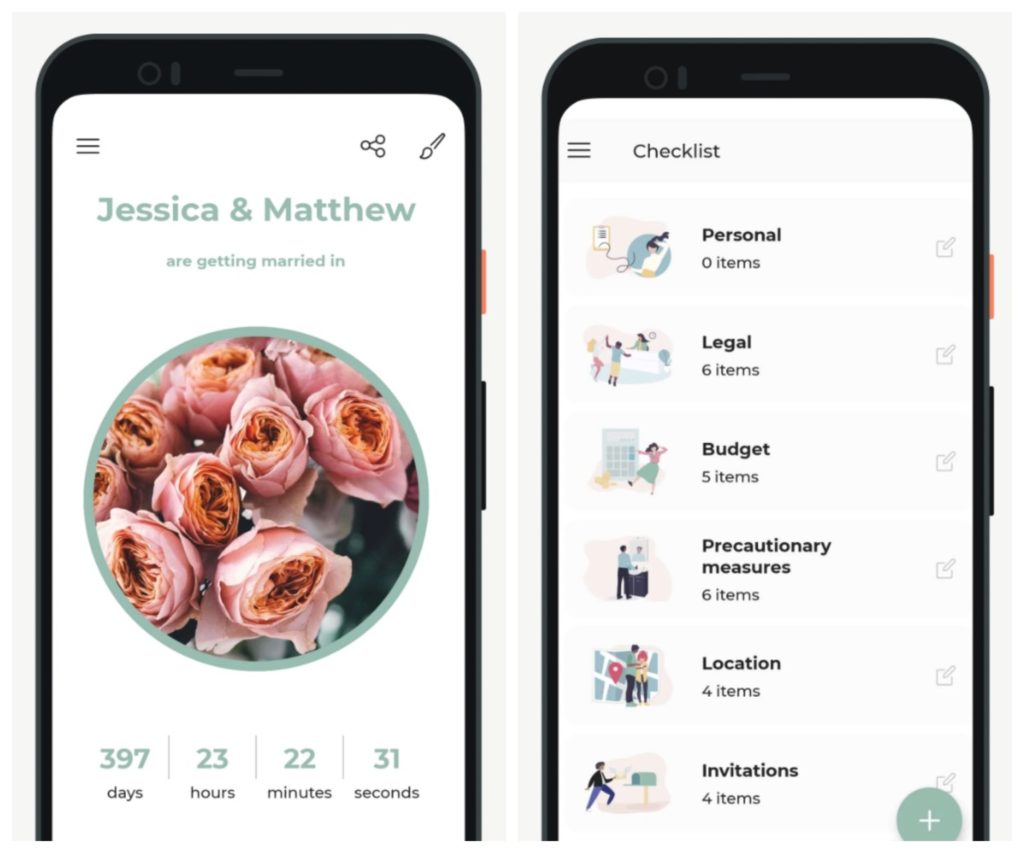 Downloads: 100000 +
Customers rating:

(4.8 / 5)

Wedding Countdown App
This wedding countdown app will help you create a countdown in a unique style using numerous templates. Color, font, and size can all be customized.
What's great is that there is a preview while you set up your countdown. This will allow you to quickly customize the look of the countdown according to your design needs.
By the way, you can add your own photos and songs to the countdown. That makes it even more romantic! Daily love quotes will inspire you and your partner even more for the event ahead.
You can also design wedding invitations here using backgrounds and templates. You are given all the tools to do this: choosing a background, style, font, etc. A wedding to-do list is also available for use.
That is, the application is multifunctional and will help not to forget so important things in the bustle of preparing for the wedding.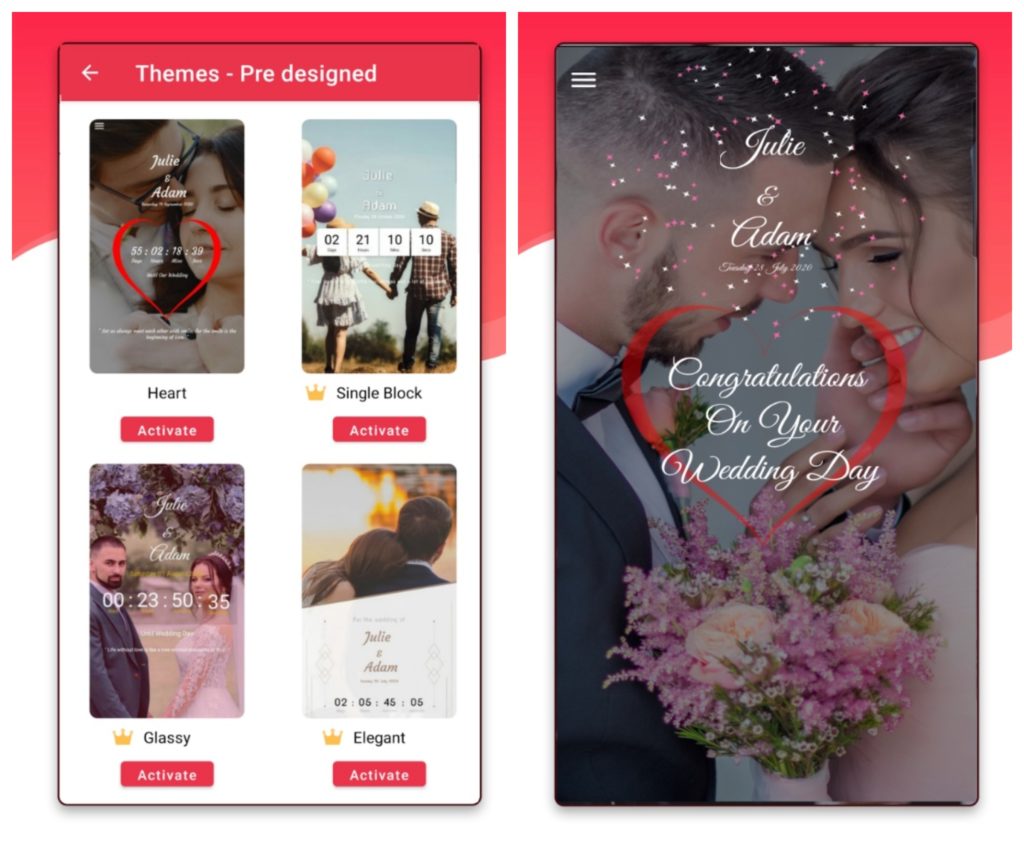 Downloads: 100000 +
Customers rating:

(5 / 5)

You may also like: 7 Best Android Apps to Change Clothes on Pictures
Countdown Days App & Widget
Superb widget, handy, lightweight, nice-looking. Very handy to know when an event is coming up! You can set any date as a wedding day, birthday, the time before a vacation, or a holiday.
You can put a picture of the event. The choice is big and offers a lot of pretty pics. You can choose a smiley on the widget from just a million suggestions. If nothing else, you can put your own picture from the gallery.
The app is good, everything works as it should except that if you remove the widget from the desktop and place it again, the countdown may reset.
Unobtrusive advertising is associated only with the exit from the application, not interfering with the work as most developers do.
I liked the ability to change the picture events, their color, and the fact that you can put a lot of event widgets on the desktop. The interface is easy to use and understand.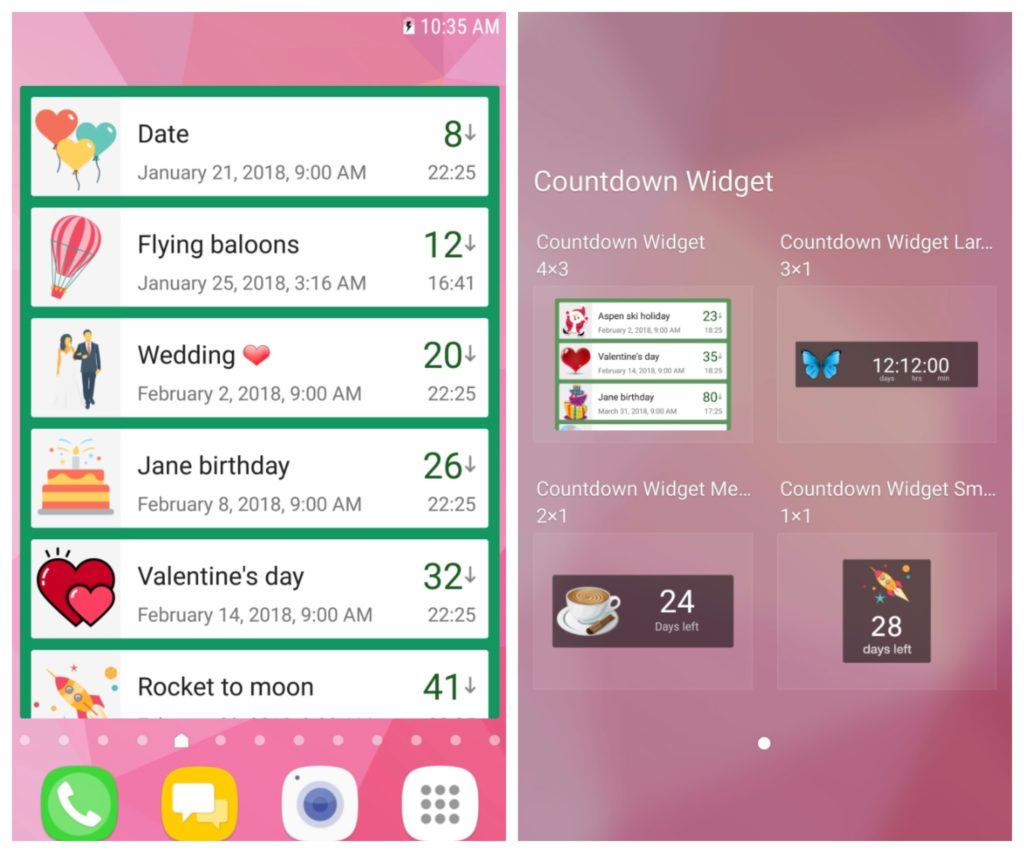 Downloads: 5000000 +
Customers rating:

(4.5 / 5)

Weddi – Wedding planner
Weddi is a great app for organizing your own wedding. It helps to keep track of all the important items – budget, guest lists, and organizational issues. You can set and keep track of many tasks at the same time. And I should also mention a nice design and interface.
In anticipation of such an exciting event, you can often forget something, because of so much hassle. The phone is always with you, and thus a personal assistant, too. A great feature is a countdown to the moment of celebration. Time flies very fast, it's convenient to control it this way.
All in all, a handy application that saves time and greatly simplifies the preparation for the wedding!
The application is convenient for people who like to plan everything to the smallest detail, as well as for absent-minded, who can forget about some important details in the bustle.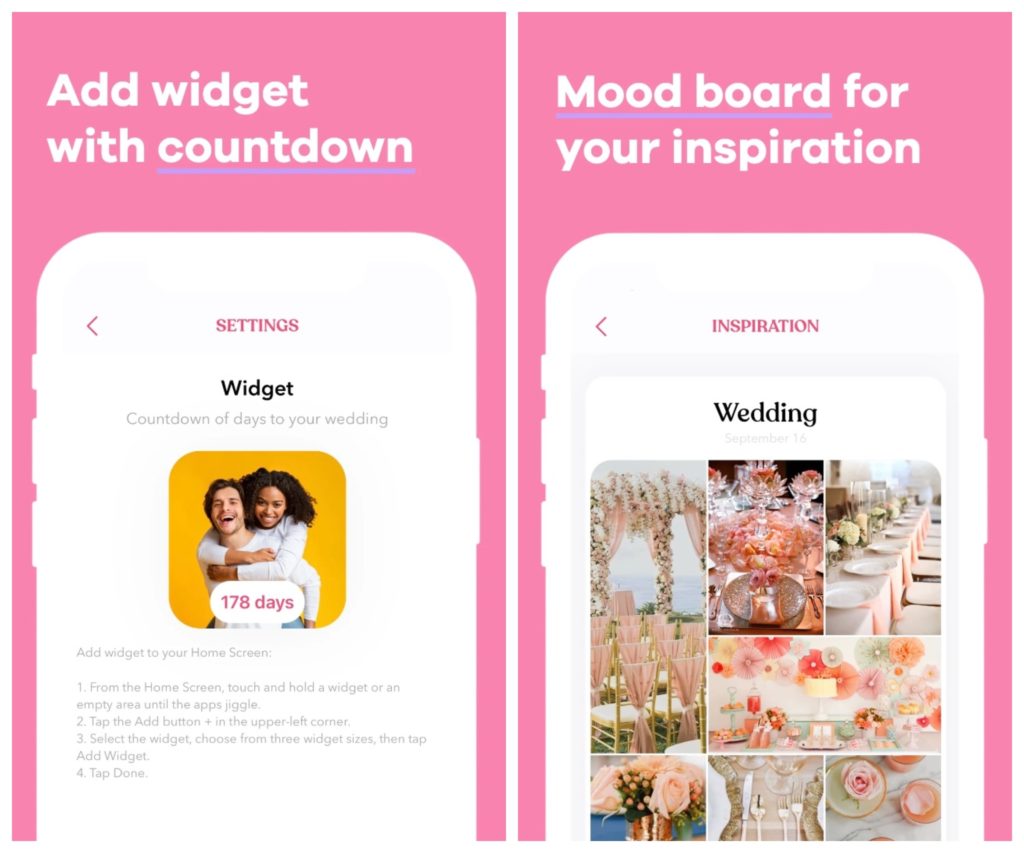 Downloads: 10000 +
Customers rating:

(4.4 / 5)

Wedding Planner by MyWed
Wedding Planner by MyWed is a clear and easy-to-use wedding app. Reminds me of the game in which you need to seat, feed guests, decorate the hall, and look good yourself. Only in the game, you can repeat the level, but in life, the wedding is once. This program is a great help not to forget anything and everything before the celebration and at the wedding.
With this application, you can better control everything and don't miss a single detail. You can also install a countdown widget on your phone's desktop. It will perfectly complement the look of your phone and will always remind you of an upcoming event.
The most important thing that I highlighted is that you can schedule upcoming things, by date. With it, you definitely will not forget anything! And no notepads that are always getting lost. Another plus is budgeting. You can write down all the expenses and it's a good way to assess your budgeting options. You have all the expenses in front of you.
There are ready-made tasks that you can adjust to your schedule. Very convenient that there is an opportunity to make both a list of guests and where they will sit and what to eat.
The navigation is perfect, the interface is cool, there are no ads, and the app gets the job done and saves you time. All in all, this app can be a great substitute for a wedding coordinator if you schedule everything yourself!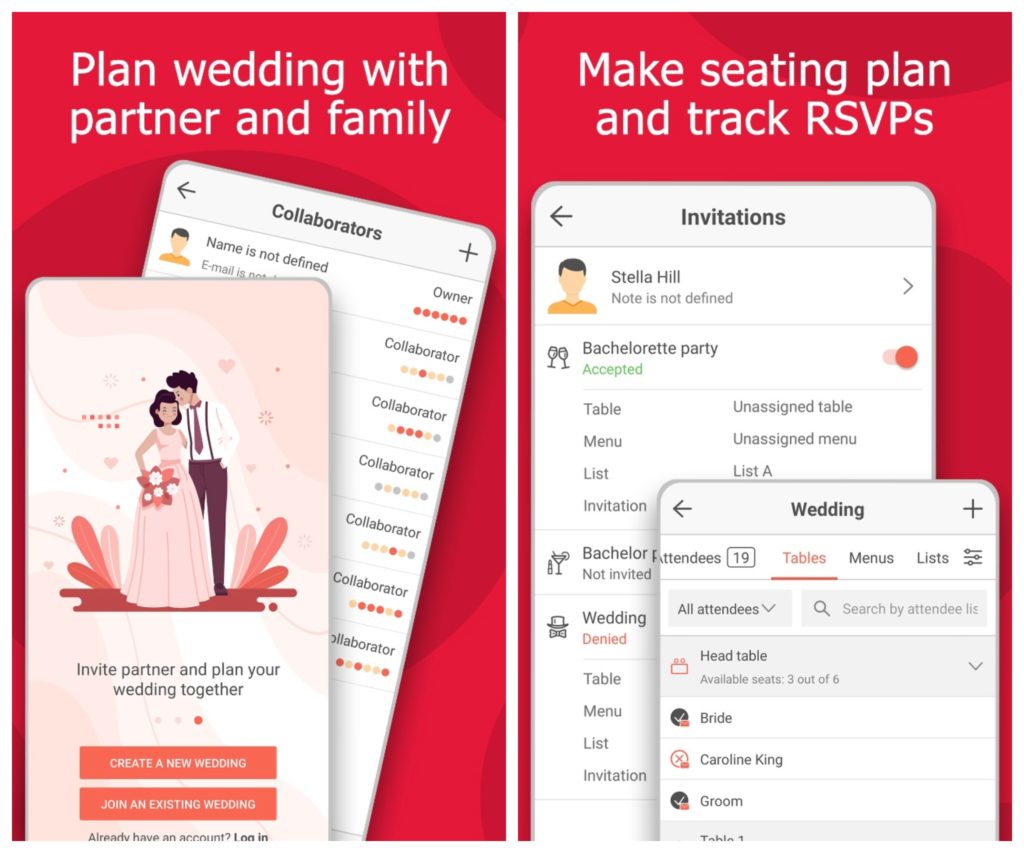 Downloads: 500000 +
Customers rating:

(4.9 / 5)

You may also like: 16 Best buying shoes apps for Android
Wedding Planner by Wedsly
Wedding Planner by Wedsly was created to make wedding planning easier, to relieve the newlyweds of routine tasks, so they can focus on the most important things. There are all the necessary features.
It helps to plan a wedding, make a list of expenses, and a list of guests. There is a countdown to the wedding. The app copes wonderfully with all the proposed functions. With this app, you can be sure that you won't miss anything and everything will go great!
A wedding is a significant event and you can't do without a planner! Wedding Planner by Wedsly is a handy wedding planning app! You can take into account every little detail, but you don't have to stress about it.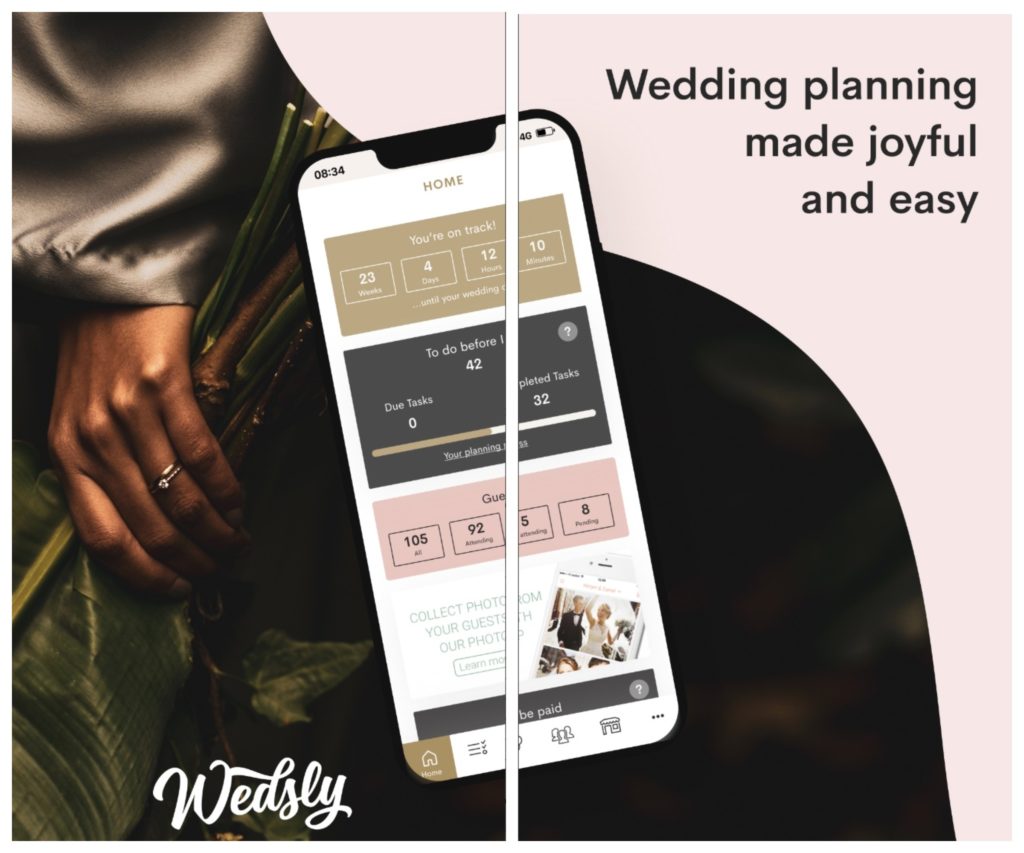 Downloads: 100000 +
Customers rating:

(4.9 / 5)