It is difficult to imagine the modern world without music. Every day there are new performers and new genres, and favorite artists never cease to please listeners with fresh compositions. Thanks to the development of mobile technologies, music becomes a constant companion of man. And if a music lover recently had to buy a player separately, now the smartphone has turned into an entertaining media device that can replace a music center and a radio receiver.
And while gadget manufacturers are working to improve the sound quality in devices, application developers create the best programs on Android for listening to their favorite music. Users do not even need to store the memory of the smartphone with gigabytes of tracks. It is enough to have a reliable Internet connection to connect to the endless network libraries. But sometimes it happens that the Internet is not available, and a Wi-Fi signal is also unavailable. No problem. Many music applications contain the function of offline listening.
Consider the top 17 best apps on the Google Play service, available to listen to music without Wi-Fi.
Pandora Music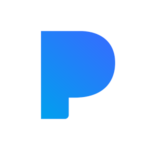 When was the last time you fell in love with a performer or a specific song? Developers of Pandora Music are familiar when enjoying the enchanting sounds throughout the body there are the shivers. Guided by the idea of the absolute uniqueness of musical preferences, the Music Genom Project was founded, within which for 10 years, careful research of musical preferences and perception of music on more than 450 parameters was conducted. As a result of this in-depth and comprehensive study, a methodology was developed to compile personalized playlists.
As a result of the titanic amount of work, a unique music utility Pandora Radio appeared. This is not just another radio software for your gadget – it's a personal radio station for each user. After installing this program, you may daily enjoy the best music, as if you yourself composed a playlist. It is enough to enter the name of one of your liked tracks or musical direction and the magic box of Pandora will form for you a private radio station on which only the best songs will be broadcast in accordance with your choice. It can be completely new songs and musical works from the last century, popular hits, and absolutely unknown tracks and performers.
The long work of professional musicians and avid music aficionados will allow you to enjoy the best music in the world. The utility permits you to create up to 100 personal radio stations with unique parameters for the selection of music tracks, listening to which is available offline.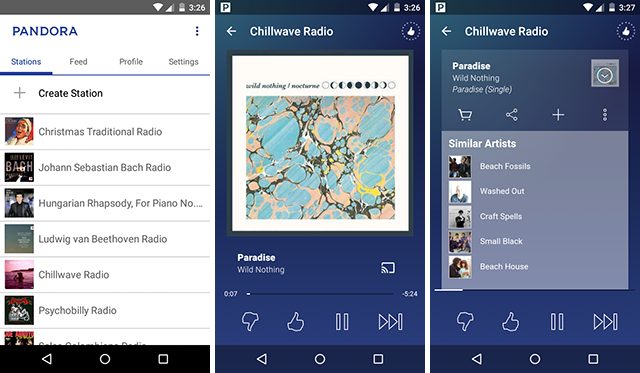 Downloads: +100 000 000
Costumers rating:  (4.4 / 5)
You may also like: 11 Best boost music apps for Android
SoundCloud – Music & Audio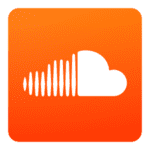 The SoundCloud web service is very popular: millions of people use it for free listening to music. Therefore, its creators decided to develop a proprietary application to simplify access to your favorite content.
SoundCloud – Music & Audio not only provides quick access to already loved artists and familiar compositions but also permits you to discover similar music or tracks with common labels. And the system of comments and likes implements an exchange of thoughts and evaluation of the popularity of one or another opus.
Among other advantages of the SoundCloud – Music & Audio software we will allocate:
the possibility to monitor the selection of other users, friends or even artists, if they are registered in the system;
the opportunity to view the list of songs by genre, tags, and artists;
record a track to publish it on social networks (Facebook, Twitter, and Tumblr);
creating playlists from your favorite audio;
offline listening;
control the playback process directly from the mobile device's lock window.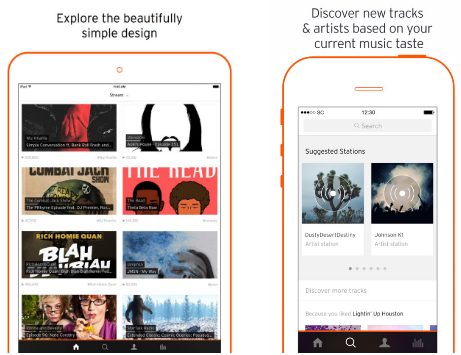 Downloads: +100 000 000
Costumers rating:  (4.5 / 5)
Spotify Music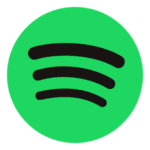 Spotify Music is a famed music utility with the opportunity to listen to music online.
The tool is known for its "cloud" potential, support for well-known performers, and social peculiarities. The software also works offline. In this instance, all the songs stored on the device will be available to the user. The property of the downloaded songs can be selected in the adjustments. In the parameters, synchronization with another popular music service is also available  – last.fm. If you join it, the list of guidelines will become much broader and more precise.
To keep the traffic, you can disable the utilization of the mobile connection program. In this situation, the utility will work only when connected to Wi-Fi. In general, performance is not bad. Buffering happens rapidly, as does the navigation between categories and in the menu. Thanks to the system of notifications, the user will be reported about the launch of a new album of the favorite artist, about the incoming message or about the subscriber who has appeared. As in social networks, you can monitor users, likes their playlists, and comment on changes in them.
Spotify Music is one of the best selections for a true music lover. The utility is qualitative, convenient, and has many features but so far it does not work in all countries. Despite this, the project should be advised to all who are not indifferent to music.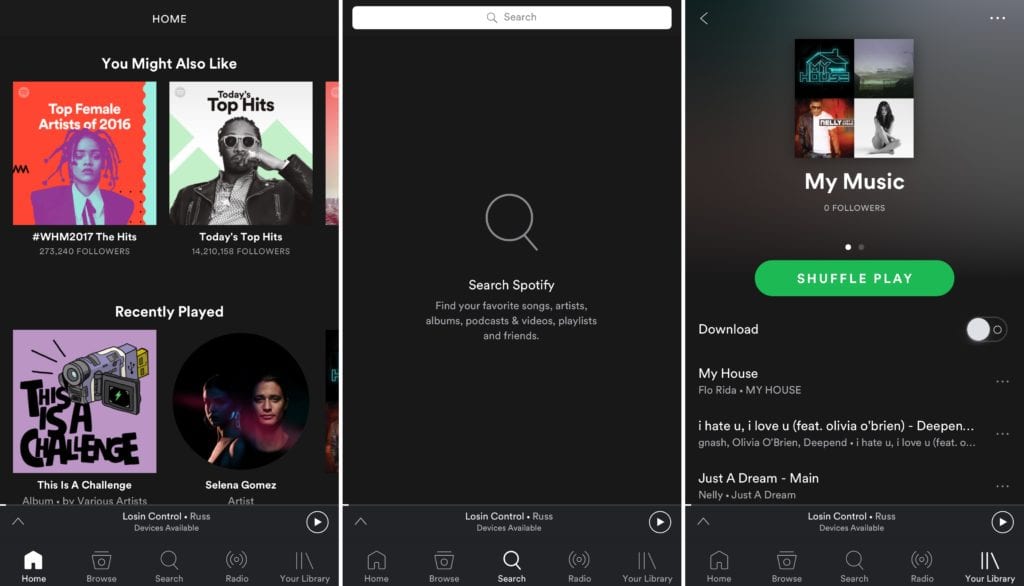 Downloads: +500 000 000
Costumers rating:  (4.5 / 5)
Slacker Radio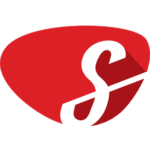 Slacker Radio gives free permission to the supervised music programs that users can customize to their liking. There are stations of famous performers, comedies, news, and sports channels. There is a mode for working offline, which offers subscribers dynamic personalization.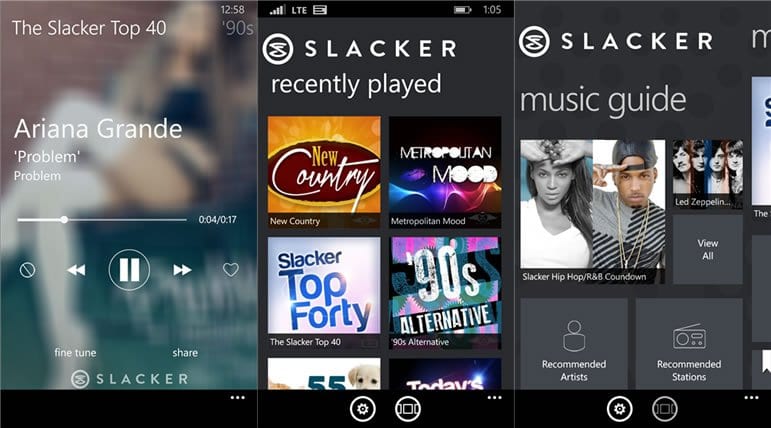 Downloads: +50 000 000
Costumers rating:  (4.3 / 5)
Google Play Music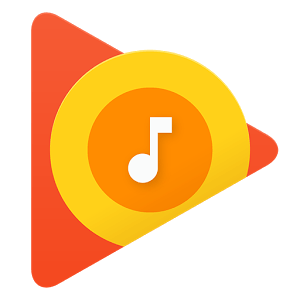 Google Play Music is an Android utility with tens of millions of tracks and hundreds of music stations on your mobile device! With this program, music will be available to you anywhere in the world in 24/7 mode.
Compositions can be loaded to your phone for free or to listen to tracks online. You may exchange your liked compositions with Google+ directly from the utility.
The software will be very useful and handy for music buff because it contains all the advantages of high-grade music players and a lot of the most widely known and new music. With it, you may easily find any song, enjoy the broadcasts of well-known radio stations, and just be on the topic of recent products.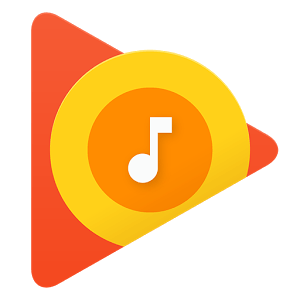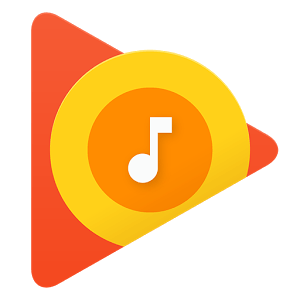 Features:
Storing up to 50,000 musical compositions.
Recommendations in accordance with your personal preferences.
Creating your personal radio stations.
Save music for offline listening.
The opportunity to acquire a huge quantity of songs from the library Play Music.
The absence of advertising.
A long trial period, during which you may finally make sure you desire to buy a paid subscription.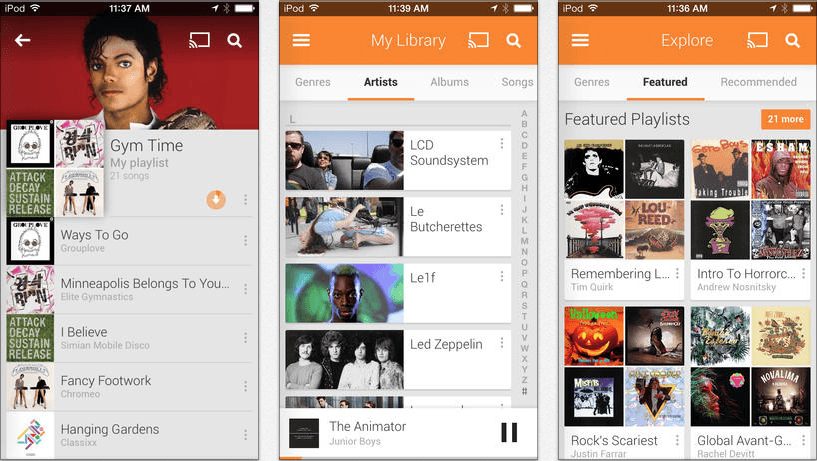 Downloads: +5 000 000 000
Costumers rating:  (3.9 / 5)
YouTube Music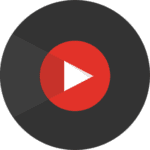 Google has released a mobile application, YouTube Music, designed specifically to consume music content on video service.
This utility provides the opportunity to access music videos without ads, subject to payment of a subscription in the amount of 8$ per month. At the same time, YouTube Music is a free mobile application.
With this application, users will have admission to one of the largest libraries of musical compositions. With it, you may seek for music videos, songs, artists, and albums. In this case, the user will be affordable and all remixes, cover versions and recordings of concerts that have been uploaded to YouTube. The home tab of the software contains recommendations for the user, as well as personalized collections based on his interests.
Subscribers to the paid YouTube Red service will have certain advantages in the new application YouTube Music. So, in the utility, ads will not be shown. Also, the possibility to listen to music without an Internet connection is available, switch between video/audio modes. In additives, you may listen to music when switching to other software. All YouTube Music users receive a free 14-day trial period to try out these features.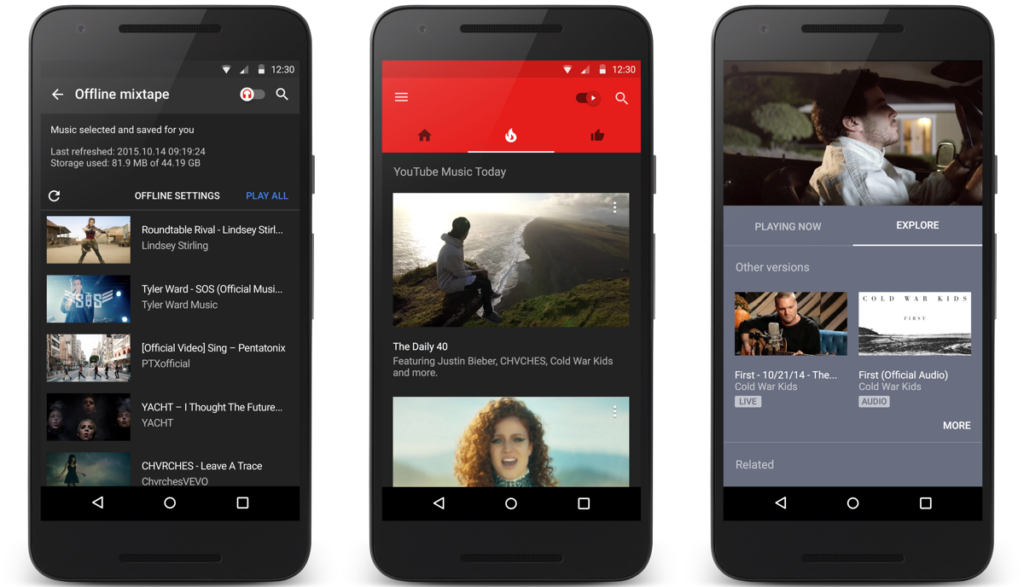 Downloads: +100 000 000
Costumers rating:  (4.4 / 5)
Deezer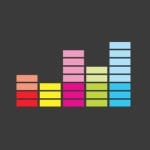 French streaming service has the largest catalog among known applications – Deezer licensing agreements cover more than 30 million songs.
The Deezer interface is plain and intuitive. A large count of functions adds additional interest to the software: you may subscribe to performers and receive timely new releases, select the appropriate genres of the radio station, follow the charts, and author's collections compiled by the content editors of Deezer. When synchronizing with Facebook (registration on the service is also possible through this network), the user is given access to view the activity of friends and the songs they listen to. An interesting detail was the possibility to produce mixtape tracks from a virtual mixer panel. Another feature of Deezer is the existence of third-party applications embedded in the service: genre guides, ticket operators, musical game quizzes. Deezer does not degrade the sound quality based on the subscription, thus enabling you to enjoy a bitrate of 320 kbps.
The free trial period is 15 days (there are no restrictions on listening, downloading, and using internal functions), after which only 30 seconds of preliminary listening and radio stations are available. A paid subscription Deezer Premium + will allow you to enjoy content without restrictions and advertising. The first 30 days of Deezer Premium + are free of charge, which in case of any discontent will allow refusing a paid subscription.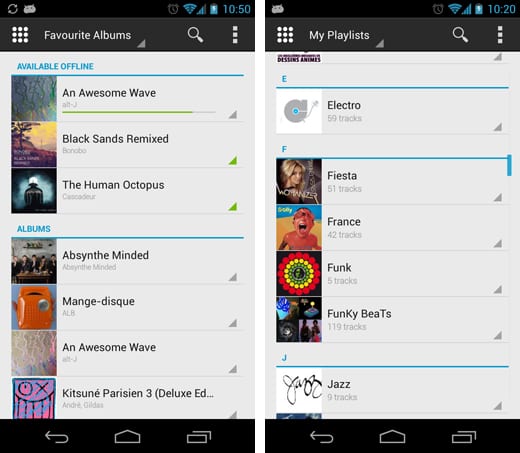 Downloads: +100 000 000
Costumers rating:  (4.1 / 5)
TuneIn Radio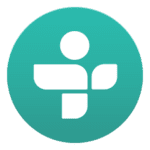 TuneIn Radio is a specific service for listening to online radio. It would seem that there is nothing surprising and unusual about this, we saw such services in the network abound. However, the approach that the development team showed to its product, the thoroughness and globality, accuracy, and versatility allowed TuneIn to become a leader in the field of online broadcasting.
So, what can TuneIn Radio do for us? First of all, this is an enormous directory of radio stations, numbering tens of thousands of channels. In it, you will discover not only music stations for every taste but also podcasts, sports, conversational, news, religious stations. There are many usual "offline" stations that broadcast in your region, so if you are very used to them, you can listen to them here. It is very important that the entire collection is conveniently sorted by genre, language, country, and category, so if you desire to listen to classic rock in Hungarian, then it will take you just a couple of clicks.
The second quality that distinguishes TuneIn Radio from a count of competitors is its excellent customizability and user-friendliness. You can view album art and playlist stations, opt the property of broadcasting, add favorite channels and even individual songs to favorites, seek for your liked artists on the air of other radio stations, and much more. In short, here the traditional radio even loses with its entire RDS with a devastating score.
The third important advantage of TuneIn Radio is its ubiquity. Developers have created clients not only for all popular mobile platforms but even for such exotic devices as SmartTV and wi-fi receivers Logitech. Moreover, TuneIn made their way to the holy of holies FM radio – in cars!
As a result, in the person of TuneIn Radio, we have a perfect radio ecosystem that allows listening to the best of tens of thousands of world stations on any device, anywhere.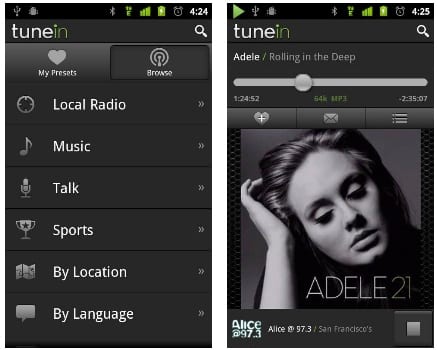 Downloads: +100 000 000
Costumers rating:  (4.4 / 5)
Napster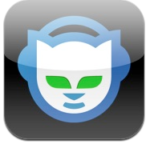 Napster is an official tool from the self-titled service, which, as many can remember, is one of the pioneers in downloading music from the Internet. Nevertheless, modern Napster has kept a lot of things from the original service.
In this edition of Napster for Android, users will be given one month to familiarize themselves with the application, after which they will be asked to pay a small amount for further use. With this utility, you can listen to all your liked music, not only online, but even if you do not have an Internet connection.
Users of Napster get permission to a gallery of more than 20 million songs from hundreds of thousands of performers from around the world. All these artists are sorted by genre, and you can apply a variety of filters when searching. In additives, you may establish your own playlists and share them with your mates.
Napster is identical to many other music software, but, frankly, it's still far from competing with such giants as Spotify, Grooveshark or Rdio. And yet, it can be an intriguing choice even if you decide to just get acquainted with it and take advantage of a 30-day trial version.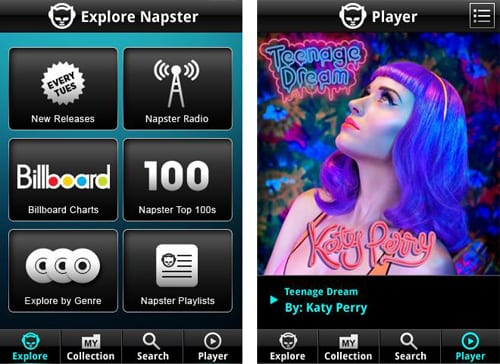 Downloads: +10 000 000
Costumers rating:  (4 / 5)
Musicsense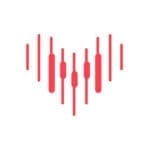 Do you desire to audition your liked music without a link to your account? With the MusicSense utility, offline music is now possible. The unique technology of the software analyzes your musical and other passions, behavior, radio stations in your region, likes, and other parameters to pick up new music for you. New musical compositions you can see in the form of a list, which can be noted if you liked them. Based on this data, the utility will show you the updated release of the tracklist. With the MusicSense software, you will have the chance to listen to your liked songs online or offline, save entire playlists, and remove annoying ones. And all this without the necessity to connect to the Internet and link to the account.
Features of the MusicSense application – offline music:
high-quality musical compositions without the Internet;
user-friendly interface;
personalization and study of personal information;
40 000 world radio stations;
the possibility to listen to fresh tracks;
free high-quality application.
Enjoy free listening to the most suitable music for you with the MusicSense – offline music!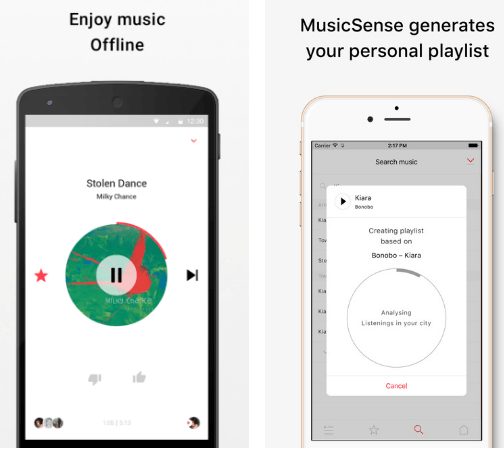 Downloads: +500 000
Costumers rating:  (4 / 5)

iHeartRadio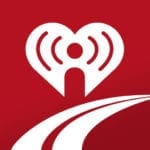 The iHeartRadio utility is a handy way to access all the features of the online service of the same name. In additives to admission to more than 1.5 thousand radio stations, it permits you to emulate your own radio station with a repertoire of more than 18 million songs and absolutely no ads. iHeartRadio provides convenient access to most North American radio stations. You can choose radio stations by popularity, genre, location. Simply mark the required characteristics and press the scan button to turn on the random radio station that is suitable for the parameters.
During the audition, you can express your opinion and note the composition you like, which in the future will affect its rating in the global playlist. Forming your own playlist for sports, work, leisure or travel will fill your life with suitable music and add positive to it. Recommendations for listening on the basis of the artist, song or style will help to make a lot of new musical discoveries and expand the horizon of their preferences and interests. In additives, you will always be aware of the latest developments in the world of show business and do not miss the concert of your favorite artist.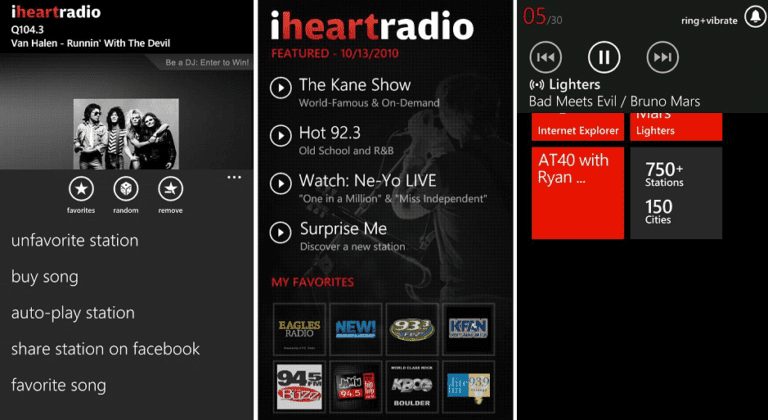 Downloads: +50 000 000
Costumers rating:  (4.7 / 5)
TIDAL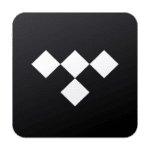 Tidal is a streaming music service. From others it is distinguished by the property of the tracks: here you may enjoy them in the FLAC format. Listen to the songs and watch clips of your favorite artists in excellent quality.
Functions. Involves more than 40 million songs and 130,000 videos, a handy seeking engine, as well as interesting reviews and articles about the world of music. Management. A modern, uncluttered, and well-organized touch interface.
Sure, the sound is one of its strengths, since we can enjoy it as a FLAC, similar to an audio CD.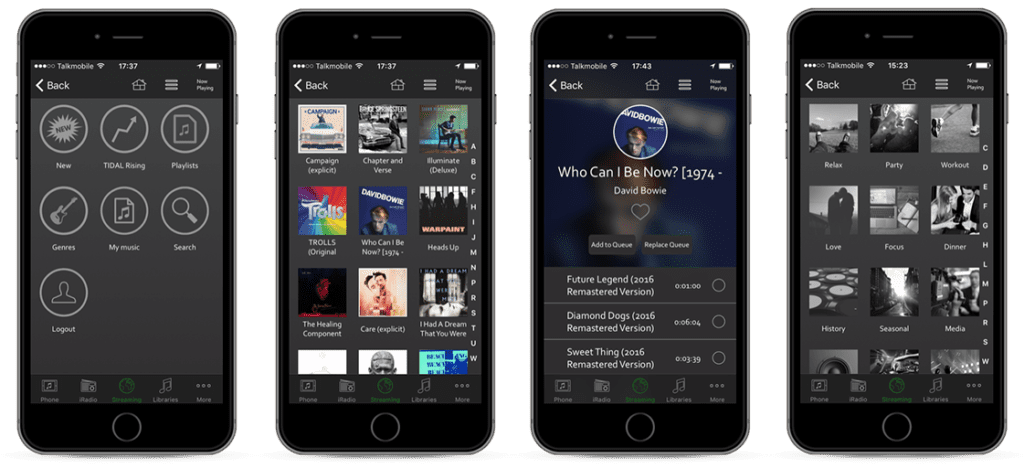 Downloads: +10 000 000
Costumers rating:  (3.7 / 5)
Apple Music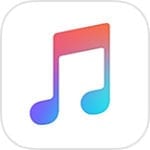 Apple Music is a music service that will give you admission to a huge collection of music and music videos for a modest monthly fee. In addition, you will also receive recommendations carefully chosen by the Apple team, the possibility to save music for listening without connecting to the Web, and be able to monitor the publication of your favorite artists in the tape section Connect.
If you do not know what music you desire to hear right now, Apple Music application with its huge variety of playlists and radio stations will assist you. Just use the search, and the utility will be able to pick up similar songs for you if necessary.
Capabilities:
The sea of music. Streaming songs from the Apple Music catalog.
Load and enjoy music offline, wherever you are.
Make your own playlists and listen to Apple Music mixes based on the songs you listened to.
Personal recommendations: playlists, albums and much more.
Exclusive video content: documentaries about your favorite artists, recording of concerts and TV shows.
Service and some features may not be available in all countries. Subscription resumes automatically after the
trial period.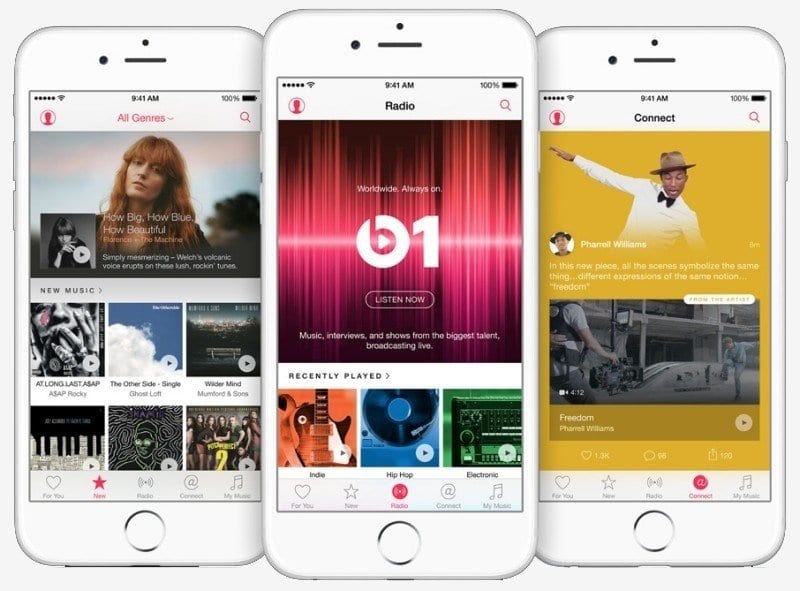 Downloads: +50 000 000
Costumers rating:  (3.5 / 5)
Spinrilla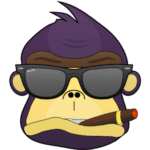 The Spinrilla application is widely known in the circle of users of smartphones and tablets due to its functionality. Also, owners of Android devices appreciate Spinrilla for simple and intuitive control and undemanding to the internal constituent of the phone. Recent changes in the program give even more stability to the music player.
If you are determined to enjoy high-quality and modern music, Spinrilla will help you with this. Having in its library a large number of songs of different genres, the utility gives you the opportunity to download your favorite song and listen to it even if you do not have a Wi-Fi signal.
Features:
Possibility to enjoy the latest musical novelties.
Simple settings.
Stable and high-speed operation.
Beautiful design.
It is possible to customize the color of the interface based on the preferences of the user.
This is an excellent application for music lovers and for those who constantly follow the novelties in the world of music! Your favorite tracks are now always with you!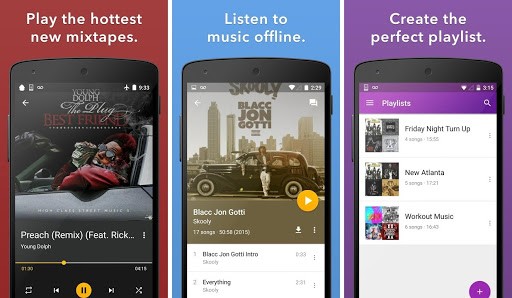 Downloads: +10 000 000
Costumers rating:  (4.3 / 5)
GO Music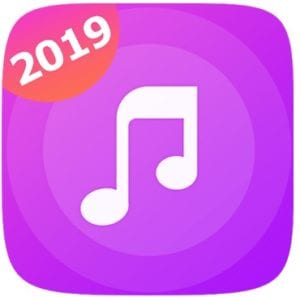 GO Music Player is one of the best and most popular audio players on Android.
The program is aimed at playing various music files from the device memory and external memory. At the first launch, the application scans the system for suitable files. Later, if necessary, you can re-scan the system. For example, you have added new files and you need them to appear in your player. You select the function responsible for this and scan the system.
If you want some suggestions, there are a lot of playlists made by our specialists at GO music. You can discover new music by Mood, Genres, Chart, Activities, and Artists. Each category has different sections. The menu lets you play a song, pause, go to the next song, and so on.
The application interface is quite convenient, visually everything is very bright, but beautiful, although not everyone will like such brightness. On the other hand, the application supports the ability to change the cover.
The program has a built-in powerful enough equalizer to adjust the sound. In addition, there are 10 already configured styles of musical sound.
Download your GO Music Player to Android and you won't have to look for a music player anymore.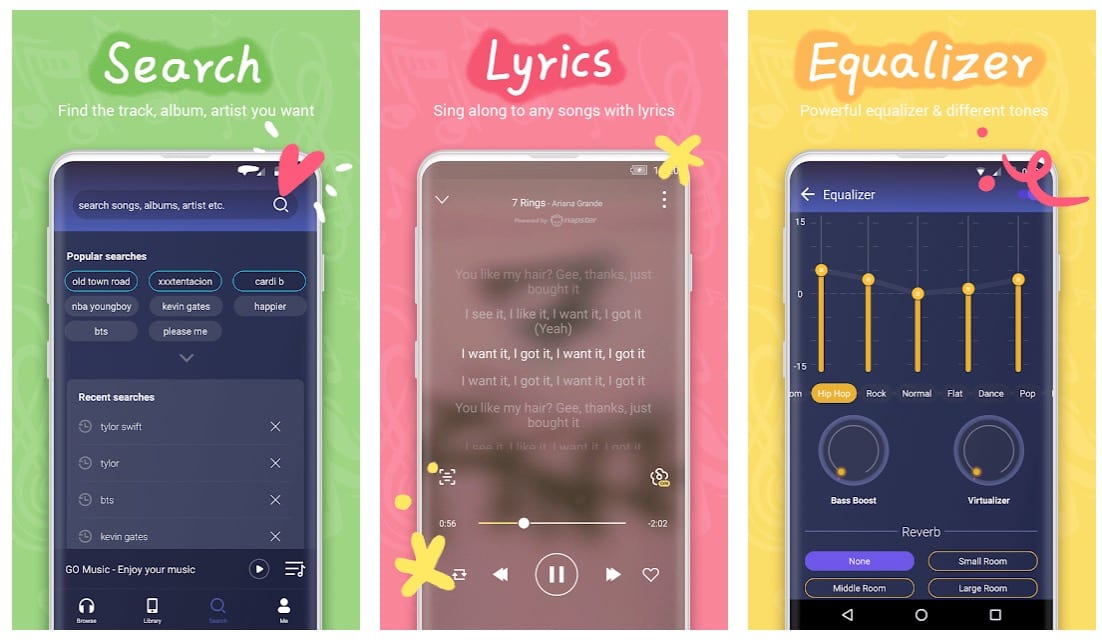 Downloads: +50 000 000
Costumers rating: (4.1 / 5)

JioSaavn Music & Radio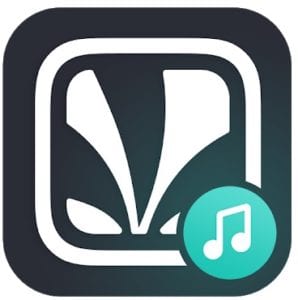 JioSaavn Music & Radio is a great music player.
The advantage of the app is that it's completely free and gives you instant access to thousands of songs that you can listen to online or download to your device.
Perhaps the most interesting thing about JioSaavn Music & Radio is the ability to create your own playlists. You will be able to choose the language of the song you want to listen to. In the application settings, there are more than a dozen different options.
JioSaavn Music & Radio is a very handy and high-quality program that will always be with you and will provide high-quality music for all occasions.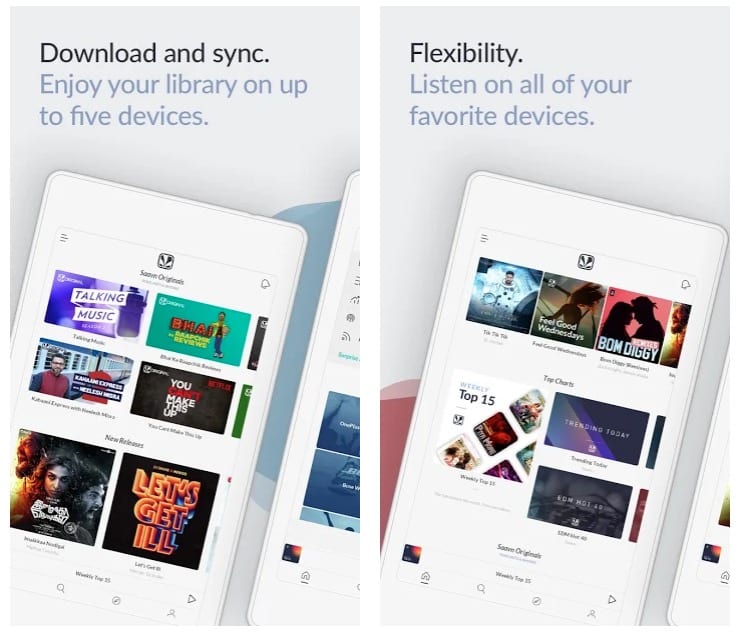 Downloads: +10 000 000
Costumers rating:  (4.2 / 5)
You may also like: 21 Android apps to make your own music
SongFlip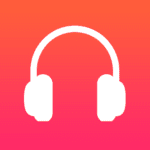 Free streaming service, allowing you to relish the most popular songs. The operation of this utility is identical to the work of other streaming services, such as Spotify, however, the organization of the tracks doesn't differ in the same quality. Uploading a favorite track to your library provides you with the possibility to listen to it without Wi-Fi.
The software interface is divided into a playlist, a search string, and the player itself. You may employ the application search engine to discover the songs you need and add them to the continuous playlist.
User-friendly interface.
Fast and easy-to-use application.
A great variety of music.
Create playlists of your favorite songs and audio tracks to hear later.
Quick installation.
Lack of advertising notifications.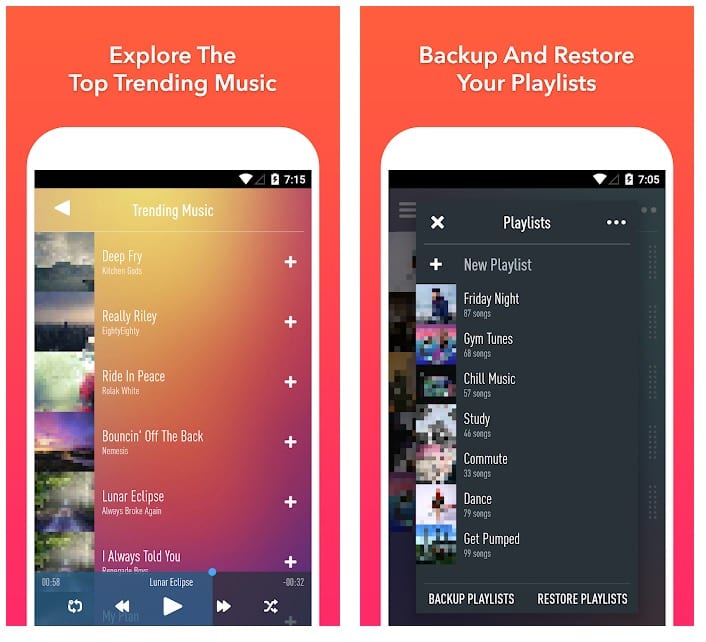 Downloads: +10 000 000
Costumers rating:  (4.5 / 5)
In our review, there are the most popular and advanced applications for playing music on Android in the absence of Wi-Fi. Once again, you can be sure that mobile devices based on the operating system from Google are an excellent choice as a portable entertainment tool. In the comments, we invite you to write about which applications on your Android device you are using.