Square footage measurements are needed both in professional and domestic spheres. Concerning the type of task, the tools that provide help can be divided into those focusing on distance measurement and map usage, construction calculators, and geometric shapes calculators with formulae references.
We have listed the best square footage calculator apps so that you could decide whether there's something suitable for your personal needs. In addition, you might want to explore the best area calculator apps.
You may also like: 9 Best Area Calculator Apps for Android
Area Calculator & Distance Measurement
With the Area Calculator & Distance Measurement, you can calculate an area or a distance you need on a map. This service works as a calculator that can make both regular and square footage measurements.
All you have to do is to set the angles of the area you would like to measure as the points on the map, and the app will calculate its area depending on the map scale. You can even set up different measurement units if needed (inches, feet, meters…).
If the in-built map of the service doesn't suit you, you can upload your one or even use a screenshot for your measurements.
In addition to that, you can use the app to count the distance between two GPS points on the map. Once you get your results, you'll also see how long it would take if you drive or walk.
All in all, this service is great for anyone looking for an easy way to measure things around town or in their backyard—especially when they need square footage calculations or just want some help finding something.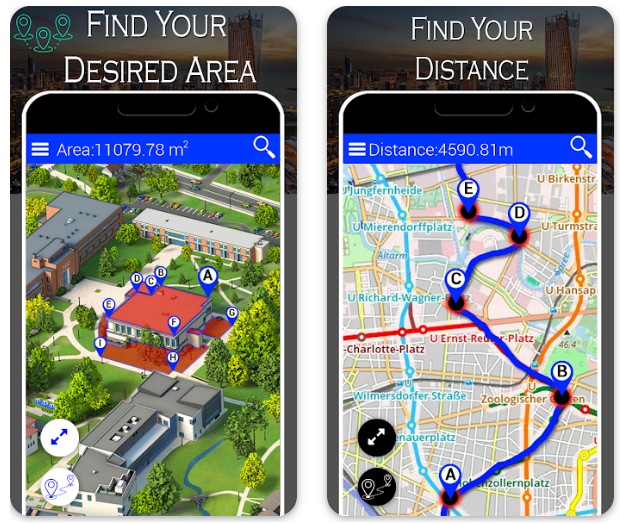 Downloads: 100 000+
Customers rating:

(3 / 5)

You may also like: 9 Best Overlay Map Apps for Android
GPS Area Calculator for Land – Distance Calculator
Measurement of the area of land is one of the most important aspects of building and construction. Whether you are a professional builder or not, you will have to make proper measurements to achieve the best possible results. No matter what you are building – an entire house or a garden plot – you can use GPS Area Calculator for Land – Distance Calculator for help.
This program implements an easy-to-use interface and intuitive controls. You will not have any problems figuring out how to use it. It works almost the same as the previous one: you should mark the area you would like to measure on the in-built maps, and the service will automatically calculate the square footage.
The map provides several tools and functions, including:
schematic, satellite, and hybrid maps; You can switch between the maps depending on the purpose of your usage of the service
a compass application that keeps you on track in dense forests or pitch black nights; it enables you to locate yourself more accurately by using a GPS compass that is synchronized with this function; however, mind that the compass requires a magnetic sensor to synchronize your phone with the magnetic field of the Earth. Some phones are not equipped with a compass sensor, so this function may be unavailable.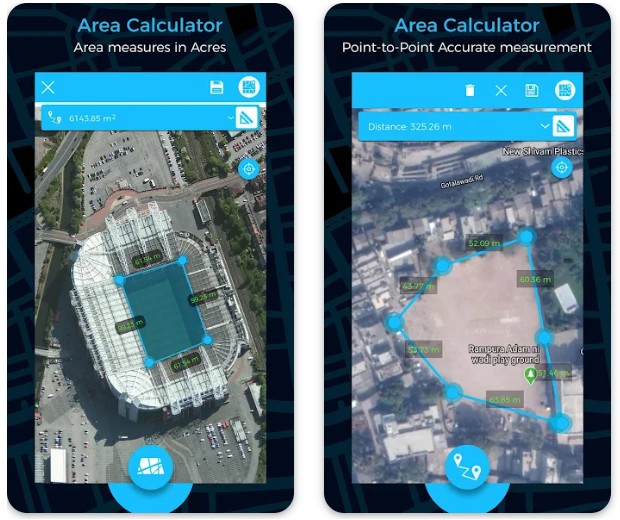 Downloads: 5 000 000+
Customers rating:

(3.9 / 5)

AR Ruler App – Tape Measure & Camera To Plan
Using a mobile camera, AR Ruler App — Tape Measure & Camera To Plan enables you to calculate the size, square footage, and volume of basically every surface or object. The app uses the technologies of augmented reality and the capabilities of your phone's camera.
It's very simple to take measurements with this program — just point your phone at the area you want to measure, select the angles, and you're finished. You can take measurements using any metric system —from centimeters to yards or inches. There's also an opportunity to calculate a path length using a special calculator installed in the app.
What's more, the service can automatically measure the distance between you and any point you can see. If there's a 3D corner you have to measure, this service can also help you with it. Small objects may be measured with a special augmented reality ruler of smaller size with a smaller division value.
The main and most important point – the service can measure the room's square footage and its perimeter, and that is exactly what we are here for. This function makes this program an indispensable helper in building and construction processes. In addition, the app can now calculate 3D-object volume.
What is also cool is that this program can create floor plans, saving you the time of doing it yourself. Once the program completes the task, you may alter the result as you please.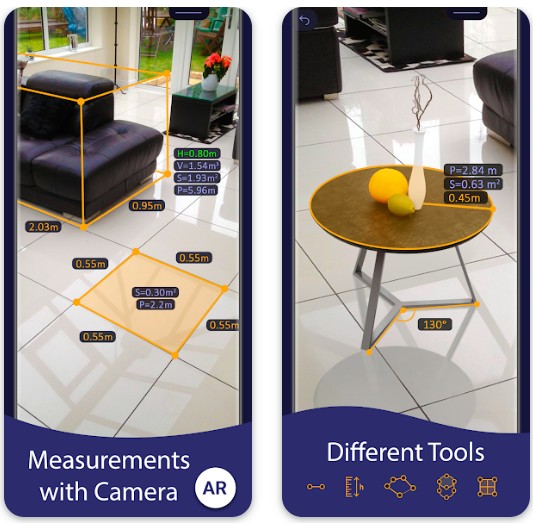 Downloads: 5 000 000+
Customers rating:

(4.1 / 5)

AR Plan 3D Ruler – Camera to Plan, Floorplanne
This calculating app will be your greatest friend when it comes to home improvement.
The software provides you with a virtual ruler that can take all the measures with only your camera, as you can see from the title. The program can quickly determine the size of the walls and save the locations of the windows and doors in memory. You can also calculate what's the corners' angle measurement.
The software can also automatically design the room's floor plans. When it finishes the task, you'll get a standard room design that includes the above view in addition to the side view and the wall scan.
You have complete freedom to modify and change anything. The software also automatically measures the room's perimeter and surface area.
Moreover, the app comes with a built-in level that allows you to determine how straight something is concerning the floor or ceiling. When it comes to mounting a shelf unit or hanging a picture, this tool is really useful. When it comes to saving your data for later usage, you won't lose anything since all of your measurements are kept to your history.
As you can see, this app is somehow similar to the previous one, since they both come from the same developer. On the other hand, there are some differences in the main task this or that program is going to accomplish, so you can choose one depending on your personal needs.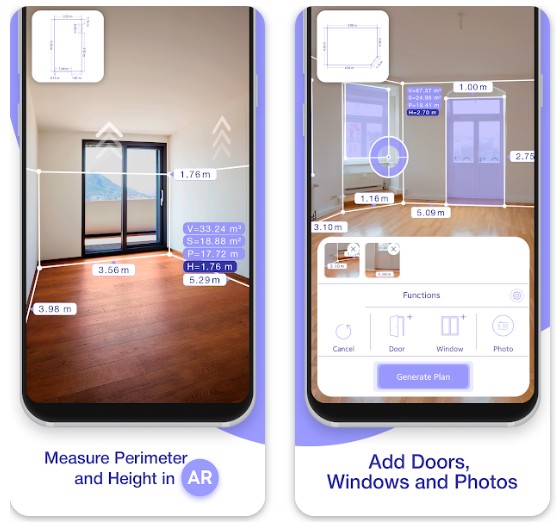 Downloads: 5 000 000+
Customers rating:

(4.4 / 5)

Construction Calculator – Materials Evaluation
This software will assist you in calculating the number of materials needed for building and fixing things, as well as provide you the opportunity to check the contractor for excessive spending of your money, and rapidly compute the data you need.
The following languages have translations of the application available right now: Russian, English, German, Spanish, and Portuguese. Languages can be changed using the relevant options in the menu.
Even if there's no Internet connection, the program runs flawlessly and offers in-depth details on the calculation you're interested in.
The software includes certain tools that may be used for taking measurements. Here are a few examples:
A flashlight
A compass that may be accessed quickly from the main menu of the app
A ruler, a common tool that will be placed on the screen.
There are numerous reasons to utilize this software. The list of subjects where the construction calculator will assist you in solving your issues is as follows:
The foundation plate's calculation
Foundation for a ribbon, meaning the amount of concrete you will need for the ribbon foundation
The ingredients in concrete
A material calculator for concrete rings
The cubic volume of bricks or blocks
Features of building bricks for walls
Insulation, including foundation and wall insulation calculations
The volume of the trench, soil weight, and excavation
Calculating tiles – how many tiles there are on the surface
Determining the floor covering's cost
Calculation of the roof's single-pitched, gable, area, and material requirements.
Calculating the cost of a skirting board
As you can see, the capabilities of this app go much beyond those of a basic square calculator. If you are to face a serious construction or building, consider using this program to make your measurements both easier and more accurate.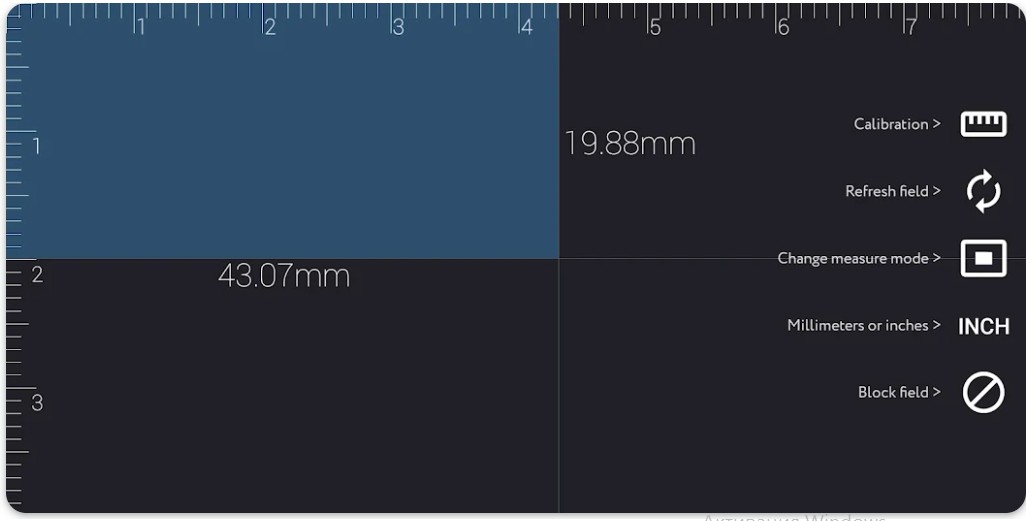 Downloads: 1 000 000+
Customers rating:

(3.2 / 5)

m2 – Square Meter calculator
We continue our list of calculators helpful for renovation with m2. This app is a compilation of information to aid in estimating the cost of apartment repairs.
The most important feature of the program is to define floor perimeter, ceiling perimeter, wall perimeter, and the square footage of all these surfaces excluding window and door openings.
To take the measurements, you have to choose the room's setup, enter the required information, and then click Calculate Volumes at the bottom of the parameter list. As you can see, this program works using the parameters and measurements you fill in, so you will have to take some measurements yourself in advance.
If your room has a more complicated structure than just a simple rectangle, don't worry – you can still use this program to make taking measurements easier. For example, if columns are built in the room, the app will adjust its measurement algorithm to this additional parameter.
There are several configurations the program has, so you should select the one that is as similar to your room as possible.
Another notable feature of the app is creating a detailed room plan, which uses calculates the room's total area as well as the areas of its walls, floors, and ceiling.
The program saves all your calculations, so you can load previously stored room parameters later.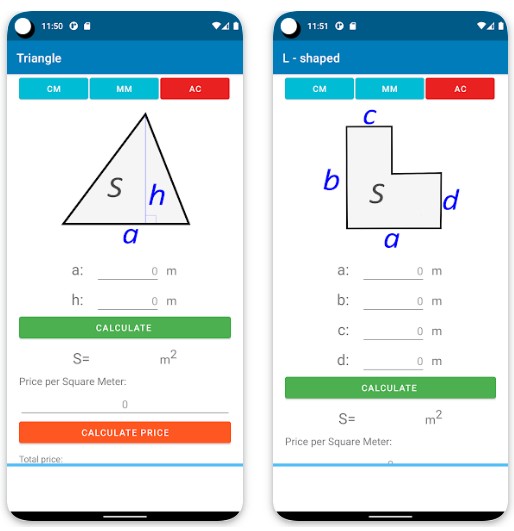 Downloads: 50 000+

You may also like: 7 Fun Mock Location Apps Android
MagicPlan
With this simple-to-use tool, you can develop and share your results within seconds. MagicPlan also provides help to complete work while out in the field. As for taking measurements and drawing sketches, you can measure and draw interior plans in 2D and 3D using cutting-edge technology and the simple UI the program has.
After you have completed all your measurements, you can create a detailed report on them. MagicPlan offers you help in making structured reports with little chance of misinterpretation. There's a possibility to include photographs, 360° images, comments, custom forms, and markups.
One of the most useful functions we seek in such apps is pricing. To automatically determine the price on your mobile device, you can use MagicPlan which combines several estimating methods when calculating the result.
With MagicPlan there's an opportunity to organize teamwork and give all the team members access to current projects. Mind that for the app to work properly it requires a gyroscope and your smartphone supporting AR Core.
Downloads: 5 000 000+
Customers rating:

(4.2 / 5)

Square meters calculator – area calculator
Now we are moving on from the construction processes to measuring the area of geometric figures. Many people have to know how to do it, from school students to professional architects.
The first app we will discuss is the Square meters calculator – area calculator. It is designed to calculate square meters of different geometric forms like triangles, squares, or circles.
You may use this area calculator to determine the area in square meters, square feet, or square yards. It may change to the decimal or English metric system.
This app will be of use to property owners. If you are a property owner and you consider selling or renting it, it's worth constantly being aware of how many square meters are required to list an apartment for sale.
You may quickly get the square meters of an apartment and multiply them by the area's cost in m2 to determine its ultimate cost using our area calculator in square meters or feet.
If you are an architect, you must know how many square meters there are in a home or apartment to create a budget based on square meters for your job. To get the answer, use either the area calculator or the square meter calculator.
The area of calculation is crucial in the field of mathematics, and, therefore, is vital for all mathematics students. With the help of this area or m2 calculator, you may quickly get the measurements needed for your studies.
Surprisingly, areas and surfaces play a crucial part in art. In many art spheres, from drawing to interior design, you may need calculations of the type, so now you know where to look for them.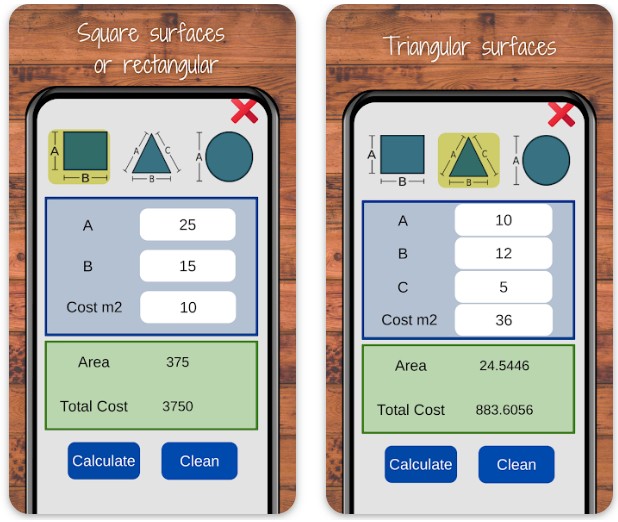 Downloads: 50 000+
Customers rating:

(4.1 / 5)

Geometric calculator
If you graduated from school many years ago, you could have probably already forgotten how many formulas school students have to keep in mind to pass geometry with flying colors.
Now they have a program that will measure the square footage any geometrical shape and serve as a reminder at the same time. This practical tool is familiar with several formulae for various specified parameters.
The service aids not just young geometry pupils but also individuals who must manually make diagrams or accurately depict the necessary item. This application does more than just calculate areas: you'll be pleasantly surprised by the built-in conversion feature!
You may perform calculations using various metric system options.
Despite having many different functions, the program is still very simple. As a result, geometry will no longer be a difficult and laborious subject to study. Mastering it will become a helpful instrument for both academic tasks and daily domestic chores.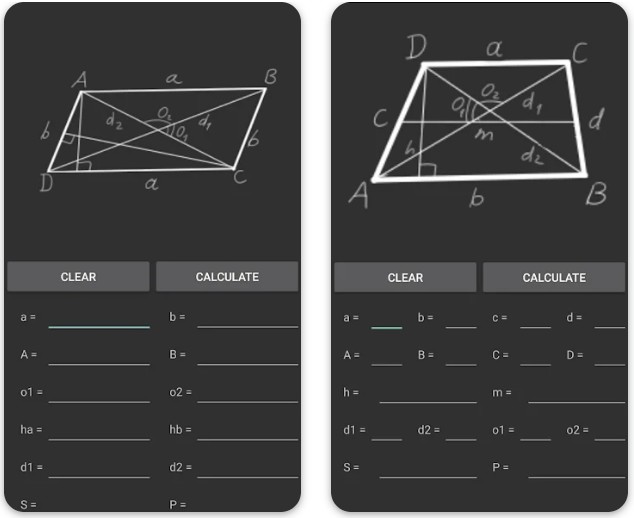 Downloads: 10 000+

Area Calculator surface area formula
One more program to our list for calculating the basic shapes' square footage. You may use this online tool to measure the footages of several geometric forms, including the most difficult as parallelograms, ellipses, trapezoids, etc.
Moreover, if you decide to switch between different measurement systems the app works with, it will automatically recalculate the result.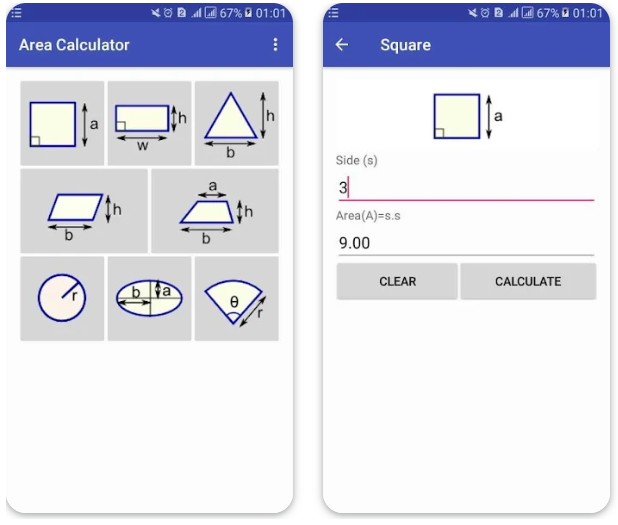 Downloads: 50 000+

You may also like: 9 Best Map Maker Apps for Android
Square meters calculator
We are finishing this list with the most user-friendly program for determining your property's area. As the software is very simple, your room must be of rectangular or square shape.
To allow the app to help you with the measurements, you will need to set the parameters of the room yourself. The program will also provide you with the volume calculation.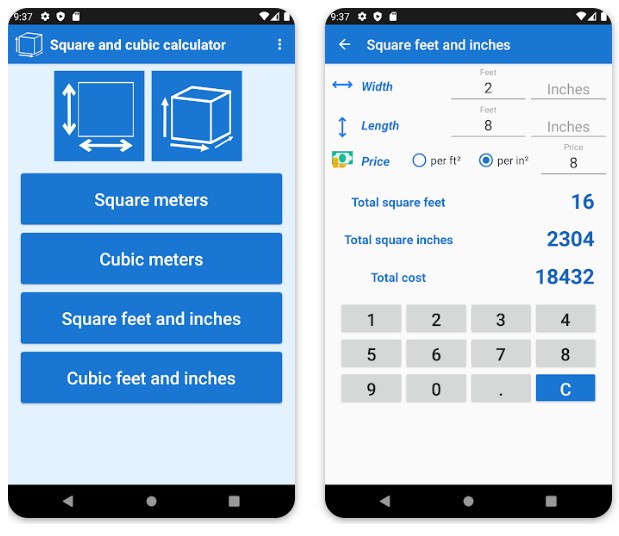 Downloads: 100 000+
Customers rating:

(4.1 / 5)