In an era of technological progress, even such a sophisticated art as calligraphy becomes electronic. We've collected the best calligraphy apps available on Play Market for free:
Calligrapher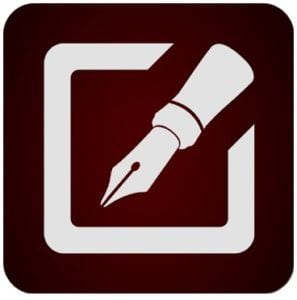 Calligrapher is a convenient application for creating calligraphic prints and various drawings.
It is easy to use, with the ability to modify the background and choose the tools to work with. While working with the application, you can adjust the transparency, use the zoom. It is always possible to correct a random drawing defect by canceling the last line or by selecting the eraser on the menu.
There are 4 types of pens in the program:
A regular pencil with the same line thickness. Suitable for everyday tasks.
Pencil with line thickness depending on the writing speed. Having got used to it properly, each subsequent inscription will turn out to be unique in its own way.
The thickness of a thin pen will depend on the direction of its movement, imitating the power of pressure.
The width of the line of the thick pen works in the same way.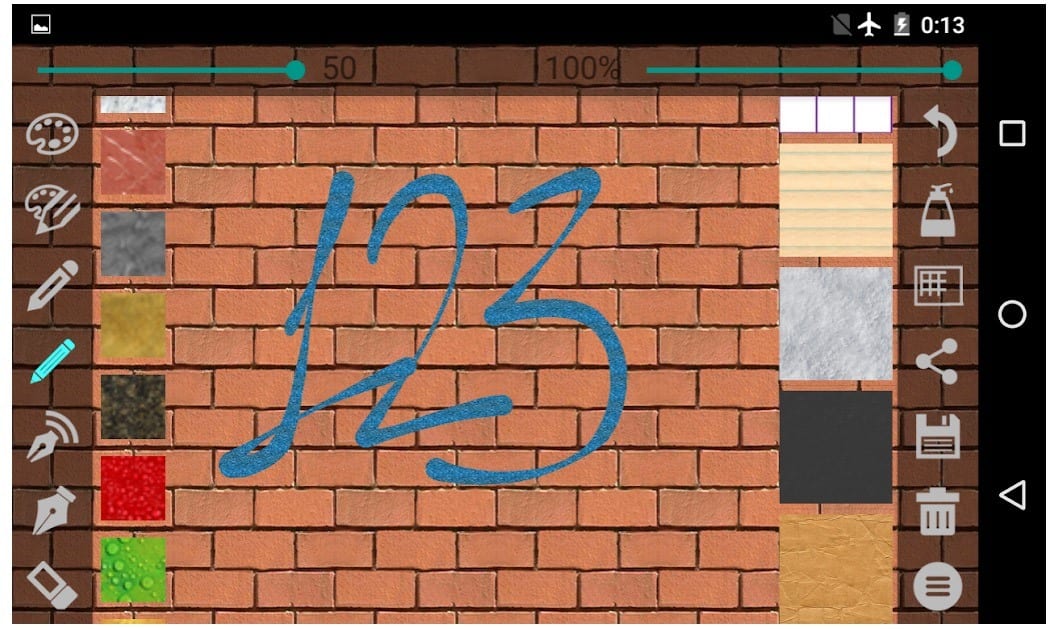 Features:
Choose your favorite background, create the impression that you are writing on cardboard, paper, or brick wall!
About 10 unique textures of the pen, which differ not only in their color.
At any time, you can change the settings of any writing tool.
You can change the slope angle of the wide pen from 0 to 90 degrees at any time.
The thinner pen is more versatile and can change its angle up to 360 degrees.
Among the additional features is the ability to upload your photos and write something on them! All your works will be saved in a separate folder, after a while, you can continue working with them until you reach the desired result.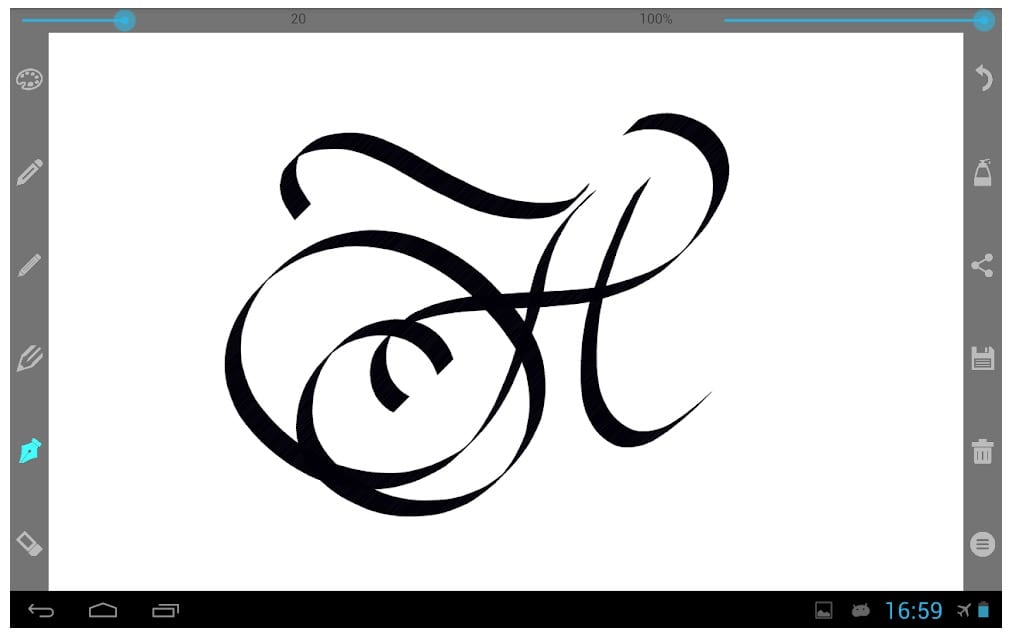 Downloads: 1 000 000 +
Customers rating: 

(4.4 / 5)

You may also like: 11 Best apps to add texts to photos for Android
Phonto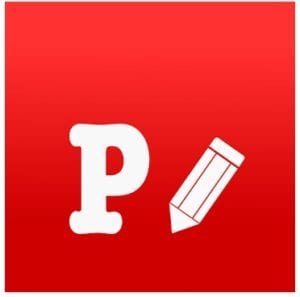 Phonto is one of the best calligraphy apps for Android which helps you to easily create unique text styles on your smartphone.
The interface is simple and convenient to use, it doesn't cause any problems.
There are only two buttons at the top of the screen: one that sends to the settings, the other that allows you to select images.
After the image is uploaded, a pencil icon will appear, with the help of which text will be added. And there are a lot of fonts (about 200), and there is also an opportunity to upload your own. In addition, the text can be fully editable: it can be rotated, zoomed in/out, changed, dragged and dropped and color scheme can be set.
Phonto is an easy and fast application for those who often need to add text to photos, but don't want to install a multifunctional editor. Results can be saved in both JPG and PNG formats.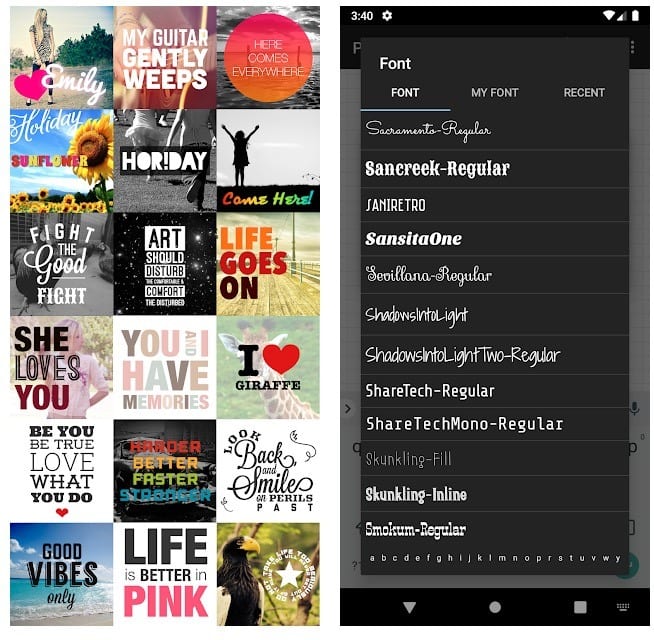 Downloads: 10 000 000 +
Customers rating: 

(4.2 / 5)

Calligraphy Name – Name Art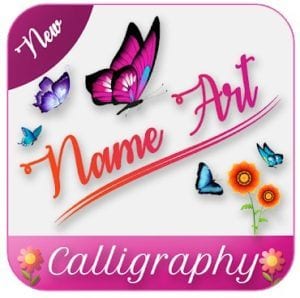 This application will help to create beautiful name art with stylish fonts, amazing backgrounds, and symbols. It is extremely simple in use.  Just choose a font style and color, set a background, and write a name or any other text.
You can use Calligraphy Name – Name Art as a signature creator. The application will inspire you with its amazing features!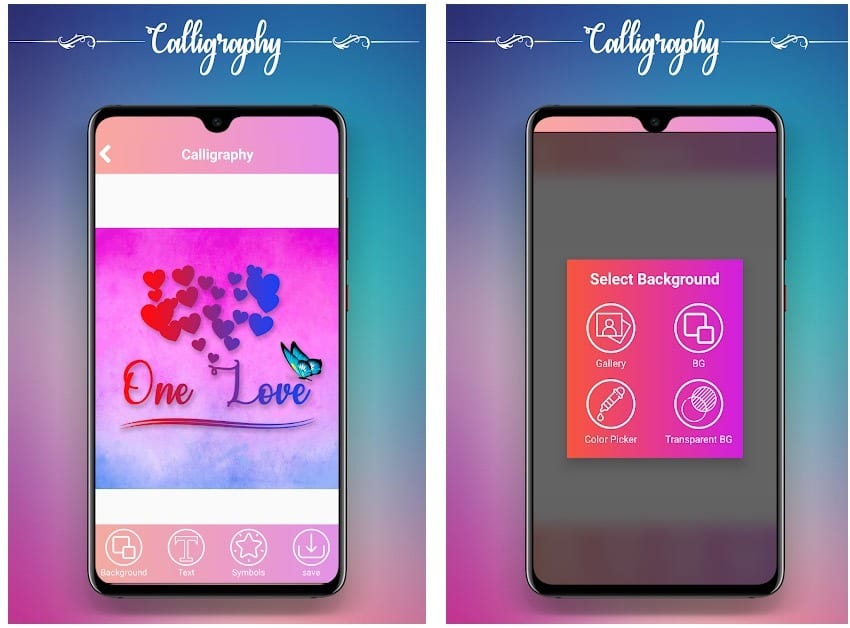 Downloads: 50 000 +
Customers rating: 

(5.0 / 5)

Calligraphy: Name Art Maker & Text on Images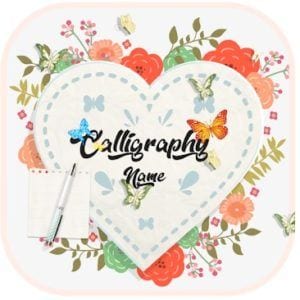 Calligraphy: Name Art Maker & Text on Images is a modern calligraphy app that offers a variety of styles. The service provides more than 50 calligraphy font styles and many background and gradients.
The features of the application
Choose from a variety of font styles
Set a background
Select font color
Share with friends or set as a profile image on social networks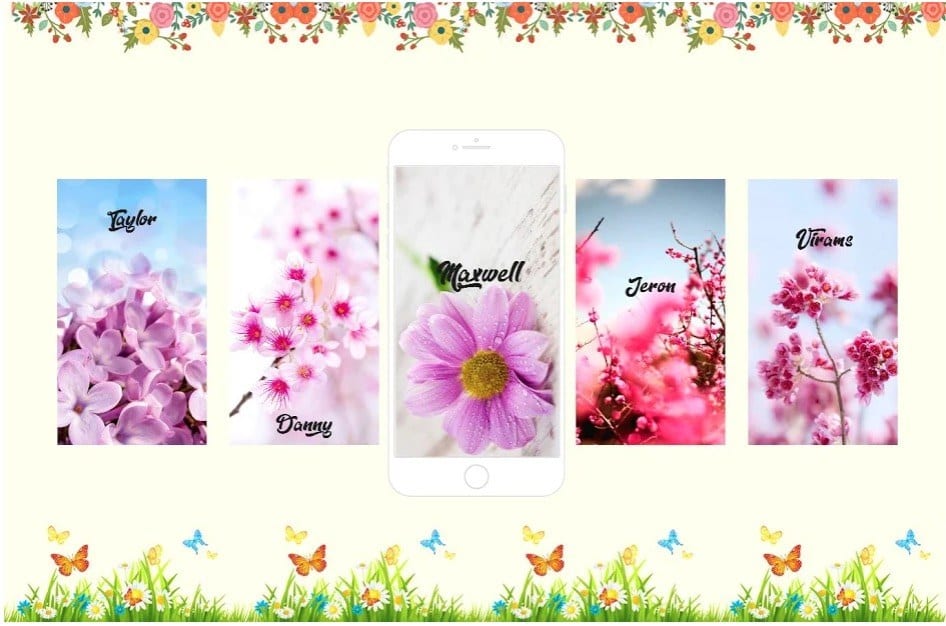 Customers rating: 

(4.3 / 5)

Want to share your photo masterpiece? Use one of these applications: 15 Best Photo Sharing Apps for Android
Calligraphy Name Art Maker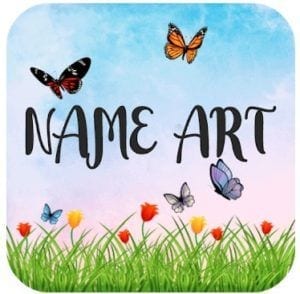 Calligraphy Name Art Maker is a cool application to stylize your name or any other text. Use different colors and stylish fonts, add stickers, and artworks.
The features of the application
Choose from a variety of backgrounds
Add fancy texts (100+)
Decorate a pic with stickers and emojis
Change the color of the text
Share your art on social networks
Works without an Internet connection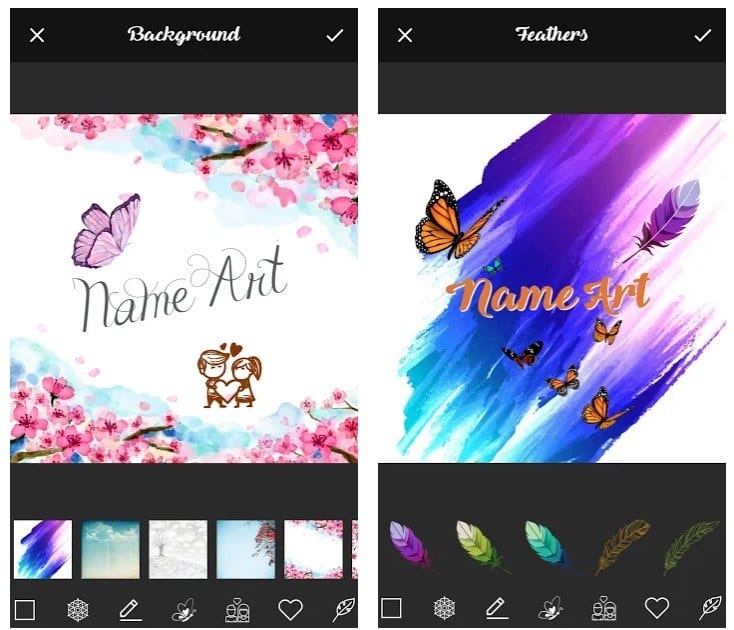 Downloads: 10 000 +
Customers rating: 

(4.1 / 5)

Name Art Maker – Calligraphy Name Maker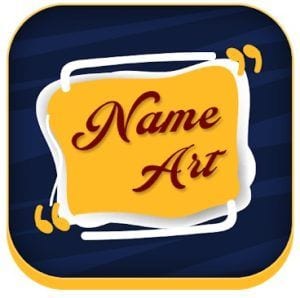 This easy to use application is recommended for those who want to write their names in a stylish way but not ready to waste a lot of time. Name Art Maker – Calligraphy Name Maker is really helpful and simple. Here, you can use unique calligraphy font styles with beautiful backgrounds.
The application features
Choose from a variety of HD backgrounds
Set the color of a background
Choose font style and color
User-friendly interface
Works without WiFi
Sharing on social networks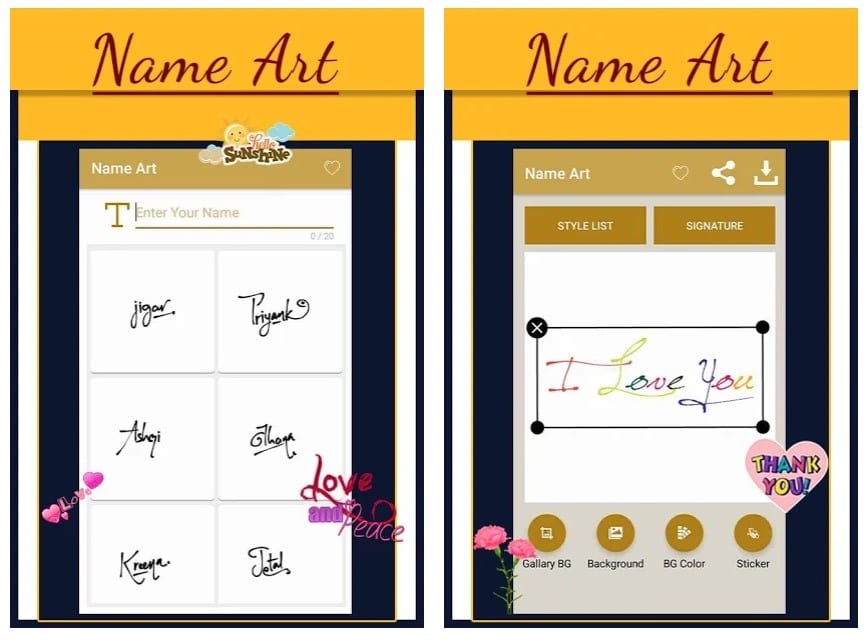 Downloads: 1 000 +
Customers rating: 

(4.9 / 5)

Focus N Filter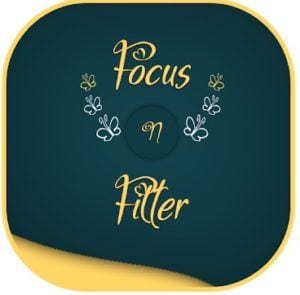 Focus N Filter is a great service that will help you to create professional name artworks.
The application features
100+ stickers
Choose from stylish text fonts and text colors
Edit text size
Zoom, rotate fonts and stickers
Apply texture and shadow to the text
Watermark the image
This application is used to write your name in a different way and make creative signatures. Focus n Filter comes with artistic Names features. Recommend!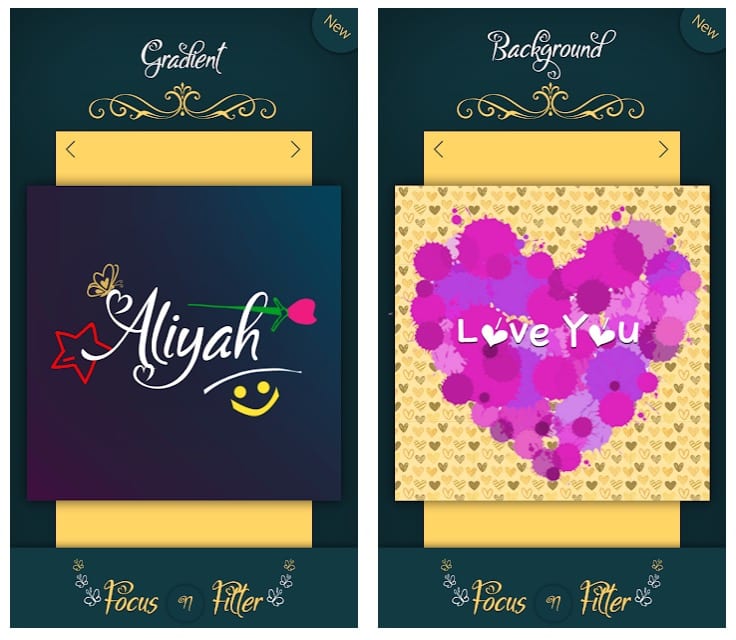 Downloads: 5 000 +
Customers rating: 

(4.5 / 5)

Calligraphy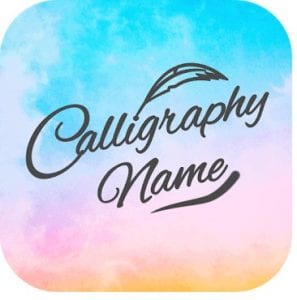 If you want to create calligraphy but don't know where to start, this application is for you! Calligraphy app is an interesting tool for decorating and stylizing names or any other text, creating love cards, and so on.
Features of Calligraphy application for Android:
Offers over 20 font styles;
Various backgrounds and gradients;
Use your photos as a background;
Choose text color;
Add stickers to make a picture more beautiful.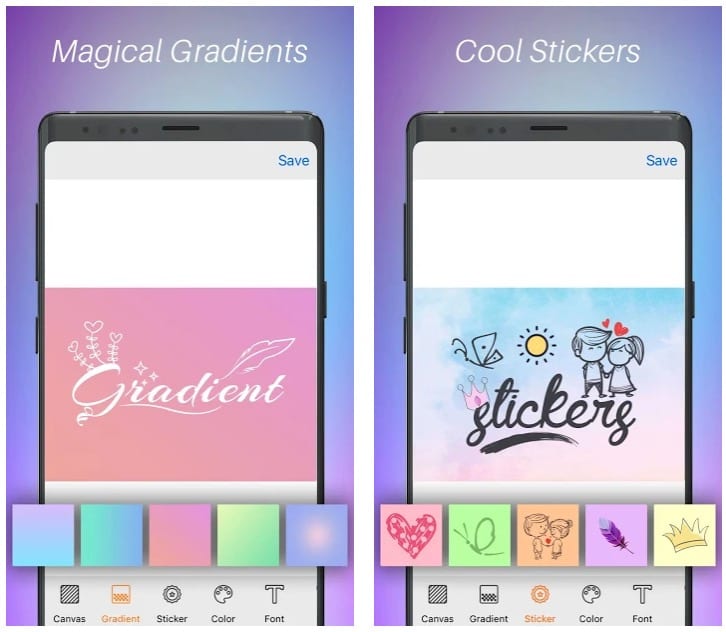 Downloads: 1 000 000 +
Customers rating: 

(4.4 / 5)

You may also like: 9 Best Android Apps for Watermarking Photos
Coolest Calligraphy Arts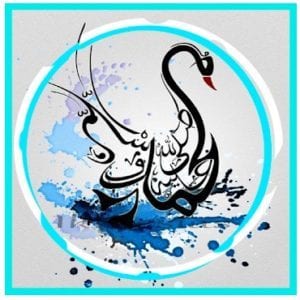 If you love calligraphy and want to create interesting written projects, you should download the Coolest Calligraphy Arts on the Android.
In this application, you can virtually train calligraphy and create beautiful handwritten text, share it on social networks with clients and friends.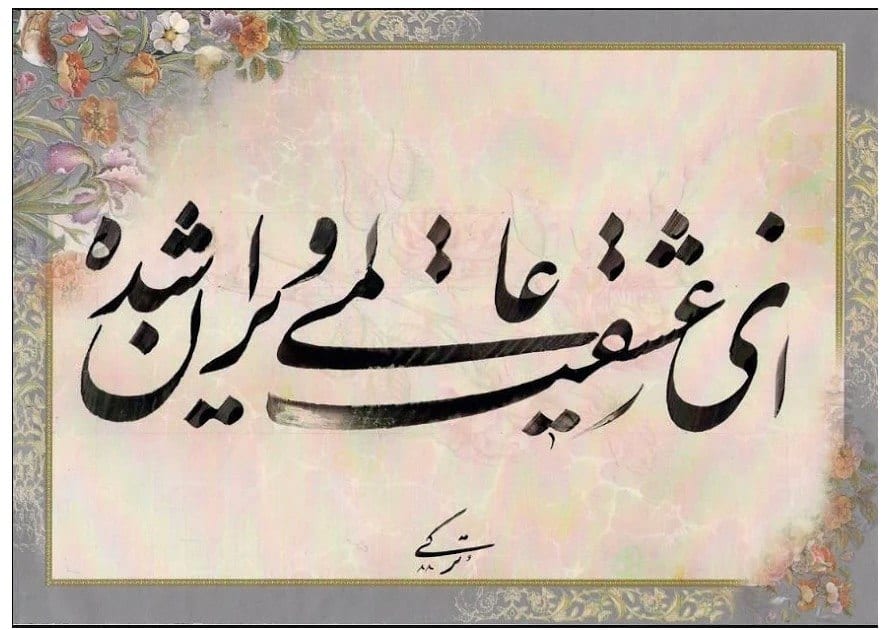 Downloads: 10 000 +
Customers rating: 

(4.3 / 5)