Photos with text today are quite popular. Instagram is full of really beautiful photos with quotes or motivating texts superimposed on them. Surely you were wondering how to impose text on a photo? And how easy is it to create such beautiful photos?
To date, you don't need to be a Pro in the graphic design and Photoshop to create such images. All you need is your smartphone, special apps, a little time, and a bit of talent. It's very simple, select an image and type the text you want to overlay on the photo, then share it on social networks.
Below, we list some of these applications.
Quotes Creator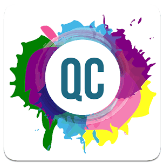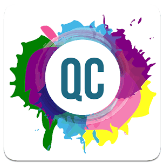 Quotes Creator – an application that allows the user to quickly and conveniently create a beautiful picture with the text in the form of a quote. Images are created by selecting a background, font, text color, and effects.
To start, the user will be prompted to select one of 60 backgrounds for a future image or upload it from his gallery. After that, by double-clicking on the picture, a field will appear for entering a quote or selecting one of the extensive databases of the program, where they are divided by author and subject.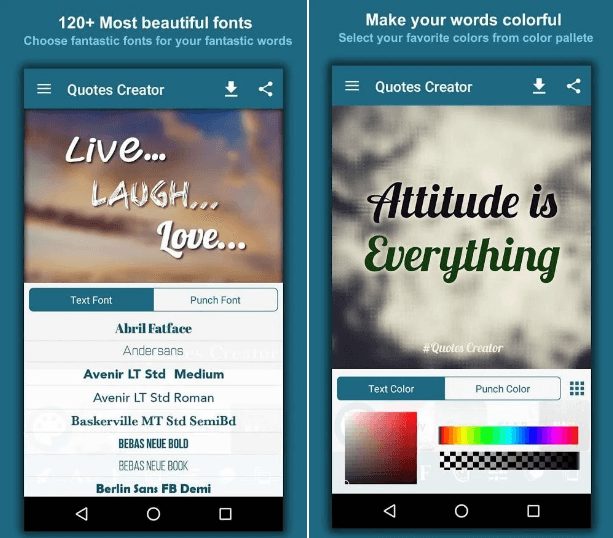 Next, the user has the option to select a font (total in the application of their 126) and adjust the size, color, and location of the text as desired, as well as to change the appearance of the background image. After that, the resulting image can be saved to the phone's memory. As a result, when using Quotes Creator, the user gets the opportunity to create a beautiful work with one of the many background images and a quote written on top of it.
This app completely lacks logs. Advertising appears periodically but it does not interfere with the use. There is no translation, but all the phrases in English are accompanied by icons that greatly simplify understanding.
So, the advantages of the program Quotes Creator are a convenient and intuitive interface, as well as an abundance of backgrounds, fonts, quotes, and opportunities for creating images. Disadvantages – lack of translation, ready-made quotes are available only in English, as well as a watermark in the corner of the image, which can only be removed for a fee (as well as advertising). In this case, the utility completely copes with its task.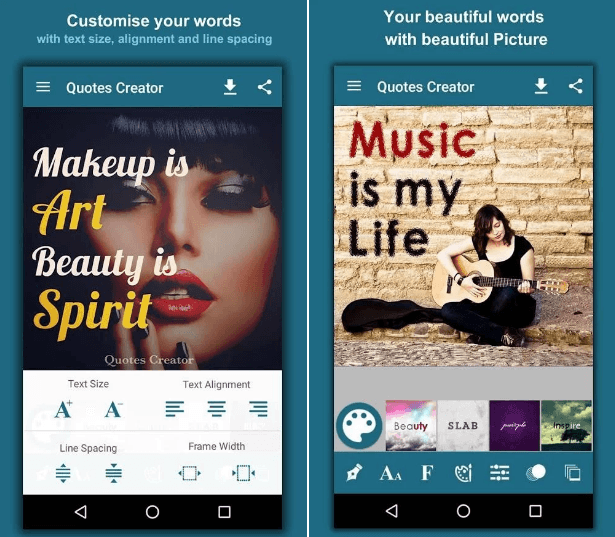 Downloads: +1000000
Customers rating: (4.5 / 5)
You may also like: 11 Best Apps to Add Texts to Photos for Android
Quotes Creator by ThinkPeak Studio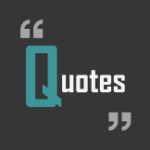 In the database of the application, you will find more than 2000 citations in 25 different categories. Create your masterpieces, save them, so that in the future you are able to alter them to send to friends or publish in social networks, for example, on Facebook, Twitter, Instagram.
To ensure that your text looks beautiful, the program has a large number of fonts and backgrounds. In the settings, you may append a shadow to the font and change the color, add transparency, resize, align, etc. In addition to the wallpaper available in the application, you can upload your own background.
The number of added quotes on one photo is not limited, you can also add stickers. Developers constantly update the application, so that you have more and more opportunities to apply your creativity.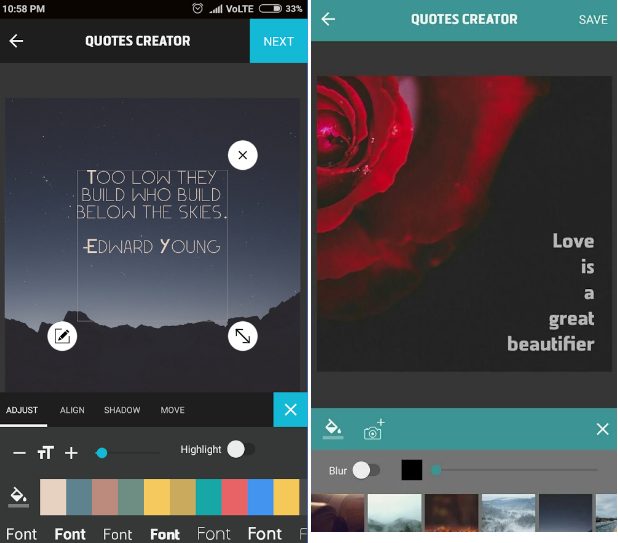 Downloads: +1000000
Customers rating: (4.4 / 5)
Quote Maker & Quote Creator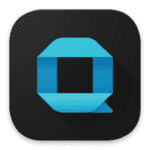 The QUOTE MAKER & QUOTE CREATOR application will assist you to make a beautiful photo with a quote in a matter of minutes. To improve the image, the following settings are available – background color, different fonts, filters, etc. Your quote will be unique and unrepeatable.
In the app, you will also find a large number of citations by category, funny stickers, photo frames, and much more. In addition to the standard backgrounds, you may append your own. Be creative, and the QUOTE MAKER & QUOTE CREATOR application will aid you in this!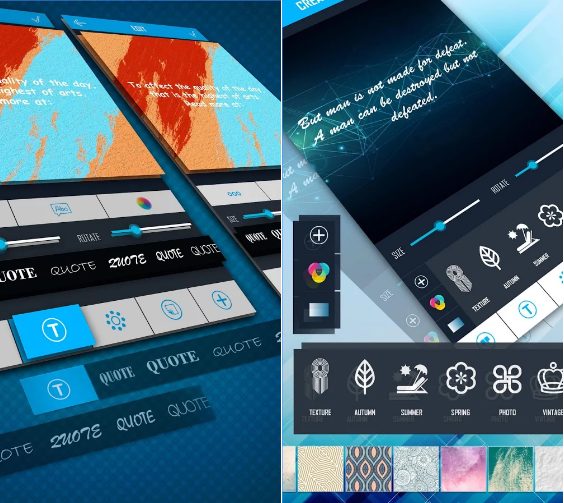 Downloads: +10000
Customers rating: (3.7 / 5)
Picture Quotes and Creator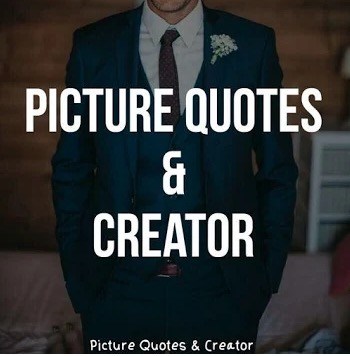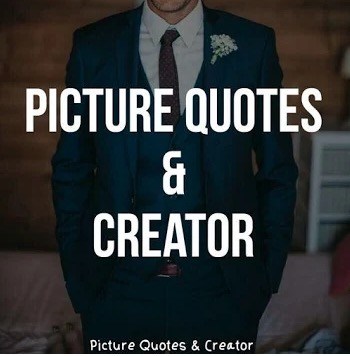 Picture Quotes and Creator is an application for creating images with phrases, which can be downloaded and shared on social networks or with friends.
Either select the photo you saved on your device, or take a new one. There is a huge quotes base with beautiful Inspiration, Motivational, Life, and Love Quotes. So, you can put inspiring quotes on your own background. Or you can choose backgrounds from high-quality background collections.
You can adjust the brightness of the image, as well as the color and brightness of the text, choose the font type, alignment, line-height, and font-size.
Categories include Family Picture Quotes, Birthday Picture Quotes, Wisdom Picture Quotes, Good Morning Picture Quotes, For Cat/Dog Picture Quotes, Motivational Picture Quotes, Fitness Picture Quotes, and many others.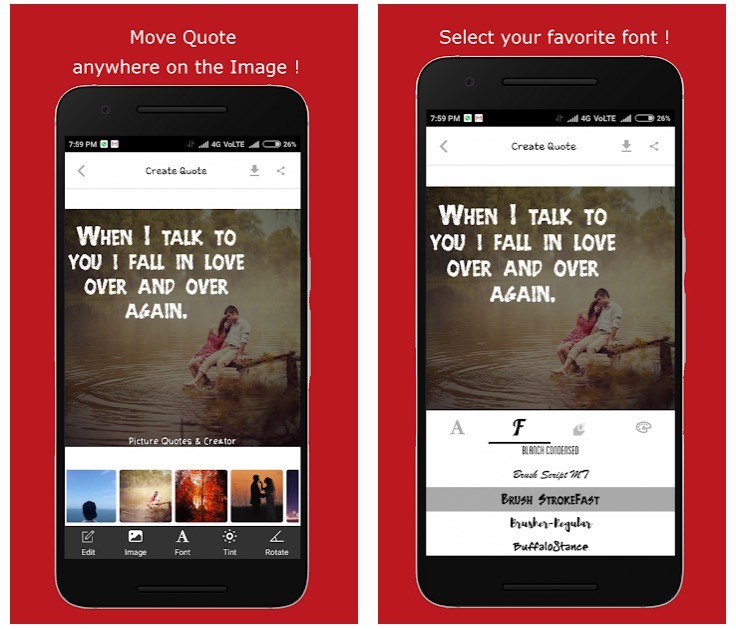 Downloads: +1000000
Customers rating: (4.5 / 5)


Fontmania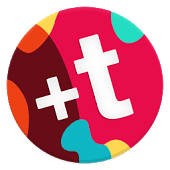 Let your pictures speak! Fontomania is an application that turns your photos and pictures into inspirational images, greeting cards or love messages that you can share with mates on social networks right from the app! The application contains an assemblage of original art graphics and specially selected fonts, as well as a diversity of creative alternatives for editing them. Turn your photos into works of art!
Express yourself in your native language, because every font in the application supports Cyrillic. Put the #Fontmania hashtag in Instagram-posts to share your creativity with others, and your photos can be published on @fontmania account.
Fontomania will permit you to:
create vivid images for posts on Instagram, Facebook, Twitter;
make greeting cards;
decorate pictures with inspirational, wise or funny quotes and expressions;
sign photos for memory;
make memes;
create wallpaper for the screen with personalized text;
append rapid notes and comments on any occasion;
create an image with stylish text and graphics.
with the help of inscriptions, you can give a new meaning to your photos!
Fontomania is a simple and convenient application! How to utilize it:
1. Select the photo you saved earlier, or make a new one. Zoom or cut it to the desired size. Improve it with filters.
2. Append text: boldly experiment with the fonts or select art graphics from the collection.
3. Edit to taste: select a color, use the Transparency and Shadow options.
4. Manually adjust the size, position, tilt, and position of text and graphics.
5. Save the image or immediately share it with friends on Instagram, Facebook, Pinterest or other social networks and instant messengers!
Put away boring pictures and messages! Share real emotions with your mates!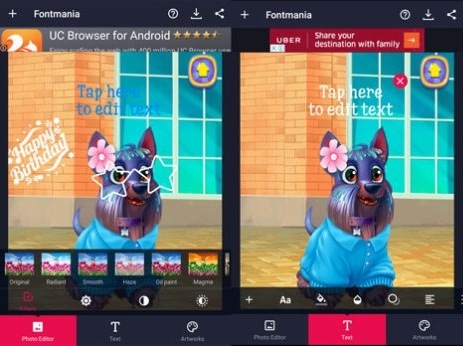 Downloads: +1000000
Customers rating: (4.5 / 5)


Picture Quotes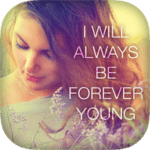 Excellent application for overlaying quotes on photos or attaching beautiful text to beautiful textures. Various fonts, colors, shaders, textures, quotes, and much more will be available to you if you download the Picture Quotes application. If you did not find a quote that suits you in the sense of the application, it does not matter. Just append your text, select the font, and place it on the main background.
Quotations are divided into categories:
Wishing for a wedding.
Vacation.
Quotes about love.
For friends and family.
Known quotations.
Funny.
You are able to choose a photo from the gallery or take a picture on the camera of your mobile phone. To expand your creativity, in the application you will find photo effects, a huge palette of colors. All your masterpieces can be saved and sent to friends. Make your pictures really beautiful!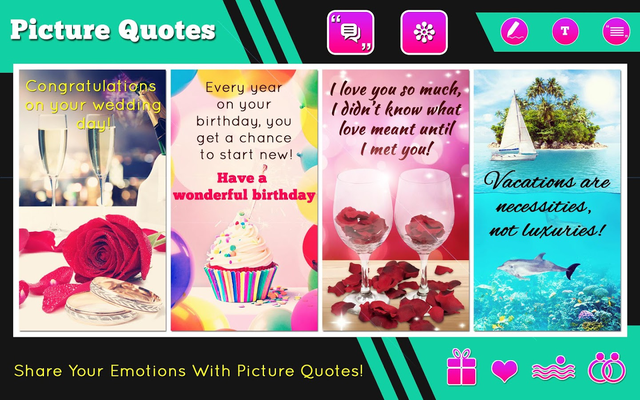 Downloads: +5000000
Customers rating: (4.2 / 5)
YourQuote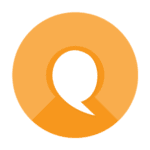 This application is designed to make your words look not like boring text, but as a work of art. Write on the photos graphically beautiful text, publish your quotes, poems, and stories, collect all your creativity in a single database.
Impeccable portfolio with beautiful texts. Write anything – poems, quotes, jokes, stories, tweets and much more and give them a beautiful graphic appearance. Combine everything into one base when creating your instaquote.
Your quotes can now be found on Google. The application is able to make your records available for search through Google's search engine. After publishing 20 quotes, you can use Google seek.
Copyright. This application is a great platform to prove yourself as an author. All your graphic text is saved as a drawing, which provides you with protection from plagiarism.
Here the best authors gather. In the application, you can read quotes, poems, stories of other authors, comment, follow the work of other people.
Great editor. Here you will find a variety of styles and fonts that can make from your text a real artwork.
Accommodation in social networks. Share your creation on different platforms, such as Instagram, Twitter, Facebook, Whatsapp, and others.
Improved writing. The best grammar team, decide clichés and puzzles, advice on how to write correctly.
To summarize, it is worth saying that this platform is an indispensable tool for writers.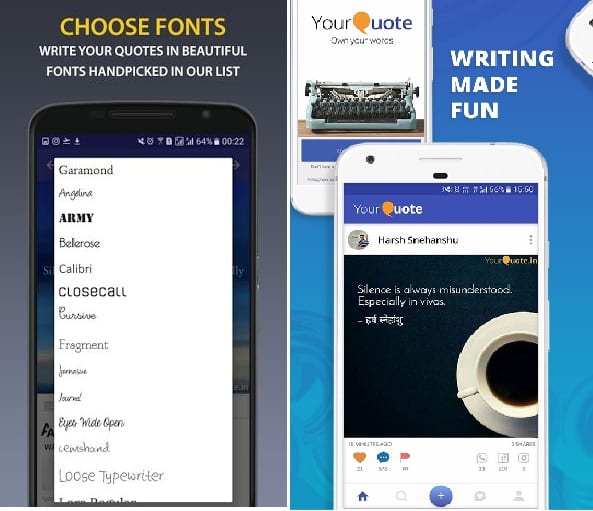 Downloads: +1000000
Customers rating: (4.5 / 5)
Geulgram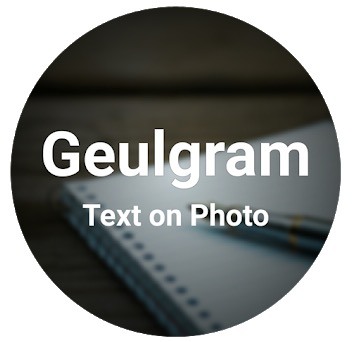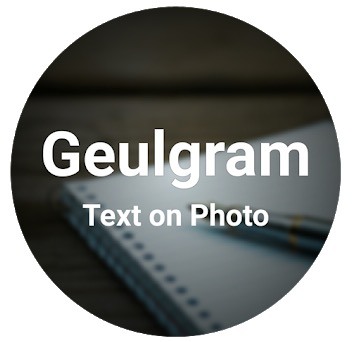 Geulgram is a multifunctional creative platform that allows creation quotes in a non-standard design style and according to the templates that developers offer.
The font collection is extensive. Geulgram also provides beautiful photos that match your writing. There is no need to worry about paid functionality – an extensive basic package is available in free mode. The developers thought out the design of the interface and content to the smallest detail – even with a strong desire to create something boring and monotonous it is impossible.
The program has the simplest functionality, maximum benefits and a minimum of unnecessary details. Every month, developers offer updates on tools and fonts, so your creations will always be in trend.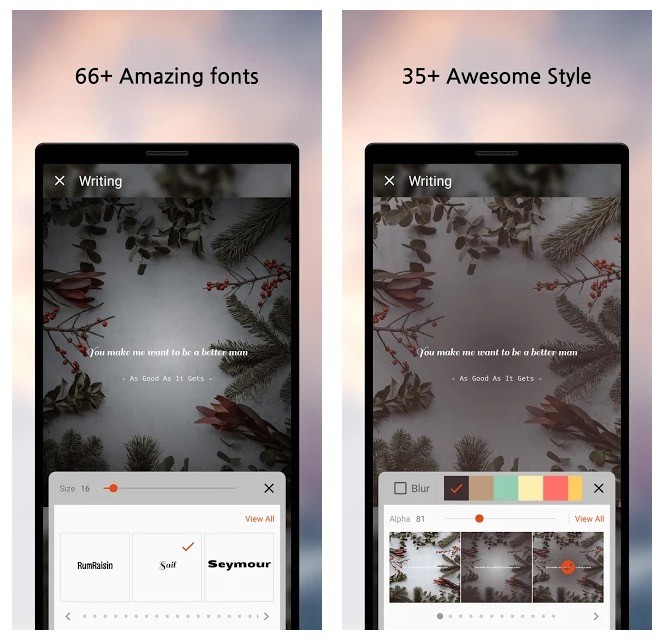 Downloads: +1000000
Customers rating: (4.6 / 5)
Quotes Creator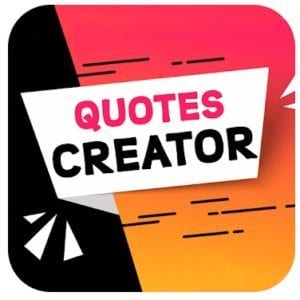 Quotes Creator will help you to create your own unique quotes. You will be surprised how easy it is to work with the application. Here, you can use sample pictures or select the ones from your phone's gallery.
You can also use quotes from the app. Change the text color, size, fonts, add stickers. If you can't decide which image to choose, use the Quotes Creator backgrounds for different kind of quotes like Christmas, Happy New Year, creative writing, for love quotes, nature and some miscellaneous background. You can add effects like Blur, Brightness, Saturation, Contrast, and Colors to your background.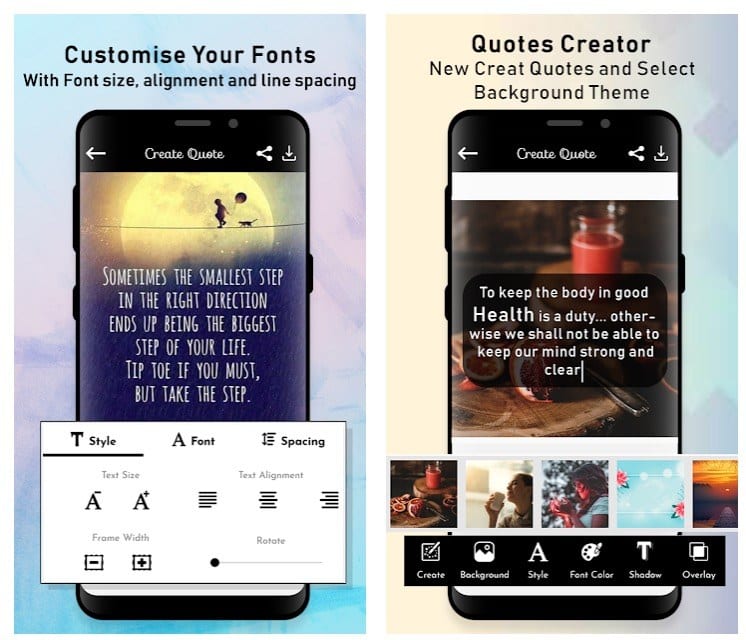 Downloads: +10000
Customers rating: (3.8 / 5)


Text Quotes creator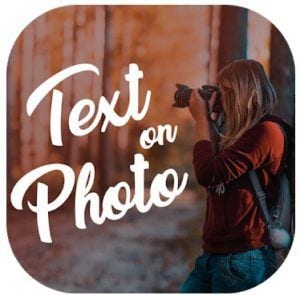 Text Quotes creator allows creating your own quotes with pictures. You will amaze your friends with such beautiful inspirational text pictures when sharing on social networks.
There are a lot of backgrounds and multiple fonts. You can adjust text colors, color shadow to text and text size, rotate the text, etc. Also, you can choose a photo from your phone's gallery as a background.
In general, this is the easiest font editor for you to make your own quotes.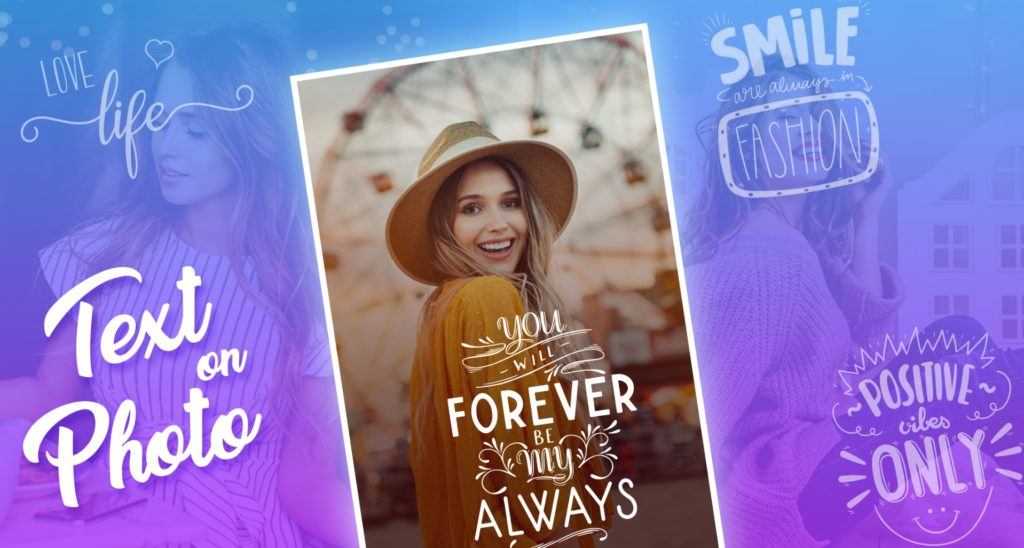 Downloads: +1000000
Customers rating: (4.3 / 5)
Quotes Creator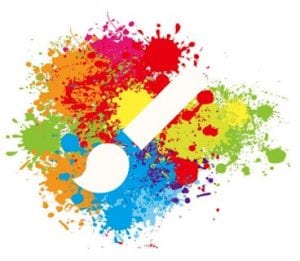 Quotes Creator also helps to make quotes with pictures using beautiful fonts.
Quotes Creator allows you to customize the background, text colors, text size, and fonts. You can choose a photo from your phone's gallery and set it as a background.
You can use the app to:
add text to photos;
write captions on pictures;
create social media banners;
add logo on photos;
create quotes for Instagram;
add watermarks on photos.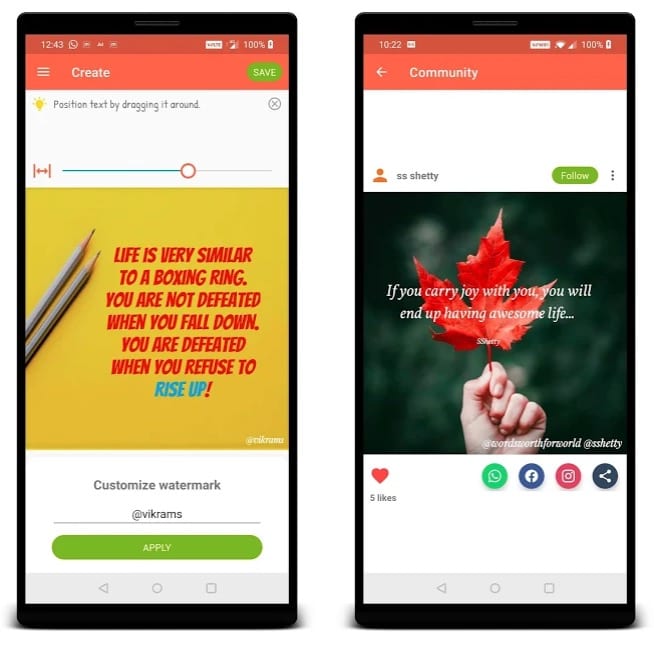 Downloads: +10000
Customers rating: (4.4 / 5)
Picture Quotes Creator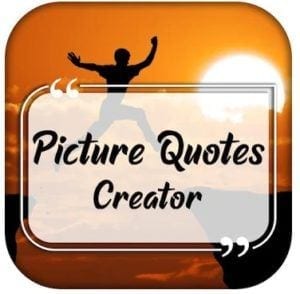 Use various gradients, colors, stylish fonts and backgrounds to create your quotes. The app offers more than 1000 images to be used as backgrounds and multiple font styles.
To make each quote unique change font type, color, alignment, line-height, and font-size. You can easily change the background color, set shadow in text, rotate text, set tint (Black Layer) to create amazing Picture Quote.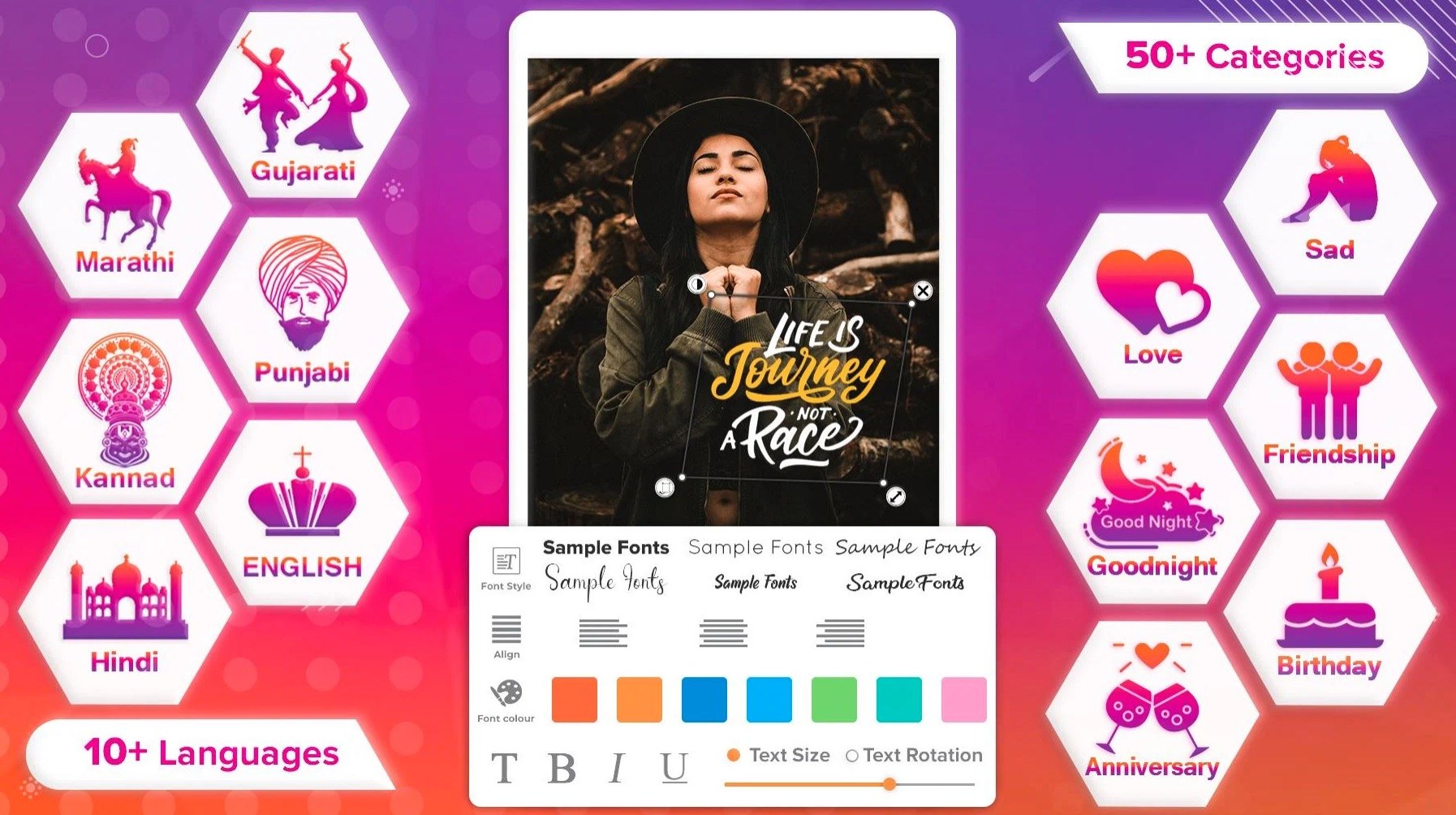 Downloads: +10000
Customers rating: (4 / 5)
TextSwag
Create your personal stylish quotes or make beautiful designs for Instagram, Facebook or Twitter. Make a screensaver or share your memories with the help of flyers and ads. The developers have prepared for you many combinations of font and various formats. Therefore, to worry that you will not be able to find anything suitable is not necessary.
You can always pick from a variety of signatures, and some of them will get you to inspire. You definitely get to impress your friends with the help of your designs, as well as bright verbal combinations. They are very easy to share with the help of social networks. You will be able to use many filters for images that are completely different in their properties.
How can you use the TextSwag application? Choose an image, change the text, then determine the style. If something does not like it, use another option, and change some elements. It's all so simple and understandable that there will be absolutely no difficulties when using the program.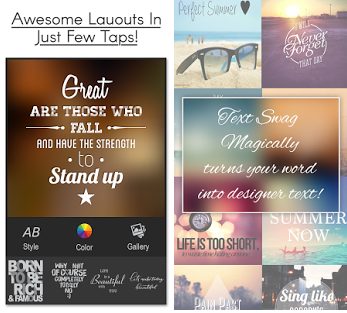 Downloads: +500000
Customers rating: (4.6 / 5)


Word Swag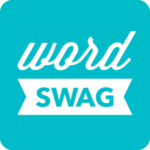 What do you get if you try to create a combination of pictures and text using Word Swag app? Fantastic visual content, which is sure to attract the attention of users. Word Swag, the Android application, allows you to easily add an inspiring or wise quote to your photo.
Thanks to over 290000 images, backgrounds, and templates, creating a unique image has never been easier. Selecting a picture and adding text take a few seconds, and the result looks as if you spent many hours creating layers, moving the elements, and selecting the perfect font.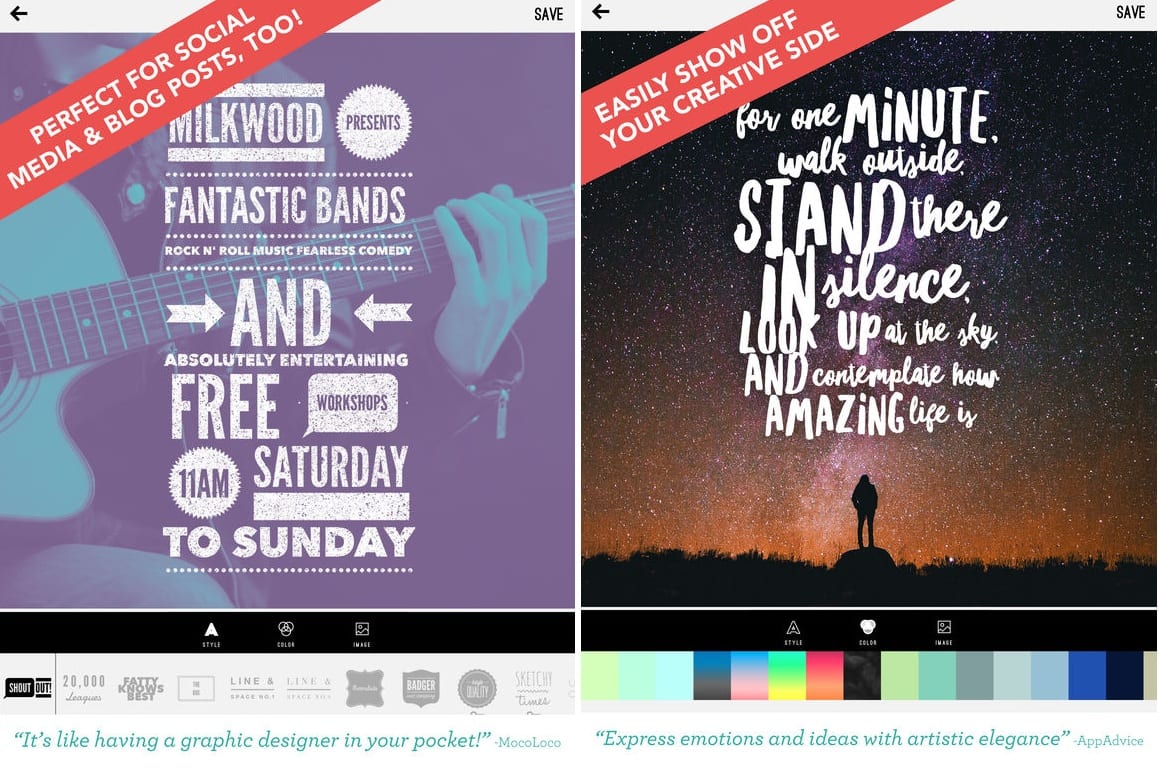 Downloads: +100000
Customers rating: (3.3 / 5)


Canva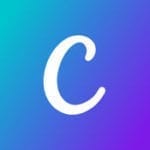 All marketers working in social media understand the significance of visual content for advertising. It is also not a secret that to attract the largest possible audience, you must use the original visual content. How to make visually attractive content again and again? Canva is the answer to this question.
Canva is a great instrument for making attention-grabbing images in just a few minutes. You do not need to be a designer or be able to use Photoshop to get started in this program. Canva suggests templates that match the size of your last post on Facebook, so you no longer have to bother about the size of the images. A lot of templates, fonts, sizes, and other elements will allow you to make high-quality graphical content that will be noticed and shared.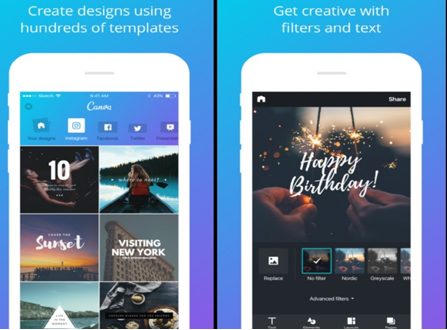 Downloads: +50000000
Customers rating: (4.7 / 5)
It's very simple – download the application and show your creativity. Have you tried any of the described applications?
You may also like: 15 Free Drawing apps for Android