There is a large number of applications for a variety of keyboards. With their help, you can also make the keyboard of your smartphone bigger. So just select the one you like and download it to your phone.
SwiftKey Keyboard
Of course, typing the text on the standard keyboard of many touch devices is not always convenient. You can make mistakes and have problems with automatic correction of the input words. It is better to download the SwiftKey Keyboard app to Android and step over such problems!
Intelligent application SwiftKey Keyboard updates the on-screen keyboard of mobile devices, helps to enter characters faster, uses autocorrect, produces predictions for the next word, and also opens a whole set of emoticons for pleasant communication. By the way, be sure to check the settings – change the design of the interface, add new colors, change the size of letters, the distance between the keys and much more. Now it is possible to personalize the keyboard! By default, the SwiftKey Keyboard is of the average size.
If you want to access the SwiftKey resize options, you can do this in the following two ways.
1 – From SwiftKey Hub
Open the SwiftKey Hub on your Android phone
Choose and tap "Resize"
Choose the desired size
2 – From the "Set" menu
You can also change the keyboard size in the SwiftKey settings as follows:
Open the SwiftKey application
Touch "Set"
Touch the "Resize keyboard" option and select the desired size
Note that the SwiftKey Keyboard will most likely be affected by changing the default font size settings and your device's zoom settings.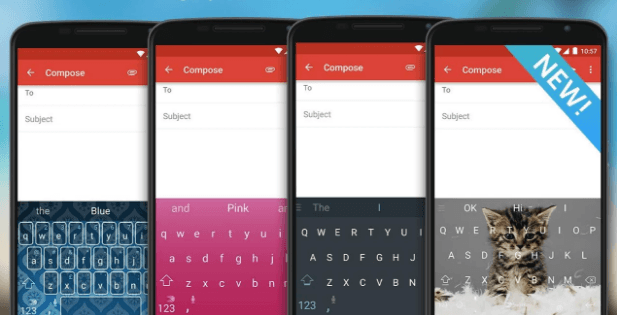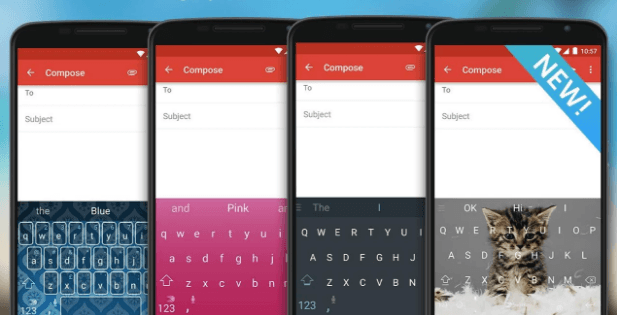 Downloads: 2 500 000 +
Customers rating: 
 (4.5 / 5)

You can also check: How to quickly change keyboard on Android
Big Buttons Keyboard Standard
Are you tired of those tiny buttons on your phone's keyboard? Then, you can try the Big Buttons Keyboard Standard application which is available for Android users.
With the keyboard Big Buttons Keyboard Standard, you can comfortably type the text on the go, without experiencing any inconvenience. All buttons are much larger, and typing becomes much more accurate and convenient. The keyboard also supports voice dialing, predictive input and many features that you can customize for yourself. Among the settings, you can find a variable click sound and a lot of other features.
Forget forever about uncomfortable buttons and misprints. You will no longer miss keys and make ridiculous mistakes.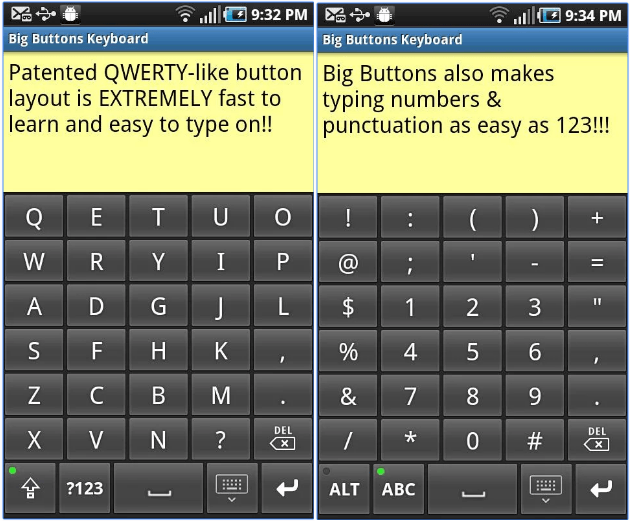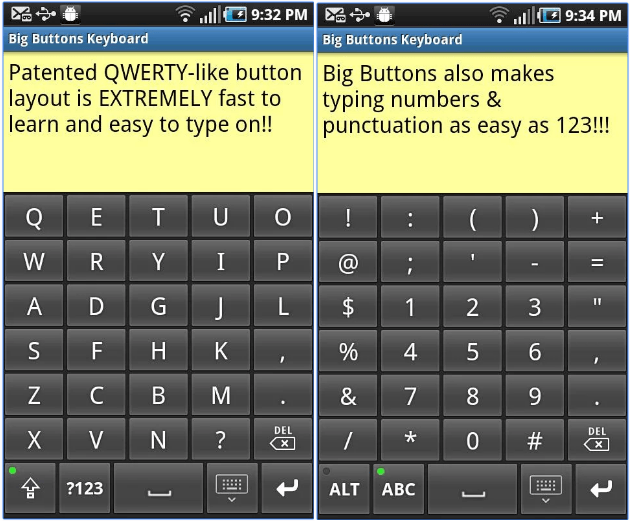 Downloads: 8 300 +
Customers rating: 
 (4.1 / 5)

Classic Big Keyboard
Classic Big Keyboard is, as the name suggests, a huge keyboard for Android devices. After downloading and installing the Classic Big Keyboard app on your phone, you must select it as the default keyboard. To do this you need to enter the system settings and in the "personal" section press "language and keyboard". Then simply select the Classic Big Keyboard as the default keyboard. The last step is very important: in addition to selecting the appropriate item in the settings, you need to select it as the default keyboard (otherwise the standard Google keyboard will be used).
After installing and configuring the application, you can start using the Classic Big Keyboard program and enjoy all its advantages: the buttons are large enough so that any user can use them without problems.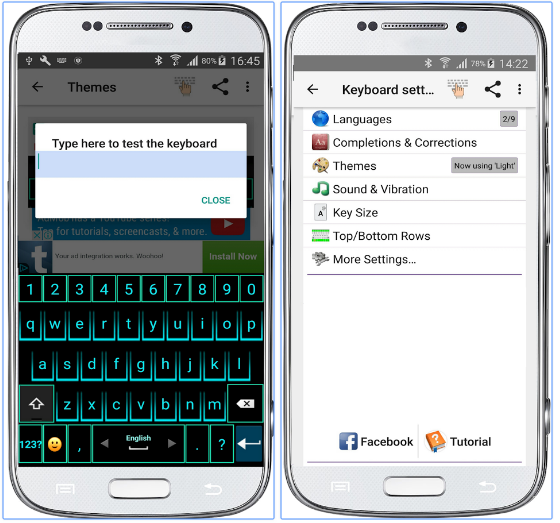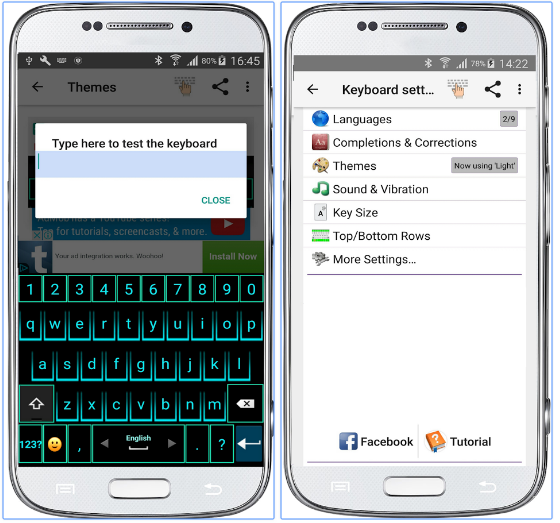 Downloads: 17 400 +
Customers rating: 
 (4.3 / 5)

Fleksy Keyboard
Another service that you can use to make the size of the keyboard bigger is the Fleksy Keyboard app. This is the keyboard for Android, which combines a wide range of functions with a beautiful design, making it one of the most popular keyboards on the market.
You will have many ways to set up the Fleksy Keyboard. It's not just changing the size and color of the keyboard (but you can do it too). The application allows you to use hotkeys, manage the number of lines and cursor, look for stickers, etc. It's better than the standard input method. You will get great pleasure when working with texts. Go to extensions right from here, paste and copy text, edit it.
Fleksy Keyboard is an excellent keyboard for Android, which is able to withstand tough competition with such giants as the Google Android Keyboard or with the classic Swiftkey.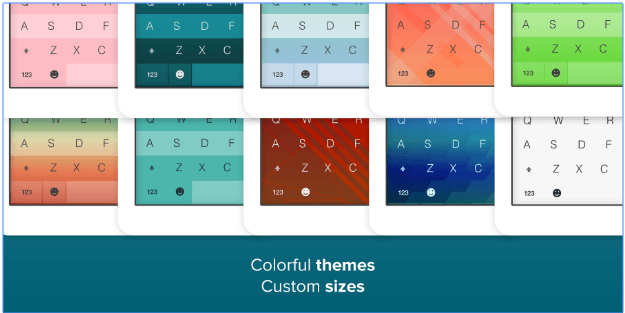 Downloads: 243 300 +
Customers rating: 
 (4.4 / 5)

MultiLing Keyboard
MultiLing Keyboard is a keyboard for Android devices, which stands out among others for two reasons: it is extremely light (it takes less than one megabyte of memory) and supports a huge number of languages. Although you will need to download each additional language separately. But the main feature of this application for us is that it can be configured in such a way as to display large and clearly distinguishable buttons on the keyboard.
Other interesting features of MultiLing Keyboard include gesture support and the ability to add new words to the dictionary. To do this, select the word, click on it, and then click on the add to dictionary button. Also, when entering numbers, the keyboard can work as a simple calculator.
The developer suggests customizing the design of the app as you like. You can specify the background colors of the keyboard segments and key groups, symbols, as well as the size, position of the elements, and so on.
This is a well-optimized program, which does exactly what it was designed for, allowing the user to customize the input system to suit personal needs. The program is fully free and there are no ads.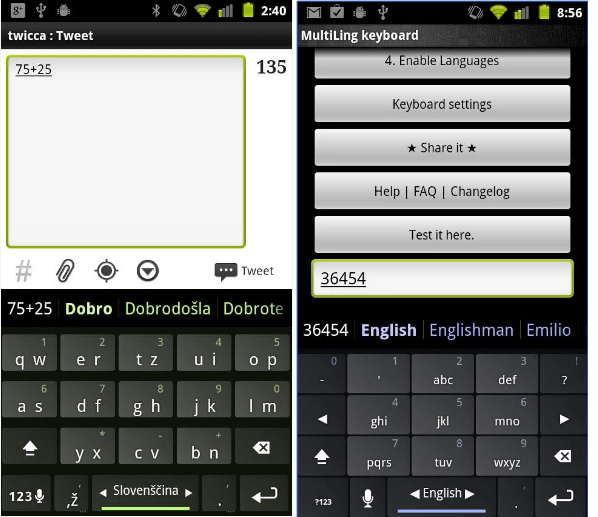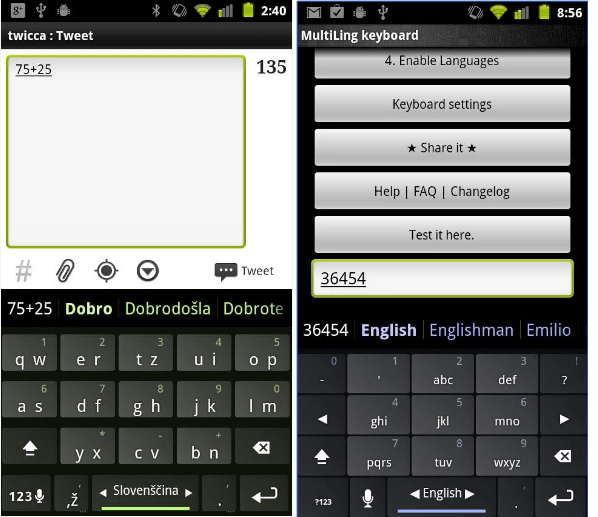 Downloads: 67 500 +
Customers rating: 
 (4.4 / 5)
ThickButtons Keyboard
This is a very handy on-screen keyboard that helps you in typing. If the display of your Android-based smartphone is not too large and there are difficulties with typing, the ThickButtons Keyboard app was made especially for you!
This keyboard gives several variants of characters, which, most likely, you will use, and increases them, what greatly increases the speed of typing. Among other things, of course, you can adjust how much the size of characters on the keyboard will change and allow or forbid changing characters in portrait or landscape mode.
ThickButtons Keyboard looks like the most common default Android-keyboard, but it has one virtue, which makes it revolutionary to some extent. And innovative too.
When typing a word, the keyboard consults with its dictionary. In addition to offering you possible predictive word completion options, it automatically makes the letters that you most likely will click next wider. And the letters that you most likely will not press becomes narrow. However, you can still tap on them. Thus, it is almost impossible to miss.
You can specify the use of not only the default dictionary of the program but also give it the opportunity to learn words from your address book and SMS. In settings, you can allow the ThickButtons Keyboard share new words with other applications! That is, it will replenish not only its own but also a system dictionary. Super!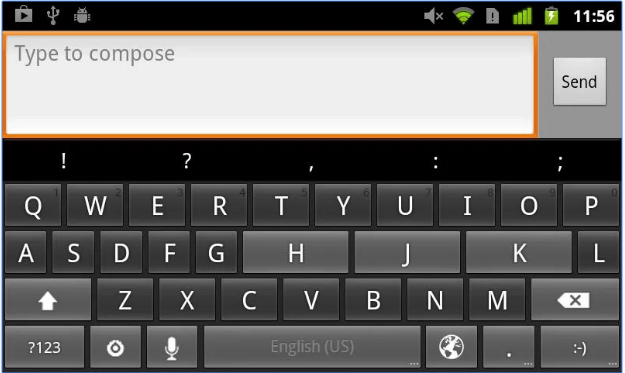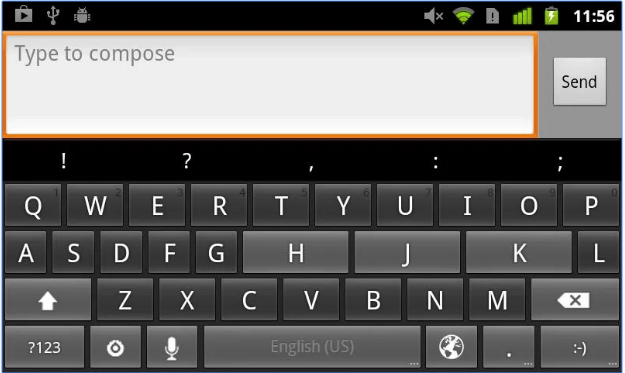 Downloads: 6 700 +
Customers rating: 
 (3.9 / 5)
Big Buttons Keyboard
Many are faced with the problem of an inconvenient standard keyboard, which is noticeably highly annoying when typing. We offer to download a keyboard with large buttons, which is suitable for tablets and other mobile devices on the Android operating system. It is Big Buttons Keyboard.
This keyboard with large buttons is a handy application that is perfect for those who are tired of small buttons and awkward keys. Large buttons are much more convenient than standard keyboards and many Android users will appreciate it. Here you can choose from 7 different sizes. Each of them will perfectly fit your device's screen. Try it yourself, you definitely will not regret!
You quickly get used to this keyboard and will be able to type text almost without looking. It will be very useful for those who like to communicate in social networks. No more small and uncomfortable keys! And the application is compatible with all versions of this operating system.It is very easy to install and operate.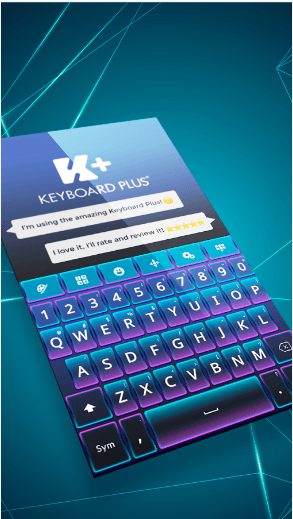 Downloads: 400 +
Customers rating: 
 (4.0 / 5)