Smartphones have small screens, and in order to make them more convenient to use, they come up with different input methods and elements that make everyday work easier. For example, such as gestures.
Gestures extend and complement the basic functionality of your smartphone. In this review, we have collected the best gesture apps for Android, which will greatly simplify the use of your phone.
Fluid Navigation Gestures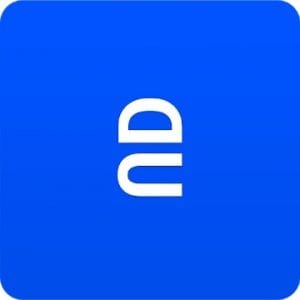 Fluid Navigation Gestures is handy gesture navigation for Android smartphones.
It's a simple application that lets you use piles instead of the usual Back, Home, and Menu buttons.
Gestures are already available on some Android shells. But, most of it concerns new smartphones with fresh firmware.
This option will only be available on past models after a system update or with third-party tools such as Fluid Navigation Gestures.
This app eliminates the need for navigation by replacing all actions with more convenient piles. Two types of gestures can be configured: a fast pile and a pinch-hold pile. Both of these actions can be performed from five different locations.
The most convenient ones are on the right and left edges of the display. And by default, they only work in the lower half of it. This makes it possible not to confuse system navigation with the same piles in applications.
The other three available gestures are tied to the lower edge of the display, more precisely to its three parts: left, center, and right.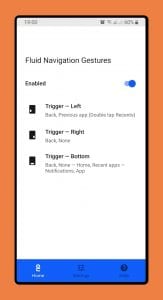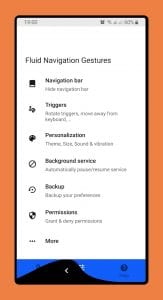 Each of these triggers can be adjusted by adjusting the sensitivity. On the side, you can also increase or decrease the activation zone.
Downloads: 1 000 000+
Customers rating:

(4.1 / 5)

You may also like: 9 Best Always ON Display Apps for Android
My Gesture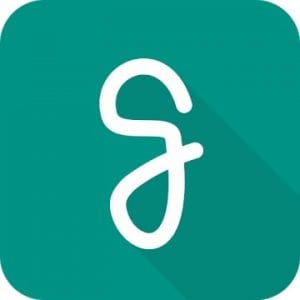 You would like to have on your Android smartphone one of the newest "features", which some manufacturers equip their devices.
Namely, the ability to control with gestures.
This application allows you to assign to gestures sliding on the screen (from the bottom edge and side edges to the center) a lot of different actions.
Keep in mind that for normal operation of the app it is better to disable the standard Android navigation bar located at the bottom of the screen.
This feature is available in the app, but you can do it either on devices with root access.
In total, the app allows you to specify 10 different piles, which can not only take you back or return to your home screen. They can also start the Assistant, display different sections of the settings, or call a specific contact.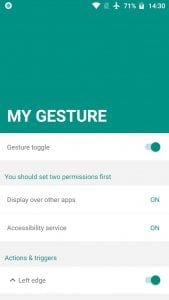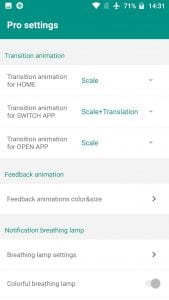 All 10 gestures can be easily set up on smartphones where the navigation buttons are on the bottom frame, i.e. under the display.
Downloads: 10 000+
Customers rating:

(4.6 / 5)

One Hand Operation +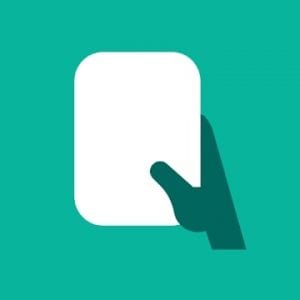 The idea behind this application is simple, giving you many more options for setting up gestures. By default, there are five places you can link gestures to.
Two corners at the bottom edge and three places at the bottom edge where you can place three more gestures.
Gestures can be linked to specific actions as well as opening specific programs.
You can configure the area where the gestures will be perceived, sensitivity, pile speed, and many other parameters.
The application is free, but only in the basic variation, which will be more than enough for most users.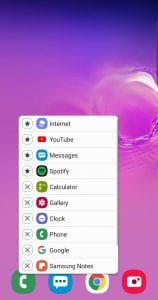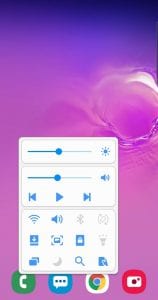 If you want more features and more points on the screen where you can tie gestures, you will need to buy the Pro-version right inside the application.
Downloads: 1 000 000+
Customers rating:

(4.6 / 5)

Infinity Gestures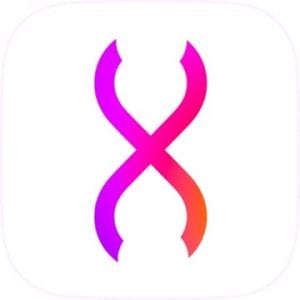 This app will allow you to assign unique actions to such popular and convenient gestures.
Among the most popular features that can be assigned to a particular gesture are the "Back", "Home", and "Recent" control buttons.
You can also use them to launch Google Assistant and switch to the previous application.
You also have the option to adjust the position of a special indicator at the bottom of the screen that tells you the area to start the gesture.
Many features are only available in the premium paid add-on. These include opening or closing the notification "curtain", controlling music playback, calling the shutdown menu, and more.
For easy use and quick access to basic functions, this app includes a lock screen. It is quite cute, has many functions and settings, but the main thing is that you can quickly enter the necessary gesture through it.
In the settings of this free application, you can adjust the parameters of the floating Drawer button. You can also adjust the general settings and settings of the lock screen, which is a good addition to the application.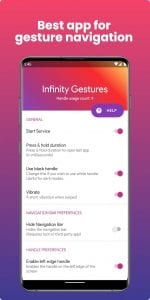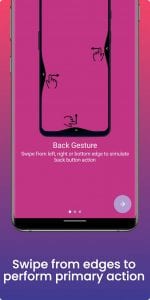 It is not a bad application with gestures, which contains many types of actions, settings, and options. But, the quality of its work, the speed of response to entered gestures, and many other things leave much to be desired, for the good of the app itself is free, even if with disabled advertising.
Downloads: 100 000+
Customers rating:

(4.3 / 5)

Quickify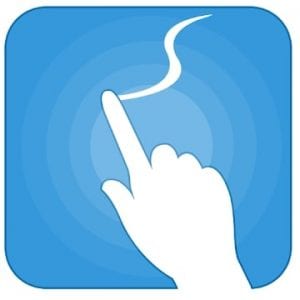 Ease of use, quality of work, and a high number of features are the main advantages of Quickify.
What else is so interesting and unusual about this application? Let's try to make it out.
When you first get acquainted with Quickify, you will be immediately offered to create the first gesture and move on to using the program.
As for its functionality, the free Quickify utility knows a lot. For example, it can open certain applications, make calls, write SMS messages, take photos, and much more.
When you create a gesture, you must draw an intended figure five times, so that the recognition will be the most accurate. Gestures can be both simple and complex.
That is they can consist of several separate lines, which will contribute to better protection against false alarms.
To enter or draw a gesture you need to open the application and draw on a semi-transparent canvas. But, you can activate a floating button in the application, by clicking on which the above panel will open.
This will prevent you from searching for the application's shortcut every time. Similar actions are available on the Lock screen.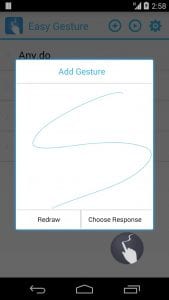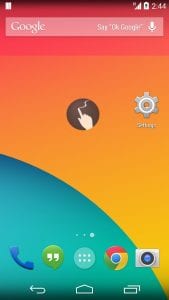 This is a very simple, convenient, and quite functional program for controlling an Android device by means of gestures. It works perfectly, includes multi-gesture support, and consumes the smallest hardware resources.
Downloads: 100 000+
Customers rating:

(4 / 5)

gesturePlus
You had no idea how much a light gesture can do with just one finger. You only need an app like the gesturePlus to do it.
As you should, the first time you start gesturePlus, you receive a simple training.
It includes not only text information, but also video content. This gives you a clear overview of the application and all its functions.
You will then be taken to the home screen, where gestures for basic features are already presented.
For example, you can open Facebook on your browser, launch the Gmail app, and more.
Of course, you can create other gestures as well, with just a few clicks. You select a feature and draw the gesture you want three times. The gesture must be uninterrupted.
As for the features, gesturePlus is a bit more interesting than all its analogs. What do competing applications have to offer? Starting programs, locking the screen, calls, messages, turning on/off Wi-Fi, Bluetooth.
Besides, you have the device administrator functions, i.e. the ability to reboot, turn off and emulate hardware buttons instantly. Of course, this is a big plus.
All the above-mentioned features are available without any limitations already in the basic version of gesturePlus.
You can open the gesture input panel either by clicking on a special icon (you need to add it via the settings) or via a floating button.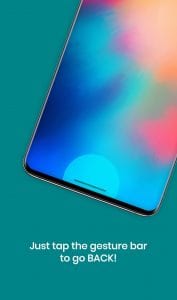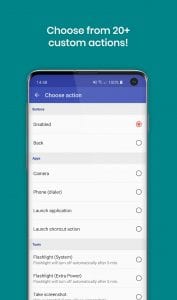 If you are more comfortable with the second option, be sure to go to the settings. There are many settings for this option, as well as on the line of the drawn gesture, it's color.
Downloads: 10 000+
Customers rating:

(3.6 / 5)

Gesture Magic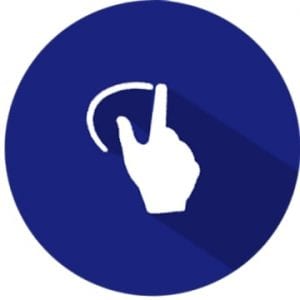 What is so complicated and unusual in gesture applications?
Let's not get wise and consider the simplest free program with elementary actions called Gesture Magic.
In Gesture Magic you will immediately get to the main menu of this application.
There you can create a gesture, go to training, look at the settings, or arrange your gestures in a different way.
As you can see, in the android app Gesture Magic everything is very simple.
Gestures can be created for the simplest needs. Launch the selected application, open the specified web page in your browser, lock the screen.
You can also create gestures for making calls, writing messages, and managing key system functions.
Next, you'll need to enter a gesture three times so that the application can identify it and make certain calculations on an input error.
Now you can freely use gestures on our android device. For easy input, there is a floating button that opens the corresponding panel.
Press the button, draw, try. Everything is extremely simple and without any unnecessary confusion inherent in such applications.
There are only three parameters in the free application Gesture Magic and all of them are associated with the floating button. You can turn it on, add "sticking" to the edges of the screen and activate the auto start.
Gesture Magic is a simple gesture application for any android device. It offers average functionality and in general everything you need, but nothing more.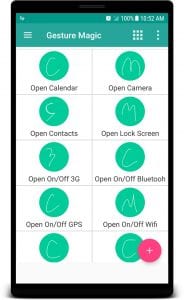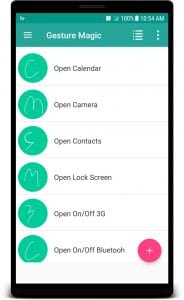 Besides, it works perfectly and contains neither advertising nor paid functions.
Downloads: 500 000+
Customers rating:

(3.7 / 5)

Navigation Gestures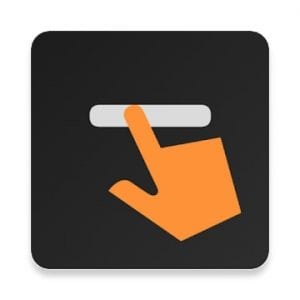 Navigation Gestures is an app for mobile devices running Android that allows you to control them with special gestures.
The main advantage of this application is that it can be used regardless of which application is currently running in the foreground, i.e. at any time.
For the full operation of the program, you will have to make some settings. First of all, make sure that the corresponding service works in the background mode.
Then let Navigation Gestures show you the notification so that different memory cleaners do not kill it.
Check also the automatic boot option so that you don't have to start the application every time you reboot the device.
All gestures used to control the device are made in special areas near the left, right, or lower edge of the screen. You can activate these panels and adjust their size at your discretion.
You can then proceed directly to setting up the gestures. By the way, they can be the following: double-tap, long tap, left, right, up, or down swipe.
To these movements, you can link the necessary actions, the list of which is quite extensive.
Here you can close programs, call up the list of recent applications, go to the home screen or just back, manage media, and so on. Note that some features need superuser rights.
This way, we get a convenient and fast way to interact with our gadgets with simple gestures.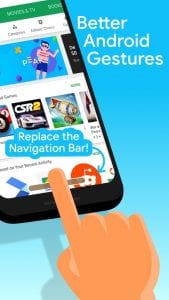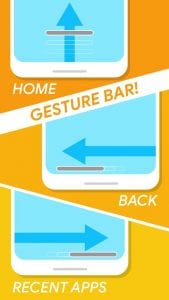 Navigation Gestures is perfect for all users who are tired of aiming at the small buttons of the operating system interface every time they need to switch tracks, turn on the wireless interface or run the desired program.
Downloads: 1 000 000+
Customers rating:

(3.4 / 5)

You may also like: 15 Best Android theme apps
Gesture Control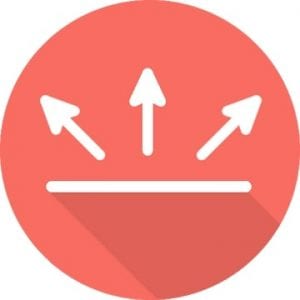 It is important to note that Gesture Control is distributed free of charge and does not need superuser rights.
Once the application is installed, you should give it the necessary permissions in the "Special features" section.
After that, you will see a small black bar at the bottom of the screen. It is this black bar that you can now make piles to navigate your device.
By default, a pile-up takes you to the home screen, a pile left takes you back to the previous screen, and a pile right takes you to the notification bar.
But, if you wish, you can change this configuration in the program settings. It includes adding extra actions based on swiping with a finger hold, double-tapping, and so on.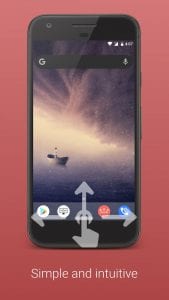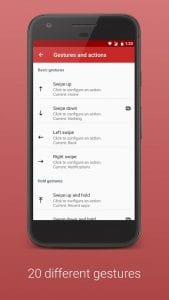 The basic functionality of Gesture Control is available free of charge. But, there is a paid version of the program with advanced options to customize the appearance and the ability to use extra actions and new gestures.
Downloads: 500 000+
Customers rating:

(3.5 / 5)