The process of drawing with your phone is quite tedious; it's much easier to turn ready-made photos into drawings.
You can find quite a few apps for this purpose in the Google Play store. But which one to choose? We want to help you figure it out and give you an overview of the best tools designed to turn photos into anime drawings using various built-in filters.
ToonApp by Lyrebird Studios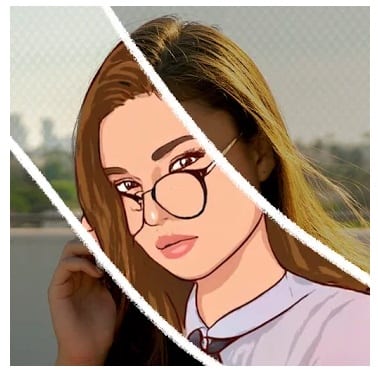 ToonApp is a versatile photo editing application. Download this app and you will forget about other photo editors.
With ToonApp, you'll have amazing filters at your disposal to turn your photo into a cartoon character. You can turn your photo into a cartoon or an anime character in the blink of an eye.
The final transformative step is adding a stunning background. It's easy and simple to turn your everyday photos into pencil sketches.
Create a whole gallery with cartoon and anime characters, funny caricatures on your smartphone and share them on social media.
Top features of the ToonApp for Android:
Create cartoons and cartoon characters – you don't need to be an artist to create popular animated characters. The app does it all for you.
Stunning digital filters (vector graphics, oil painting, and sketching) that turn ordinary photos into original avatars.
Large library of backgrounds with ready-made layouts and photo effects in different shades. The photo editor automatically removes the original background – you'll just have to choose the most suitable one from the offered ones.
Amazing filters and effects for selfies – they will make your face more beautiful and hide some imperfections.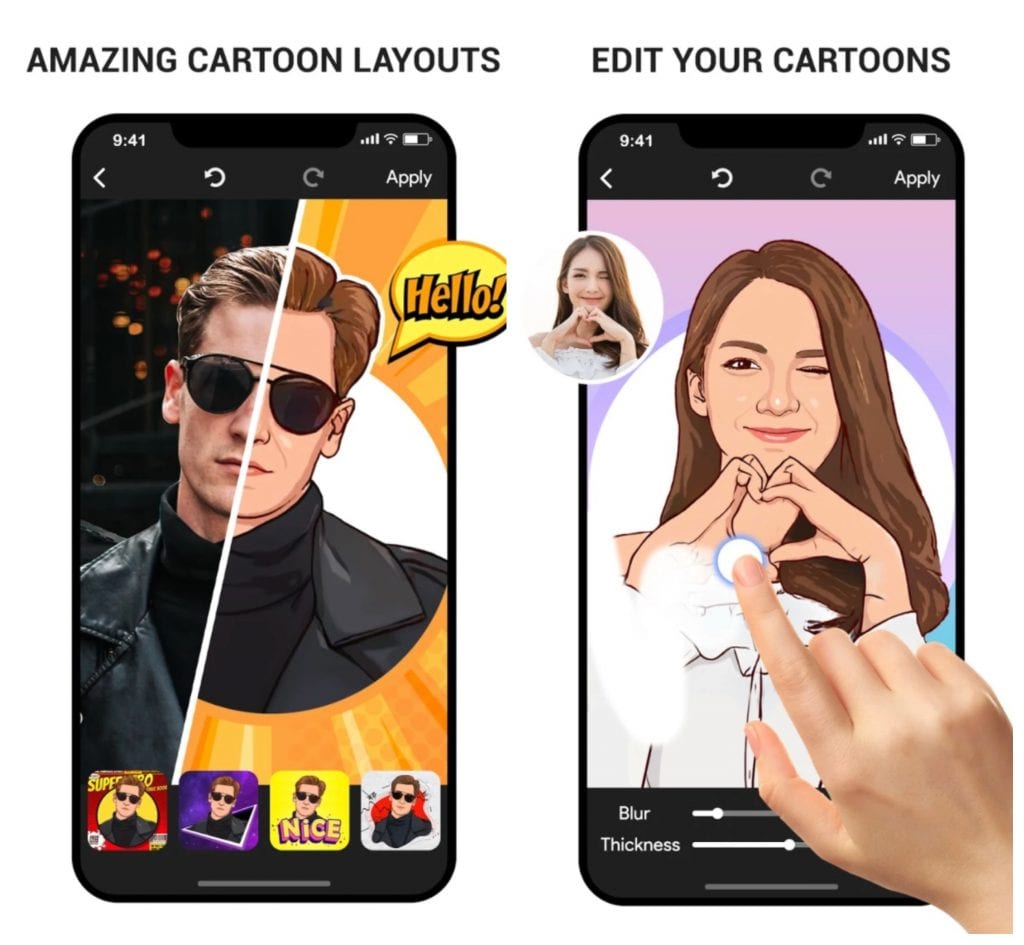 Downloads: 10000000 +
Customers rating:

(4.3 / 5)

You may also like: 11 Best Selfie GIF Apps for Android
Avatoon by IdeaLabs.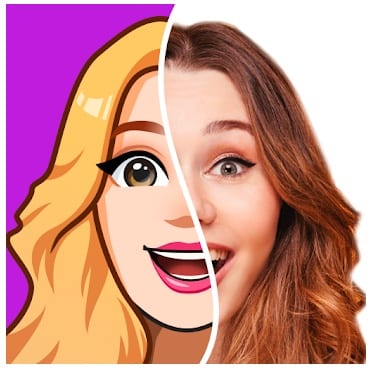 Tired of boring profile pictures and want to spice up your social networking page? With the Avatoon app you can use your imagination and create a colorful and very funny avatar to surprise your friends and followers.
Top features of the Avatoon app for Android:
The app recognizes your facial features and creates an avatar that looks just like you in seconds;
Personalize it in many different ways by changing your hairstyle and clothes;
Set up a unique background by selecting any photo from your smartphone gallery;
Lots of cool stickers;
A lot of different accessories.
The extensive functionality of the app allows you to completely personalize your character by adding accessories such as a hat, glasses, and earrings, changing the hair color, etc. You can also earn coins and share your creations with friends.
Download Avatoon for free and get the ability to create the coolest personalized avatars, stickers, and emojis, using facial recognition technology.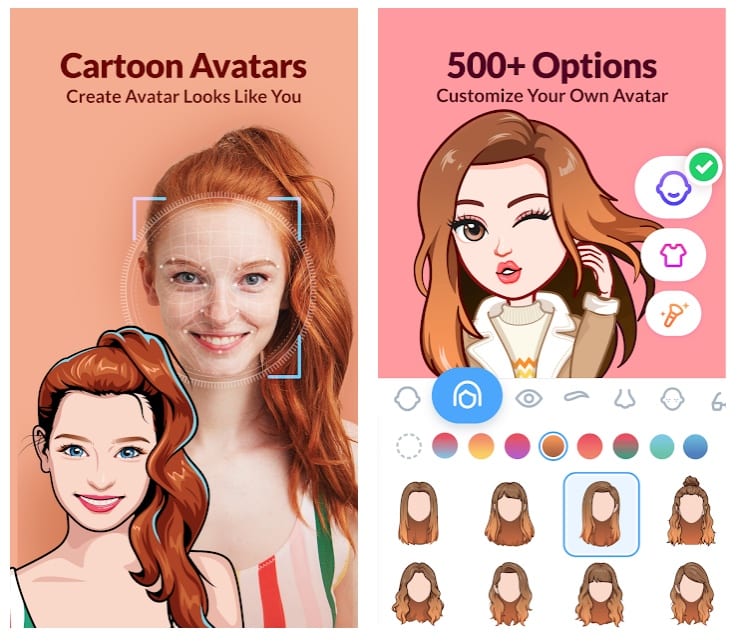 Downloads: 10000000 +
Customers rating:

(4.7 / 5)

ToonMe by Linerock Investments LTD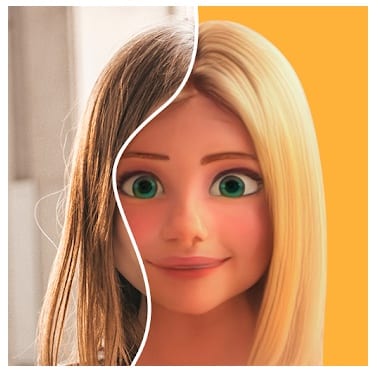 ToonMe is a photo editor that can turn your portrait into a cartoon character. Be like a real cartoon character or an illustrator with the help of artificial intelligence.
With a few clicks, ToonMe can turn your photo into a stunning cartoon or even a vector portrait. With ToonMe, you can become an artist yourself without any skills. You'll be able to show off cool cartoon avatars on social media to the envy of everyone.
Open ToonMe and browse through the large catalog of styles. Just swipe through the available options and choose what you like to go to the edit screen. Another great feature of the app is the face recognition system, which creates a big list of all your images that contain faces, so it's easier to find your photo or that of a friend.
When an image for conversions is found, all you have to do is wait for it to be transformed into a cartoon, and after that, you can add different filters and effects.
Top features of the ToonMe app for Android::
Stunning cartoon images – feel like the hero of your favorite cartoons;
Cool vector portraits;
Quality drawn images – results are as if drawn by hand;
Great choice of cool effects for photo editing;
Great quality photo editing.
Transform yourself into an animated character in just a few clicks with the fascinating ToonMe app. If you want to look like a comic book hero, TV show character or even a Springfield resident, check out this app. With multiple templates and dozens of options, it's easy to become the right cartoon character.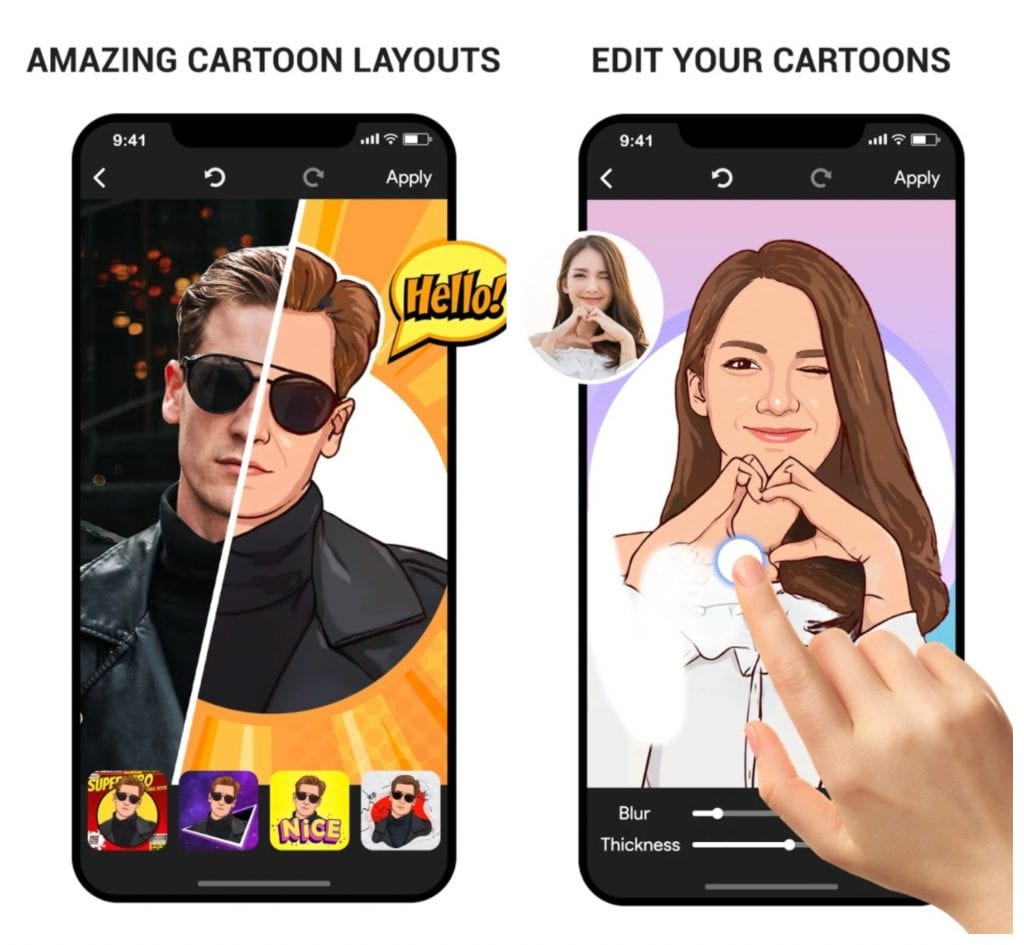 Downloads: 10000000 +
Customers rating:

(4.5 / 5)

ArtistA by Lyrebird Studios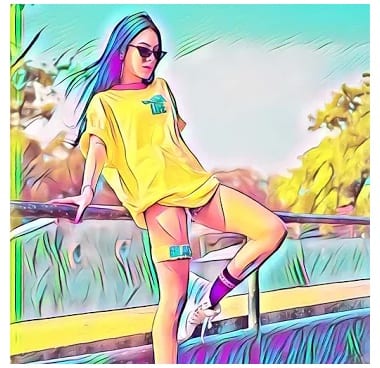 Another great photo editing application from the developers at Lyrebird Studio. We'll be able to use lots of effects and artistic filters on our photos to make them look like drawings, paintings or illustrations.
ArtistA is an image editing application with a built-in camera that gives us the ability to turn photos into drawings. And, as usual, in the case with apps developed by this studio, the results are very cool.
Top features of the ArtistA app for Android:
To use this tool, all we have to do is snap a photo or select it from the gallery of our device.
Then you'll need to select one of the app's art filters (you can download even more filters from the shop tab).
Apply amazing oil painting effects for your photos;
After selecting a filter, we have the option to edit various image settings including exposure, contrast, brightness, or color.
Then all we have to do is save our image and flaunt the photo with an artistic effect.
This app is very cool and very easy to use. However, if you like it, it's advisable to subscribe, as ads get annoying and you can't remove the watermark in the free version of the app.
A minus is the slow speed, but if we want to add drawn picture, sketch, painting and illustration effects to our images, this app is just what we need.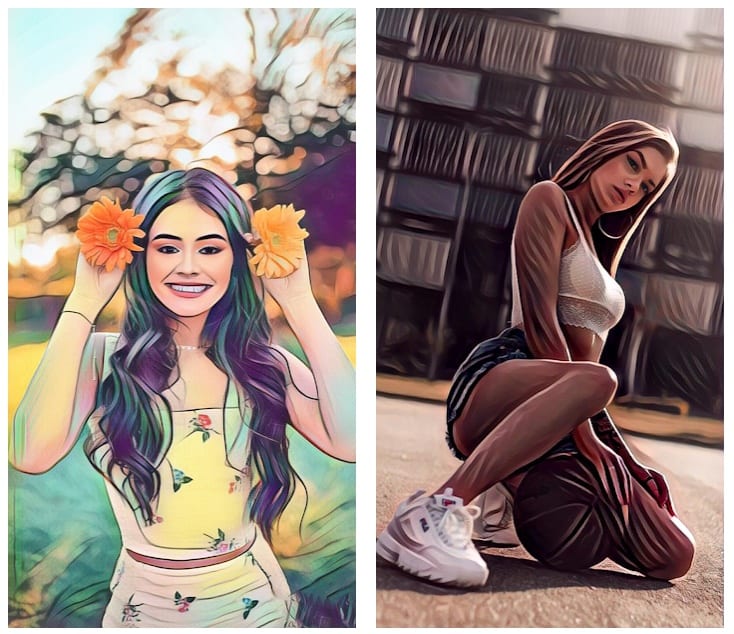 Downloads: 10000000 +
Customers rating:

(4.2 / 5)

Deep Art Effects by Deep Art Effects GmbH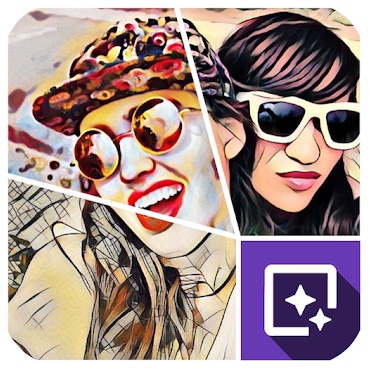 Deep Art Effects is an app that processes photos with professional sketch filters so that a simple selfie can be transformed into a fine art piece. Entrepreneurs have made such simple photo transformations and printed fantastic portraits on canvases.
The Deep Art Editor is so much more than just filters and effects, after processing you get an artistic masterpiece. Decide which artwork you like and click ahead to see the result of your photo transformation as soon as possible.
Choose from over 50 styles to suit your taste and apply various photo effects. Once you've got the result, be sure to share it on social media. Facebook, Instagram, and Twitter are all waiting for your amazing photos.
You can print a successful photo on canvas and hang it in your bedroom. Use the photo editor to impress your friends and followers. You'll find styles of famous artists such as Leonardo da Vinci, Picasso, Van Gogh, Rembrandt, Michelangelo, Dali, Monet, and more.
The editor's work is appreciated by millions of satisfied users. Color up a simple photo with bright styles and say goodbye forever to the boring, old, traditional filters that everyone is bored with.
Top features of the Deep Art Effects app for Android:
Quick photo editing with Artificial Intelligence;
Quality resolutions;
Your work and photos are not stored on the editor server;
You can share your photos;
Over 50 artistic styles;
Easy and clear photo enhancement controls;
Confidential data transfer;
Gorgeous filters;
All the photo filters are of high quality.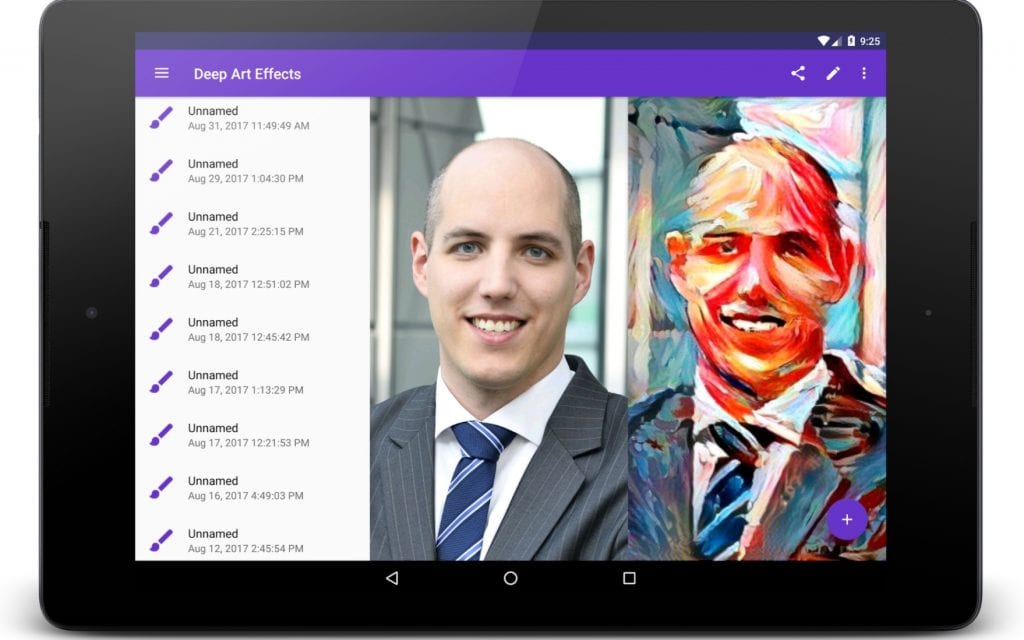 Downloads: 1000000 +
Customers rating:

(4.6 / 5)

GoArt by Everimaging Ltd.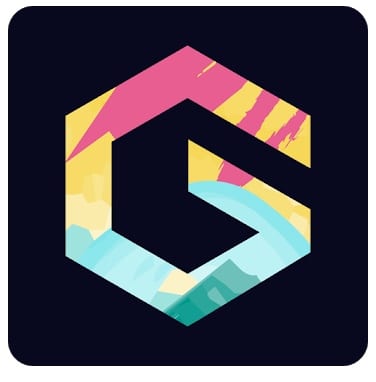 GoArt for Android is not your ordinary photo editor, where you can completely transform the style of your photos, whether they are portraits or landscapes.
Now you can not only admire the masterpieces of famous artists but also create something similar yourself, thanks to the app's advanced algorithms. But the user can only see the tip of the iceberg: upload a photo to the editor and choose an artist's style. A few tens of seconds and you can admire or marvel at the result.
GoArt on Android allows you to create high resolution photos (up to 2880 x 2880px), which will give you the opportunity to get a high-quality print version.
While the software is free to download, there is a cost involved in processing the photos. However, the developers assure you that you don't have to pay out of your pocket, just follow some conditions: share the link to the application in social networks, create an account and link it to your email and invite your friends to use the photo editor.
Top features of the GoArt app for Android:
Precise photo processing algorithms across different painting genres.
Play quotes about art while waiting for results.
You can remove the watermark, but for a fee.
Ability to save photos in HD resolution.
Possibility to adjust the depth of filter blending.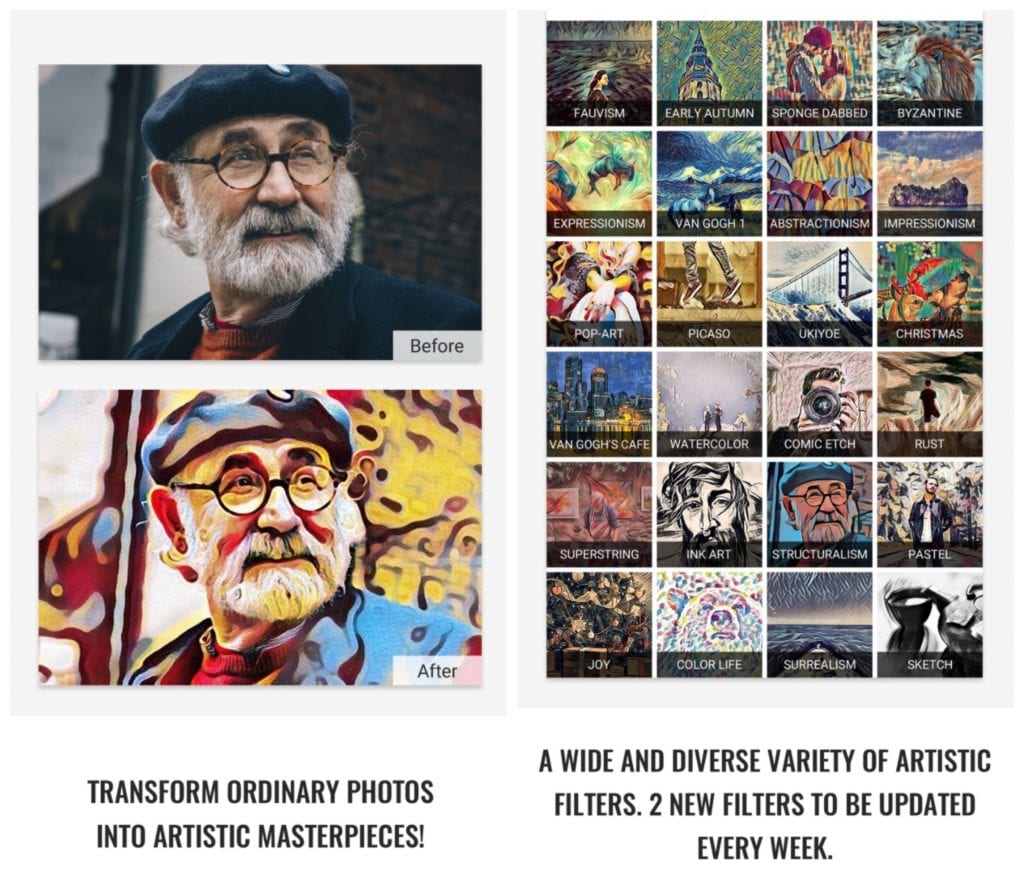 Downloads: 1000000 +
Customers rating:

(4.4 / 5)

Cartoon Photo Editor by Lyrebird Studio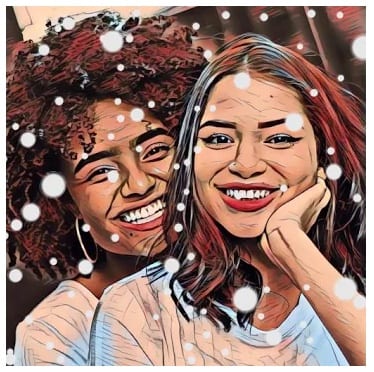 This is a cool application for Android to create anime photos with your phone's camera.
Cartoon photo editor offers a variety of functions. Apply various anime filters, create your own artworks and share them with others.
Top features of the Cartoon Photo Editor app for Android:
You can choose from a great variety of filters and artistic effects to create a unique anime of your portrait;
Save your creations in your phone's gallery;
Share your artworks with others via social networks;
Autofocus features.
The app has a free trial period when you can test the full functionality of the app. Then you have to buy a subscription. Also, some users do complain about annoying ads at every step. There are indeed a lot of advertisements, but the final picture is impressive.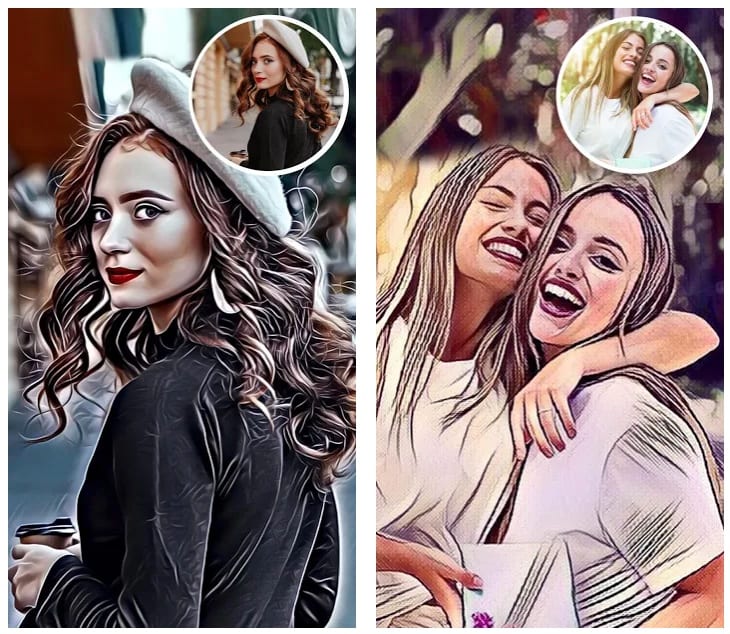 Downloads: 10000000 +
Customers rating:

(4.1 / 5)

Prisma by Prisma Labs, Inc.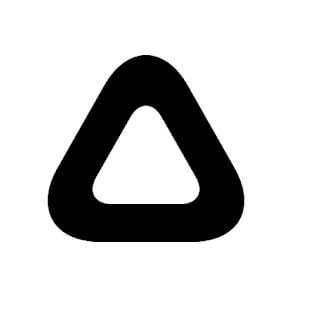 Prisma is an application that allows you to process images in various styles. The main feature of the program is that the processing of photos is not carried out by applying filters, but based on a neural network.
It's worth noting that the application is very popular with many people around the world.
The interface of the application is quite simple and understandable for almost every person. It should be noted that every person who has decided to install this program can make sure of the stability of its work and the excellent imposition of filters.
A great number of filters are offered for the user, which allow you to modify the image and make it in the style of the works of famous artists.
Top features of the Prisma Photo Editor app for Android:
Various filters;
Save the result of your work in the memory of the device or share the image on social networks;
Disable the watermark that the app adds by default.
It's worth mentioning that similar programs have also been released before. However, they did not enjoy much popularity due to the fact that the image modification algorithm was not perfect.
In the case of the Prisma application, the situation is somewhat different. The programmers have developed an image processing algorithm based on neural networks. This is why the program allows photo processing with the highest degree of similarity to the works of famous authors.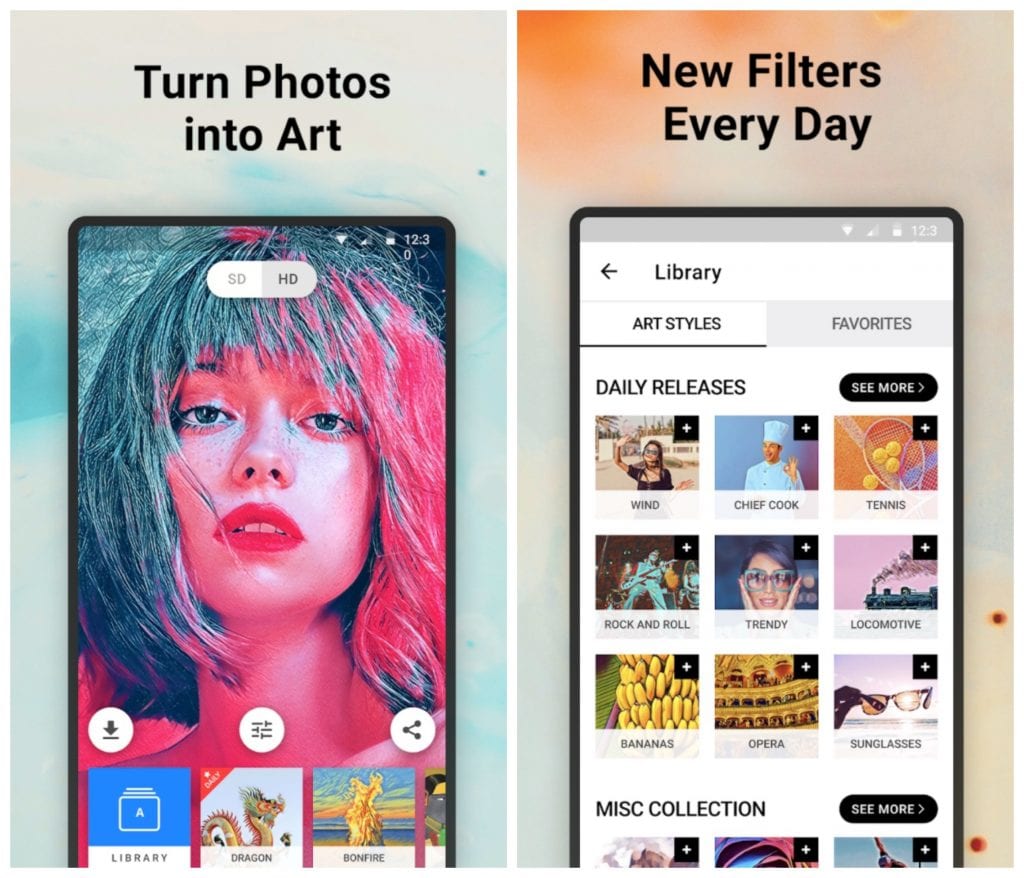 Downloads: 50000000 +
Customers rating:

(4.6 / 5)

Painnt by Moonlighting Apps Spain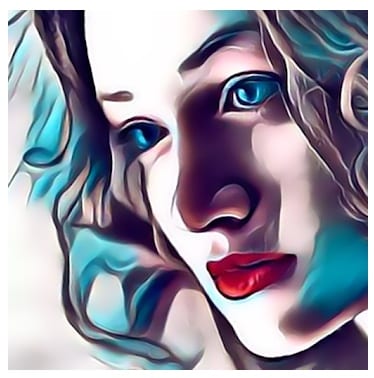 The developers of this application tried to make a worthy competitor to the popular Prisma service, and they succeeded.
Top features of the Painnt app for Android:
The app offers more than 256 different filters, most of which are free of charge. Unlike its main competitor, this application allows filters to be saved on your device for further editing without an Internet connection.
Applying the effect itself is done in a few clicks: select the effect, then the picture (from the gallery).
After applying a filter, the app will start processing, after which a Save or Share button will appear.
Every filter is adjustable to the smallest detail (transparency, brightness, contrast, noise reduction).
A clear advantage of Painnt is the ability to work with photos of any aspect ratio (similar services can apply effects only to square images).
The application allows you to save the processed image in high resolutions, including HD and FullHD.
Painnt – Pro Art Filters is an application for those who like to apply various effects to their photos. A large selection of filters and a news feed are what this program boasts.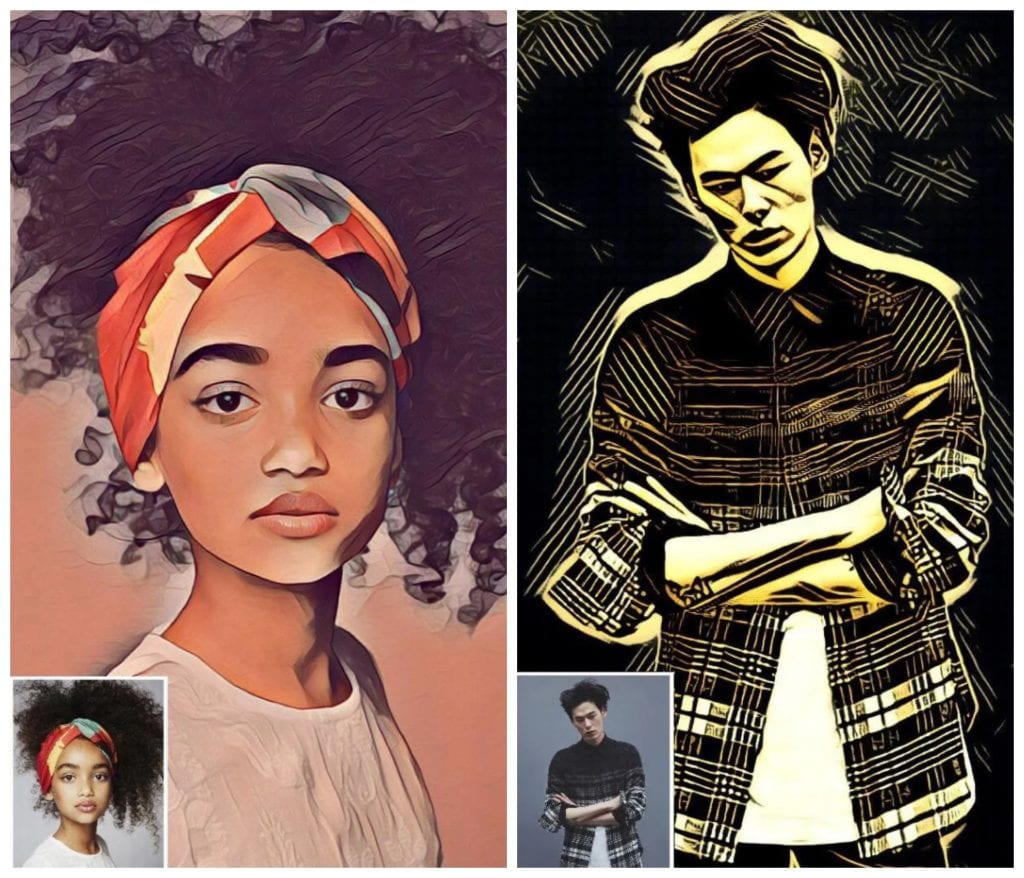 Downloads: 10000000 +
Customers rating:

(4.1 / 5)

MomentCam by Eureka Studios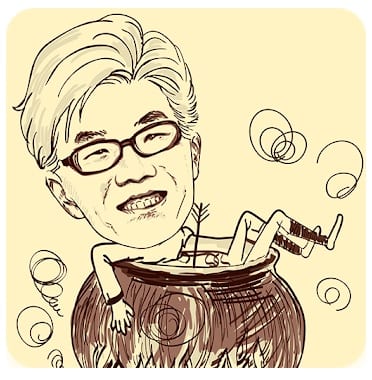 MomentCam Cartoons & Stickers – simply select a photo or any other image from the gallery and let this Android app create a new cartoon.
Top features of the MomentCam app for Android:
Through its editor interface, you can add a beard, hairstyle, hat, glasses, and even a background.
After that, you can easily send your creation to your friends or your social networking page.
With thousands of cartoons added every day, you'll always be able to create the right funny face for the right occasion.
What's more, you can create animated emojis to diversify your communication with your friends.
In addition to all of the above, the app allows you to add text boxes to your photos to include jokes and quotes, change the emotions of the people in the photo (add some sadness, romance and other effects), and enter contests to win prizes simply by posting your cartoons for all to see.
The app comes with a whole host of different options for creating caricatures – surprise your friends and family by doing a parody of their photo!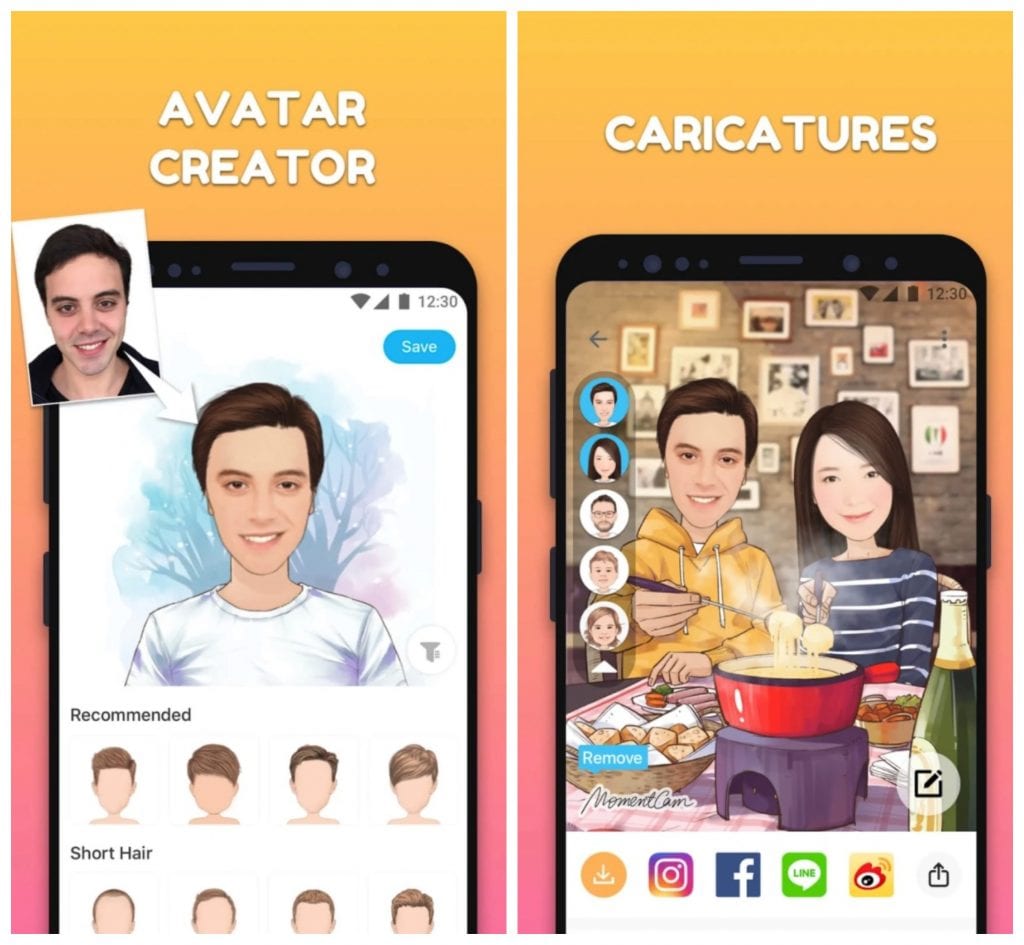 Downloads: 50000000 +
Customers rating:

(4.2 / 5)

You may also like: 15 Best Photo Sharing Apps for Android
TwinFACE by Whipsnake Apps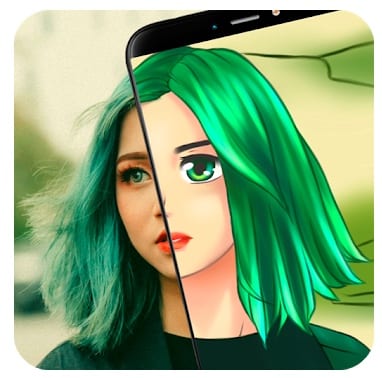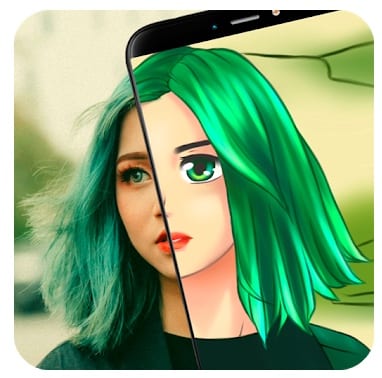 This app will help to make stunning anime out of your photos. Only imagine how you would look like if you were an anime character! A neural network will analyze your selfie and generate a drawing based on it.
Just upload a photo and the magic of machine learning will create a drawing you can share with your friends or… get scared.
This app is an experiment, so some results maybe not ideal, but don't get frustrated and try again. Also, the developers are constantly improving the algorithm.
A little instruction:
Look directly into the camera (with your eyes as open as possible);
Don't let other objects block you;
Note: if you have a beard the app won't work correctly;
There should not be any glaring shadows on the face or on the photo.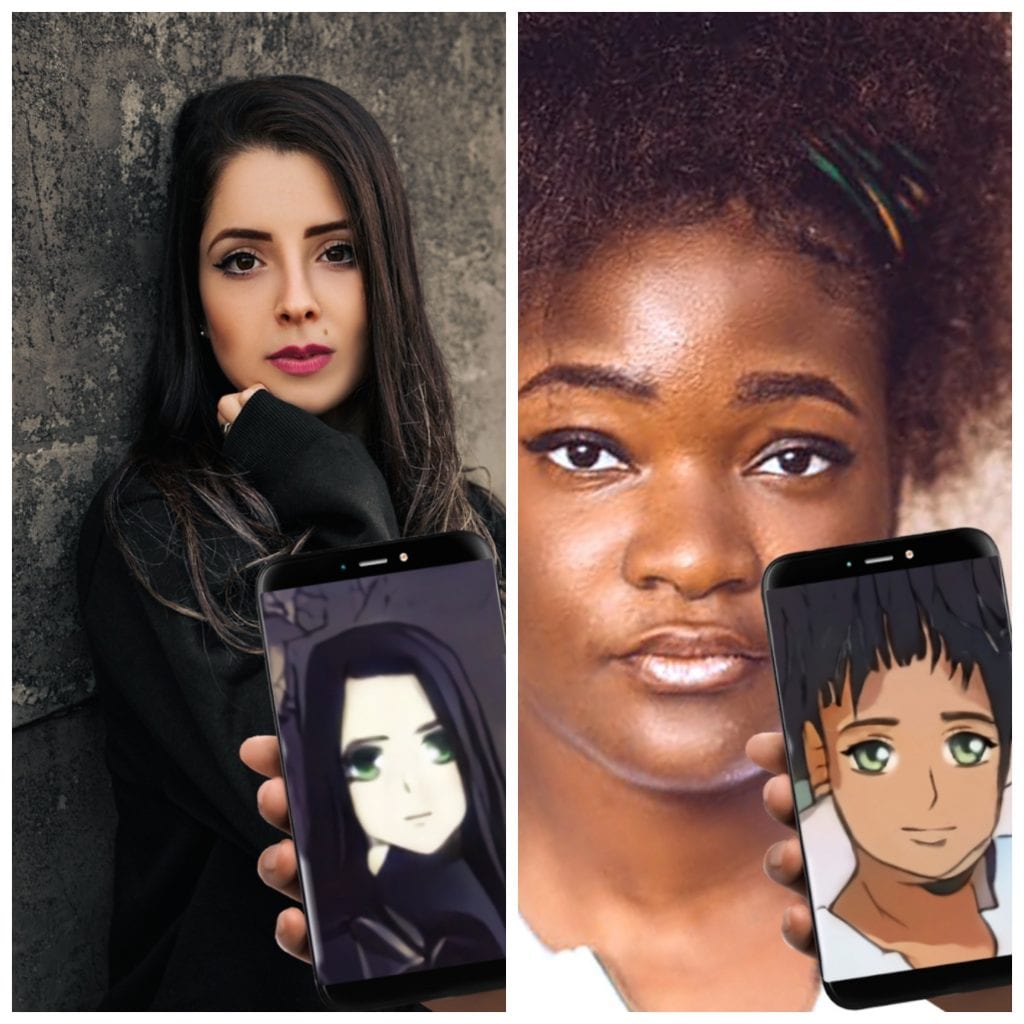 Downloads: 1000000 +
Customers rating:

(2.4 / 5)