If you are searching for a top-grade application that will help you to record and mix audio files, then we have to bring your attention to Audiosdroid Audio Studio.
The application does not take up much storage space, as it weighs just 19M. Thus, there is no need to waste too much time on the installation process!
You may also want to check the best audio filter apps for Android.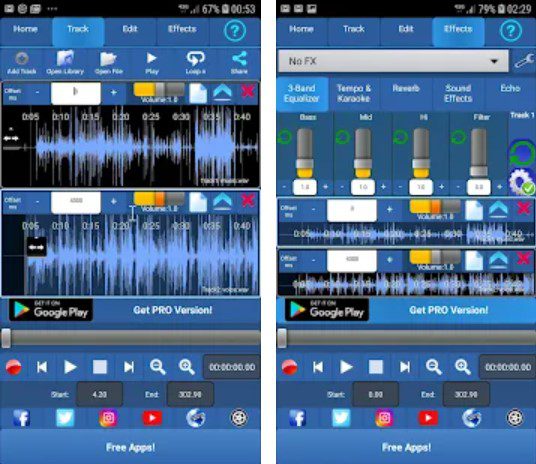 Moving on, in this app, you will find a sound & music recorder, editor, and mixer. So, you can create, edit and mix MP3, MP4, WAV, AAC, OGG, and AMR audio files.
Moreover, you can record sound and mix the recorded audio file with other audio tracks. For this, all you need to do – just import your music and then record your voice over it.
Another interesting feature there – the app allows users to sing karaoke. The only thing you need to do – choose a preferred song, plug in the headphone, start recording and sing. Plus, you can add background sound or music to your voice or any sound.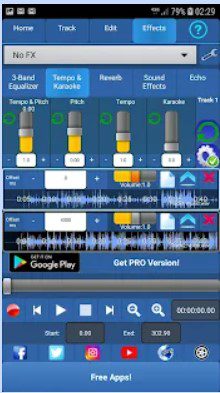 Furthermore, the app offers you to use a time shift tool that enables you to sync your audio recordings and audio tracks.
Audiosdroid Audio Studio comes with a wide range of editing features. If you want, you can cut the audio files and add silence on desired parts. For example, you can also apply sound filters, adjust the tone, use echo effects, and so many other useful things!
When your recorded or mixed audio files will be ready, you can easily share them with social media and email.
What is more, Audiosdroid Audio Studio comes with a quite straightforward interface. Despite a great number of options, the app is very convenient to navigate. So, there is no need to have any professional skills to understand how to use them.
And to boost your music up on your device, you might want to explore this article.
Overall, Audiosdroid Audio Studio is an excellent solution for everyone fond of music. Due to this tool, you will record any sound in a few seconds. Highly recommended!