Are you looking for a new puzzle game? Then, we have good news for you! We have found an entertaining one – Make 64 app. It will ideally suit both children and their parents. So, let's find out why this game is worth trying.
More puzzle games can be found here. 
First of all, we have to mention that there is nothing difficult in this game. After downloading the app, it will show you a quick guide.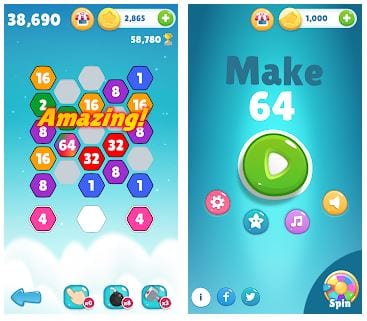 All you need to do – move the numbered blocks on the board and combine 3 or more cells with the same numbers to double them. 64 is the last number. When you get it – the cells will be removed from the board.
Besides, the game offers you to use different boosters – bombs and hammers. While playing, you will obtain coins or you can buy them. These coins will help you to receive more boosters.
Make 64 app provides a wide range of levels – easy, hard, extreme, and challenging. So, you can pick any you like. The app does not need a regular Internet connection. Moreover, when you open the game, you can continue playing at the same moment you stopped.
What is more, on the homepage of the app you will find a fortune wheel – play it every day and get a free prize. Plus, you can customize settings – adjust sound volume, music, and notifications.
Make 64 app does not contain a regular monthly fee, but you can purchase some additional options and switch off advertisements.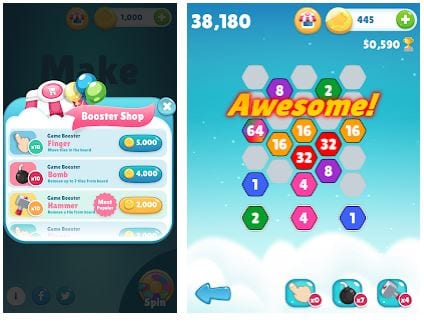 We were pleasantly surprised by its well-designed bright graphics that guarantee convenient navigation. That's why you will quickly find out how everything works there.
Overall, Make 64 app is full of interesting features. It is compatible with IOS and Android. Make 64 app combines logic, puzzle, and number games.
In case you feel like this puzzle game isn't difficult enough, you can also try playing these hardest puzzle games. 
We have played it for days and still can not get enough. So, hurry up to check this variant – it will not leave you indifferent.