Tired of turning your phone sideways every time you want to watch a vid or read an article? Well, it's time to say bye to that needless wrist rotation.
Introducing the best auto-rotate screen apps for Android! These let you fully control screen position and adjust the way your lock screen looks.
These will make your life so much easier and your wrist so much happier. No more manually adjusting your phone's screen orientation, just sit back and let the apps do the work for you. Let's dive in!
Rotation Control
Tired of your phone constantly flipping between portrait and landscape mode? This app can help. This handy app lets you easily control your screen orientation from the notification area. And if you're tired of other apps taking control and turning your phone upside down, you can use the Guard mode to prevent them from interfering.
But what really sets it apart is its scope of rotation modes. You can pick from autorotation, portrait mode, landscape mode, and even sensor-based modes that adapt to your physical movements. Thus, you'll never have to hold your phone at a weird angle just to check your messages.
And let's not forget about the portrait and landscape modes that are perfect for those of you who prefer to hold your phone upside down. We won't judge!
Overall, the app is a treat when it comes to managing your screen orientation. So why not take control of your phone today and say bye to accidental flips? Above all, it won't cost you a single dime and the ads are fully bearable.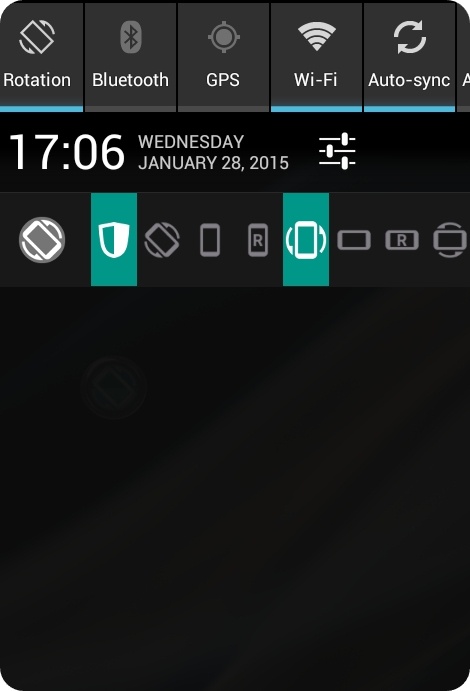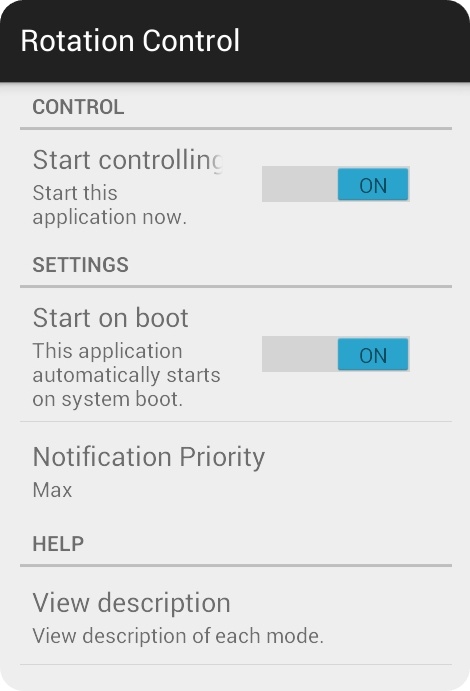 Downloads: 10M+
Customers rating:

(4.1 / 5)

You may also like: 7 Best Scrolling Screenshots Apps
control screen rotation
This app is here to ensure you don't have to adjust screen orientation all the time. It's rich in functions and incredibly versatile. The UI is incredibly easy, so even if you're not tech-savvy, you'll quickly figure it out. It doesn't interfere with the way your phone works, too.
With just a tap from a notification bar, you can prevent screen autorotation and pick the ideal orientation for any app. Whether you're watching a movie in landscape mode or browsing IG in portrait mode, this app has got you covered.
But that's not all. The app also covers a variety of advanced orientation options, including reverse landscape and reverse portrait ones, as well as sensor mode for the more technically inclined users.
And don't worry about compatibility issues – while some screen orientations may not be available on certain devices, this app works seamlessly with most smartphones and tablets. Overall, the app is a gem for anyone who wants to take control of screen orientation. Say bye to awkward phone positions and hello to personalized viewing options.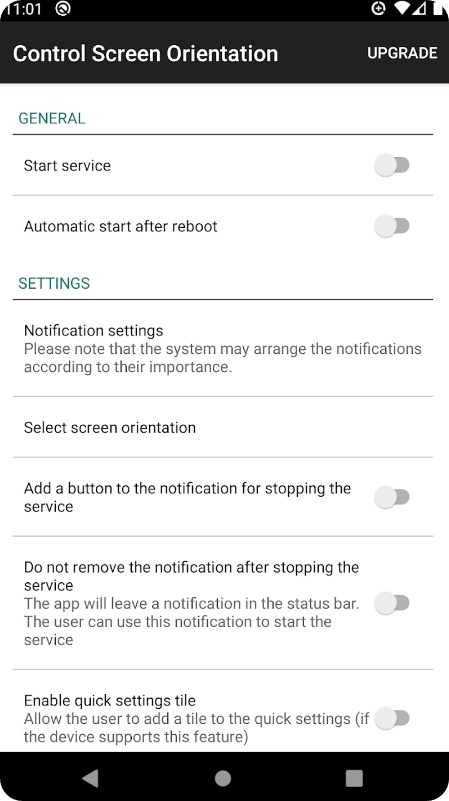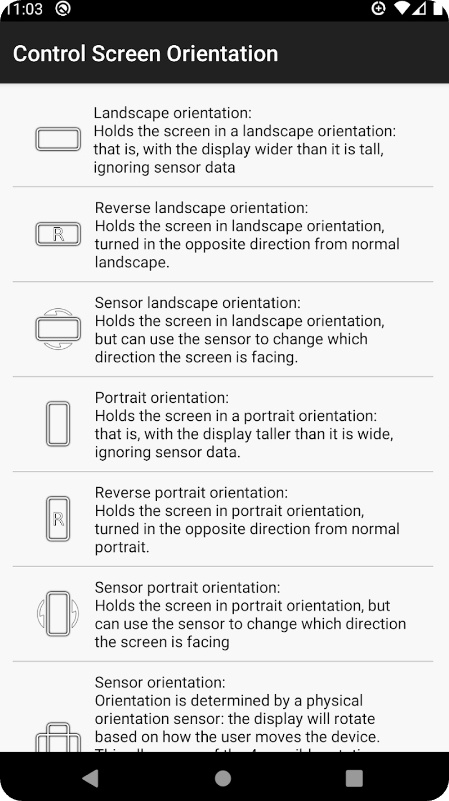 Downloads: 5M+
Customers rating:

(4.1 / 5)

Screen Rotation Control
Fed up by the need to constantly tilt your phone to get the right view? Give this app a try, then! It gives you full control over the orientation of your screen, letting you switch between standard and reverse modes with ease.
And if you're feeling indecisive, no worries, just stick to autorotation and let the app do the work for you. Plus, it works on all apps and games, so you never have to worry about pixels going rogue. It doesn't cause any glitches, too, which is good to know.
But be warned, some specific apps may not obey the portrait/landscape setting, so you may have to tilt your phone like a caveman for those. And for all you tech-savvy folks out there, the app even optimizes for Gingerbread (2.3) and up, meaning you'll get the smoothest screen rotation experience possible.
Unfortunately, 2.2 and below do not support reverse vertical and reverse horizontal direction, but let's be real, who still uses it anyway? No more pesky tilting, just sit back, relax, and enjoy your screen in any form you desire.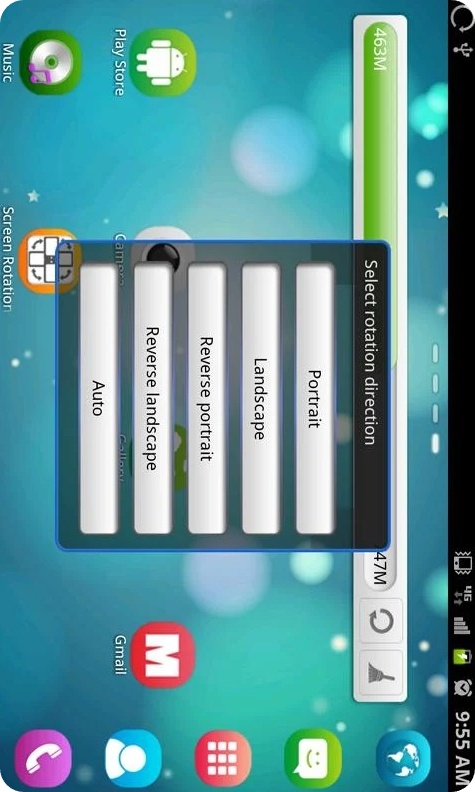 Downloads: 5M+
Customers rating:

(3.7 / 5)

Screen Orientation Control
Tired of getting a neck cramp from constantly tilting your phone to view content in portrait or landscape mode? This nifty tool lets you take full control of orientation, regardless of the app's attributes.
You can fix it in a specific orientation or let the sensor rotate it for you. Plus, setting it for certain apps has never been easier – no more flipping it back and forth while you try to watch a vid or play a game. The app will take care of everything you may need.
Nevertheless, this app does have the potential to cause some issues, like making running apps inoperable or even crashing your phone. So, as the developers warn, use at your own risk and don't come crying to them if things go awry.
But if used carefully, the app can be a game-changer. It works by displaying a transparent, untouchable UI layer above other apps, giving it higher priority in the OS. And even when you close the app, it remains resident in the bg, displaying the UI in your notification bar.
Of course, there are some restrictions. The notification bar cannot be hidden, and the app may be detected as one that induces unauthorized operations. Plus, using it with other apps that display overlays can cause conflicts.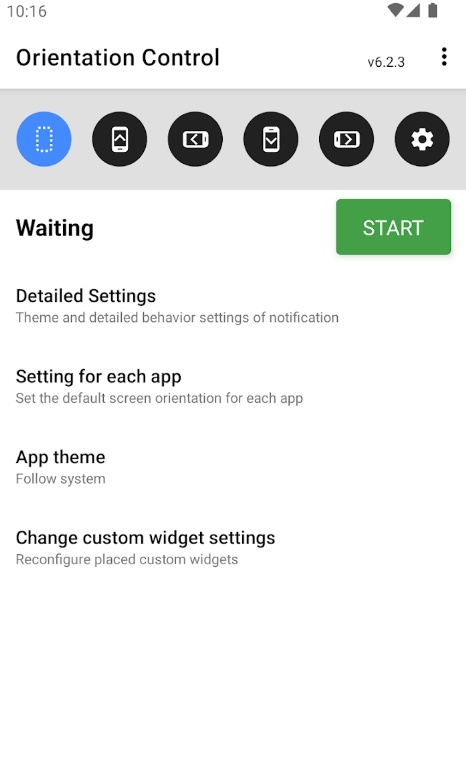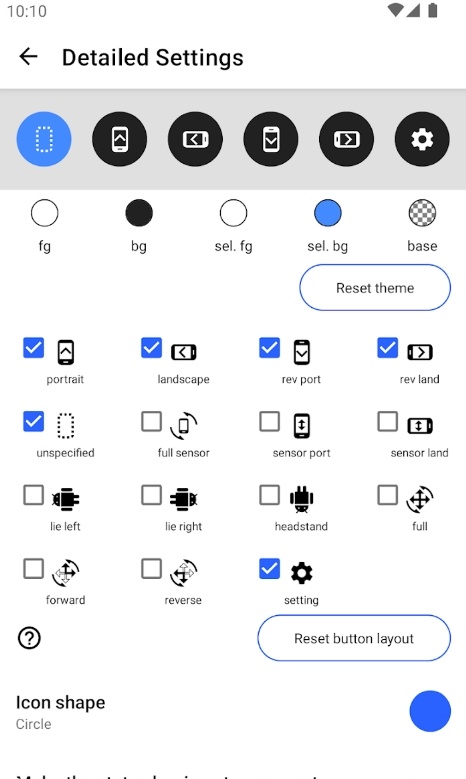 Downloads: 1M+
Customers rating:

(4 / 5)

Check also: 9 Best Always ON Display Apps
Rotation
This nifty tool grants you the power to effortlessly command your screen orientation. With a multitude of modes, you can adjust it based on your prefs for diverse apps or events like calls, locks, headsets, and all that.
The app covers a plethora of orientations, from auto-rotate on/off to forced, reverse, and sensor modes. There's even an option to lock your orientation. It's like a pocket-sized acrobat for your screen!
Not only can you personalize the app according to specific conditions, but you can also switch the orientation of the foreground app or events with a fully adjustable floating head, notification, or tile. Talk about convenience!
But hold on, the tools keep coming! This app boasts a dynamic theme engine that ensures flawless visibility. And as if that wasn't enough, it even has vibration and settings to alert you whenever a change has been made.
And for those seeking smth even more high-tech, the app has an extension to automate over 40 actions via a tasker plugin. It's like having your very own tech-savvy assistant. The app is intuitive, and comprehensive, and will make your user exp smoother than silk.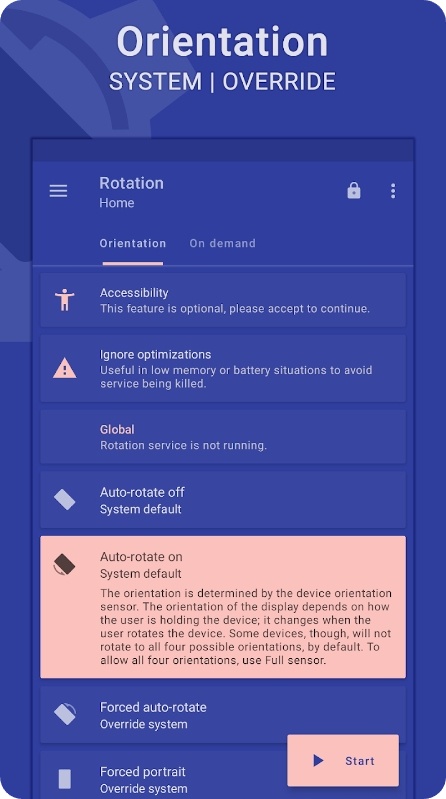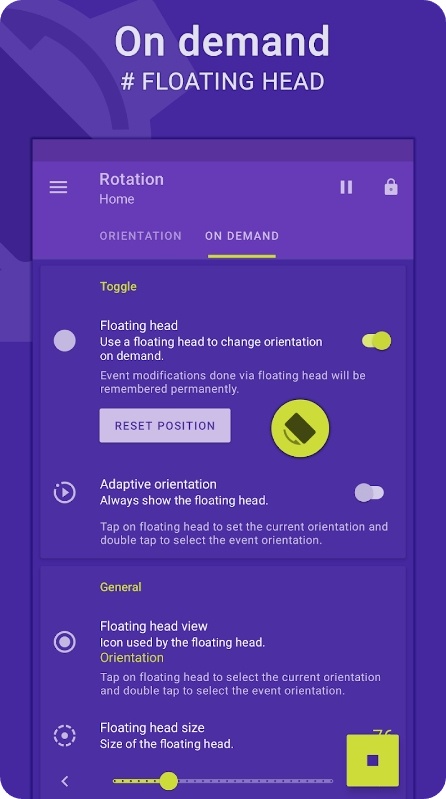 Downloads: 500K+
Customers rating:

(3.9 / 5)

Screen Rotation Control Ultima
This app is here to end the struggles of your phone constantly flipping around like a fish out of water. This app gives you full control over screen orientation, from all angles, with just a few simple clicks.
The best part? You don't have to be a tech-savvy genius to use it. The app takes the guesswork out of adjusting your screen. Simply alter the settings according to your prefs, it's that easy!
One of the things we love about this one is how versatile it is. You can control the orientation from the notification bar and even configure diverse rotations for each individual app. Talk about high-tech customization! And if you're a fan of automation, fear not. The automatic orientation switching is here as well.
All those awkward moments where your phone flips upside down in the middle of a video call? A thing of the past. But what really sets it apart is the ability to lock your screen into any position. No more accidental flips and flops or any other inconveniences. We highly recommend it to anyone who struggles with screen rotation issues.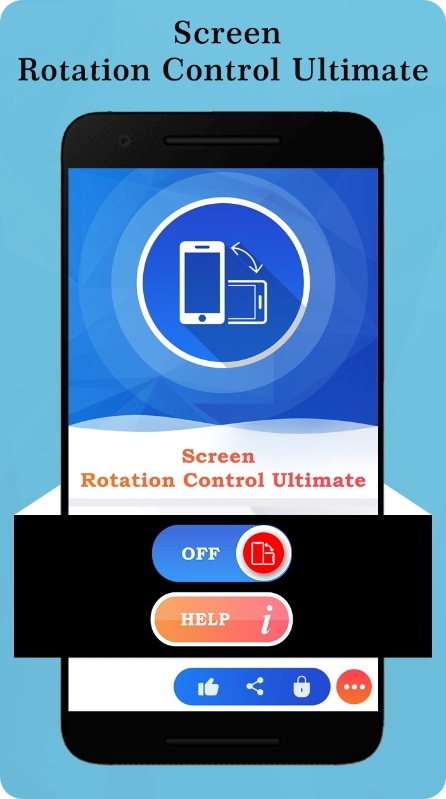 Downloads: 100K+

You may also check: 15 Best Screen Saver Apps
Rotation Control
Lastly, we have an app that lets you conveniently manage your screen position. This app makes it easy to set your device's screen to portrait or landscape with just a few taps in the notification area.
What's even better is that it lets you associate specific apps with a particular screen position. So if you have a fave game that you enjoy playing in landscape mode, you can easily configure the app to automatically switch to that position when you open it.
It also covers an auto-rotate option that uses the device's sensor to flip the screen based on its orientation. This is ideal for those who like to switch it up between portrait and landscape modes while using their phone in bed or on the couch.
While not all screen positions are supported on all devices, the app clearly indicates which options that will work for your specific one. While the app does forcibly change the display of running apps, in our exp it hasn't caused any major issues or crashes. The ads are there, but they won't bother you too much.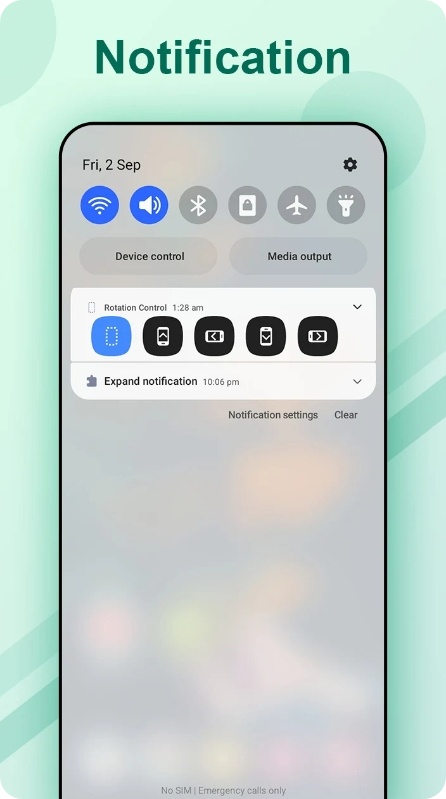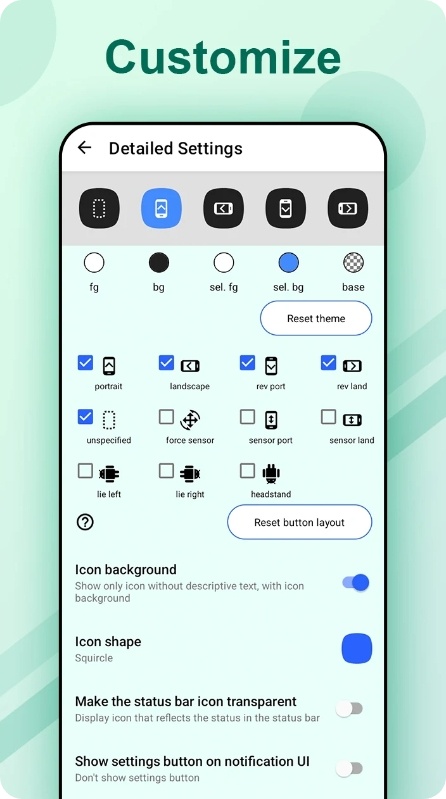 Downloads: 100K+