In the racing games, we are looking for emotions and tensions when two rivals are driving at a speed of 200 km/h without brakes and with a goal to win.
It is much better when you can feel this on your phone with a special controller to have a better experience and this list is going to help to find your type of game. Discover the best Android racing games with controller support down below.
More games with controller support can be discovered here.
Real Racing 3
Real Racing 3 is probably one of the most recognizable racing games, since the game itself is widely known on the Play Market, and is one of the most successful in this genre.

Many people note that it has those qualities that are often not found in other games of this genre. Real Racing 3 cab brag about a large number of cars and various modifications for them, starting with internal accelerators, and ending with external indicators.

In addition, the game has advanced graphics that are well optimized and it also means you will need more or less powerful hardware to run it.
However, the game also has its drawbacks. It takes up quite a lot of space on the phone and it also has a huge number of in-game purchases. This can be explained by the fact that the publisher of the game is Electronic Arts.

Additionally, after the last update, the game has become slower and moreover, it suddenly started having issues with freezing.
Despite all the facts mentioned above, Real Racing 3 is a great example of how to make a real simulator of real sports racing, and it is for this that the game is in the top sales. By the way, it should be noted that you can play this game with the controller.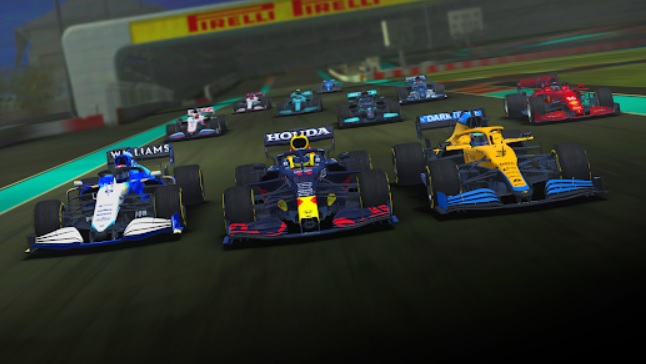 Downloads: 10 000 000 +

Customers rating:

(4.4 / 5)

You may also like: 21 Free Offline Action Games for Android
Need For Speed Most Wanted 2012
A fairly popular series of games about street racing, but unfortunately, this game is not a legendary Most Wanted 2005, but a copy of the poorly accepted Most Wanted 2012. Does this mean that the game is terrible? No, it doesn't and there are several reasons for that.
First of all, the game is completely modified. If in the PC version there was a huge number of bugs and shortcomings, then android's version of the game became more enjoyable because of fixes.

For example, a bug that was known in the PC version when a car could be destroyed immediately by simply touching some easily breaking objects. Now in the app version of the game, the developers took care of it.
Secondly, the game is pleasant to the eye externally and technically. Moreover, the external effects of the game have become more noticeable, such as wheel smoke, sparks from collisions, etc. and this fact is a serious step forward.

Unlike many other versions of Need For Speed, many players note that the game is better optimized for mobile devices. Unfortunately, as mentioned earlier, the game also has disadvantages. The most critical moment is that the game is stagnated.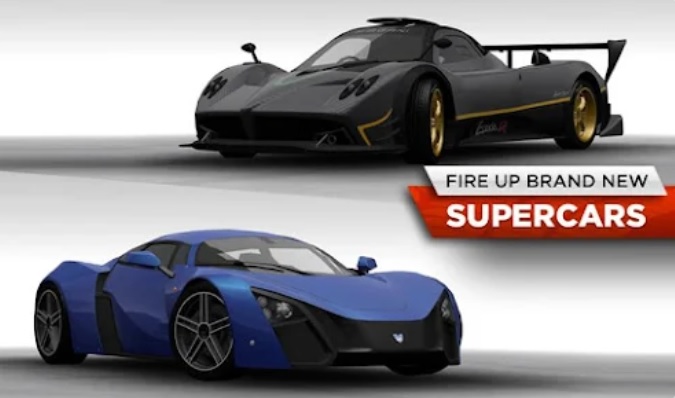 Downloads: 1 000 000 +

Customers rating:

(4.2 / 5)

Table Top Racing
This is a paid game and more casual than previous games on the list. Nevertheless, this is the main reason why the game is unbelievably popular. The game has its unique mechanics, which others don't have. There are several reasons, but only two of them are major ones.
First of all, the game is colorful and pleasant to the eye. In comparison with other games with an atmosphere of gloom, the Table Top Racing has an atmosphere of positiveness. Moreover, the game does not try to be difficult, but rather even funny.

This is facilitated by the fact that the action of the game takes place not on dark streets or race tracks, but on the tables which are full of snacks and drinks.
Secondly, the cars in the game are also just toys, but it doesn't mean that there are not enough cars. The game has one of the hugest fleets in the history of games, which could be differently modified by your wish.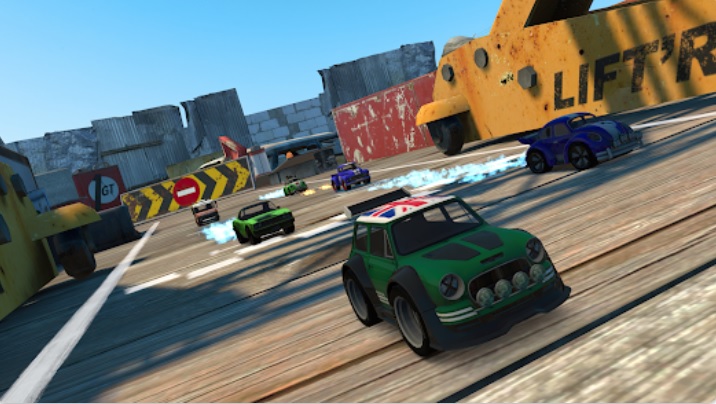 Downloads: 1000 +

Customers rating:

(3.7 / 5)

Asphalt 8
Asphalt 8 is the benchmark of racing games for android. The entire Asphalt series, since its appearance has made a splash and revolutionized the genre of racing in mobile gaming.

This game has huge popularity, as well as a lot of positive reviews. And what is better you can play Asphalt 8 with the controller as well!
Asphalt 8 in many ways has laudatory reviews that describe advanced graphics with good optimization. According to the reviews, even on older phones, the game works without any delays.

The engine of the game is unique because it gives an improved quality of special effects, from sparks in collisions to sunlight and blurring.
Finally, there are also many new gameplay innovations in the game. These are new modes, tracks, a competition system, and most importantly, the presence of a huge fleet for every taste and color.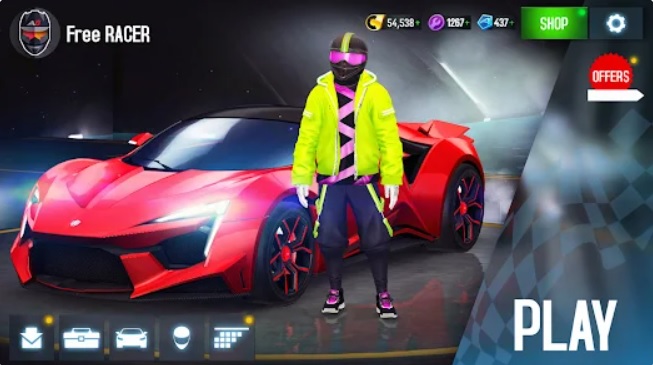 Downloads: 100000000 +

Customers rating:

(4.5 / 5)

Torque Burnout
Torque Burnout, this series of games at one time set the trends due to its universal graphics and gameplay features at that time.

Unfortunately, that version was on PC, and the features of Torque Burnout on android platforms are not that you will have to go on different tracks, but that you will have to drift and become the king of drift among the players.

By the way, this gives a reason to think about acquiring a controller, because it makes it easier to do drift.
Torque Burnout tries to keep the level between realism and casualness. Cars in this game are not invulnerable and parts of wheels and engines can burn during the game. This is not an attempt to make the game difficult, but a gameplay feature that made this game one of the most popular.
If we talk about the pros separately, then all players supported two features of the game, namely the giant automobile industry, where you can meet not only foreign modern cars but even quite domestic types of cars. Another reason is the graphic which is amazing for mobile games.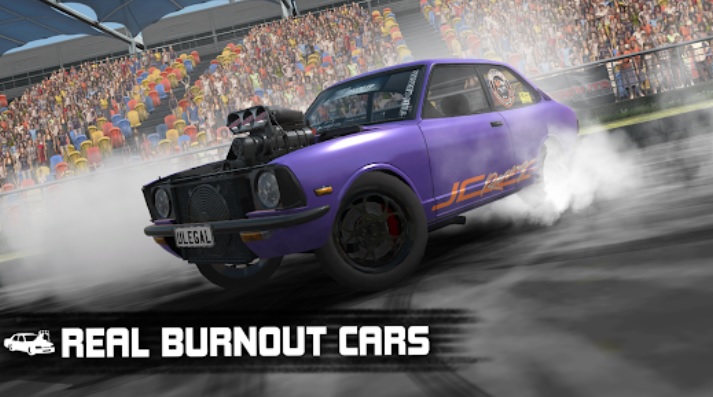 Downloads: 10000000 +

Customers rating:

(4.2 / 5)

CarX Drift Racing 2
CarX Drift Racing 2 the game is again about drift racing, but the difference with the previous one is that CarX Drift Racing 2 offers you not tracks, which are made of old barrels and bricks, but real kilometer highways. These are made for the impressive drifting!
Players note such mechanics as a huge number of unique modifications to cars and a rich selection of cars.
In addition to the advantages, we can note good graphics and, very importantly, sound effects. Each car has its unique engine sounds and even wheels, which can't be found in every game. Moreover, the game has a huge number of unique trails with different natural conditions.
However, it is worth saying in advance that it is better to play the game with a special gamepad since it is almost impossible to make unique drifts taking into account the controls in this game.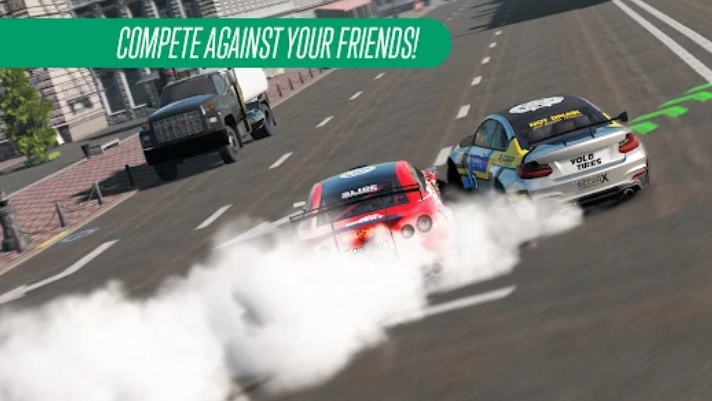 Downloads: 10000000 +

Customers rating:

(4.5 / 5)
You may also like: 40 Free offline Android games

NETFLIX Asphalt XTreme
Asphalt XTreme is one of the parts of Asphalt games, but this part is not like others due to not the simplified access to the gamepad on the phone. It is caused by the fact that you will have to drive on impassable roads by using special upgrades for your car to become a champion.
It is also necessary to point out, that in comparison with other series of the game, NEXTFLIX Asphalt XTreme has an important law – no rules. Is your opponent trying to overtake you?
Well, then smash him like a tin can, but don't try to do this trick with trucks or we will have to scrape you off the asphalt.
It is better to warn you that different traces will require special skills and cars. It means that you won't drive the sports car through the forest jungle. It is better to look for special transport like baggy or jeep, which will easily through all the hardships of such a road pass.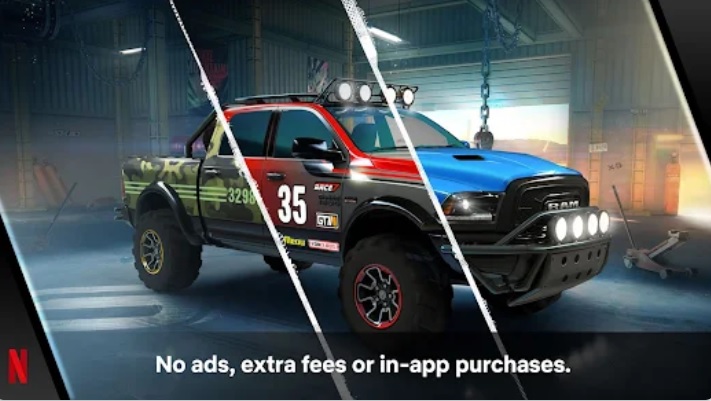 Downloads: 1000000 +

Customers rating:

(4.1 / 5)

Traffic Rider
Traffic Rider is another racing game, but with its view about sports racing because it offers you to drive on motorcycle what is the main difference, in comparison with other examples of this genre.
Meanwhile, the level of difficulty has been doubled by adding an uncountable number of cars that force you to be careful, and a timer that tells you to ride faster. Consequently, you will have to hold the balance between speed and accuracy.
However, many players, despite the complexity of the game, noted that the Traffic Rider is very addictive. This is because different motorcycles behave themselves differently, and each of them requires a unique approach.
In addition, the game creates an aesthetic tension, what is because there is little time to get to the finish, and the finish is far away, additionally, the roads which are full of cars.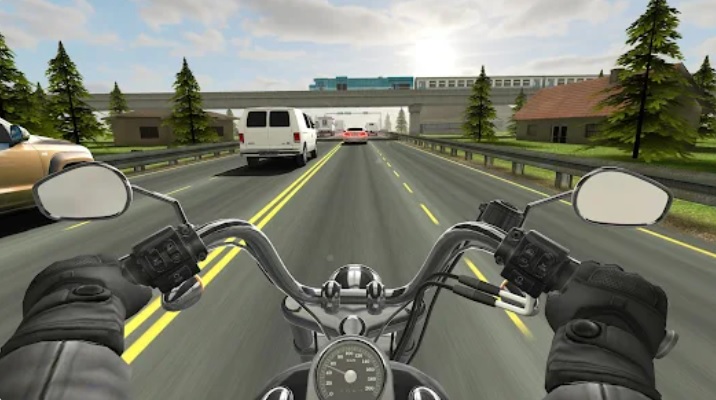 Downloads: 100 000 000 +

Customers rating:

(4.3 / 5)

Gear.Club – True Racin
It should be worth mentioning right away that the main feature of the game is the possibility to open various modifications and improvements to cars here by creating your auto repair shop and garage. After a couple of hours of play, it will be filled with a huge number of unique sports cars.
This creates additional motivation for gamers because to win you need not just a new and fast car, but also essential upgrades, which will be available only after a few hours of the process.
Everyone notes that the game, even though it is for Android devices, has advanced graphics and support on the gamepad, which is certainly a bonus.
In addition, you need to take into account the fact that Gear Club has a time-rewinding system that is available to you in the game.
As a final bonus, this is the presence of a number of huge and unique tracks that will not leave you indifferent. Did we tell you that playing this with a controller is a separate kind of pleasure? Well, then just try it.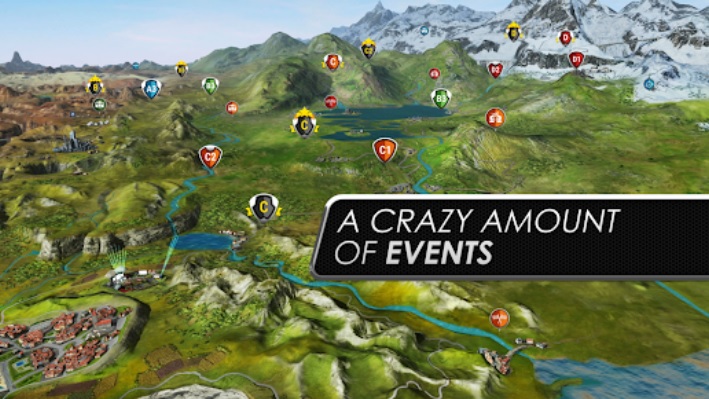 Downloads: 5 000 000 +

Customers rating:

(4.4 / 5)

Real Rally: Drift & Rally Race
Be ready to take a part in a wild and mind-blowing rally!
This time sucker is not particularly popular, even though it offers a big variety of modes, from the most common rally races to drifts. The game has serious potential in the field of rally-type racing, which means an abundance of cars of this type.
Unfortunately, there are no other types of sports cars in Real Rally that could also participate in racing. Thanks to the gamepad, the feeling of dirt roads becomes even more real.
In addition, the game has unique and good graphics, here you can note the glare from the sun and the effects on the roads, by the type of dirt and dust, which makes the immersion effect even more pleasant.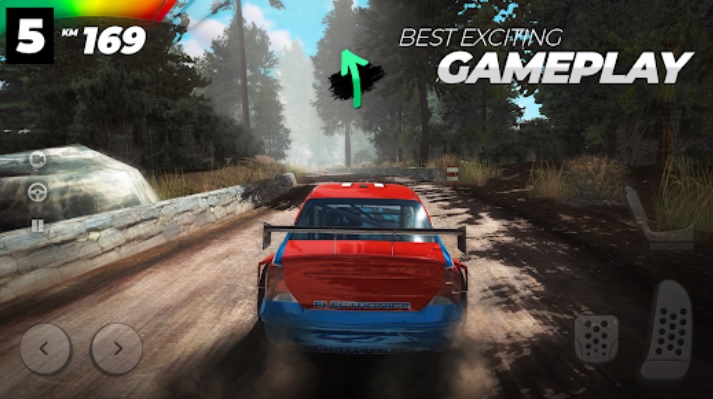 Downloads: 1 000 000 +

Customers rating:

(4.2 / 5)

You may also like: 15 Best Local WiFi Multiplayer Games
Rebel Racing
Rebel Racing is the final point of our list because the game is a unique mix of all the games which were listed. In case you haven't found what you were looking for, we suggest you to try this one more option, and maybe your heart will skip a beat?
It's worth starting with the fact that the game has a huge number of modes, from sports racing on long tracks, on off-road and dirt traces on special cars.
Some of these cars can be adapted for different situations and types of traces, from sports vehicles to buggies, which are good in sand and swamps.
Rebel Racing also keeps up with its competitors in terms of graphics and parallel optimization, which is quite important to consider. It is obvious that it is a little lagged, but no doubt that the Rebel Racing will catch up with its opponents.
The only drawback is that the races are quite short and it is impossible to enjoy the race to the fullest. On another hand, it makes the game more comfortable cause you won't have to sit in one place for ten or fifty minutes to finish only one race.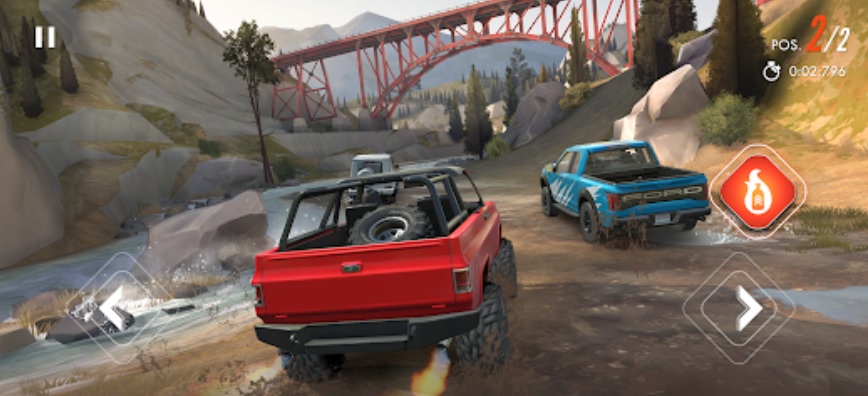 Downloads: 10 000 000 +

Customers rating:

(4.5 / 5)