It's fine to play a mobile game after a long stressful day, but it's even more fun to combine fun and something beneficial together. In the following article, you will find the best coding games that will test your mathematical, logical and strategic skills.
By the way, you can also play multiplayer horror games. Have fun together with your friends and players from all over the world!
Human Resource Machine
Searching for games to this article I found this game with an antiutopian plot that will blow your mind.
Main features:
several levels, each of which requires the player to automate a particular task
straightforward aesthetics with blocky characters and a color scheme reminiscent of vintage computer interfaces
audio that gives a peaceful atmosphere
These jobs might be anything from programming a robotic arm to assemble a tower of boxes to sorting incoming mail. As players advance through the game, the game gradually exposes programming concepts like loops, conditions, and variables, allowing them to expand their expertise.
The player character's boss, who assigns the player to increasingly difficult tasks, and a helpful HR representative who offers guidance and support are among the game's eccentric office staff.
One of the game's benefits is its capacity to instruct programming concepts in an entertaining and comprehensible manner. The drag-and-drop interface allows players to experiment with programming ideas without having any prior programming skills.
Thanks to the game's gradual introduction of new concepts, players can develop their skills at their own pace.
I'm not a programmer enthusiast, so it was too difficult for me to deal with the puzzles. But it was an interesting experience.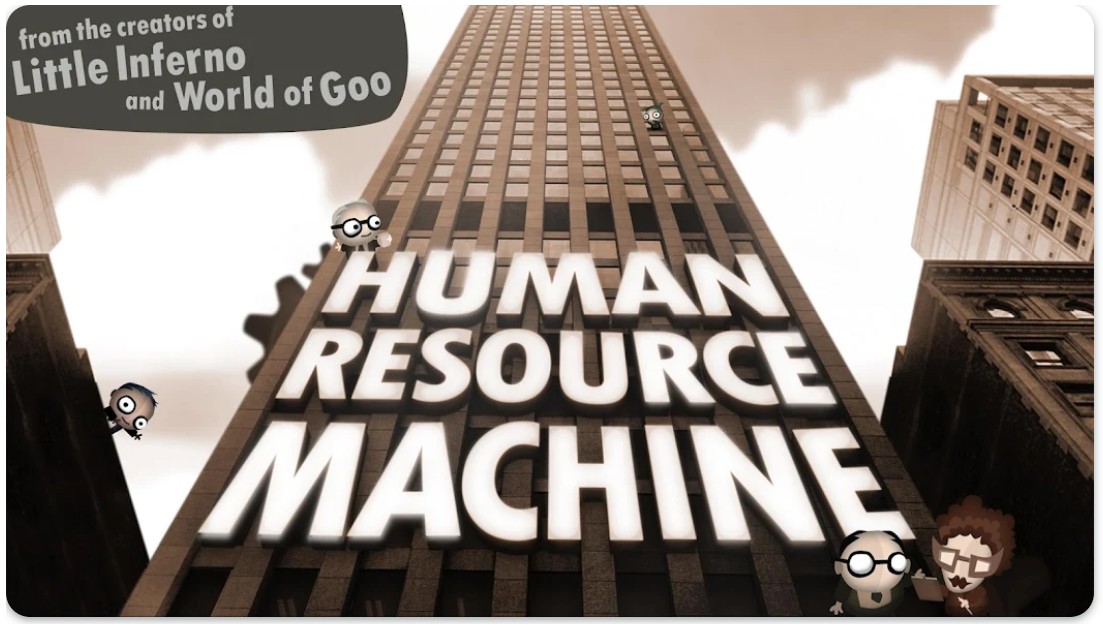 Downloads: 50 000+
Customers rating:

(4.2 / 5)

You may also like: 15 All FNAF Games for Android
while True: learn()
And one more about coding, machines, AI, and… cat. The game that I have found is about a programmer's cat and how can you understand it.
The game's goal is to introduce players to programming ideas playfully and interestingly. The player must use basic programming ideas to complete the game's challenges.
To solve the game's increasingly challenging puzzles, the user needs to use a variety of programming concepts, including loops, conditional statements, and variables. Players can experiment with different programming concepts and create their challenges in the game's sandbox mode.
The main features of the game include a simple drag-and-drop interface, a wide range of programming concepts, and a challenging set of puzzles. The game has many characters, including robots, aliens, and other creatures, which adds to its attractiveness overall.
This game has excellent visuals, with vivid colors and intricate character models. Both youngsters and adults will enjoy the game's endearing and whimsical aesthetic.
To my opinion, it is a good way to show kids the basic rules of coding. This game must be useful for schools to introduce children to IT.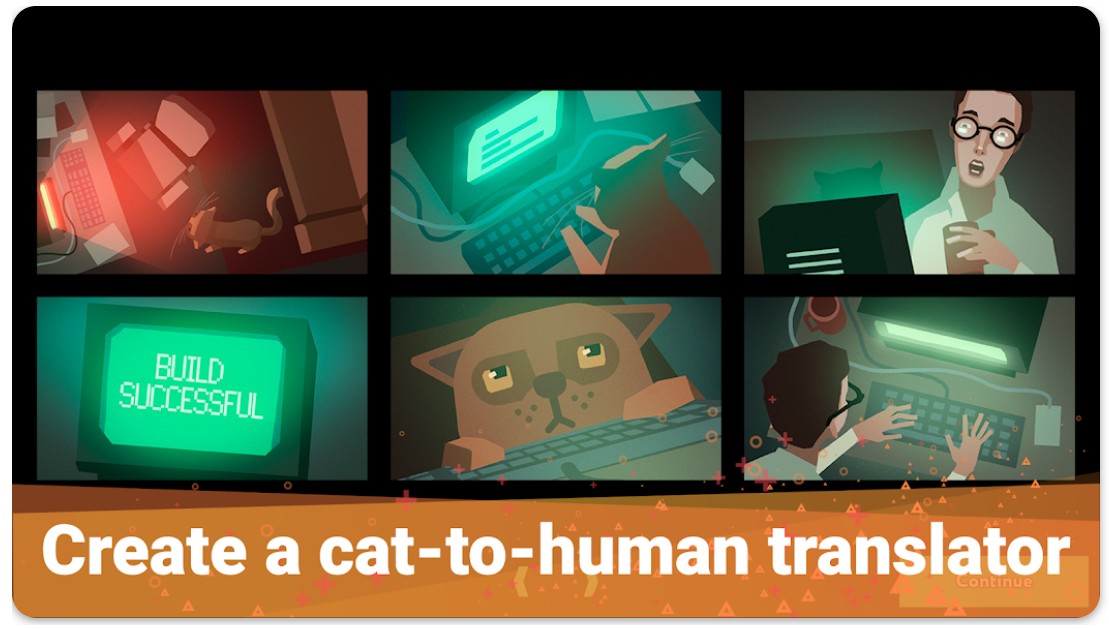 Downloads: 10 000+
Customers rating:

(4.9 / 5)

Code Kart
Also, this is a game that helps to grow up IT generation. It is convenient for little kids, that are interested in computers. Baby Coding is a game made to teach the fundamentals of programming to toddlers and younger kids.
Through the game, kids may learn the basics of coding, such as sequencing, loops, and conditional statements, in a fun and interesting way. The game requires you to use basic coding concepts to program a character to move and do tasks as you answer a series of questions.
The app's graphic design and user-friendly interface make it simple for younger kids to understand the coding ideas it introduces.
A simple and user-friendly interface, a wide variety of puzzles that get harder with time, and the option to track and save progress are just a few of the game's important features. The game's vibrant palette and animated characters will appeal to kids.
The graphics on Baby Coding are excellently done and appealing to young children. The app uses cheerful hues and charming characters to create an enjoyable learning experience. The game's nice and sympathetic characters help to keep kids interested and motivated.
A variety of characters, such as a robot, a dinosaur, and a unicorn, are present in the game. The personalities and skills of each character vary, which heightens the pleasure and intrigue of the game.
The program may not be tough enough for older kids or anyone with more experienced coding skills and also, and it seems too simple for me. But anyway, it is a good option to teach your kids easily.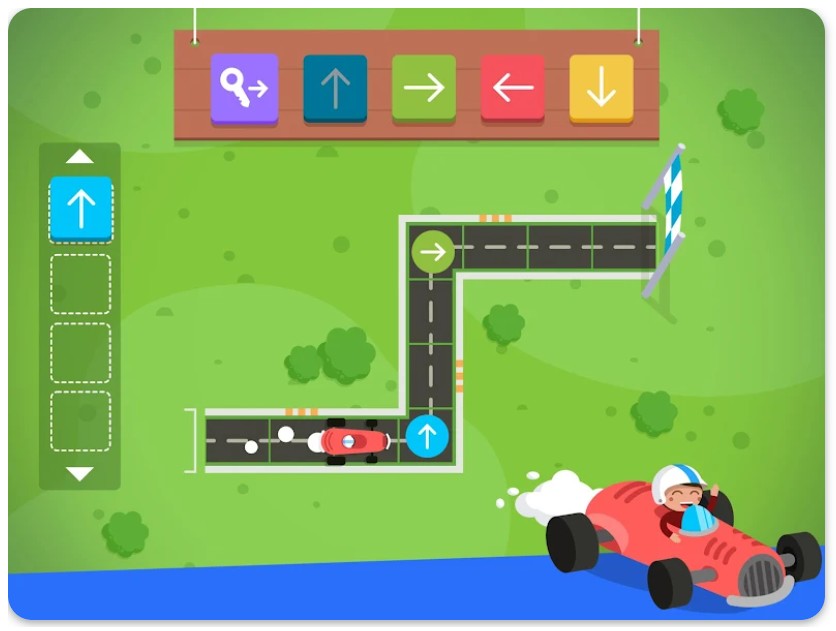 Downloads: 100 000+
Customers rating:

(4.1 / 5)

Mekorama
I saw this game on my recommendation list and decided to give it a try. This easy puzzle game was exactly what I had been looking for.
Main features:
Relaxing gameplay
Charming robots
Collectible level cards
Diorama maker
Small install size
You play as a small robot in the game, controlling it to solve several 3D puzzles. To go to a set destination, the robot must pass through a variety of obstacles.
Among the game's 50 levels, which have varying degrees of difficulty, players can create and share their levels. The game also includes a built-in level editor, which raises its potential for replayability.
The game's space is seen in 3D top-down, and the graphics are simple but captivating. The game has a pleasing look due to its vivid colors and meticulously drawn surroundings. The game's soundtrack is excellent and improves the overall experience.
This easy game annoys me too fast, but giving it a try was a good decision. I recommend it to play during waiting for something but no more.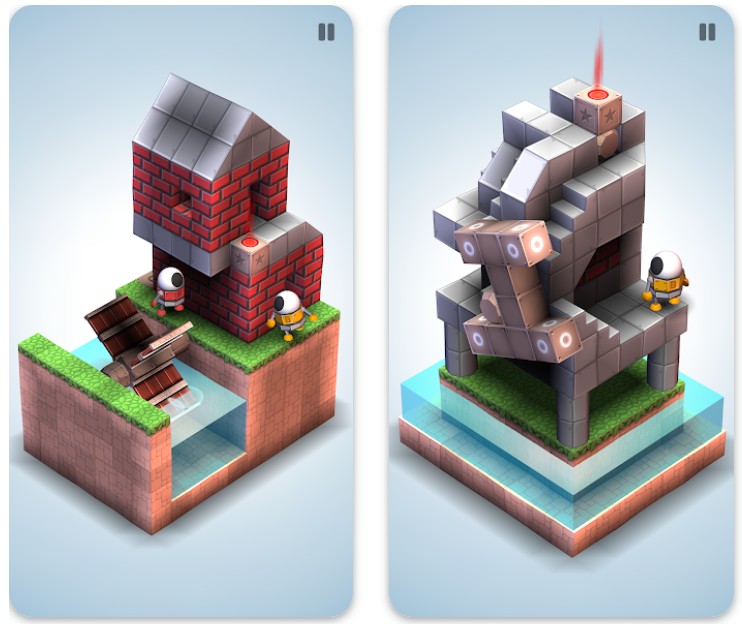 Downloads: 10 000 000+
Customers rating:

(4.3 / 5)

hocus.
One more game I just discovered is Hocus.
Features:
NO ads
120 mind-bending levels
you can create and share your levels as a card or code
Relaxing music & sounds
Endless mode
Shortest path algorithm
Hocus promotes the growth of critical thinking and logical reasoning, two skills that are essential for programming even if it does not explicitly teach programming skills. The player must manipulate numerous objects and forms precisely to solve the game's puzzles. The player must utilize their creativity and come up with strategies to tackle each puzzle.
As the player progresses through the stages, the difficulties become harder from an easy starting point. Using the game's level editor, players can create their puzzles and share them with other players.
Hocus' designs are plain and sophisticated, with a black-and-white layout and crisp lines. The simplistic design of the game enhances the gameplay and overall gaming experience.
The aesthetics' deliberate lack of color and depth lets the player concentrate on the game's puzzle-solving component.
I don't like the game's annoyingly difficult sections that can often make it impossible to finish a level, but this is also a draw of the game, and beating a challenging level gives me a satisfying sense of accomplishment.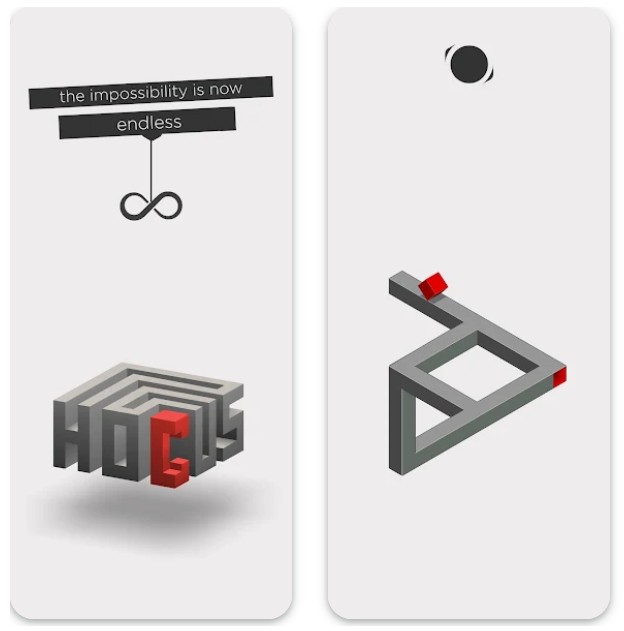 Downloads: 10 000 000+
Customers rating:

(4.8 / 5)

You may also like: 11 Best Word Games Without Ads for Android
Infinity Loop
This minimalist game that I have just found may be suitable for you.
The game consists of more than 300 stages, each of which becomes more difficult as players move forward. Players must connect each line on the screen without allowing them to overlap or cross to win the game.
The game is simple to learn yet difficult to master, so players will need to utilize their imagination and intellect to solve the riddles.
The geometric shapes and monochromatic color scheme of the graphics, which are simple yet appealing, add to the minimalist appearance of the game. The game's soundtrack has a meditative and calming aspect that encourages players to focus on their current tasks.
Despite the absence of characters, the game requires players to handle a variety of different lines, dots, and shapes to complete the puzzles. The activity is fun for participants of all ages and a wonderful way to squander time while honing critical problem-solving abilities.
This is a good choice to relax after a tiring day. But one day it might annoy you because of this infinite quantity of levels.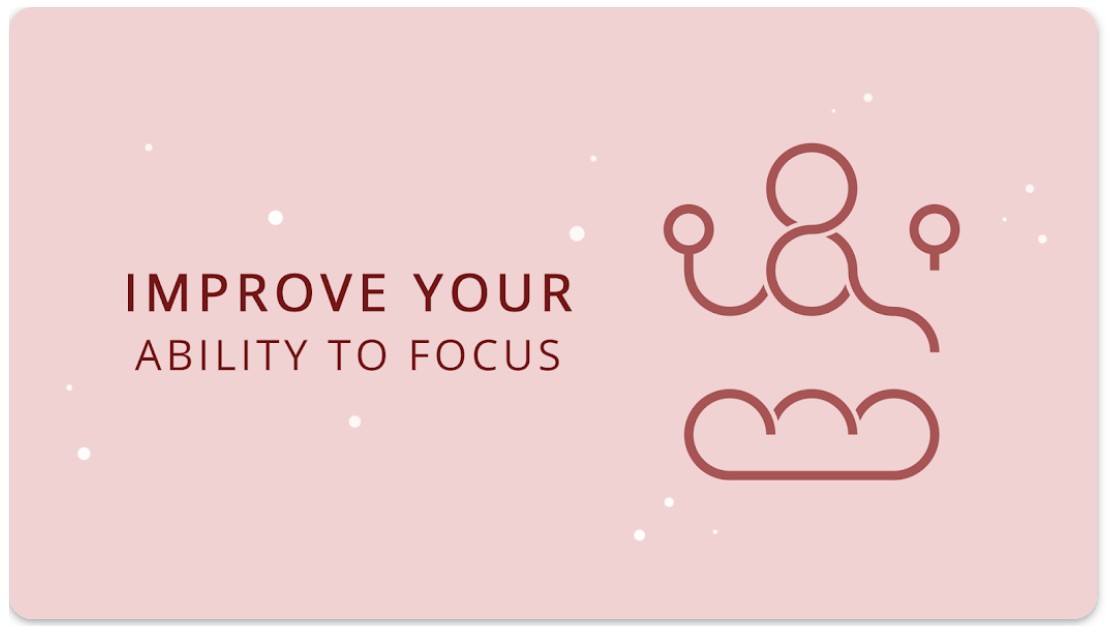 Downloads: 10 000 000+
Customers rating:

(4.8 / 5)

Algorithm City
There is one more educational game that I found. It tries to introduce the fundamentals of programming in a fun learning environment. The game is based on the adventures of a young child named Al-Khwarizmi, who must solve several programming riddles to preserve his city.
The game's main strength is how well and entertainingly it teaches the principles of programming.
Players will learn about variables, loops, and conditionals, among other basic programming concepts, and then apply these skills to issues in the game. The 70 stages of the game each present a fresh programming idea.
The aesthetics of the game are made in a cutesy, cartoonish style. The game's vibrant and animated characters increase the pleasure factor of the learning.
One of the main characters in the game is the young boy Al-Khwarizmi, who is attempting to defend his city. Several animals help Al-Khwarizmi on his voyage, such as a fox, a rabbit, and a turtle. Players must also overcome a variety of challenges, like spikes and barriers.
This game is also convenient for younger kids, but for the older generation, it is too easy. Also, it is suitable for schools to introduce kids to coding and the IT sphere.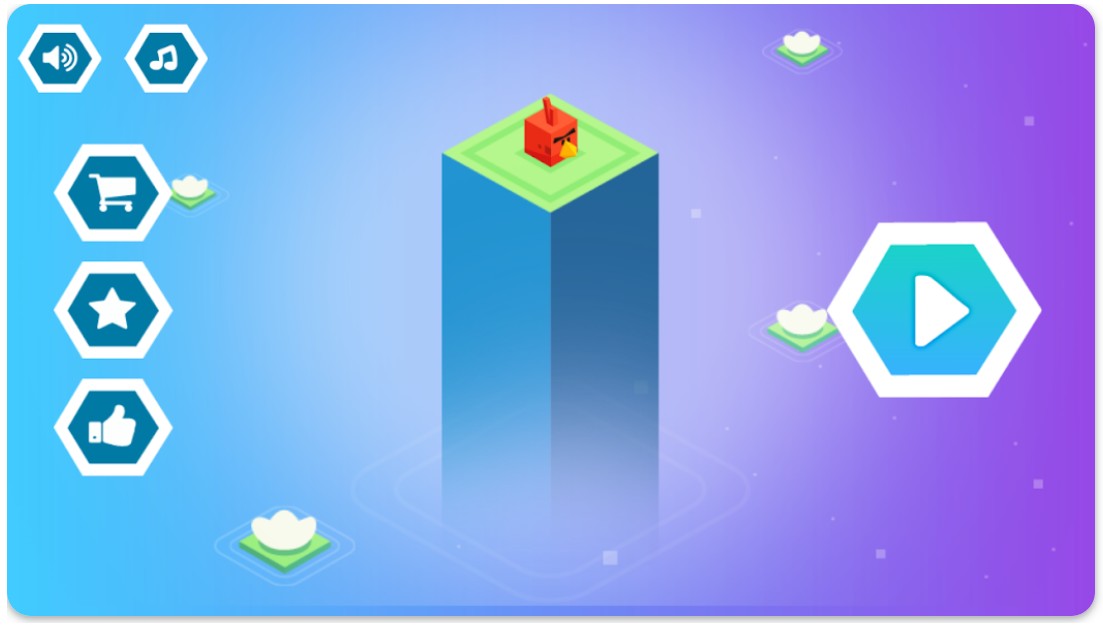 Downloads: 500 000+
Customers rating:

(4.1 / 5)

Astra
This is an unusual game at this top. An arcade-style among coding genre games.
Main features
arcade scenario.
Unique design, music, and game story.
For touch screens. Simple one-touch control.
Autorun platformer with space physics.
The main objective of the game is to fly your spaceship as far as you can while collecting coins to unlock new ships and upgrades. Players navigate the spacecraft up and down and around obstacles by using touch controls in this straightforward game.
The game features several various ships and upgrades that may be earned using in-game currency. Each ship has a unique appearance and a set of unique abilities, providing players with a variety of options for adjusting their play style.
The aesthetics of the game are colorful and enjoyable, with a retro-futuristic design that is reminiscent of early arcade games. Each ship in the game has a unique personality and appearance, and all of the characters are well-designed.
This simple game is a good choice for relaxation. But for me, music is a bit annoying.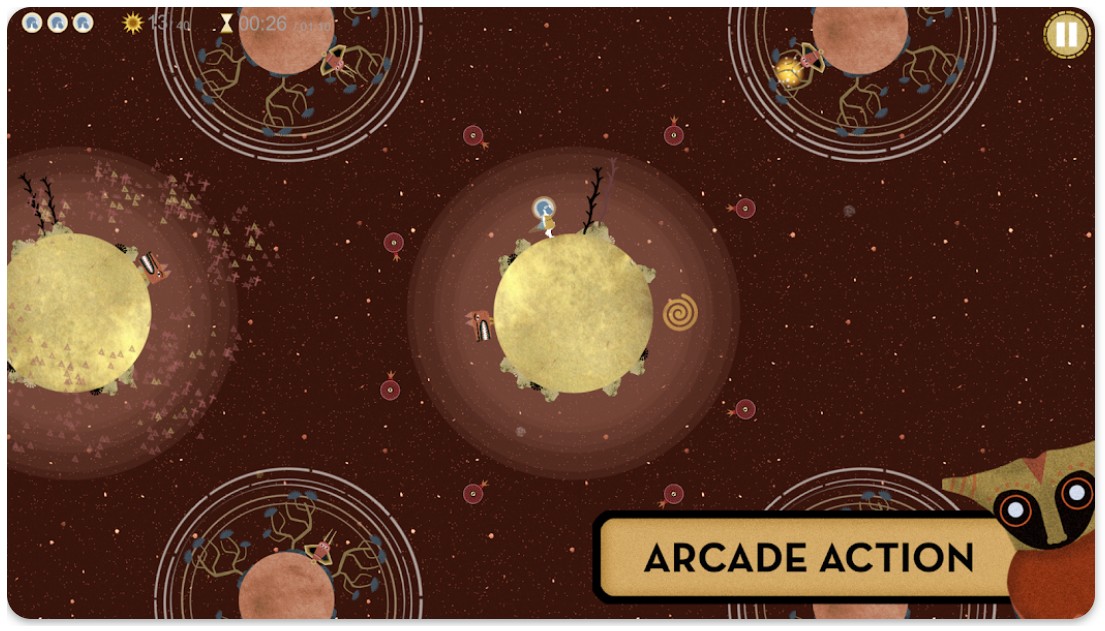 Downloads: 500 000+
Customers rating:

(4.6 / 5)

2048
This classic game wins the hearts of users for several years. And I could not miss it. This simple number slider relaxes you after a tiring day.
Because of the simple interface and modest style of the game, players can concentrate on the gameplay itself. Because of the clear font, vivid colors, and simple artwork, it is easy to distinguish between the various tiles.
The game offers several game modes, including classic mode, where the goal is to reach the 2048 tile, and time trial mode, where the objective is to score as many points as possible in a predetermined period.
Additionally, the game has an undo feature that lets players undo earlier actions if necessary.
Even though there are no characters, the tiles are the main emphasis of the game. Each tile has a value, with the lowest value being 2 and the highest value being 2048. When the player has used all of their moves or has reached the 2048 tile, the game is done.
It is maybe seeming so boring after all, but the first three days after you download it, you will enjoy it.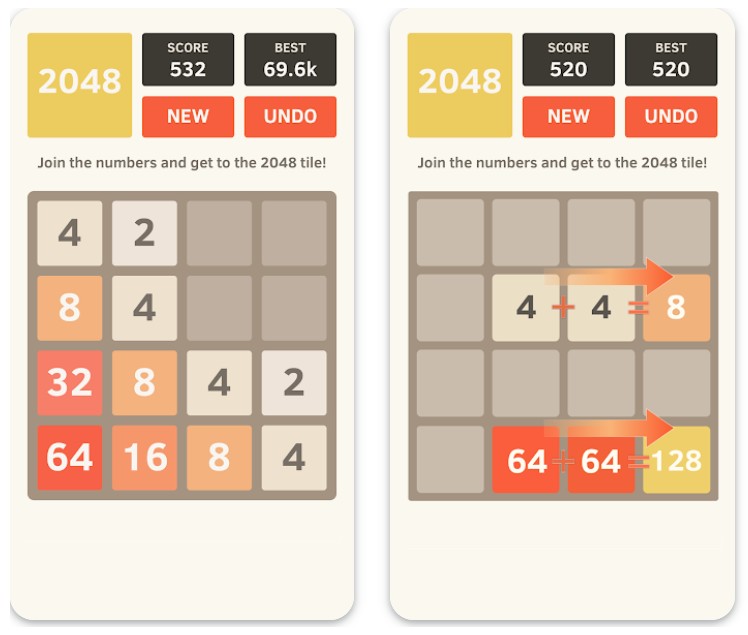 Downloads: 1 000 000+
Customers rating:

(4.4 / 5)

7 Billion Humans
This game is a second part of the Human Resource Machine that has the same antiutopian theme that can rash your brains and introduce you to the fundamentals of programming. This is a well-known puzzle game called Seven Billion People
The basic objective of Seven Billion People is to guide a group of office workers through a variety of levels, each of which has its own unique set of challenges and objectives.
Players must utilize programming commands to control these workers' movements and behaviors to make sure they complete tasks and reach their specified locations.
The game has several components that can help players learn the basics of programming, like a comprehensive tutorial system that presents key concepts in an approachable and clear manner.
Throughout the game, players will encounter a wide range of various office workers, each with their unique skills and attributes. Players must carefully arrange their movements and actions to complete each level because these characters are essential to the game's puzzle-solving concepts.
Also, I have found some disadvantages. First of all, you can't turn off the music that might annoy you. And there are some bugs. So, if you like Human Resource Machine, this game is a good addiction to it.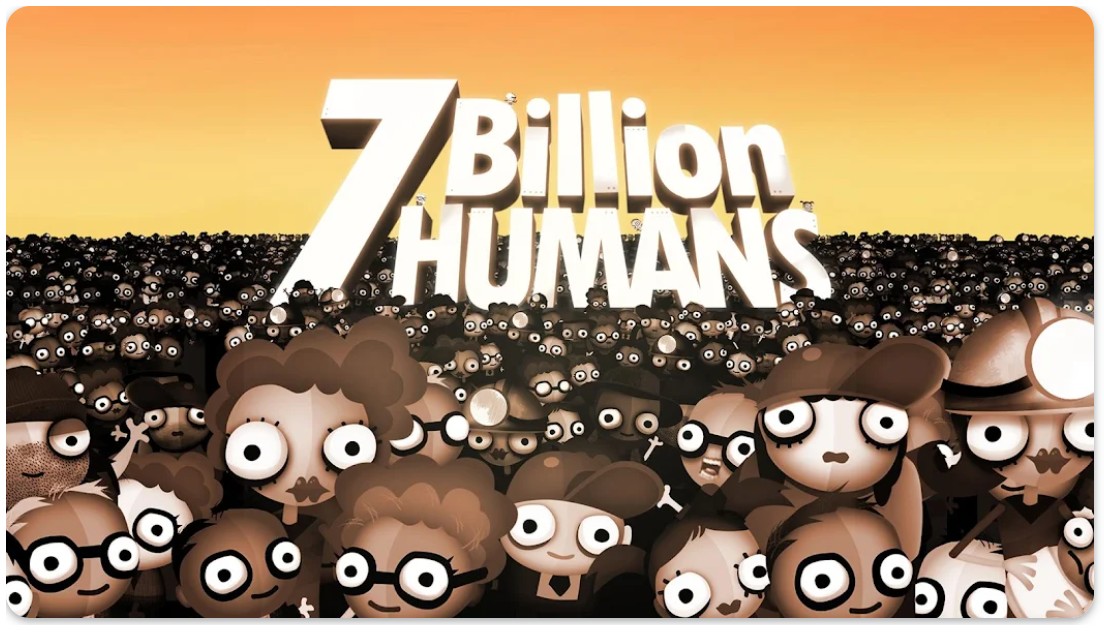 Downloads: 5 000+
Customers rating:

(4.1 / 5)

You may also like: 21 Best Android Games with Controller Support
GLADIABOTS
The last game in this list shows you how to program simple robots and develop your critical thinking.
Main features:
control the behavior of the robots using a drag-and-drop interface
build robots using a variety of programming tools including sensors, conditions, and actions
role-playing combat
equip robots with a range of weaponry and upgrades
a ranking system that enables users to assess how well they fare against other players in online combat.
A wide variety of components can be coupled to give the robots complicated behavior, which can subsequently be evaluated in.
The graphics of Gladiabots are simple but effective, with a top-down perspective of the play area and bright, unique robots. The game's soundtrack also enhances the atmosphere it creates.
In my honest opinion, the interface of this game is a bit complicated and the graphics are not so good.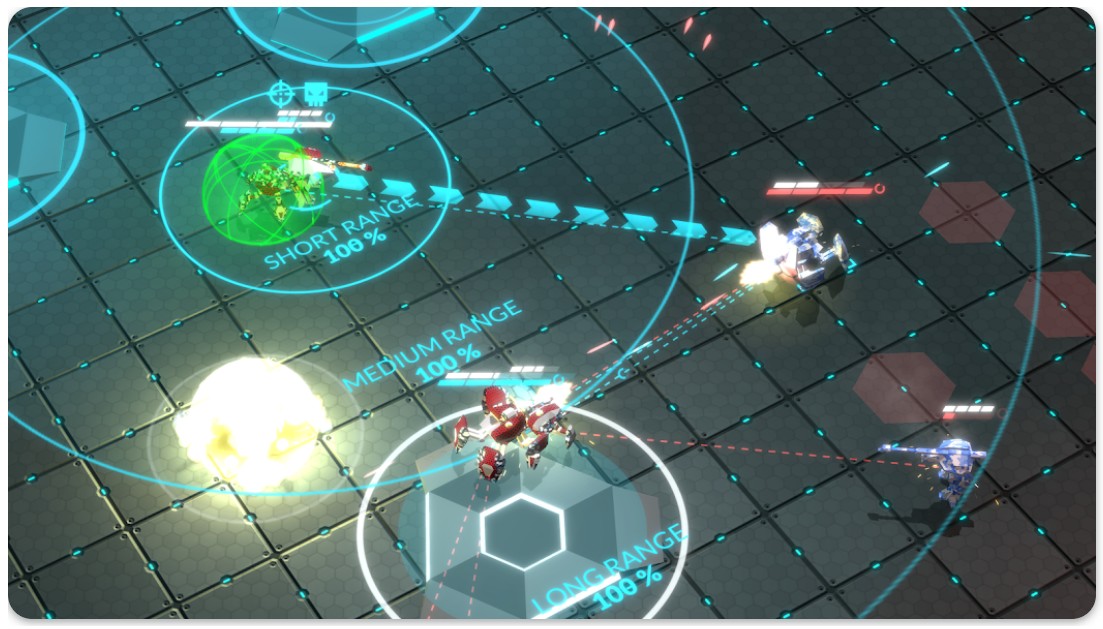 Downloads: 1 000 000+
Customers rating:

(4.3 / 5)