Enjoy word games but are annoyed by the abundance of ads? Yes, it's quite difficult to find mobile games without ads. But we have tried and made a list of word games for Android, which you can play without annoying ads.
These can be games with offline mode or games that require additional fees to get rid of ads.
Wordiest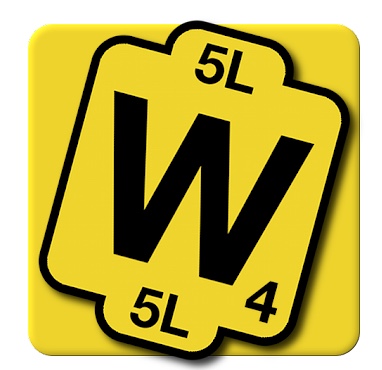 Wordiest is an interesting word game with a simple interface.
You get a bunch of letters, and you need to make two words out of them to get as many points as possible. Each letter brings a different number of points. This is indicated immediately on the letters.
As soon as you make up a word, its meaning will appear right below the word. And if there's no such word, you'll see that, too. You can randomly pick up letters and if you randomly make up a word you will know that too.
When you have created two words, press Submit and you will see the results of other players with the same letters.
If you want to find out what other players' words are, just click on the dot on the chart and you'll see the other player's words.
There's also a History section where you can view your past results.
As for advertising, it is totally unobtrusive and doesn't interfere with the game. Just at the top, there is a banner with ads. But you can also completely turn off advertising by making an in-app purchase.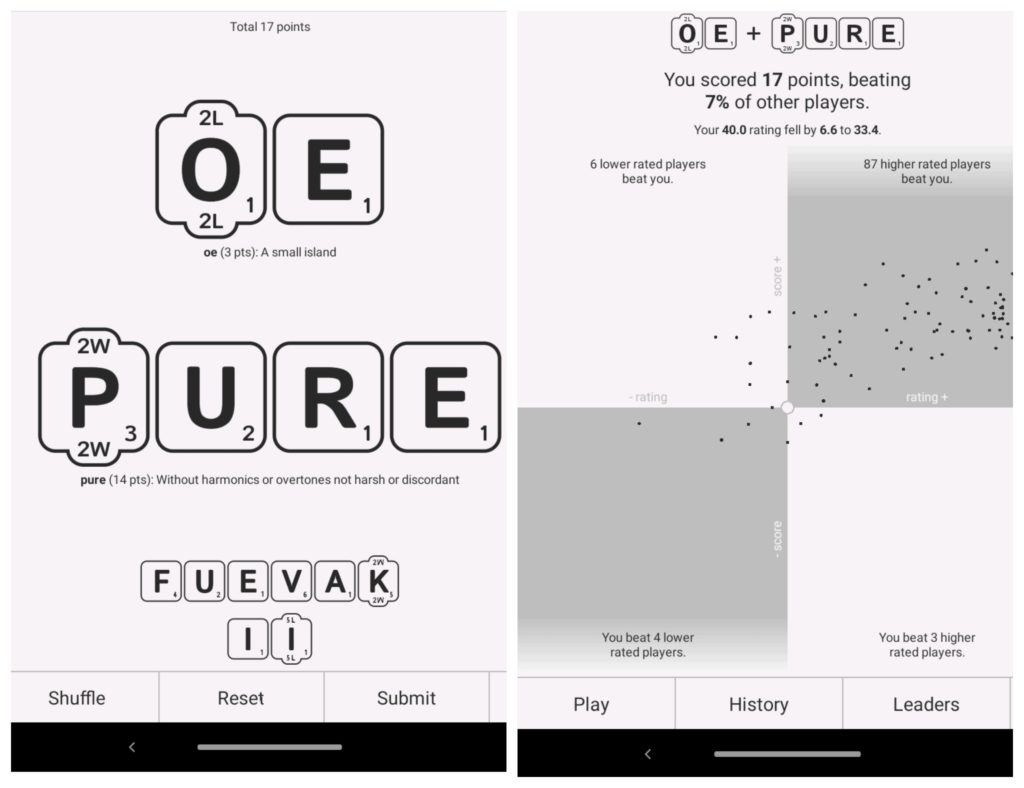 Downloads: 50000 +
Customers rating:

(4.7 / 5)

You may also like: 17 Best logic game apps for Android
Wordfeud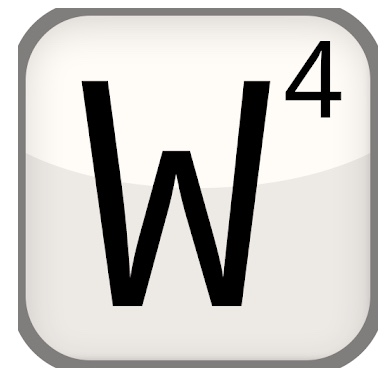 With Wordfeud, you'll spend exciting moments creating and placing words on a fifteen-by-fifteen board in the classic Scrabble style.
As in the last game, the player must find the most difficult words and place the letters so as to score the highest score using the double letter, double word, triple letter, and triple word fields.
At first, you need to register: enter your e-mail address and a nickname. The player can be chosen from your friends, invited from your contact list or by mail, or the game itself will pick a random person.
You can also play up to 30 games at a time. The list of players shows the start time of the game, the time of the last answer of the player, and the last move.
The player is given 72 hours to answer, so you can take your time choosing the words and their location. Too bad the game has no statistics on players. I think this added competition to the game.
You can also chat with your opponents. The game allows you to set up notifications so you don't have to watch your phone all the time.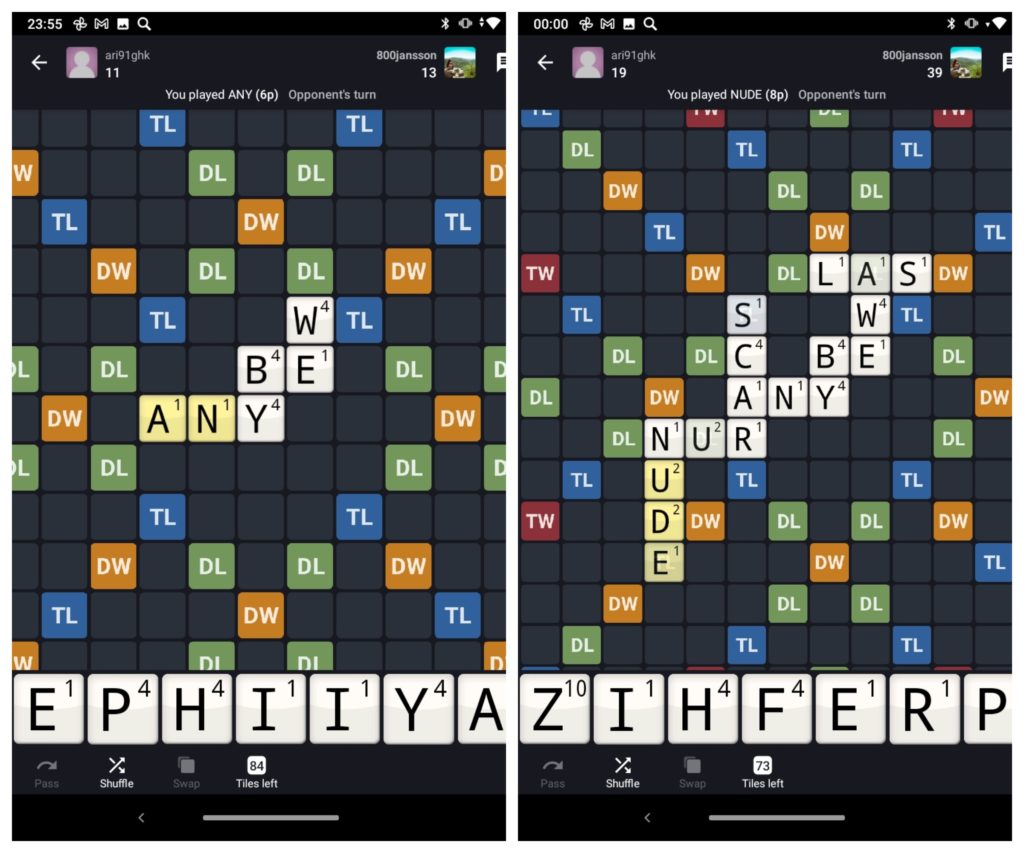 Several languages are currently available: English, Spanish, French, Dutch, Norwegian, Swedish, and Danish. The game is quite interesting, doesn't take a lot of time, helps you learn the language. Overall, a very useful educational game, try it at your leisure.
As for advertising, you can get rid of it by purchasing a paid version.
Downloads: 10000000 +
Customers rating:

(4.1 / 5)

Words of Wonders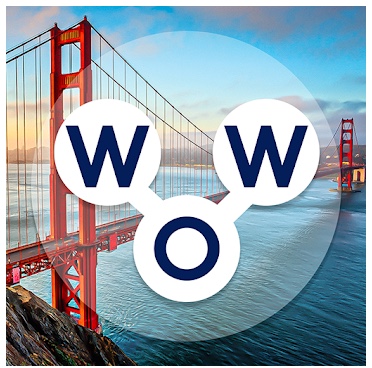 A fascinating puzzle to broaden your travel horizons and improve your vocabulary. Words of Wonders is a small photo journey with a puzzle. Each country is represented by a series of pictures.
To make a voyage through this area, you need to complete 16 crossword puzzles, then at the end, the player receives a reward and a brief description of the point of interest.
Moving in the game circle, the letters are connected into words. The symbols are swapped by clicking on the icon with an oval and arrows.
The words consist of at least three letters and, at first, are not long. Gradually grow to six, seven, eight characters.
Words that are not in the opened puzzle are sent to the "Additional Words" list. After solving the crossword puzzle, they turn into clue points and accumulate in the lower right corner (the basket).
In general, the game is entertaining and easy to understand along the way. Words of Wonder is suitable for almost any age from a first-grader to a retired.
Basically, the game is self-contained and doesn't require additional traffic and battery power.
When connected to the Internet ads run automatically between crossword puzzles. At the bottom, there is a brick with a replaceable ad and a link.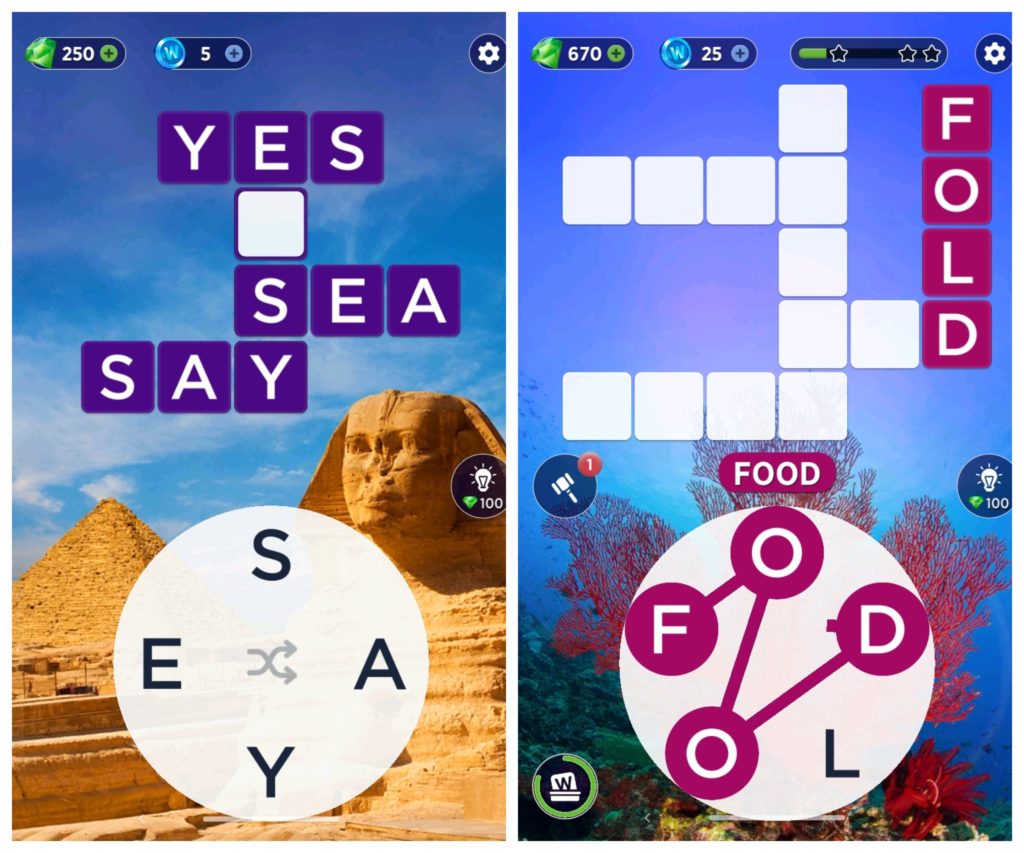 Downloads: 100000000 +
Customers rating:

(4.5 / 5)

Word Pizza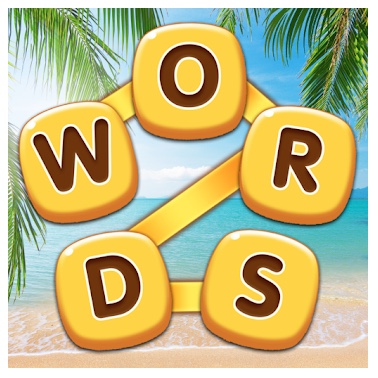 Word Pizza is one of the puzzle games in which you have to make words out of letters. The peculiarity of this game compared to similar ones is its theme, because it's dedicated to everything related to pizza, one of the most international dishes.
Dozens of levels await you, each one consisting of several puzzles. Each level is gradually increasing in difficulty. So at first, you will only have to connect a few letters and find a few words. But, as said before, as you pass, the number of letters increases, and the words get longer.
The mechanics of the game is simple: to make a word, you just need to connect the letters forming it, in the right order, with your finger. It will automatically be written on the panel, and when it is completed, the next one will appear in its place.
And since pizza, though it comes from Italy, is already a world treasure, you can travel around the world to discover different local variations of this dish.
Main characteristics of the game:
The game is all about making words out of the letters provided;
If you get stuck, change the order of the letters;
Increasing difficulty;
Travel through dozens of cities in different countries;
Decorate your kitchen;
No time limit;
Over 2000 levels;
Play with friends;
The game is available in multiple languages.
You don't need an internet connection to play and therefore will not be annoying ads.
Downloads: 10000000 +
Customers rating:

(4.6 / 5)

Word Slide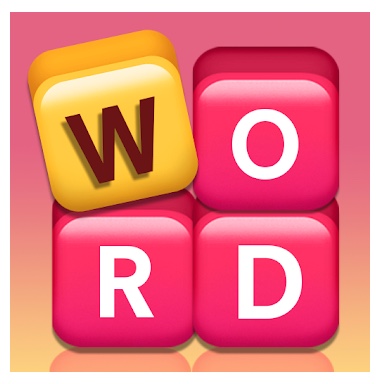 Do you like word search? Then welcome to Word Slide, an interesting game for the whole family.
The game is extremely simple. It will be interesting to both adults and children. You just need to swipe your finger on the screen connecting the letters into words. Then the letters cascade down and you keep looking.
The beautiful game backgrounds are mesmerizing and it's even more fun to play.
With each level, it will be harder and harder to find the words. Improve your vocabulary and just have fun! You can play alone or with friends.
No internet connection is required. This means that your game will not interfere with ads.
Downloads: 1000000 +
Customers rating:

(4.9 / 5)

Word Cookies! ®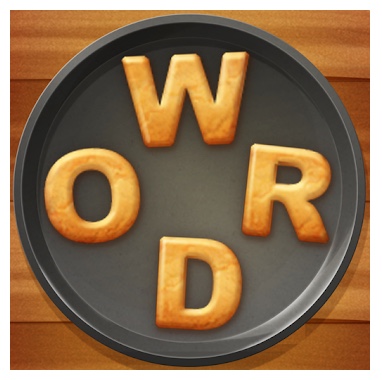 The gameplay is simple and not stressful. There is a frying pan with letters, and forms to fill with different numbers of cells for letters. They will fit the guessed words.
To guess a word, you have to drive your finger over the letters. If you find a word that doesn't fit, but it's correct, the game counts and puts it in the jar for additional words.
The game has a perfect soundtrack for games of this genre. It's simple, consisting of, like, xylophone beats.
The number of levels is off the charts. There are a total of thirteen sections, one of which is the tutorial. There are five subsections in each section, except for the tutorial section. Each subsection has a minimum of ten levels.
Advertising in the game is, and it's a little intrusive. You can purchase a paid version to remove ads at all.
In the game, you can choose the design of the letters. It is absolutely free. In principle, it's useless and the absence of this feature is unlikely to cause resentment among users, but it is nice.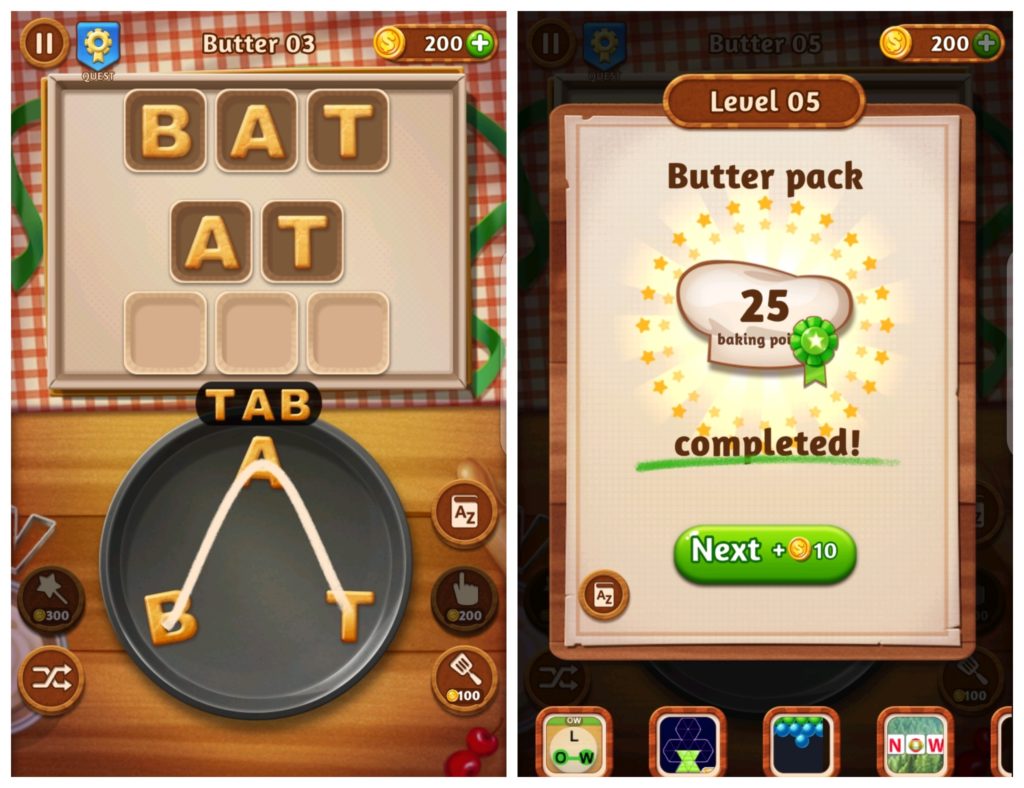 Downloads: 10000000 +
Customers rating:

(4.5 / 5)

Words in Word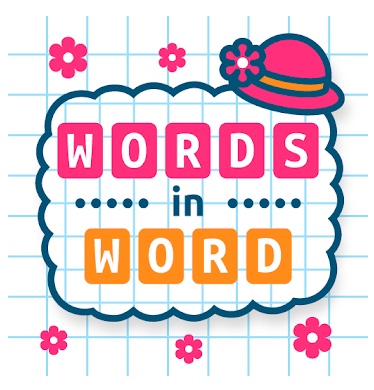 Challenge your mind and expand your vocabulary. The goal is to make words from the letters on the board and compete in championships with players from all over the world.
Words in Word is a simple word game with a beautiful interface. You have to make words from given letters. It has two modes: levels and tournaments.
You should find at least nine hidden words in a level to move on to the next one. You can combine them however you want, but without repetition. If you get stuck, there is an option to buy hints with coins you get in the game.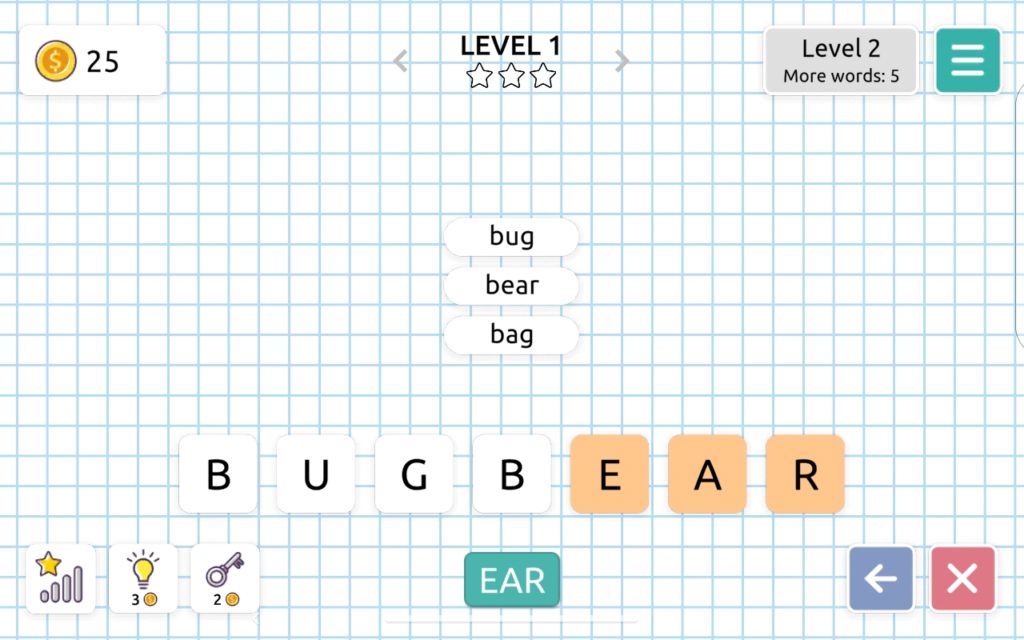 If you like searching for words, crossword puzzles, and solving puzzles, you'll love this game.
As soon as you master the solo mode, the multiplayer tournament mode opens up. In it, you can compete with other players to find words and move up the ranking ladder.
The game also includes missions and a full stats table so you can check your progress. Without a doubt, it's great fun to improve your vocabulary. You can play the game offline so no ads will interfere with gameplay.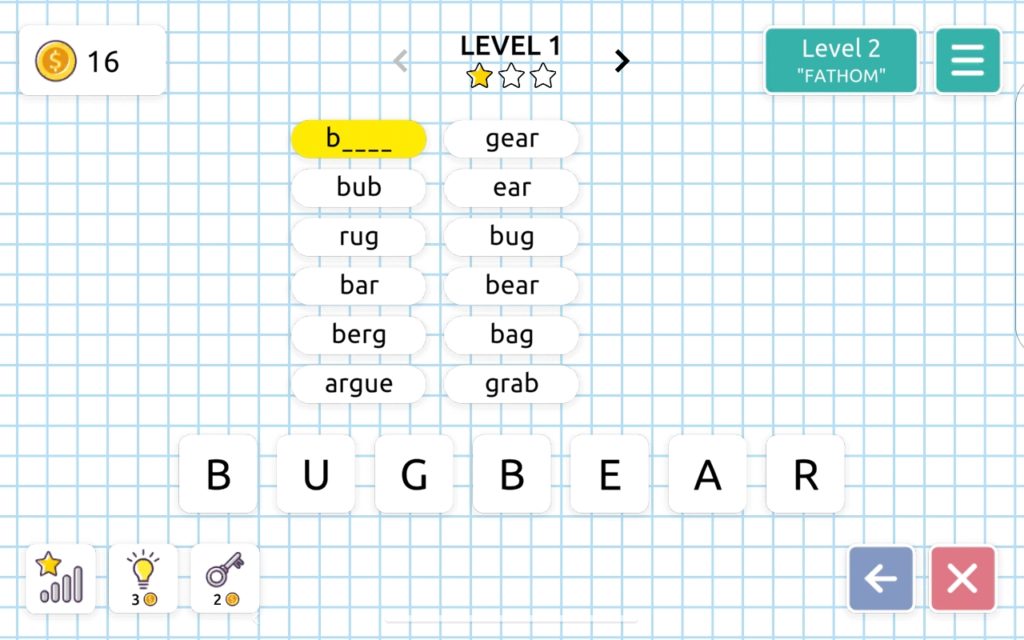 Downloads: 5000000 +
Customers rating:

(4.6 / 5)

Word Spells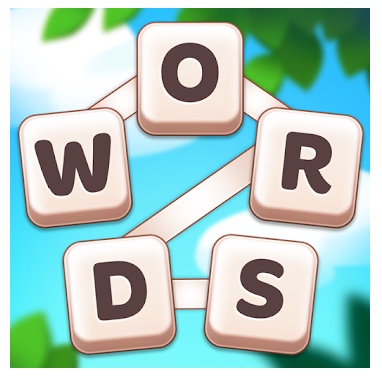 The Word Spells game is suitable for both adults and children, resulting in an educational and rewarding experience while you play. The game has different levels of difficulty, making it perfect for those who like word games.
Here you also need to find words by connecting letters in the right order. This is a great trainer for the brain.
Colorful locations and the protagonist of this journey – Amelia the witch – will delight children. You have to help her pass the levels which are getting harder each time.
If you are a fan of this kind of puzzle and are looking for something new, then you should pay attention to this game.
With Word Spells you will be able to solve all kinds of crossword puzzles, passing through hundreds of levels.
There is an offline mode that will help to avoid advertising while playing.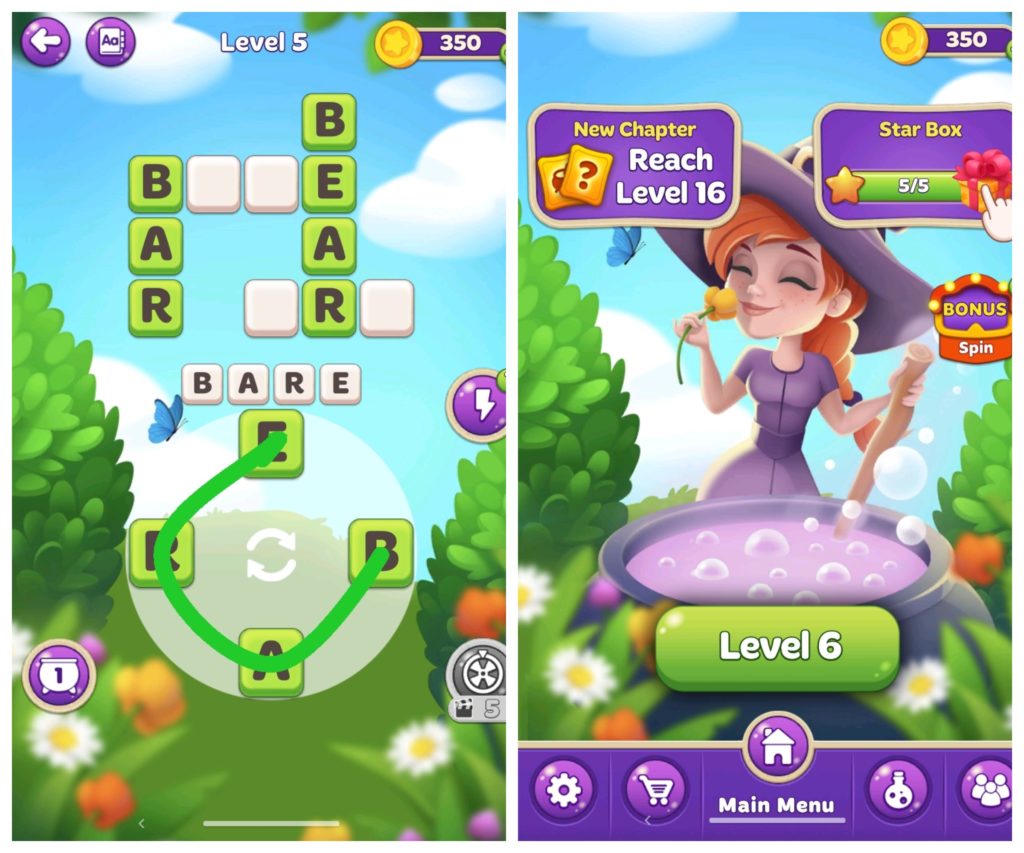 Downloads: 1000000 +
Customers rating:

(4.6 / 5)

You may also like: 9 Best Jigsaw Puzzle Apps for Android
Lexica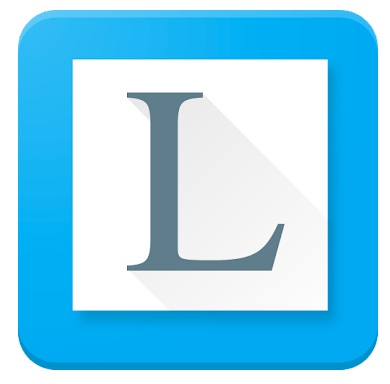 This is a word game with a simple interface. But it's not that easy to play.
You will need to find the words on the grid. You will be limited in time and the letters are scattered in random order.
Once you found all the possible words as you think you can look at the results. In the Found Words section, you will see all the words you have found. In the Missed Words section you can see the words you didn't find.
The application has no ads, so nothing can interfere with the exciting game.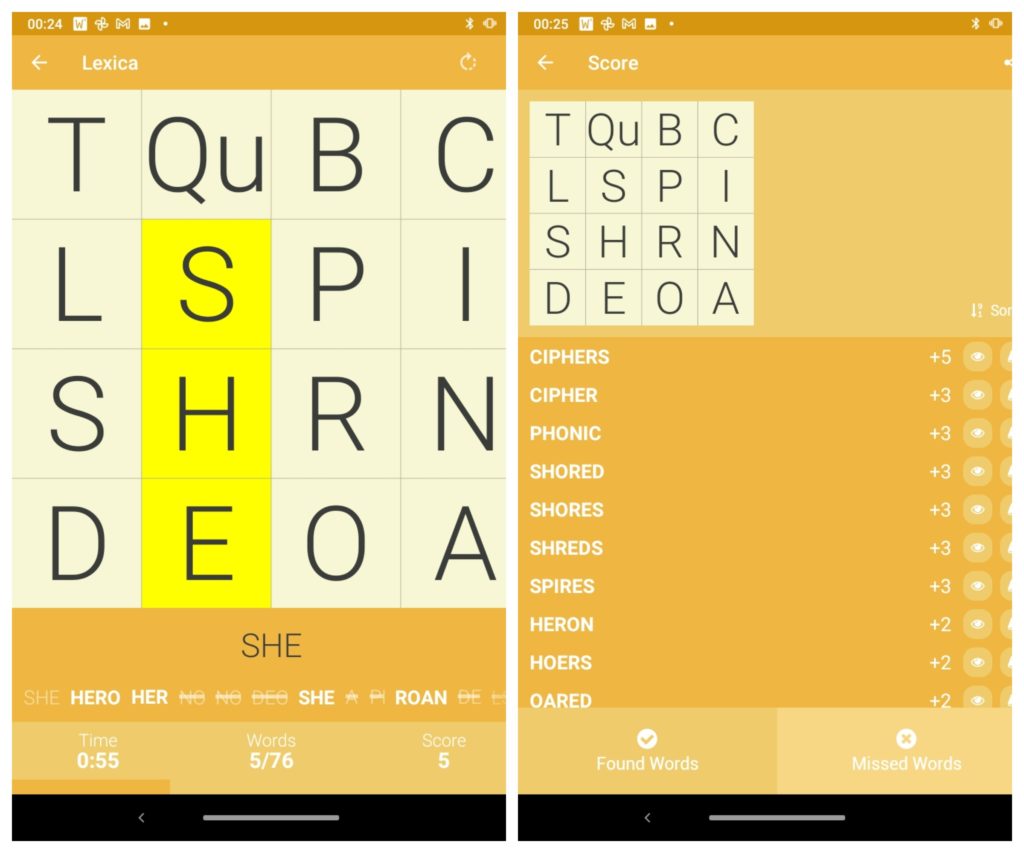 Downloads: 1000 +
Customers rating:

(3.6 / 5)

Word Crossword Search
Word Crossword Search is a fascinating puzzle game in which you will create your own words to solve a crossword puzzle.
Word Crossword Search has simple gameplay. At the beginning of each level, you will have a blank crossword puzzle and a group of letters at the bottom of the screen in front of you.
Your goal is to create words from the letters and fill in the crossword with them. When you find the right word, simply swipe your finger from the first to the last letter in the right order. If you find the right word, it will automatically become part of the crossword puzzle, if it doesn't fit, you can try again.
Of course, with each new level, the difficulty of the game will increase. Not only will you have to find more words, but the words themselves will become longer, so you will have to try different combinations of letters to solve the crossword puzzle. There will also be some hidden words that you will be able to find during the game.
Word Crossword Search is available in dozens of different languages, so you can test your vocabulary in your native language as well as learn many new words in other languages you are learning. Install Word Crossword Search and go as far as you can in this fun adventure.
There's almost no advertising. However, the game can be played in offline mode so you will not see any ads.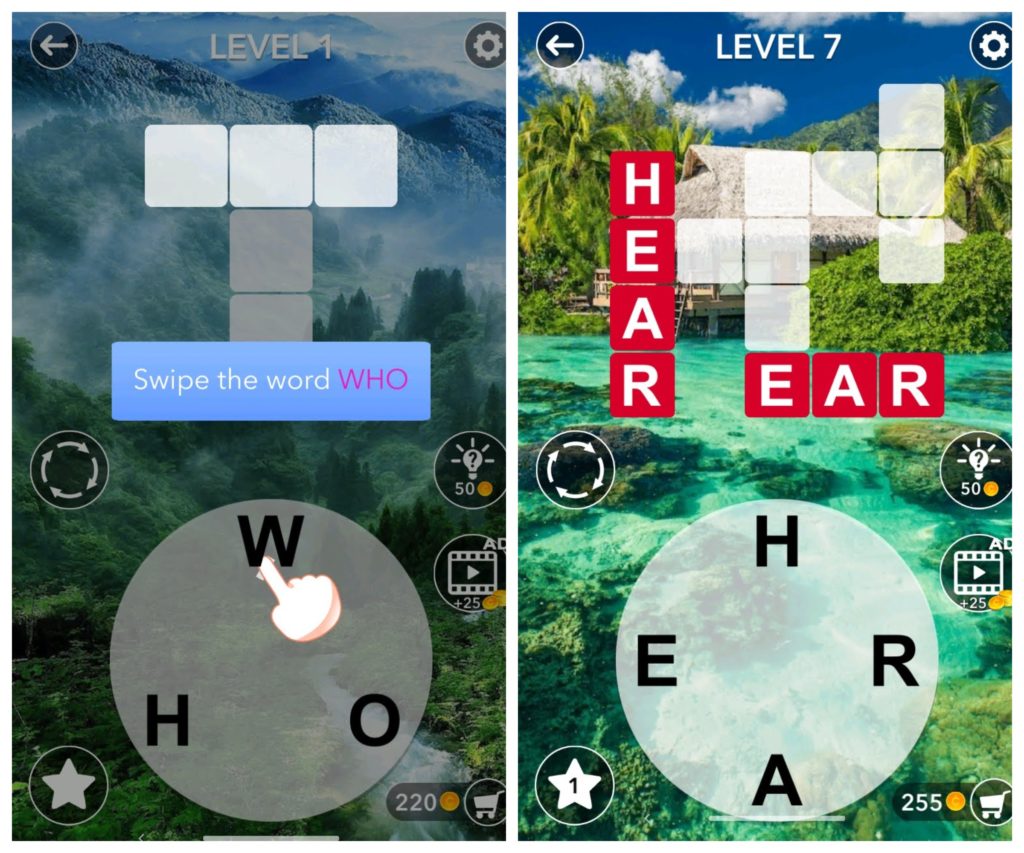 Downloads: 10000000 +
Customers rating:

(4.7 / 5)

Word Crush – Fun Word Puzzle Game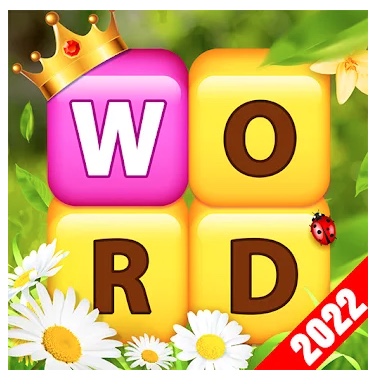 Do you like playing word search games? Because that's what the Word Crush crossword puzzle game is about.
In the Word Crush crossword puzzle game, you have to find all the words based on the theme suggested in each level.
This word game is similar to many other crossword and anagram games we've seen before. However, this one has a distinctive feature, such as finding the words in the right order to unlock the next ones.
At each level, we are given a topic to which the words on the panel related. Our goal is to find them from bottom to top or top to bottom, right to left or left to right by sliding our finger over them. We can't skip letters, so we'll always need to find the whole word so that it disappears and appears at the top of the screen.
This is a fun game with increasing difficulty. Here are the main features of the game:
Swipe your finger across the screen to find the words;
Swap the blocks around as you try to guess all the letters;
Unlock wallpapers as you play;
Advance through themed levels.
No Internet connection is required. You can also remove ads for money.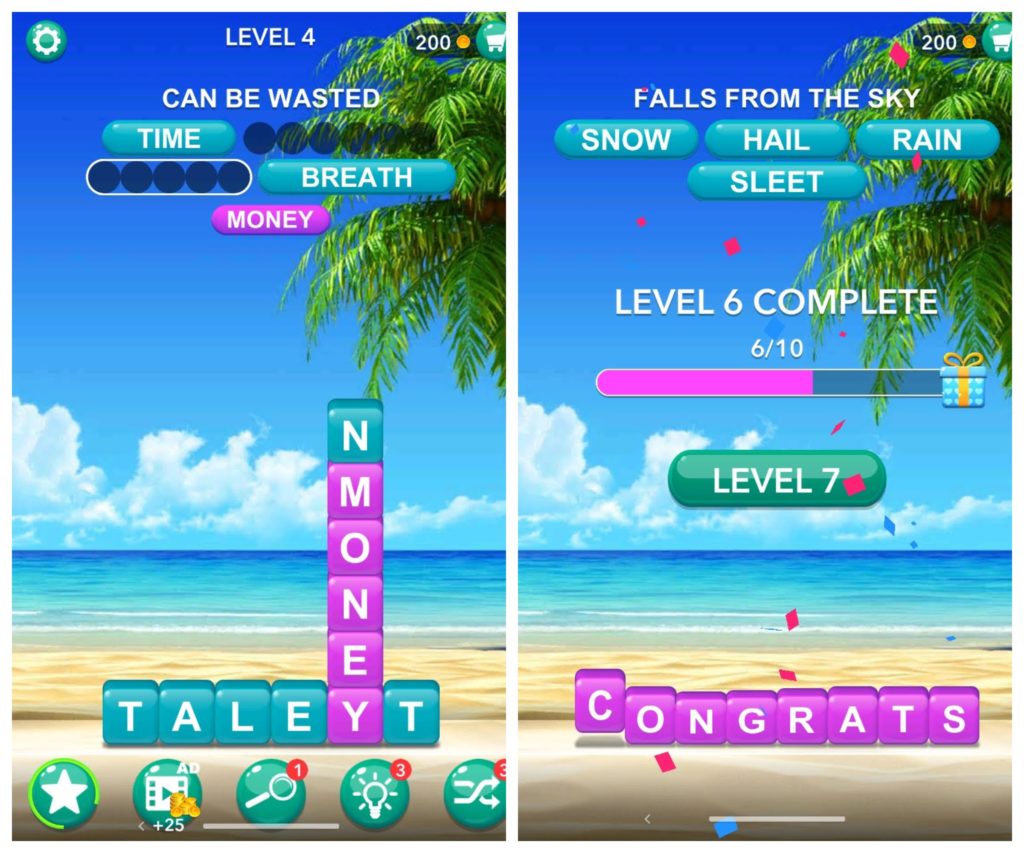 Downloads: 5000000 +
Customers rating:

(5 / 5)