Horror is undoubtedly one of the most popular genres of games. For fans of tickling their nerves, this game in multiplayer mode will cause even more emotions.
In today's review we have collected the best representatives of the horror genre with multiplayer mode for Android:
Specimen Zero
Specimen Zero is a grim and scary action game with a multiplayer mode. You are in the story, you are suddenly kidnapped and taken to a completely unfamiliar place. That would be OK, but you almost immediately feel the danger of being in this territory, and you know that the need to get out of there as soon as possible!
From the beginning of the game start exploring a fairly large area where you will find a lot of abandoned buildings and facilities, which are hospitals and strange laboratories. On your way collect all the necessary items, solve puzzles and try to arm yourself as soon as possible, because there is a high probability to run into nasty and dangerous monsters.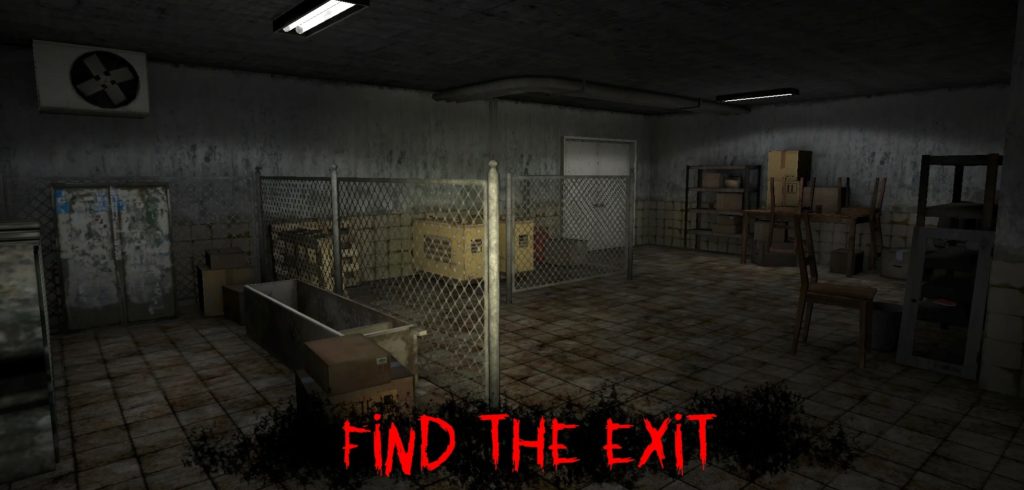 In multiplayer mode, you can pass all these tests together with your friends, but the complexity of the game will increase a little bit. The locations and different details are made in such a way as to inspire the player with primal horror. And while playing it's recommended to use good headphones!
Game Features:
Detailed and macabre graphics;
Extensive cooperative mode;
Large number of interactive items;
The game's location is impressive in size.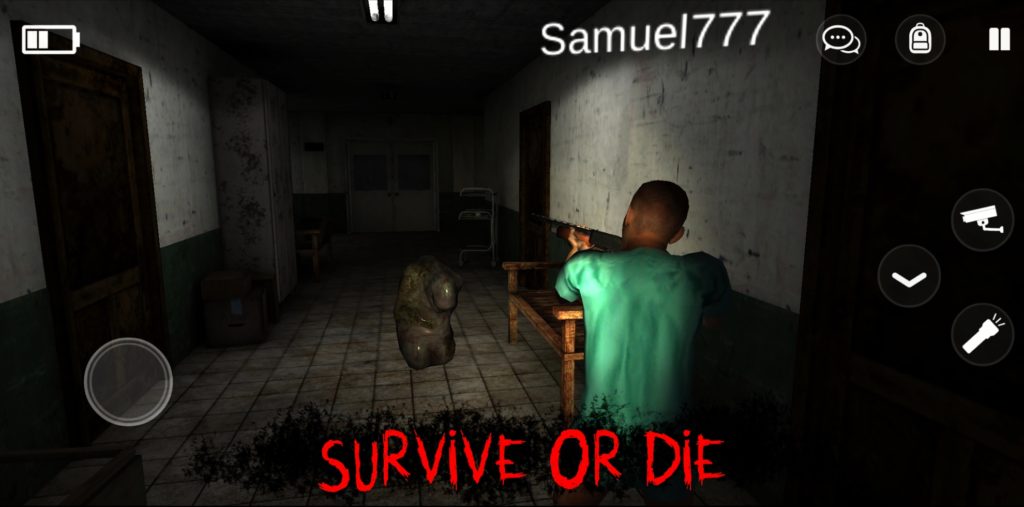 Downloads: 10000000 +
Customers rating:

(4.3 / 5)

You may also like: 15 All FNAF Games for Android
Mimicry
A quality shooter game that takes place in the third person. Here users will have to fight with terrifying monsters that want to devour or kill everyone they meet.
The developers have created a unique game. Actions in this shooter will take place in several locations. The user will get a character at his disposal. The protagonist is part of a small squad that is trying to fight bloodthirsty monsters. Monsters have the ability to reincarnate into humans. Visually, they can become someone who has been killed or eaten, which complicates the process of finding and destroying them.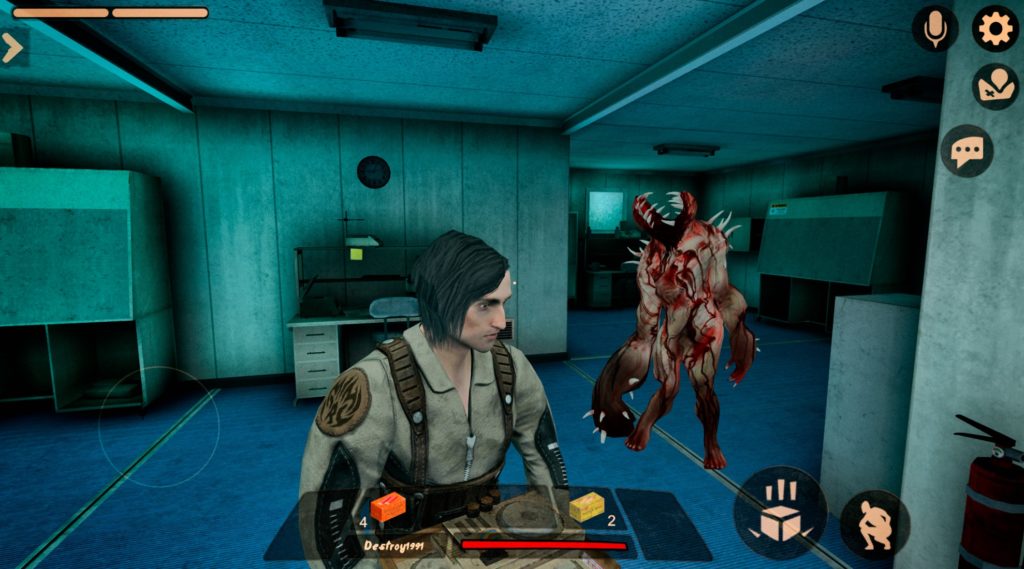 In the course of the game it will turn out that one of the squad is infected with a monster. The process of choosing a particular hero is random. It can be anyone, even the user's character. If the gamer gets the hero, that isn't infected by the monster, then his main task is to find and destroy the monster. For this purpose the gamer can use different weapons.
If the player gets a character that has been possessed by a negative hero, then he will have to destroy the whole squad. To achieve your goal, the character must try to stay unnoticed. He can take the form of those he has already killed, as well as the appearance of any person or creature.
Advantages of the game:
Unique gameplay;
high quality character drawing;
users will be able to communicate thanks to the internal chat;
a variety of locations;
epic battles;
the ability to customize the appearance of the main characters, etc.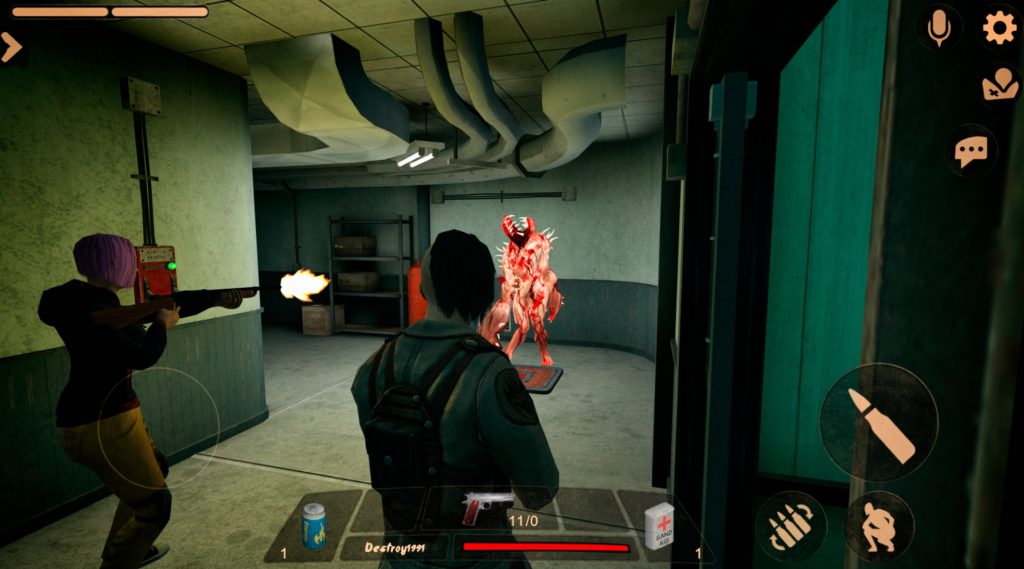 Downloads: 5000000 +
Customers rating:

(4.6 / 5)

Eyes
If you like all kinds of slashers, then the game called Eyes, will definitely be to your liking. It will be very dangerous and scary! Here is what the players write about Eyes – the horror game:
"Eyes is the best and coolest gift for ardent fans of the genre such as horror. The boo-effect will be one hundred percent guaranteed."
"As expected, this game does have some scary moments that will chill you to the bone, as well as some interesting surprises that will definitely make you reach the final mission in this game."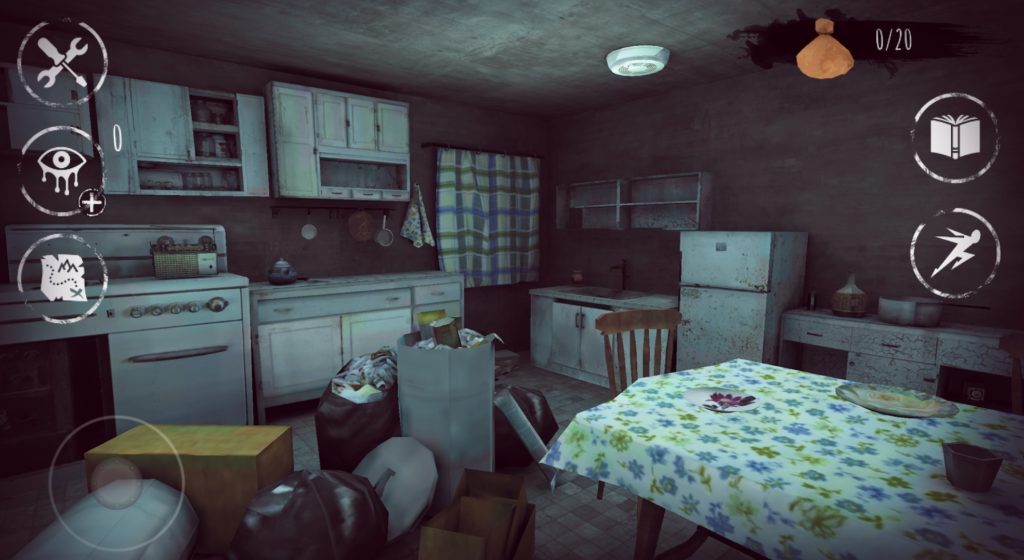 Eyes – the horror game is truly scary! There comes that feeling from your childhood when you start hearing creaks under the couch, and for some reason you want to see what is there, even though you are very creepy!
The gist of this game is that you show up in a huge house, in search of an old and long lost artifact – but this mysterious house is filled with not the kindest of ghosts. The atmosphere here is such that the faint-hearted players and people with a weak psyche are not recommended to play the Eyes game.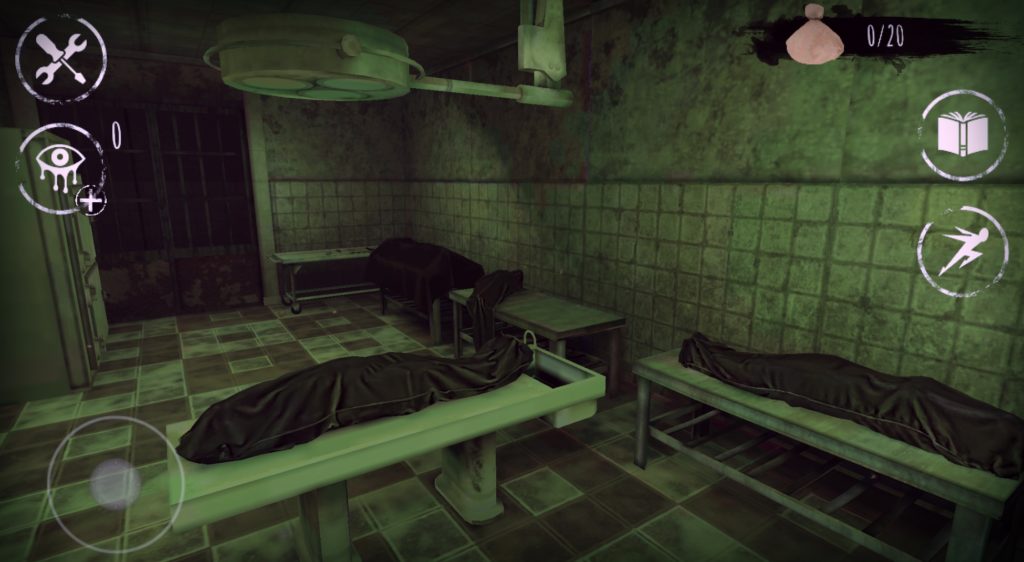 Downloads: 10000000 +
Customers rating:

(4.5 / 5)

Horror Show
The story is about four friends who like to go out at night and wander around abandoned buildings. However, such "walks" will not do any good: and so during one of these outings, they stumbled upon the territory of an out-of-work holiday camp. As it turned out, there was a madman on the loose!
Now their goal was to get out of the camp as quickly as possible without falling prey to the psychopath who was chasing them with a chainsaw. An interesting choice the game offers – you can play as one of your friends, and you can take the role of a maniac.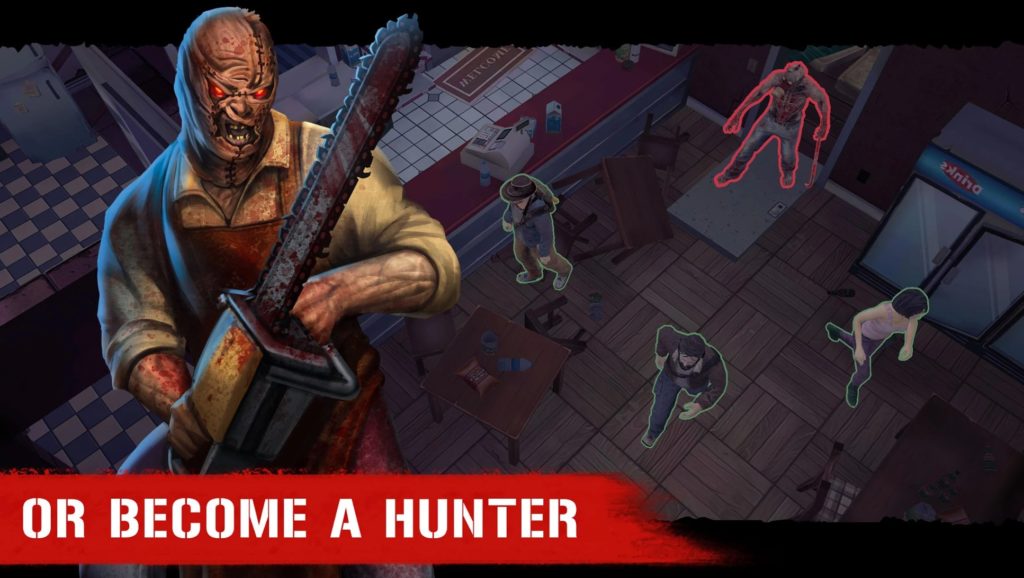 The task of the company is to survive, while the villain must catch the four friends. The characters are endowed with unique abilities. Not lacking in this ability and the madman, who is able to change the types of weapons. In the course of the game given a chance to unlock new characters at the expense of game currency, which the player can get for the successful evacuation or the capture of refugees.
The territory of the recreation camp hides a bunch of puzzles, so the role of possible victims is more complicated. For example, to open the gate will have to find the key.
The maniac will not miss the moment to capture you, so it will be better to unite with the other players in order to get out of the camp. The maniac is very cunning, he can take one of the friends as a hostage, so he will lure you to his environment.
Good graphics, appropriate scary music only adds to the atmosphere of the horror game.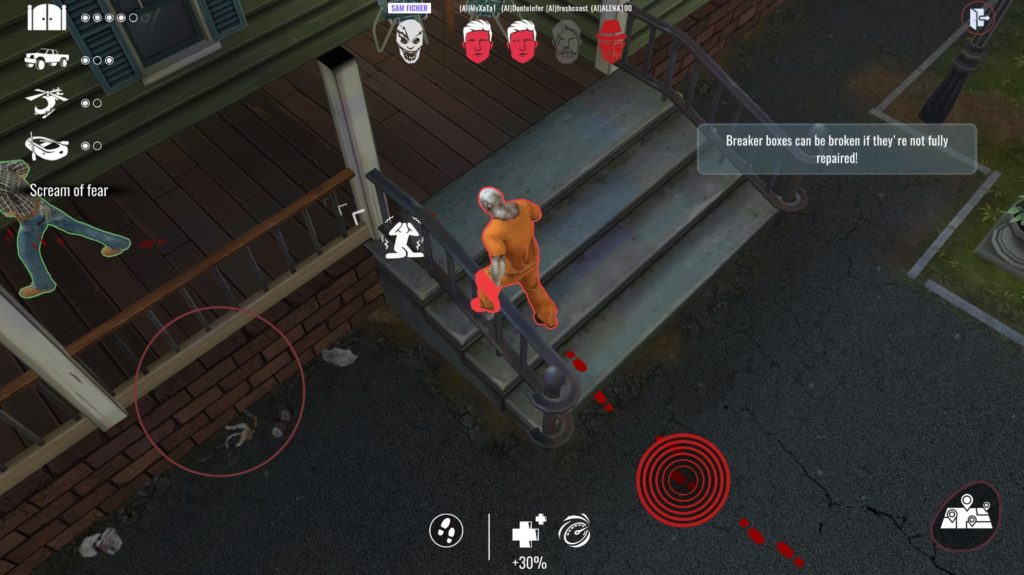 Downloads: 5000000 +
Customers rating:

(4.6 / 5)

Granny's House
Granny's House is a remarkable horror with an anime component, starring an evil grandmother and several prisoners – young children.
There is a rumor going around the outskirts of a small town: a strange old lady has kidnapped children. It also happened to a little girl named Dorothy. She didnэt manage to escape from the bloodthirsty hands of the old kidnapper, she grabbed her and took her to her dwelling. You will have to play for Dorothy and try to save other children, trying to find the way to leave the house at the same time.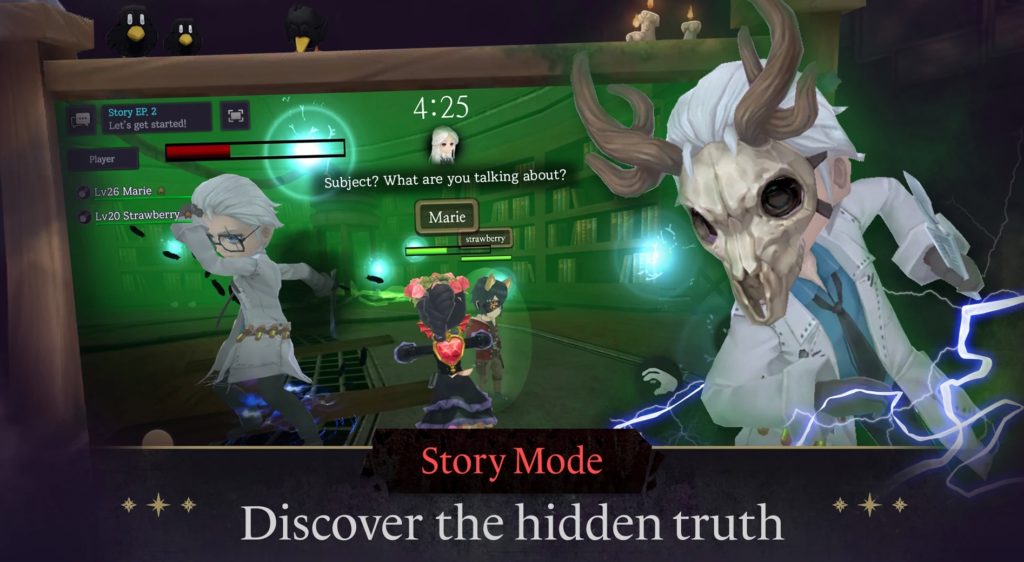 At the very beginning of the game you will have a choice between playing as a little girl or as Granny. Playing as a girl, you need to solve several difficult puzzles, collect the necessary keys to open all the doors and take all the prisoners before escaping. However, the enemy is always on guard. Granny will try to sabotage the escape, and if Dorothy is caught – defeat cannot be avoided.
Playing as Granny, it's up to you to catch Dorothy and fail her plans. Use the features of the abandoned mansion to outsmart the little girl and corner her. Guard the hidden keys or head straight for the exit, and there are plenty of opportunities to catch fugitives!
Multiplayer runs 8 players per map, two of whom will fight as grandmothers. The other 6 take on the fate of the children and must escape from captivity. For the overall escape, you must find the same three keys and open the door leading to freedom.
There is a special addition to the gameplay: if a grandmother knocks out one of the allied players, the partners can bring their comrade back into the fight. Work as a team to successfully get out of such a dangerous place!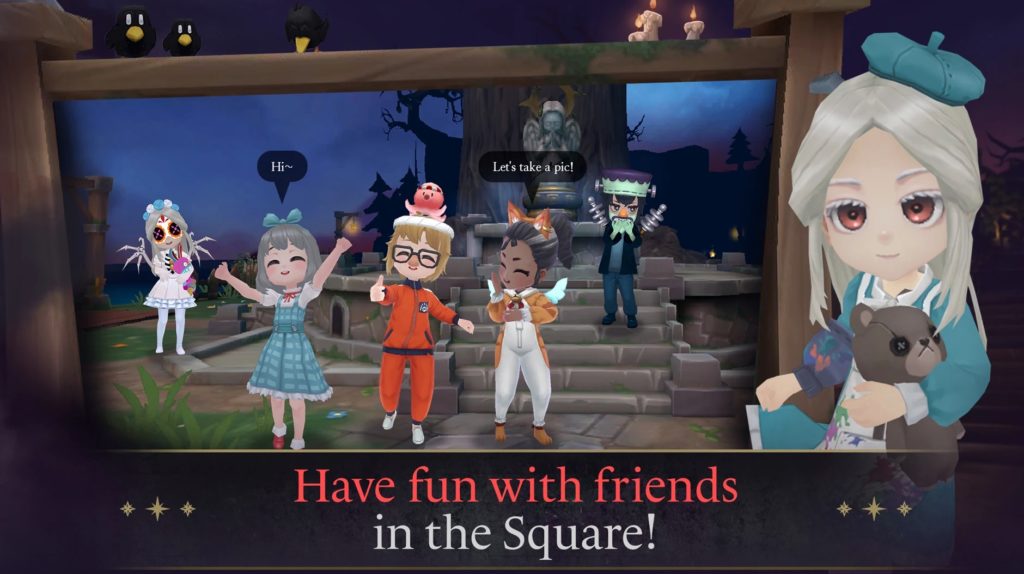 Downloads: 10000000 +
Customers rating:

(3.9 / 5)

Dead by Daylight Mobile
Dead by Daylight Mobile – is the acclaimed horror game with elements of survival from the Behaviour Interactive developers, who finally pleased the users of mobile devices.
So, make your choice, for whom you play: for the murderer, whose goal is to kill everyone who is besides him on the map. Or for ordinary people, who are vital to not get into the clutches of the villain, along the way to run all the generators located in the location to open the door, through which you can escape from this dangerous perimeter.
Thanks to the tense atmosphere, a lot of creeps on your back will run now and then, especially when the killer will be getting closer and closer to your hero. This will be evidenced by the sound of an accelerating pulse in the game.
To slow down the maniac, try to make good use of improvised objects, for example, throw boxes in front of him. He will have to bypass them, and you, in turn, will win time. This hit horror is sure to please all fans of the genre, download!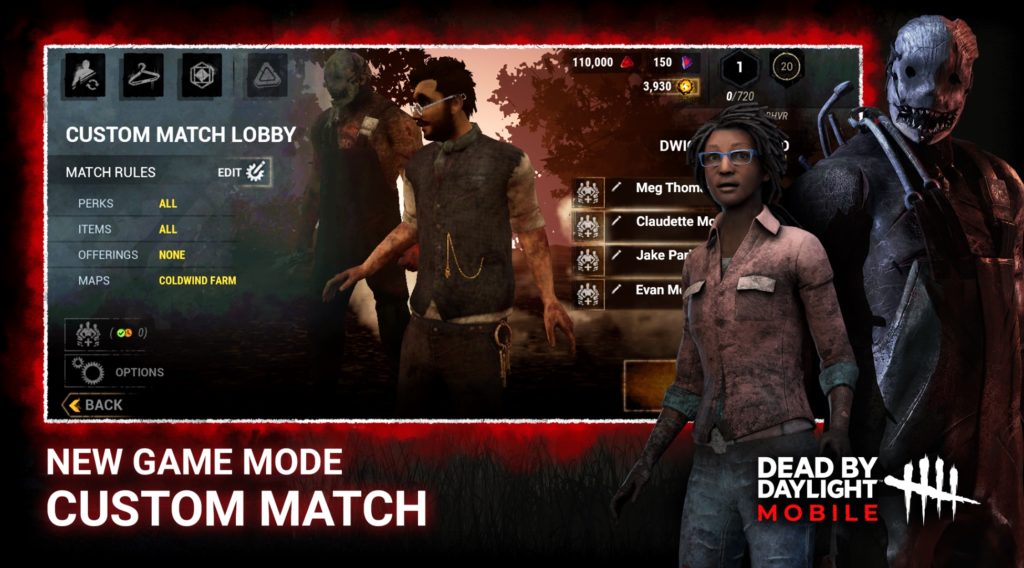 Downloads: 5000000 +
Customers rating:

(3.9 / 5)

You may also like: 15 Best Local WiFi Multiplayer Games for Android
Identity V
Identity V is a horror game in which players are assigned two roles: the killer, whose goal is to catch and destroy his victims, and the role of the survivors themselves, who must not let the villain catch himself.
The antagonist is too powerful to defeat him, so killing the hunter is not an option. But it's possible to destroy his plans – the advantage of the survivors in their number, as well as the availability of various resources that will help to cope with their main task. Also, the survivor side can choose whether to play for themselves or as part of a team.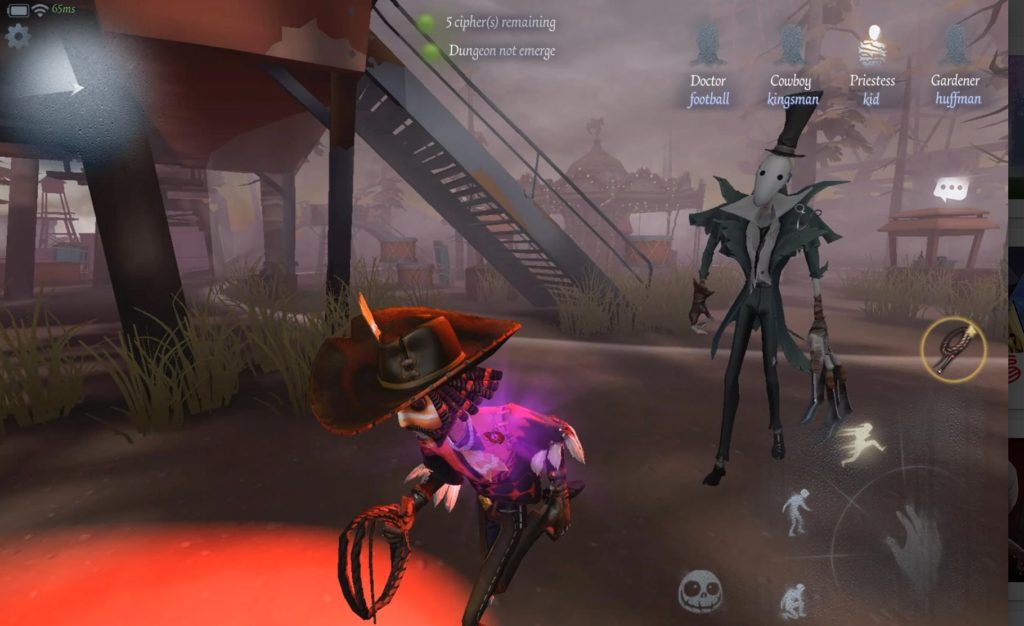 Well, if you like the role of bad guy, then you can take the side of killer: there are chainsaws, knives and other weapons of violence. Also, the killer has an unusual ability!
The stylistics are amazing, a little dark and very atmospheric. The music is 10 out of 10, but if you get tired of the same track, you can choose a tune of your own choosing.
On the plus side:
An interesting story;
a variety of characters;
beautiful skins;
other modes of the game where you can have fun.
To sum it up, this is a kind of mobile Dead By Daylight in a gothic wrapper, an excellent horror for all fans of the genre.
Downloads: 10000000 +
Customers rating:

(3.6 / 5)

Multiplayer Granny Mod
Multiplayer Granny Mod is a third-person multiplayer horror project that is both terrifying and mesmerizing.
Once again, in the middle of the story is a spiteful elderly horrible-looking heroine, who has decided to devote all her free time to killing poor travelers who happen to be on her private property. They will try to escape from the unfortunate place, and if they are lucky, then the mad mistress will be sent to the afterlife.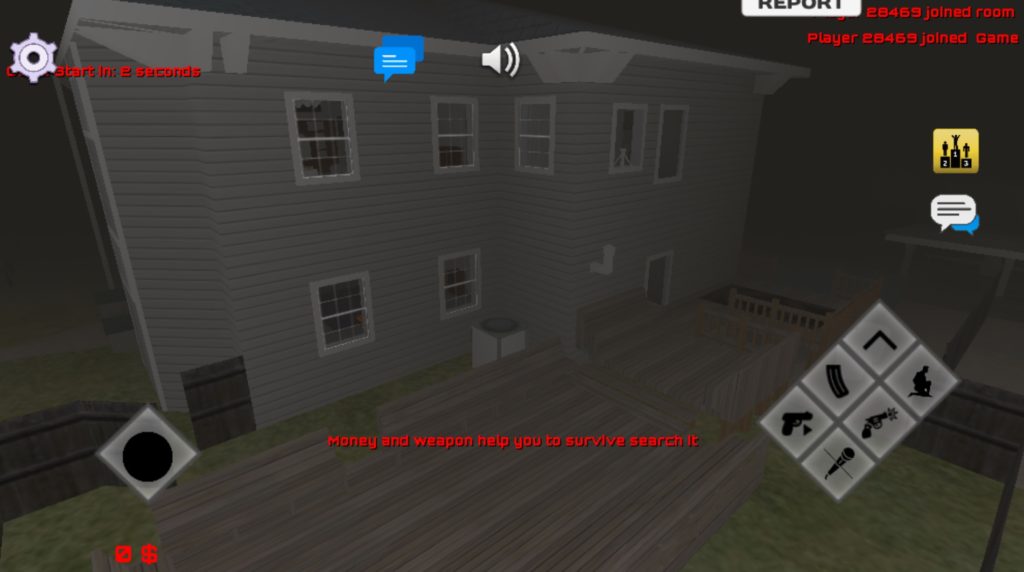 As gameplay involves multiplayer format, it's easy to guess that one of the users will have to perform the role of an evil old woman. It's possible to set the desired scenario in the process of creating a new game room. At the same stage, you can choose the number of participants in an impromptu death marathon, as well as the location within which all events will unfold.
Features:
A multiplayer horror game with a choice of hunter or victim roles;
Several atmospherically dark and ominous locations;
Communication between allies via microphone or text chat;
Detailed customization of each game room.
The role of villains can be played by several outwardly disgusting characters acquired by the gamer for game money in the main menu. A total of nine types are available. The choice of victims is not so rich – a couple of girls and a couple of guys.
Considering that the level of violence in Multiplayer Granny Mod is off the charts, it's highly recommended not to download the game for underage and impressionable gamers.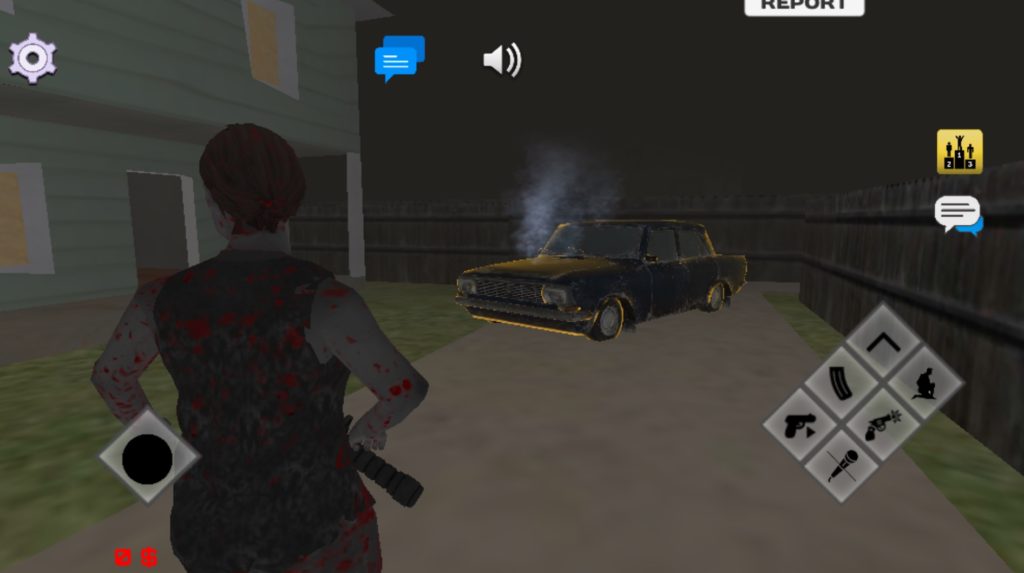 Downloads: 500000 +
Customers rating:

(3.4 / 5)

Horror Forest 3
Welcome, stranger, to the open-world zombie shooter game. Get ready to slash, slay and destroy zombies, mutants and other venomous creatures in this unique open-world MMORPG shooter!
Learn how to move fast, fight to the death, build smart skills, level up and improve your character, unlock weapons, upgrade your skills and require customization of skins. Force the evil dead alone or in multiplayer PvE mode. Or, if you want to be the outright leader, challenge everyone in PvP mode to score points and become number 1 in the world rankings.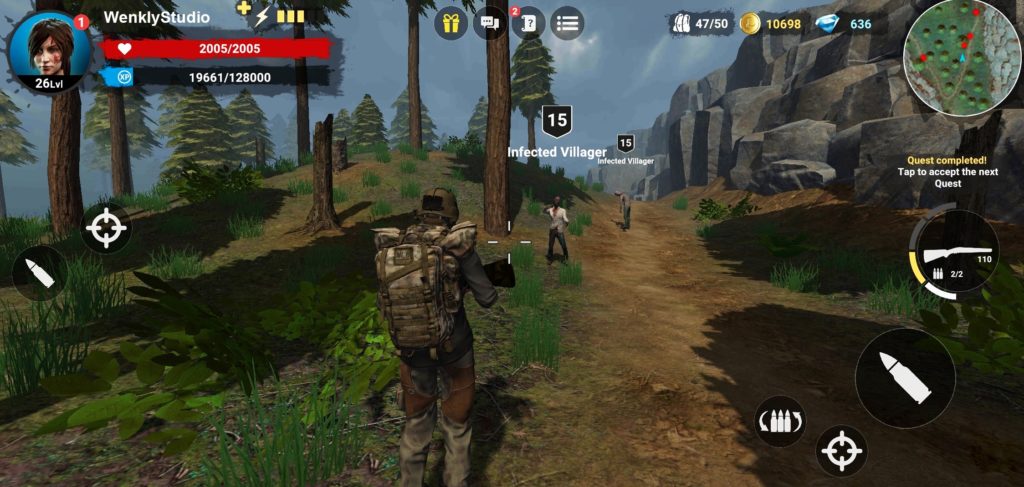 The world is crumbling. The disease is spreading. You are one of the last to survive. But you have only a wooden stick in your hand. Fortunately, you can make it. Fight for your life, collect some items, buy better weapons and equipment, complete various quests, help your friends or strangers in PvE mode or track them down in PvP battles, check daily and temporal challenges, check what's going on in your hideout where you can meet new enemies or just have a little rest!
What's in the game?
Experience an in-depth story about a post-apocalyptic world and become part of the story;
TPP camera and huge, king-like battle maps: creates a unique, remarkable experience;
Up to 8 players in multiplayer mode;
Take care of your hiding place, get to know your comrades and make a fireplace to feel safer;
Level up: during battles, quests, and other daily or temporary challenges;
Fancy closet: be yourself, a stealth ninja, a combat commando, or a colorful rabbit;
Get ready: buy a variety of deadly weapons, melee, pistols, machine guns, rifles, and heavy weapons;
Exclusive skins: each rag or weapon has several unique skins, change equipment at any time;
Impressive stunning high quality visuals and intense music.
Downloads: 500000 +
Customers rating:

(3.6 / 5)

The Dark Pursuer
The Dark Pursuer is a horror game with elements of surprise that will make your blood run cold. In a strange way, the protagonist finds himself in a dark place inhabited by dangerous creatures. It's in your power to save him, finding a way out of this madness.
Try not to attract the attention of monsters, making your way through deserted corridors. Look in all the rooms, because they may contain useful items. Complete tasks and solve puzzles to get the keys to the locked doors.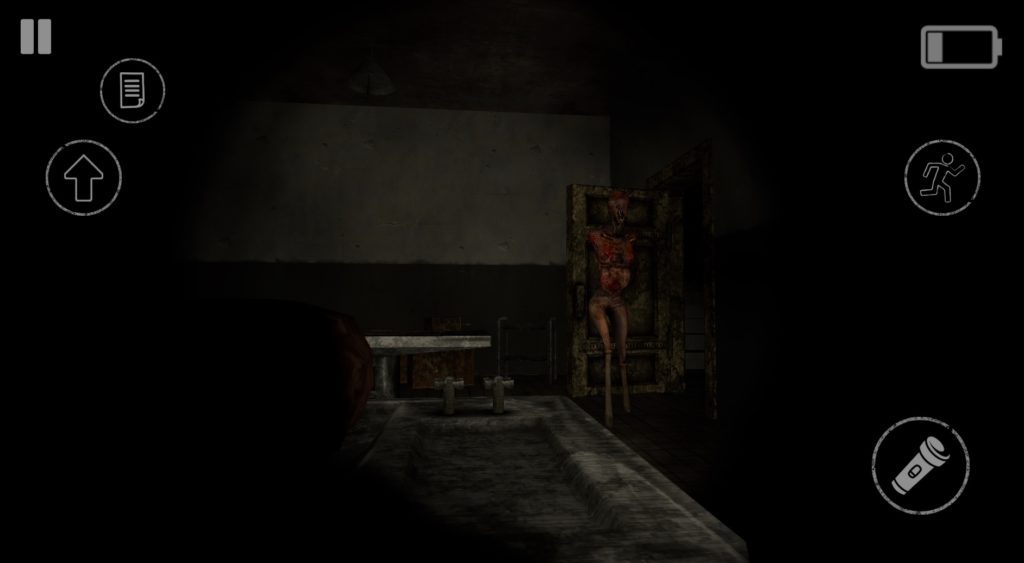 Use logic and wit, don't panic, move as quietly as possible. Look around carefully, because around every corner not only monsters, but also valuable clues may lurk.
The strength of the game is the graphics, sounds and level design. Single game is on a couple of times to pass, but the multiplayer game is more interesting. But there is a minus, when you get into the closet your hands and feet are visible, it's almost impossible to hide.
In general, players are drawn into the atmosphere of the game. It's very creepy when the lights go out. In the end the game is cool.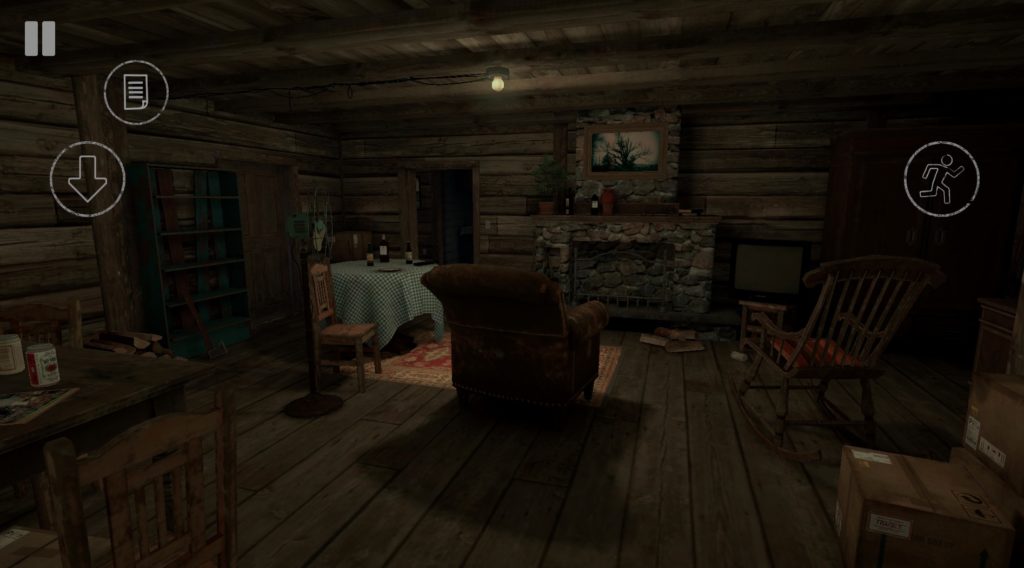 Downloads: 1000000 +
Customers rating:

(3.3 / 5)

Hide from Zombies: ONLINE
Hide from Zombies is a very addictive game of the hide-and-seek genre, very similar to Prop Hunt. This time, your goal is to survive as long as possible without turning into a zombie. To do this, you need to hide in different corners of the environment.
At the beginning of the game there will only be one zombie (the player), and his task is to infect all other survivors in less than two and a half minutes. If you get infected, you move to the red team's side and gain the new ability to find hidden players by the sound of their hearts beating.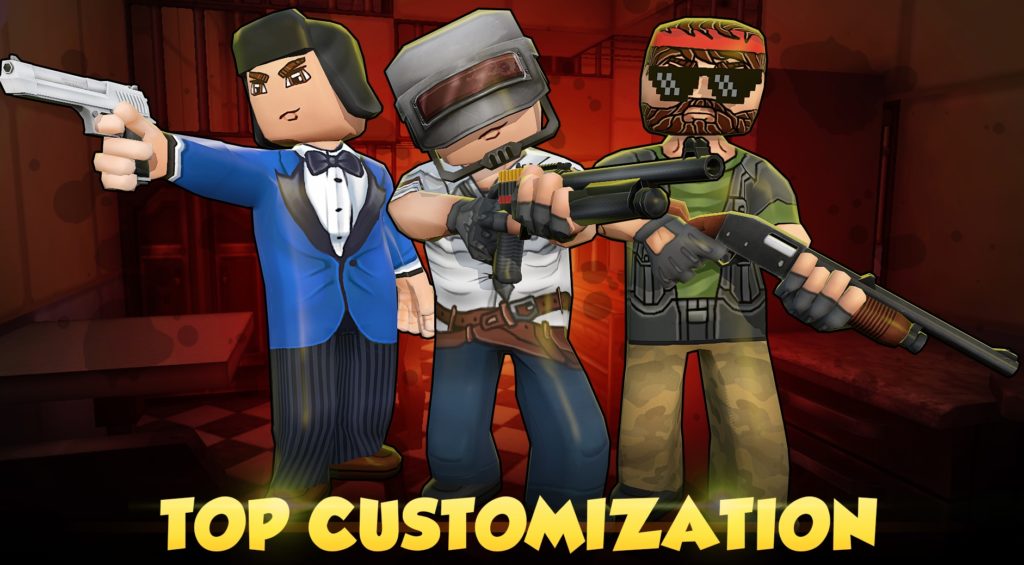 While you are on the side of the survivors, you need to collect weapons from around the environment and use them against the infected. And when you become a zombie, you can only infect others to accomplish your task. You can play in three different locations of different sizes: a large store, a hospital, and a city resembling Minecraft.
By successfully completing individual rounds, you'll earn resources that can help you obtain additional weapons such as spiked traps, spikes, towers, and new types of grenades. Also, you can customize your avatar with all sorts of skins.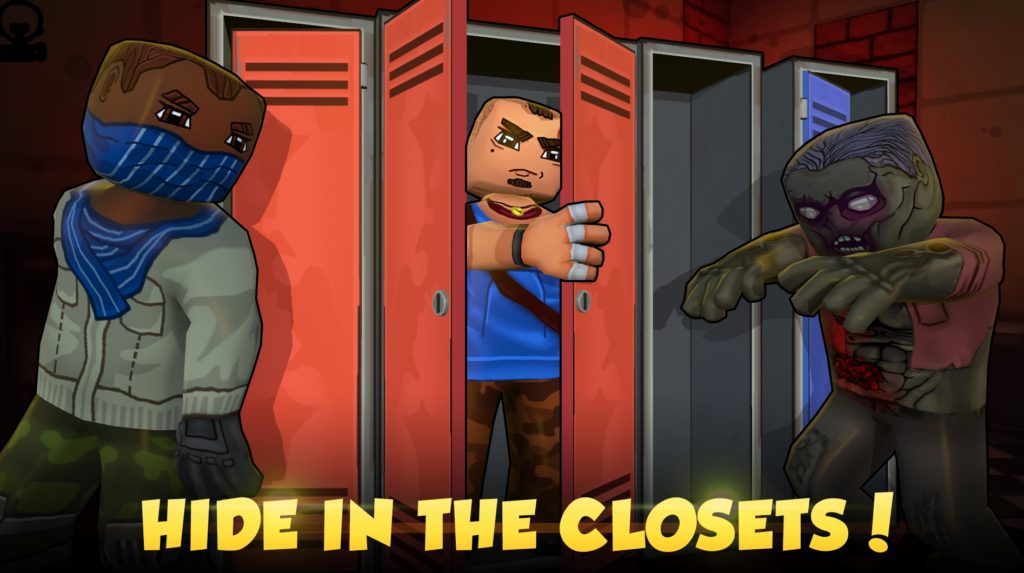 Downloads: 1000000 +
Customers rating:

(4.3 / 5)

You may also like: 5 Best UNO Multiplayer Games for Android
Ice Scream: Horror Brawl
Ice Scream: Horror Brawl is a multiplayer horror sandbox game in which you can become a twisted killer and destroy your enemies. Use your skills to kill as many people as possible and raise your status as a mass murderer. Find new weapons and abilities with different properties such as poison or crafting.
You can also play as one of the villainous characters such as Ice Cream Man or Mister Shadow. Become the Evil Nun with four Chaos Crystals and dominate with all your dark magic and crazy abilities!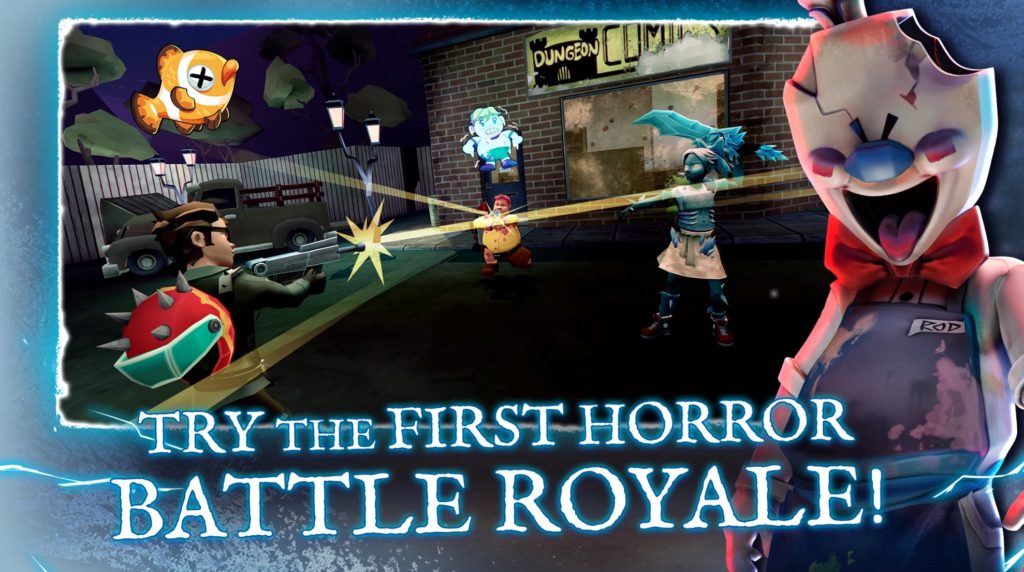 I think mixing Horror and Battle Royale is weird, but actually kind of cool. Also, in this game you can easily get good things without donating, and the donation here is small. You can once donate 500 stones and you get another 500 as a gift, and for that money it can be chic to live.
The game itself is not bad, very interesting idea with the chaos stones and transformation into the Horror. But there are a couple of minuses:
The optimization in the game is poor, and this prevents you from fully enjoying the game, as you have to put the minimum graphics;
A large number of ads, and especially after each game.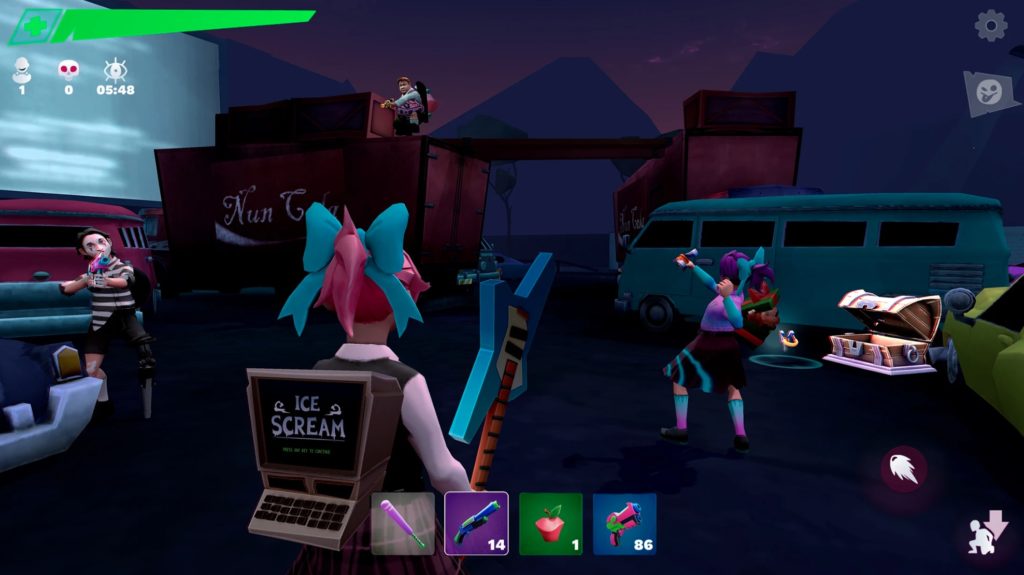 Downloads: 1000000 +
Customers rating:

(4.4 / 5)