People have been always wondering if there is a connection between starts and their lives. Researchers were carried out to study it, however, there is still no clear answer. But one thing remains true: stars' and planets' positions definitely influence various processes on Earth.
Taking that into account, we can conclude that cosmic patterns impact our past, present, and future. For understanding these astrological insights there are different charts. Nowadays these charts are presented on the Internet and can be found on a wide range of apps.
1. TimePassages
This app is concentrated solely on your personality. All horoscopes or charts, which can be found on the application, are dedicated to your unique personal data.
The app uses not only your date and place of birth, but also it can generate your personal horoscope resting on your appearance and current location. These factors make the app one of the best among others.
The application calculates your natal chart and zodiac forecast according to planetary bodies and the Sun, the Moon, and the Rising Sun signs.
You can first read about your inborn features and houses, which rule you during your life. There is a zoom button for a deeper exploration of each feature of your natal chart. Then you can take a look at your future progressions and transits.
You will get short-term horoscopes as well as long-termed predictions, which allow you to better prepare for your future ups and downs. This will also let you observe the direction and pace of your life and will help you to reflect on all events, which happened to you.
The structure of your specifically created horoscope is easy for reading: all planetary bodies, their positions, and aspects, which are connected to these signs will be listed by priority.
You will know what is more important for you at the current moment. You also will see why this is so important, as a detailed interpretation of the signs is going to accompany the list.
The app also has the function of creating profiles of other people on your device. You can add another person's data and get a new unique horoscope together with yours!
You can categorize each of the profiles created as well, so you can have horoscopes for your family members in the Family category, or for your friends in the Friends category. You can easily share your and their predictions via email messages.
You can use a Compatibility Meter on the app and learn your opportunities in different aspects of life: love, finance, career, and others. This function allows you to compare your profile's potentials to other profiles.
TimePassages also has a rich glossary for astrological terms, which can be really useful, if you have just taken up astrology.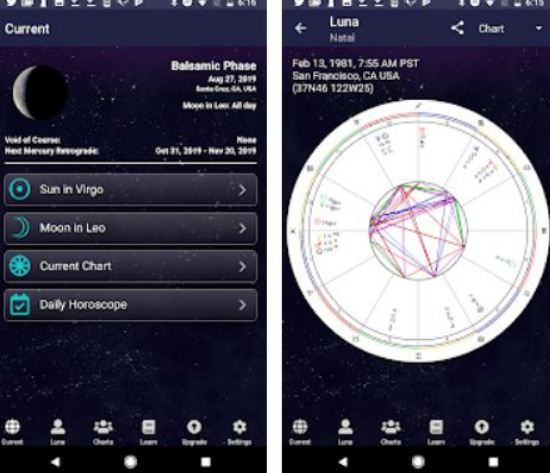 Downloads: 100 000+
Customers rating:

(5 / 5)
You may also like: 7 Best OHMs Calculator Apps for Android
2. Co–Star Personalized Astrology
This app is considered as one of the tops of its kind not only by average users but also by well-known magazines and newspapers.
The periodicals, which consider the Co-Star Personalized Astrology app helpful and deserving your attention, are New Your Times, Cosmo, New Yorker, The Verge, and some others.
The distinguishing characteristic of the app is that it calculates a person's natal chart to Sun signs, planetary signs, and zodiac houses.
The combination of all these signs creates the most accurate horoscope, which differs significantly from a typical one, which only calculates the Sun sign.
As the app's creators say, your Sun sign does not matter if you do not take into account your moon sign, planetary bodies, and ruling houses.
All horoscopes on the app are highly personalized and generated by professional astrological writers.
The app works with NASA in terms of tracking planetary movements, so you can always be sure about the accuracy of the current positions of stars, planets, and secondary planets. However, this option requires a regular update for the sake of the correct operation of the app.
The Co-Star Personalized Astrology app has a broad fan base on social media. You can follow this app on such platforms as Instagram or Facebook.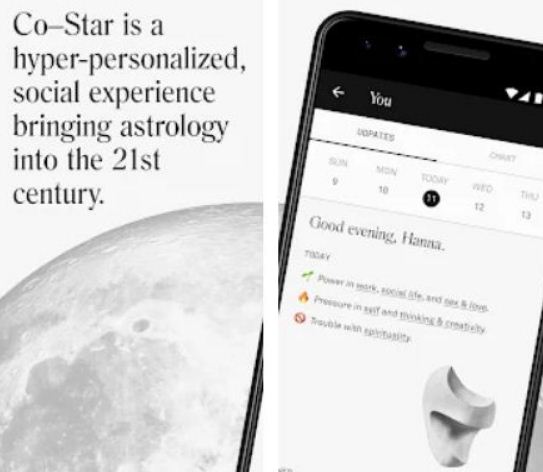 Downloads: 1 000 000+
Customers rating:

(4.7 / 5)

3. Yodha My Astrology Horoscope
If you are in love with astrology or your passion has just woken up, this app has much to offer to you.
The Yodha My Astrology Horoscope application provides you with every option of cosmic insights you can just imagine. You will get all information and a full description of celestial objects, which influence your character and life.
When downloaded, you will receive your personal astrologist who will make forecasts for you and your future. A user can be sure that his or her horoscope is unique and only written for him or her.
This is possible due to a large number of high-caliber professional astrologers, who are working for the app. There are over 200 experts, who have proved their knowledge and experience in this field.
Such an approach leads to accurate predictions and the right answers to the biggest questions of our lives. On the app, you can not only get daily horoscopes but also ask questions and receive full and accurate answers from your personal astrologist.
You can ask different things. and there are a large set of sample questions, which can be written. For instance, you can ask about romance, marriage, finance, business, career or ask for a piece of advice in various aspects of your life.
For getting the correct results you will need to regularly update your version. This is connected to the position of celestial objects, which can change from time to time.
Along with all those wonderful functions, mentioned above, you will get daily motivational thoughts and a dose of inspiration. This will influence your mental health and mood in a good way.
As you share your personal information on the app, you can be sure it is 100% confidential. The app guarantees its users a status of an anonymous.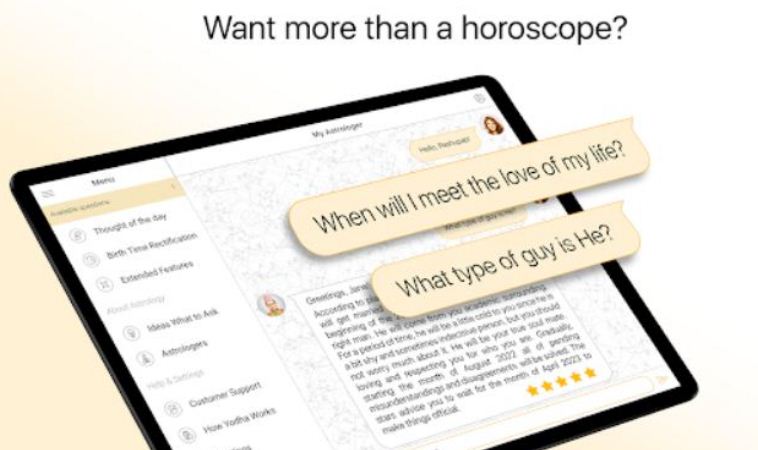 Downloads: 500 000+
Customers rating:

(4.9 / 5)

4. AstroSage Kundli : Astrology
The app also has a software version, so you can easily use it both on your PC or mobile device. This application differs from others of the kind because it was created as a representative of Eastern calendars and horoscopes.
You fill find various Eastern astrology as well as other cultures' horoscopes on the app. Choose yourself, which suits you best, or read each of them for a deeper understanding of your nature and destiny.
If you want to learn about your future, you will get personally written daily, monthly, annual predictions, or predictions of your whole life. All predictions are made on the basis of different calendars and horoscopes, so you can check one calendar's forecast to another one.
The app also provides a talk with an astrologer, where you can ask questions about your past, present, or future.
All results, which you will receive, are possible for saving on your mobile device, as the application provides support for AstroSage Cloud. You can also send your chart as an email or share it, using Bluetooth. If you save your chart, you can print it later.
There are different compatibility calculators on the AstroSage Kundli: Astrology application as well. You can calculate any of the cosmic insights on the go, as the app created for such calculations.
In case you are not so good at astrology yet, the app contains a number of tutorials and useful text for those, who want to learn the field deeper.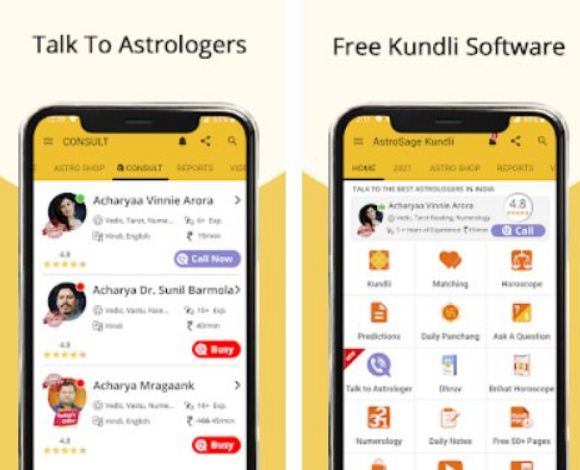 Downloads: 10,000,000+
Customers rating:

(4.8 / 5)

5. AstroMatrix Birth Chart Synastry Horoscopes
The app goes farther from basic astrology as it considers for your birth chart not only your Sun sign but also other celestial bodies.
You will be given full information on your natal chart, and the position of each planet and secondary planet in the Solar system will be explained as a factor in your life. You will get a description of each planetary body as well as a detailed summary.
The app offers you a personal horoscope, which you will get every day, every week, and every month. The horoscope contains predictions as well as information about your personal planets, which impact you on different layers.
Like many other similar applications, the AstroMatrix Birth Chart Synastry Horoscopes app has a compatibility calculator. You can find out if you and your partner match according to stars and planets. You will also learn how your relationship will progress and how it ends.
Among horoscopes, you can get a Tarot Reading as a personal prediction for your future. You can ask any specific questions during the reading and get detailed answers.
All the information, which you will receive, is possible for saving on your phone.
And last, but a not least great feature of this app is that it is absolutely free of charge, you can use it without any purchases.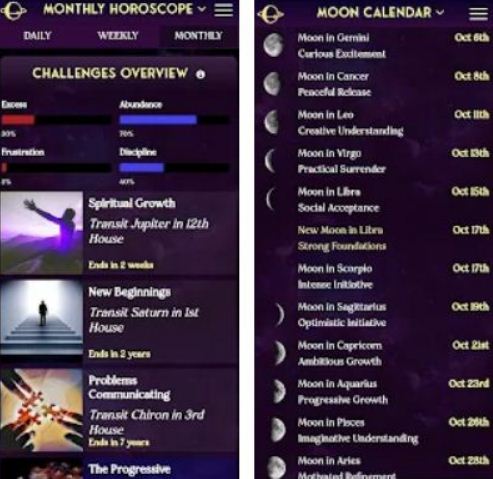 Downloads: 1,000,000+
Customers rating:

(4.4 / 5)

6. Planetary Times: Astrology
This application works in real-time, so it requires non-stop access to WIFI or your mobile Internet connection. This feature is connected to its permanent calculating from hour to hour. This helps you to keep track of the ruling planetary body of the current hour.
The calculation is built on the basis of ancient calendar methodology, which was meant to help people what is the best time for different actions or events. With the help of this function, you will get the best use of time.
You will get information about it through notifications on your mobile device. You will always know what it is time for.
These calculations are made resting on your personal data, such as a date and a place of birth. This information helps the app to calculate more accurately your daily planetary schedule.
On this app, you will also find information about your biorhythm cycles and your hidden nature. The Planetary Times: Astrology app focuses not on predictions of your future, but a full analysis of your character and actions you may make for improving your life.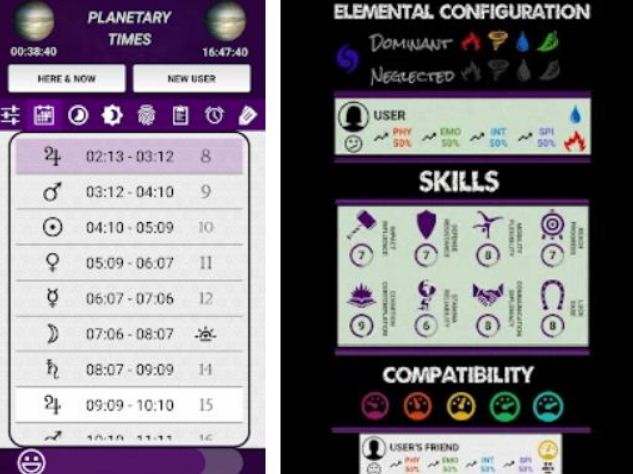 Downloads: 500,000+
Customers rating:

(4.2 / 5)
7. Sanctuary Astrology: Daily Horoscope & Psychic
This app has a vast range of functions you can enjoy. You will find here an interactive natal chart, highly personalized astrological prophecies, tarot cards readings, and psychic readings.
All forecasts are provided by authentic experts in specific spheres: astrologers, psychics, and empathy readers. All experts have been working in their positions for a long time and you can be 100% sure they are skilled specialists in interpreting cosmic signs.
Using the app, you will get much more than a simple daily horoscope. You will learn a lot about yourself and the environment you are living in.
New York Times, New York Magazine, WIRED, and some other magazines have mentioned this app and the one worth your attention. You can check out if they were right and try using this application.
Containing all these options, you can use the Sanctuary Astrology: Daily Horoscope & Psychic app for free and get the best it offers.
The app respects its users and gives special things on their birthdays. There is a lot of followers of the application on social media.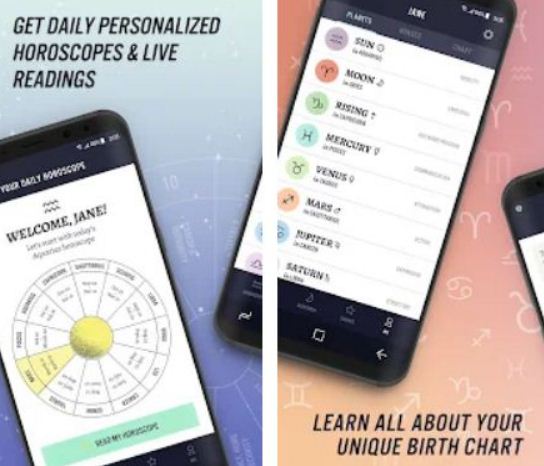 Downloads: 100 000+
Customers rating:

(4.6 / 5)
8. AstroVeda (Pro) – My Astrology & Zodiac Horoscope
Within this application, you will ger forecasts as well as a piece of advice from astrologers. Thus you will have objective information about your nearest future and also some clues from stars and planets about your future actions and ideas.
The guidance is a key feature of the AstroVeda application. You will never be left alone with vague or unclear predictions. A full interpretation of ancient wisdom and helpful tips will follow the description of your natal chart and forecasts.
Another great feature of the app is its genuine professionals in astrology. Knowing your charts have been made by people of this level makes users trust the app.
These feelings become deeper when you realize how accurate your personal horoscope is and how simple and clear the explanation is.
If you need some more details about your situation or life, you can directly chat with astrologers, and you get along and personalized feedback.
You are able to ask an unlimited number of questions about your lifestyle, different kinds of relationships, marriage, health, business, work, money, and others. Sample questions are presented in the app itself.
You can use all these functions after registration. For doing that you will need to enter your email address, confirm it, and create a password for the app. So you can be sure that the app secures your personal information and predictions.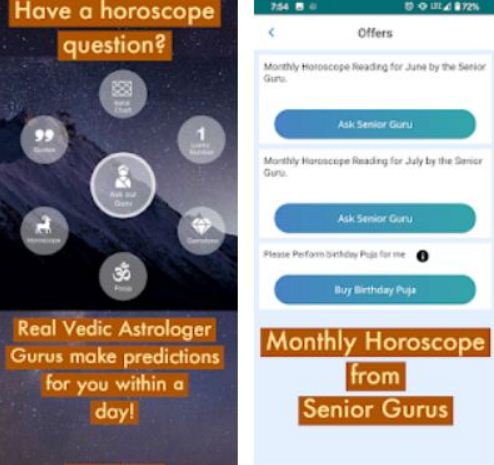 Downloads: 100 000+
Customers rating:

(4.2 / 5)

You may also like: 5 Best Steganography Apps for Android
9. Astrology Master
The app provides not just a simple and general horoscope, but advanced and accurate astrological forecasts. It uses the data of NASA in terms of celestial bodies' positions and calculates charts with the help of specific astrological formulae.
The application suits both professional astrologers and those who just started their path in this field. One of the best features of the Astrology Master application is the fact that it focuses on further learning of astrology and helps users to immerse in this topic.
The app allows you to calculate the natal charts of different people. You can use it for your own need, but also it is possible to learn more about those, who surround you. You just need to fill in the information about them and then you will get the result.
If you want to check the natal charts of different people several times, you can save his or their data as Contacts, and go back to them any time you wish to. This option allows you to get the natal chart immediately without entering personal data again and again.
You can receive personal predictions not only about the future but also about the past. You are able to compare different events from your life with those which were predicted by the app and make conclusions on this.
The app can easily convert all information you will get into different formats, such as pdf. You can convert into pdf not only your predictions but also other various calculations, results, or comments. Then you can share this online or print it for the sake of having a printed version of your birth chart.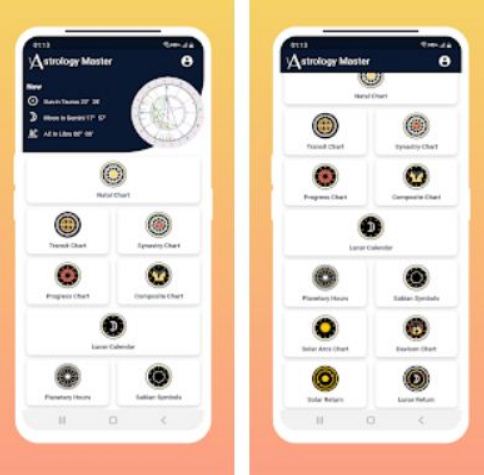 Downloads: 100 000+
Customers rating:

(3.9 / 5)