The photography and videography industries are becoming more and more popular these days. This is connected to the fact that cameras are developing, and a great number of pictures or clips of high quality can be made by, literally, anyone.
This factor led to another level of photos and videos. It is not enough just to take a picture or record a video – they need further editing and improvement. There is a wide range of fascinating tools, which are available on different mobile devices for such a purpose.
1. Video Editor APP – VivaCut
The app is equally suitable for professionals and dummies. Whether you wish to create a professional clip or just make a funny video for your friends and members of the family, you will not find a better option than the Video Editor APP – VivaCut application.
It contains all the features a video editing app needs. Some of them are for videos: green screen, collages, texts, stickers, emoji, different masks, to name but a few. Some other tools will help you to improve your video. You will find a music maker and an audio extraction here.
There is a possibility to combine all effects and use them simultaneously. You can also control the intensity of each filter, which you will choose.
The app is great for making videos for such platforms as Youtube, Instagram, and TikTok. Some tools only work for making videos of their formats. There is a function of quick sharing with one click. You can send your works on various social media.
In case you are not satisfied with the result you get, you can easily undo or redo any step from the editing process. You will always like the final video!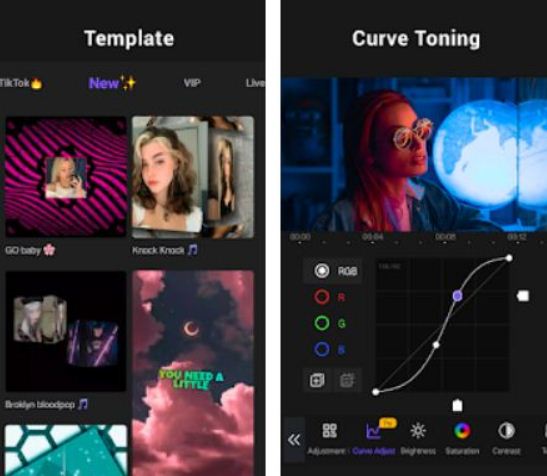 Downloads: 50 000 000+
Customers rating:

(4.7 / 5)

You may also like: 9 Best Before & After Compare Photo Apps for Android
2. Motion Ninja Video Editor
The app is considered one of the top apps among visual and audial editors. The application provides you with an opportunity to modify photos, videos, audios, or all together. You are able to create anything you wish: from high-level clips or animation to funny collages.
The main feature of the app is that it offers you designs and modifications for all kinds of visual and audial things, which are possible.
You can edit a pro video, using slow motion, a professional keyframe, color grading features, green screen.
You can create a funny video or animation, using popular stickers and emoji, animated stickers, masks, illustrations, various sound effects (laughter, exposition, animalistic sounds).
You can modify a picture, by replacing the background of it or adding effects to make it looks like one from a Hollywood movie.
The number of functions does not influence their quality. The Motion Ninja Video Editor application has perfect effects, great tools, and a wide range of templates for your convenience.
As well as that, you can use a function of multi-layer support and make one big clip from your other works, combining them into one.
The app allows you to save the result for later sharing on YouTube, TikTok, Facebook, WhatsApp, Instagram, and other social media.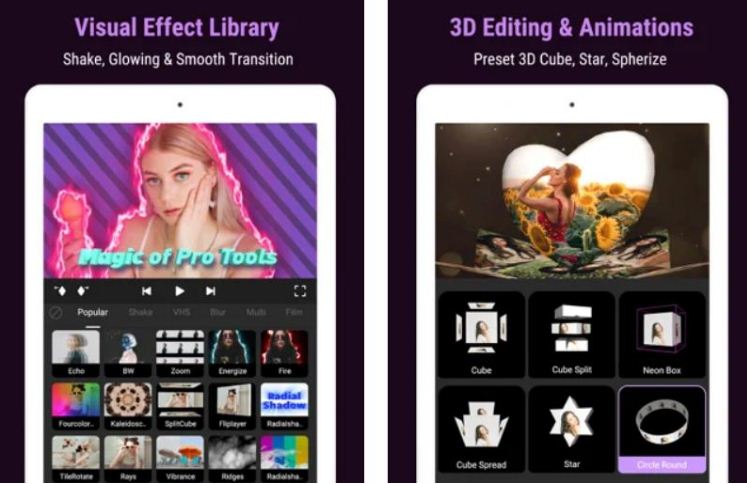 Downloads: 5 000 000+
Customers rating:

(4.6 / 5)

3. Shot FX: Video Effects Editor & VFX Video Maker
This application is for those users, who wish to amaze their audience with fascinating graphics, stunning visual effects, and high-quality videos.
The app was created for making low-cost blockbusters and other amazing videos. You will find useful tools and filters within the application, which allow you to become a master of creating various videos.
You can make another fiction movie or make a short video for your social media. There are such effects as GIF filter or boomerang. All these options are clear and easy for using and you can make any video you wish.
The Shot FX: Video Effects Editor & VFX Video Maker application is not only a video editor, but also it is a beauty camera and selfie editor, which has all kinds of face filters and live stickers to enrich your photos.
You can forget about problems with shooting with this app. A makeup camera, real-time beauty effects, and over 2800 unique live face stickers can guarantee you a limitless number of beautiful photos.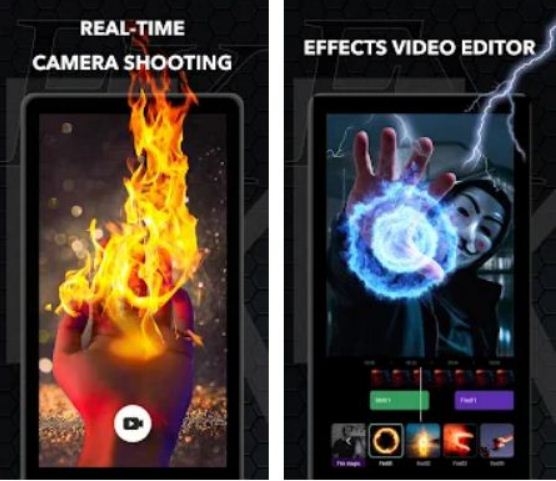 Downloads: 10,000,000+
Customers rating:

(4.6 / 5)

4. PowerDirector – Video Editor
The application is solely focused on making videos. It can take your recordings to a higher level of masterpieces. It is possible to change a video from your mobile device in any way you can imagine.
You can add different audios, transitions, motion titles, effects, emoji, background, filters, and other effects. Experimenting with them or selecting the one you are sure about, whatever you would choose the final result will amaze you.
There is a large collection of photos, music, sound effects on the app for your usage. You can add your own pictures or audios to the library and make clips with them too.
The interface is simple and intuitive, and the tools are easy for applying or switching, so it will be really effortless to make a dream clip on your mobile device.
One of the great features of the PowerDirector – Video Editor app is that it is updated regularly. and its tools and filters will broaden and improve with this updating.
It is so easy to save and share the videos you have made on various social media, such as YouTube, Instagram, Tik Tok, Snapchat, and others, to attract new viewers and become the next vlog star.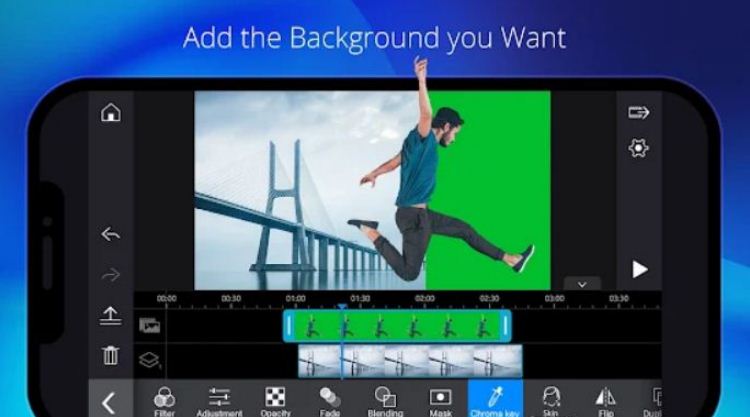 Downloads: 100,000,000+
Customers rating:

(4.3 / 5)

5. KineMaster – Video Editor
The app is used by professionals in the photography and videography industries. Such skilled specialists as journalists, educators, marketers, and vloggers select this app and prefer it to others.
Their choice is connected to the functions and quality the application provides. There are a great number of effects and tools, which look wonderful in videos and are easy for applying.
You will find here such options as a keyframe animation tool to add motion to layers, volume envelope tools for immersive audio, color adjustment tools and filters, speeding up and slow-mo and reversing and blending, tools to cut, splice, and crop your videos, and much more.
You can add pictures, stickers, special effects, text to your video. As well as this you can add music, voiceovers, sound effects, and voice changers.
The video you have created is possible for being saved in high quality and then shared on YouTube, TikTok, Facebook Feed and Stories, Instagram Feed, Reels, Stories, and other social media.
All these features are available for free, but with a KineMaster Premium subscription, you will find even more tools, effects, and opportunities for modifying your clips.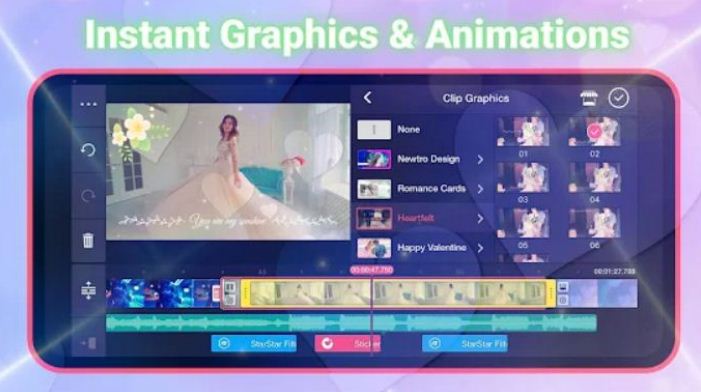 Downloads: 100,000,000+
Customers rating:

(4.2 / 5)

6. WeVideo Editor
The app allows everyone to make incredible videos, whatever skills, practice, and experience they have. The app works perfectly with different types of videos and you can edit any video for all your needs: work, hobby, family, or as a school task.
You can change videos or photos. which are already on your mobile device or use your camera, take a picture or make a video, and then modify them. The app provides easy access and captures files from your phone or tablet.
Along with that, you can use the WeVideo Editor app's library, which has numerous photos, images, and clips.
You can choose how long your video will be, whether it contains additional visual or audial filters and effects as well as text, stickers, and emoji. You can even add voiceover narration to your clip to make it more unique.
Within the app, it is quite easy to save, export, and publish the videos you make. You will have videos of high quality, which are available for viewing on any device.
The app offers different subscription packages and you can use it for free or choose the most suitable plan for you and subscribe for it.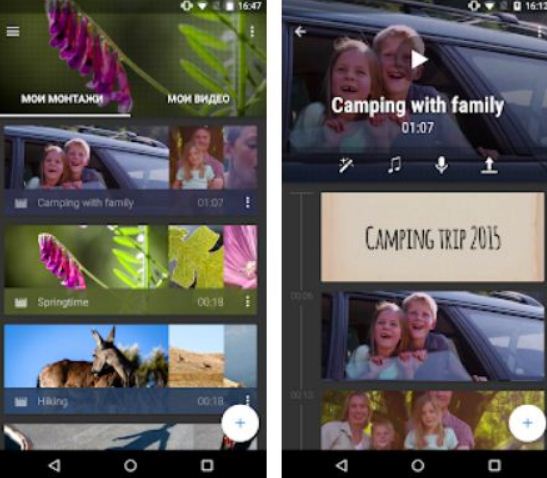 Downloads: 10,000,000+
Customers rating:

(4 / 5)

7. Stop Motion Studio
The app is perfect for both specialists and beginners in moviemaking. Regardless of your theoretical and practical knowledge, this app will you if you are keen on making your own clips, animation, or even cartoons.
The app was written about in such editions as The New York Times, The Washington Post, PCMag, and some more. It was said that the Stop Motion Studio application enhances creativity, helps to bring objects to life, and is great for learning the basics of moviemaking.
The interface of the app is very simple and clear, so every user will be able to manage to work on it. While working you will never get lost, as you will have an Interactive timeline. It is possible to work with the foreground, the background, and particular objects on the app.
You can make your video even better with special video filters and your own soundtrack. For the soundtrack, you can use built-in music and various sound effects, as well as upload music, songs, or recordings to the app's library.
Along with that, you can add text as speech bubbles or make titles or subtitles too. You will also have an opportunity of making the voiceover in your video.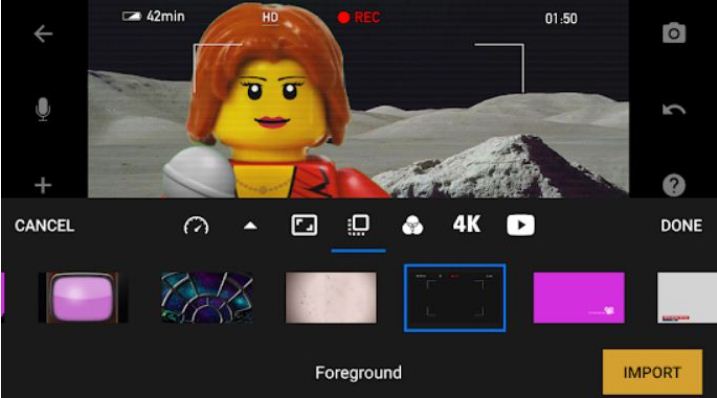 Downloads: 10,000,000+
Customers rating:

(4 / 5)

8. Ultimate Background Eraser
The application was created for the only purpose: changing the background on the photo. The fact the app has the only function makes it easier and more simple regarding usage. It takes just a couple of clicks on bottoms to get rid of the background.
The whole process includes a few steps: first, you remove the background of the selected photo. Then you save this version of the image in PNG or JPG format. After that you can change the photo as you wish, using other photo modifying apps.
The Ultimate Background Eraser application has two modes: auto and manual. The auto offers one-touch removal and the second mode offers you to remove the chosen area with your fingers. If you do not like the result you have got, you can undo or redo the image at any time.
It is possible to use zoom for better results.
After saving an image it can be shared on social media or changed further with the help of other applications or programs.
The Ultimate Background Eraser application gives you a new field for your creativity and imagination.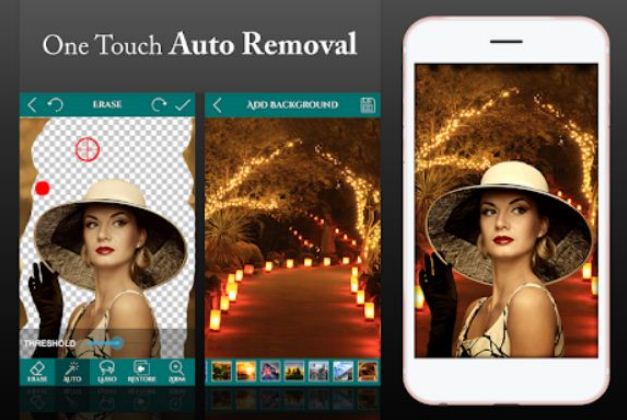 Downloads: 1,000,000+
Customers rating:

(4.7 / 5)

9. Chromavid – Chromakey green screen vfx application
The app provides top green screen chroma keys for making great videos and stunning photos. The quality of the app is of TV shows and movies. You can make yourself an amazing clip or a picture, which looks as it has been taken somewhere in another place.
One of the key features of the app is the fact that it provides great effects in real-time, so you can immediately change a photo or a video from your mobile device's camera.
Another great point of the app is that there is not any Chromavid logos or watermarks on the modified files, so they will not spoil the look of your work.
There are only two simple steps for changing a photo or a video: 1) select the chroma color (only plain colors). 2) apply the background you like. Keep in mind that the modified version will replace the previous one.
The app is simple and easy to usage, but this does not minimize its functions and quality.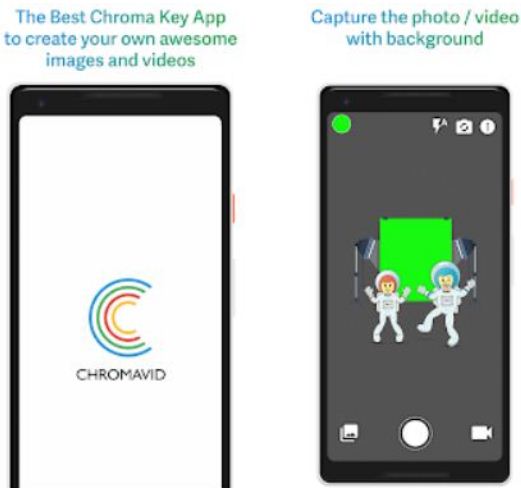 Downloads: 100,000+
Customers rating:

(3.1 / 5)

10. Green Screen Wizard Mobile
The app contains the words "Wizard" in its name, and that is due to the truly magical effects you can find on this application.
It is very simple and clear, and these are its main advantages. Just pose an object, a person, or people in front of a green screen and replace the green with any other background from your phone library or from the collection of images on the app.
The application can only be used for pictures, not videos. However, you will have high-level photos, because it concentrates on them and give the best result.
A lot of professionals and amateurs choose this application among others. You can try it for both business and hobby.
You can adjust the brightness and intensity of filters and effects of the foreground and background.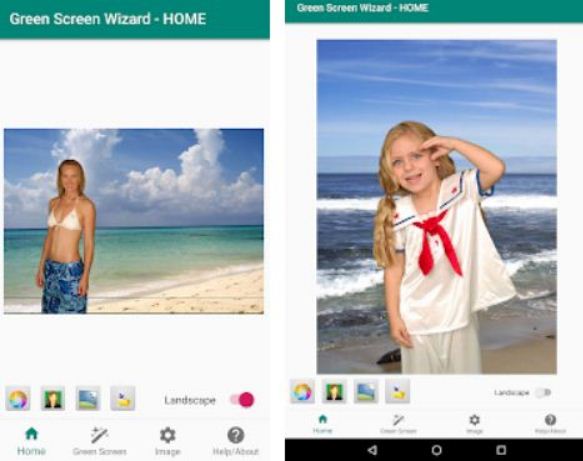 Downloads: 500+
Customers rating:

(3.1 / 5)

You may also like: 3 Best Facial Motion Capture Apps for Android
11. Magic Green Screen Effects Video Creator
For using this application it is better to have a good quality of the image without any shadows with a solid colored background. The light should be sufficient on both subject and background.
The output is highly dependable on the original photos from the front or rear camera.
There are front or back layers, which are possible for changing with the help of filters and effects. The app is great for learning, experimenting, and taking the first steps in a photo or video editing.
You can change pictures and videos, using files from your phone's library. That works for images, videos, and music.
It is possible to record a screen while working on the app for making a video of an editing process.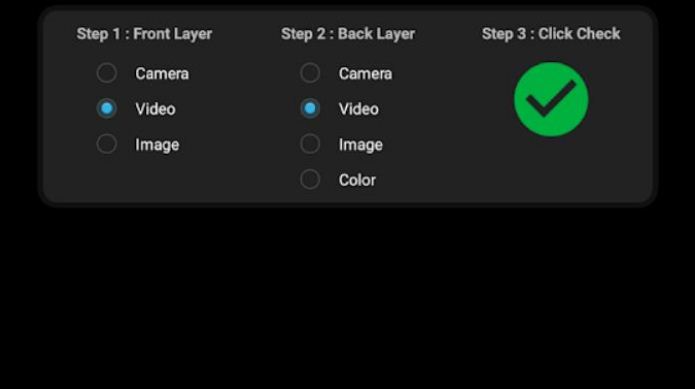 Downloads: 100,000+
Customers rating:

(3.1 / 5)