Tired of friends who are constantly showing off their girls? Give them a decent answer, show that you have someone and that she can not live without you, so constantly calls. In this post, you will find the programs which are designed to simulate incoming voice calls from beautiful girlfriends. Have a look!
You can also check: 17 Best virtual girlfriend apps for Android
Fake Call Girlfriend Prank HD
If you want your friends to see as a pretty girl or a famous celebrity calls you, then choose Fake Call Girlfriend Prank HD app. You can set an incoming call from a girl at any time. Еhis is a simple and quick procedure.
To schedule a call, you should choose a contact from your contacts phone book or enter any other name and number. Then, you can add a photo to the contact and it will appear on your phone's screen when the girl calls you. Choose the most beautiful girl's photo, let your friends envy!
It is also possible to use this app as an alarm clock.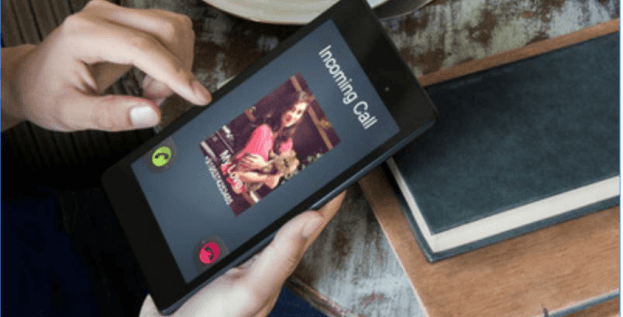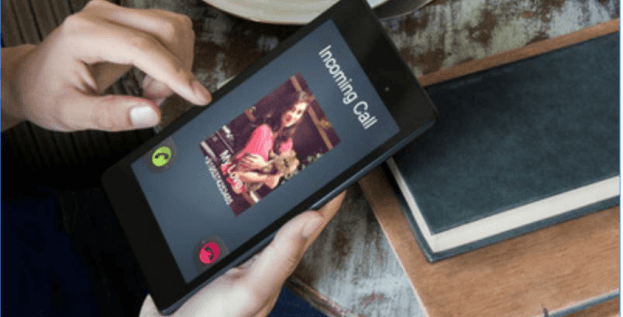 Downloads: 7 800 +
Customers rating: 
 (3.7 / 5)

Fake call – prank
Fake Call app will help you to prank your friends or escape from the office if you need! Using this tool, you can schedule calls from anybody you wish: a pretty girlfriend, a famous celebrity, or even a president! You can edit fake phone calls and messages with any number and contact. They will look like real ones! Nobody will understand that it is just a joke.
The game is absolutely free and has simple settings. According to the reviews of the app's users, it is a great game but sometimes ads and glitches irritate.
Downloads: 70 000 +
Customers rating: 
 (3.9 / 5)

Fake Call GirlFriend
You can show your friends that you have many girlfriends with this funny instrument on your phone. Play your friends simulating incoming calls from cute girls. Creating a phone's call is easy: choose the time for it, enter the name and the phone number. Then, just wait for a call.
After a specified period of time, the smartphone simulates an incoming call. That is, there will be a corresponding sound and graphic design, and when you answer the call, the screen will show the time of the conversation – all as if making a real call.
You can even use Fake Call GirlFriend app as an alarm clock. The app can work without a WiFi connection. Do you want to have fun? Download the app!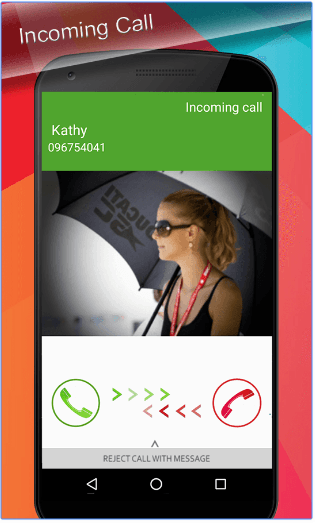 Downloads: 2 100 +
Customers rating: 
 (4.1 / 5)

Fake GirlFriend Calling
The name of the app says for itself. Fake GirlFriend Calling is a prank app which you will certainly like from the first time you try it.
Everything is configurable in the app. You can select a ringtone, turn on vibration, change the photo of the calling person and so on. The incoming call will help you in awkward situations, avoid serious talk or just show that you have a pretty girlfriend. For greater naturalness, in addition to the melody, the display of the phone will show the process of the call itself and the name of the caller.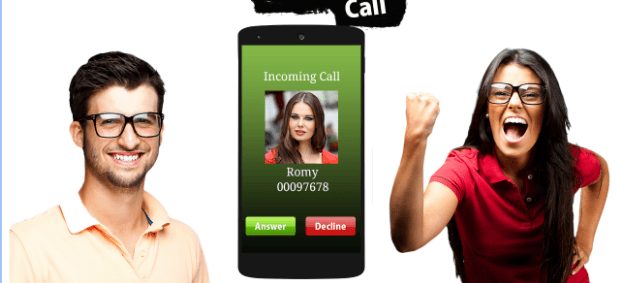 Downloads: 1 200 +
Customers rating: 
 (3.9 / 5)
Fake Girlfriend Call by Marketwell
This is another fake girlfriend call app with the same features. Fake Girlfriend Call allows you to fool your friend or relatives. You can even make your girl jealous using this application. Just schedule the call and you will see the result! Amaze everybody!
An incoming call does not differ from the real one on the screen of your phone, and if necessary, you can use a pre-prepared record that will be played after you answer the call.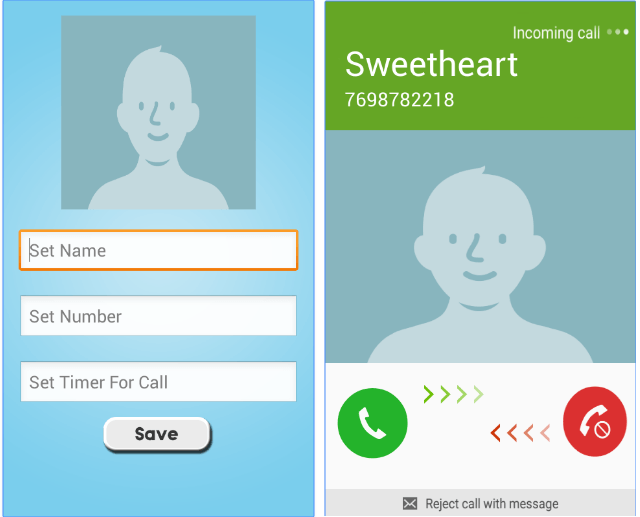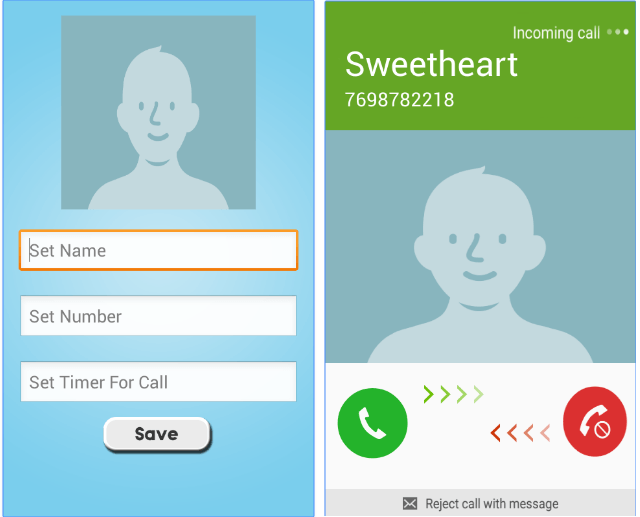 Downloads: 400 +
Customers rating: 
 (4.0 / 5)
Virtual Girlfriend Fake Call
Your friends will see that a real nice girl calls you when you need it. Just download Virtual Girlfriend Fake Call app on your Android. You can start chatting with a virtual girlfriend in a matter of seconds after simple settings. Just enter a number (or you can choose it from your contact list) and set a photo image to the selected contact. So, the receiving call will be so real that your friends cannot suspect something is amiss.
Here, you can receive fake calls as well as prank text messages from anyone you want. The number of free calls and messages is unlimited.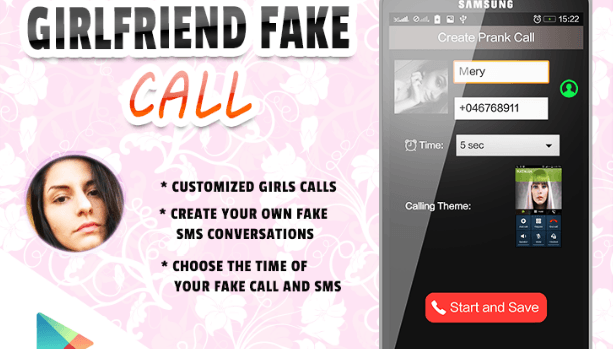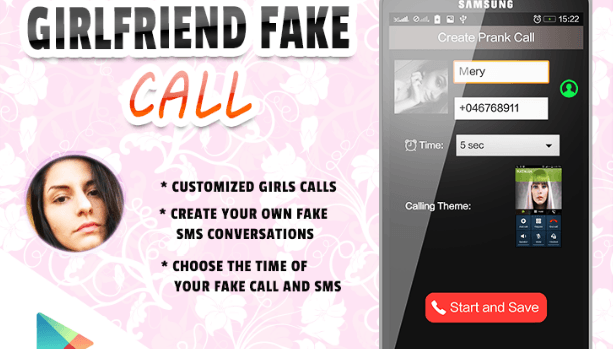 Downloads: 2 000 +
Customers rating: 
 (4.0 / 5)
Fake girlfriend call
Do you want to have a break from work? Or are you on a boring party and want to go out?  Then, you can use this funny fake girlfriend call application. And your girlfriend will call you in time you need! This app can be used to play your friends as well. Show them that you have a pretty girlfriend!
How it works. To have a call you need to schedule it. Then, just wait for the appointed time. When it is time, a fake call screen will appear and you can answer the call. Here, you can set a track for a call and choose the photo of your girlfriend. You can use a pic from the app's catalog or use your phone camera. It is also offered to enter the name of your girlfriend and her phone's number. It is possible to schedule several fake calls for different time.
The app can be used in various situations whether you want to escape an unpleasant conversation or just joke.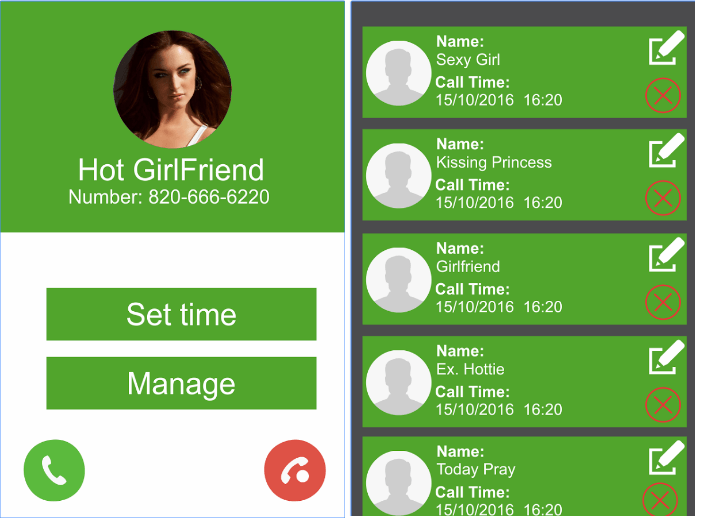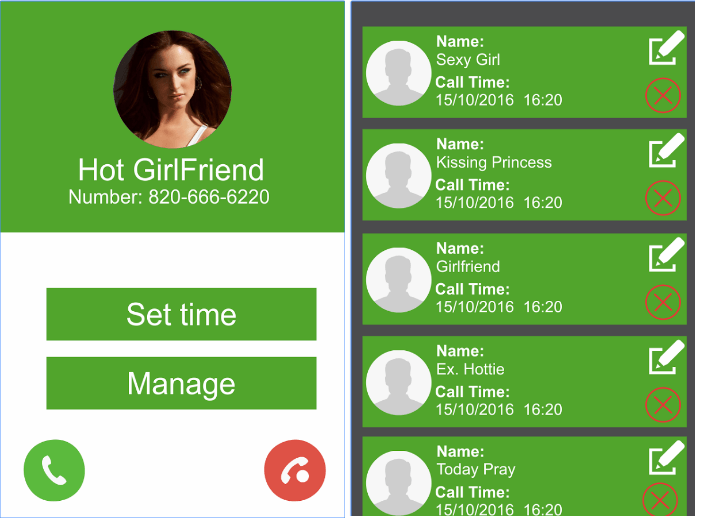 Downloads: 500 +
Customers rating: 
 (4.2 / 5)