Bowling is a unique thing. It is both an excellent kind of active relax, and the truest sport, and an activity that perfectly complements a wonderful evening in the company of good people. True, this is not available to everyone, because in the entertainment center you have to pay money so that you are allowed to roll the balls. But we have online fun, in which you will play absolutely free of charge and as much as you want. Do you want realism or a fantastic direction? – We have everything so that you have fun, relaxing time and enjoy. Apps for bowling will bring great pleasure to everyone. We chose the best for you!
Also check: 17 Best logic game apps for Android
Bowling King
Bowling King is a multiplayer bowling simulator with realistic physics, serious rules and an abundance of equipment settings and visual elements.
Tasks and rules: Specific sports battles take place in the venues in Las Vegas, New York, Sydney, and Paris – at stake, there are multimillion fortunes, valuable rewards and, of course, the reputation of an unbeaten player. The main rule is to knock down skittles by rolling the ball on a specially prepared track: collect the winning sum and get the winnings!
Clubs and settings: The sports simulator Bowling King for Android surprises with the design of the interiors of the playing grounds of different countries – advertising, inscriptions, a color of paths, pins and even balls. Moreover, sometimes the interface and the variant of scoring are changed. Various improvements and purchases, allowing you to radically change any equipment are available in the store.
Modes and wins: Network battles between friends do not cause such grandiose emotions as contests with casual rivals for valuable prizes and money. The "Challenge" mode is even more interesting, where you will have to pass levels, performing the most difficult tasks. Players will even have to win in roulette and on several slot machines! Click to download Bowling King for Android right now and try to achieve great sport!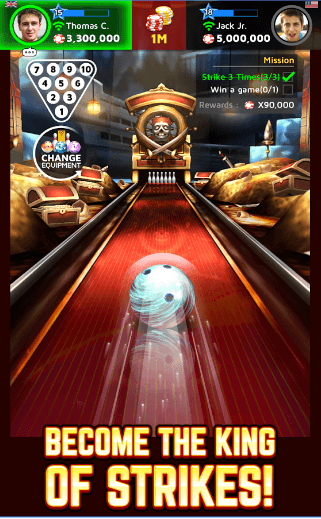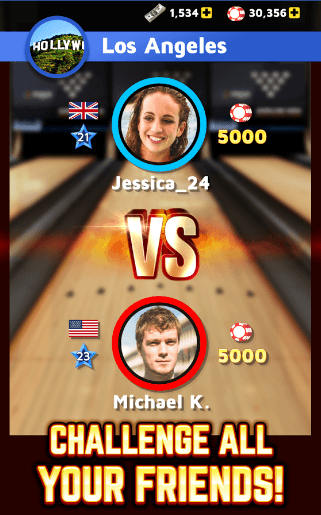 Downloads: 2 254 900 +
Customers rating: 

(4.6 / 5)

3D Bowling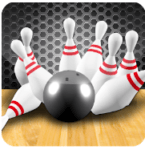 The game boasts high-quality three-dimensional graphics, and this applies not only to the ball itself but the track and all the game elements. In combination with the elaborated physics, this creates the critically needed level of realism. Indeed, Bowling for Android practically carries the player to the club. It only remains to add sharpness of sensations. And the touchscreen does an excellent job with this: controlling the ball with the help of a sensor, making swirling throws and tricky tricks is not so easy. The sea of experiences and joys is guaranteed.
In the application, you will find eight different tracks: the pink world, the green valley, the Sahara desert, the dungeon of horror, the philharmonic hall, the star path, the city road and finally the usual path in the bowling hall. Each track has its own unique colored balls on the theme of the surrounding world (from 4 to 6). You can play the game both yourself and with another person on one device. You can view statistics of your throws and the best result, which afterward can be compared in the table of online records.
First and foremost, this bowling game app worth downloading for those who love this game in reality. In front of you, there is the most plausible simulator. But other fans of quality mobile entertainment will enjoy the game too. Knock down skittles and do strikes in the most realistic bowling on the smartphone!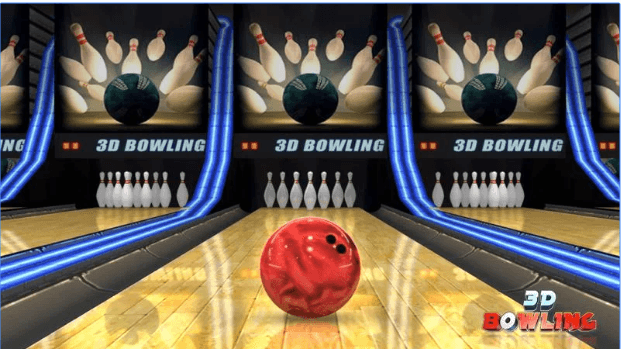 Downloads: 1 026 400 +
Customers rating: 

(4.1 / 5)

World Bowling Championship
World Bowling Championship is an interesting game for the Androids operating system, thanks to which you can take part in exciting bowling championships, preliminarily having perfected your skills.
Game process. Players are offered several interesting modes. Beginners are best to learn the rules and features of the gameplay with a huge number of tips. Each level consists of several stages. It can be passed a maximum of three stars. The total number of stars is counted for all the passed episodes and cannot be more than 3000. Also, there is a game mode for two. You can invite a friend to take part in a friend's tournament and throw balls in turn.
Multiplayer mode involves competing with other real users. However, while the game is played with making bets. As a virtual currency, special coins are used. They can be earned in the process of passing the levels. There is another mode in the game with a lot of pins. The more you manage to knock down at a time, the better.
General rules. Immediately during the game, the main task is to knock down skittles. To do this, it is necessary to place the ball in a convenient position and then make a throw. As long as the ball rolls along a smooth surface, you can change the direction of its movement. To do this, you need to rotate the smartphone or tablet, change the angle. Best if you manage to knock out the strike from the first hit (when all the pins are removed). If you can't do it for the first time, the second attempt is given to knock down the remaining pins. After each throw, the result in the form of numbers from 0 to 10 are written in a special table.
Interface, graphics, sound. World Bowling Championship has a good graphics control with a detailed picture and bright animation. The interface is designed simply, accessible. Sound accompaniment perfectly complements the gameplay.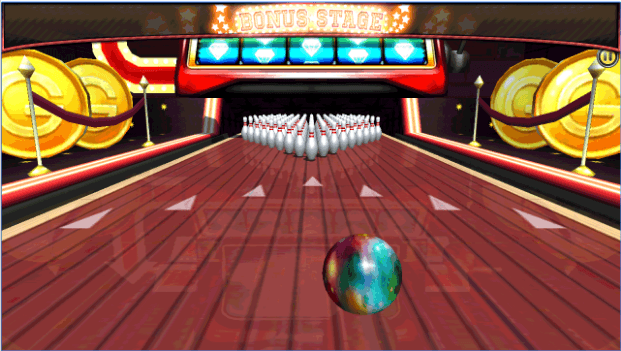 Downloads: 32 300 +
Customers rating: 

(4.3 / 5)

PBA® Bowling Challenge
Rules and training. The PBA Bowling Challenge is a realistic bowling simulator, consisting of an impressive number of modes, stunning graphics, and full statistics, allowing you to track success in different leagues. Moreover, the developers have entered a whole career where the beginner is allowed to get to the status of "professional". The story begins with a predictable, almost step-by-step training – you will be told how the points are calculated, and how to avoid unnecessary mistakes.
Control and rewards. The ball in the PBA Bowling is only allowed to manage at the throwing stage – you can choose the strength, add a twist and even change direction if, for example, you want to show off-peak results. After the perfect throw, the results are immediately saved. The goal is to set a personal record and bypass rivals. After the perfect triumph, you will be given a reward and will be allowed moving to a new league.
PBA Bowling Challenge is an excellent bowling simulator that will appeal to all fans of this sport. In the game, you will find nice graphics and excellent physics. This version is a ten-skittle and it will not be difficult to understand this game for those who have already played bowling games.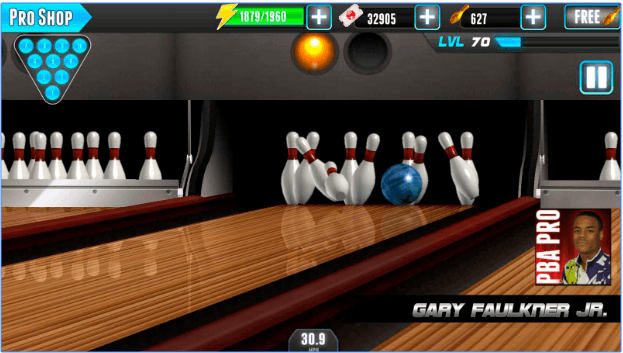 Downloads: 231 200 +
Customers rating: 

(4.3 / 5)

Strike! Ten Pin Bowling
The Strike! game is considered one of the simplest applications for those who love bowling. Thanks to high-quality graphics and realistic design, you can enjoy your favorite entertainment at any convenient moment.
The application has surprisingly easy control, as all actions are made by a simple touch to the screen. In the game, you are also waiting for a large number of tasks, for which you will receive useful prizes to become an even more professional player.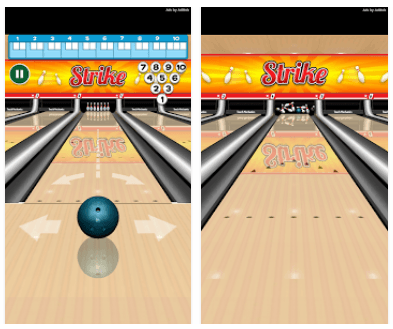 Downloads: 15 800 +
Customers rating: 

(4.2 / 5)

Galaxy Bowling 3D Free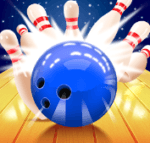 Galaxy Bowling 3D is sports bowling simulator, in which you have to help the main character to become the star of this fascinating kind of sport.
The game has two basic modes: a career where you can compete either with a computer, or with a friend making one by one throw, and also a multiplayer mode in which your opponents will be real players.
The gameplay of this game is very simple: once on one of the tracks you need to change the direction of movement of the ball, and afterward, run it to the side with the pins. To make a "strike" it is enough to knock down all pins with one hit. Of course, at first it will be difficult to do this, but with time and long training experience comes. Using the app, you can earn currency, buy new balls and get access to more colorful locations, as well as participate in world championships.
Features:
excellent three-dimensional graphics;
two game modes;
simple management;
customization of balls and playing fields.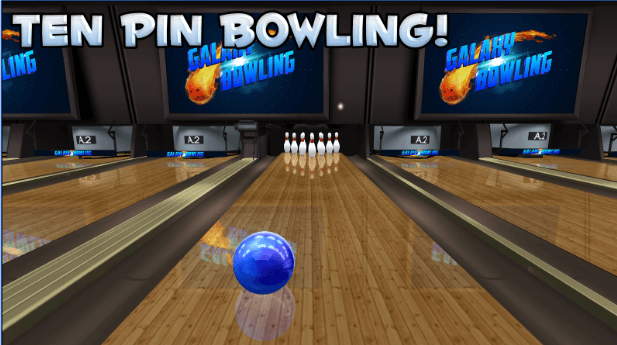 Downloads: 56 700 +
Customers rating: 

(4.1 / 5)

Bowling Paradise 3
Bowling Paradise 3 is a fun, beautiful and unique game, you probably have not heard about! It can be played together with your family members and by professionals who adore exotic nature. Installing the game, you will find fascinating landscapes: ten stunning sceneries for bowling. For example, playing on the Paradise Beach and the Sky Island, the player observes the change of day and night, corresponding to the real time of the day. In the paid version, the day can be changed at night at any time.
A lot of options make the game even more fun:
You can choose from 10 different sets of pins. Each set has 10 custom balls. You can choose up to 10 balls, one for each throw.
A stunning fireworks display will be your reward when you finish the level (the larger the score, the more spectacular the fireworks display)
There are special effects in every scene
Realistic physics
Easy operation
Several ways to play. The game can be played alone or with friends and relatives
You can test yourself by playing against a computer with 3 levels of difficulty.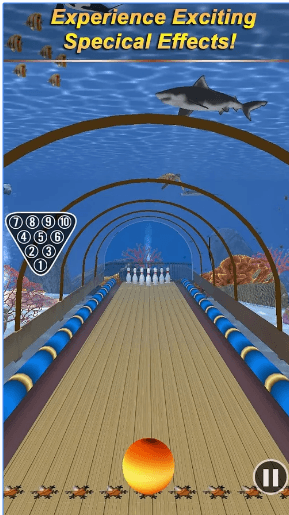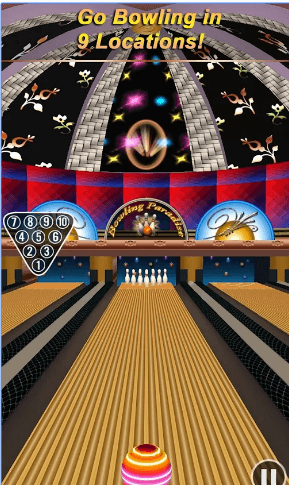 Downloads: 4 000 +
Customers rating: 

(4.3 / 5)

Bowling Game 3D FREE
Bowling Game 3D is an interesting simulator of bowling oAndroidid, which deserves stand on the pedestal of the best applications in this genre. The developers of the game came to the project very seriously, having made realistic graphics and physics in it, as well as useful control modes that are used to obtain variety in the game.
It is worth noting that it is more pleasant and more convenient to play this game on large screens of phones or tablets.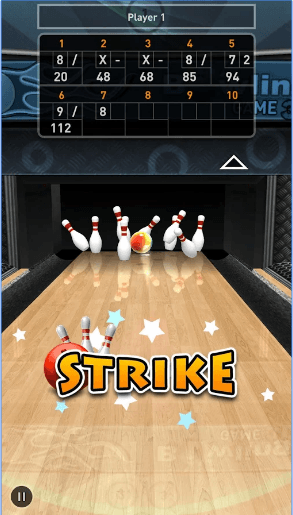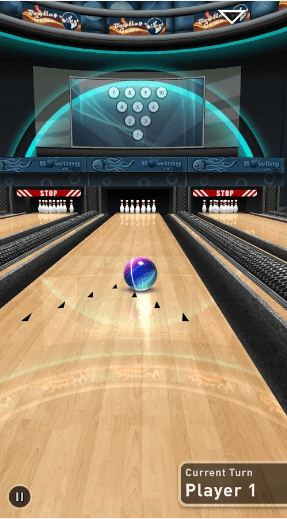 Downloads: 2 400 +
Customers rating: 

(4.5 / 5)

Bowling Western
Bowling Western is a competitive game for Android devices. This is a standard bowling simulator with an unusual realistic graphics. In this application, players enjoy the competitive spirit, good graphics, and ease of management. It is possible to compete with your friends or you can train yourself to become the best in this kind of sport.  The first thing that will give you unique sensations is an opportunity to show your skills in bowling as well as feeling like a real cowboy!
Immediately it is worth saying that for playing the game you will be asked for a network connection, so it's best to use Wi-Fi or unlimited mobile connection.
Downloads: 12 200 +
Customers rating: 

(3.9 / 5)

Real Bowling 3D FREE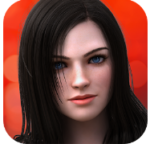 Real Bowling 3D for Android is a sports simulator which recently has become very popular. Quality three-dimensional graphics and realistic physics of bowling balls can be noted as the main features of the application. In this bowling game, all the original principles and rules on which the real game of bowling is built work. In the game, you must throw balls and knock down the largest number of pins at a time.
However, this application has a multiplayer mode, with the help of which every day you can organize tournaments with your friends. For players, an unlimited number of balls are offered, which will need to be thrown in turn, and the winner is the player who can score the maximum number of points. The game is available for free to download.
Downloads: 4 600 +
Customers rating: 

(4.4 / 5)

Let's Bowl 2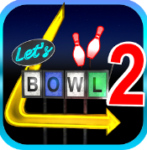 Is Let's Bowl 2 worth special attention? Yes, but if you really like bowling and after a couple of held games you do not get tired of just running the ball and knocking down pins. In this genre, you should not rely on a serious variety and a vast number of opportunities, because the competition will soon turn into an inevitable routine, but is it otherwise?
The application is downloaded absolutely free of charge for all types of mobile phones and tablets based on Android. And for real bowling fans in the game, there is additional content that can be bought only for real money and maximally expand gaming capabilities.
Downloads: 7 700 +
Customers rating: 

(4.3 / 5)

Action Bowling 2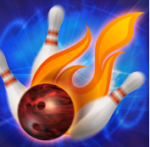 Action Bowling 2 is a simulator of a bowling game. The release of the first part of the game made a real sensation in the gaming industry. Realistic physics, great graphics, dozens of balls, all this for a long time attracted players to the screen of the mobile device. And not only fans of bowling. The continuation, in turn, retained all the characteristic features and of course has new opportunities and improvements. So if you are a fan of this sport then this is the application for you.
The continuation, in turn, retained all the characteristic features and of course has new opportunities and improvements. So if you are a fan of this sport then this is the application for you. You can play the game alone or choose a multiplayer mode to compete with other professionals!
Downloads: 5 500 +
Customers rating: 

(4.2 / 5)

10 Pin Shuffle Bowling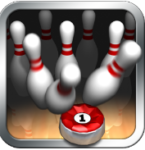 10 Pin Shuffle Bowling is an excellent game with elements of bowling, poker, and shuffle. A game with very bright graphics and realistic physics and mixed rules. You will have to think both about the card moves and the accuracy of the throw.
Installing this application, you will get more than one game – 10 Pin Shuffle contains 3 different modifications. The first is classic bowling: instead of the usual bowling ball, it uses something like a hockey puck. This adds a nice feature to the game, and, moving the puck towards the pins, you just feel pleasure.
There is also an alternative version of the bowling game called Five Card Draw Poker, virtual poker. And finally, there is a modification of the Shuffleboard, which is like playing in a bar. You must put the puck as close as possible to the edge of the table in order to score the maximum points.
Downloads: 24 900 +
Customers rating: 

(4.1 / 5)

Ultimate Bowling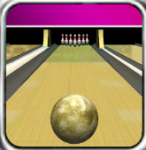 Ultimate BowliAndroidandroid will be appreciated not only by fans of bowling but also by those who have never played it before. The rules are all the same. It is easy to play. So, you will surely have an exciting time!
Benefits:
– levels,  different types of balls;
– interesting gameplay;
– convenient control;
– simple interface.
Downloads: 8 000 +
Customers rating: 

(4 / 5)

Polar Bowler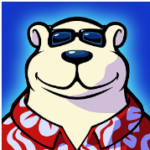 Welcome to the North Pole! A cold spot where water immediately freezes, the sun rarely appears and there is practically no vegetation. A place suitable only for bold guys with thick wool and extreme intentions to play bowling! The application of Polar Bowler is about such unconventional entertainment in the permafrost conditions!
Bowling in the North Pole is fundamentally different from the usual one: firstly, the hero moves on a special ice-boat, slipping off frozen slopes and snow-capped mountains, and secondly, the pins are placed almost all the way around the polar bear and the "strike" will have to be immediately forgotten, there are too many targets! The players will surely like these races on ice-boats – the speeds are frenzied, pins are everywhere, bonuses, dizzying rises and so on for seventy levels! Hurry up to download Polar Bowler on Android and go to the cold edge for the hot and spectacular entertainment!
Downloads: 10 500 +
Customers rating: 

(4.2 / 5)

Strike Bowling 3D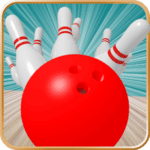 Do you sometimes want to leave work and play bowling? But what to do, because someone has to do your routine duty. But do not get frustrated ahead of time, you can download Strike Bowling 3D and run it at any convenient time!
The game is made using three-dimensional graphics. Before you there is a beautiful wax path, a few balls to choose from, there is a counting table, and all other parameters and menus. Try to get the most points – all throws must be strikes. So you prove that you are a professional in your business.
Downloads: 10 000 +
Customers rating: 

(3.9 / 5)
Brunswick Pro Bowling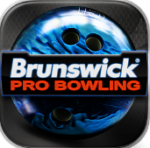 We offer you to discover a realistic, re-created in the smallest details bowling with the app Brunswick Pro Bowling. Here you will roll balls, win prizes and get access to hidden objects on the way to victory in the World Cup. You can change the appearance of your character with the original Brunswick outfit – balls, shoes, and clothes. And, thus, determine the style of your game!
The game Brunswick Pro Bowling takes you to the atmosphere of a classic bowling club with its polished paths and neon screens. The design of a virtual institution will be to the taste not only for bowling fans but also for beginners in this sport.
Downloads: 1 600 +
Customers rating: 

(3.6 / 5)
Bowling is a popular entertainment that unites thousands of players. But the transfer of this game to the virtual world was quite difficult. It is difficult to transfer excitement from knocking the pin by using a ball, using computer graphics and push-button control. But on a mobile platform, with active touch controls, there is a chance, at least, to turn bowling into adrenaline entertainment, not for one hour. Hope you will find our selection of the best bowling apps useful!