Smartphones and tablets have long been used for reading electronic books. But how to choose an application for this difficult task? Everything depends on needs. For someone it is important to download their files, somebody needs a simple interface, some need support for a large number of formats or access to a network library.
In general, there is no such program that would suit everyone. But today we chose the 17 best, in our opinion, free applications for reading books.
ReadEra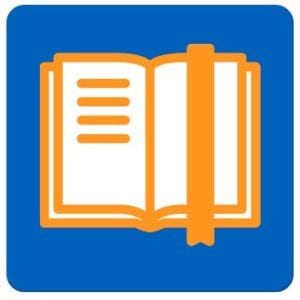 ReadEra is an Android application for reading books and viewing documents. In my opinion, the best Android reader. Or at least one of the best.
ReadEra has everything. Besides convenience, changing styles, adjusting the size of letters, and other things that are already everywhere, there are a number of other advantages:
Downloaded books immediately open in your reader, you don't need to look for them in your phone's folders;
bookmark availability and quick access to them;
a text search;
you can highlight quotes;
the ability to go back to the previous page;
you can see how many pages are left not only to the end of the book but also to the end of the chapter (here is the main trick – this is the first reader, where this feature is and it is quite convenient). I can't imagine why this isn't happening everywhere. It's very difficult to see if it's worth starting a new chapter if you don't know what size it is.
There's also a cool feature here that is not in other readers. To read a footnote, you don't have to go to the end – it's at the bottom of the page, like in printed books.
I especially like that this app is not a shop, unlike many others. That is, there will be only those books that you downloaded and uploaded yourself, and there is no risk of buying something accidentally.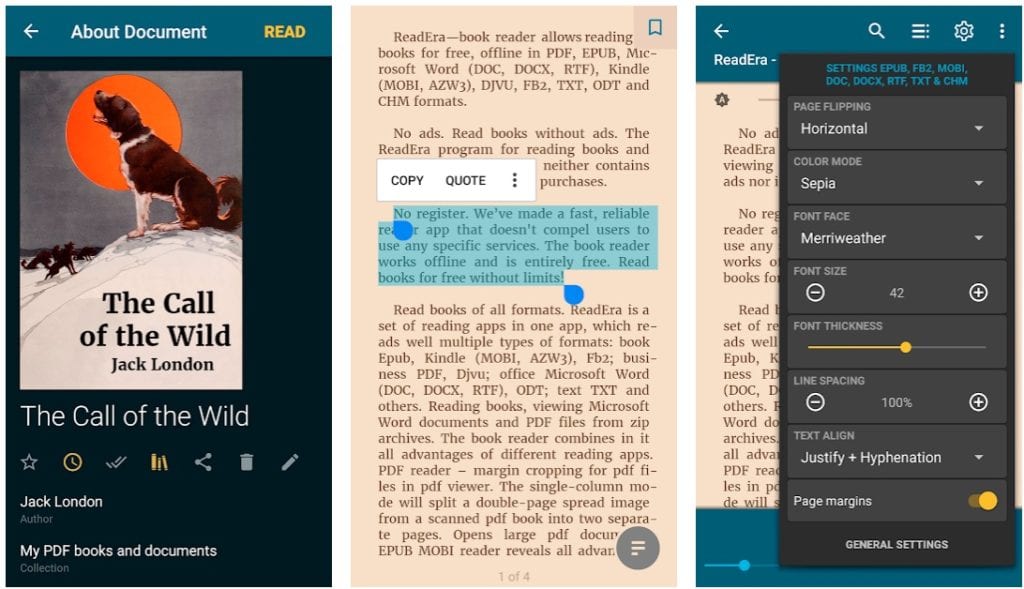 Downloads: +10 000 000
Costumers rating: (4.8 / 5)
You may also like: Nice scrapbook apps for Android
Aldiko Book Reader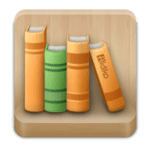 Aldiko Book Reader is a handy and beautiful program that permits you to read books on your Android device. Books can be searched in various online directories and downloaded to a smartphone/tablet. You can collect on the device a whole library, which will always be at hand. During the reading, you may rapidly jump between chapters, bookmark, flexibly customize the software interface.
The Aldiko Book Reader application has already appeared in the Play Market for a long time, and this is a wonderfully balanced possibility for those who need a reliable working application for reading. It ensures encodings EPUB, PDF, and Adobe DRM, and you can also read e-books from public libraries.
The application has a harmonious and intuitive interface, there are also small "chips" like searching the text of the book, etc.
In Aldiko Book Reader, it is convenient to configure the brightness of the screen by easily swiping the finger along the left edge of the display up or down to smoothly increase or decrease the brightness. This is convenient when you, for instance, read in transport and lighting often changes.
Book seeking is carried out in several catalogs, many books of which are free. You can search by author, popularity, genre, and so on. Before downloading, you can view a short description of the work.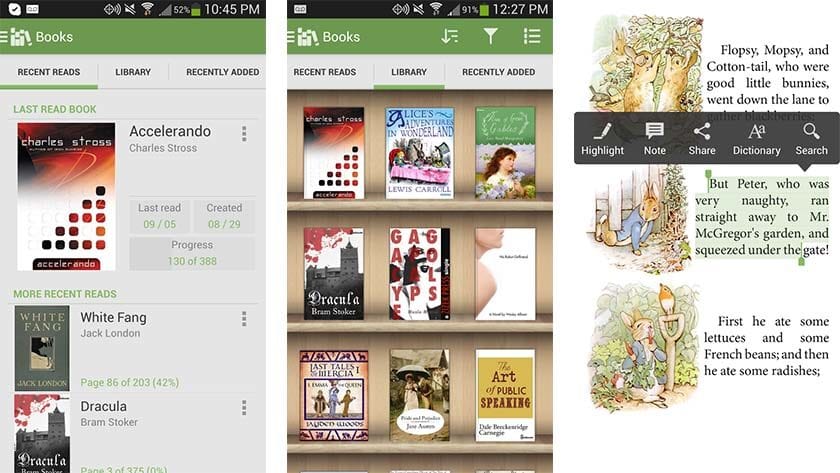 Downloads: +10 000 000
Costumers rating: (4.2 / 5)
AlReader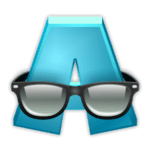 AlReader is a free application for reading books on Android devices in FB2 and plain text formats.
The program provides plenty of dictionaries, it is affordable to edit the text, adapt the presentation of the book for you, customize the background color. There is a wonderful 3D-animation, adjustment of styles, and many other text parameters. The program is equipped with many useful functions for easy reading of fiction on phones or on a tablet.
Overview of AlReader for Android
The program interface has a lot of fine adjustments on the button bar, and yet very convenient and simple. You can customize the display style of the current profile: the profile color is configured in four colors. The tool is affordable in various languages. Automatic scrolling works, which helps to find the necessary paragraph in the book. As unnecessary, you can turn off the screen backlight. Writers like the possibility to edit, of course, the source is not edited but you can save the edited option separately in the folder.
Many users in their reviews and comments appreciated the opportunity to configure display brightness, font thickness, the darkness of shadows, typographical indentation, reduction or enlargement, font size, text size, bold italics, line spacing. One movement in AllReader can emphasize the text, denote it in italics, highlight the lines of the read and liked paragraph or title.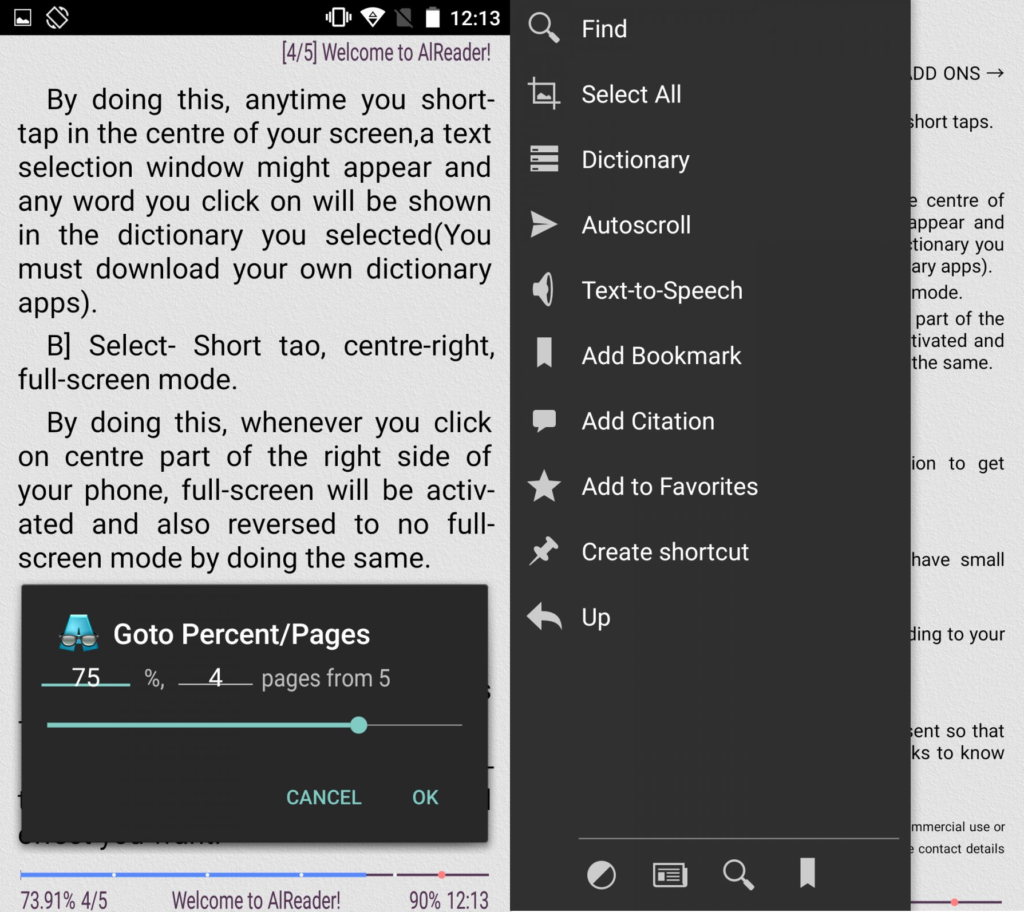 Main features of AlReader:
The software supports files in zip-archives and also provides the reading of various file formats, such as txt-DOS and txt-Windows, doc, fb2, e-pub, regular htm, and others.
The property of stopping reading is that if a call is received to the mobile device, the reader is automatically disconnected, and upon completion of the conversation it is turned on at the stoppage of reading in the text of the book.
The AlReader tool is equipped with its own library, where any fiction, works that are publicly available can be chosen and read by name, by release date, by the author, by quotation, by content.
The reader system can access network libraries.
The text element of the book can show both on one page and two pages on the screen, according to the type of the opened book.
A very convenient feature is an automatic scrolling of the file for the user in the sampling of the enhanced type of adjustments: in auto-scrolling, there are various options from smooth to wave.
There is a change in the status bar for the windowed and full-screen mode.
Footnotes are displayed in the pages of the doc and fb2 formats.
The text is displayed at choice, horizontally or vertically, with the opportunity to turn off the screen rotation.
Transition, search, scrolling in the text of the document can be carried out: by percent, forward or at the end of the book, previous or next chapter, by the specified number of pages back and forth.
The tool saves all settings, tabs, markings, can create shortcuts to the screen for rapid access to the file.
The highlighting can be held for 20 minutes when the program is idle the device turns off.
AlReader anonymously collects a list of frequently used books and creates in the utility the tops of the literature.
An alternative to synchronize the application on the network.
There is a management of skins.
When you select an advanced view, you can access two-page mode.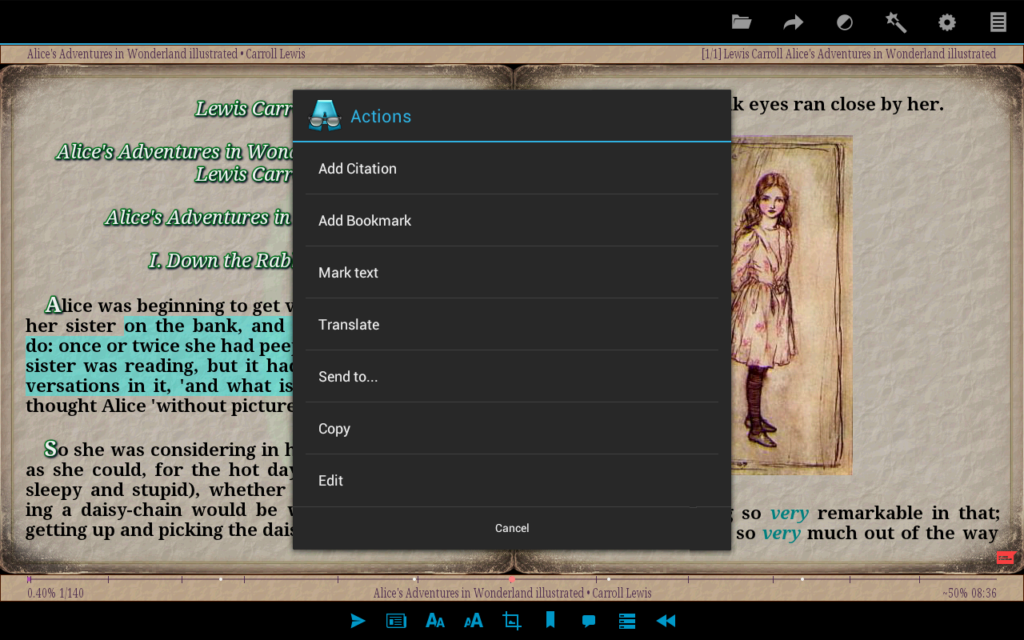 Downloads: +5 000 000
Costumers rating: (4.6 / 5)
Cool Reader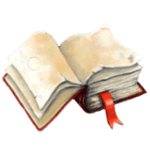 This application is very famous among Android consumers and it got its fame due to its ease of control, and what is very important, the tool reproduces books of any format and in any language. The software downloads books without accessing the browser: just select one of the provided online libraries or add a new one yourself.
There are seven libraries in the tool. If you need to find a particular book, you can set up a search by title or by author's name. What is very convenient, the book can be found by genre or by the date of release of the novelty.
Books do not need to be stored in a specific folder since the application opens any book in the file system. It's enough just to find the folder you need and select a work, then it will automatically appear in the library. In this case, the application still creates a special directory in which the books downloaded with this program will be saved and sorted later.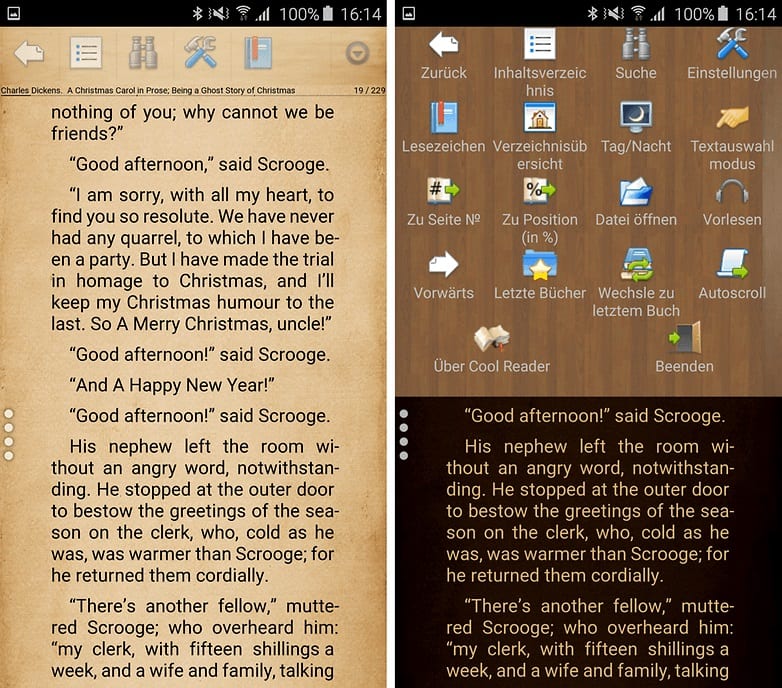 The application is easy to navigate. In the library, you can find the desired book in several ways: by author, title, series, rating or by category ("read," "read," and "read"). The application makes it possible to evaluate the read book on a five-point scale and to add a short comment, where you can briefly describe the book (in general, a very convenient function, it will come in handy both during a load of a new book and help other users).
Cool Reader has an unobtrusive "tree-like" design that can be changed at any time. In the adjustments, you can also change the font, the size of the text, format books according to their desires.
During the reading, you can change the switching zones of pages or any other fast commands that will be very much appreciated by the southpaws or just for those who like to read standing in public transport (while one hand you keep from falling while reading holding your phone on the other hand).
Cool Reader is a convenient utility for reading books, which can be customized according to the user's desire. It is good, in the first place, because of the function of downloading books directly from the application. With the application can even cope even a child so it's easy to use.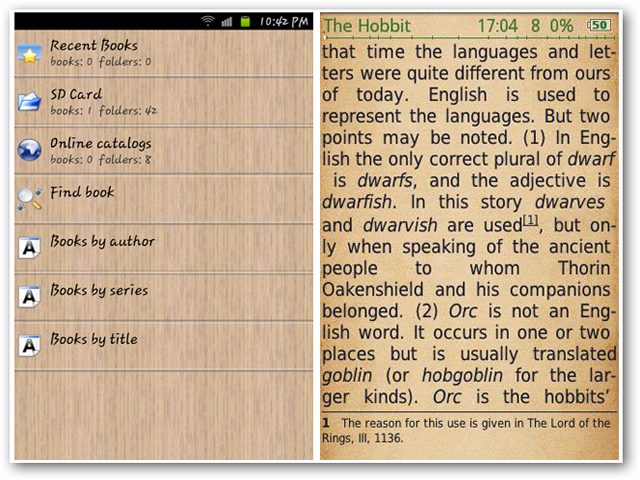 Downloads: +10 000 000
Costumers rating: (4.5 / 5)
EBookDroid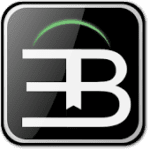 EBookDroid is an application that is aimed mainly at working with PDF and DJVU file formats. It is positioned as an application for working with documents, however, it is also suitable for reading most e-books in suitable formats. EBookDroid is not limited to supporting only two formats but allows you to work with XPS, FB2, RTF, CBR, and others.
Pay attention to the non-standard design of the program in the form of a bookcase – this is unusual and very interesting. Application management options are quite standard for any reader.
It is worth noting a rich set of all kinds of tools that are designed to improve the comfort of reading. The program permits you to make text notes and annotations, there is a set of dictionaries for comfortable work with information.
Many users have a problem when opening the PDF format, namely, font conversion, this program implements an intelligent system for tracking inconsistencies and selecting the optimal font from the developer database.
Functions of the application include text selection, support for third-party dictionaries, and text notes. And although such a set of functions is not very suitable for reading, for example, graphic novels, those who are looking for an application specifically for reading text, these functions will be useful.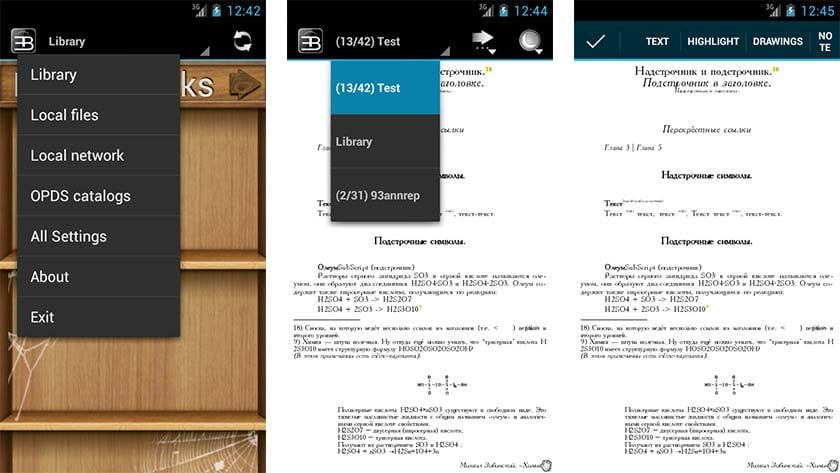 Downloads: +5 000 000
Costumers rating: (4.5 / 5)
FBReader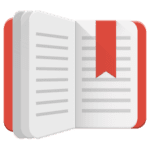 The FBReader application is among the most famed e-book readers, as it is absolutely free.
Serviced formats: FB2, FB2.ZIP, EPUB, EPUB3, AZW, Mobipocket, RTF, HTML, Plain text. In the paid version, PDF and CBR/CBZ (comics) are also added to this list.
Integration with dictionaries: when reading, you can select an unfamiliar word and learn its meaning and translation. Especially this possibility is useful to those users who read texts in a foreign language. In the paid version, the function of translating entire sentences with the aid of the Google tool is added.
Synchronising of the library and books: in the adjustments, you can activate the synchronization option with Google Drive cloud or your own service "FBReader Book Network". This will enable the storage of your library and access to it from any device on which FBReader is installed. The application can synchronize the reading and bookmark locations for each book.
Network directories: books can be loaded for free or purchased in network libraries built into the program. Many will be pleased with the possibility of FBReader to work with files of network directories in the format of OPDS.
A large count of settings for displaying text: you may alter literally any parameter of the exterior of the program. Even the most demanding user will be able to select the most appropriate adjustments for comfy reading in FBReader. There is a function of fast-changing color themes for day and night.
In additives, you may increase the functional of the reader by using special plugins that may be loaded from the Google Play utility catalog. In this way, you can assemble a program configuration that meets your reading needs.
In general, FBReader is a great example of a program that equally well suits both novice users and advanced readers who do not release the book from their hands. The first will be pleased with the simple interface and loading of books from network libraries, the latter will find in FBReader the possibility of deep tuning and additional plugins for specific tasks.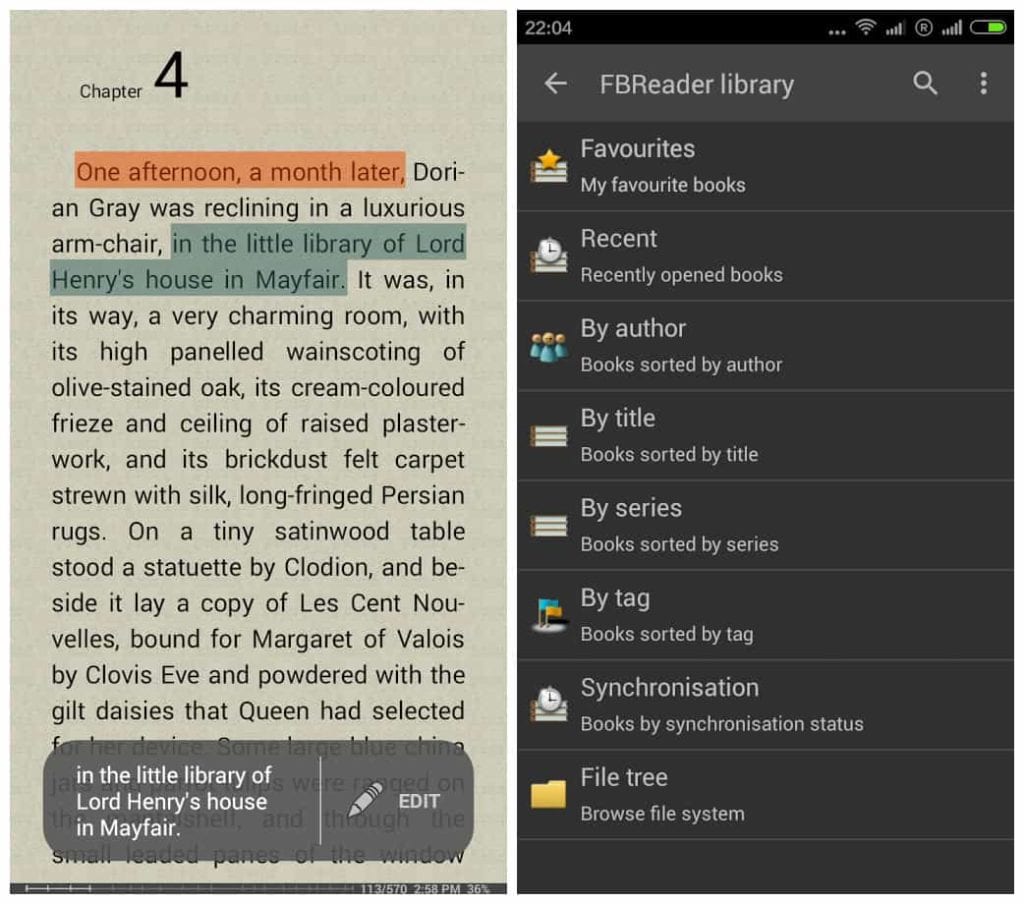 Downloads: +10 000 000
Costumers rating: (4.5 / 5)
FullReader+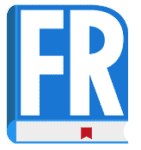 Fullreader + is another new player in the mobile reader market. This application supports more than a dozen formats, and its interface, although it looks slightly outdated, but copes with its task.
FullReader – very convenient, with the mandatory operations for a lightweight and comfy reading of magazines and books, and you may freely listen to audio books. The reader ensures the full-fledged job with such formats as fb2, ePub, txt, pdf, doc, docx, cbr, cbz, rtf, DjVu, html, mobi, xps, odt, rar, zip, MP3.
The application also proposes many alternatives for reading – changing the font size, animation settings, day and night modes. You may even set yourself a reminder to let the application notify you that it's time to stop reading. There is a paid edition, you may buy it right inside the application after installing it.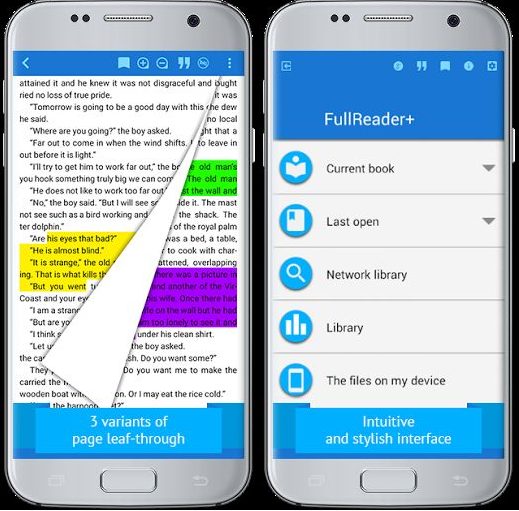 Downloads: +1 000 000
Costumers rating: (4.5 / 5)
Google Play Books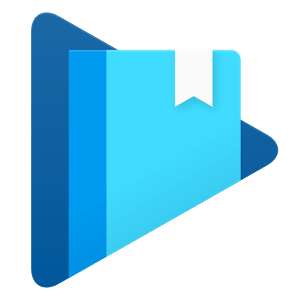 The Google Play Books app for Android has long established itself as one of the best programs for reading books on mobile devices and tablets. The intuitive interface allows users to sort through most settings in a short time and configure the reader for themselves in a few minutes.
The constantly replenished library will please you with an abundance of classical, fantastic, popular science, and fiction.
About 4,000,000 works in different languages will be available to users who downloaded the Google Play Books on Android. It is not necessary to store your preferred books on the memory card, since the application permits you to store the last read works in the cloud and, if you have accessing to the Internet, to quickly access them.
Additional traits of the Google Play Books app:
the opportunity to read off-line;
3d page flipping effects;
making of bookmarks, shortcuts, and underlines in the text;
day and night reading mode;
reading out loud;
utilize prevalent dictionaries without leaving the utility;
alter the font and background for easy reading.
The Google Play Books for Android program has worked well for most users. Hurry up and employ this unique application.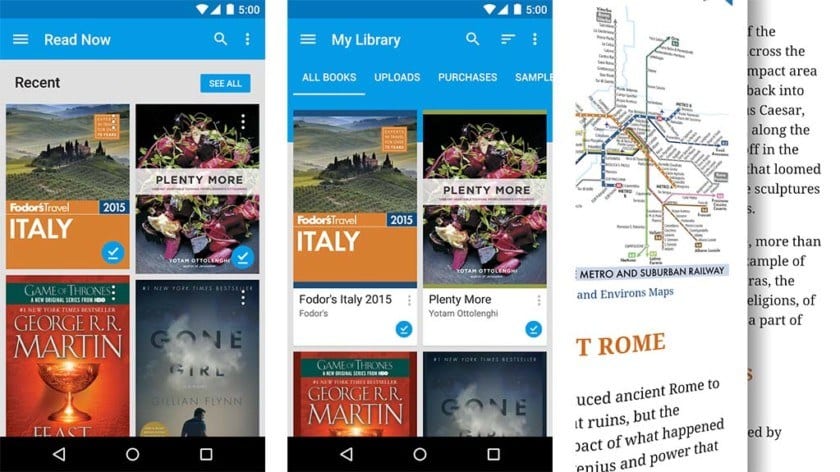 Downloads: +1 000 000 000
Costumers rating: (3.9 / 5)
Kobo Books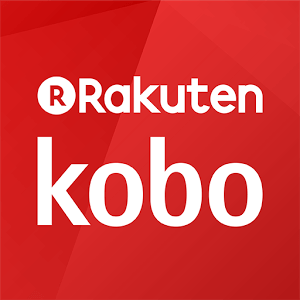 Kobo Books is a quality program that will allow you to read a variety of literature. It is in it you will find a huge selection of books that you can read for free or buy new items. Feel free to start using this wonderful application because it will be useful for you to do this anywhere.
The program works through the Internet, so be sure to be online. It is possible to create your own profile, which will have all the necessary settings.
According to the developers, Kobo Books is able to synchronize the bookmarks so that consumers may continue to read from any device. Another exciting characteristic available of this tool is the night mode, which allows you to read comfortably in low light conditions.
But that's not all. Kobo Books gives smartphone consumers permission to more than 4 million books from the Kobo store, involving new editions, classics, comics, and more.
Although most of this literature is not accessible for free, consumers have the opportunity to view the first chapters of a huge count of books and keep them in their library.
The application turned out so convenient that a huge number of users from all over the world began to use it. They express their positive emotions about this, as the program gives them a unique opportunity. Also, before you read the book, you will be able to find out the real opinions of people. You can read them under the news about the book. It is very convenient and gives an idea of what you are going to read.
Kobo Books is a quality program in which it will be quite comfy for you to find new books for reading. There is a convenient sorting by authors and genres, so you definitely need to start downloading it right now.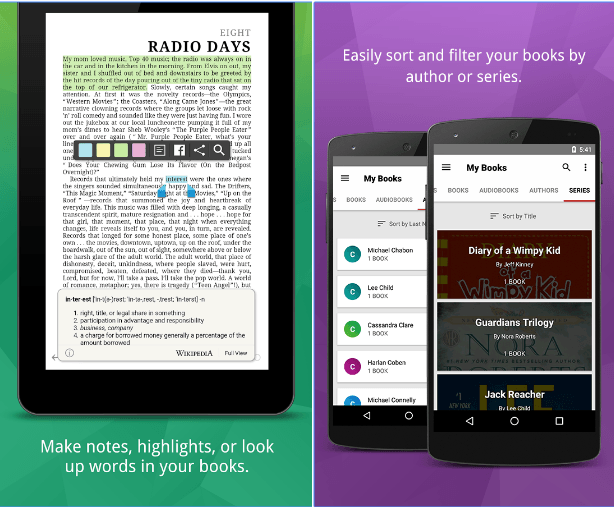 Downloads: +10 000 000
Costumers rating: (4.2 / 5)
Kindle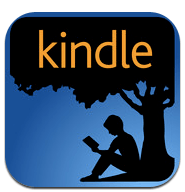 Like Kobo, Kindle is a separate platform with the ability to purchase and further read electronic books. Kindle was once known as one of the largest players in the e-book market and boasted a colossal assortment.
The application is quite simple, intuitive, without a lot of unnecessary additional settings, and very nice looking, which makes it worthy of attention not only to the Kindle readers but also to all amateurs to spend free time reading an interesting book.
The Kindle application can synchronize your bookmarks and libraries, you can use the built-in dictionary, you can also read excerpts from the book before purchasing, and Amazon Prime subscribers can "borrow" books from the Amazon library.
The user has options such as changing the font size, background color, amount of indentation, and text alignment. Initially, all user's books are stored in a personal "cloud", each of them can be downloaded to the current device along with saved bookmarks and personal comments.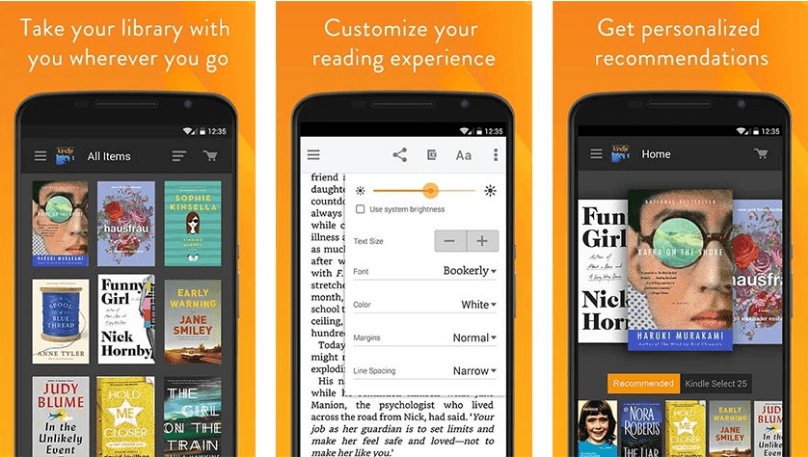 Downloads: +100 000 000
Costumers rating: (4.2 / 5)
Moon+ Reader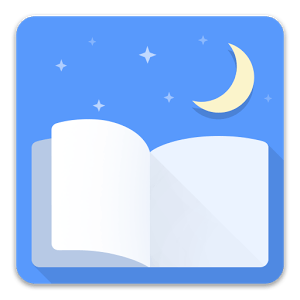 Paper carriers are no longer relevant, and the software version does not attract due to its ordinary life? Try to evaluate all the benefits of the program Moon+Reader, which acts as an innovative representative of its class.
A contrasting background color with a pleasant shade immediately creates a feeling of vivacity and increased concentration. Just glancing on the reader with the edge of the eye, you get a minimal push, which forces you to set aside unnecessary ventures and engage in self-education.
It has everything you need – a clear interface menu, access to online text storages of the worldwide network, dozens of various additional background themes, and even modes of changing the way text is scrolled. With a light movement of the hand, you make a uniform scrolling of the document, and in case of need to increase the accuracy – a rewind mode of the text is available. Even a high-quality soundtrack will not let you get bored – each next sheet will be marked by a distinct sound of a paper rustle.
This version of the reader is a portable workplace. Setting the mode of day and night, information about the state of the eye will immediately warn of excessive continuous work but most importantly – it's an integrated possibility of the virtual creation of full-fledged libraries, with the breakdown of books by authors, themes, and genres.
In order to conveniently open the next page, a number of methods have been developed, from the use of sensors to the use of a sound controller and even functional manipulators of the camera. If your reading is delayed and the screen seems too dark, just swipe your finger on the left side, and thus you activate the hidden brightness control panel.
The status bar is very convenient, located at the bottom of the page, and containing information about the battery level, time, title of the chapter, the number of read pages in this chapter, and the total number of them, as well as the percentage reading of the book.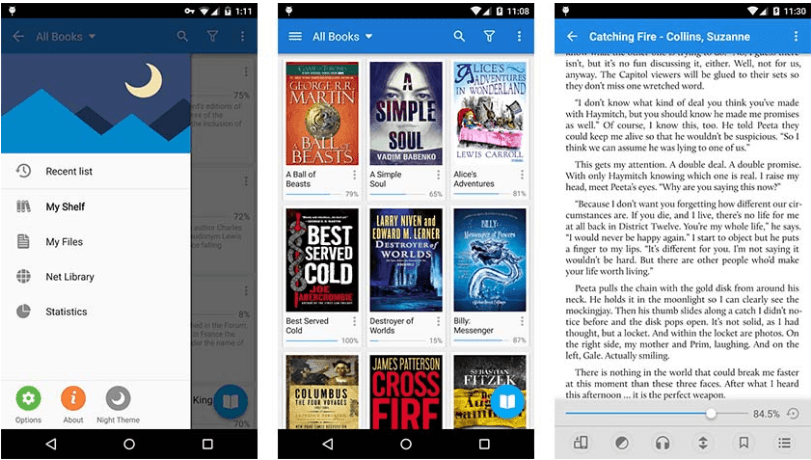 Downloads: +10 000 000
Costumers rating: (4.4 / 5)
NOOK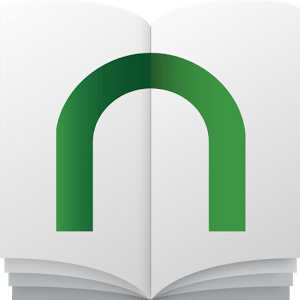 Nook was a proximate opponent to the Amazon Kindle for several years. And although in this fight, the victory remained behind the retail titan Amazon, Nook is still a respected resource of electronic literature.
As with other applications, in Nook, you may synchronize bookmarks and libraries on multiple devices, the tool also offers more than 4 million books with the opportunity to read the summary before purchasing.
The application operates well, however, in some ways, it can be called slightly rustic. There are also over a thousand newspapers and magazines in the Nook library, which adds a fair amount of the material available for reading.
Unfortunately, like the Kobo and Kindle, Nook also will not be able to open books already downloaded to your smartphone.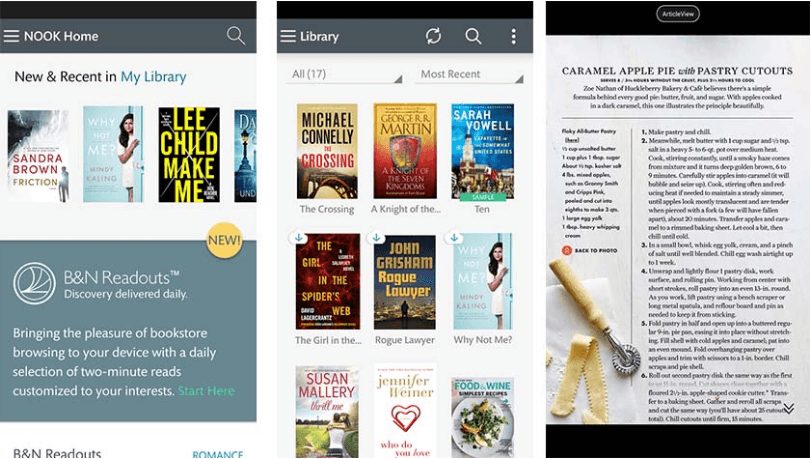 Downloads: +10 000 000
Costumers rating: (4.5 / 5)
PocketBook Reader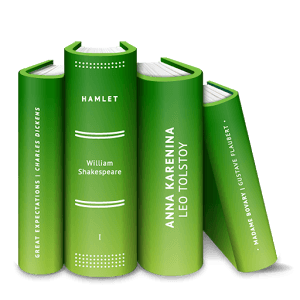 PocketBook Reader is an application for reading electronic books. The main features of the applet are a simple interface with an unusual but convenient circular menu, support for a huge number of formats, flexible text display options for books with floating and fixed layout.
PocketBook Reader is an excellent combination of an intuitive interface and the maximum set of functions necessary for comfortable reading. The application uses a non-standard circular menu, the items of which vary depending on the format of the book. This solution provides quick access to all functions and settings for reading.
The functionality of the PocketBook Reader will please even the most advanced fans of reading on mobile devices. The application provides simple and convenient navigation through the library, the appearance of which can be customized for you. Users can change the font, brightness, and read mode.
Selecting an interesting quote in the text, you can create a note with a comment, as well as share an excerpt from the work or your thoughts via Twitter, Facebook, SMS, or E-Mail. Fans of reading documents in PDF and DjVu will like the opportunity to not only zoom in, select the "scroll" mode or landscape orientation of the text but also apply trimming of the fields.
PocketBook Reader features one of the most complete lists of supported formats: PDF, PDF DRM, EPUB, EPUB DRM, DjVu, TXT, FB2, FB2.zip, acsm.
The program is also absolutely free and there are no built-in purchases, which makes it even more attractive.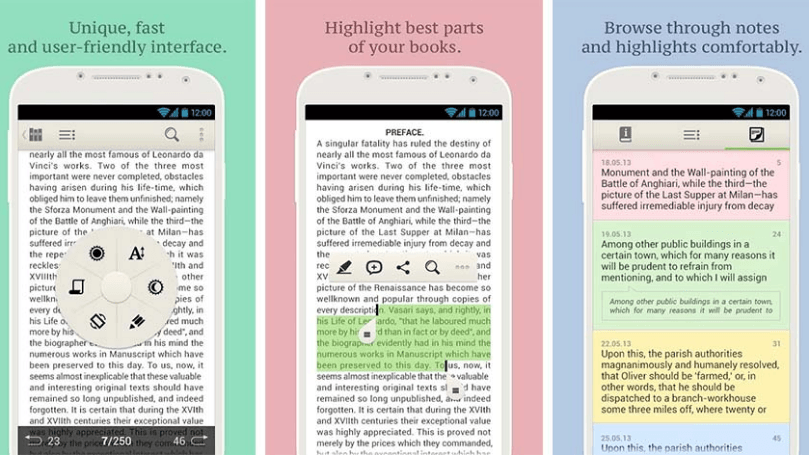 Downloads: +1 000 000
Costumers rating: (4.3 / 5)
Prestigio eBook Reader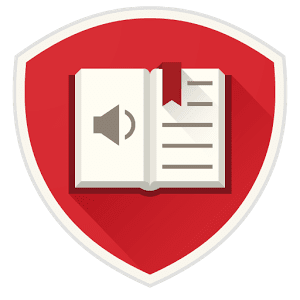 Prestigio – a relatively recent phenomenon in the field of e-book applications but it has a huge number of useful functions.
The application supports a large number of formats, including such common ones as PDF, DJVU, EPUB, and others. Updates that appeared in the last year revealed the theme of Material Design, which positively influenced the ease of use and appearance of the application as a whole.
In the reading mode menu, you can navigate through the table of contents, bookmark, switch between day and night mode, search, formatting settings.
The application provides a huge number of display screen settings. The user can choose different background options (texture or simply color), font type and size, font options, indents, the amount of line spacing, displaying items such as scroll bar, status bar, battery indicator, etc.
Unlike many other readers, this is not limited to simple reading, an interesting feature of this application is a huge bookstore containing more than 620,000 books in twenty-two languages, with about thirty thousand available absolutely free! All the books you have are very convenient to collect and arrange on the shelves, so one more feature is the opportunity to order all your literature, with the subsequent search for authors or the title of the book.
Also, you can work with text from all your books, copy it, and send it to friends via email or via social networks. Install this wonderful program and check all available functions, find new ones, and evaluate the convenience that you have not met before.
Prestigio eReader is a very convenient reading application with a nice design. It will undoubtedly find its admirers – all the "traditions" of a good reader program are observed and some unusual things are introduced.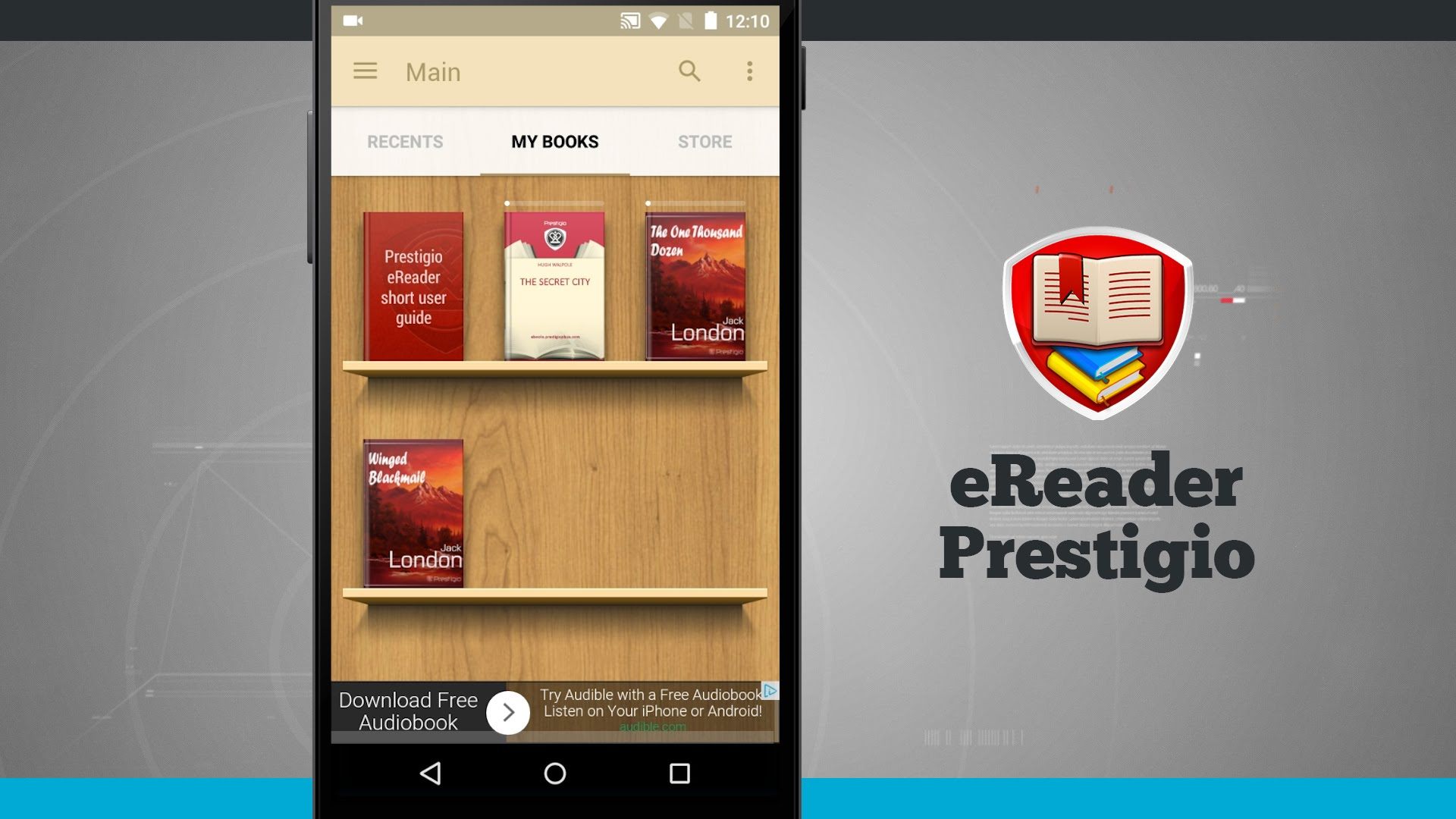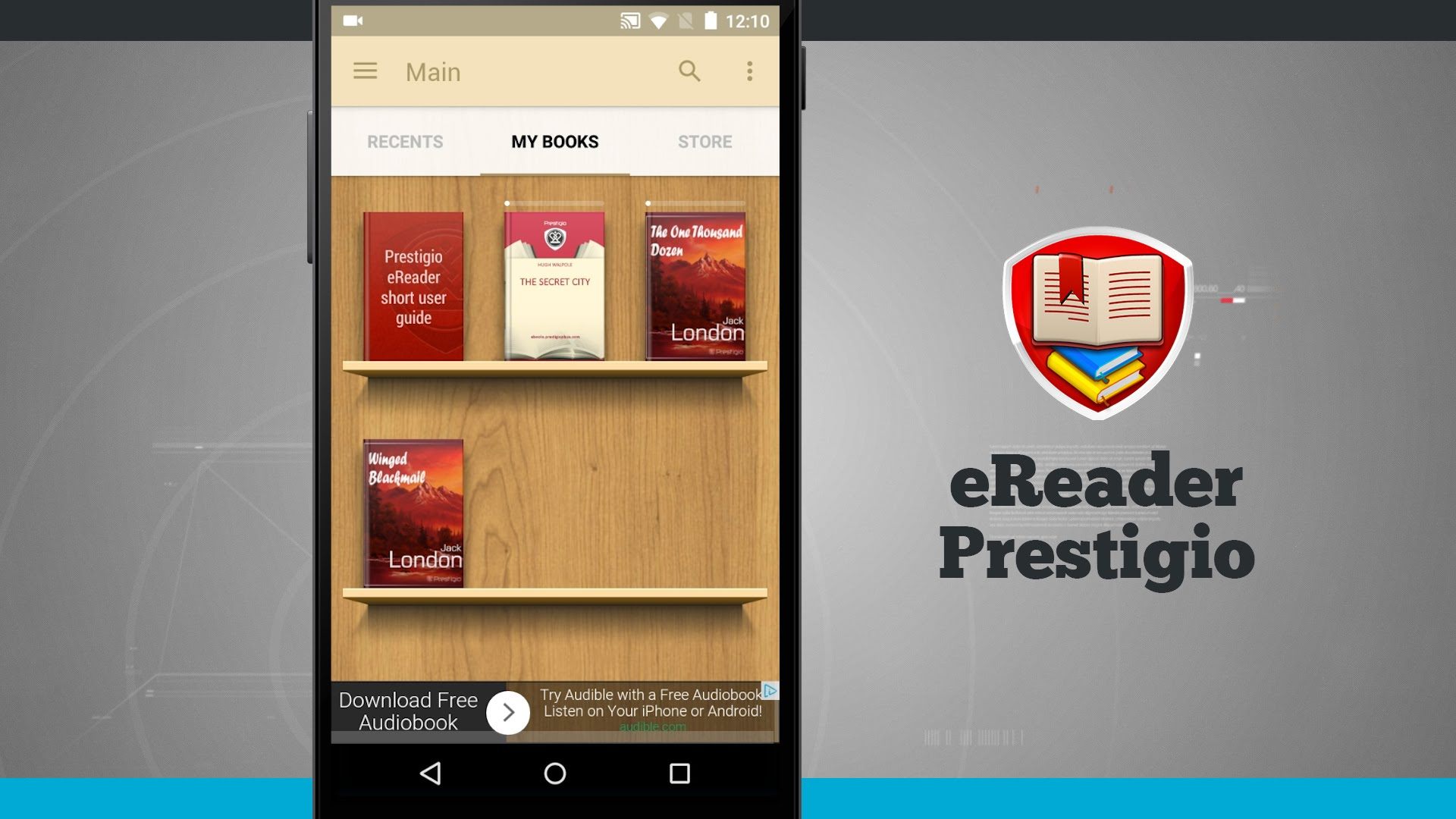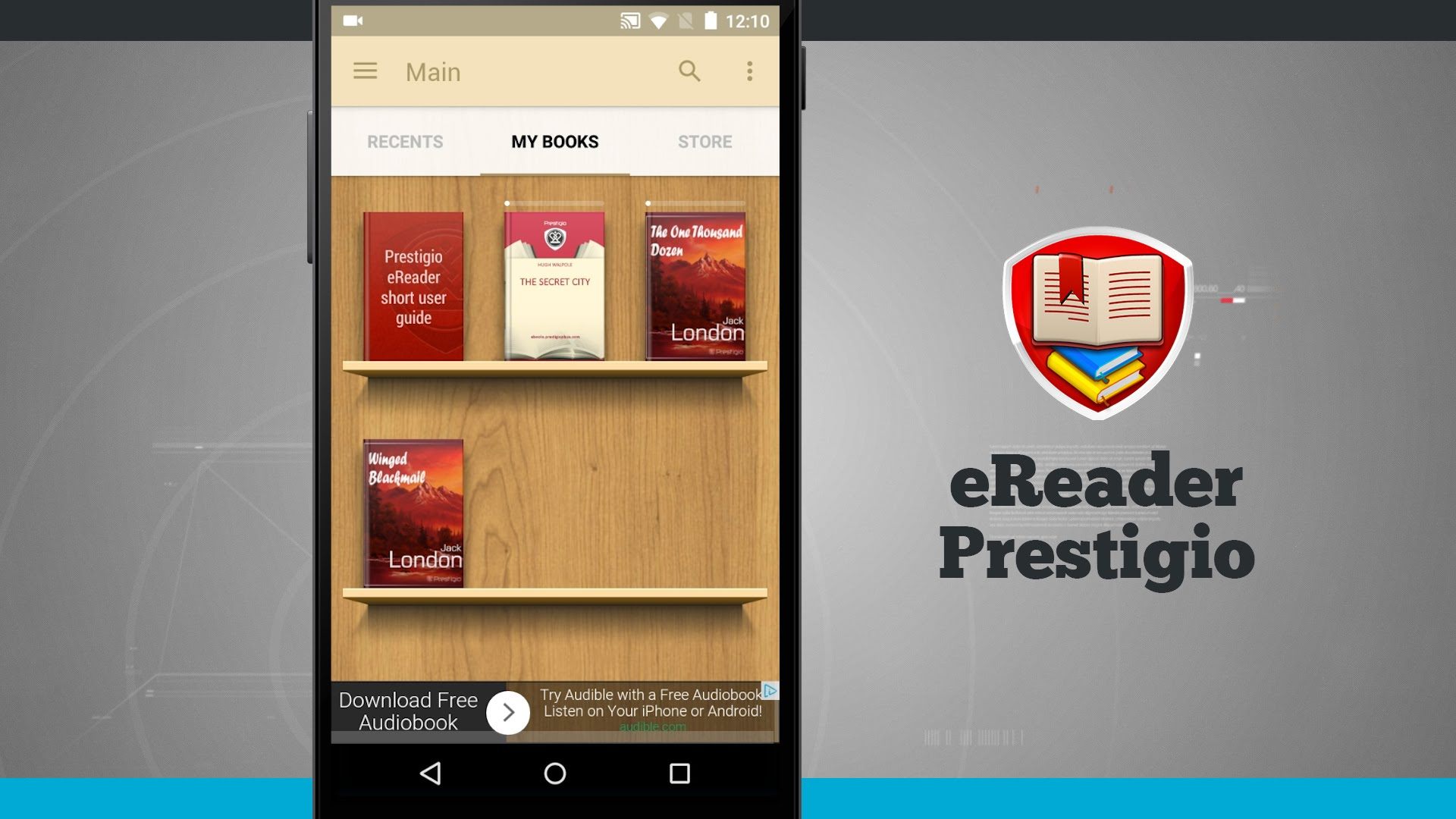 Downloads: +10 000 000
Costumers rating: (4.6 / 5)
Universal Book Reader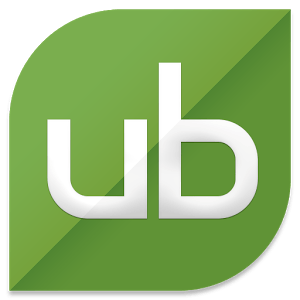 Universal Book Reader is a simple, functional, and reliable reader. It supports mainly EPUB and PDF files (both DRM and non-DRM), there is a built-in browser, so you can buy books from third-party stores.
Thanks to the Universal Book Reader application, we get access to the e-book store where there are both free and paid copies. The assortment of the electronic counter is large enough. You can open your books by moving either to the memory card or to the internal memory.
Feedbooks support is integrated into the program, which can be convenient for those who use this service. The program has a modern look with hints of all the beloved Material Design.
Additional functionality is extremely small, we can note only a quick adjustment of brightness, changing the font size, and switching to other pages. And if you do not know the meaning or meaning of the word you read, then selecting it you can quickly go to the Wikipedia page. Also, there is a possibility of color inversion in white, sepia, and black for using the book at any time of the day.
Universal Book Reader is truly a universal e-book reader with a good set of useful features even in the free version.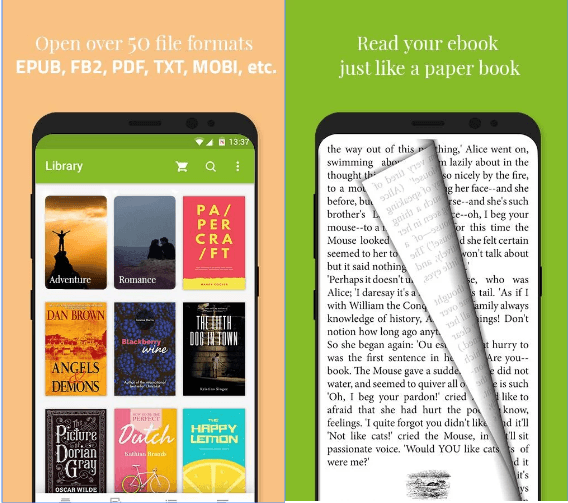 Downloads: +5 000 000
Costumers rating: (4.4 / 5)
Nomad Reader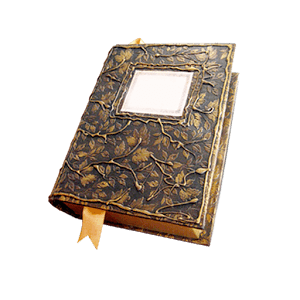 The Nomad Reader application will be appreciated by all book lovers who do not think their life without reading the literature of different genres. It supports books in the fb2 and epub formats. The main emphasis in this book is made on the simplicity of program management and the convenience of reading.
Interface Cover Flow – so it is called, and with it much easier and more clearly becomes the choice of a book from the library. However, in other respects, the application turned out to be extremely visual and convenient. Preview the annotation in the form of the fly-leaf or the cover page – is it interesting?
Nomad Reader supports hyphenation, styles, and a huge number of fonts, displays pictures, and is characterized by a host of other advantages. To simplify the process of selecting books as much as possible, the program is integrated with the function of sheet paging and a bookshelf.
The reader works with the Nook Touch and uses its hardware buttons, quick scrolling, font rendering system, black and white kind of books.
Application features:
displaying pictures;
large selection of fonts;
support of transfers;
set of styles;
cover flow.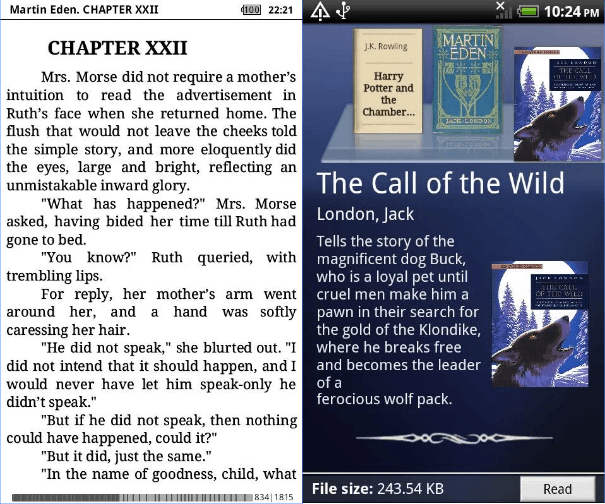 Downloads: +100 000
Costumers rating: (3.9 / 5)
Wattpad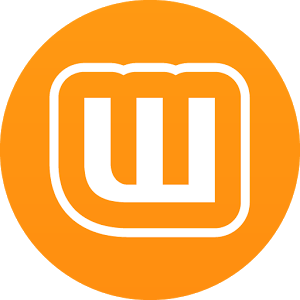 Wattpad is the ideal choice for those who are ready to devote every useful moment to such a useful lesson as reading. Unlike most ordinary "readers" for a phone or tablet on Android, Wattpad is the key to a multi-million-dollar archive of literature, of a wide variety of genres and directions, so that each user has unlimited horizons for self- improvement.
In the free access are books of various genres. Your opinion about the work you can be shared with other users of the system. And, accordingly, read the comments left earlier.
According to developers, the number of books exceeds the figure of 10 million. Liked books can be added to your library, and then re-read it at any time.
The application interface is very simple and beautiful. Everything is clear on an intuitive level. A unique opportunity is given to authors, allowing them to publish their works.
Features of the program Wattpad:
a huge selection of free literature (more than 10 million books);
numerous settings for accurate desktop design;
the ability to keep notes in a virtual diary;
availability of personal correspondence with authors;
the ability to subscribe to new receipts.
Apparently, the functionality is really the one that is not in the top ten of other similar programs taken together. Although, what's surprising here, even if such authoritative resources as The New York Times and The Guardian honored Wattpad with very flattering reviews. So that for all lovers of reading there is no need to waste time in vain looking for the perfect "ebook reader" when it's clear – the best apps for reading books they still cannot find.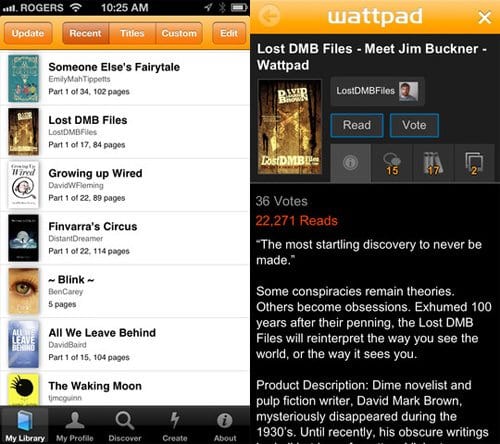 Downloads: +100 000 000
Costumers rating: (4.6 / 5)
To choose an application for yourself, of course, is up to you, we just told you about the best representatives in its class. We hope that we helped you with a choice and now it will be easier and more convenient for you to read books on your smartphone.
A smartphone is still a great way to get distracted and play something interesting. For example, 17 Best logic game apps for Android.