Have you ever saw yourself in the role of head coach of the football club? The real football managers were invented specially for such football fans. So that you could not only compete with artificial intelligence, but with the same genius of tactics like you. We will introduce you to the best such projects. Have a look at the best football manager apps for Android!
Club Soccer Director
Club Soccer Director is an interesting football manager for Android, in which the gamer should completely manage the club. This free application involves every detail that affects the successful development of the team. You should think about the strategy, competently change the team members, in order to succeed in any competition. Take part in all available tournaments to quickly score points and advance on the general table of teams.
The plot of the game:
The main idea is to bring your team to the top teams and win all the cups. This Android game will allow you to understand how difficult the work of managers of famous clubs and what they have to face every day. Changes in the team must be weighed and thought out to get the maximum effect from the player.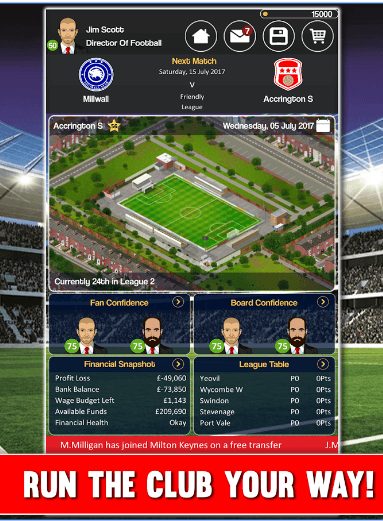 Control:
The app has a convenient, intuitive interface, where everything is detailed. At first, the gamer has to undergo a small training session in order to quickly understand the mechanics and principles of work. Then you need to choose your first team. After the basic settings, you need to gradually move step by step to your goal – to become the best football team in the world.
Graphics and sound:
Visual design is a top view, where a gamer chooses a variety of display and enhancement settings. A realistic field, spectator sta, ds and player cards create an unforgettable atmosphere. Calm music in the background will alternate with admiring cheers of fans, in order to convey a lively atmosphere of the application.
Features:
Large selection of clubs and characters
Convenient operation
Pleasant gameplay
Interesting story
Beautiful graphics
Club Soccer Director is a chic Android simulator of a sports club where all administrative functions are very similar to those that are present in real conditions.
Downloads: 1000000 +
Customers rating:

(4 / 5)
You may also like: 41 Best multiplayer games for Android
Online Soccer Manager (OSM)
A multiplayer football manager simulator from the Gamebasics BV rewrites the generally accepted foundations of the genre: henceforth, the team under control is changed not at the player's will, but once in a season, the scouts predict further actions of the opponent, and the bought and improved stadium adds a positive atmosphere and money!
Such small, seemingly trivial things originally effect on the game and this cannot be missed!
Rules and tactics: A professional team does not have to consist of just football stars to win all rivals – there will be enough eleven well-coordinated players of the middle class, correct placement on the field and clever tactics capable of breaking through the defenses of the opponent and putting the ball into the football net. Searching for players, making teams and changing tactics is what the game is devoted to.
Tables and rating: Each season, the Soccer Online Manager sum up the total time spent – the percentage of wins and losses, the money earned, the improvements made. Climb the top of the ranking, honing the team management skills, join the league created by friends, open transfer lists, and make training sessions! Soccer Online Manager for Android opens all the features of the genre, changed under the influence of multiplayer competition.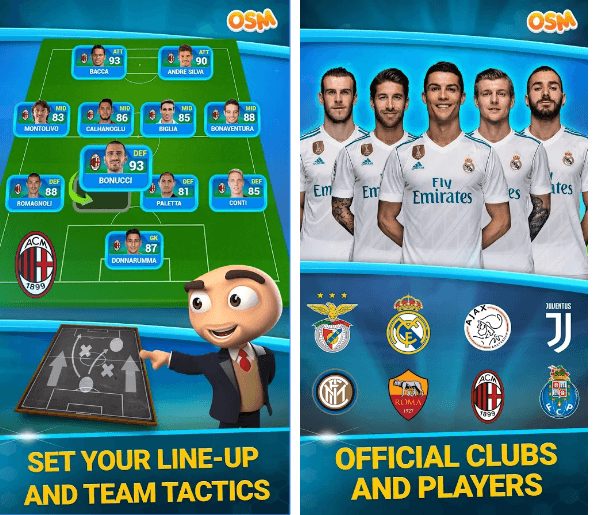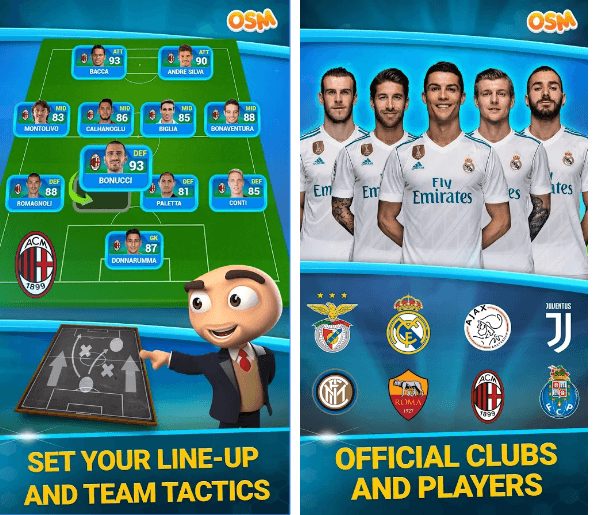 Downloads: 10000000 +
Customers rating:

(4.5 / 5)
Underworld Soccer Manager
The football team of the quiet provincial town and open championships takes part every year and always takes the last places in sports championships. There are many reasons for such defeats: a weak and not outstanding team, incomplete coaching staff, unprofessional training equipment, insufficient funding.
But the suffering of the city and the football club will soon be over – the mayor has recently been replaced and the management of all sectors of the economy and sport has been given to users in the Underworld Football Manager!
Tasks and rules: Bureaucratic transactions, bribes, corruption schemes – victory in any competition is not always achieved honestly. And it happened in the simulator Underworld Football Manager for Android – a few new ideas, bribery of judges and now on the horizon there are first victories!
Underworld Football Manager on Android is an unusual mixture of genres which allows you to think over hours for tactics for the next step. Whether it is necessary to offer a bribe to a judge or a strong pressure can lead to exposure? What about doping and competitors? What sum should be paid for getting into the list of the best teams? To study every little thing and turn a small town into an empire – tasks are not simple!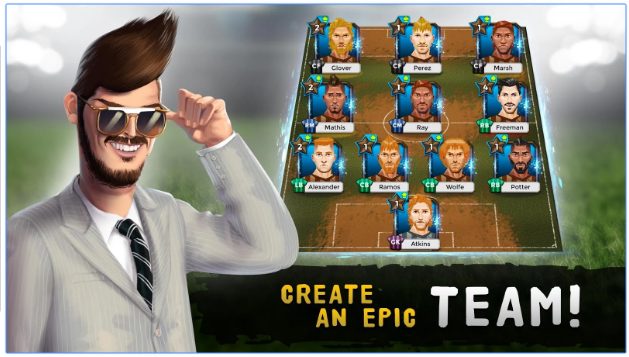 Downloads: 1000000 +
Customers rating:

(4.5 / 5)
Fantasy Manager Football
Football simulators from the studio FROM THE BENCH are beautiful – high-quality graphics, realistic musical accompaniment, enhanced club management capabilities, and an extensive set of players, coaches, and conditions. New Fantasy Manager Football for Android offers to use the offered features, to create a team and win a couple of championships, will you try?
The gameplay. At your disposal, there will be a very realistic simulator, in which you can create the best football club, consisting of the strongest players. Invite legendary football players to work together, contract with them, hire the best trainers and prepare your team for football matches of the world championships.
In the game, you have to prepare a team for participating in competitions, and it will depend on the success of your players whether they will go to another league. In addition, a multiplayer mode is available, using which you can compete with friends in real time.
The game is constantly updated, so stay aware of the latest news. Do not forget that the game is based on real data, so the cost of each player's contract absolutely similar to reality.
The Fantasy Manager Football application can be downloaded absolutely free of charge for all types of mobile phones and tablets. However, to take advantage of all the capabilities of the application, you will need additional content that is downloaded only for real money.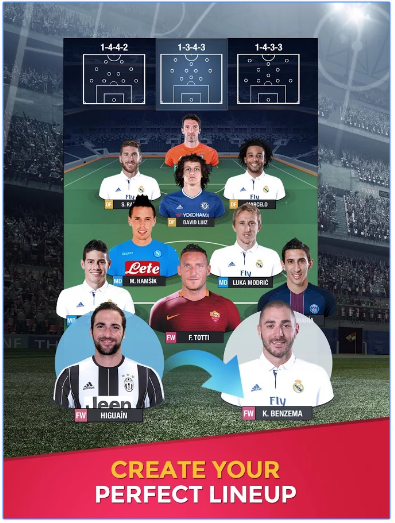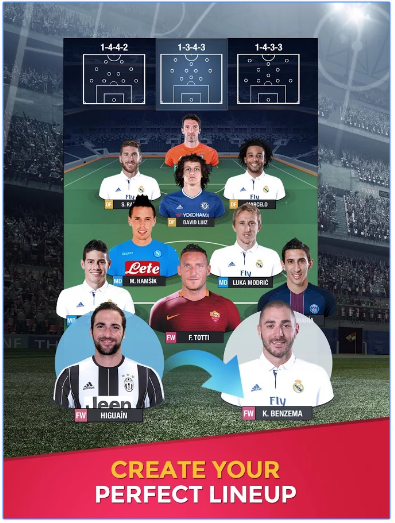 Downloads: 5000000 +
Customers rating:

(4 / 5)
True Football National Manager
Do you want to feel like a real coach of the national football team? Try True Football National Manager! In the game, there are more than two hundred players with their own unique skills and abilities.
You are able to gather a cool team and develop your football federation! Start building new stadiums, train young players and create a unique football world! You can participate in all the largest world tournaments.
Hundreds of available players to choose from, interviews with journalists, calls from team members – each of your answers affects their morale, so be careful in your statements! There are many tactical techniques for the whole team, and for individual members – create your own strategy! Earn trophies and rise in the rating! Play and win!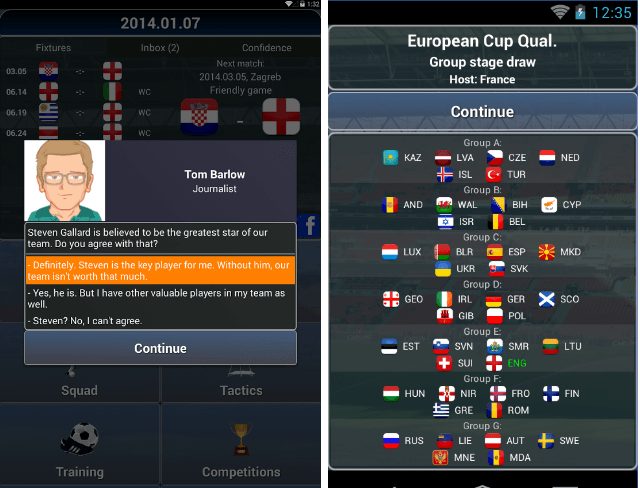 Downloads: 1000000 +
Customers rating:

(4.2 / 5)
PES CLUB MANAGER
The game PES CLUB MANAGER is one of the most popular football simulators. This game is not only distinguished by high-quality graphics but also has a very realistic design and fascinating gameplay.
PES CLUB MANAGER provides very wide opportunities: only here you can manage the most legendary football players and play for the best world teams or football clubs.
The game also has a career mode. Starting to play, you get a football player-beginner. Your task is to help him fulfill his tasks and make him a true professional. For each level passed, you will receive valuable prizes and game experience that will help your athlete to advance the career ladder.
In addition, the application has a real-time game mode. You will need your own strategy and all the knowledge and skills that will help complete with the strongest opponents.
The app can be downloaded for free but there are in-app purchases for getting additional gaming opportunities.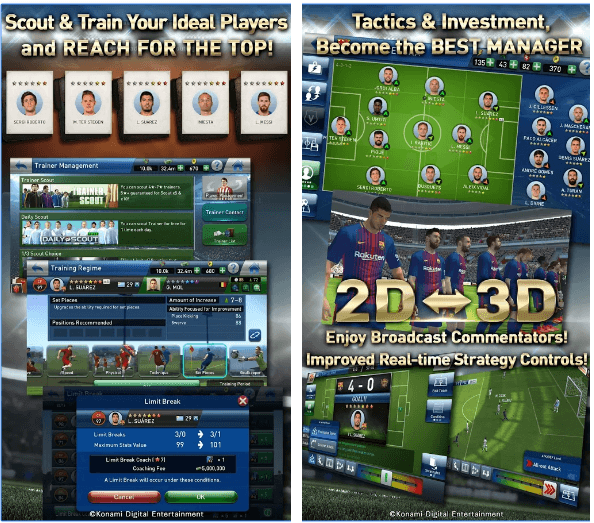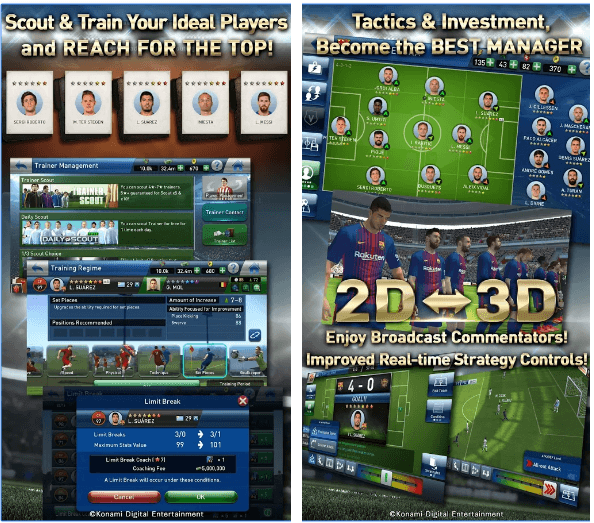 Downloads: 10000000 +
Customers rating:

(4.4 / 5)

Pro 11 – Soccer Manager Game
Pro 11 – Soccer Manager Game – an exciting sports Android game with thoughtful gameplay from the studio "Trophy Games". Here, you will create your own club and lead it.
Your first task is to choose a country for the new club: England, Greece, Italy, the Netherlands, Norway, Poland, Portugal, Romania, Russia, Sweden, Turkey, the USA, Scotland, Belgium, Brazil, Germany, Denmark, Spain, France. Now come up with a name and write it. Next, go to the choice of equipment colors for your club. Ah yes, the manager's name must also be invented – this is the last point.
The interface is convenient here. A little training to help you navigate is included. Before the match starts, set up a quick tactic by choosing a lineup. Matches are played against other manager players and take a few minutes. Think about your tactics to get an edge.
The graphics are nice, but the real movement of the players is not shown. Only important moments are displayed with text accompaniment. The user doesn't directly participate in football fights, because he is the leader.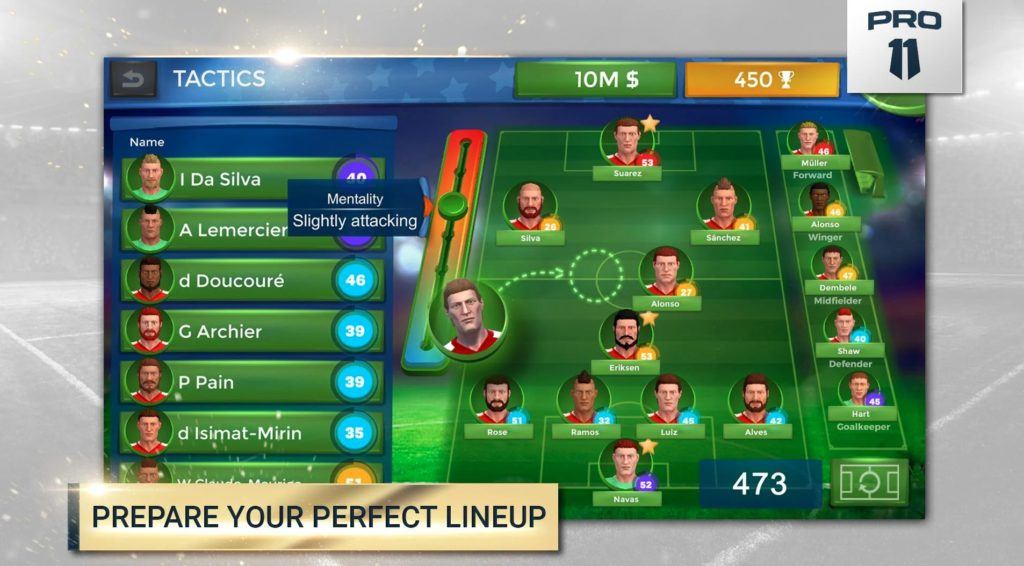 Downloads: 1000000 +
Customers rating:

(4.3 / 5)
Soccer Manager Worlds
Soccer Manager Worlds is a soccer management simulator, in which you will have the opportunity to become a manager of a soccer club to bring it to fame. You will be competing online with other players with the same goal as you.
Like in most similar games, the key feature of Soccer Manager is the sale and purchase of players. You can hire and sell any player by discussing the deal with other clubs. For example, you have an excellent player on the left flank, in which another club is interested, and you will be ready to make a deal if the club offers you a good defender, which your team needs.
In addition to making deals with players, you have to manage the team during the whole soccer season, which is very realistic in this game. You can participate in a league, a cup, and, of course, an international cup. To win all these trophies, you will need not just a mediocre team led by one great player, but a really serious team of outstanding players.
The numbers in the game are no less interesting: 50,000 players and more than 2,000 teams, as well as a lot of options concerning strategies and tactics.
Soccer Manager Worlds is a full-featured sports game related to soccer club management. Soccer Manager has a clear interface and well thought out gameplay that can capture your attention for more than one hour.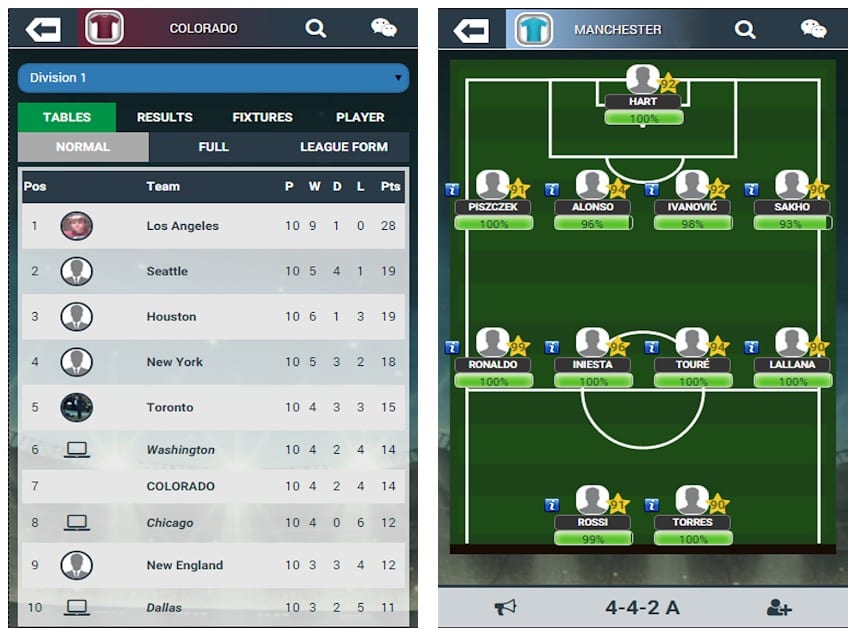 Downloads: 1000000 +
Customers rating:

(3.9 / 5)

Top Football Manager
Top Football Manager is an excellent football manager simulator, featuring advanced functionality.
The plot and the gameplay. At the very beginning, you need to log in using Facebook or Google Play Games, so that you can participate in multiplayer mode. After that, the game will offer to create your own club, including the name, logo, and form. The duties of the coach also include the placement of players on the field, their training, and physical condition. At first, it seems a bit difficult, but the training in the simulator is implemented simply and clearly, so problems should not arise.
The most surprising thing is the fact that you can enjoy all the matches as a real spectator. The graphics and design are on a high level. During the match, you need to make changes in tactics, as well as make replacements on time.
You can see the progress in a special section. Due to the fact that the game was specially created for mobile phones and tablets, management is reduced to a few clicks on the screen of the device.
Top Soccer Manager Football is a great representative of soccer trainer simulators. A distinctive feature is the ability to view matches in 3D. Do you dream of trying yourself as a manager of a legendary football club? In real life, this is hardly possible, but you can always try your hand at a high-quality and interesting application.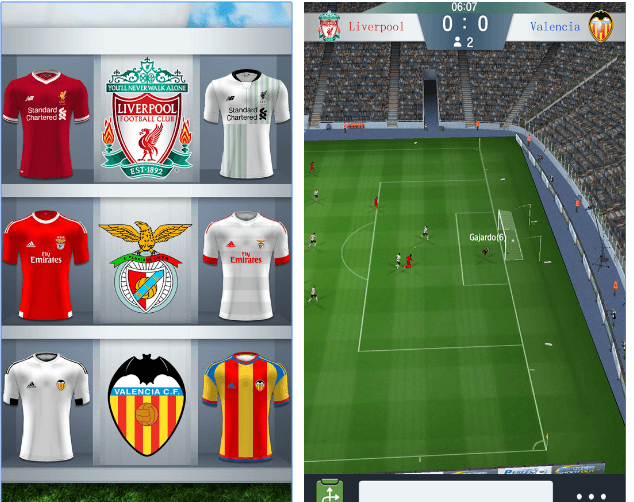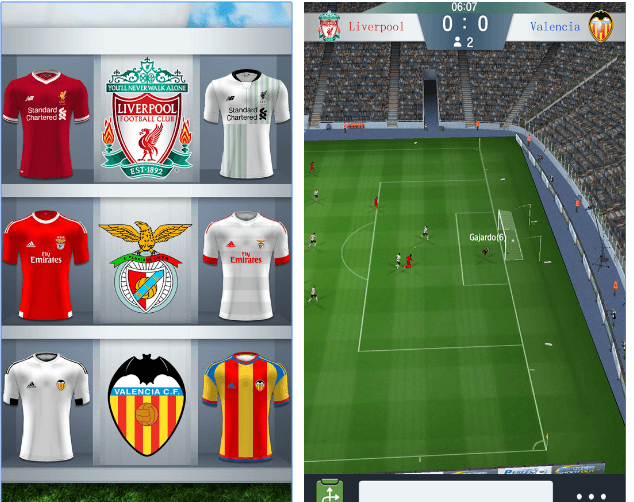 Downloads: 10000000 +
Customers rating:

(4.5 / 5)
Top Eleven – Be a Soccer Manager
To date, the number of fans of the game Top Eleven is more than 3 million players, which can mean interesting gameplay and high quality of the released product to the gaming market. For this reason, you should not delay the beginning of your career as a football manager!
Top Eleven is the most popular online football manager where you can take a football club under your leadership. During the management of the club, you have to take care of all the issues that are associated with the football team, and also to test your skills to lead and competently build tactics for the upcoming match. With the help of Top Eleven gamer, you are completely immersed in the life of a real football club and will be able to develop the right winning strategy for new matches.
In this game, you can play together with your friends and the gameplay will get in a new and cheerful rhythm. Who wants to lose the best friend?
In the online transfer mode, you can participate in auctions and buy a strong player for the football club. You can also follow the game of your team and in the course of the development of events, you can control and correct the tactics of the team.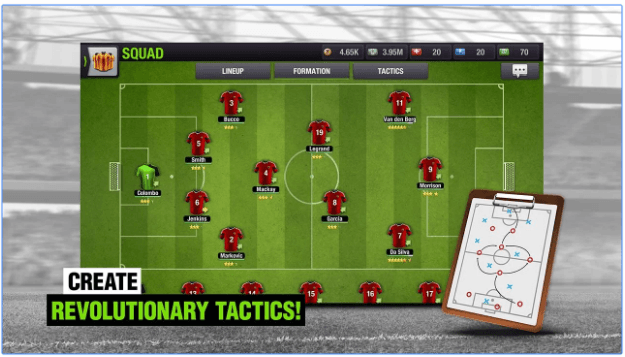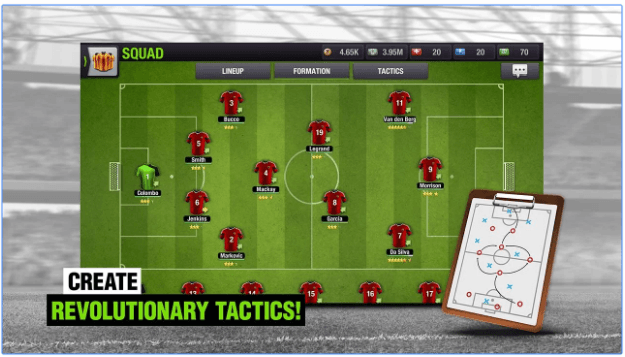 Downloads: 50000000 +
Customers rating:

(4.4 / 5)
Football Management Ultra
If you want to become a football manager, then this Football Management Ultra game is right for you. Search for real football talents and lead your team to victory in the most grandiose tournament – the Champions League.
As a manager, you must consider all the interests and wishes of the players. Raise your football players to the level of stars and take first place in the ranking of managers. Take first place in your league, prove to everyone that you are the best! At a convenient time, you can always see the list of game achievements on a special table for this. This list will include successful managers from around the world.
Don't miss your chance to build a career as a real football manager. The goal will be achieved only if you take care of your players and give them a maximum of your free time.
Download this game for Android for free and you will get a lot of drive from such a dynamic sports game like football.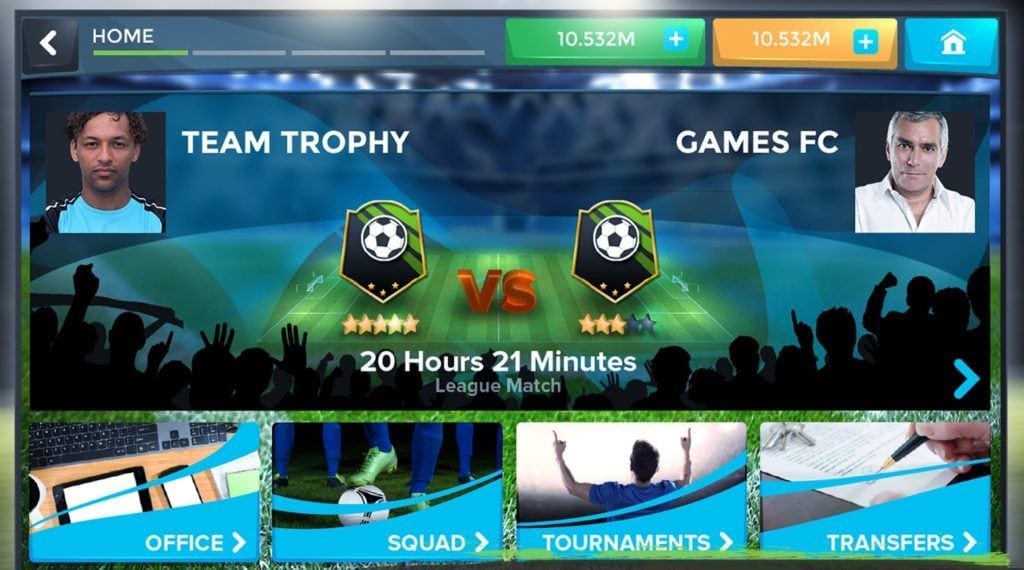 Downloads: 1000000 +
Customers rating:

(4.1 / 5)
DREAM SQUAD
Dream Squad is a football manager with three-dimensional graphics. Manage a great dream team as a football coach and enjoy an exciting game!
This game from independent developers defies the most famous creations of similar genres. You can watch games in real time in 3D. Also, you have the opportunity to change the tactics of the team during the game. These players are made on the basis of real players. Enjoy the games in the league, the battle for ranking and tournaments.
Create your training programs. If the enemy is stronger than you, create a tactical advantage. You can play friendly matches with friends. Start with the local league and gradually move up to the world, to be on top. Different rewards and achievements will encourage you to play better.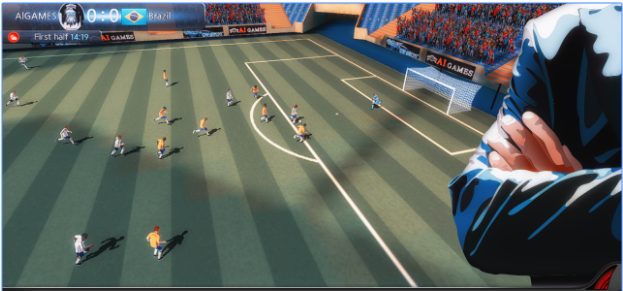 Downloads: 1000000 +
Customers rating:

(4.1 / 5)
Dream League Soccer
Sports simulator Dream League Soccer highlights all the major events associated with great football and also invites everyone to participate in the struggle for valuable prizes.
To participate, it is enough to choose a team, set up a team and go through the starting match, explaining, first of all, to beginners all the rules and features of such a popular sport. And if everything is well done, an unforgettable career will begin with the ups and downs.
Modes and teams. The main feature of the Dream League is an ageless career that allows you to act as a coach of a little-known, but a promising team. You have to literally track every little thing in real time – to buy new players, change the form, build tactics, try the juniors in the starting lineup. With the growth of prospects, there will be more and more difficulties!
The best football players from all over the world, famous teams, giant trainers… Is difficult to start and develop, and to win? Then you have to start a career from scratch and invent the perfect ideas for each match.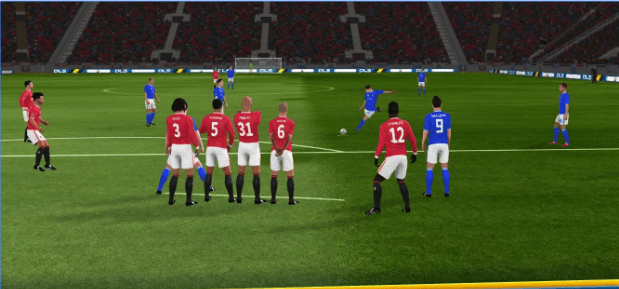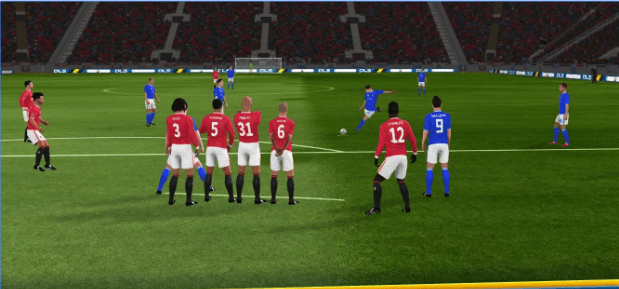 Downloads: 100000000 +
Customers rating:

(4.6 / 5)

Football Master
Football Master is a grandiose mix of a football simulator and a mode of total management, allowing to work from any scratch with any team: the choice of logo and title, work on the starting lineup, buying and exchanging football players – the freedom of action is impressive! And the career begins not less effectively – several presentations, a well-developed press conference and the first answers to questions …
Rules. After a brilliant start, you are allowed to choose the first star – you can choose at least a goalkeeper with a maximum rating, at least an attacker. Next country and name. After a small number of settings, you will have to complete the whole team (mostly beginners). Well, and then the fight for the championship titles, collecting points and changing the ratings.
Controls and levels. Further success depends only on further actions – for example, whether contracts are signed with fitness instructors, whether other football stars are needed, in which countries it is better to take part in the cups. The better each action is thought out, the easier it is to win the highest rating.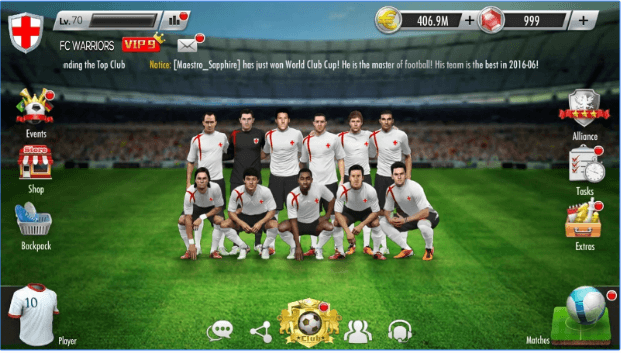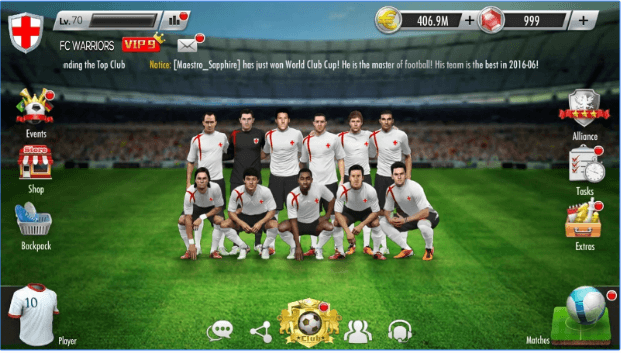 Downloads: 10000000 +
Customers rating:

(4.3 / 5)
You may also like: 15 Best Idle Games for Android
Soccer Manager
Become a successful soccer manager in Soccer Manager 2020, a free soccer manager game! Lead a soccer team and test your management skills!
You have a choice of more than 800 clubs from 33 countries to manage and create your top 11.
As a soccer manager, you manage all aspects of your club's operations, including training planning, development of club facilities, transfers, team selection, distribution of players' numbers, and defining tactical structures. This level of control makes the game incredibly exciting!
Characteristics of Soccer Manager 2020:
You can choose from more than 800 clubs from 33 countries.
The ability to make decisions about buying and selling players using the advanced transfer market.
Creation and development of the stadium, as well as nearby objects in stunning 3D animation.
Management of training of the team.
Creating your own ideal tactical formation and team composition for each match.
View the matches in the live broadcast in a three-dimensional mode of realistic simulation.
The analysis of the team activity during and after the match with the help of all-round statistics.
Success will be rewarded with job offers, which will allow you to move up the career ladder of the soccer manager.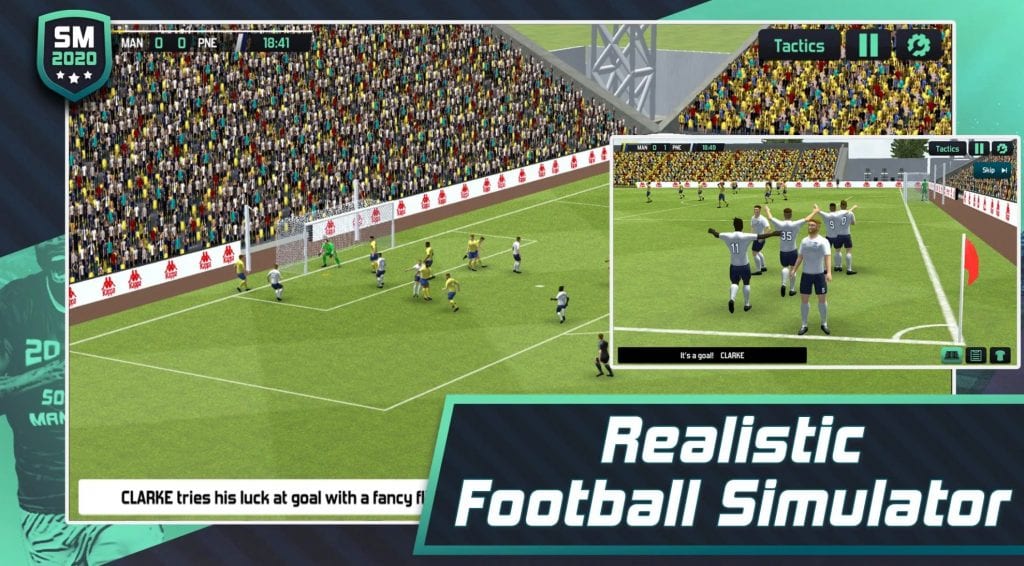 Downloads: 1000000 +
Customers rating:

(4.3 / 5)