Even those who like the process of house cleaning can get tired of it. In order to breathe in the new life to this activity and make your time more productive, we offer you to use the special apps for cleaning organization. The best clean house apps are right in front of you.
And if you want to clean the space in your house by getting rid of the things that you don't use anymore, you can check out the reseller apps for that.
Tody – Smarter Cleaning
According to the opinion of users and our opinion, this is the best app for cleaning the house. This is the true case when the cleaning app is not a fancy accessory that you can use for fun from time to time, but a real manager that will help you to make your cleaning process 10 times more productive.
Tody is extremely user-friendly. At first, when you install the app, it first asks about your cleaning routines to better understand your life rhythm. Then you need to divide your space into the zones.
There are both ready templates and possibilities to create zones from scratch. And accordingly, to this algorithm, you then can create various tasks for each of those zones – select from a catalog or create your own.
We need to say choosing tasks the first way is much easier since almost all cleansing processes are more or less the same everywhere.
Then you set the time gap for each activity. It's obvious that some of them aren't necessarily should be repeated frequently, except for a couple of ones. Then you evaluate the status of every one of those tasks.
Therefore, the app will be useful to anyone – starting from the regular housekeepers and ending with professional cleaning services. For the latter, it will help to create the plan of a house that you need to cleanse and evaluate the amount of work to be done.
The interface is intuitive here so even your 80-year-old grandma will handle it.
By the way, there is a pro-version of the app, but it's not that necessary to buy since it brings some minor advantages such as changing the palette color of the interface, etc.
Pros:
Leader among the cleaning assistant apps
Pre-divided zones
Ability to divide your house into zones yourself
Ability to choose tasks from the lists and create ones on your own
Ability to track progress
No ads
Cons: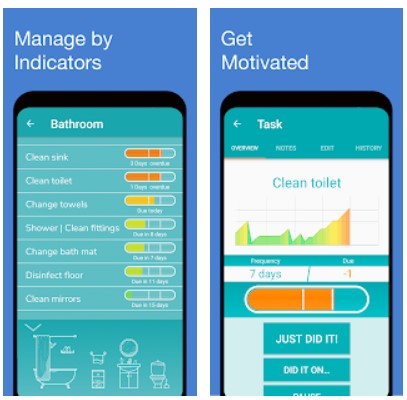 Downloads: 500000 +

Customers rating:

(4.6 / 5)

You may also like: 15 Best Side Hustle Apps To Earn On Android
Sweepy: Home Cleaning Schedule
The main competitor of the previous app, Sweepy, will help you to better manage your cleaning schedule. The main difference between Sweepy is that it has a more decorated interface design.
The app won't ask you to note your cleansing habits as you install it. You will need to note all the home zones and cleaning tasks yourself.
Therefore, just like in the previous case, you are dividing your house into zones and adding the list of tasks that should be done.
However, one of the advantages of Sweepy is that you can use this app together with other members of your family or any people at all. If they all have Sweepu installed on the devices, you can manage the house together and assign various tasks to each other.
It's really convenient since this way you don't need to waste your time discussing it in real life. Another interesting feature is that the person who accomplishes the biggest progress gets at the top of the leaderboard.
Pros:
The fully-equiped app for house cleaning
Pre-divided zones
Ability to add new zones
Ready lists of tasks
Ability to track progress
Ability to assign tasks to others
Downloads: 1000000 +

Customers rating:

(4.6 / 5)

FlyLadyPlus
Another cool application for cleaning. In main aspects, FlyLadyPlus works in the same way as the 2 previous apps – first, it divides your house into zones and then assigned the tasks to each of those.
But one distinctive feature of FlyLadyPlus is that it not only has the pre-organized tasks and zones but also ready routines that you can set for yourself. Therefore, you won't need to do any planning on your own, the app will compile the schedule on the calendar.
Another advantage of FlyLadyPlus is its cool interface design. Some people might disagree, but we found the combination of colors and details in the app the best among all the other ones.
At the end of the day, it's up to you to decide which cleaning house app to choose, and this is a decent option.
Pros:
Pre-organized zones
Ability to choose tasks from the set
Beautiful design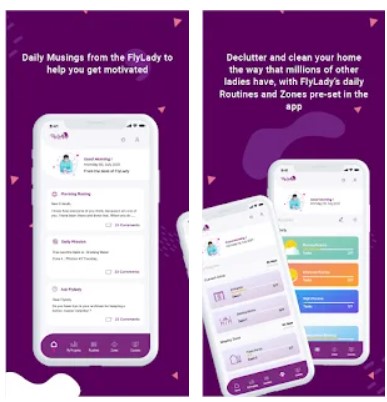 Downloads: 50000 +

Customers rating:

(4.8 / 5)

Clean My House – Chore To Do List, Task Scheduler
In case you don't like all those fancy apps for house cleaning and you just want a lightweight app for getting things done, then you should pay attention to Clean My House. It is a standard Android app where you can basically do everything you could with the 3 previous apps.
First, you get a clear canvas that you need to fill out. Add zones of the house, and choose the chords from the giant list. Then assign each of them to a certain day and see the list you get.
But we must warn that CLean My House will be suitable only for people with a high self-organization level since the whole list that you get in the end is not motivating at all and looks dull. Overall, the app works more like a standard calendar reminder.
Nevertheless, sometimes it's easier to manipulate and handle than all those apps with the elaborate interface. Well, at least if the cleaning won't be done you'll have an excuse:)
Pros:
Fast and simple to use
Easy to handle
Cons: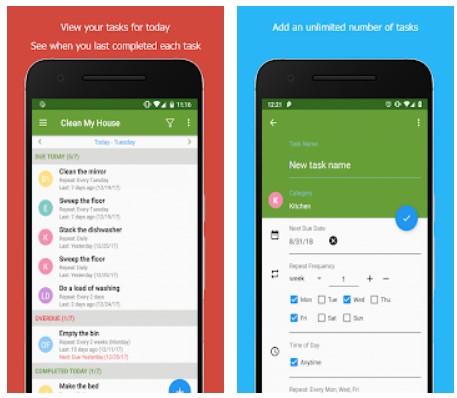 Downloads: 500000 +

Customers rating:

(3.8 / 5)

You may also like: 7 Best Payday Loan Apps for Android
PikaPika
We must be honest with you that it's not easy to find a good house cleaning app, but we managed to filter out the best of the best. Like this app – it's not much popular, but it's really nice to use.
According to all the previous examples before, create separate sections here for each room and then add sub-tasks to them. Then the app will create a scale of progress for each section. As soon as all the sub-tasks will be done, the progress will be completed.
Moreover, the app will show how many days have passed since your last cleaning section of this room.
And there is a calendar that allows you to take a general look at your all cleaning progress. See how disciplined you've been!
The app will send you notifications depending on how often you want to clean your house and separate rooms. It's also possible to use PikaPika in multi-user mode, so all your family has an access to it. Assign the tasks to each user!
Moreover, one interesting feature of PikaPika allows sorting the type of cleaning. If you find this function necessary then you should go for this option.
The only possible drawback here is that PikaPika doesn't allow to schedule the precise time for the cleaning.
Pros:
Ability to track the progress
Pre-divided zones
Templates of tasks
Cool design
Rewards for completion of tasks
Cons:
No possibility to set the precise time up to an hour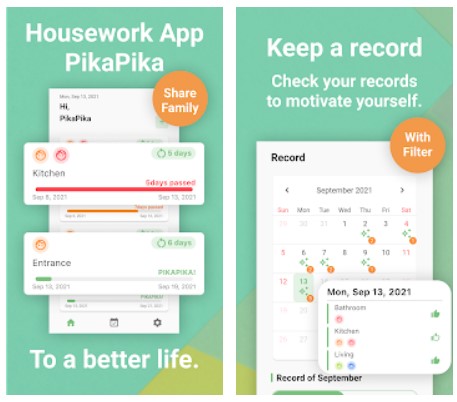 Downloads: 10000 +

Customers rating:

(4.3 / 5)

Nipto: Split Household Chores
We also tried to gather the cutest house cleaning app on this list and Nipto isn't an exception.
Nipto is a more simple version of a cleaning app. It's basically a task-manager oriented for cleaning. Just add the task with all the details: where, how, and by whom it must be done. Soon your main page in the app will turn into the schedule of cleaning.
Use this app together with your family or people you're sharing an apartment with.
One fun feature of Nipto is that it gives you rewards for the completion of tasks and each Sunday the winner of the week is declared. The winner will get pleasant bonuses.
However, you should watch out: if you want to use this app as a team, one of you will have to buy a premium account.
Pros:
No ads
Simplicity in usage
Nice design
Cons:
Will force you to buy a premium account
Downloads: 100000 +

Customers rating:

(4.5 / 5)

Housy: Chores, Cleaning Schedule, Motivation
Housy isn't so popular yet, but it could definitely become a competitor of the first apps on our list. This app can become one of your most beautiful cleaning assistant.
Open the app and fill out each zone with the tasks. One convenient thing about the app is that there is already a list of zones, that each house has: kitchen, bedroom, bathroom and so on. But even if you have something special in your house, you are always enabled to add it to the app.
Add all tasks to each room. Don't forget to check them out – it will reflect on your progress chart. Thus you won't forget anything.
And the best advantage of House is it's interface design. All the windows and sections are placed right in the order and easy to view from the home page of the app, and the coloring in the velvel shades makes the whole process of work with the app 10 times more pleasant.
A possibility to assign various tasks to different members of the family is available as well.
There are minor drawback in the app, such as the mess with color schemes and the bugs with the last cleaning dates.
Pros:
Beautiful app
Ability to assign tasks to different people
Progress tracking
Pre-devided zones
Cons: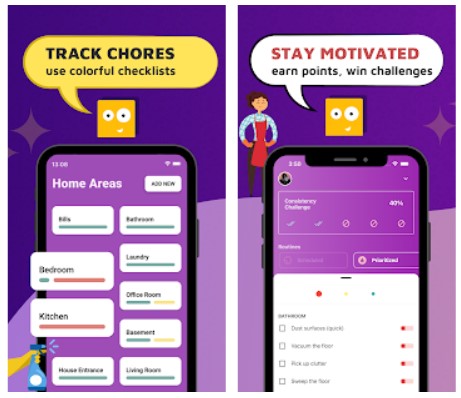 Downloads: 10000 +
Customers rating:

(4.1 / 5)

ChoreCare
This is an app for those who don't want to clean their house on their own. If you want the home chords to be done – create an account in ChoseCare and find the best chord cares nearby.
All the profiles of professionals are presented with pictures, age, living area, prices, experience, equipment, reviews by other users, and availability. Thus, it's extremely convenient to quickly run through all the options available and find the perfect match.
When you have chosen a chord carer, you assign the time in the messages and agree on payment. The payment is made in the app. You can leave a tip, but it's a real-life option.
Thus, it's totally safe both for people who serve and who make an order. The whole process is monitored by the app support and if there is any misunderstanding, they will help to resolve the argument.
But those situations are rather rare since the app requires the buyer to compile a detailed list of the work required to be done.
Pros:
User-friendly interface
Safety in everything
Ability to find a service fast
Clear profiles of chords carers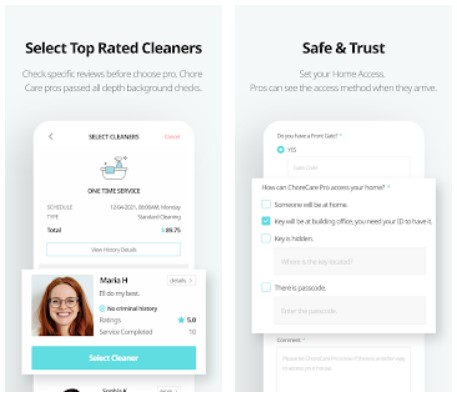 Downloads: 5000 +

Customers rating:

(5 / 5)

Housekeeping (Guide)
If you need an app not to plan your house chords, but to provide you with guides on how to clean objects fast and productively, then this app is for you.
If don't want to dig YouTube or Reddit, then you can find everything that concerns the cleansing here. Step-by-step tutorials of washing, sweeping, weeping, and moreover are presented as videos in this app.
There are tons and tons of videos that you can watch for hours. Of course, don't expect a superior design or any special feature from this app. This is a simple cleaning guide.
Pros:
Lots of video tutorials in one place
Cons:
The "pros" of this app is its con at the same time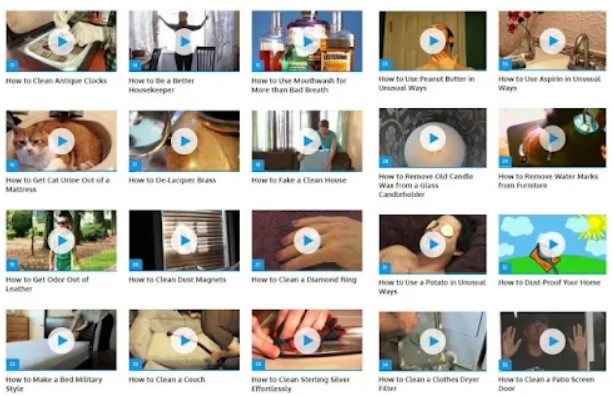 Downloads: 10000 +

Customers rating:

(4.1 / 5)

Clean House – chores schedule
Now let's get back to the chords organizing apps. Clean House is a standard app for organizing your house cleaning but it has a much more simple interface than the other apps on this list. However, it means that the app can be run on older Android devices.
Using Clean House is also super simple – you just add the tasks to the main screen and assign them to a certain day. You can choose a task from one of the templates or create one yourself.
When the task is completed, mark it as such. However, it's really easy to forget here about marking it's done since it isn't displayed in any way.
You can also set reminders about cleaning with Clean House. In other words, quite a standard app. The main drawback of it is that it's quite obsolete to this day.
Pros:
Simple in usage
Lightweight
Cons: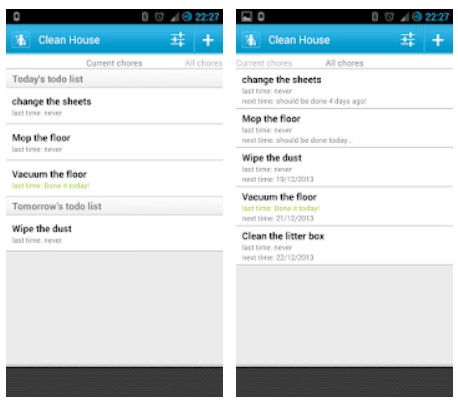 Downloads: 100000 +

Customers rating:

(4.1 / 5)

You may also like: 9 Best Food Diet Apps for Covid Recovery (Android)
Housekeeping Planner Reminder
If we would be choosing an app for House Cleaning, this reminder wouldn't be our first choice, but at the same time, there is nothing negative about it. It is a simple cleaning reminder with a nice interface design.
Logically, it works as your standard reminder: on the main page you just need to add tasks that you need to accomplish. A new task can be added by clicking on the plus sign at the bottom of the screen. For each task, you can select the category and the length, and also the period of repetition.
Therefore, you will find a fully compiled list of chords in the end. There is no possibility to divide the house into zones, but you can add pictures to your notes.
Pros:
Simple and fast to use
Lightweight
Cons: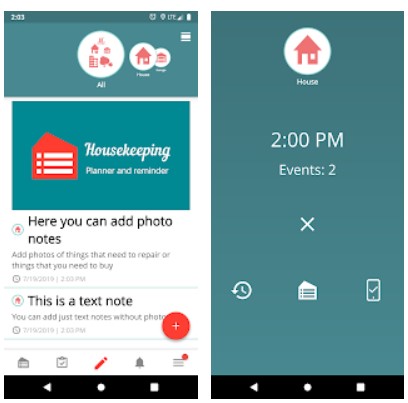 Downloads: 100000 +

Customers rating:

(3.4 / 5)