What we have now is never enough. We're always curious how we would look if we were older, or we are nostalgic about how we looked when we were younger. By the way, the article that we compiled below works like a time machine.
We have chosen 15 Android apps that make you look younger or older. By the way, we also have a collection of face swap apps that you should also check out.
Apps to make you look younger or older:
FaceLab
Currently, face lab is one of the most popular apps for morphine or making faces look younger, and we understand why. It has a marvelous artificial intelligence feature that can morph any face in seconds and it can make your face look younger or older.
The best part of face lap is all the effects that it applies looks extremely natural, so you would never tell it's Photoshop.
And, the app does not just include the feature of making the face look younger or older, you can make face look younger or older in several ways which means there are several filters for it and you can also make adjustments so the overall portrait looks more natural.
You can also do the gender map on the following app. And if you just need to edit the picture, there is a feature of makeup and you can add makeup training face.
Overall, face lap can also be used as a face editor and you can easily remove all the face shell imperfections with it and so on. But of course, its main feature is its ability to change the age of the face.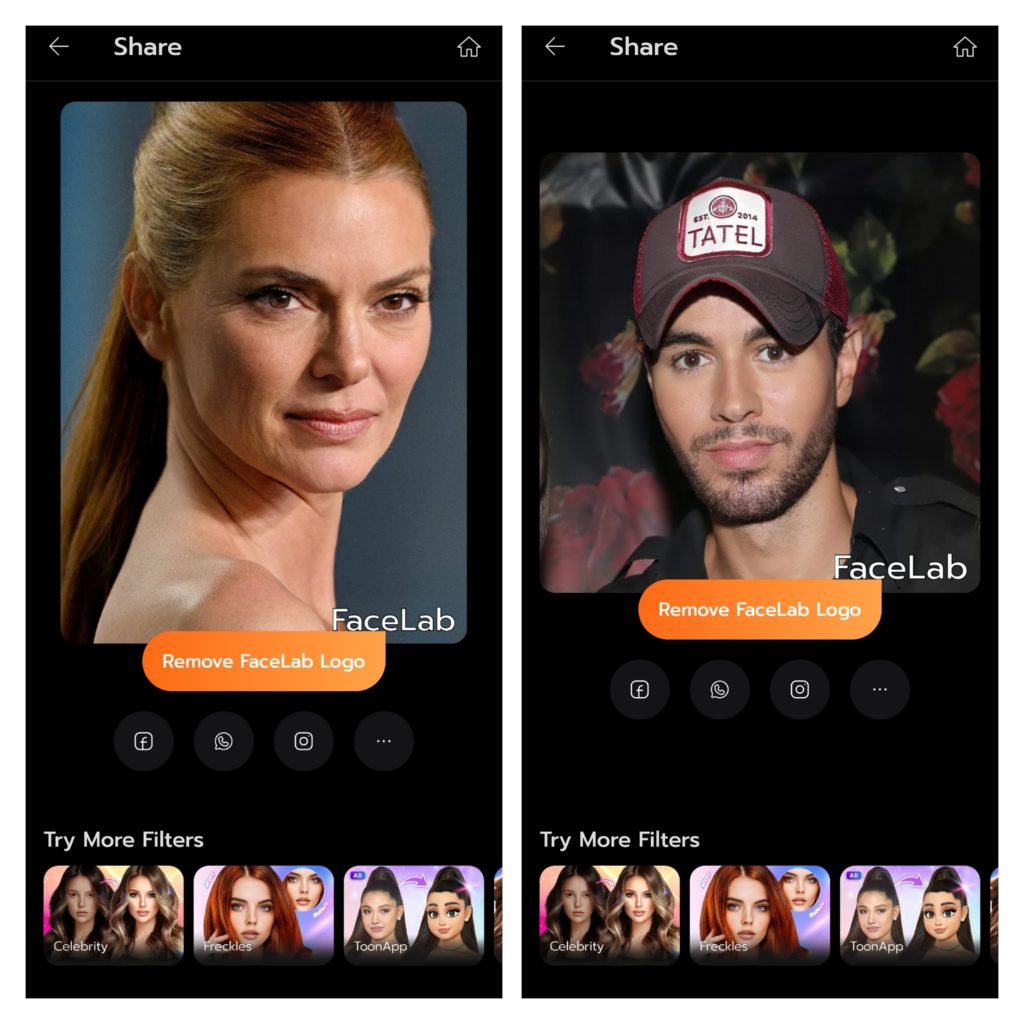 Downloads: 10 000 000+
Customers rating:

(4.4 / 5)

You may also like: 7 Best Baby Face Apps for Android
FaceApp
The next extremely popular app on the market and on our list is FaceApp. If you are an active social media user, you've probably heard of it. It's more known for being used for editing facial features and that it can make your face look 10 times prettier than it actually is.
But it's not the feature that we are looking for in it today. In fact, it also has a nice inbuilt face morphing feature that works amazingly.
It can make any face look older or younger, and all you have to do is just to quickly upload the picture that you want to change to the app, and then choose one of the filters at the bottom of the screen.
There are several filters for making the face look younger and several filters for making the face look older. You can choose a baby face or just a young look or another young look it doesn't matter.
As you can see from our results, it does a really good job in both directions. And the best part is that it's so feasible in usage. So overall, they stop is one of the top options for making the face look younger or older.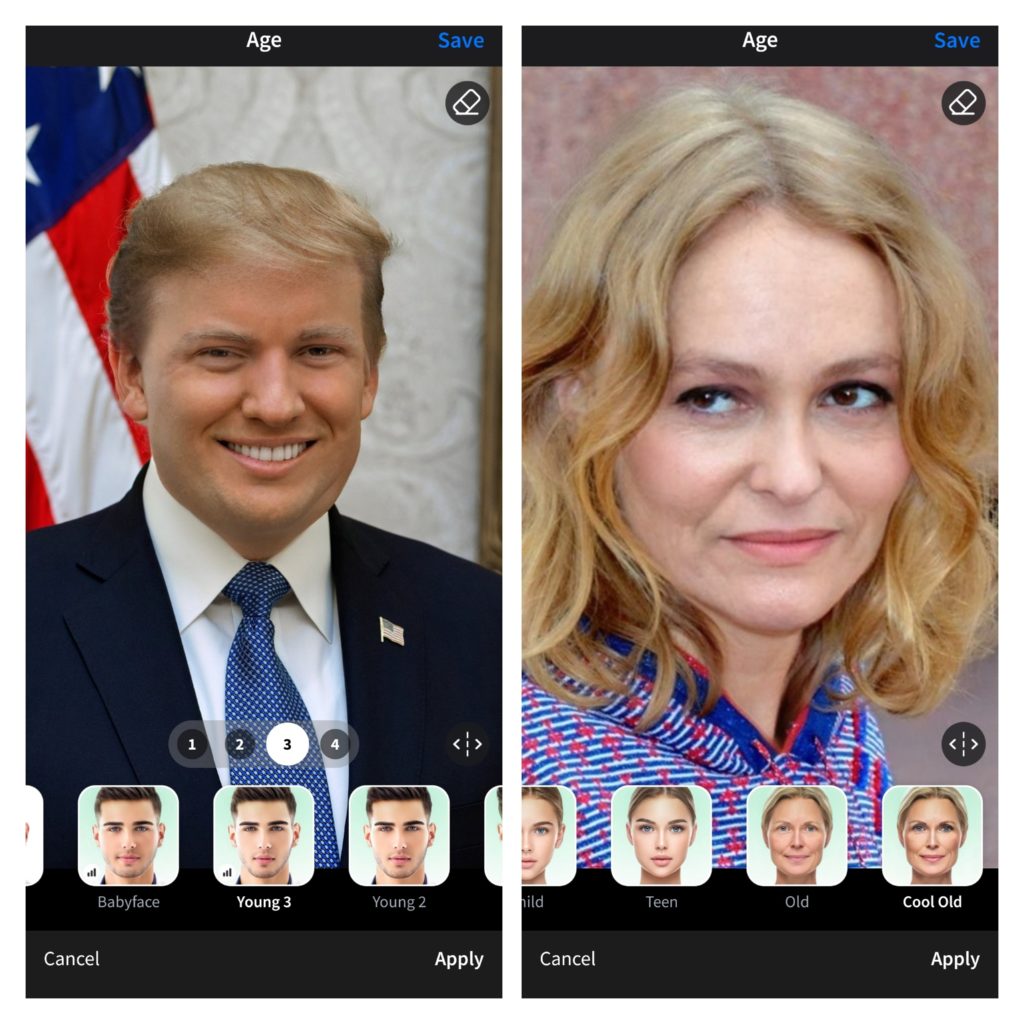 Downloads: 100 000 000+
Customers rating:

(4.3 / 5)

Apps to make you look older:
Old Me-simulate old face
This app can do a decent job in general for editing, in terms of applying filters and removing facial imperfections, but when you want to make a face look older, it's not the best app ever. It claims that it can make your face look older than 20, 40, or even 60 years.
But in reality, it turned out that it just applies the universal filter, and sometimes the filter doesn't even lay directly on the face, it just placed a random somewhere on the picture. You can see the examples in our screenshots.
In some cases, it does work well and you can really morph a face, but in other cases, when the lighting is not so clear, it's just a mess.
One weird factor that we discovered in this app and didn't really understand was the horoscope in the main menu. Why would even a photo editing app have horoscopes in it?
Moreover, the app contains ads and in order to use the "make me older" feature for free we had to watch a 10-second advertisement. Not cool.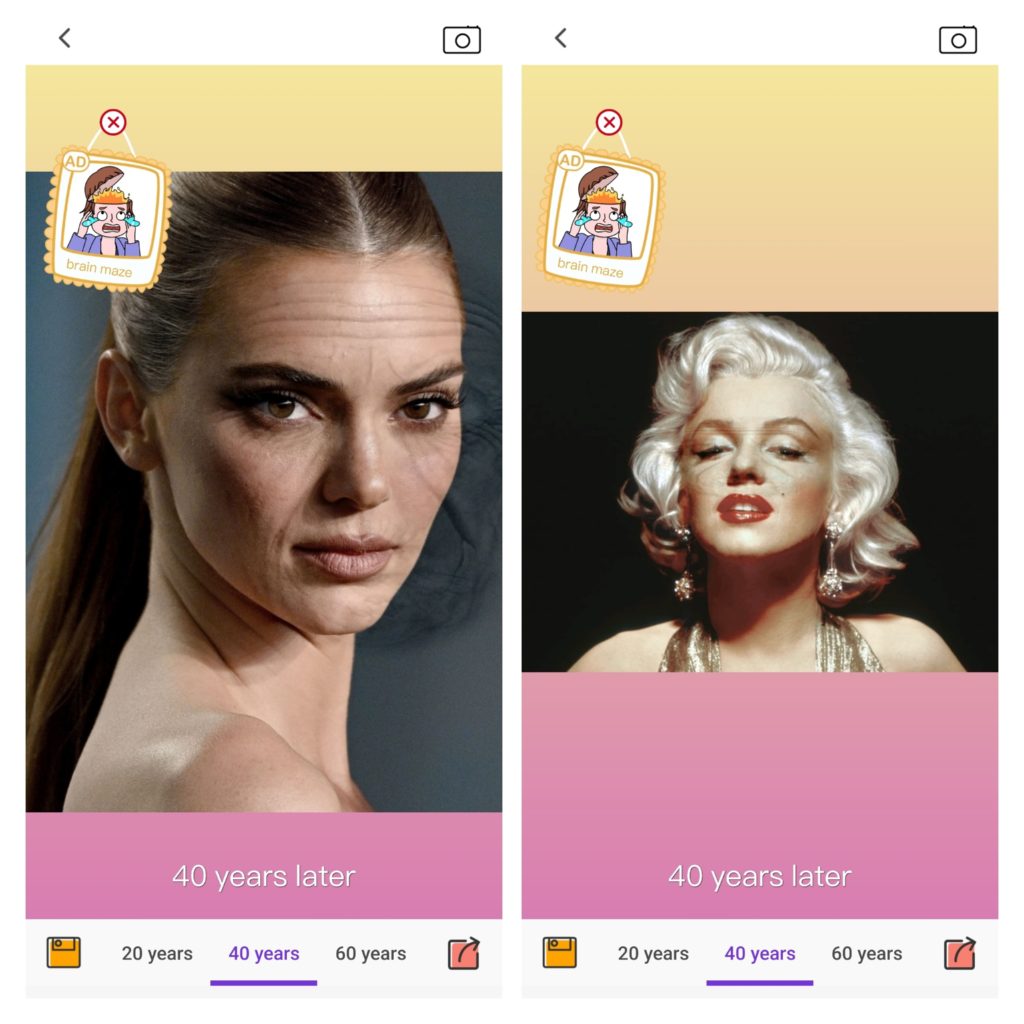 Downloads: 1 000 000+
Customers rating:

(2.3 / 5)

Make Me Old!
This is one of the classic face morphing apps on the market. And it's quite effective, though its filters have already become obsolete and a little bit primitive.
However, its simplicity in usage and the fact that it occupies almost nothing of your phone's memories if you want to see how you're going to look when you're old.
All you have to do here is just to upload your picture from the gallery or take a picture right in the app and then just click on the next button.
The app will add wrinkles to the face and you can also add additional accessories that usually elder people wear, like glasses, beards, and so on, so the overall portrait of the old you looks more realistic.
One cool feature about this app that we discovered is that it doesn't have any amount of that. Yes, the interface design is obsolete and the app is quite primitive in general, but it does its job.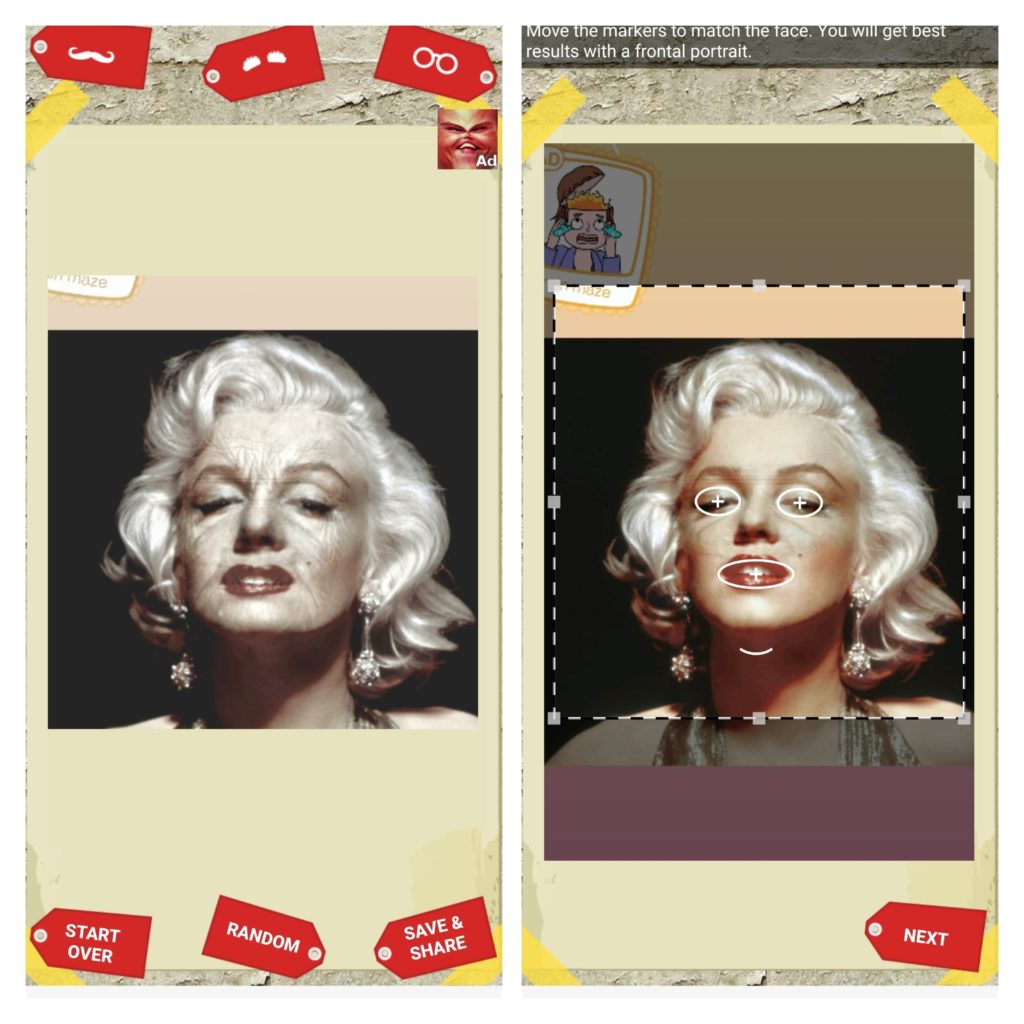 Downloads: 10 000 000+
Customers rating:

(3.4 / 5)

Make Me Old
Maybe, we didn't fully understand the functionality of this app, but we didn't understand why would developers make hear the process of more thing the face so complicated.
As the name suggests, this app is really able of making any person in the photo look older, but some additional functions and details that were present in the picture until we removed them made us confused.
What is more, before you are able to use the app, you will have to watch an advertisement, and that video that we had to watch was literally torture.
After that, we quickly uploaded the picture to the app, and then you can choose whether you want to add 20 years, 40 years, or even 80-plus years. The intensity of the filter increases depending on how many years you want to add.
As you can see from the final results, the app can achieve some realistically looking results, but why would developers add some additional details to the picture that you have to remove later to preview the end picture is a mystery to us.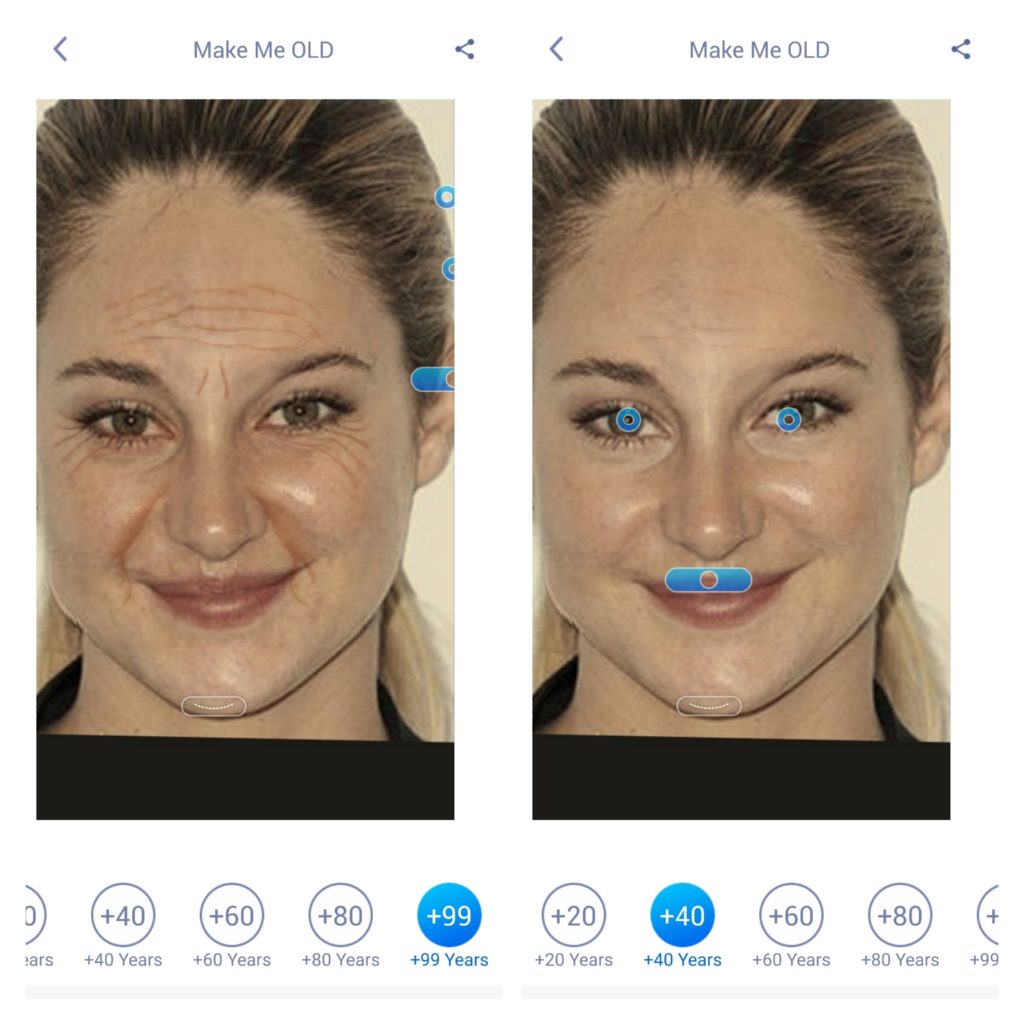 Downloads: 1 000 000+
Customers rating:

(2.5 / 5)

Make Me Old – Looks Old Photo
If you have an older Android device or you're just into more simple older photo editing apps in general, then make me old looks old photo is your choice.
This app does what it says more or less decently, but it works in a little bit of a different way than all the previous apps and they actually found it interesting. Here, you just upload the picture to the app, and then you can choose the filter that would make the face look old.
You will find the filters in a standard toolbox at the lower part of the screen. Explore all the filters, play with them, see which one hits the best and gives the most natural result, and then apply it to the face.
You can adjust the intensity of the filter, and its color, you can rotate it, and make other quite standard actions so you can obtain the most natural looks possible.
Of course, this is not the easiest way to just morph your face, when in the competitor's app you can just do that in a single click. But if for some reason you go for this app, it works, but at you in the right result will be way harder than in comparison with more up-to-date apps.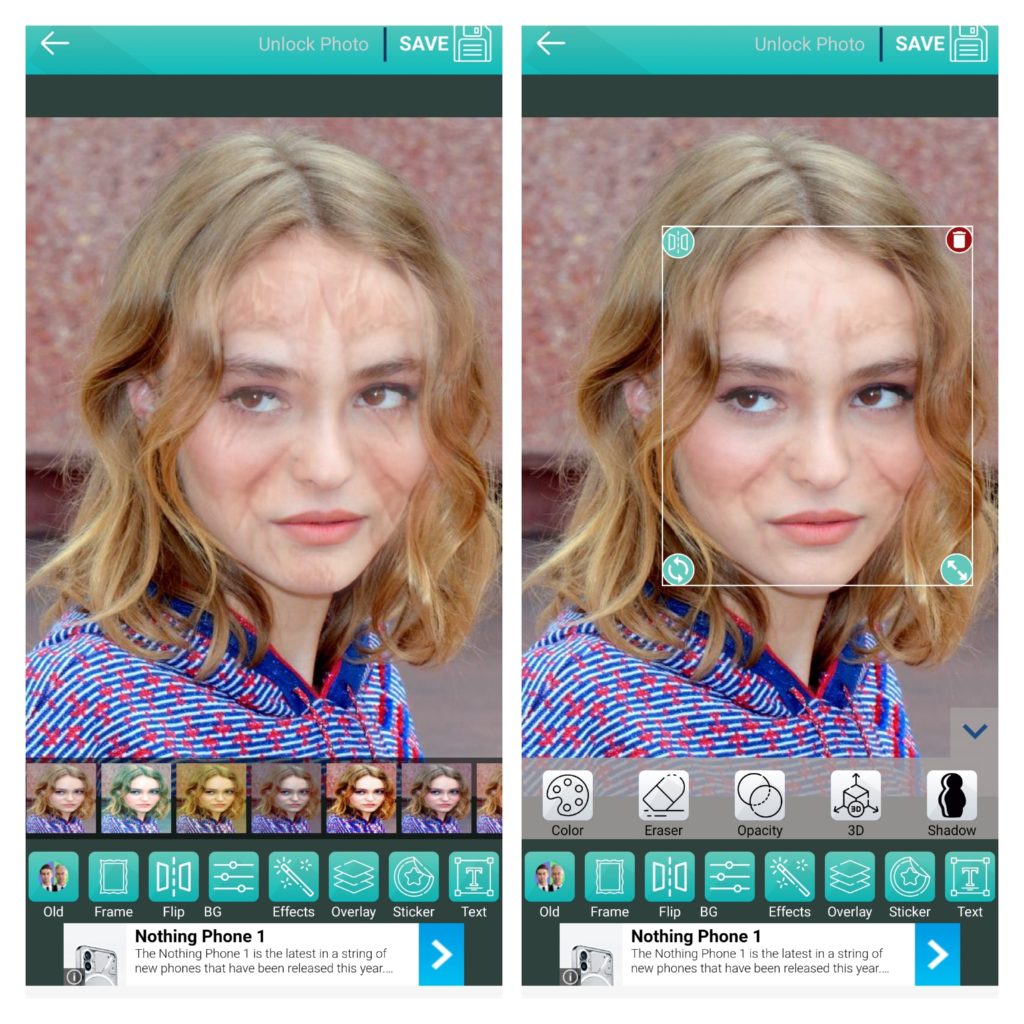 Downloads: 100 000+
Customers rating:

(3 / 5)

You may also like: 13 Best Funny face changer apps for Android
Age Face – Make Me OLD
This app belongs to the category of the, let's say, vintage photo prank apps, that existed maybe even before you acquired your first smartphone. That's why it is so obsolete, but it's still a fun prank app and it can make a portrait look older.
It works just according to the principle like all the two previous apps, thus, it just applies the wrinkle filter to a face.
And we don't know, maybe the smartphone that we were using was way too powerful for it, but when we wanted to morph the face for more than 20 years, the app told us to watch the advertisements so we could use the filter for free.
We tried to watch the advertisement, but then the app told us there was nothing to watch and that we cannot use the feature.
Well, I guess we have to be glad about the bare minimum. All in all, if you have an Android device of the lower class and you just want a small prank app for yourself and your friends, then that's the choice for you.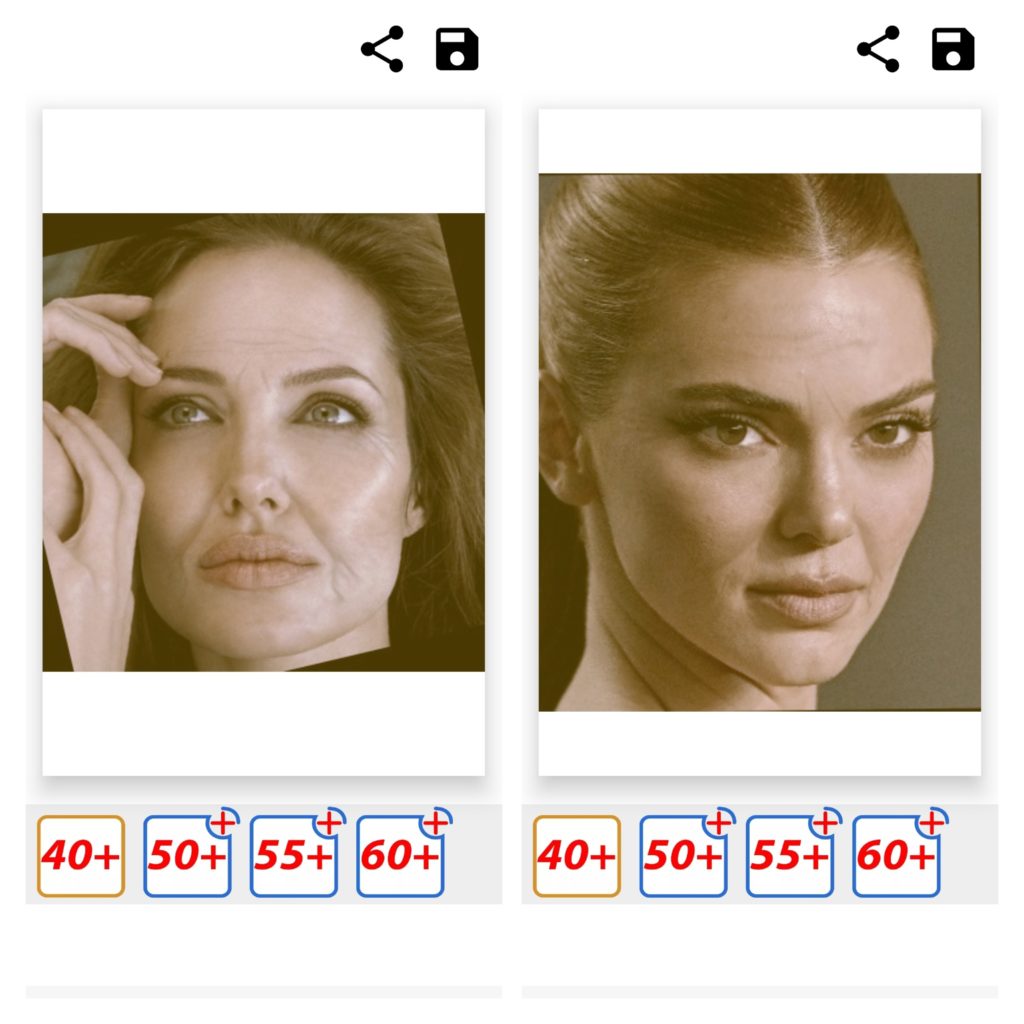 Downloads: 10 000 000+
Customers rating:

(2.6 / 5)

Magic Face:face aging
Just like several previous apps, this is more of a general face pictures editor and it just makes the faces look older by applying the wrinkle filter on them bad this app has its perks.
It might be a little bit confusing when you just open it, and it might be a little bit difficult to understand which section you need to go to if you want to just morph the face.
We will give you a little hint and tell you that you need to go to the "face app" section, as obvious as it may seem. There you can upload a photo from the gallery or just take a picture at the moment, and the app automatically applies the filter so the face looks older.
You can see the results in the screenshots. Not bad. Apart from that, you can also add additional details, like the beard or huge brows to make the all ethics more prominent and visible and then save the results to the gallery.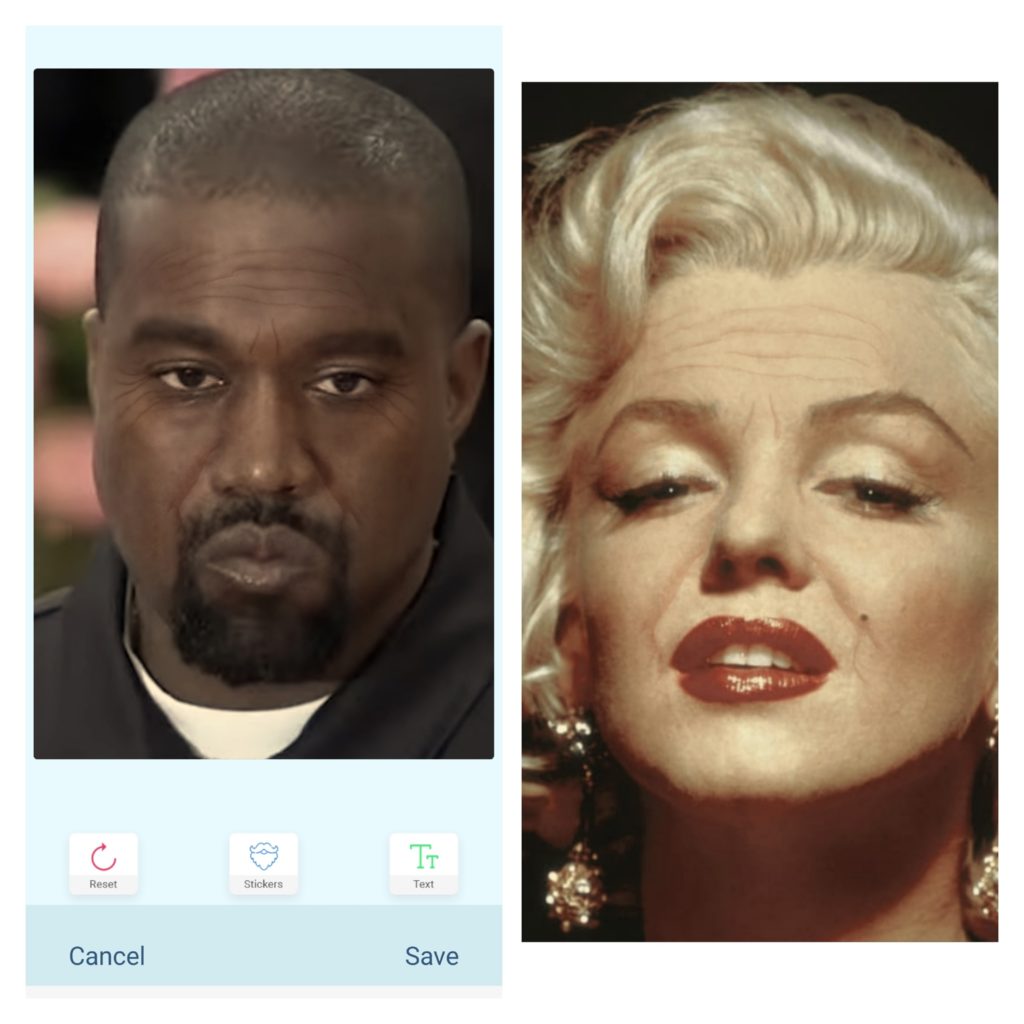 Downloads: 1 000 000+
Customers rating:

(1.9 / 5)

Apps to make you look younger:
AirBrush
When we're talking about making a portrait look younger, it's a little bit easier than in the opposite case. There are tons of cool facial editors on the Google Play Market that can remove wrinkles and just change the shape of your face overall.
AirBrush is one of the best examples. This Advanced photo editor will make you look 10 or more years younger. All you have to do is just to upload pictures here and there you have an excellent set of tools at the lower part of the screen where you can do the magic.
For instance, you can choose the special feature wrinkle remover, zoom in on the image, and just erase all the wrinkles on the face. After that, you can apply the face magic feature, and blur the face a little bit so the traces of editing are not visible.
You can also modify the shape of the face in the special section but don't overdo it because if you do, it will be too obvious that the picture was edited.
And, eventually, to make any face look completely young, you can apply one of the wonderful filters that you will find in AirBrush. Just see the results that we got with this app as proof.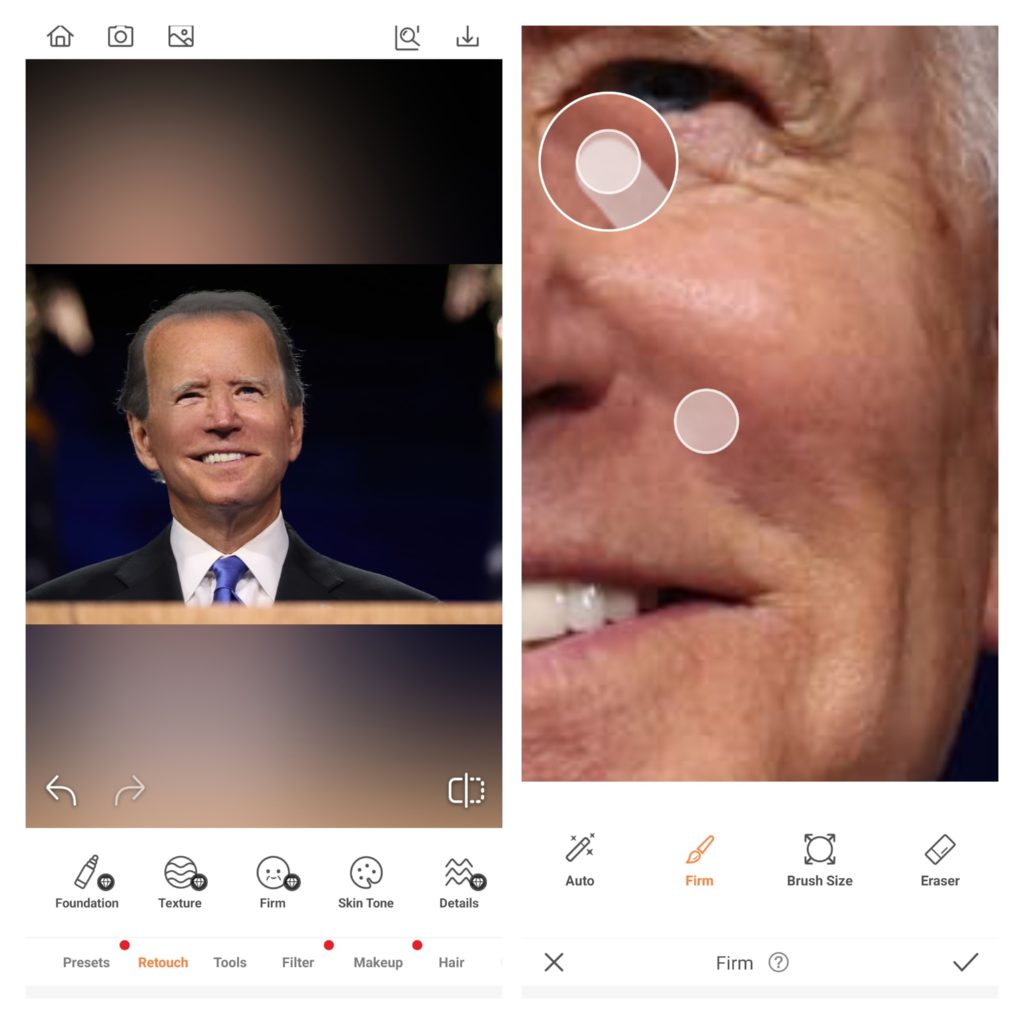 Downloads: 50 000 000+
Customers rating:

(4.6 / 5)

Perfect Me
It's another extremely popular for editors and you can also use it to make a portrait look younger. But we need to tell you in advance, this app isn't suitable for hardcore pictures.
To be more precise, if you take a picture of an 80-year-old woman and you want to see how she looked when she was 20, the Perfect Me app will not be able to handle that task.
But when you just want to remove some minor wrinkles and pimples and other imperfections to make your face look less tired overall, that's a good option. To test this app completely, we took the hardcore picture on purpose, to see how the wrinkle-removing effect would be visible.
You see that the app is capable of blurring the wrinkles, but in the case of this particular picture, there are simply too many of them.
However, we were impressed by the tool said that they saw provides, and by handling all of them, you will be able to make let's say a 40-year-old woman look like a 20-year-old.
Another thing that we wanted to mention is that the app doesn't have the most convenient UI design. It took us a while to find all the necessary tools and handle them.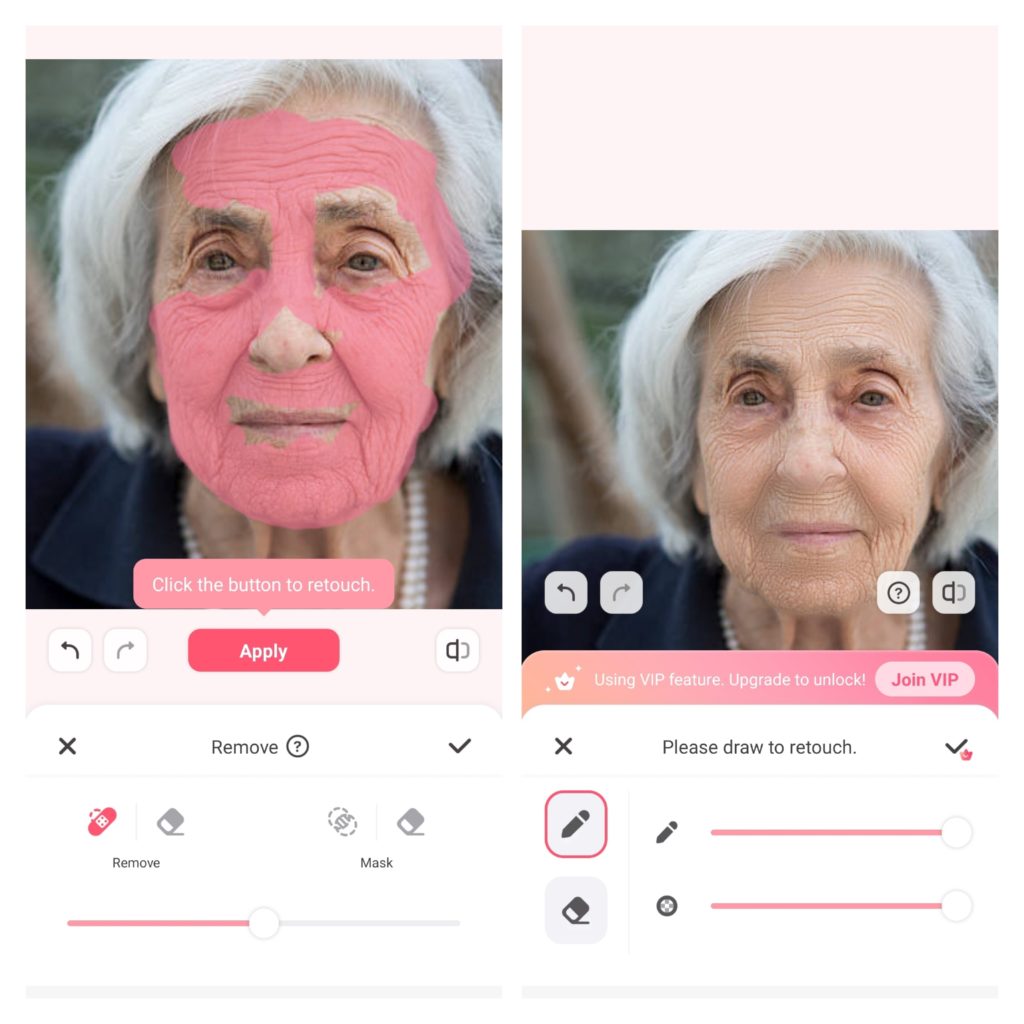 Downloads: 10 000 000+
Customers rating:

(4.6 / 5)

Facetune
If you've never heard of face tune then probably you don't even have social media. It's one of the most popular facial editor apps and it can do magic to any face. That's why it's a nice option if you want to make any face look a little bit younger in the picture.
The app has a number of presets that will do all the dirty work for you. You won't even have to highlight wrinkles, eye bags, and other imperfections, they are official intelligence will find the mall on its own and there you have it.
But of course, you can also use the manual mode and add the blur effects to the wrinkles shoulder wrinkles are not visible. There are some more advanced functions to remove wrinkles completely and make them invisible, but they're only available in the paid subscription.
But to be honest, even the free features that give the bare minimum are enough to make any face look younger. You can see the result on our screenshots and compare them.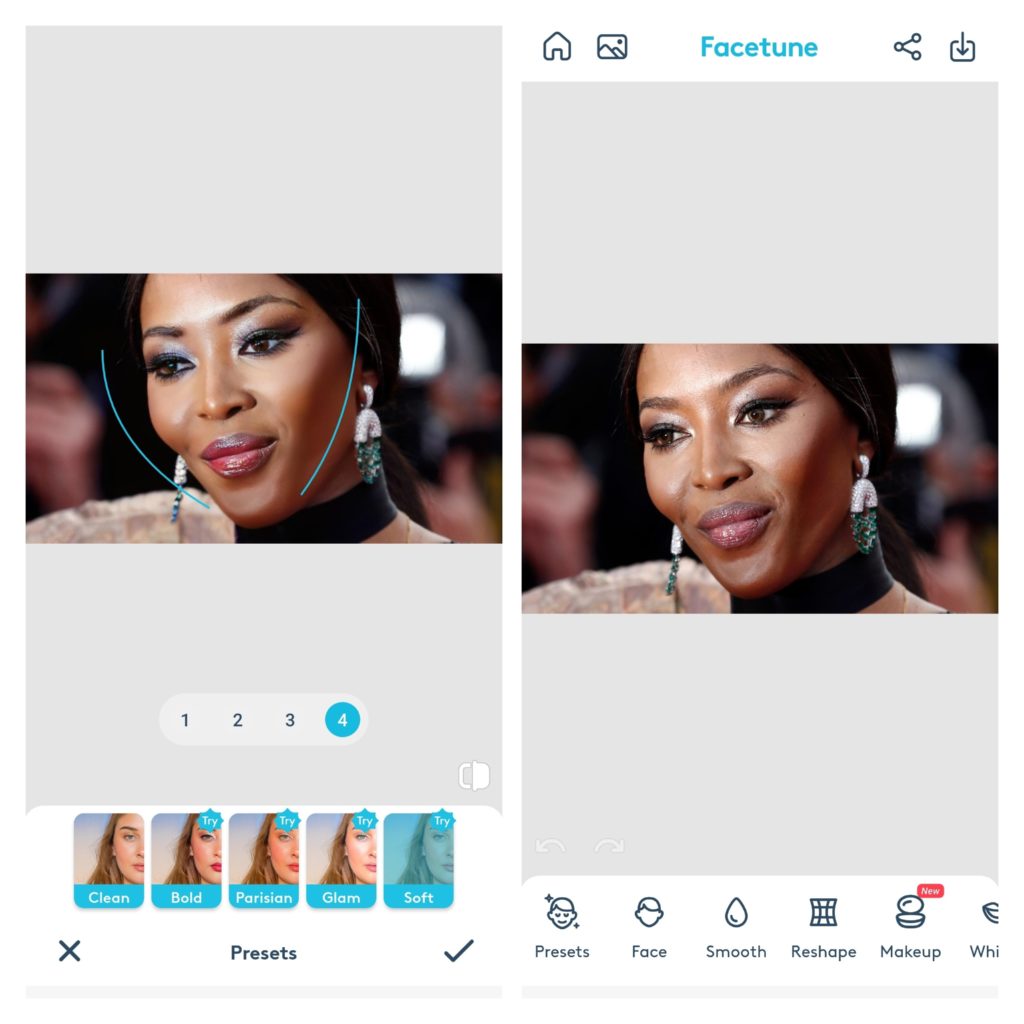 Downloads: 50 000 000+
Customers rating:

(4.4 / 5)

Facelab
Face lap was not originally made for making the people in the picture look younger, but by using its blurring features and its editing features in general, you can make a portrait look a little bit younger just like in the case with the face you're an app.
You just have to explore the toolbar at the lower part of the screen, and you can select the bluff function that can more or less conceal the wrinkles. Of course, if the wrinkles are prominent, like in the picture that we took for example.
They probably won't be considered complete but the end in effect will always look natural. And you can adjust the color of your hair so you can easily conceal the gray hair.
We found this app easier to handle than to face tune, but it's a little bit weaker in terms of perfecting the face. It's more about all-natural effects.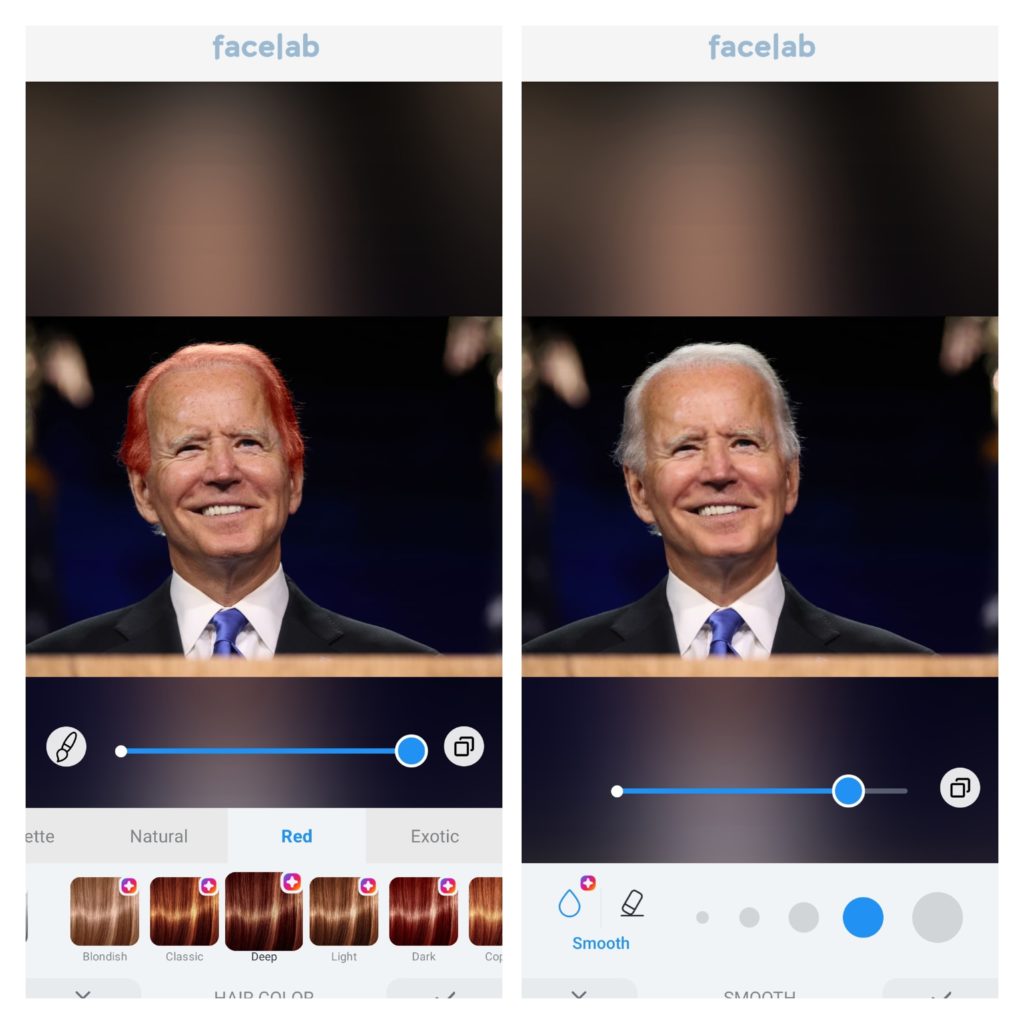 Downloads: 500 000+
Customers rating:

(3.8 / 5)

Young FaceMaker
If you suddenly felt nostalgic about the old-school photo prank apps, then here you go. This is basically an alternative to an Old Facemaker and this app is called, what a surprise, Young FaceMaker.
Actually, we would expect that the app would be able to make old faces look younger at least more or less, but it turned out to be just a prank up where you can take baby faces over the photos. The example you can see on the screenshot.
Should we even mention that the app is super easy to use? All you have to do is just to choose one of the Babyface templates from the library and applied to the picture.
Don't forget to adjust the size. So, this app could be useful for those who just want to make pranks for their friends.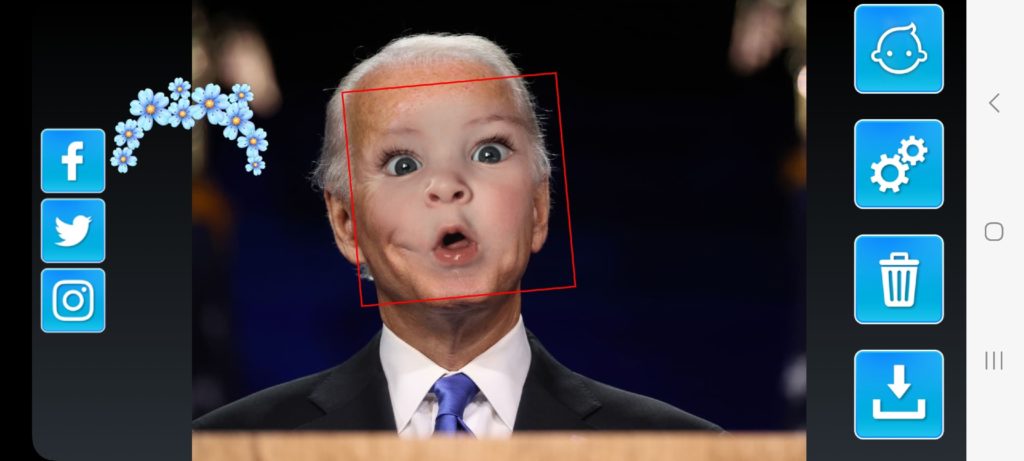 Downloads: 50 000+
Customers rating:

(2.6 / 5)

Make Me Young Photo Editor
To be honest, we expected that this app would be relatively simple, but we didn't expect it is THAT plain. It is basically a prank app just like the previous one, but with the difference that here the filters look even less natural.
The app revolves around the same idea – you just stick the baby face to a picture of anyone and that's what the developers call "look younger".
Well, in some sense we can pretend that it really does. But speaking seriously, if you want to just be silly with your friends and family and prank them, this could be a choice.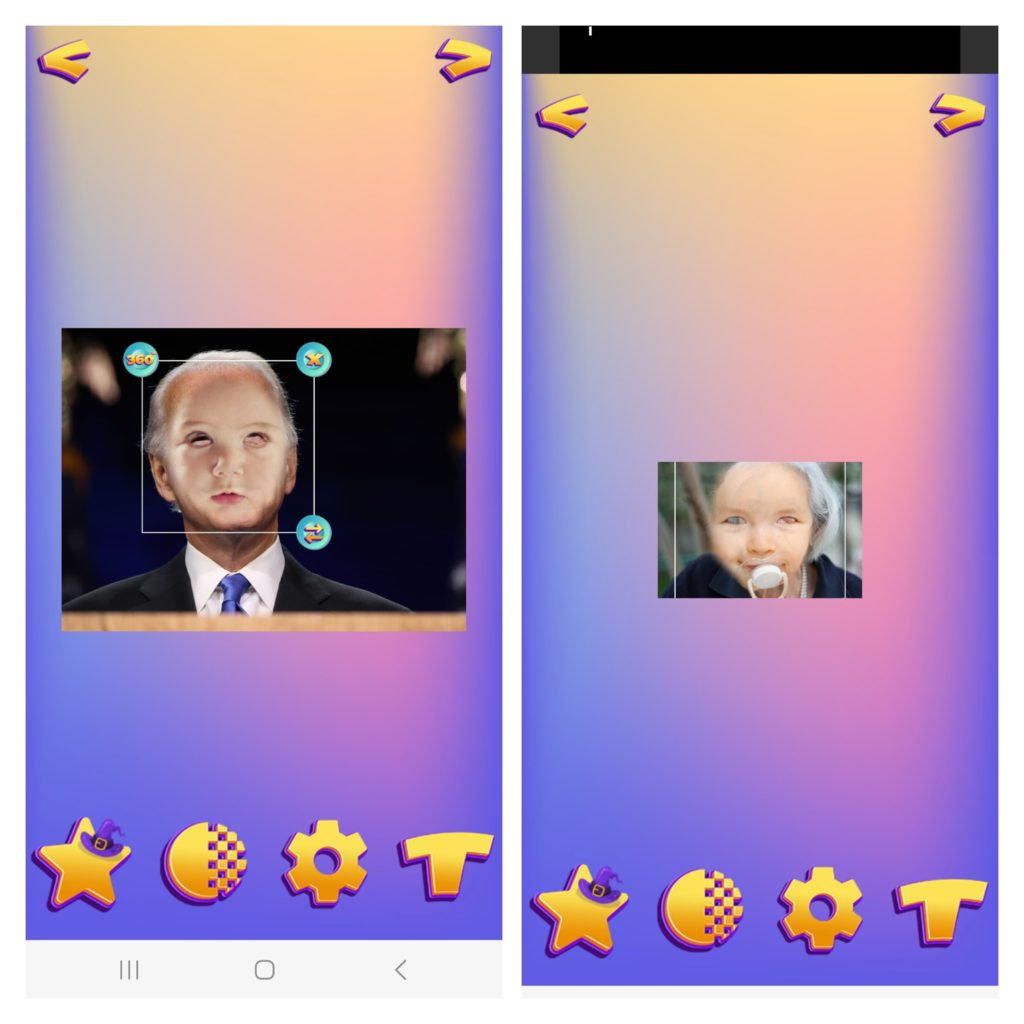 Downloads: 50 000+
Customers rating:

(2.6 / 5)

You may also like: 9 Best Ethnicity Analyzer Apps for Android
Picsart
Of course, we could just pick up another prank app that claims that it will make you look younger, but we decided that including an app that is actually an editor-powerful enough suit can make the skin of people look younger is more useful.
Therefore, here we have another cool photo editor that is called PicsArt, and it can also rejuvenate the skin on the picture. If you've never dealt with face editing on pictures before, this is a great app to start with.
You just upload the picture to the app, and then it takes you straight to the toolset. In the lower part of the screen, you will find the edit the face section, where you can click on either a blur fx or detail effect and remove all the wrinkles from the face.
The app gives from lights to medium effects, and that's why the ending will look natural. Of course, it won't be suitable if the person in the picture is 70 years or above, but for younger people, it should work.
What is more, you can apply additional filters and makeup to the face that will also make it look younger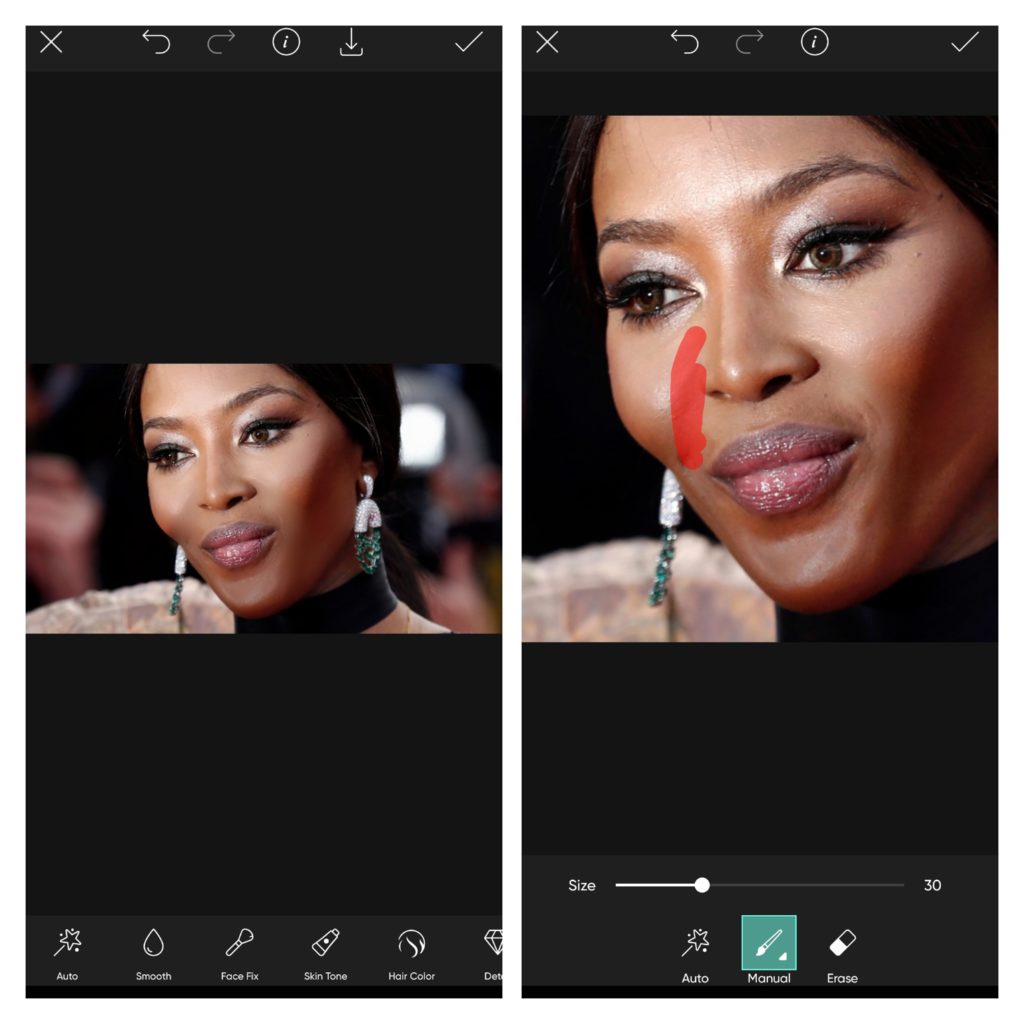 Downloads: 1 000 000 000+
Customers rating:

(3.7 / 5)