Many will agree: just drinking with friends is fun itself. In each country, there are thousands of bars, where a good drink, a good snack is offered and this is a place where you can get a friendly company and spend the end of the day in a relaxed atmosphere. Even the most boring bar in the company of bosom friends can turn into the most fun place in the city!
However, no less fun than drinking in a bar with friends, there may be an element of the game, involving all present guests and alcoholic drinks in the process, making pastime fun and memorable. The most important thing in alcohol games is that they are incredibly simple! They do not require any special training or special equipment. Everything is very simple and understandable … even for a drunk company! And what makes the process simpler is that such games can be played with the use of your smartphone!
However, there is also an opinion that phones and tablets distract people from each other, interfere with personal communication. However, today we offer you a selection of games and applications that will help to make any party brighter and more fun – choose one of them according to your taste and condition.
Picolo drinking game
Usually, we can not play in no game after a few glasses of something alcoholic: hands are shaking, attention is becoming worse, and all thoughts go away … What about games at this moment? You still want to have fun. So. we need something innovative, for example, the entertainment application Picolo – this is what you have not seen yet!
The rules of the game are simple. At first, you need to enter the players' names. Then, press the start button "Let's get drunk" and you are in the game! Together or one by one you should answer easy questions and follow funny and sometimes crazy instructions what to do. This entertaining app will make your evening unforgettable and fun!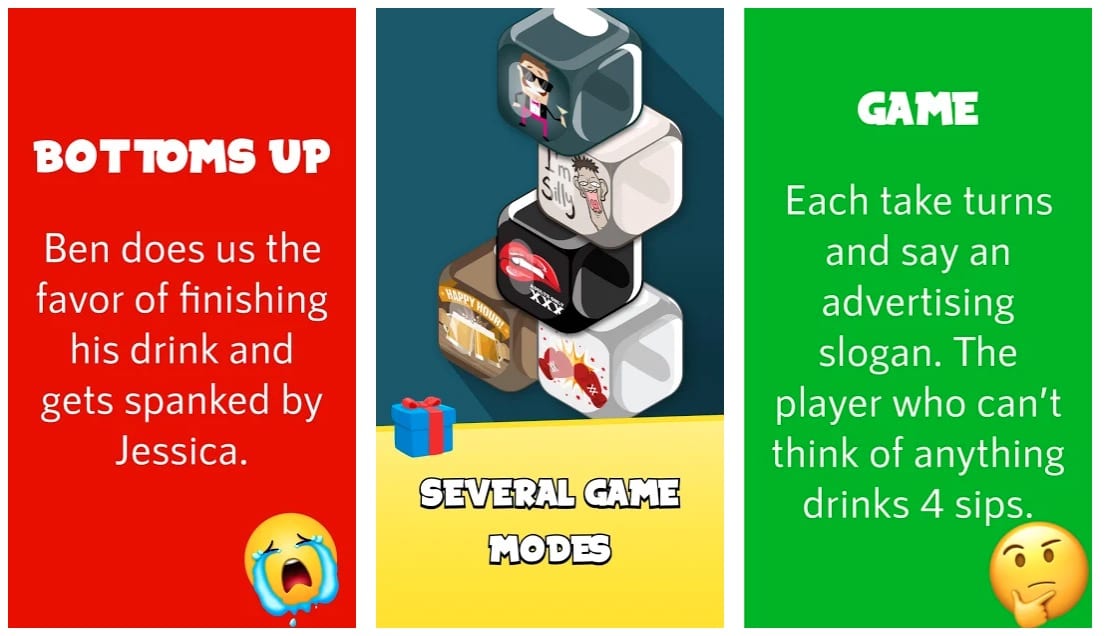 Downloads: 5 000 000 +
Customers rating: 

(4.8 / 5)
You may also like: 12 Best offline card games for Android
Drinking Game Seven
At once we will note that the free game Seven is not for those who drink drastically. It is for creative people who are culturally resting. Here, as in the phantoms or other sociable game, the players make moves, in turn, draw out cards. On each card, a task is written, which a player must do. Everything is clearly written, beautifully illustrated – in general, honor and praise!
In this case, Seven: Drinking Game has three levels of complexity, that is, the degree of intoxication of the players. The total number of tasks: no less than fou hundreds. So to play this game can take not one hour but maybe several days. And, the tasks are funny and not trivial at the same time, so it's not a sin to play in such a game in a decent society, in the company of beautiful girls.
Seven: Drinking Game – an interesting company game, combining simple and fun tasks and a small dose of alcohol in the head of the players.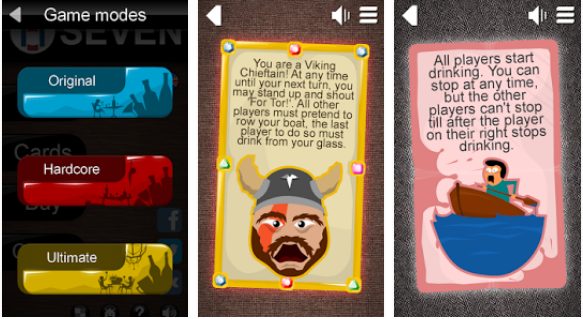 Downloads: 100 000 +
Customers rating: 

(4.5 / 5)
iPuke: Drinking game
If you notice that your company is sad or fun turns into sad silence – this is the application for you! The game can be played by two persons or in a big company as well. To start playing the game you need to enter all the players' nicknames and choose one deck from the 9 offered:
Starter Deck (includes 62 cards), Epic Night (includes 28 cards), Ice Breaker (includes 30 cards), Have You Got Balls (includes 30 cards), Spicy (includes 25 cards), It's Hot in Here (includes 22 cards), and others…
You can choose even more decks than one at once, but not all of them are free. So, you are ready to start. Each player will be offered two challenges: a dare (what he/she should do) and a number of shots to drink if he/she refuses to do something crazy written in the task. In the game, there are more than 200 dares. A player must do at least one of the challenges to continue participating in the game. For each challenge, he/she will get some points. A player who earned more points than others wins the game.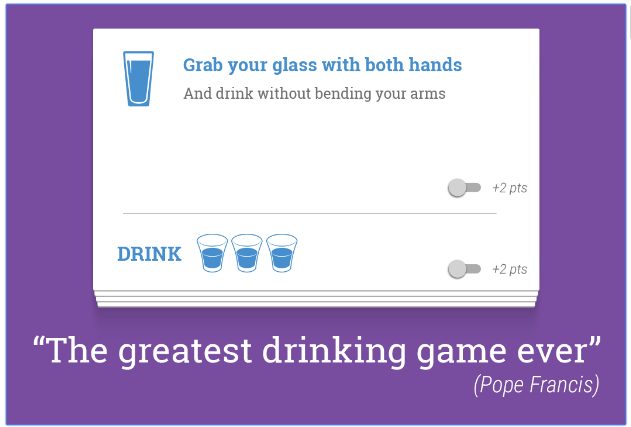 Downloads: 1 000 000 +
Customers rating: 

(4.5 / 5)
Drink Roulette
Gathering a big company, think, what's interesting to do? Try playing Drink Roulette. It's funny and interesting. Your friends can open up to you completely from the other side, and relations with unfamiliar people will immediately become much warmer, thanks to well-coordinated work and sensible competition in alcohol battles.
This is a game for drinking with friends. Or you can say otherwise: now you can meet and have a drink with friends to play in "Drink Roulette". But let's figure out what the game is and why it has so much attention to it. To start the game, as you already understood, you need to gather the company. Without this, nothing at all.
Next, you need to make drinks. Drinks are necessary, as they are an integral part of the game. Then, you are to select the level: Classic, WTF challenge, Team Fight, Dirty, or Hardcore. Each category has its own funny and surprising tasks for you and your friends. But each level is crazier and crazier! Be ready!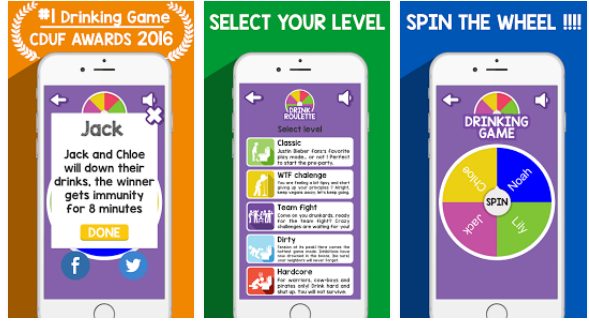 Downloads: 1 000 000 +
Customers rating: 

(4.3 / 5)
Drink: Drinking Game ????
You are going to a party with friends, but do not want to turn it into regular booze? No problem! With the wonderful game "Drink" you can both have fun and drink at the same time!
Tasks will be very different and It is better to play the game in the company of well-known people, in order to avoid excessive shyness.  Most of the tasks will be comic and pursue just two goals: to drink and amuse everyone. There are different quizzes, horse racing, tug-of-war, and reaction games.  To start the game, you should enter the names of the players and begin playing. Or it is also possible to play in teams. Divide all the members into two teams and give them their names. Then, place the device between you and your opponent and start! You will not have to miss!
The design of the app is colorful and bright. The interface is understandable and user-friendly.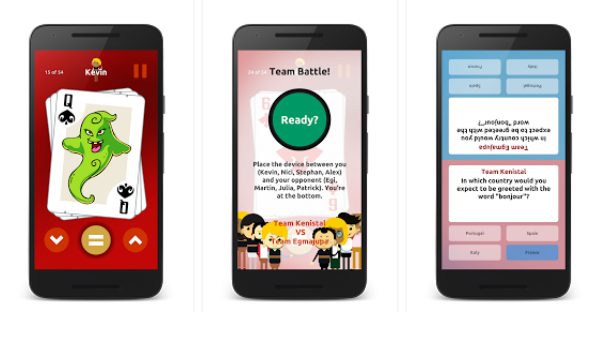 Downloads: 100 000 +
Customers rating: 

(4.8 / 5)
Drinkaholic Drinking Game
Want to have fun and exciting evening in the company of friends and acquaintances who after one game will become the best "friends", pay attention to the Drinkaholic game app. Drinking games have never been so fun and entertaining before!
How does it work? At first, as well as in other apps, you need to add players' nicknames. In the app, you will find three modes to choose from:
Sober.  If the party has just started and you are bored. This mode will offer you interesting tasks to get the party going;
Tipsy. You have already drunk a little and want more fun. Many new cards with cunning tasks are added in this mode.
Drunk. Some embarrassing and crazy tasks are prepared for you. It will be hot!
The design for such a game is not important, but nevertheless, it turned out to be quite pleasant and simple.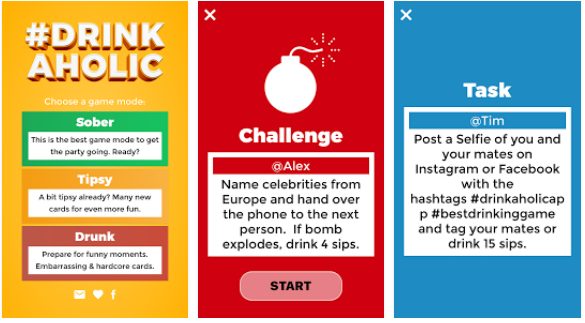 Downloads: 100 000 +
Customers rating: 

(4.7 / 5)
Drunkin' Dirty drinking games
It is worth saying that the rules are not too strict, who and what drinks are decided by the company on the voluntary consent of all involved. The minimum for the game is two players, but if the company is more than the more fun will be, especially if it has representatives of different sexes.
In the game, there are five levels available: Classic, Sex Game, Crazy, Team Fight, Hardcore. Each level offers its own funny tasks, but with each next level, they become more and more complicated and crazy.
All in all the game is simple and everyone in the company will surely like it. So, this drinking game app for your Android device will help to turn a fun evening into a party, not booze.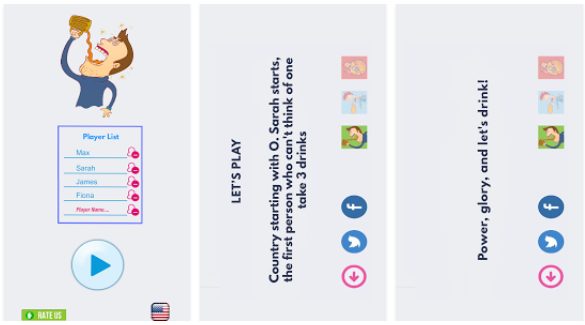 Downloads: 100 000 +
Customers rating: 

(4.4 / 5)
Drinkie – Drinking game
Drinkie is an indispensable game for those who like to spend time with their friends. An important addition: in the company of funny friends.
The app Drinkie has all your favorite drinking games: King's Cup, Truth or Dare, Alcoholic Roulette, Never Have I Ever, Circle of Death, Spin the bottle, Pyramid game, and many others. Installing the app, you are ready to start. At the very beginning, you will be offered to choose a game mode. There are four of them: Tipsy, Ridiculous, Sexy, and Macho. Choose the one you and your friend like best of all and you can start having fun!
One more interesting feature that differs this game app from others is that you can add your own rules which all players should follow!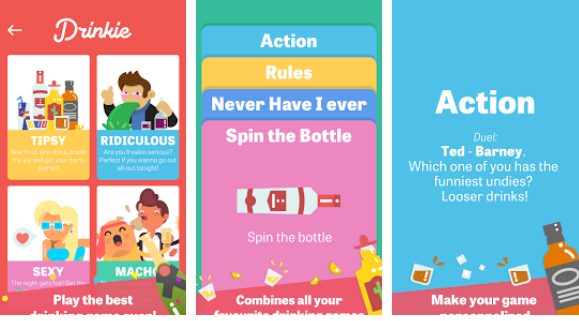 Downloads: 100 000 +
Customers rating: 

(4.5 / 5)
Circle of Death
We will not argue that this game will be useful to everyone, but alas, the harsh reality is that the vast majority of people spend their evenings in their company with a bottle of something that is hot. And that's why the game Circle of Death will be an excellent addition to the snack.
In the game, there are standard rules which are based on the classic game. But you can easily change them in settings. So, gather your company, choose drinks and start playing! Each card presents a certain challenge for a player. For example:
Ace – "Waterfall" – Each player starts to drink what he has in the glass and can stop only when the player before him stops drinking. In order to avoid cycling, the first stop drinking the one who draws out the card. Then, next to him stop, so in turn, all players in a circle.
2 – "You" – The player who draws out the card points to the one who should drink.
3 – "Me" – The player who draws out the card drinks himself.
4 – "Thumbmaster" – The player who draws out the card is appointed the "Thumb Master". Once a game, he has the right to touch something with his finger (demonstratively), after that everyone should repeat after him, the last one who does it drinks.
5 – "Guys" – All the guys are drinking.
6 – "Chicks" – All girls drink.
7 – "Heaven" – All players must raise their hands up, the last one who raised his hand – drinks.
8 – "Mate" – A player who draws a card must point to another player. This player will drink when the player who drew the card drinks until someone draws out the card. 8.
9 – "Bust a Rhyme" – The player says the phrase and all the players in a circle should say something in rhyme. You can not repeat it. The one who said not in rhyme or does not know what to say – drinks.
10 – "Categories" – The player calls the category (for example, "dog breeds", "Russian cars", etc.) and all in a circle should say words related to the named category. Those who did not come up with – drinks.
Jack – "Never Have I Ever" – Each player should hold up three fingers. One player starts by naming something he has never done. Everyone who has done it puts down one finger. You should keep naming items until someone loses all three fingers. So, he drinks.
Queen – "Question Master" – The player who draws out the card says something like "I never … .." and those who did it drink. For example – I never had sex in the park. Those who are engaged must honestly drink.
King – "Make a Rule" – The player assigns a rule, which must be done by everyone until the end of the game. For example, he can say: When addressing someone you should say "My bitch" instead of the name or every time you start talking you should conspiratorially wink, etc. The one who broke the rule – drinks.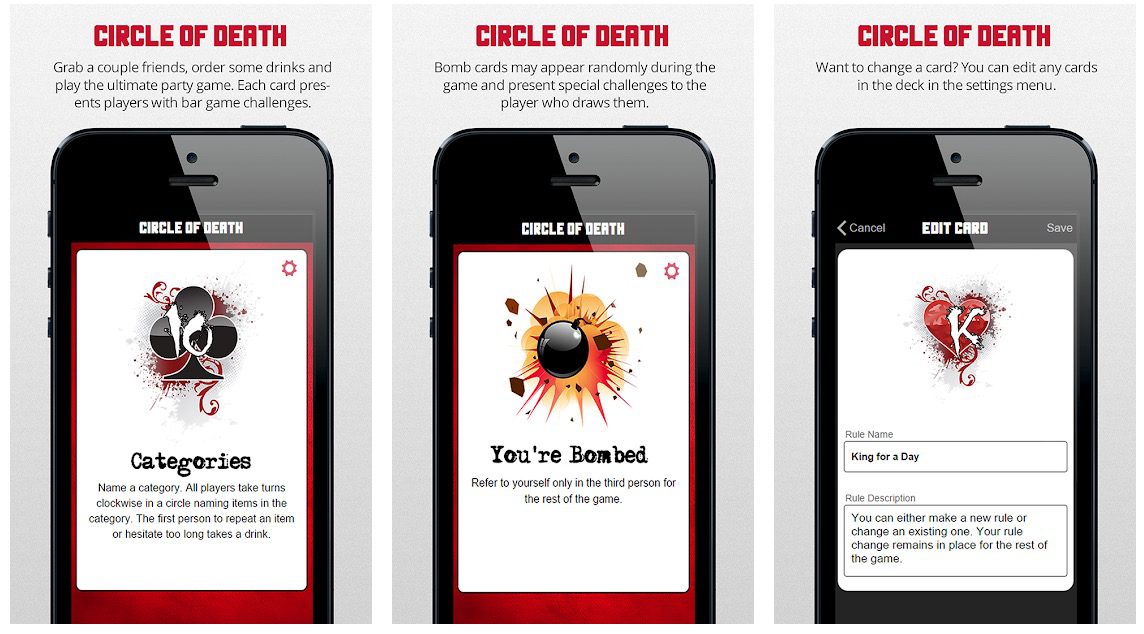 Downloads: 100 000 +
Customers rating: 

(4.3 / 5)
Game of Shots
This drinking game app includes various games for you and your funny drunk company. Here you will find such games as I've Never, Truth or Dare, Express Hangover, Battleship, Bottle Blower, Impossible Mission, Shake da Booze, Burning Napkin, Beer Race, Be Right and Win, American Challenge, Animals, Beer Pong, Minesweeper and much more. If you have forgotten the rules of the chosen game, there is no problem! All the rules are described in the Drunkpedia section.
Most of the games can be played by two or more (up to 8 persons).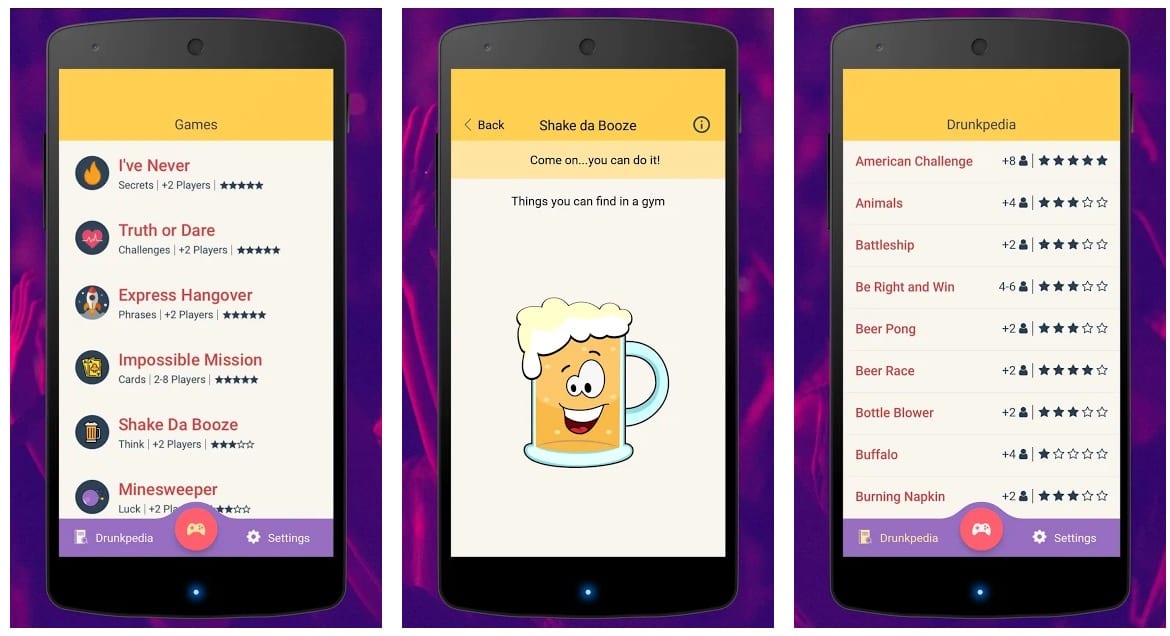 Downloads: 1 000 000 +
Customers rating: 

(4.5 / 5)
Drink-O-Tron
Now you can play drinking games on your phone in any place! This app will be a perfect tool for this matter. There are more than 225 cards. The rules are too simple. You are just to tap the button to draw out the card. Then, you should immediately do the task offered.
The app offers different modes: Flirty, Drinkard, Mischief, Tipsy, Rulemaster, Accent, and so on. Choose the card deck you like and enjoy!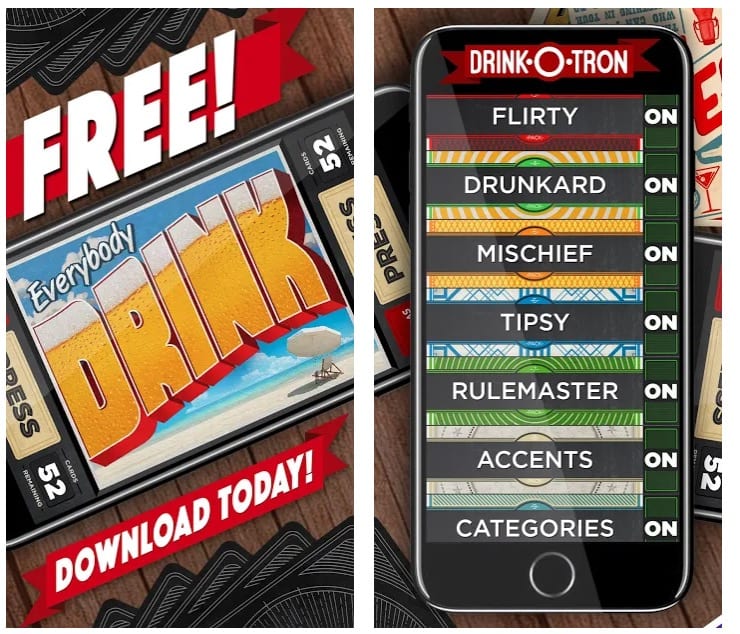 Downloads: 50 000 +
Customers rating: 

(4.1 / 5)

Kings
This is a popular card game, perfectly suitable for small parties. The game "Kings" has a unique set of rules, which every participant should familiarize in advance. But the rules can easily be changed.  You can arbitrarily change the rules of the game because there is an infinite number of possible options. The game can be played by an unlimited number of players.
Various "homemade" rules give a special interest to the game. There are many versions of the game, and their comparison when playing in a new company often leads to a change in the old and the creation of new fascinating rules.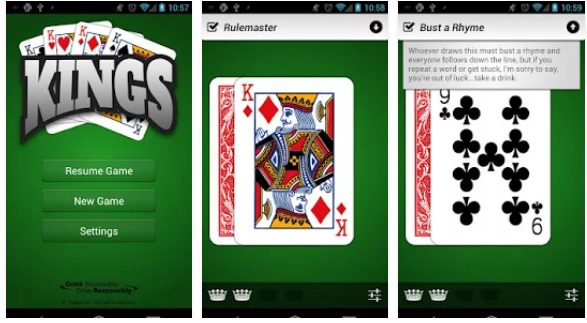 Downloads: 100 000 +
Customers rating: 

(4.1 / 5)
5 Second Rule – Drinking Game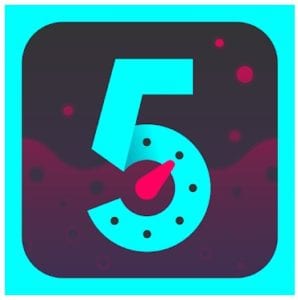 If you get bored at a party and are thinking about a game to play, download 5 Second Rule – Drinking Game! 5 Second is a drinking game for those who can act under pressure.
The rules are pretty simple. Players are asked a simple question, and they have 5 seconds to come up with 3 answers before the buzzer sounds. If a player doesn't give all the answers before the time runs out, you drink.
In the game, there are more than 900 questions and you can add your own ones.
Can you name 3 types of screams in 5 seconds? Can you name 3 hairy things in 5 seconds? Can you name 3 beers in 5 seconds? If you fail, you end up drinking.
The game includes normal cards before you drink, and you can also include dirty cards if you want to raise your home party to the next level.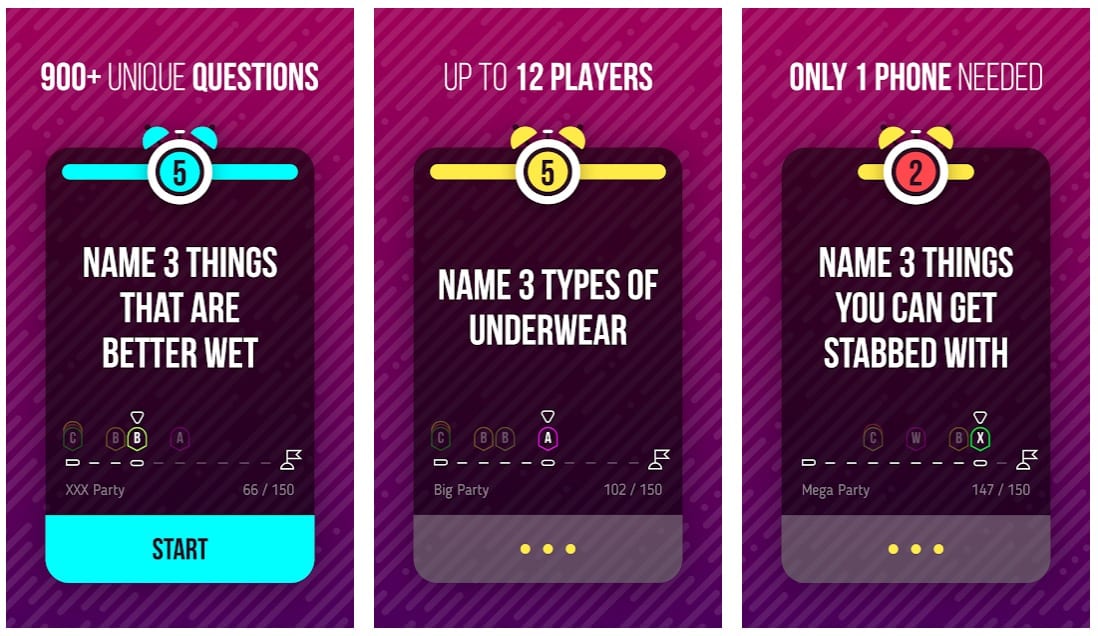 Downloads: 100 000 +
Customers rating: 

(4.2 / 5)
Alcoholic games – the games for adults who are able to competently handle alcoholic beverages. After all, if you want to successfully play such "insidious" games, you need to know the culture of drinking.
Are you drunk enough to see ghosts? Check that out: Best ghost detector apps
In our extensive collection of drinking game apps, there are options for endurance and talent to drink moderately, to identify the "weak link" in the company – who is losing the fight with alcohol, and many others. If you want to turn your feast not just into boring gatherings, but also into a fun activity that everyone will remember, then our drinking game apps for the most persistent guests will fit just right.