Let's face it: we all want to look our best. We avoid wearing certain clothes because we don't feel confident and end up hating ourselves on pics. But enough of all that!
Who doesn't want a little extra help in the body-confidence department, right? That's why we're digging deep into top Android apps that make you look skinny!
These nifty tools will magically make you look skinnier, let you tune your breasts, and enhance your overall appearance in just a few clicks. Say goodbye to unflattering angles and hello to Insta-worthy pics. Let's get into it!
Perfect Me
Prepare to flex those editing skills like a pro with all the basic tools covered by this app. Brightness, grain, HSL… you name it, the app got it! But hold on, there's more! The AI photo enhancer works magic, turning those blurry shots into crystal-clear ones.
With this app, you have the power to sculpt your body just the way you want. Say goodbye to unwanted curves or embrace some new ones. It's like having body-editing magic at your fingertips. Get ready to unleash transformation wizardry!
Feeling artsy? Use some retro filters and accessories that'll take your pics from ordinary to extraordinary. You can also try the presets that will give your snaps that hypics epiks vibe. All the unwanted objects can be removed within secs, the app does everything for you.
There's also a bg eraser and blurring tool with bokeh FX and all that. And if that's not enough, there are dress-up stickers and themed decorations that'll bring life to your shots. And if you ever want to make a collage, you can do it with this app too.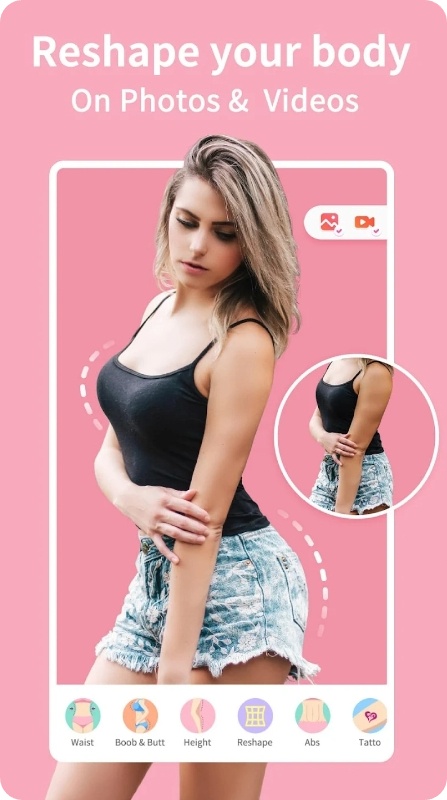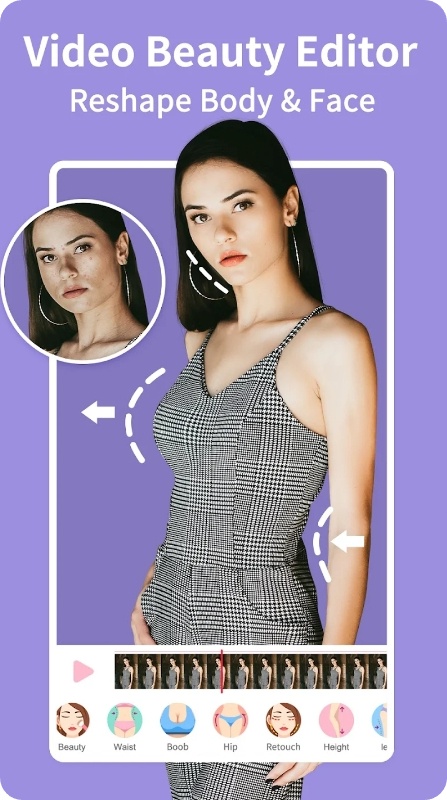 Downloads: 10M+
Customers rating:

(4.5 / 5)
You may also like: 7 Android Deepfake Apps Using AI
Body Editor
This app is the ultimate secret weapon for getting your dream body without going under the knife (no shade to those who do otherwise).
Alright, buckle up, 'cause we're talking features. This app lets work those curves, rock the ideal breast size, snatch that waist, and plump up those hips – all with just a few taps on your phone. The best part? No sweaty gym sessions or intense workouts are required.
If you're aiming for that IG-worthy steeze, the app has got your back. There's a height corrector that lets you get closer to having envy-inducing long legs (I might be on my own with this one, but a girl can dream). Feeling extra bold? Go ahead and add tats or stickers like six-pack abs or chest muscles to your pics.
Now, let's spill the tea on specifics. The best tool? It's like having a personal cup-size adjuster, really! And if you're not quite brave enough to dive into the surgery, this app is a great alternative in case you need a little tweak.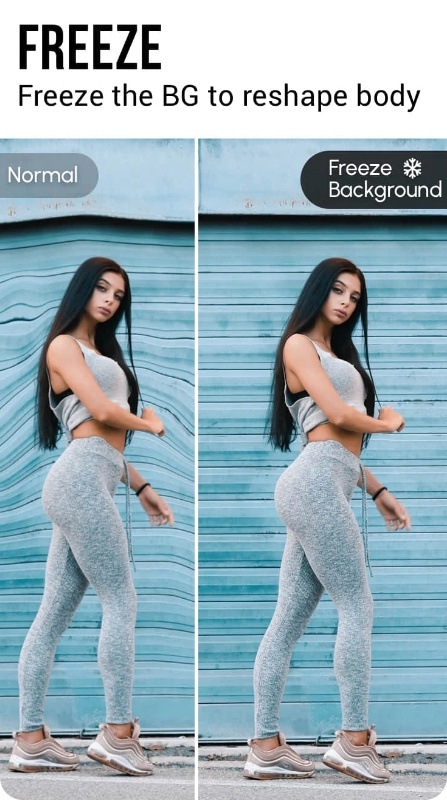 Downloads: 10M+
Customers rating:

(4.8 / 5)
FitPix
Tired of boring rain and diets that leave you feeling meh? Say hello to this app, the ultimate body enhancer that'll have you looking fab in no time.
With this app, sculpting your dream figure is a breeze! Intensify your curves, slim your waist, and get those killer legs you've always fantasized about. And if you want to make your abs more attractive, you can easily do that too. The app lets you unleash your inner six-pack superhero with our abs-sculpting magic!
But wait, there's more! Say goodbye to unwanted snap crashers and clutter with our one-tap object and people remover. No more photobombs or annoying distractions ruining your shots. Trust the app's AI-powered tool to make them vanish like magic.
And that's not all, folks! Get trendy and vibey with the bg replacement tool. Swap boring bgs for stunning scenery and create IG-worthy snaps that will make your subs drool. Don't forget the filters for that extra touch of dazzle! And all of that without spending a dime.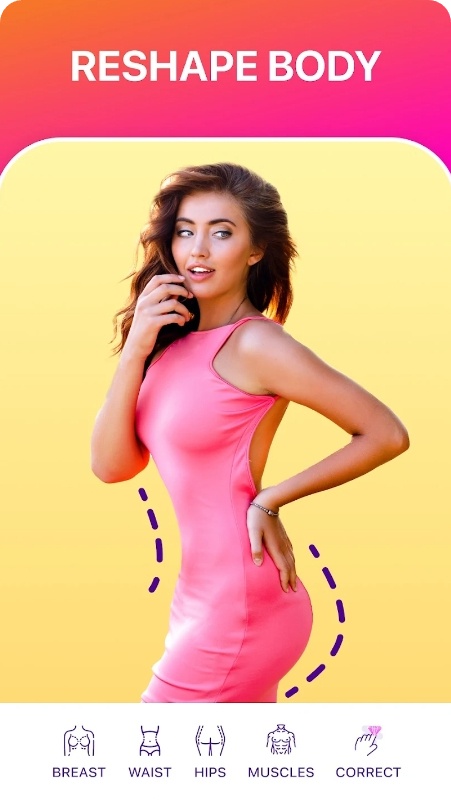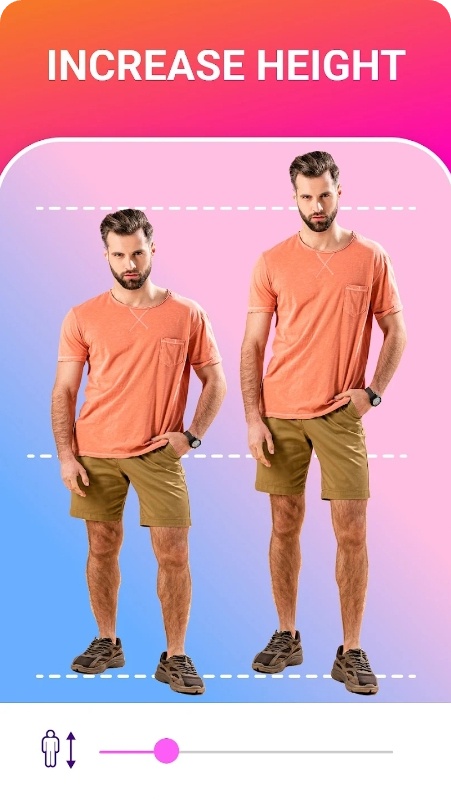 Downloads: 5M+
Customers rating:

(4.3 / 5)
Bodytune
Tend to fantasize about achieving the ultimate body shape? Well, guess what? Dreams actually come true with this app. This nifty tool takes your snaps to the next level by giving you the power to slim down, bulk up, and do whatever else you want.
Longing for that coveted V-shaped figure? You can easily get the curves that scream "hotness!" But hold up, we're not done yet! You can even sculpt your abs and chest with top-notch six-pack ab stickers. Pick the one that suits your vibe, and boom – instant beach body!
Not digging your hips, waist, or legs? This app makes it a breeze to alter it in a way that will turn heads with the silhouette you've always dreamed of. Oh, and did we mention the jaw-dropping variety of tattoo options that'll make you drool? Find the ideal ink to match your vibe.
And why stop there? This app can also become your fashion assistant! Bling up those snaps with as many badass accessories as you fancy. Add some serious swag and elevate your snap game like a boss.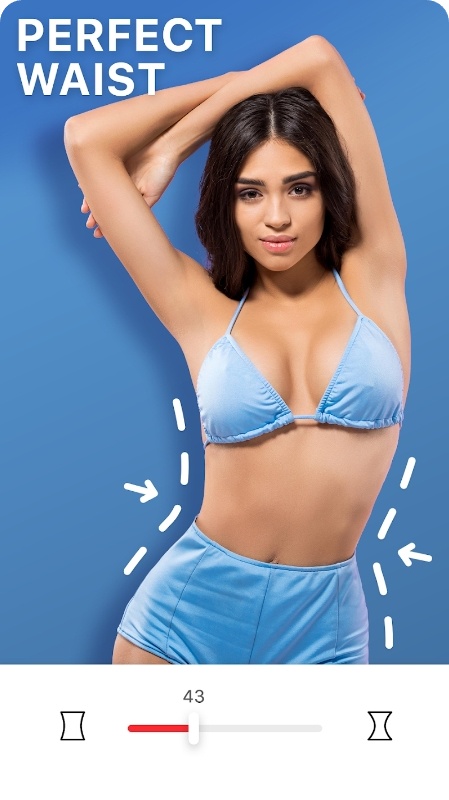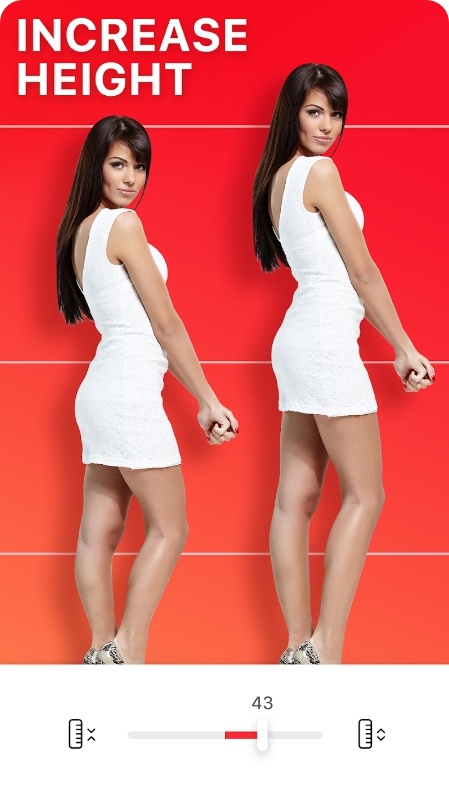 Downloads: 5M+
Customers rating:

(4.5 / 5)
PrettyUp
This app will quickly become your go-to for all things beautification. Get ready to slay every shoot and achieve the ideal look effortlessly.
The top perk of this one is the body tuner. Say bye to leg insecurities and hello to longer-looking legs! Give your thighs a well-deserved slim-down and sculpt your tummy to perfection with their stomach tuner. And if you're aiming for that skinny-fit figure, their slim tuner is here to refine your shoulders.
And don't get past the face retouch, too. It's your secret weapon for flawlessly retouching your face. Slim that face, brighten those eyes, and up your eyebrow game with their eyes and nose tuner. Feeling playful? Their lip plumper will make any lipstick pop! And for some extra fun, try their warp for a face morph look!
Feeling like an absolute superstar already? Turn up the glam filter and get blemish-free skin with no dark circles, and kiss those wrinkles goodbye! Oh, did we mention their eye and teeth brightener? Your smile and sparkling eyes will steal every shot!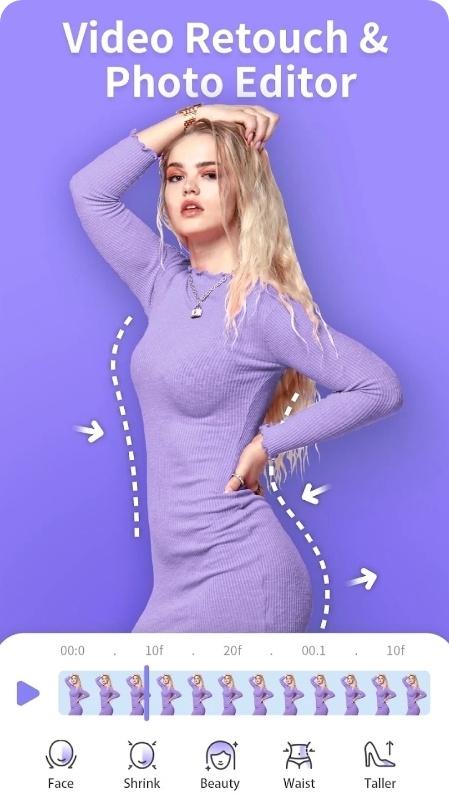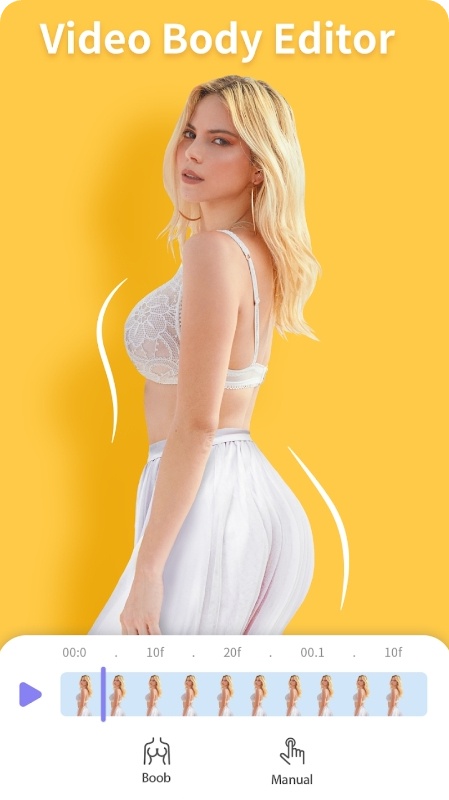 Downloads: 1M+
Customers rating:

(4.4 / 5)
Check also: 10 Best Short Hair Apps For Android To Try New Style
Hotune
This gem of an app will take your tuning the game to a whole new lvl. It's a real magic wand for your looks!
The app lets you turn yourself into a supermodel without resorting to crazy diets or painful exercises. Get that dreamy hourglass figure by slimming down any part of your body. Want a slimmer waistline or bid adieu to that muffin top? Consider it done! And the best part? It's absolutely free!
It lets you enlarge and lengthen your body as well. Longer legs without high heels? You got it! Show off those chiseled abs at the beach. And did we mention you can flaunt your style with realistic tattoo stickers?
Now let's dive into face retouching. With this app, you can say goodbye to acne, and wrinkles, and hello a flawless complexion. It's time to reshape your face to your heart's desire. Need a cute button nose or a slimmer face for that perfect selfie? This app got your back! It's also a pro at fixing pesky under-eye bags and nasolabial folds. And no creepy plastic doll vibes here!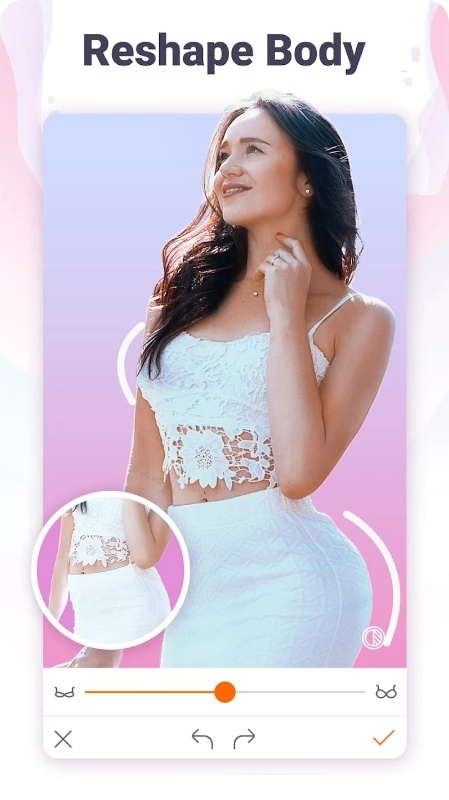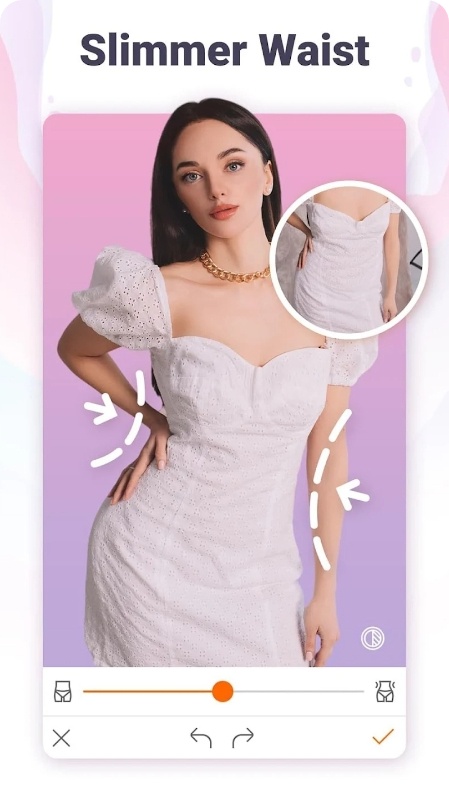 Downloads: 5M+
Customers rating:

(4.4 / 5)
YouCam Perfect
Here's an app that lets you tune your figure with little to no effort. You'll be able to give yourself a waist that looks naturally slim, making all those waist trainers go like, "Wait, what?!"
And the body tuner tool? It's not just for making nice snaps, it's for making hilarious masterpieces that'll have your pals and subs impressed.
But hold up, this app isn't just about tuning your bod. It's got all the goodies to upgrade your selfie game faster than lightning. From teeth whitening to skin smoothing, all it takes is a tap of your finger. And don't get us started on the live effects: they're seriously cool! You'll be slaying with awesome snaps and epic clips.
And if that's not enough, the app lets you remove bgs and unwanted objects. It's like pure magic. It takes literal secs, and you can wave goodbye to all the things you don't want to see on your pics.
This app also throws in some avatar-maker tools. Get ready to let your creativity run wild with 30+ styles, making digital avatars that will pop your IG acc.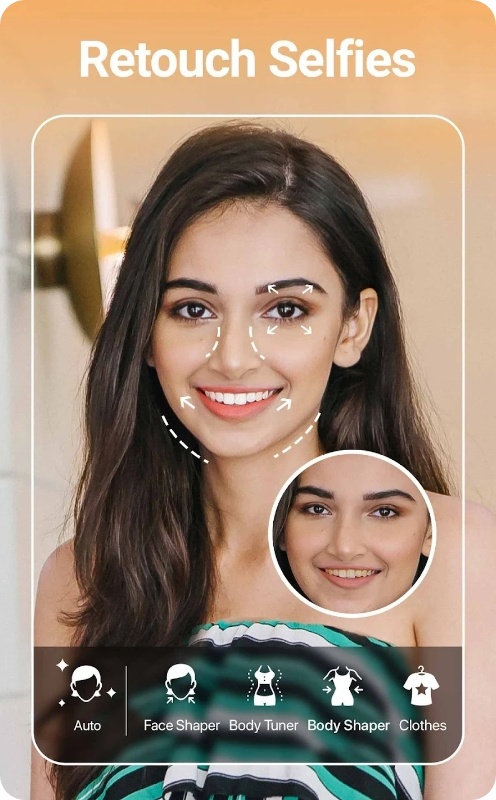 Downloads: 100M+
Customers rating:

(4.4 / 5)
Editingfy
Tired of scrolling through an endless sea of unattainable snaps? Insecure no more, as this app will become your trustworthy makeover companion! It's a gem for everyone who didn't have enough time to prep for the beach season.
This app will redefine the game of tuning. Say goodbye to imperfections and hello to flawlessness! It's ridiculously easy and seriously effective, giving you that desired look in no time. You don't need any skills at all, the app does the job for you. Your only goal is to regulate the preferred intensity of the tools.
But wait, there's more! This app has a treasure trove of filters to amp up your snaps. Go vintage, go vibrant, there's a filter for every vibe you desire. And the cherry on top? The user-friendly UI ensures a seamless editing exp. Adjust all parts of your body and prepare to be amazed by the stunning results!
And all that without spending a dime! Of course, some tools are paid to unlock, but there are enough free ones too.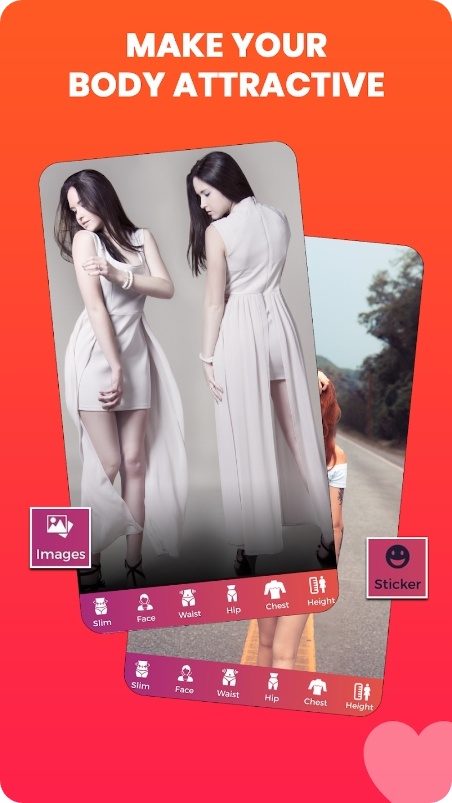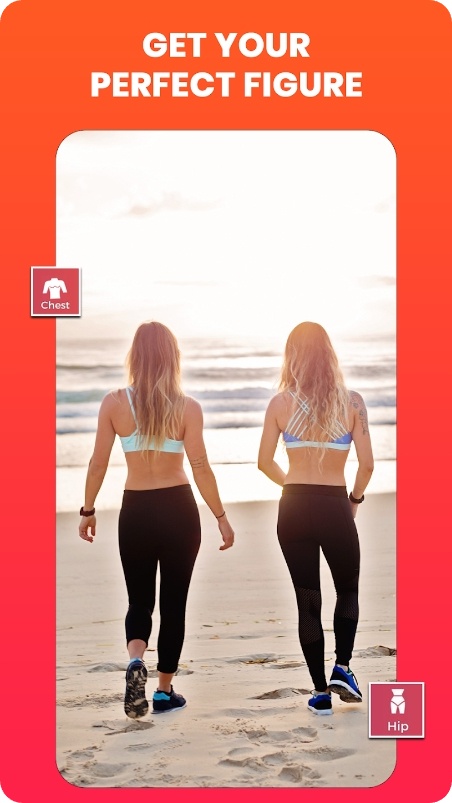 Downloads: 10K+
RetouchMe
Feeling envious of all those models with their ideal figures and flawless skin? Well, you're not alone! Thankfully, this app will help to achieve your dream look easily.
It's a magic wand that transforms your snaps into perfection. The app has everything to ensure your snaps look like they belong in a magazine. If you're craving a slimmer waist, a flat tummy, or a curvier booty, you can do it with this one. With all the tools covered, you'll feel like a confident and sexy queen in your own skin.
There's even a tool that lets you get those dreamy six-pack abs, all to look your absolute best for that upcoming vacation. But maybe it's your face that needs some extra love and attention. This app has got your back, too. It will turn you into a supermodel in a snap.
And say goodbye to pesky pimples and blemishes, the app will make them vanish like magic. You'll also get to erase the bg and even restore old snaps if needed.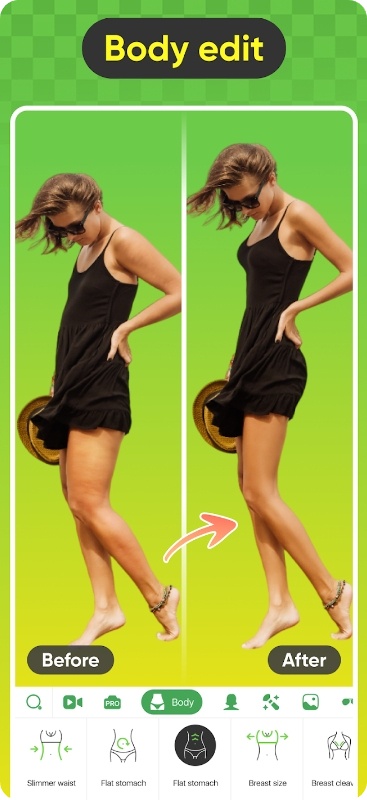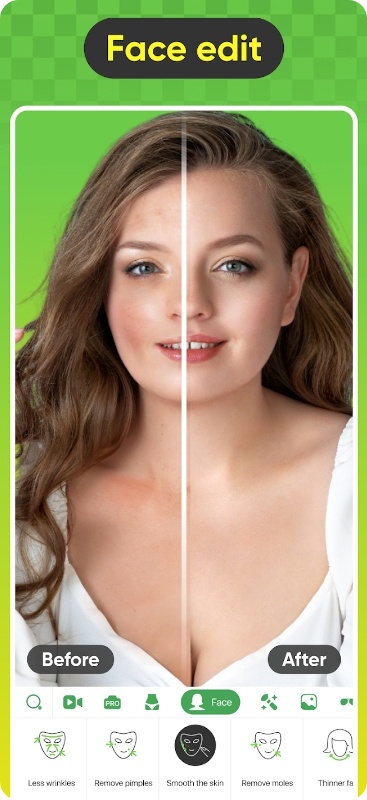 Downloads: 5M+
Customers rating:

(3.9 / 5)
You may also check: 10 Free Android Apps To Crop Photos Fast
Manlook
Whoever said body tuning apps are just for the ladies? This app is here to meet all your manly tuning needs and make you go "wow"! It will ensure you'll look your best in pics and vids. It really makes retouching a piece of cake.
The coolest thing is, the app can auto-reshape your body, bidding farewell to boring editing work and welcoming your dream physique. From presets to a fine-tuning slide bar, getting the ideal figure has never been easier.
But wait, there's more! The app is equally amazing. It can smooth skin, banish blemishes and acne, and even give you gleaming teeth. And hey, wrinkles and oily skin? The app has got your back on that, too.
For those gunning for muscles or rock-hard abs, the muscle tuner is the real deal. You'll be flexing those digital muscles like a pro in no time. And even if you're not a hardcore editor, the face tool is ideal for tweaking and refining your features. It's also free, so you're not risking anything.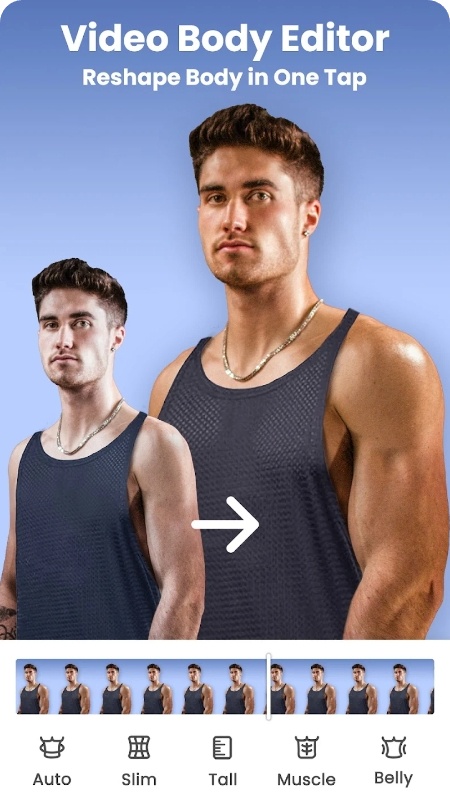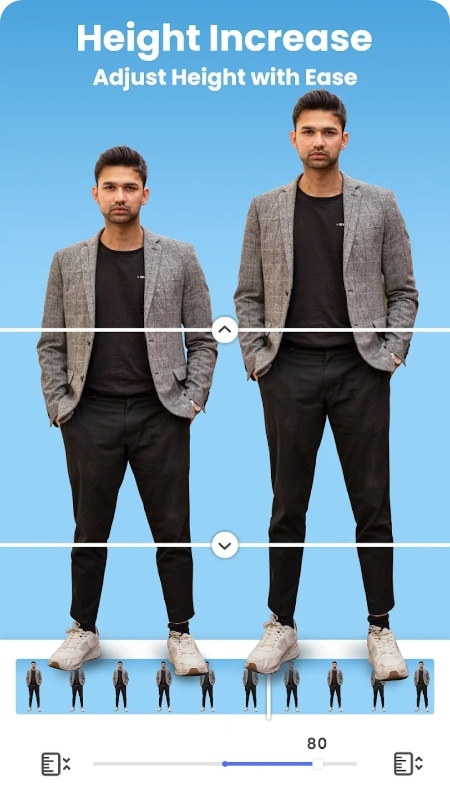 Downloads: 10K+