Modern children are so keenly interested in all new and so quickly master technologies that, having barely learned to walk and talk, they are already asking for a mother's phone or father's tablet to play.
We have collected several colorful applications that will help to entertain a toddler and spend time with benefit to both kids and their parents.
Kids Doodle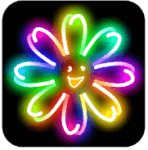 Kids Doodle – Color & Draw is an exciting application with the help of which you can realize your creativity in drawings. You can try yourself like a real artist. Or you can create together with your children! The app is great for family fun engaging your kids in the process.
You can draw on canvas as well as on other surfaces. At your disposal, there are 18 brushes different in size and structure. You can also use special tools, such as pencil, tape, spray, rainbow, glow, neon, and others. The palette is represented by 24 bright colors and shades.
If you want to change something in your drawing, you can always undo the previous action or return it back.
Do you need to take a break immediately, and the picture is not ready yet? No problem, you can save the current result and continue at a convenient time. You can save ready drawings in your art gallery, and share your child's creativity with friends through social networks. To view pictures, you can select the "Movie" mode and view the fascinating slideshow as an exciting movie.
Do you already imagine what your child wants to draw? Then install Kids Doodle – Color & Draw on your mobile device and start creating masterpieces together?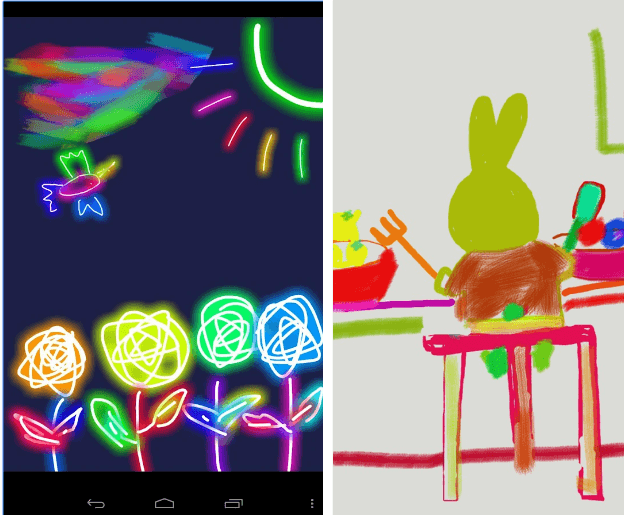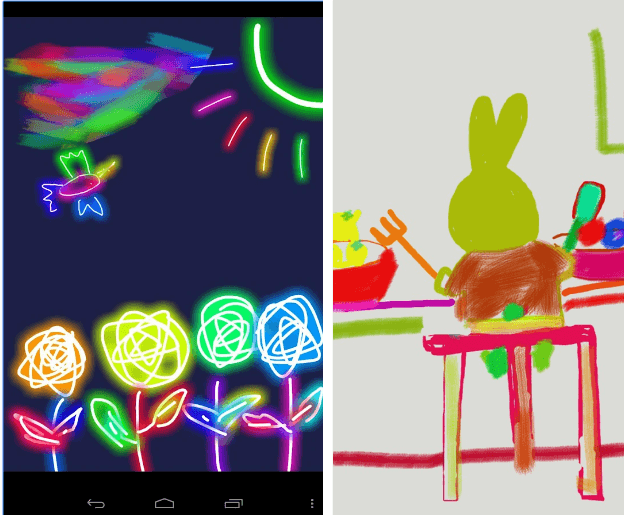 Downloads: 50000000 +
Customers rating:

(4.4 / 5)
You may also like: 11 Best home study apps for Android
Racing games for toddlers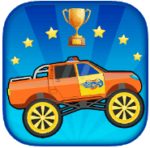 Fortunately, not only adults can enjoy racing applications on their devices. There is also a sea of options for auto racing for children. It is worth trying to play Racing games both for boys and girls. It will be relevant even for toddlers. Thanks to the large buttons, the kids can easily control the movement of the cars.
The game has 28 cars, and the child can choose any car: police car, truck, racing car, etc.
Racing, in fact, not difficult, children need to drive cars and overcome obstacles. And the kids will not only be able to travel and outrun their rivals but also to make a signal. Therefore, the application can be safely ranked among those games that help to develop a child's reaction and motility.
After the victory, the kids will be pleased with the salute, the new stars, and points, using which you can open new models of machines. So for those kids who love the technique, the Racing games application will be a real joy! Download this educational game on a mobile device or tablet and let the child learn how to maneuver by cars and overcome obstacles until victory!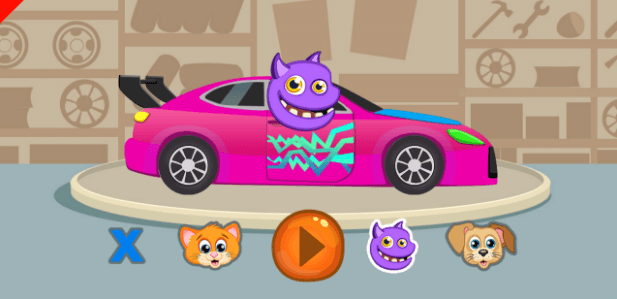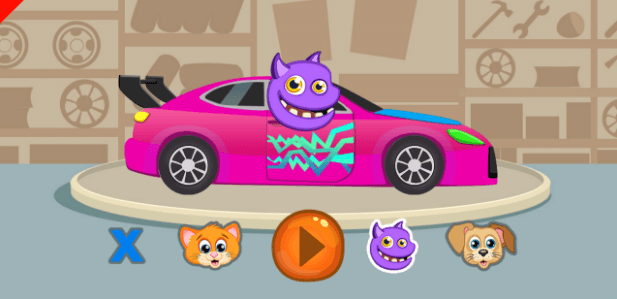 Downloads: 1000000 +
Customers rating:

(4.1 / 5)
Lullabies Relax & Sleep Baby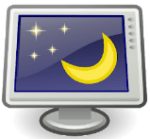 Constantly tormented with putting the child into the bed, he does not like to fall asleep? It seems we have a solution.
Application Lullabies will help to lull even the most restless baby. In it, there are simply wonderful lullabies. The application also provides a timer. For example, put the melody "music box" and set the timer for 20 minutes. The selected melody will play just 20 minutes, then the application will disconnect the melody.
In addition, you can set the playing of melodies both in a circle and in random order. The application is completely free but contains advertising. Using a lullaby will not cause you any questions. Everything is extremely simple.
List of lullabies:
Music box;
Hushaby;
Sleep Soundly;
Good night;
Somewhere far away.
This application will suit both babies and people suffering from insomnia. It will help you relax. After all, in addition to beautiful melodies, it contains information on how to fall asleep quickly, how to relax, how to breathe properly, sound therapy. Lullabies app will really help to fall asleep. Pleasant dreams for you and your baby.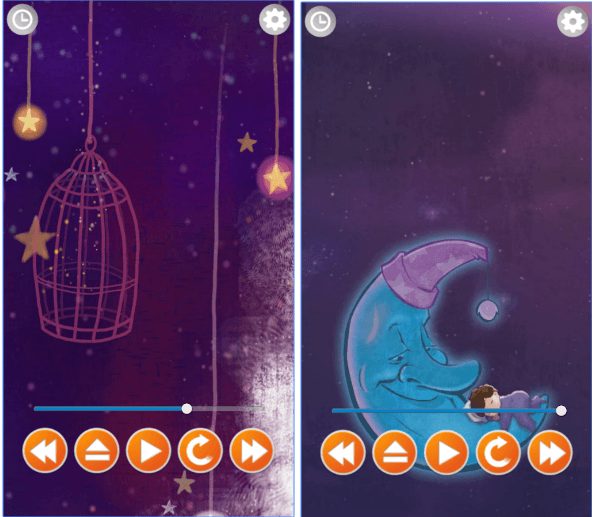 Downloads: 1000000 +
Customers rating:

(4.7 / 5)

Kids Preschool Puzzles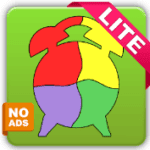 Kids Preschool Puzzles Lite – collect an entertaining puzzle, moving the details to see the original appearance of the picture and learn its name.
The application contributes to the development of the child's abilities such as fine motor skills, attention, assiduity, and logic. It is created, first of all, for children of preschool age and children with disabilities. The configuration of the game is extremely simple. The child can independently work with the buttons, without the help of the parents.
The main menu contains information on available topics: animals, fruits, and vegetables, household items, etc. Choosing a specific theme, the child goes to the task – you need to collect a puzzle from the available parts. The gray outlines of the unknown figure are given, the picture is divided into several parts.
It is necessary to find the appropriate pieces to collect the full picture. Pieces can be of different colors and do not match the color of a real figure.
This task develops logic and attention. Having collected all the pieces, the child will be able to see the final figure in the form of a picture. Under the picture, there will be the name of the figure. The game contains several levels of different complexity.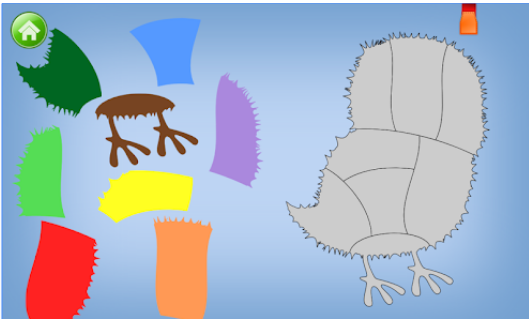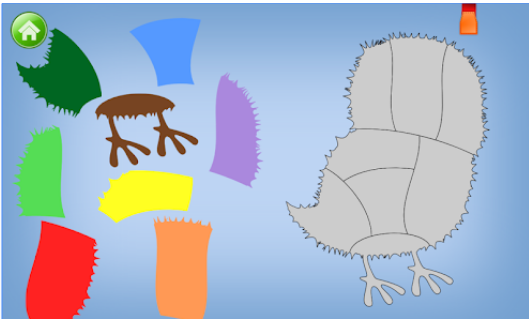 Downloads: 5000000 +
Customers rating:

(4.3 / 5)
Cooking in the Kitchen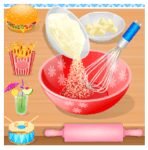 A fascinating cooking game Cooking in the Kitchen will allow you to test your cooking skills. Having downloaded the game on your mobile device, you get to the real kitchen, where you have to cook a wide variety of dishes on secret recipes. Try to cook together with your kid! Believe, it will be so fun!
With the help of the game Cooking in the Kitchen, you can fry a crispy french fries, make a tasty hamburger or bake an aromatic donut. Ready meals can be decorated with various fillings or even toys.
The game has a list of built-in recipes and detailed instructions that will help to prepare each dish correctly. In addition, remembering the order of cooking, you can repeat the best dishes in reality.
Game Cooking in the Kitchen has a bright and realistic design, and it is very easy to cook in it, using only a few buttons on the screen of your mobile device. In addition, all game levels are accompanied by pleasant music, which will inspire you to cook new culinary masterpieces.
Cooking in the Kitchen is great not only for adults, but also for children, as it teaches kids to use basic kitchen accessories, and develops aesthetic taste, allowing them to decorate ready-made meals at will.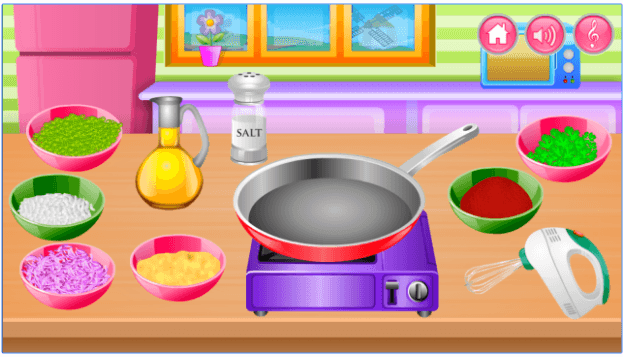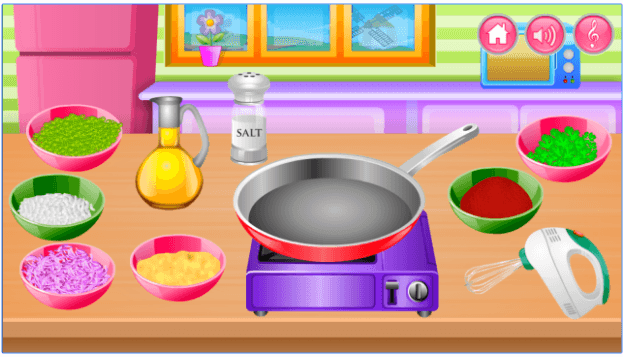 Downloads: 50000000 +
Customers rating:

(4.1 / 5)
Animals for Kids, Planet Earth Animal Sounds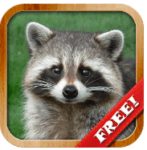 Animals for Kids, Planet Earth Animal Sounds – open the application, choose the language and themes, learn the names of animals and sounds that it makes through colorful photos.
It is a developing application for children from 1 to 4 years old, which allows you to quickly absorb knowledge about the world around you and train photographic memory. An excellent tool for the development of the child.
In addition to photographic memory, you can also get an understanding of the environment, get acquainted with new animals and learn their names in different languages.
You are to consistently show colorful photos of animals to your child. Seeing an animal picture, he can easily recognize it in life. Under each photo, you can find out what kind of animal it is, and what sounds it produces. After studying cards of a certain subject, you can check the knowledge of the baby with the help of a fun game, made in the form of a test. The application includes several main topics – "pets", "forest animals" and "animals of the world".
A simple interface is understandable even for the smallest child because of the sound accompaniment.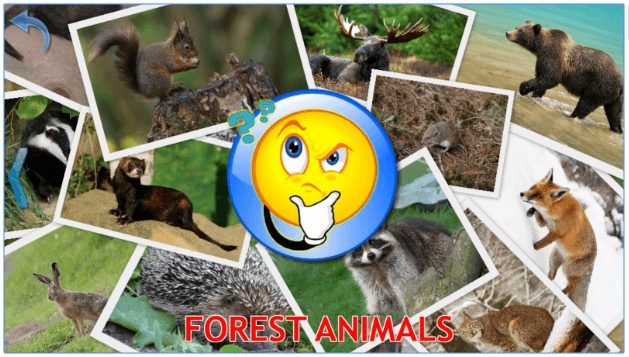 Downloads: 1000000 +
Customers rating:

(4.5 / 5)
Jigsaw puzzles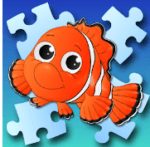 Jigsaw puzzles free games kids is a one-touch pleasure! When parents choose applications for their children, first of all, they look at the appearance of the game.
This is always worth remembering, but in addition to the graphics, the application should have other options. For example, the game must be instructive and understandable so that the child can understand it quickly and pass many levels.
You will find a perfect combination of good graphics and a learning component in Jigsaw puzzles.
Could you think that thanks to the game your child will quickly learn reading and writing? In addition, he will receive the skills of elementary numeracy and the development of motor skills. Solving such puzzles from an early age contributes to the development of analytical thinking.
Moreover, the collection of game puzzles positively affects the development of the child's brain, because in the process the kid focuses, compares and uses cognitive skills. If children like bright pictures, the game is ideal for them.
The game offers children to go on a colorful trip under the water, into the world of adventure. Collecting pictures, children train hand and eye coordination, visual perception, and attention to detail. Solving puzzles will teach children patience and perseverance.
No more chaos after children's games. Let them collect puzzles on their device! For the youngest, there is a simple level with pictures of six parts. For children, the number of elements can be raised to 20.
There are 5 difficulty levels available. The game offers a large selection of hundreds of images of different thematics. In addition, it is possible to use the image from the device's memory as a puzzle. Animated background is available, it will surprise you with its capabilities.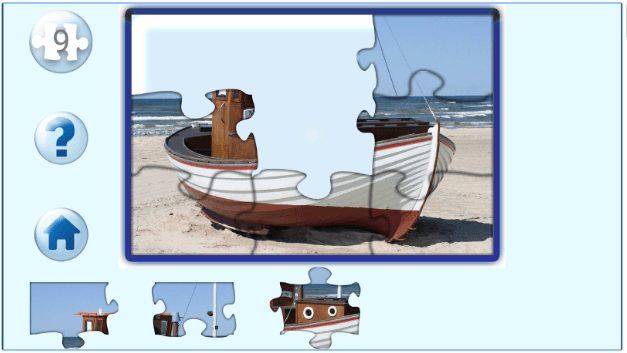 Downloads: 5000000 +
Customers rating:

(4.4 / 5)
Math Kids – Add, Subtract, Count, and Learn
Math Kids is a wonderful tutorial for kids on gadgets with the Android operating system. Children's knowledge will regularly increase, improve, and parents will be as happy as possible with the results. Of course, there are no age restrictions here.
RV AppStudios has already created colorful, interesting games, among which there are also training. Adults can learn arithmetic together with children and this application. A fun game form will help you quickly learn any information, especially when it comes to young children. There are interactive objects, quality design. The project is suitable for tablet computers and smartphones.
Bright animations are waiting for the kids after they successfully cope with these or that tasks. First, the mastering of the base material is supposed, and then you will pass to something more complicated.
Move to success with your children, and appreciate a simple, intuitive interface. Solve different tasks with the children, learn new tasks, help them enter the correct answers. For visibility, various fruits have been added. With illustrative examples, any mathematical actions will be learned more quickly by small users.
This puzzle, of course, can be called the dynamic, unique. The developers did not add any advertising materials, paid elements. Download  Math Kids for Android for free, because this is an excellent example of a wonderful teaching children's game.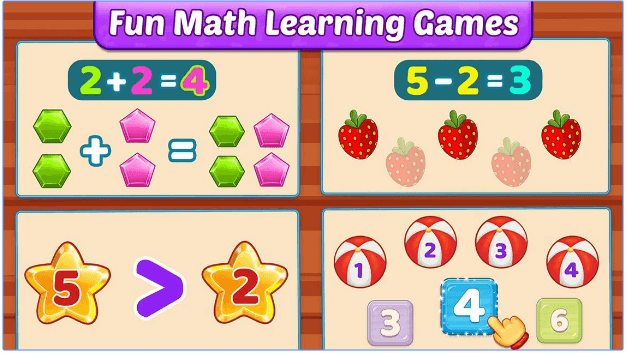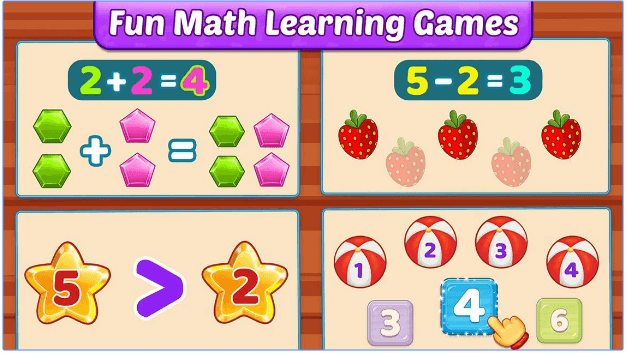 Downloads: 10000000 +
Customers rating:

(4.6 / 5)
Kids coloring book: Princess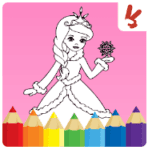 Kids coloring book: Princess is an addictive game (coloring book) for children over two years old. Do you not know how to entertain your baby while you're busy? Or do you want to spend funny time with him? Then Kids coloring book: Princess is what you need. The game offers many opportunities to realize the creative potential of young children.
In the application, you can find a large number of different pictures for painting. These are the heroes of famous cartoons: Cinderella, Snow White, Sleeping Beauty, Rapunzel, Little Red Riding Hood, Little Mermaid, and others.
Here you will find not only princesses, princes, and queens, but also fabulous animals – unicorns, ponies, dragons. For each character, pick up your color palette, which is represented by twenty bright colors and shades. In addition to painting the already existing drawings, you, together with the child, will be able to draw your own picture. Choose what instrument is preferable to draw with. It can be a brush or a pencil. Save your favorite pictures in the gallery and share the achievements of the baby. You will see how it is funny.
Cannot wait to show the child a new fun toy? Then download the Kids coloring book: Princess to your mobile device right now and immerse yourself in the creative process.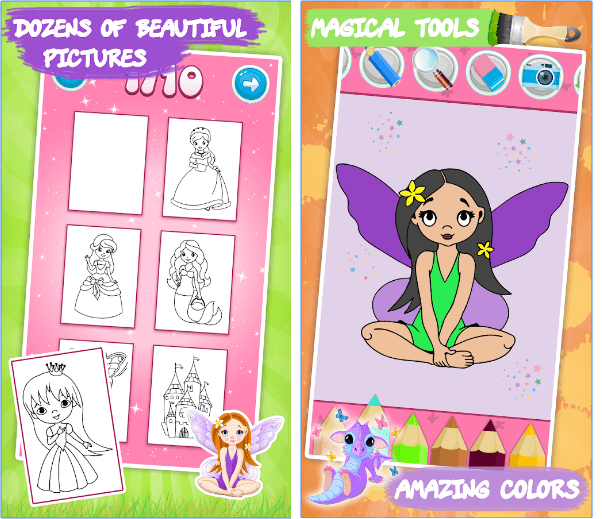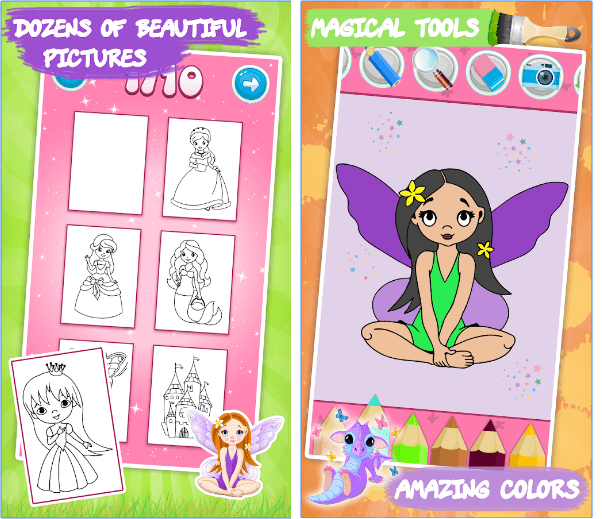 Downloads: 10000000 +
Customers rating:

(4.3 / 5)
Speed Racing game for Kids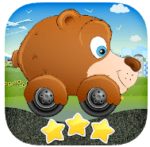 This racing game is designed for preschool children. However, schoolchildren will also be interested in the application Speed Racing game for Kids. In any case, children will be able to learn to solve problems through this game, improve their motor skills and coordination, and also will train the memory. Children need to participate in interesting races, where they must become winners.
You will be pleased with stylish racing cars, which rush along the track faster than the wind. If you get to the finish line, you will get three stars. Speed Racing game for Kids has 8 cars that are animated as animals: rabbit, lion, sheep, skunk, bear, crocodile, deer, and monkey.
You can choose a sports car, a truck, a car or a racing car for racing. All models differ in their technical characteristics. Each one has different acceleration speed and engine power. The game will please with 6 beautiful themes with different difficulty levels. All levels are original with different landscapes.
Children can easily control machines, control or select the tilt with the help of buttons. Cars in the Speed Racing game for Kids will fly under the clouds, jump on the snow, swim and perform other maneuvers. Each level has its own surprises and bonuses, which will greatly please the children. And it does not matter whether it's a child or an adult who will play this app, it will surely please everyone!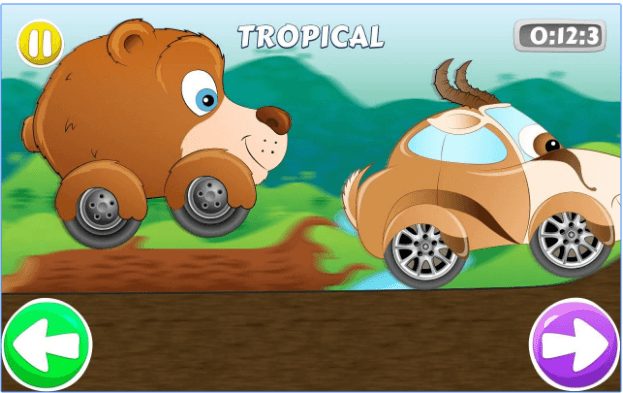 Downloads: 1000000 +
Customers rating:

(4.1 / 5)
Coloring games for kids animal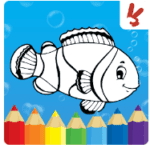 All children love to paint different pictures. Now it is not even necessary to buy children's coloring books for this class.
You can download the application Coloring games for kids animal on your tablet or mobile phone and let your child paint at least every day! You also do not have to buy pencils and colors. So your girls and boys will be able to paint various drawings without affecting your family budget!
If you download the application Coloring games for kids animal, your baby will be able to find a lot of different pictures: flowers, cartoon characters, dolls, robots, cars, trains, animals, and many more!
The choice is very large. Both boys and girls will be able to find stunning colorings. And it's very easy to paint pictures, just click on the color of the palette and touch the place on the screen where you want to fill the color. Show it to your child once, and he will understand everything quickly!
Such an application can quickly reveal your child's creative potential. In the application, there is a large selection of colors on the palette. If your baby chose the wrong color, it can be easily removed. The colors are all very bright and beautiful, so the drawings of your children will be masterpieces!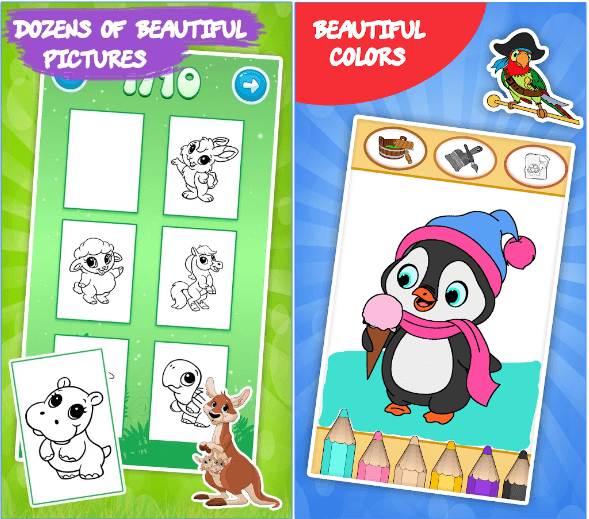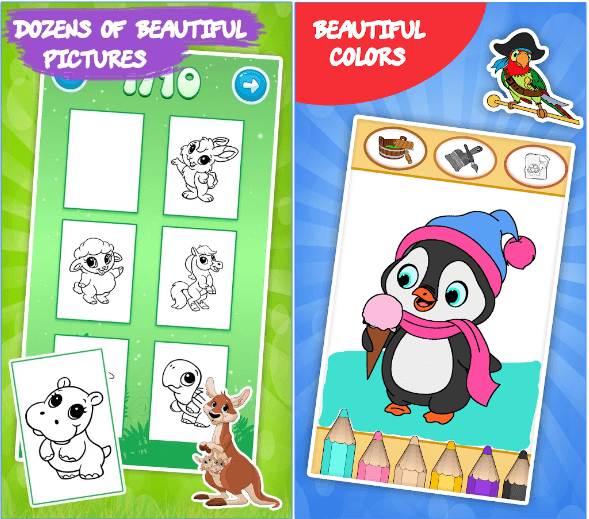 Downloads: 10000000 +
Customers rating:

(4.4 / 5)
Animal Sounds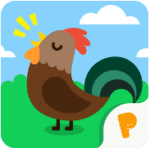 Animal Sounds is an interesting educational game for children under 5 years old, which will present them a variety of animals without annoying and distracting advertising.
This Android application is a fun and full game with an interesting sound that the child will definitely love.
It's very easy to use the application. After the usual touch of the screen, the child will begin to learn the sounds and names of different animals, their characteristics, and descriptions. Due to the simplicity of the interface and the extremely simple passage between the levels, the child can safely play without the help of an adult.
The application contains more than 80 detailed animals, as well as several dozen interface languages. Especially for children over 5 years (and even adults), you can change the language of the application and teach information about animals in another language.
Another advantage of the app is the presence of regular updates (new features, animals), wonderful animations and a nice sounds.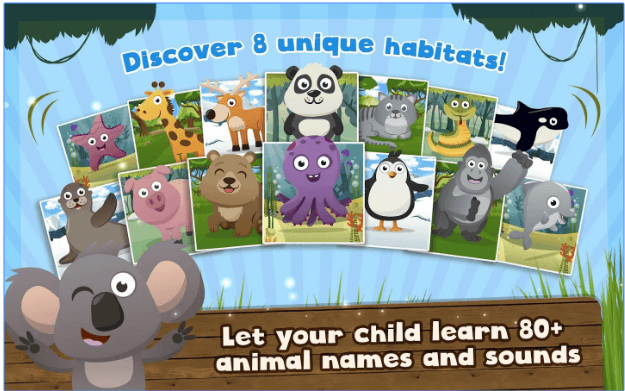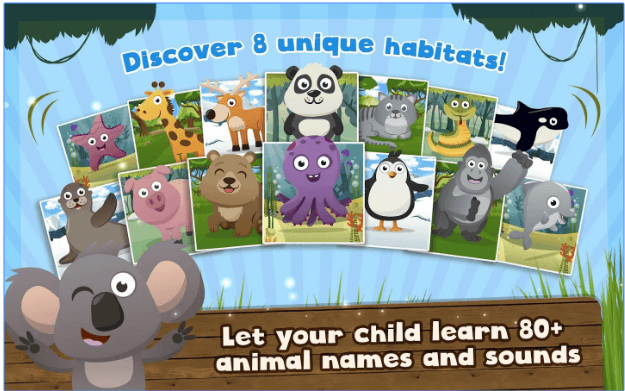 Downloads: 5000000 +
Customers rating:

(4.4 / 5)
Animals Puzzle for Kids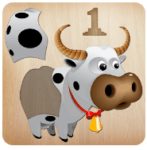 Animals: Puzzle For Kids – help the pieces of the puzzle to gather in a single composition, learn the names of domestic and wild animals, learn the sounds that they make.
The developers have created an excellent learning app for the child who begins to know the world around him. The animal world is so interesting in its diversity and complexity. The application allows children to know about different species of animals in nature in a playful way.
The application interface is simple and convenient for any age. Tasks train fine motor skills and the attention of the child. Opening the application, you can see a large number of topics, which you can open with one click. Themes are a picture of an animal.
The chosen picture crumbles before your eyes and you must collect it from memory or by sense. When the picture is ready, a pleasant voice accompaniment will tell the name of the animal and display the sound that this animal makes in real life. The name and sound can be played until the information is mastered.
The main menu contains a few more useful buttons – the complexity of the game and the language. The level of complexity is set from easy to difficult. Playing in an easy version, the child sees all the colors of the picture, lines, outline, and in the complex, all the details are painted in one color. This makes it difficult to find the desired picture elements.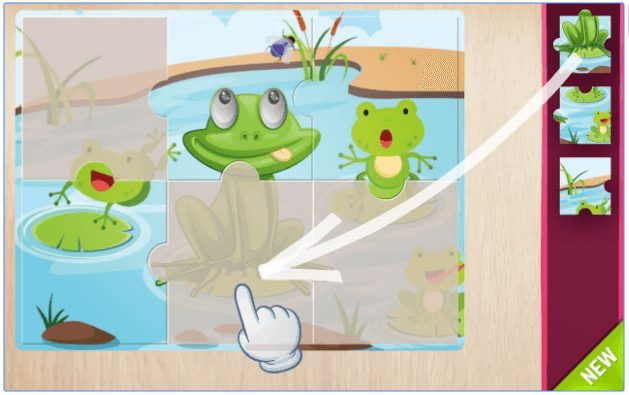 Downloads: 10000000 +
Customers rating:

(4.2 / 5)
Wash Pets – kids games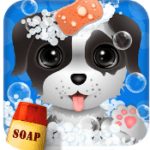 Does your baby love animals? Then he will definitely like the original, kind and fun game Wash Pets – kids games. Downloading it, your child will act as a salon employee for pets.
Installing the game on your mobile device, you can choose one of several pets. All of them are very dirty, but it is in your power to turn them into stylish kittens and puppies.
In the application, you can fill the fragrant bath and bathe a pet in it. After the bath, you will need to carefully dry and lay the comb of a puppy or kitten, cut sharp claws and pick up clothes.
The game is very realistic and has a stylish design. Your child will be met by cute and kind animals who are very eager to receive your help. In addition, your baby will learn to use various tools and learn the skills of caring for animals. The advantage of the game is in its simple management. To fill the bathroom, bathe or brush the puppy or kitten, you just need to slide your finger across the screen or press a few buttons.
The game is intended for all models of mobile phones and tablets working on the basis of Android. The application has no age restrictions and can be downloaded completely free of charge. The game also does not contain forbidden information, paid additional content or advertising.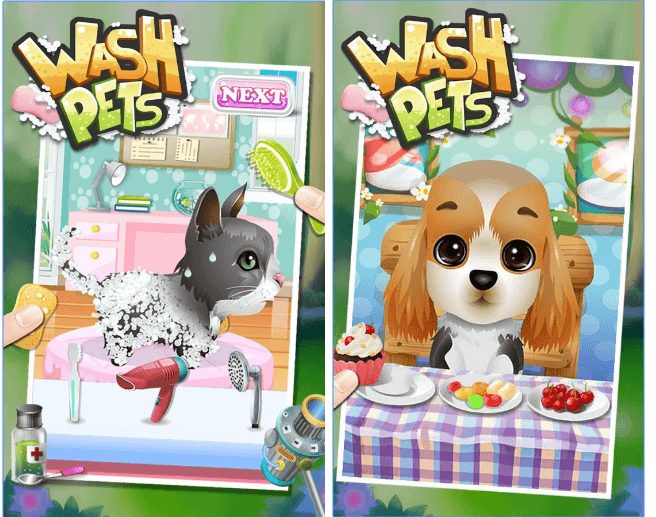 Downloads: 10000000 +
Customers rating:

(3.9 / 5)

Baby Phone – Games for Babies, Parents, and Family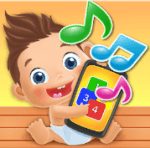 Baby Phone: Games For Babies – play a funny phone for children, click on the buttons, listen to the sounds of animals, and famous tunes.
In a rapidly developing world filled with various gadgets, everyone wants to be at the center of events. Children also do not stay away, looking at their parents, they try to imitate them and grab for any gadget. To avoid unpleasant situations, the developers have created an informative and entertaining application specifically for babies.
Now your baby can do interesting activities – walking with the phone, ringing, clicking on the buttons. But all these actions are accompanied by the gaining of knowledge. After all, the buttons in the application are not usual. Each of them depicts a certain animal. By pressing the button, the child hears the sound of this animal. Thus, knowledge about the surrounding world and animals that live in it is formed.
In addition to interacting with animals, the baby can listen to music, songs and even plays. The app is adapted for children under two years old.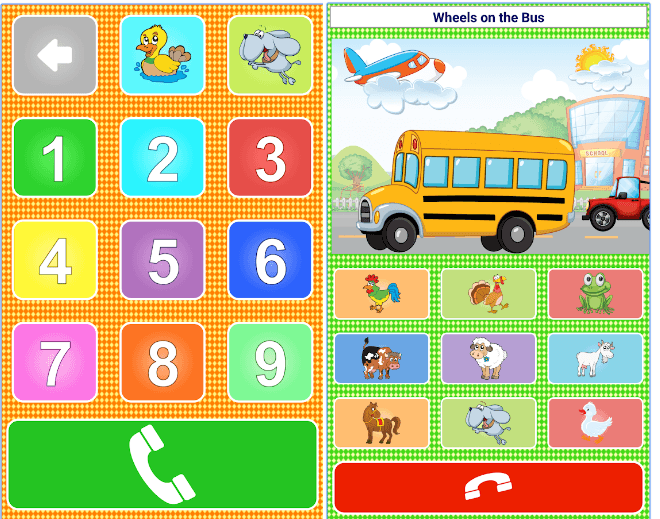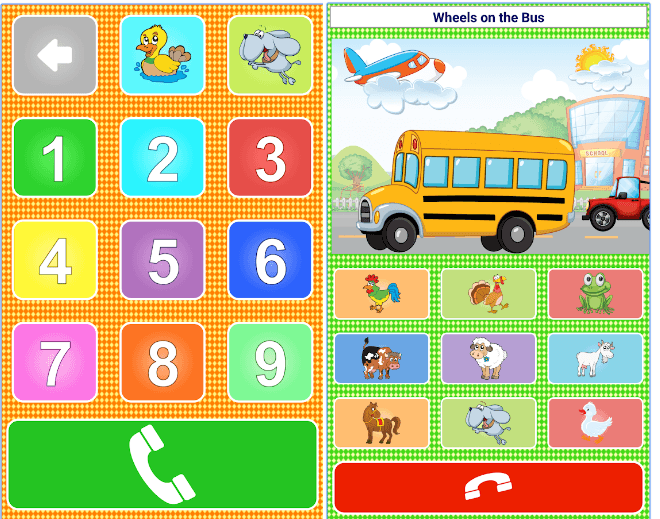 Downloads: 5000000 +
Customers rating:

(4.2 / 5)
Baby Sleep Instant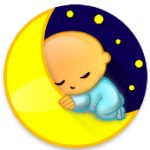 Baby Sleep Instant is the perfect app for kids and their parents. The program will help babies quickly fall asleep with the classic lullaby!
If the newborn cries, and you can not calm him down and rock him to sleep, open the application to turn on one of the monotonous melodies that will quickly calm the child and help him fall asleep. Sleep of the baby is above all, and low-frequency sounds have long proved their effectiveness.
The application has the sounds of a shower, washing machine, dryer, fan, vacuum cleaner, train, sea, and river. This was done based on practical experience, as they are very effective as a lullaby.
The program is very easy to use. Even a child can choose the sound that he likes. Each record has its own sound, so the kids themselves will be able to find some lullabies for a sweeter sleep.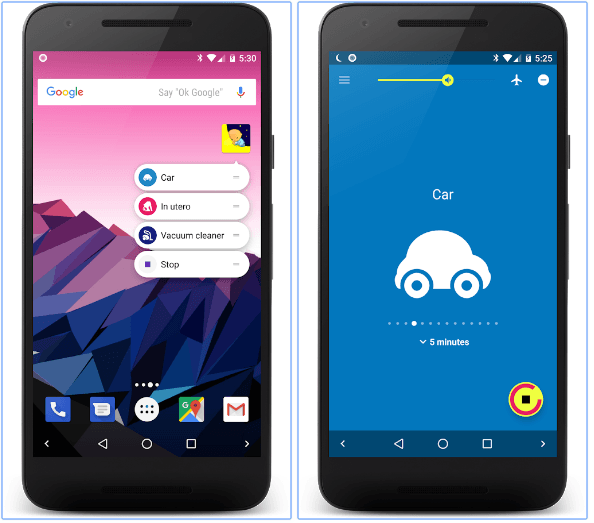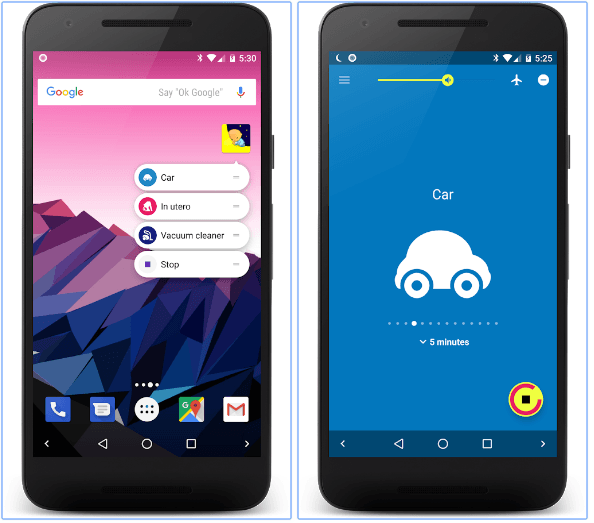 Downloads: 1000000 +
Customers rating:

(4.6 / 5)
Baby Wooden Blocks Puzzle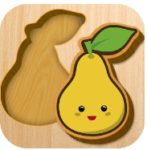 Baby Wooden Blocks Puzzle is a game designed to interest the baby for a long time, along the way teaching the logical skills, important for the intellectual development of the child.
A cheerful soundtrack will attract and fascinate the attention of young talent. Management is adapted specifically for young audiences and is made as simple as possible. A special training program has been made for children of preschool age.
The application will help in the development of concentration, attention, observation, and creativity in the child. The child will gradually improve the speed of perception and coordination abilities of the brain and body. The game is simple and convenient, it is suitable for fun pastime for the whole family.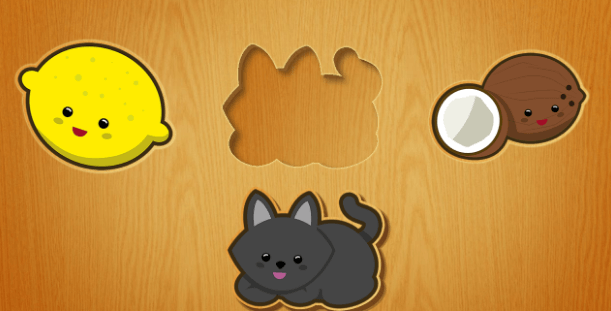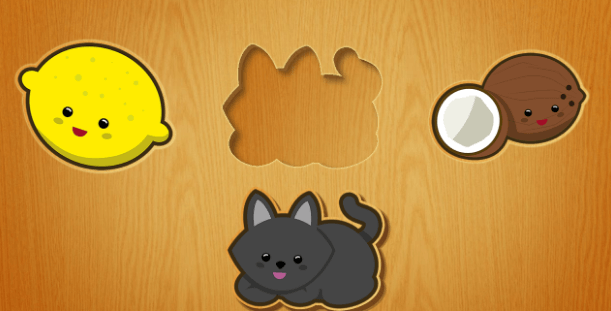 Downloads: 5000000 +
Customers rating:

(4.2 / 5)
Monkey Junior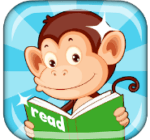 Monkey Junior: Learn to Read is a perfect application that will teach your children to read, expand vocabulary and learn foreign languages!
The program is presented by a full-fledged curriculum in which children together with their parents will find an understanding of many words and suitable content for reading that matches the child's skills. Join the community of hundreds of thousands of parents who taught their children to read at an early age.
The application has three different levels of training. At the first level, children learn to read individual words, then the baby will learn the reading of the sentences and then the texts. In this home study program, there are hundreds of topics to learn, from body parts to professions and scientific terms.
The program for learning to read uses vision, sound and tactile skills to focus the child's attention. Pictures and interactive videos illustrate words and increase their ability to understand. The app is free for downloading.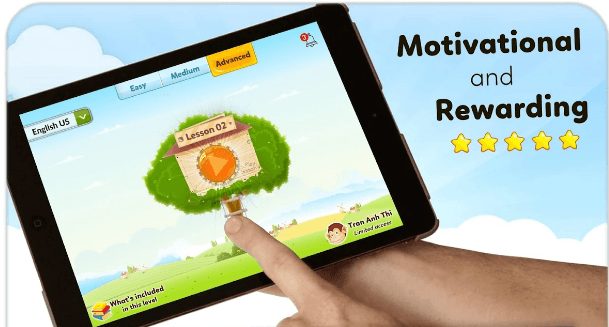 Downloads: 1000000 +
Customers rating:

(4.6 / 5)
ABCD for Kids: Learn Alphabet and ABC for Toddlers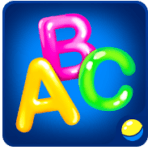 ABC For Kids: Learn Alphabet – will teach the child all the letters of the alphabet and their correct pronunciation in different languages. A beautiful design will help you to understand the correct writing of symbols and syllables.
The learning alphabet is simple and just a pleasant pastime. The child will be taught to reproduce sounds and write letters. His vocabulary will be significantly increased. It also develops a rumor of phonemes.
The study takes place consistently and gradually, each stage is accompanied by a great variety of examples. Completed assignments are accompanied by the praise of the young researcher and the approval of his actions. The study takes place in the form of a game, so it does not cause negative emotions and interests the child. Now you do not need the primer.
The voice acting is done by a professional actor. Each member of the family will be able to work with the baby.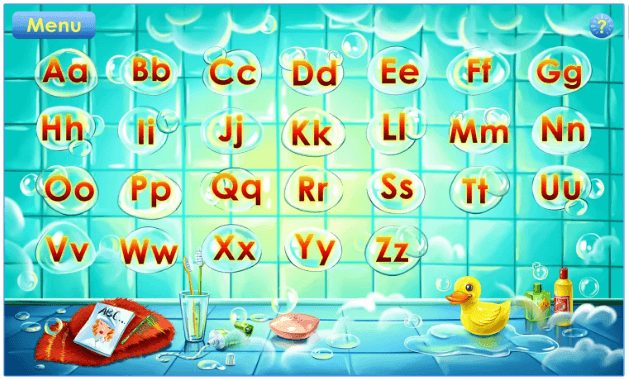 Downloads: 10000000 +
Customers rating:

(4.3 / 5)
Animal Puzzle Game for Toddler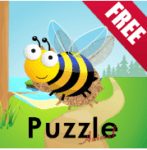 Animal Puzzle Game for Toddler is a game for kids that will teach them to distinguish shapes and improve cognitive abilities. In this game, children will be able to collect a lot of fun mosaics, enjoying the game for hours.
The application has a large catalog of drawings so that children are never bored because here you can find pictures for every taste. Each mosaic consists of six different pieces that need to be correctly inserted into empty dark places. If the element is selected correctly, it will remain in that place, and you can continue to collect the mosaic.
In addition, the image of each animal is accompanied by different sounds, so that the kids will learn what sounds each of the animals produces. The child will play for hours, and he will not get tired of this application. Thanks to Animal Puzzle Game for Toddler, you can leave the child alone with the game, and you do not have to watch what he does or help him.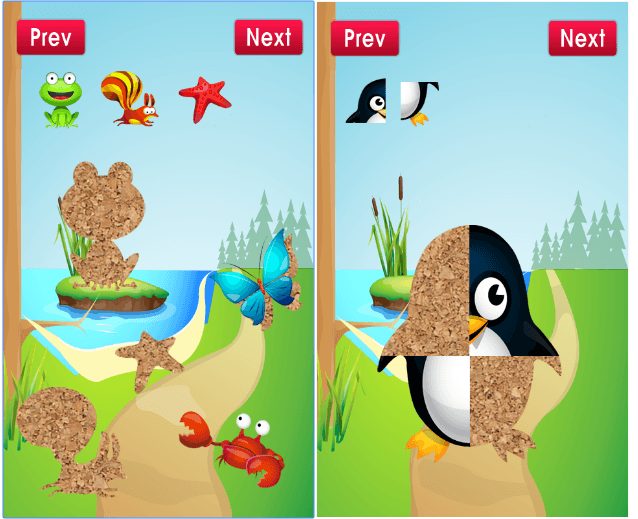 Downloads: 1000 +
Customers rating:

(4 / 5)

Educational Games for Kids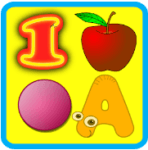 Educational Games For Kids – using this application, children can learn the alphabet, numbers, colors, shapes, and other fundamental things that every member of society needs.
This developing app will be an excellent assistant to moms and dads who care about the early development of the child's intellectual abilities. Children love games, but studying can be quite boring and tedious. Now a boring procedure can be made very exciting and interesting.
This is a useful application for children from 2 to 5 years. Children will master the alphabet, numbers from 1 to 20, colors and figures, as well as months and days of the week. Your child will be able to develop logical abilities, memory, and attention. Start now!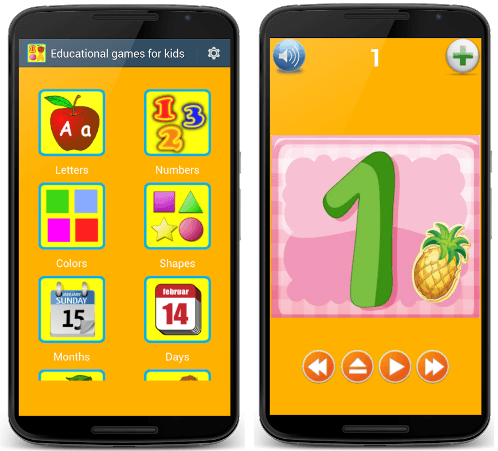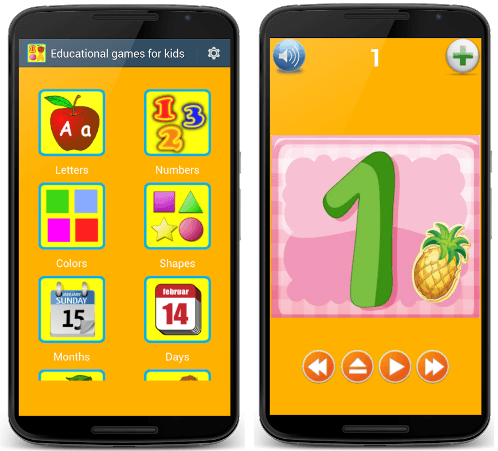 Downloads: 5000000 +
Customers rating:

(4.2 / 5)
Toddler games for 2-5 year-olds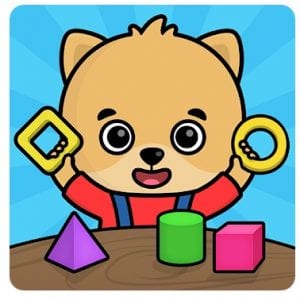 Toddler Games for 2-5 Year is an educational game with all kinds of children's puzzles with flowers and figures. This application is highly recommended, as it helps children learn colors and shapes through fun games!
This application offers bright, funny pictures that attract children's attention and make the learning process through the game even more interesting.
For example, on one of the levels are cute kittens, which children should put on the train, sorting by the color of their bandanas or clothes. Then, they can do the same with fruit, and in the end, help the kittens find their way home by guiding them to their homes according to the color.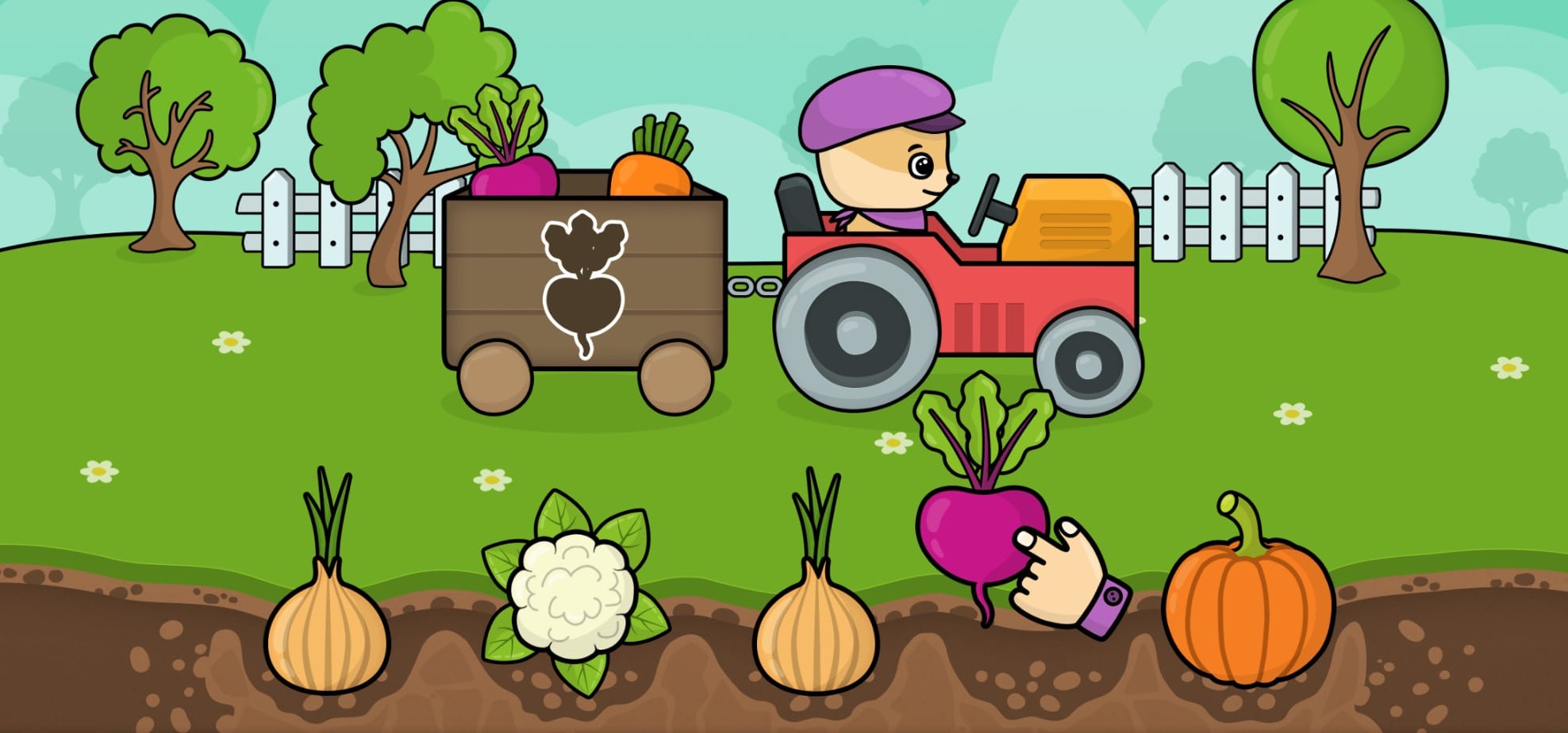 At another level, children will need to determine where to place each of the objects by looking at their silhouettes. Once they've determined where to place the object, they simply click on the screen and drag the object wherever they want, then raise their finger to fix the object at the selected location.
This will help toddlers learn to recognize objects and shapes while they play on a pirate ship or any of the many game scenes.
Download Toddler Games for 2-5 Year olds and help your baby learn to recognize colors and shapes with fun games!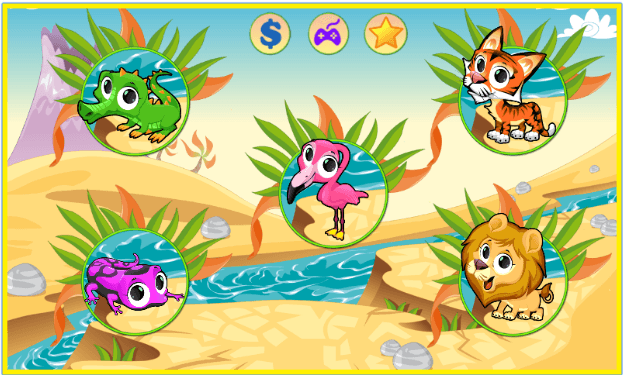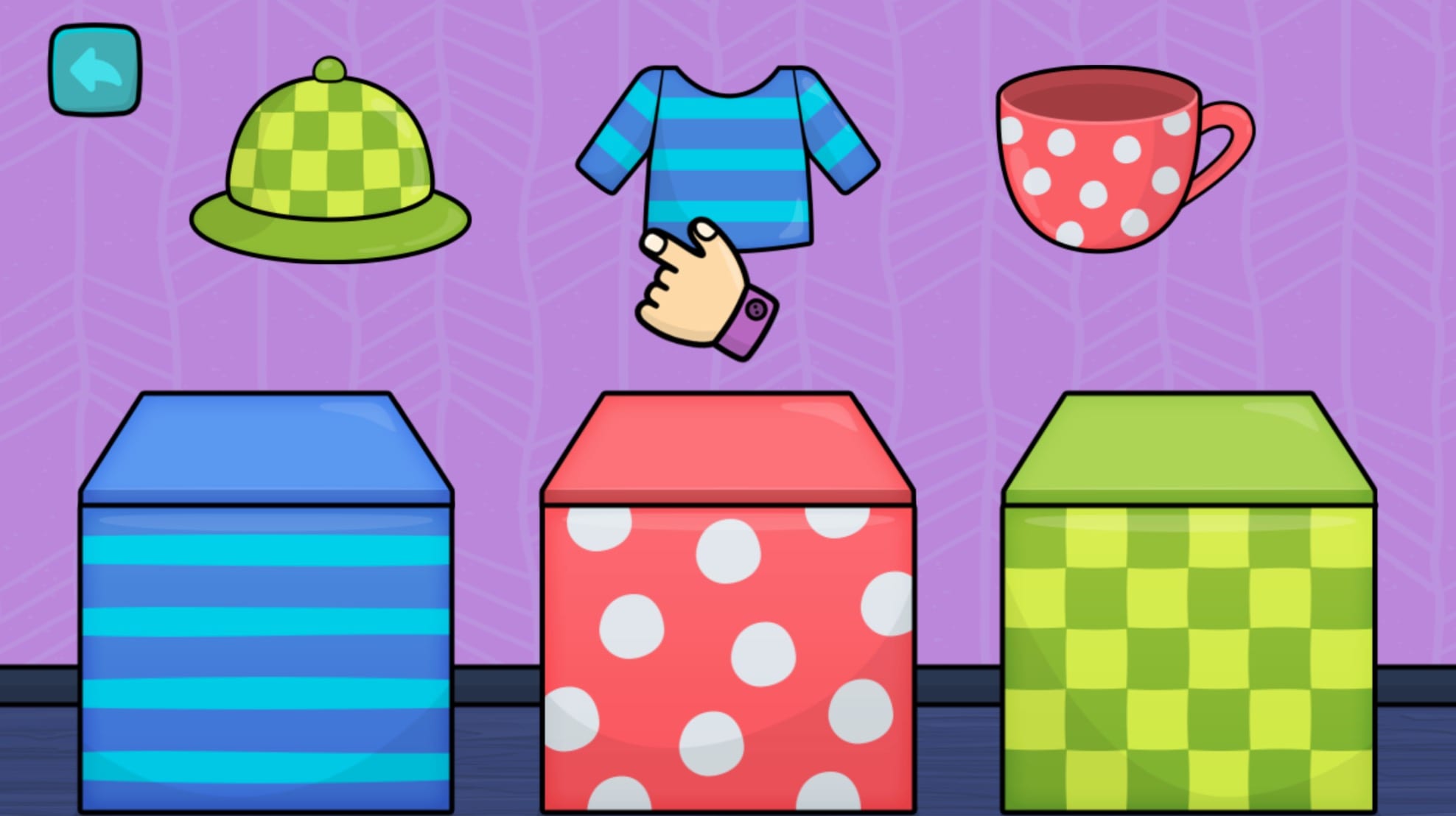 Downloads: 5000000 +
Customers rating:

(4.3 / 5)
Colors for Kids, Toddlers, Babies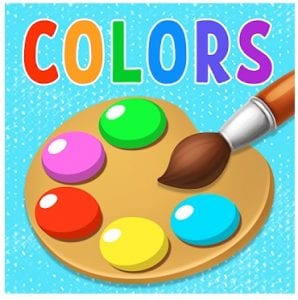 Colors for Kids, Toddlers, Babies is a simple and fun game for preschool children. With the help of the game, the baby will get acquainted with the main colors that are in our world.
The game will help the child to easily learn the color palette, their names in different languages, as well as build associations with different objects, such as fruits, animals, and others.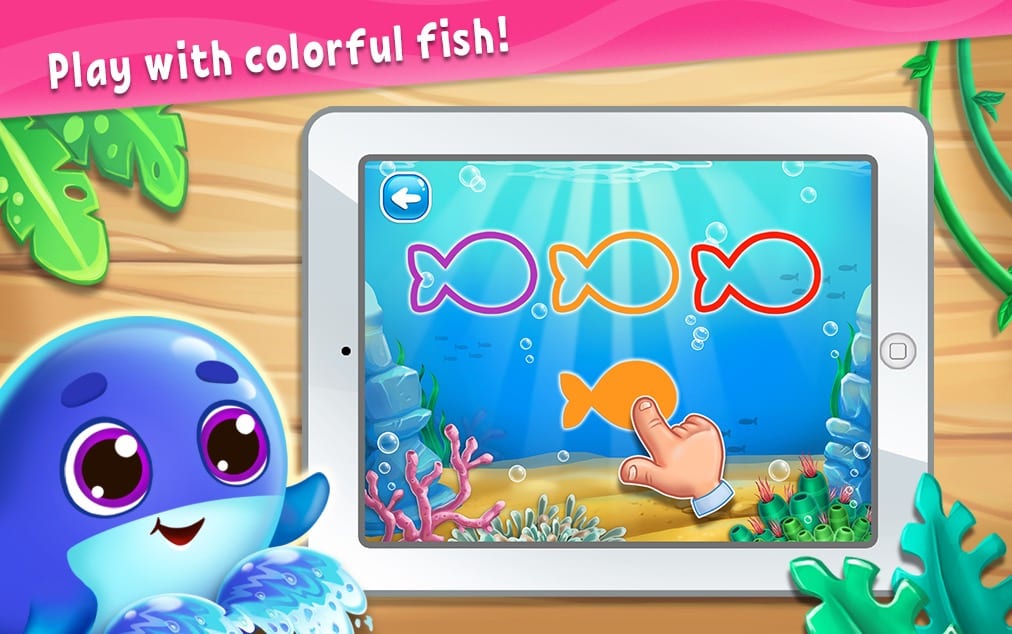 All games in the application are developed in collaboration with children's teachers and psychologists. Therefore, the application interface is so simple and intuitive that even the youngest children can easily understand how to play.
Your child will definitely like to learn the colors in the format that the application offers.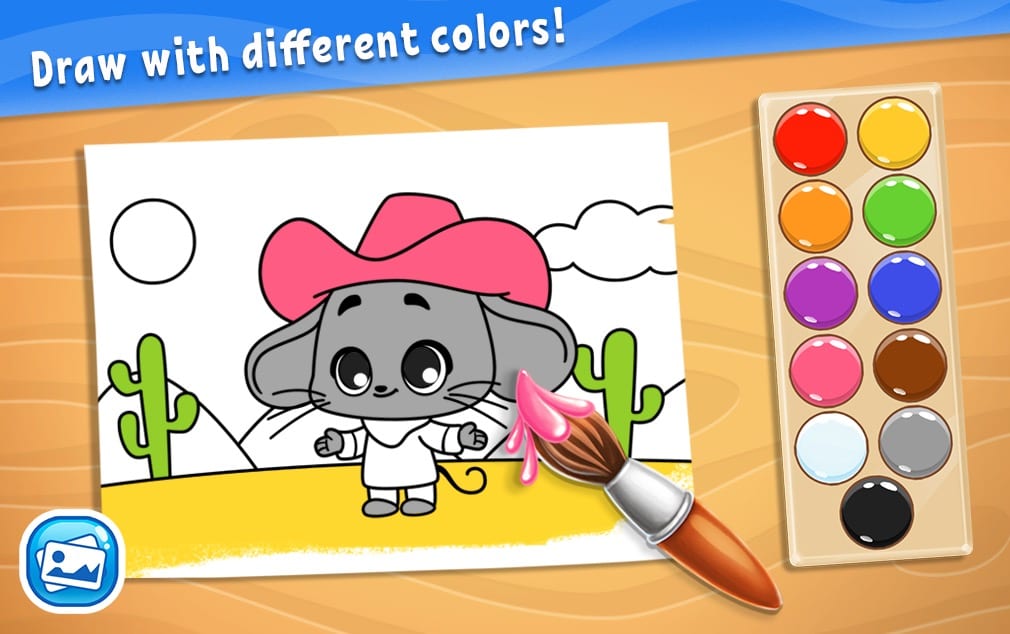 Downloads: 10000000 +
Customers rating:

(4.1 / 5)
Baby flashcards for toddlers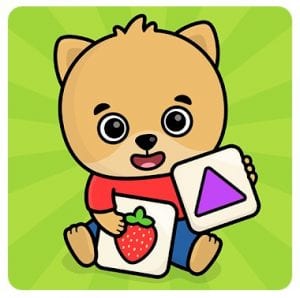 This is a children's educational game, where your baby can learn the first words with flashcards.
These educational games for children are ideal for both boys and girls. Games for kids not only help to learn the first words but also develop attentiveness, fine motor skills, and logical thinking.
Kids will be able to learn words in 12 different categories: pets, wild animals, fruits, vegetables, food, bathroom, home, clothing, toys, transport, colors, and figures. Three categories of children's games are available for free.
The application for kids supports 17 languages and works perfectly without a Wi-Fi connection. It is designed for children of preschool age – 2, 3, 4, and 5 years. Flashcards can become part of preschool education in kindergartens.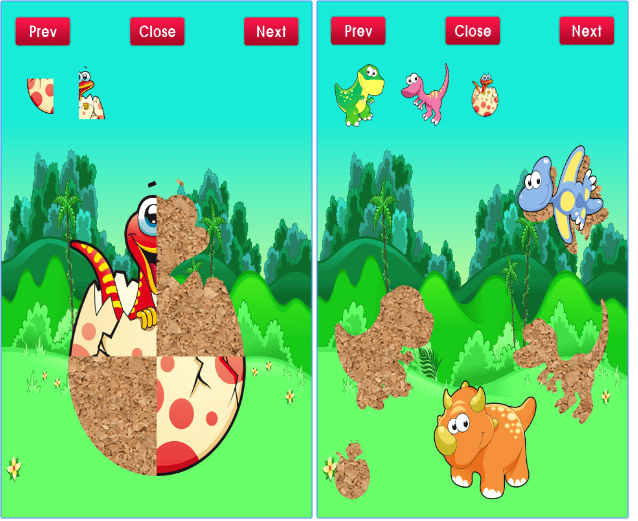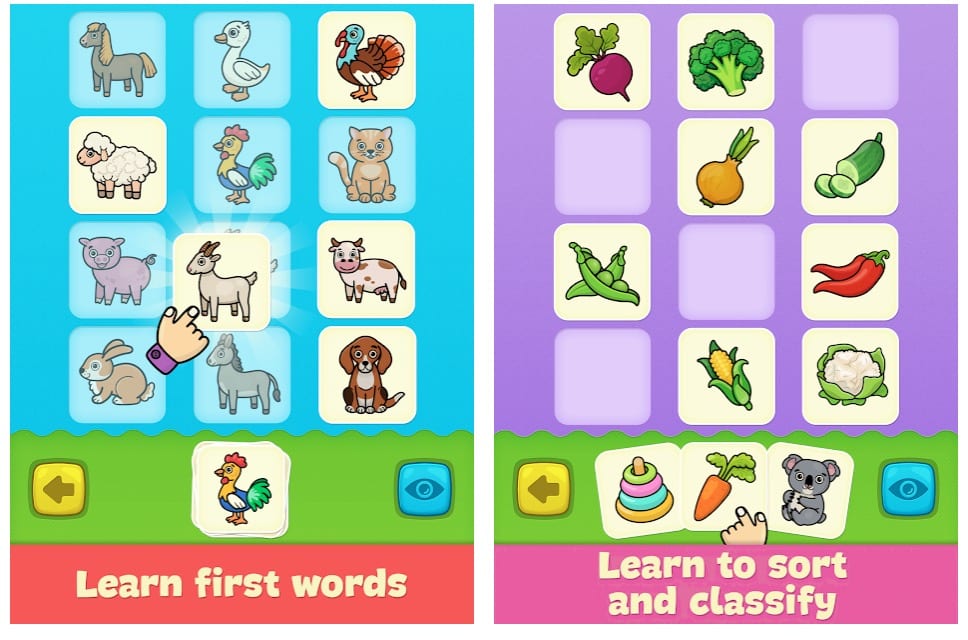 Downloads: 500000 +
Customers rating:

(4.5 / 5)
You may also like: 11 Best Nursing Simulation Game Apps for Android
Funny Food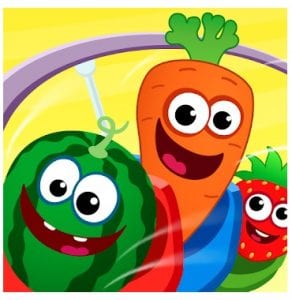 Funny Food is an exciting educational game for kids and toddlers. This game was created for children from 2 to 5 years. I think that children will be fascinated by the game for a long time as it is very colorful and juicy.
In this game, your child will learn geometric shapes and colors. Together with your child, learn and explore the world of the game and get acquainted with fun food.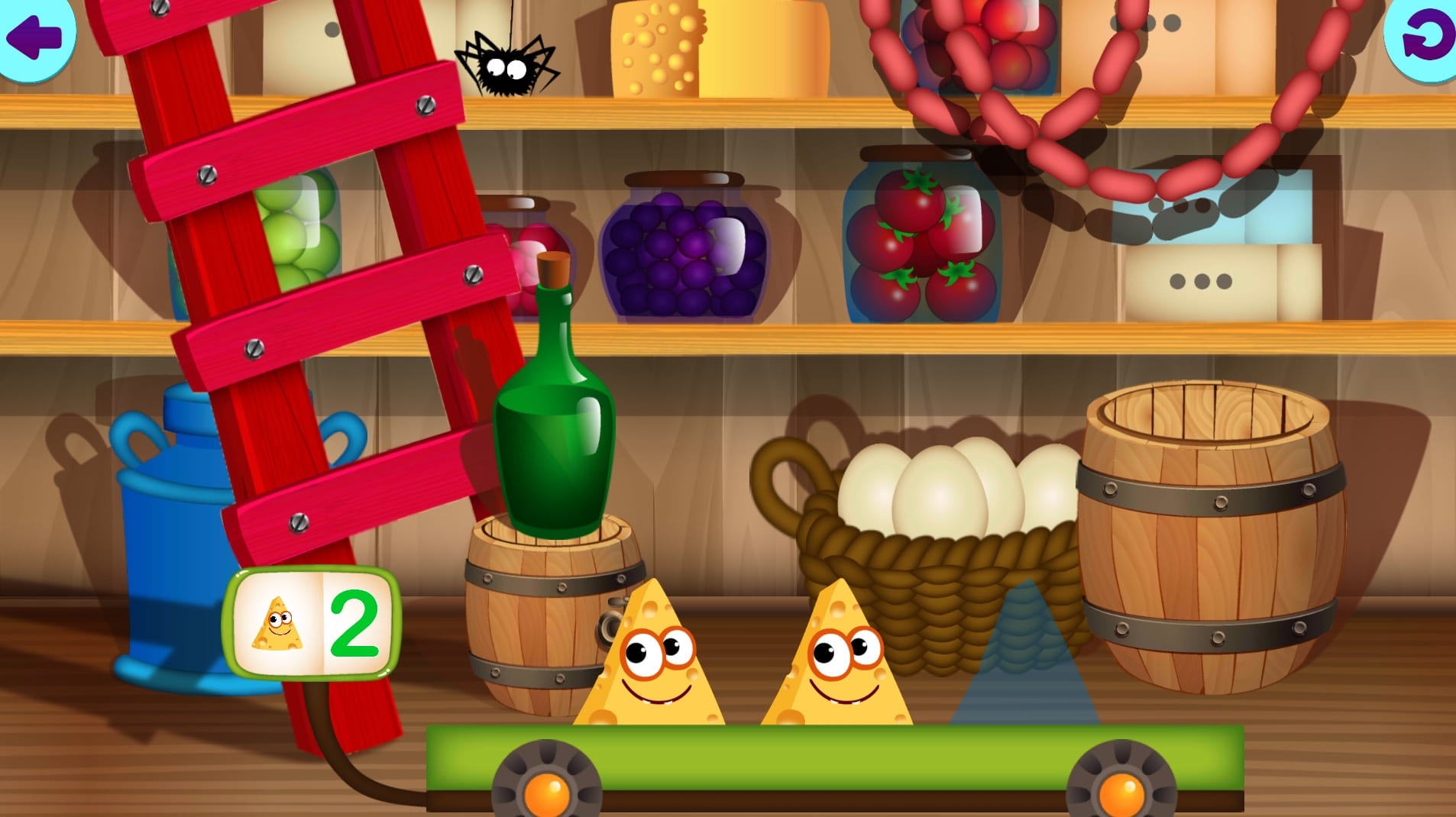 Perform various tasks that will develop logic, memory, attention, and speech. This is a unique educational project that covers almost all topics necessary for the successful development of your child.
In total, in the game, you will find 15 different mini-games where your child will grow vegetables, dress them in different costumes, buy them in the store, play hide-and-seek, sort them, and so on.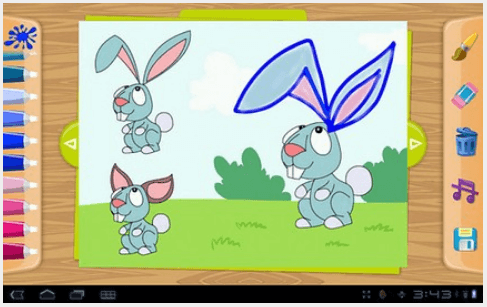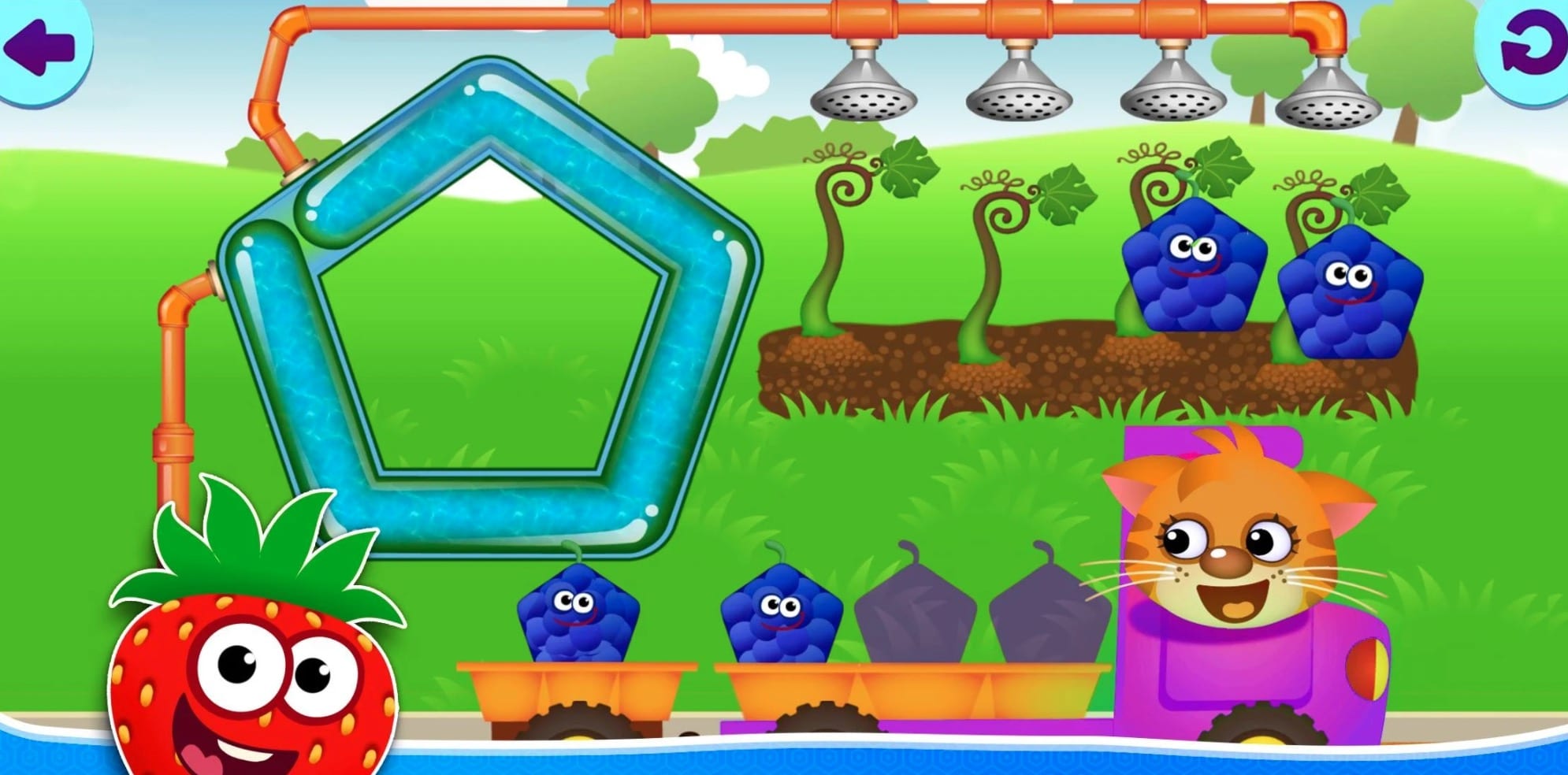 Downloads: 10000000 +
Customers rating:

(4.2 / 5)