Do you ever wish you could clone yourself to get more done in a day? While science hasn't quite caught up to that dream just yet, there are apps to achieve this in pics.
Luckily, we've scouted the best clone picture apps for Android you could try. Whether you want to make a pic of yourself striking a pose in multiple positions or capture a group snap with your friends all in one shot, these apps let you do that.
And with the ability to crop your snaps, align the grid and do some basic editing, your snaps will turn out stunning every time. Say goodbye to boring pics and hello to endless possibilities. Let's get into it!
Split Camera
This app lets you make clones of yourself or anyone else with just a few simple steps. It's an easy way to bring some personality to your snaps.
One of the coolest aspects of this app is the live split cam view. You can split your snap in any way and regulate the ratio to your liking. Plus, you can move the view by simply dragging your fingers. It's like having two cams in one!
And the self-click timer ensures you'll always look your best in the shot. Once you've captured the shots, you can blend the two of them together to make it look completely natural. And if you want to add a little smth extra, there are some seriously cool filters to pick from. You can even add text or other enhancements with editing tools. The possibilities are endless!
Managing the saved snaps is a breeze too. You can view, delete, and even share them on socials straight from the app. It's super convenient and easy to use. It's free and the apps are fully bearable.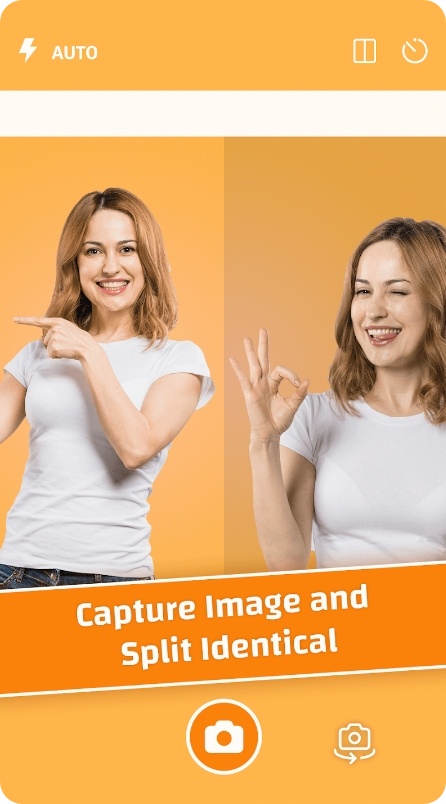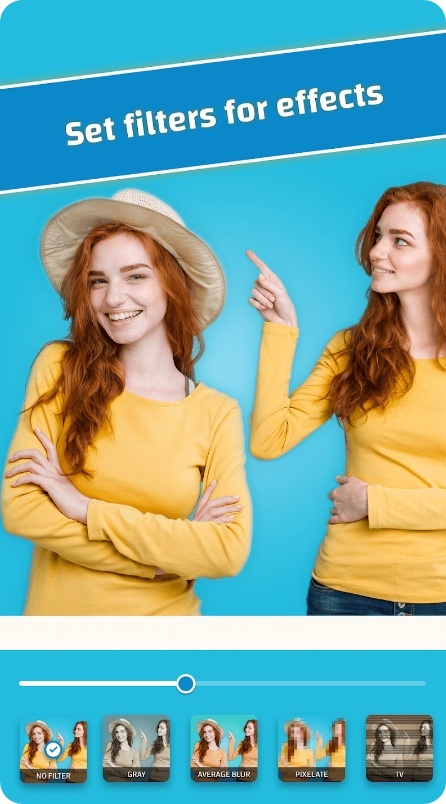 Downloads: 100K+
Customers rating:

(4.2 / 5)
You may also like: 9 Best Split Picture Apps For Android
Photo Clone Editor
This app lets you clone yourself in pics with a few taps only. No editing skills are required, the app will literally do all the work for you. It is a gem when it comes to making realistic clones. With just a few clicks, you can turn a basic snap into a masterpiece that looks like it's straight out of a sci-fi movie.
The app is incredibly easy to use. Just mark the object you want to clone, take a few snaps from diverse angles, and let the app do the rest. The self-timer is especially helpful, as it lets you get into position before the pics are taken. You can set it to your liking, too.
But what really sets it apart is its ability to merge the marked objects seamlessly. The result is a pic that looks like multiple versions of you (or your pet, or anything in general) were all in the same room at the same time. It's seriously mind-blowing.
Then, you can easily share the snaps on socials without any pesky watermarks. The audience will be amazed at your cloning skills and wonder how you pulled it off.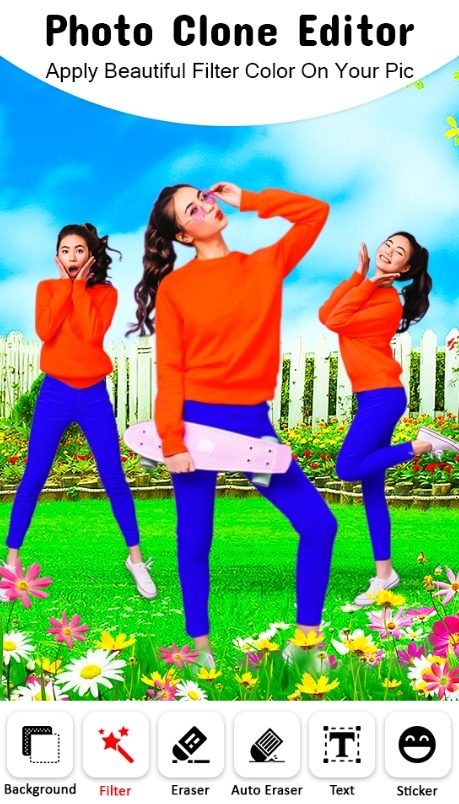 Downloads: 10K+
Customers rating:

(3.3 / 5)
Twin Camera
It's an app that will take your editing to the next level. It truly has it all, from twin cloning to twin vid making. Thus, you can make unique and stunning snaps with just a few taps. The dual cam lets you capture two pics in one frame, making it seem like you have a twin sibling. And
The video tool is pretty much the same. You'll get to make twin clips and combine them seamlessly. But the app doesn't stop there. It has tons of cool functions, you can beautify your snaps with clone cam and filters. You can also rotate and crop the snaps as needed.
The simple UI makes it easy to use and navigate, so you can split pics and make amazing snaps with ease. And once you're done, these get saved in both the cam roll and creation folder.
The app doesn't impact the resolution of the original snaps, and it doesn't add watermarks and all that. You won't have to pay for anything either, so no risks there.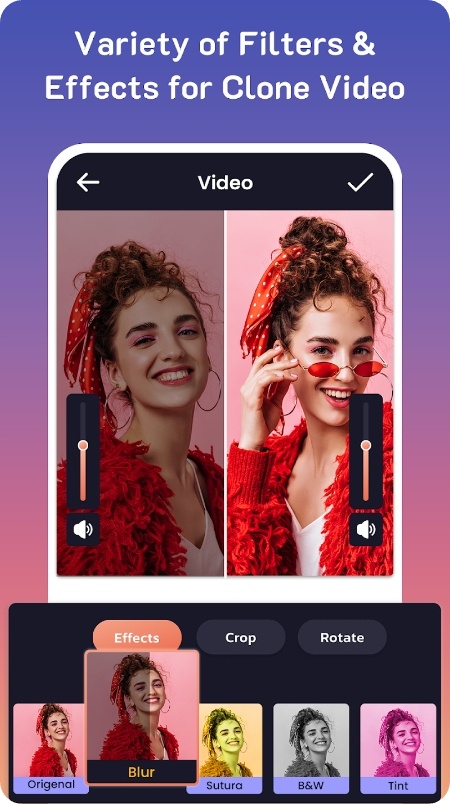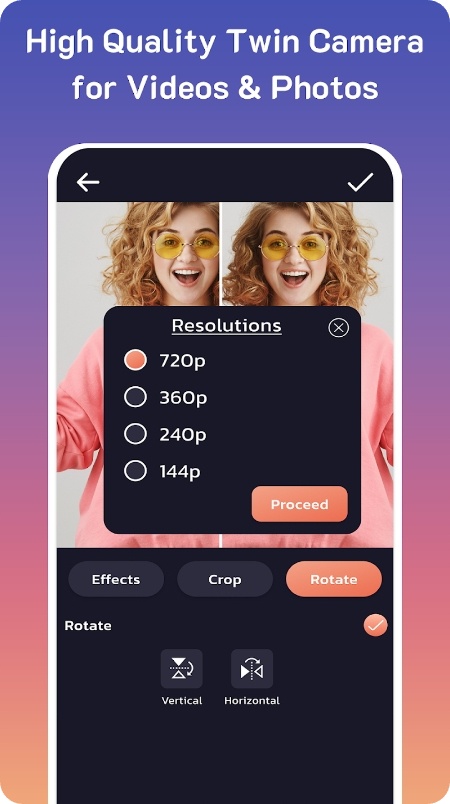 Downloads: 1K+
Photo Clone
This app makes pic cloning super easy and fun. It lets you make stunning clone snaps with just a few simple steps, thanks to its intuitive UI and advanced editing tools.
The app lets you take 2–4 snaps and use the self-timer to make cloning a breeze. Simply outline the subject you want to clone and preview to check out the final result. You can then pick from a range of filters to add an extra layer of style to your cloned image.
But what really sets it apart is how easy it is to use. Whether you're a pro or a newbie, you'll be able to create amazing clone snaps in just a few mins using this app. And with its range of shooting modes, filters, and frames, you'll never run out of options.
And the advanced tools make it easy to adjust everything from brightness to saturation, so you can really make your snaps stand out. It's also fun to play around with the filters and see how they can completely transform your snaps. And all that without spending a dime.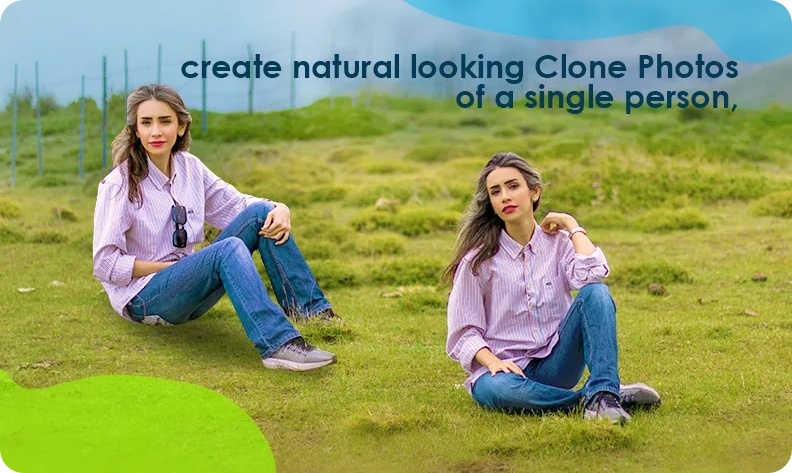 Downloads: 500K+
Customers rating:

(3.4 / 5)
Twin Me!
This is hands down one of the best cloning apps out there. It's so easy to use that even your grandma could handle it.
All you need to do is hold your phone in a horizontal position and place your subject in the left frame of the screen and take the first shot. Then move your subject to the right frame and take another shot. Within secs, you'll have a hilarious clone of yourself or your pals.
This app has some awesome tools such as the split-screen mode which ensures you have a detailed comparison of the two snaps. Also, the autostitcher ensures that any misalignment during the shots is fixed, giving you the best possible results.
The option to use the front cam and the self-timer makes it easier to take shots when you don't have anyone to assist you. The app is ideal for those who love taking selfies or want to make funny twin snaps. The only advice here is to try to place the subject in a scene with a detailed bg and not move the cam between the shots, for the best possible results.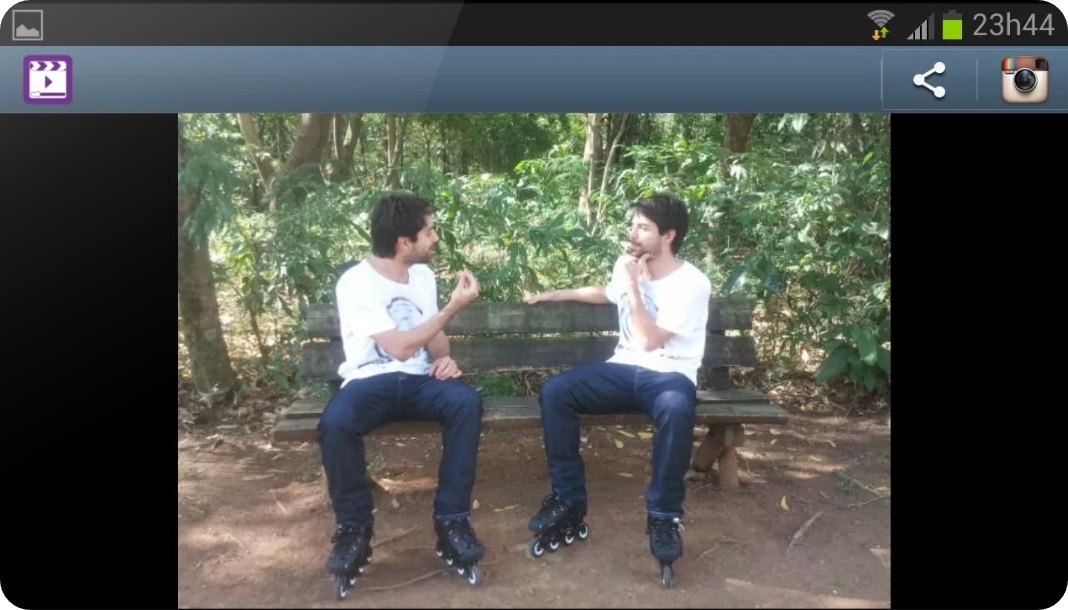 Downloads: 500K+
Customers rating:

(3.3 / 5)
Check also: 7 Android Deepfake Apps Using AI
Split Camera
Ready to have fun and explore your creative side? That's what this app is here for. With this one, not only can you clone yourself, but you can also do it with your pals and fam. The app is incredibly easy to use and just requires you to take two snaps which the app then combines flawlessly together.
The split and blending options give you the ideal amount of control to make your snaps look amazing. You can also switch between the front and back cam with ease, so no need to fumble around trying to find the right button. You can easily make a series of shots and make a full-on story.
Now, you don't have to worry about capturing the ideal shot every time, because the app automatically enhances them for you. It's like having a personal photographer on your phone!
Lastly, the ability to quickly share your snaps is a major plus. You can send them to anyone, anywhere, anytime. Plus, the app is entirely free! All you have to do is let your creativity loose.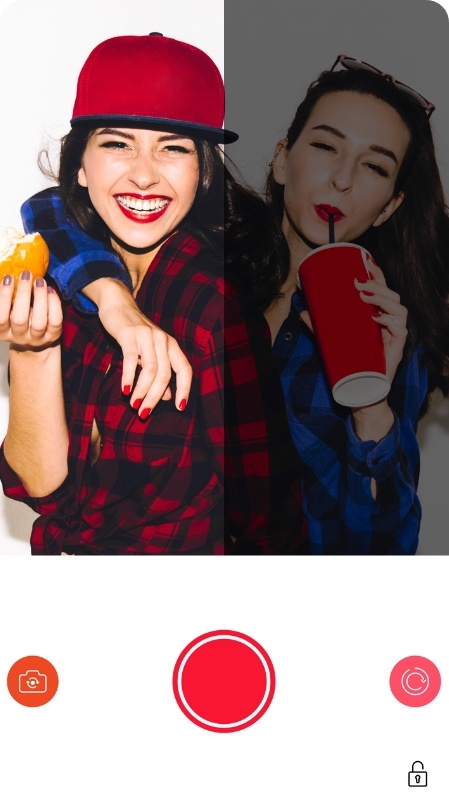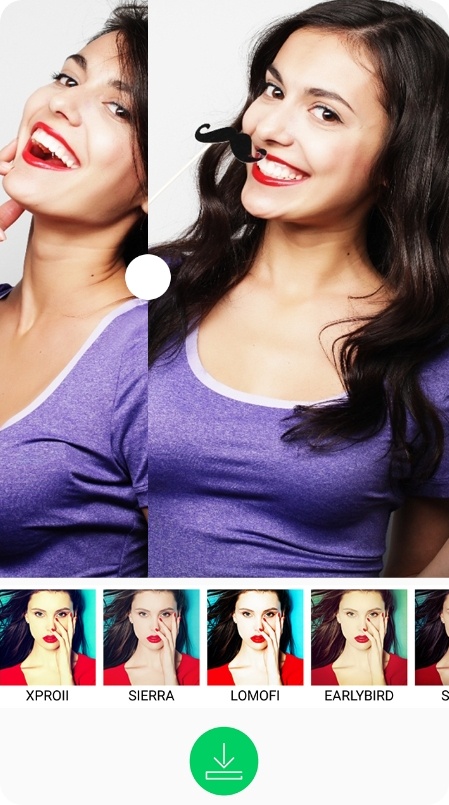 Downloads: 10K+
Clone Photo
If you would like to make a clone pic but consider it too complicated to do, this app is for you. It doesn't require any advanced editing skills or smth. There's no need to manually clone parts of the image, so the app makes cloning a breeze.
One of the standout aspects of this one is the ability to precisely contour the image you want to clone. No more clumsy attempts and smudgy results. You'll be able to get the ideal clone just the way you want it.
Plus, you get to control the brush thickness based on Zoom. This allows for more precise cloning and less room for error. Need to clone a small detail? Just zoom in and adjust the brush accordingly. Want to clone a larger area? Zoom out and increase the size. It's that simple!
But the real gem of this app is how user-friendly and fun it is to use. You'll feel like a pro editor in no time, all while having a blast. You can have fun experimenting with cloning options and make some truly unique snaps.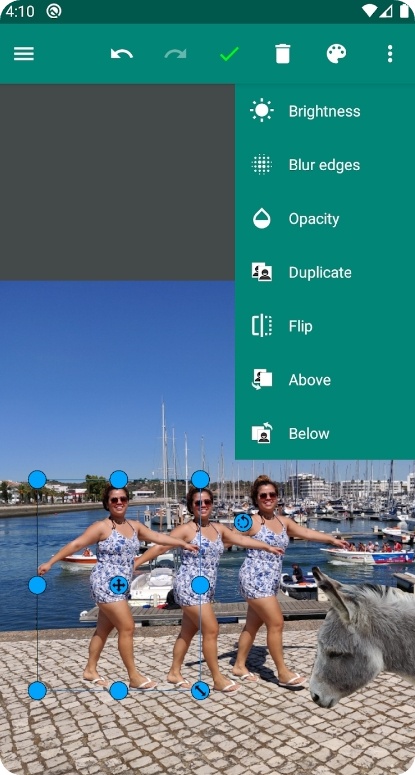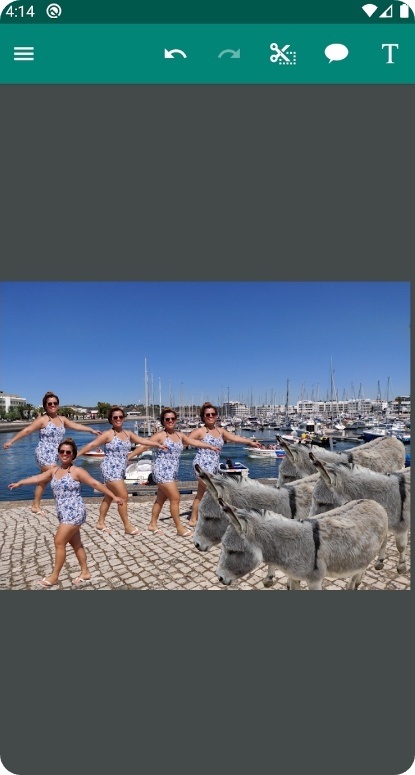 Downloads: 100K+
Customers rating:

(3.5 / 5)
Split Camera
This app offers an innovative way to capture your memories It takes the traditional cam features and turns them on its head, providing users with the ability to take two snaps at once!
This app basically lets you merge two snaps into one, either horizontally or vertically. Thus, you'll be getting a unique pic that will amaze your pals and fam. And if that's not enough, the app also covers a variety of cool filter effects to make your snaps even more dynamic.
But the fun doesn't stop there! This app covers a range of other tools, including one-tap sharing to socials. Plus, you get a full-view canvas for all the manipulated actions, which makes editing way easier. All the pics can be saved in HD, too, so no worries there.
The UI is simple and user-friendly, making it easy for anyone to navigate. And with no web connection needed, you can take the app with you wherever you go and never miss a moment. It's also completely free to download and use!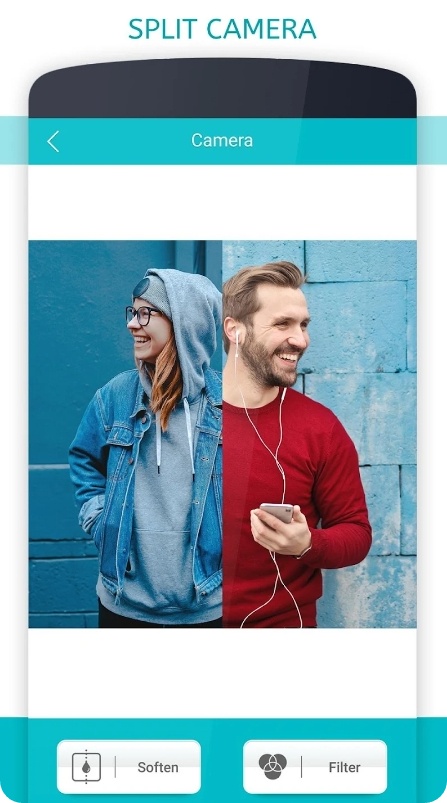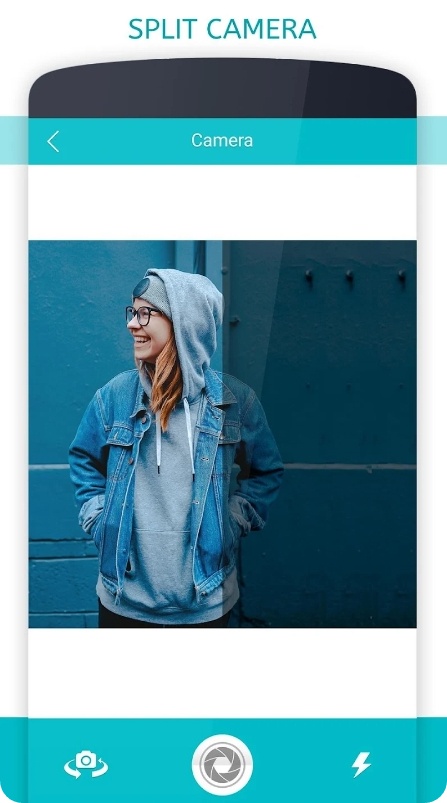 Downloads: 10K+
Pixelcut
Well, this app is not specifically made for clone pics, but you can surely use it as one. It may take a few more steps to get the right results, but you won't need any special skills to do so. It's so easy to use, and there are tons of AI-powered tools that don't require manual work at all.
One of the standout tools of this one is the bg remover. It lets you instantly erase the bg from any snap in your cam roll. Say goodbye to tedious editing sessions and hello to perfectly cut-out images. There's also a magic eraser to easily remove any unwanted objects.
You can use these two to cut out the clones and make sure your snaps look seamless every time. You'll be amazed at the before and after transformations of the pics.
The app also uses AI to generate any snaps on demand. It also works with text prompts, so you can generate anything that comes to mind. Of course, it wouldn't be complete without collage and background options. There are tons of layouts and backdrops to pick from.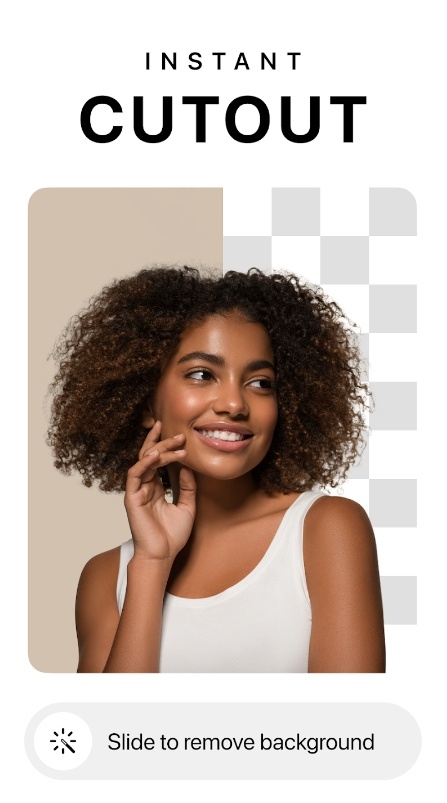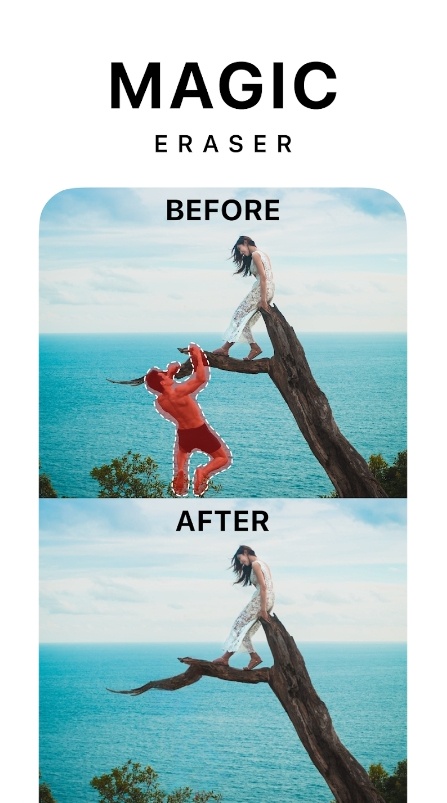 Downloads: 1M+
Customers rating:

(4.6 / 5)
You may also check: Top 10 Android Apps That Make Photos Talk
Clone Foto
Lastly, there's an app that lets you make awesome clone pics in no time. The app covers over 20 HD backgrounds to pick from, your creativity will know no bounds! You can select from the app's presets or can use your own one, there are no limits there.
The UI it is so user-friendly that even the least tech-savvy person would find it easy to navigate. You don't have to be a pro to enjoy this app at all. You can easily cutout and flip the objects into different positions to get the ideal look. And if you want to add more pics, simply click on the plus button to include them.
The app also has an eraser activity that can help you remove any unwanted portions from your snaps, so you could make a seamless clone. You can redo, undo, and zoom as needed to make sure everything looks great.
You can easily post your snaps and send them to anyone needed. No watermarks or additional costs here, everything is free.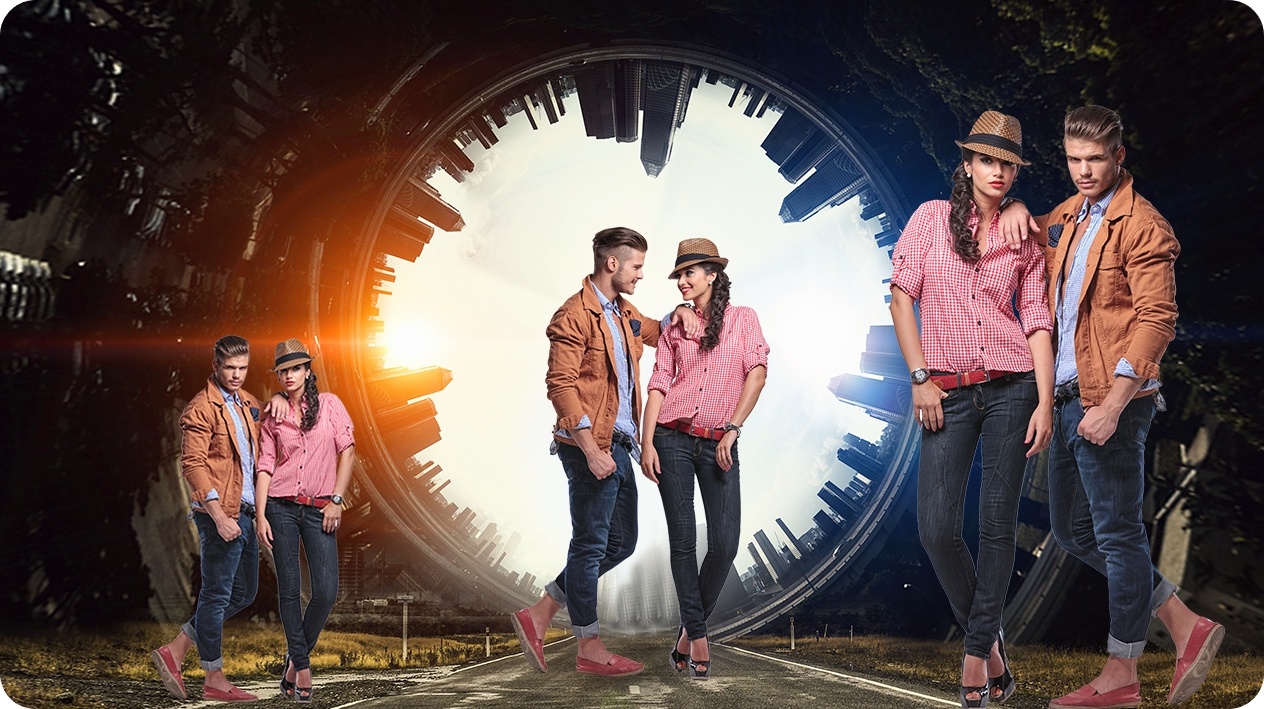 Downloads: 100K+
Customers rating:

(3.4 / 5)