When it comes to keeping abreast of the latest news, the Internet offers a lot of sources that enrich our knowledge of a topic.
The fact is that due to too much information, we can be easily deceived, as it becomes more difficult to distinguish between reliable and unreliable sources. So, you have a way out: use Drudge report app. We have collected the best ones in this post:
Drudge Report on Droid
Drudge on Droid is one of the easiest ways to use Drudge Reader on Google Play. All data will be adapted to your mobile device including articles, images, and videos. It is possible to share the hot news with others using social networks or by SMS. While sharing, you can write something from yourself at the end.
All in all, the app has a pleasant and clear interface and is easy to use.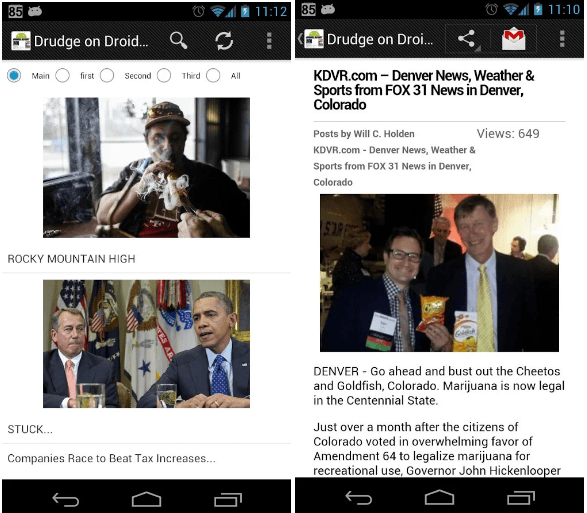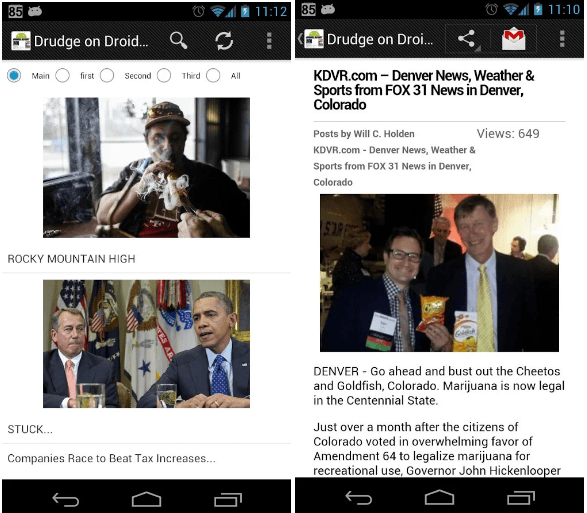 Downloads: 530 +
Customers rating: 
 (3.8 / 5)

SmartNews
SmartNews: Breaking News Headlines is a news application for those who want to keep abreast of the latest news in the world, but do not want to be deceived. The program collects news of all known periodic Internet resources, which supply only the most truthful information. All information is divided into categories, which greatly simplifies navigation. Thus, sports fans can learn the latest information from this area, and those interested in politics and economics quickly find out info about the latest news in this area of life.
The app has convenient settings – quick viewing of headlines, reading and viewing news offline, receiving notifications, searching in reliable sources. The application's algorithms automatically show the articles that need to be read. Be always up to date with world events – it's very simple and very fast!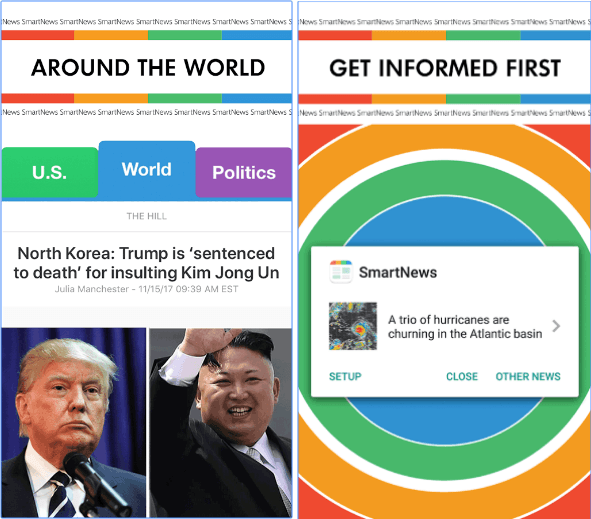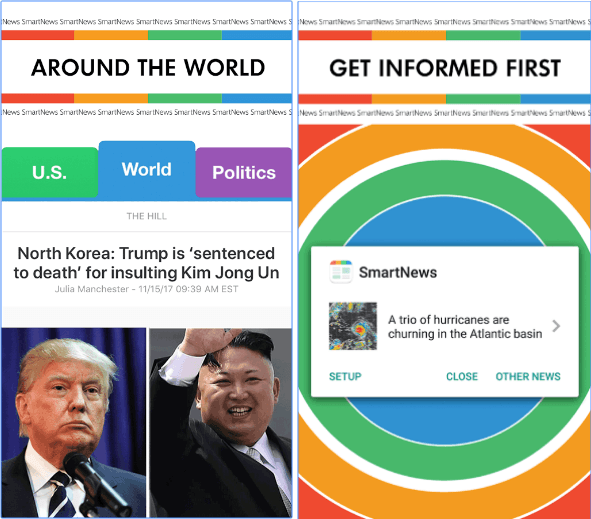 Downloads: 198 000 +
Customers rating: 
 (4.2 / 5)

Flipboard
Flipboard: News For Any Topic is a unique application that includes a maximum of useful information intended for reading news, discussions or reviews on popular topics.
The Flipboard program allows users to find all the information on any interest in one place. Due to the popularity and wide variety, you can find an inspiring article or a popular scientific topic. To get started, download the application to your smartphone and tick all topics that interest you. The application will automatically create a log, where interesting materials will be displayed.
Using the "Main for the day" tab, you will not miss any interesting news in the world. All recommended editions are selected by editors manually so that users receive only high-quality content.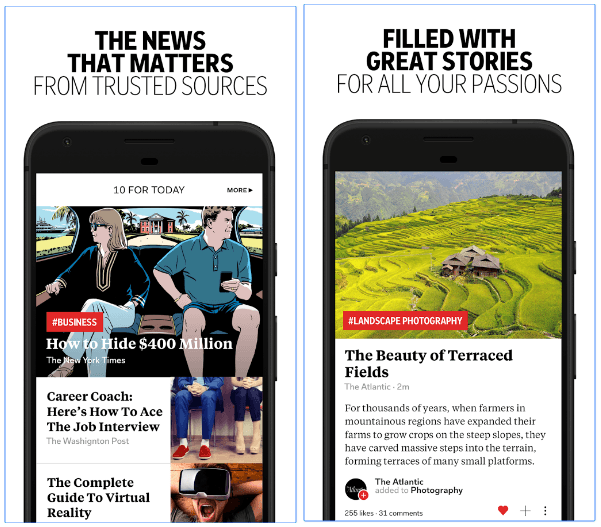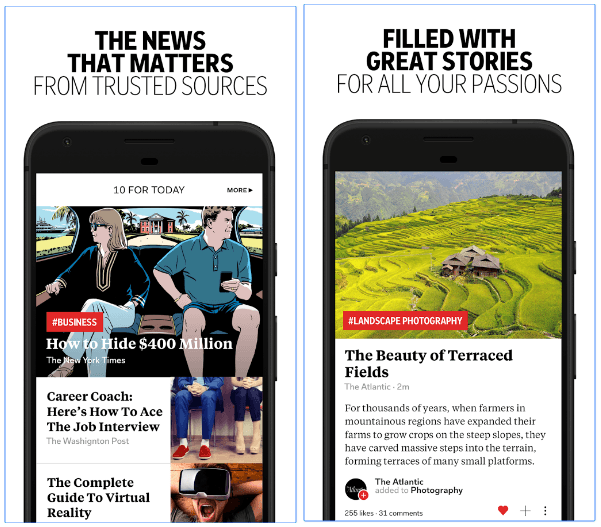 Downloads: 1 234 000 +
Customers rating: 
 (4.4 / 5)

Drudge Report (Drudge Today)
Drudge Report is a good service which presents all hot stories on your smartphone with ease. The app will please you with its perfect design and clear interface. If you would like to view the actual source page, just tap on the story's headline and that's all. The information will be loaded fast and what is more important – absolutely free.
The design of the app. Columns are separated into tabs and pages which are optimized for mobile screens. It is possible to use a night mode for more comfortable reading.
The main functions. You can set notifications and get alerts when the new HOT headline is posted. Also, you can use widgets to show hot headlines. You can even share news stories with your friends using Twitter, Facebook, Google +, Tumblr, e-mail and others social networks.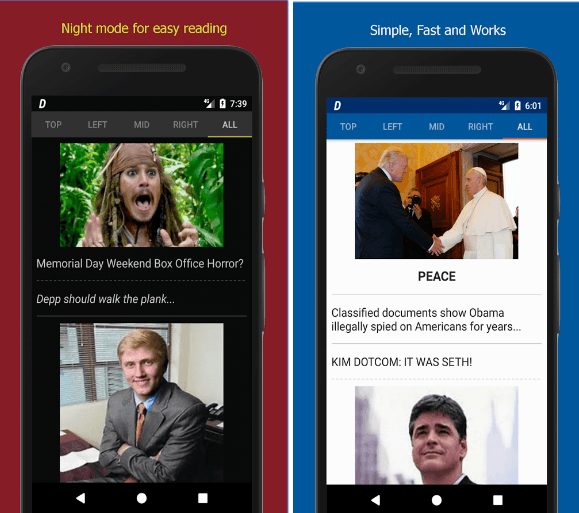 Downloads: 19 600 +
Customers rating: 
 (4.6 / 5)
Drudgely (SoLo Mob)
Drudgely is a simple but powerful service for Drudge Report that can be used on your Android phone or tablet. t has a lot of useful features: summarization, reader mode, text to speech, offline reading and translation.
Using Drugely, you will get an access to reading full articles beautifully organized for your phone. Moreover, each article has 100 words summary for faster consuming. Text to Speech function can be used when there is no possibility to read the news (for example, when you are on the road). Just shake the phone to pause/play Text to Speech.
There is a night mode and various color themes to choose from. To the easier access to the news, Drudgely offers to use widgets (home and lock screen). You can filter out the read articles in order to view only unread or you can mark liked articles. When there are new articles, you will be notified if desire.
You can share the most interesting posts with your friends and colleagues via Twitter, Facebook, Google +, Blogger, etc.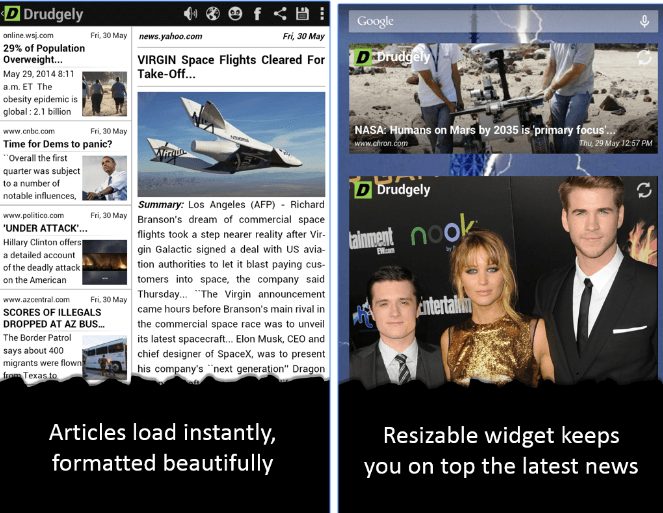 Downloads: 4 800 +
Customers rating: 
 (4.5 / 5)
You can also check: Best voice to text apps for Android
Drudge Report (Intermarkets)
Drudge Report is an official application of the DrudgeReport.com site which was designed to deliver the quality and timely headlines to your device. It is available for free downloading on Google Play market. The app is optimized for mobile screen view. It has already received a lot of positive reviews due to its fast navigation and easy to use interface. Try it too!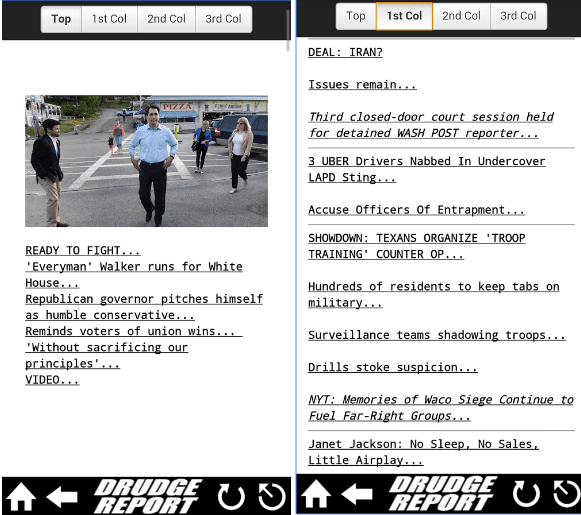 Downloads: 220 +
Customers rating: 
 (3.6 / 5)
The Drudge View
This app differs from the previous ones by the ability to comment on the news. The Drudge View is a simple, fast and light reader which shows you the newest headlines. Share your feelings about the news and see what others say in the Drudge comments section.
For the proper work, the app needs an Internet connection.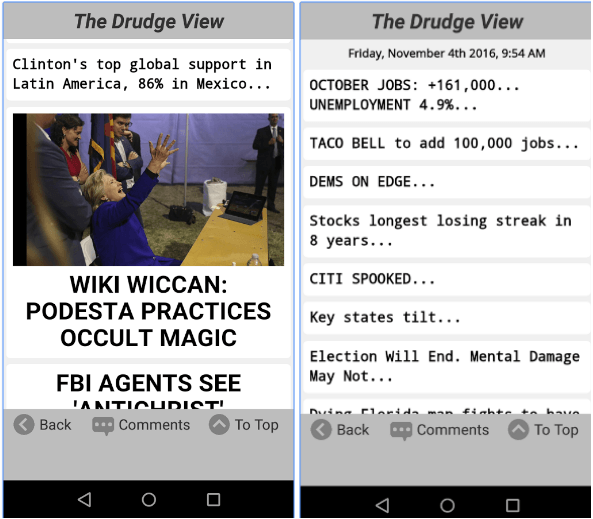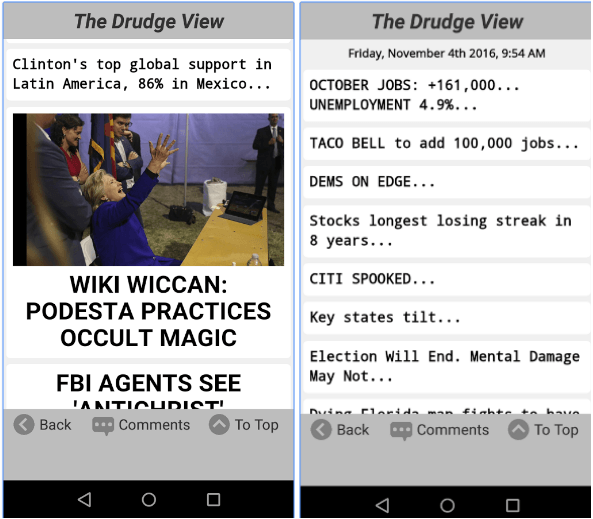 Downloads: 50 +
Customers rating: 
 (4.6 / 5)