Have you ever forgotten to pay for rent or parking? Now it will be impossible since you will always have a reminder that will notify you in time of the need to pay the bills! Have a look at the top list of bill reminders for Android.
You may also like: 21 Best reminder apps for android
Bills Reminder (Amazier)
Bills Reminder to Android is an application which task is to remind the user about the time of payment of bills. It will come in handy both to young people who have recently moved away from their parents and to all those who often forget about their bills and are often on the list of debtors of the bank or enterprises of housing and communal services.
Bills Reminder on Android provides the ability to configure settings such as the name of the payment, currency, amount and time of reminder. New bills are added by clicking on the "plus" icon and filling in all necessary information fields. By entering the necessary parameters, the user will receive a reminder every month that it is time to pay the certain bill.
Features of Bills Reminder on Android:
Availability of lists of paid and unpaid bills for each month.
Friendly interface and simple settings.
Ability to create a backup and restore data.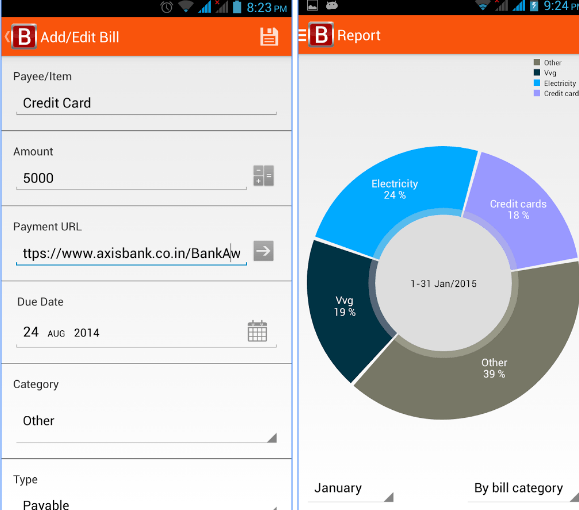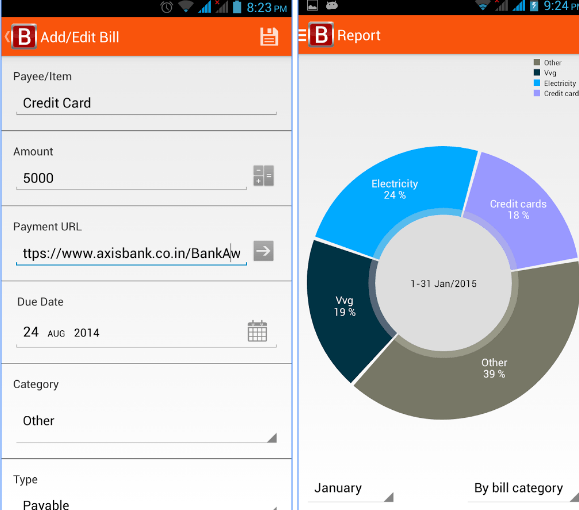 Downloads: 500 000 +
Customers rating:

(4.5 / 5)

You may also like: Best reminder apps for android
Easy Bills Reminder
Do always forget to pay bills? Easy Bills Reminder app will help you not only to control your finances but also to pay all bills on time. This is a kind of a calendar that reminds you of payments and has a lot of settings. Once you have accepted the payment notification, it automatically transfers the time to remind you in a month. It also has a lot of detailed settings, one of which is the date when bills come to you.
The interface of the app is clear and user-friendly. It is free but has some premium features which are paid.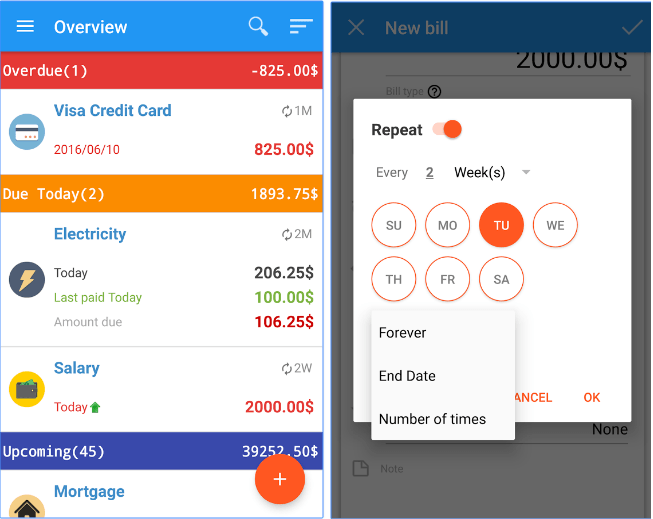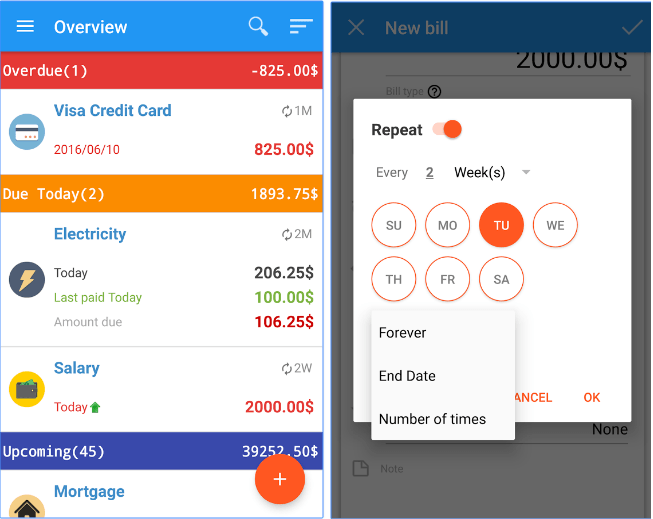 Downloads: 100 000 +
Customers rating:

(4.5 / 5)

Just Reminder
Just Reminder is a universal application for smartphones running the Android operating system. With its help, you will not forget anything. If you are absent-minded and not attentive, then it's enough to accustom yourself to making notes in the application and not forget the smartphone at home. These can be simple reminders or a call, a message, and so on.
The app has a lot of settings and useful features:
There is a function of Speech-to-Text which helps you to create reminders with your voice. You can set the repetition of notifications (every hour/day/month/year or any other convenient period). Also, you can set an image and soundtrack for each notification.
All in all, Just Reminder is a good service helping you not to forget about the bills as it will remind you about them till they were PAID.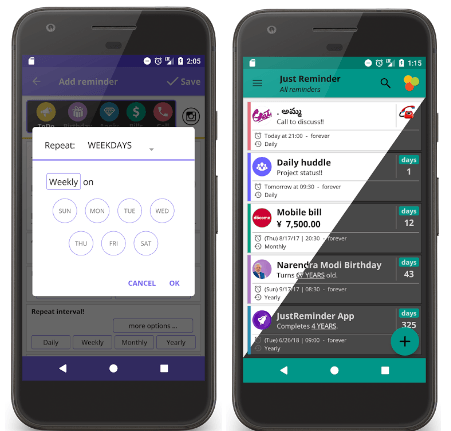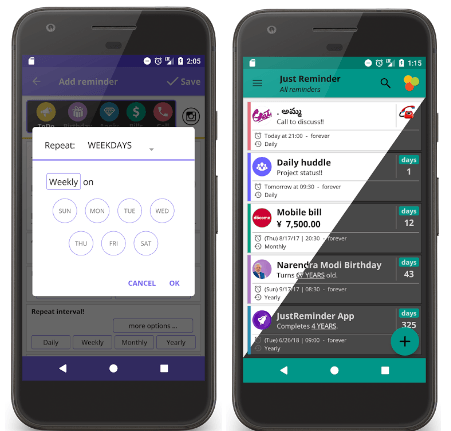 Downloads: 1 000 000 +
Customers rating:

(4.5 / 5)

To Do Reminder with Alarm
To Do Reminder with Alarm is the app that will make your life easier due to its helpful functionality. Now you have not to remember about all the payments that should be done time as To Do Reminder will notify you in time. You will quickly learn how to use it and will set reminders in just two seconds.
You can customize your reminders as you want: set repetition time, type of alerts, sounds and so on. It is also possible to view the most important notes on the screen of your device using app widget. Besides setting notifications about paying the bills there is a huge number of other options: daily tasks, reminders about important meetings, anniversaries and birthdays and so on.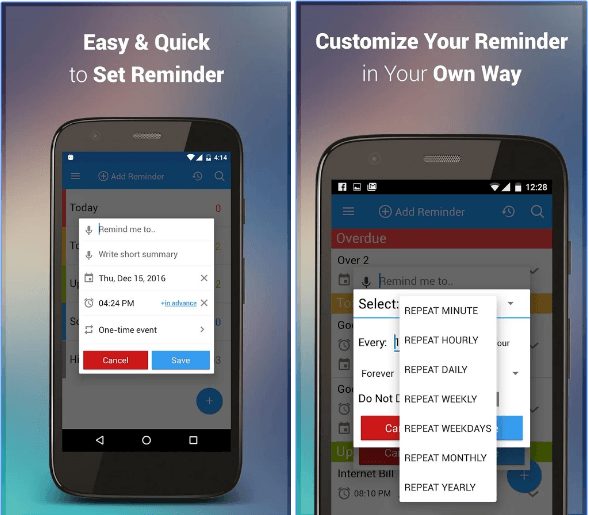 Downloads: 1 000 000 +
Customers rating:

(4.3 / 5)

Bills Reminder & Payments
This app works as many other similar bill reminders. So, install the app and it will notify you when it is time to pay this or that bill in order to avoid paying extra money for late payments. Bills Reminders & Payments has other useful features in its arsenal. For example, you can track your expenses and save money. Here, you can view detailed expanse reports, so you will be always aware of where is your money going. You can get such reports daily, monthly or yearly.
The app is completely free to use.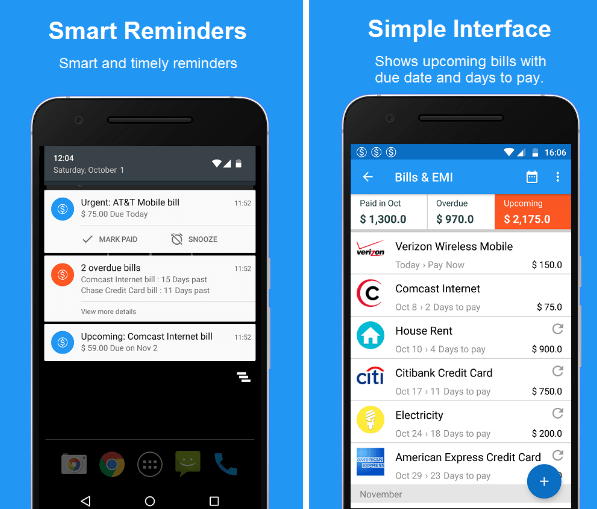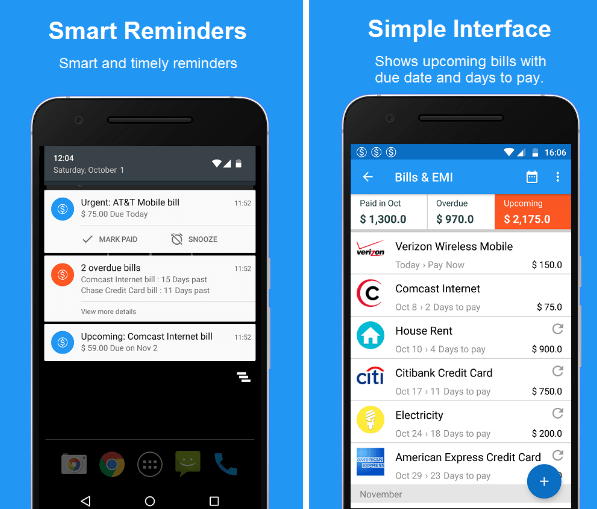 Downloads: 500 000 +
Customers rating:

(4.5 / 5)

Bills Organizer Free
If you constantly forget about paying the necessary bills, this app will help you! Using the organizer, you will have a calendar where you will see all your overdue and future bills and check what you have already paid and what is needed to be paid soon. When the bill is paid, it will be automatically marked.
Other features:
You can add as many bills as you have, edit them or delete.
There are Color Codes for payable and receivable.
You can view statistics: Pie Chat, Bar Chat.
There is a built-in calculator.
Using widgets.
You can divide bills into categories, amount, priority.
It is possible to share the certain bill.
You can choose the design of the calendar from the offered.
Multiple currency support.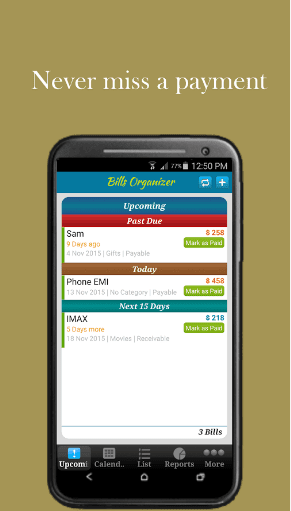 Downloads: 100 000 +
Customers rating:

(3.7 / 5)

Any.do
Any.DO is an online service that allows you to easily coordinate business, home and personal life from one interface. Among the key features, there are cloud synchronization, speech recognition, configurable time for tasks and setting reminders. Here, joint tasks, simple notes, gesture support and much more are realized.
Any.DO allows you to transfer objects for scheduling tasks for the day, remove the task with swipes and shake the phone to destroy unnecessary tasks that you have already done. The service also has good widgets for the main screen. Other useful features:
Synchronization with all devices, import from Google Task.
The microphone icon will help start the recording, the application automatically converts words to text.
Clean design keeps you focused on goals all day.
Collaborate with colleagues to achieve specific goals.
Set repetition of tasks.
All in all, this task manager is not complicated in settings and has a pleasant interface with many useful functions.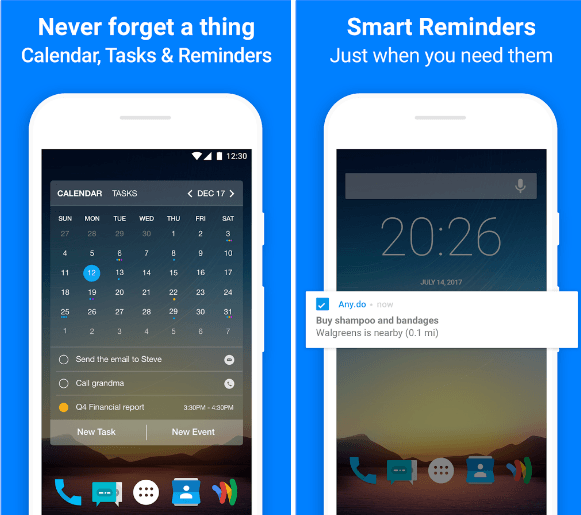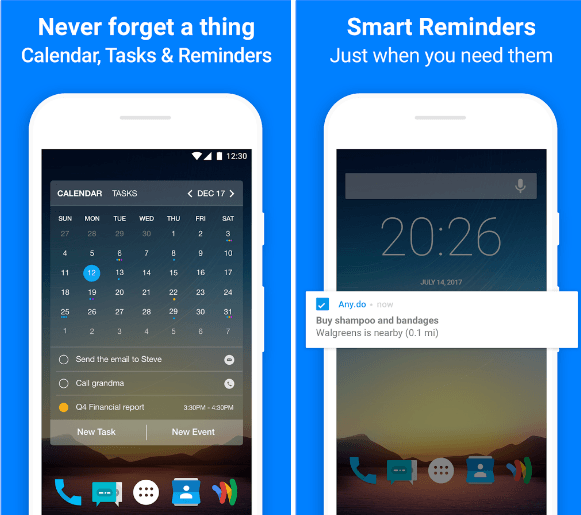 Downloads: 10 000 000 +
Customers rating:

(4.5 / 5)

Smart Bills Reminder
Smart Bill Reminder is a good service that can help you to pay multiple bills on time. This app also includes the features of Receivable Reminder. Using the app, you can set bills widgets for your home screen, pay the bill partially or fully, adjust repeatability of reminders (daily, weekly, monthly, yearly). You can also choose a sound for every notification. It is possible to view all your bills on the calendar. Moreover, each bill will have its own color.
The app is free but offers in-app purchases.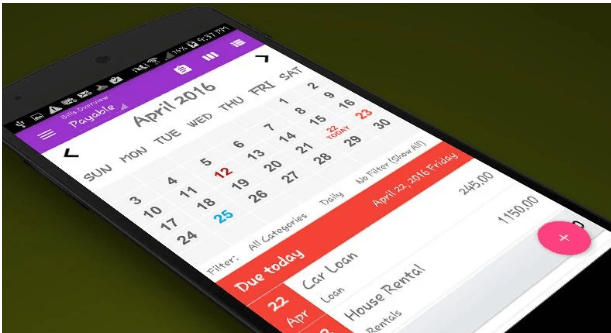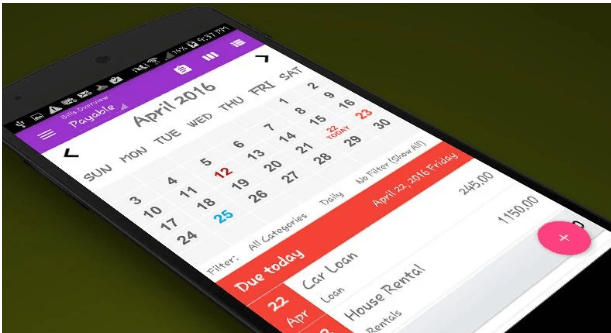 Downloads: 10 000 +
Customers rating:

(4.2 / 5)

Wallet
It is not very difficult to organize a family budget now since you have not just a notebook and pen at your disposal, but a smartphone that you can install, for example, the Wallet – Budget Tracker application. It will help to organize, record and report on what costs were for today. Moreover, the application supports cloud synchronization, what means that you can easily store all your reports without fear that they will suddenly disappear or the device will break down.
To use the service, you need either a Facebook account or a new account. On the main screen, there is a special tab "My Accounts", where there are so-called widgets that display, for example, the current balance or the last entry in the database. When adding a record, there is already a built-in calculator, and making a gesture to the left you can specify as much information as possible.
A huge number of sections are hidden on the sidebar, including synchronization, shopping lists are still many, many things. You will find bills reminder among them which is so vital.
Wallet – Budget Tracker is one of the most powerful applications of this category, which covers all possible needs of the user in organizing the budget or making a list of expenses and income.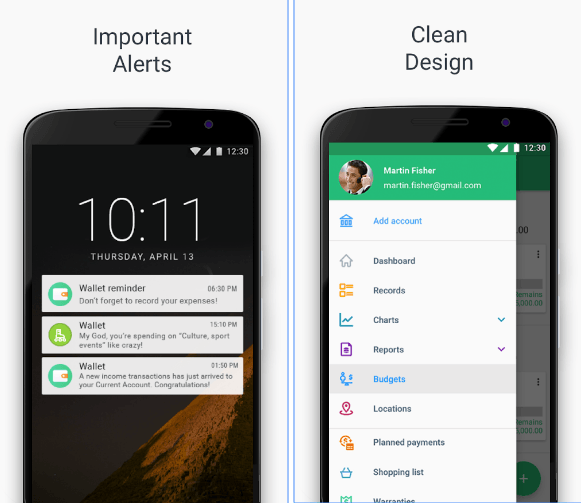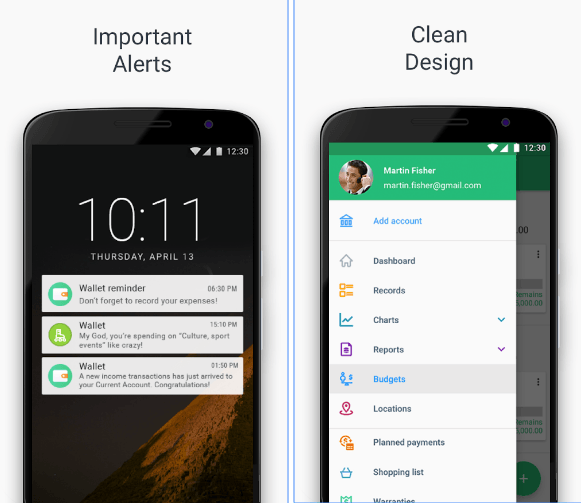 Downloads: 1 000 000 +
Customers rating:

(4.5 / 5)

Money Lover
Money Lover will keep track of all your money. There is a lot of options in the application, but it will be quite easy to work with it if you take the time to initial setup. Each time you open a section for the first time, you will receive a description and a brief instruction. Every day you will need to enter each transaction in expenses and incomes.
If you have debts, you can also write them into the application, like deferred mandatory payments, and bills. Knowing about your debts and bills, the application will help you not to spend more than you should. It also will notify you of payments (it can be done monthly, weekly, yearly). So, you will always get informed before due.
Of course, after you customize the application for yourself and properly enter all financial transactions, you will be able to get reports and statistics, which will be different for everyone and will allow you to understand where to reduce your expenses. The application is very flexible, and because of the huge number of features and functions, it may seem confusing. However, thanks to this it is able to give you accurate data because it is able to take into account absolutely everything.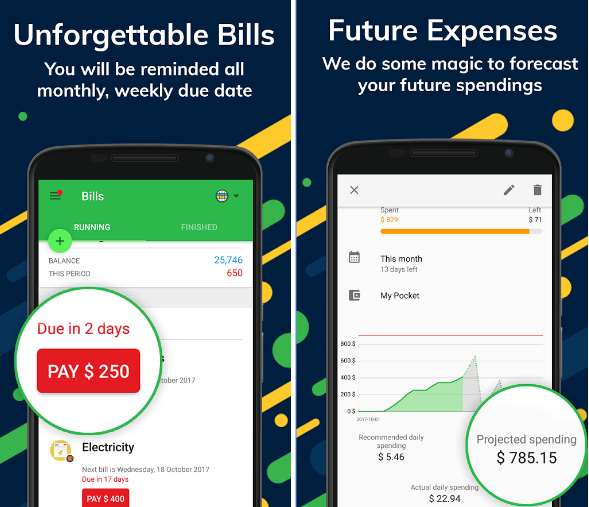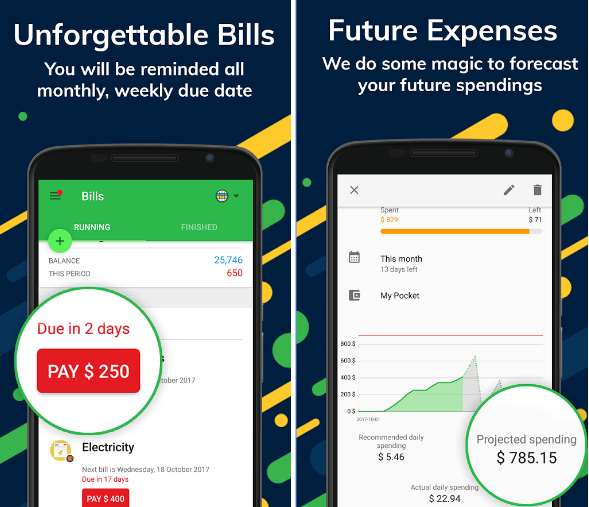 Downloads: 5 000 000 +
Customers rating:

(4.4 / 5)

Evernote
Evernote is a program in which you can create a workspace for notes, tasks or just for brilliant ideas. Downloading the app from Google Play, you can leave notes in a different way, wherever you are.
The Evernote application allows you to create notes from short to large lists of business and tasks, you will have access to them at any level, thanks to an online account. Here, you can organize all your bills as well and get notifications when it is time to pay.
This service allows you to always keep ideas and tasks "with you", not forgetting them, what gives you the opportunity to become more productive in your affairs and plans. Evernote is available for free download.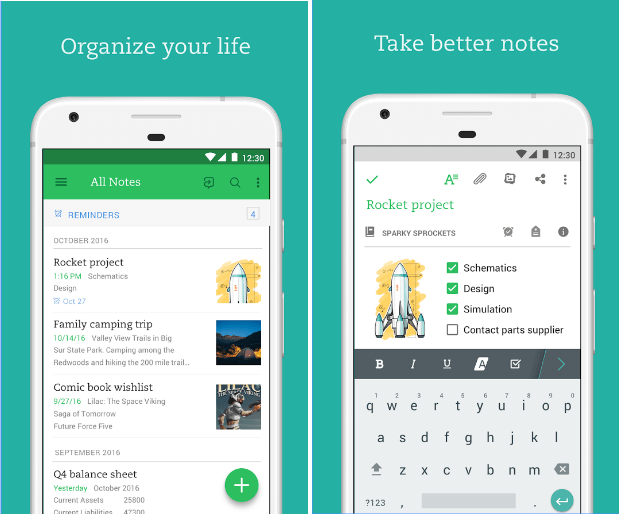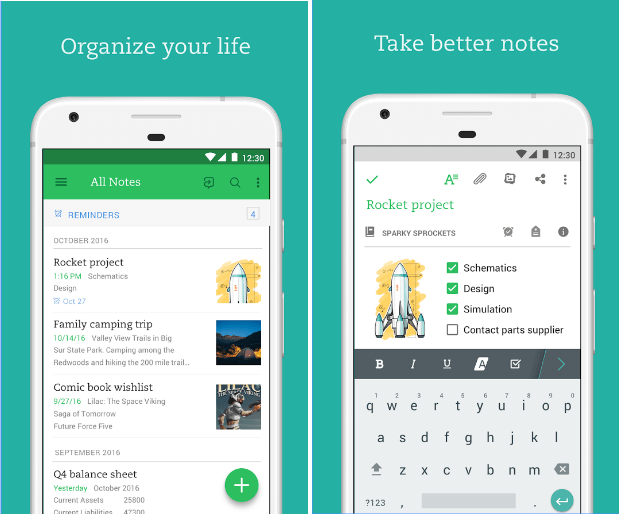 Downloads: 100 000 000 +
Customers rating:

(4.6 / 5)

Pocket Expense with Sync
Pocket Expense is the service that will help you to control your budget in the whole. It will gather all your financial accounts in one place, give the opportunity to track all your bills and help to save money. It is so convenient to have your budget controller in your pocket!
Now, it will be impossible to miss the payment as you will get alerts when it is time to pay the bill. The app supports working with various bills. You can set the time period for which of them. You can also view the full information on the built-in calendar.
The interface of the app is user-friendly and attractive. The information contained in the app is protected by a password.
Downloads: 50 000 +
Customers rating:

(4.5 / 5)

Prism Bills & Personal Finance
Prism Bills & Personal Finance is an easy-to-use manager which helps you to track the bills. So, you can pay the bill and forget about it until the next time. Don't worry, you will be notified on time.
How it works. The settings here are simple. You just need to add all your bills (it supports more than 1000 billers). Then it is needed to add your bank account. And the last step is to choose the payday for every bill. That's all! Now, you will see all your bills in one place, beautifully organized specially for you!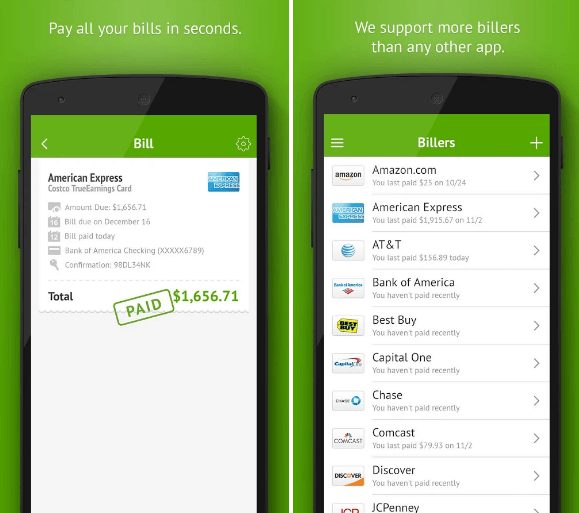 Downloads: 1 000 000 +
Customers rating:

(4.6 / 5)

Bills Monitor Free
Don't want to pay extra money for the forgotten bills? Install this app on your smartphone and such situation will never occur again. Using Bills Monitor, you will always get notifications about the need to pay on time. Also, a special calendar will be available in the app. It helps you to keep track of bills on it and view the statistics.
Other helpful features of the app:
Recurrent Bills can be edited or deleted;
There is built-in calculator;
Setting reminders about bills;
It shows general statistics;
There is a Pie Chat where you can get all the details about your bills.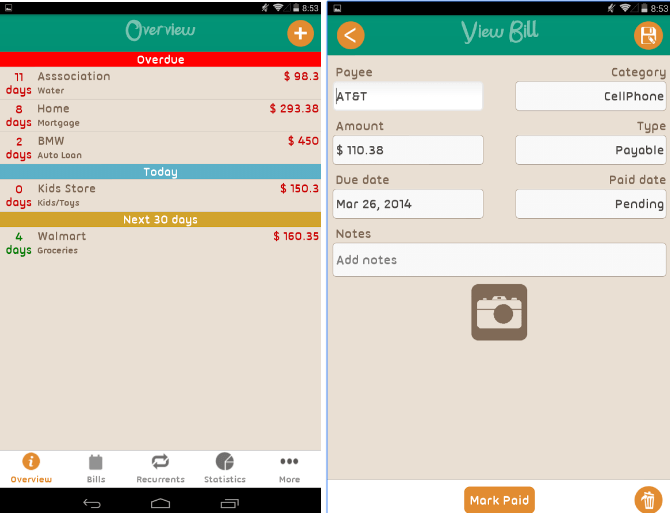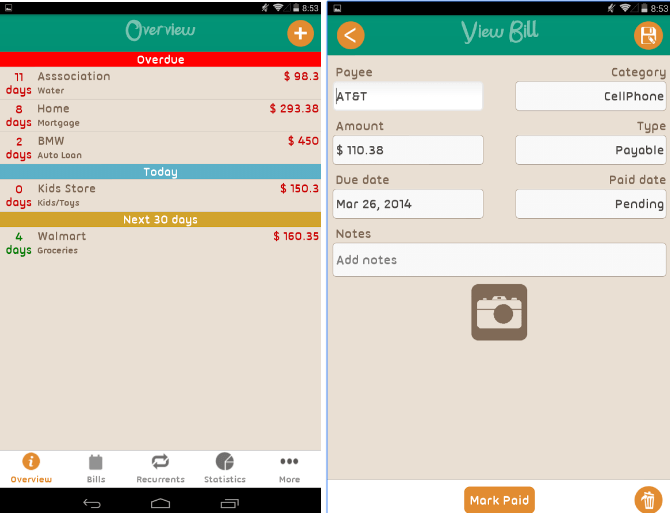 Downloads: 50 000 +
Customers rating:

(4.4 / 5)

MoBill Budget and Reminder
MoBill Budget and Reminder will become your personal assistant in terms of paying the bills, tracking your income and spendings. The app is multifunctional although it has a clear and simple interface. To work with the app you even don't need an Internet connection.
The main benefits of the MoBill Budget and Reminder app: setting reminders, multiple currency support, calendar view, built-in calculator, password security and many others. The app has different categories to choose from. But it is also possible to add your own ones. For more features, you can purchase a paid version of the app which is also ads-free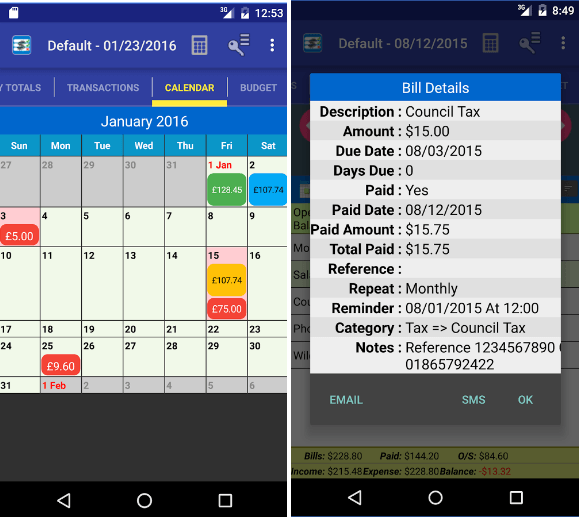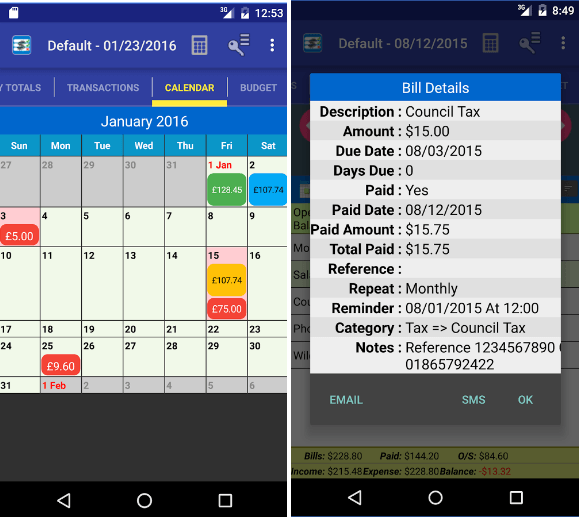 Downloads: 500 000 +
Customers rating:

(4.2 / 5)

Mint: Budget, Bills, Finance
Mint is a simple tool that helps you track your earnings and expenses. In addition to simplicity, Mint has a very nice design – this application really wants to use. It allows you to track transactions on the card and bank accounts, plan your budget – in general, it saves you from routine work.
In addition to all the useful features, you can use it as a bill reminder. You can set notifications to pay the bill on time in just a few clicks.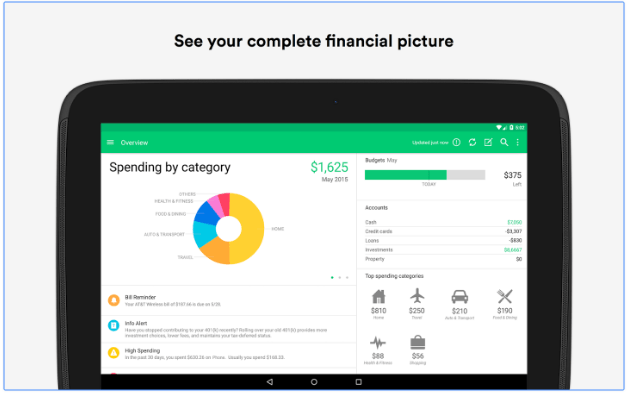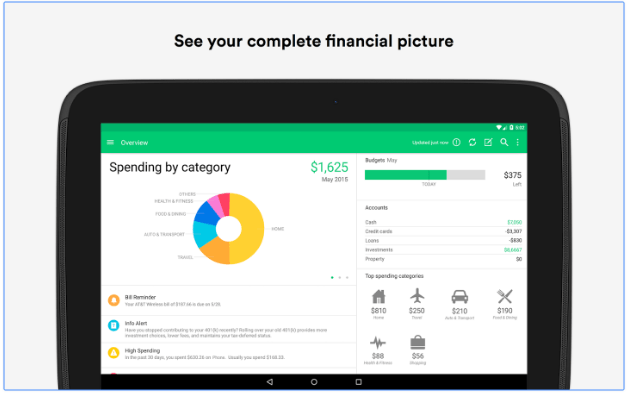 Downloads: 10 000 000 +
Customers rating:

(4.3 / 5)

You may also like: 13 Best apps that work with S Pen on Galaxy Note smartphones
Bills Reminder (Handy Apps)
This is an incredibly useful thing for a forgetful or just a very busy person. The Bills Reminder application will remind you of all bills and financial transactions. It differs from simple schedulers in its characteristics. This is most likely a kind of reminder for absent-minded users. A certain date has come – and your phone sounds an audible signal that it's time to pay for the Internet, phone, study, etc.
The principle of operation is painfully simple. To create a new bill, go to the program, give the name to the bill (for example, "credit in the bank"), add a description and the planned date. One thing – watch out if the application is working, otherwise the system will not notify you until you start the program.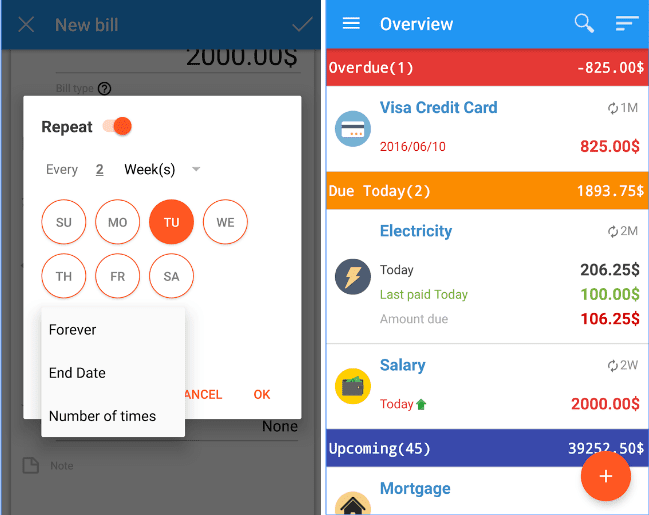 Downloads: 500 000 +
Customers rating:

(4.2 / 5)