Dog owners are a separate community of people who are likely to use special applications about dogs. Not only do they love their pets and satisfy their daily needs, but they also go deeper into training, nutrition, and treatment. For new owners and professionals who take the training seriously, there are apps like the dog whistle that we'll tell you about below:
Dogo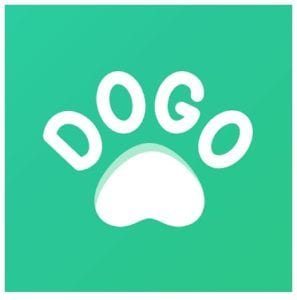 An easy way to teach your pet commands using signals.
The main feature of the Dogo application is the clicker. It's a simple button which you should click. It marks the correct actions of the dog, for which it is rewarded.
It's assumed that if the dog hears this click within 0.8 seconds after the command is executed, all his attention will be focused on the action performed. In other words, it will be easier for the pet to understand that he did exactly what was expected of him. After clicking, the dog should be rewarded with a treat so that he has an associative connection between the specific sound and the reward.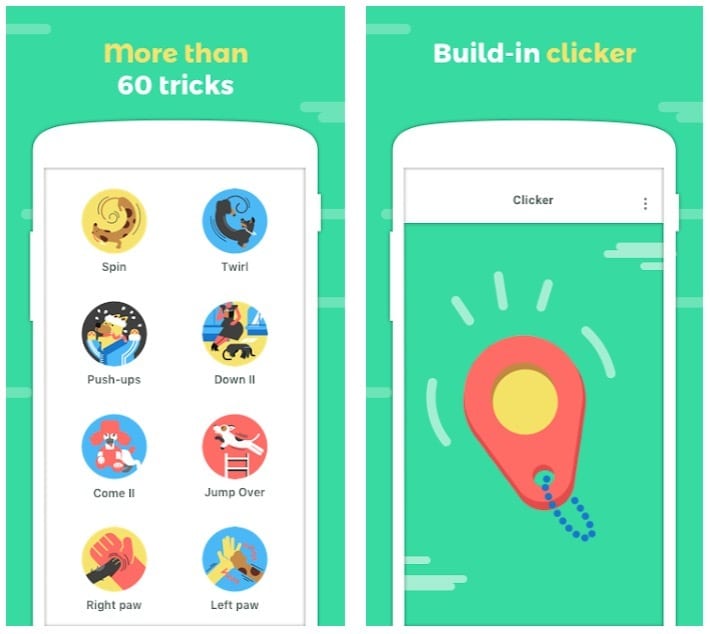 The advantage of the clicker is that the click sound will only be heard by the dog during training, while "good" you say every day and without commands. According to the developers of the application, with a clicker, the training time of a pet is reduced by about 40%.
Even if you don't believe in clicking, Dogo should be set up at least because of the right advice to help you teach the pet various commands. There are several dozen of professional tips. All of them are described in steps and contain funny illustrations.
The commands are divided into levels of difficulty: from simple sitting down to rather difficult for many dogs to wait or give.
In the Dogo application, you can create profiles for each of your pets by selecting a breed and adding a photo to it. There's also a reminder system that won't let you miss another training session. The sound of the clicker itself, by the way, is also customizable. There are five options to choose from.
Features:
More than fifty commands;
Thanks to detailed step-by-step instructions, even a non-professional dog handler will be able to train his dog;
Built-in clicker;
Weekly photo contests for application users.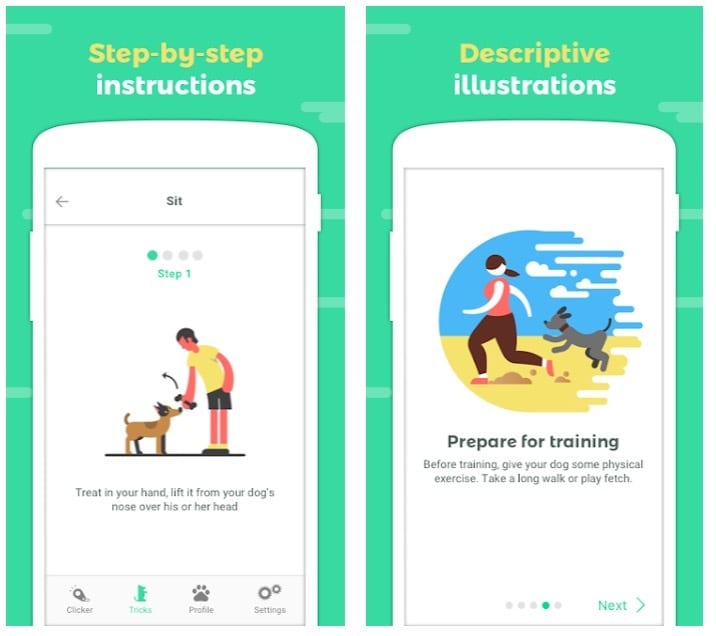 Downloads: 1 000 000 +
Customers rating: 

(4.8 / 5)

You may also like: 7 Best TV guide apps for Android
Dog Whistle – High-Frequency Generator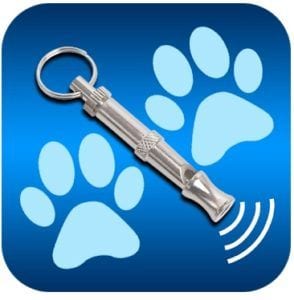 Dog Whistle – High-Frequency Generator – an indispensable software for your gadget, which will be a useful instrument for training dogs.
To use the available functions of this Android program just set the desired frequency and volume, and press the play button at the bottom of the screen. If there is no effect, try changing the signal strength. All the controls are in one place so that the user doesn't have to go to the secondary menu to find the desired functionality.
Dog Whistle – High-Frequency Generator is a useful utility for people who want to teach their pets a variety of commands.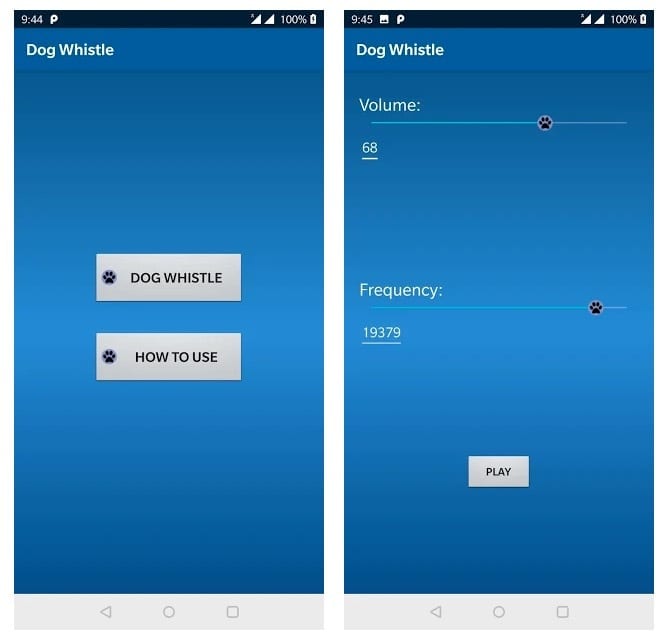 Downloads: 1 000 000 +
Customers rating: 

(4.0 / 5)

Dog Whistle with Training Lessons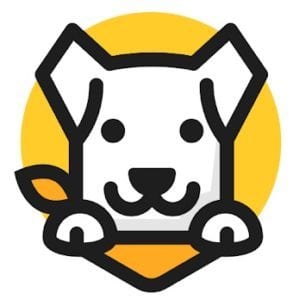 Dog Whistle with Training Lessons is an unusual, but useful application for Android devices. If you have a cute, funny puppy, be sure to think about downloading this project, which is absolutely free. Often pets insistently don't want to train, don't remember any commands.
Don't be in a hurry to get upset if you're in a similar situation. In this case, the presented project, which has a user-friendly interface will help. This is an ultrasonic whistle that helps to teach dogs many new commands and even interesting tricks.
The application allows users to whistle at certain sound frequencies. Thanks to this, the animal will develop the necessary skills. How does it work? If your dog doesn't behave properly, barking for no reason whatsoever, use sound to stop it. This way, your dog will start to develop the associations you're interested in.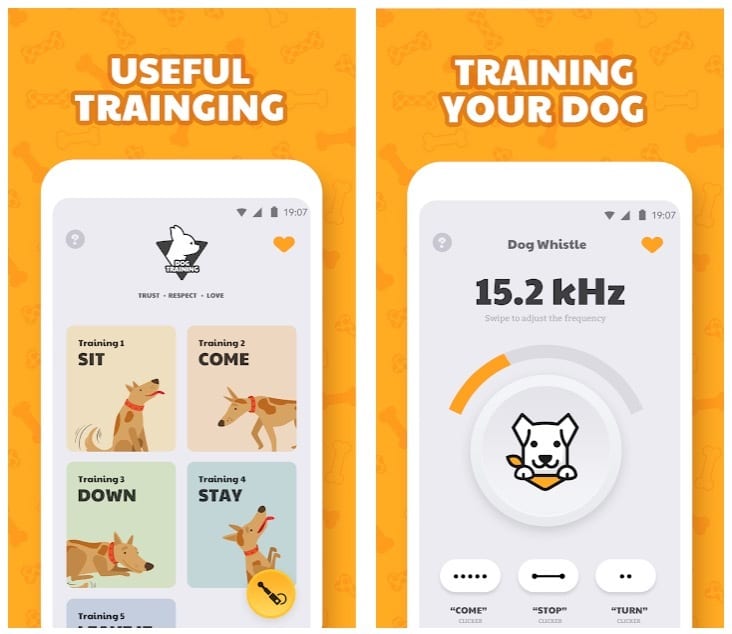 Downloads: 5 000 +
Customers rating: 

(4.1 / 5)

Anti-Dog Whistle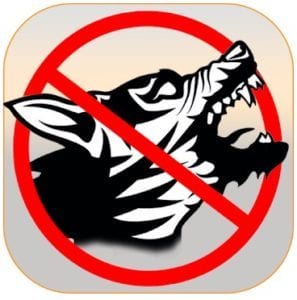 Anti-Dog Whistle – dog-whistle for Android-smartphones. It generates high-frequency sound from 12000 Hz to 44000 Hz. Sounds of this frequency are often not heard by people, but very well heard by dogs. The frequency of the whistle sound is selected.
The application has a simple interface, minimal design and several controls. All this is located on the main screen, so it is quickly available at any time. The sound produced by the speakers depends directly on their quality and power.
The main features of the application:
Easy operation;
Pleasant design;
A few additional features.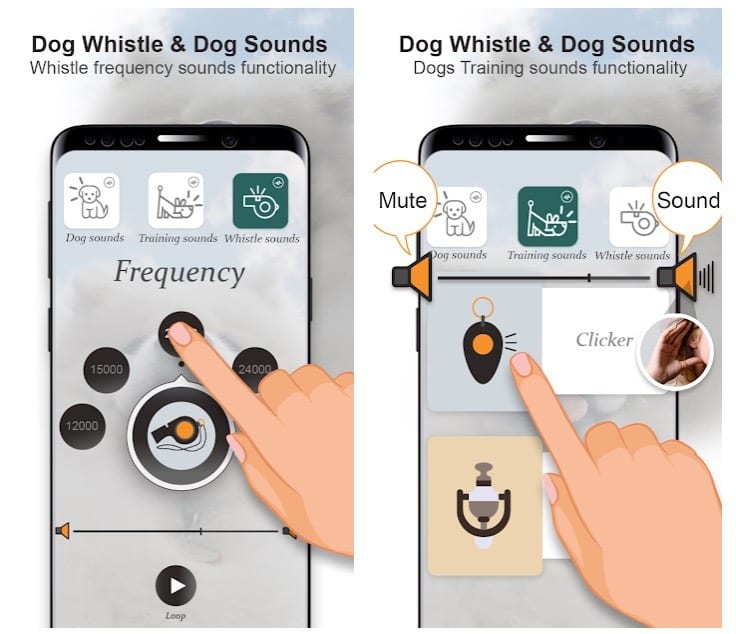 Downloads: 100 000 +
Customers rating: 

(4.2 / 5)

Dog Whistle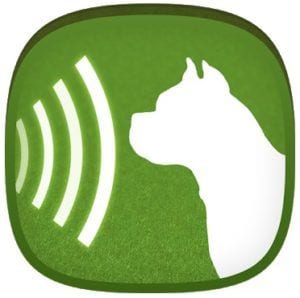 Do you have an obedient dog? Forget about expensive training classes for dogs. Here's the best of them: the free Dog Whistle application on your Android, which will definitely help you.
Whistle has a great advantage in training dogs in contrast to the human voice and is a piece of useful equipment for training. The human voice can vary depending on his emotions, and the dog's whistle is always the same.
There are several modes available:
Manual: Tap the screen to play the sound and swipe the screen to stop it;
Continuous: Tap the screen to play a sound, tap again to stop it;
Timer: Switch to this mode to start sound playback at a certain moment;
Widget: Turn on the sound by pressing the button on the main screen.
Download the free Dog Whistle application for a great time with your dog!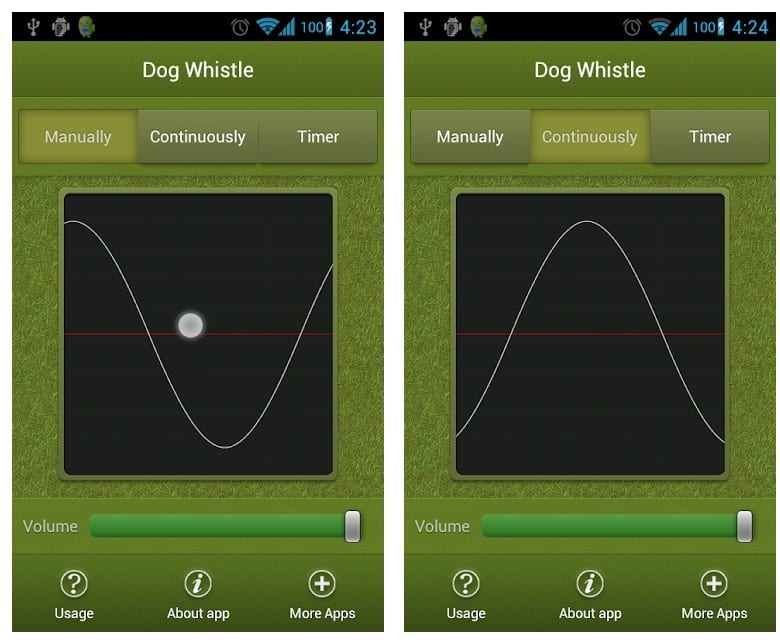 Downloads: 1 000 000 +
Customers rating: 

(3.9 / 5)

Dog Training, Whistle, Clicker, and Sounds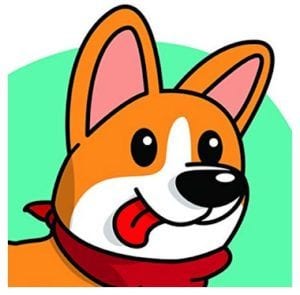 This is a new dog trainer available for all Android users. It includes everything you need for training:
step-by-step instructions,
a built-in multifunctional clicker.
The app will be useful for new and experienced dog owners.
There are 3 clicker types and a squeaky toy. So, you can train your pet on the go. It also contains over 12 detailed lessons taught by Phil Carton (a professional dog trainer).
If you read the reviews, you'll see how many of them are positive. People are very happy that they downloaded this project because it is effective.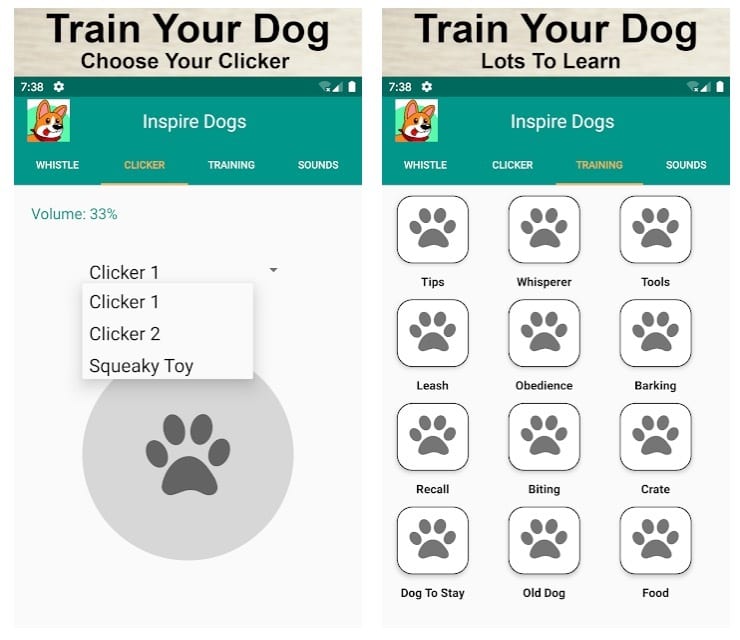 Downloads: 10 000 +
Customers rating: 

(4.2 / 5)

Dog Whistle – High-Frequency Tone Dog Trainer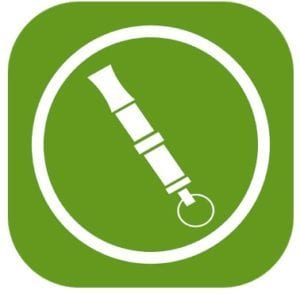 Dog Whistle is an indispensable program for people who are engaged in training pets. This free program can also be used as a security tool.
Choose the right frequency and your pet will experience fear, humility and other feelings. The program has several built-in features that make it easy and comfortable to use. The application doesn't take up much space and can also be installed on a removable SD card.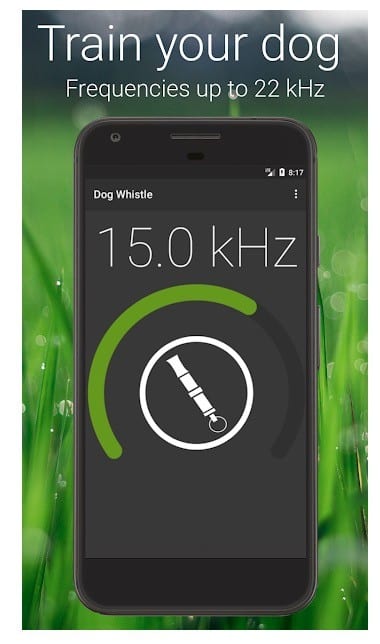 Downloads: 1 000 000 +
Customers rating: 

(4.6 / 5)

Dog Whistle – train dog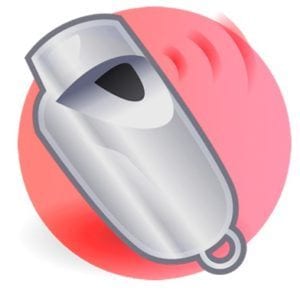 The presented product is a tool for teaching dogs new skills with the help of different ultrasound frequencies.
Dog Whistle is rather simple in its structure and consists of only four main tabs. On the first one, you will find a clicker, on the second one you will find a lot of commands for training, for example, to sit, lie down, come, etc. When you open the command, read the instructions on how to get it from the dog, and press the clicker button on the first tab. The third page contains four types of ultrasound signals with different frequencies: 7, 10, 15 and 19 kHz. And on the last page, there is a soundboard with sounds of cats and dogs.
Fourteen recorded animal soundtracks with growling, barking, meowing, hissing and so on. Download this program and start training your pet right now.
The application has a simple intuitive interface, convenient design, and navigation. The disadvantages include the presence of advertising content.
The final verdict: we have a convenient tool that will be useful for a dog handler or just an interested user.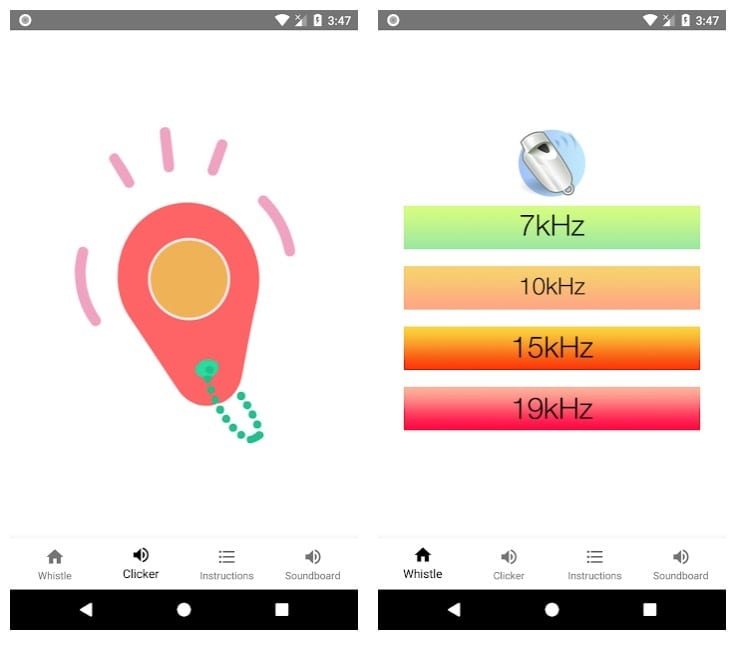 Downloads: 100 000 +
Customers rating: 

(3.5 / 5)

Dog Whistle. Train your dog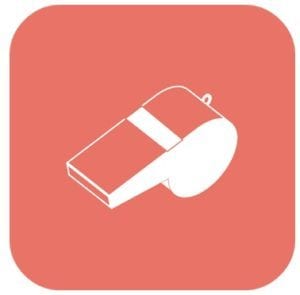 Want to train your dog? Do you want your dog to stop barking? Then the Dog Whistle app is just for you.
In this Android application, functions such as a timer have been added to start the required signal after a certain time. The quality of the sound has been improved to increase efficiency. For dog breeders, a special section has been added with tips on how to train pets using the program provided.
Unfortunately, not all gadgets have good speakers, which is why some of them may not be able to reproduce some of the frequencies. Installation on a flash drive as a nice bonus to save space on the device.
Features of the application:
Timer for automatic shutdown;
Starts in the background;
Different sonic sounds of high frequency (10 kHz – 20 kHz)
It is installed on the SD-card;
Provides tips on how to train dogs;
It contains dog games.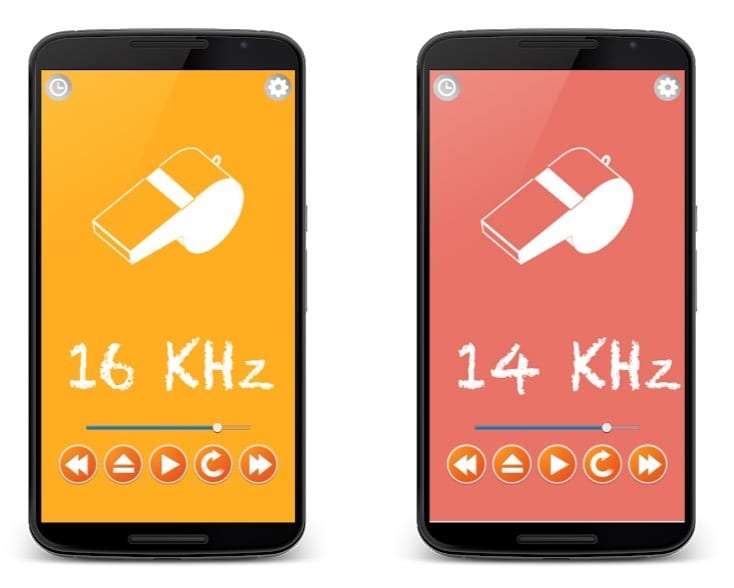 Downloads: 1 000 000 +
Customers rating: 

(3.6 / 5)

You may also like: 10 Best blue light filter apps for Android
Anti Dog Whistle Sound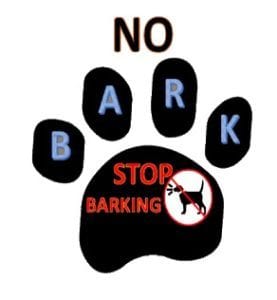 Anti Dog Whistle Sound – this simple application allows you to make penetrating sounds using your Android-smartphone. This helps not to let any aggressive dog bark on you in the immediate vicinity.
Using Anti Dog Whistle Sound is quite easy because you only need to choose the frequency. Depending on the size and breed of dog you want to scare, you can choose to make the sound shorter or longer.
Anti Dog Whistle Sound helps to scare any dog by simply using your Android speakers. You don't even have to resort to any violent methods, which can make your dog even angrier.
Downloads: 100 000 +
Customers rating: 

(3.7 / 5)