We all love our television shows, don't we? And let's face it, we all want to watch them whenever and wherever we want. Thankfully, you can easily do that now.
That's why we've rounded up the best cable TV apps for Android you could try. These apps are here to make your binge-watching sessions even more enjoyable and if you'll ever want to enjoy them on the big screen, you can always connect the app to your TV.
Whether you want to watch the latest sitcom or an old classic, you can do it all right on your phone. These apps will keep all the entertainment options in the palm of your hand. Let's get into it!
Pluto TV
Tired of endlessly fishing for smth good to watch? No more swimming in the sea of mediocrity! Dive into the treasure trove of this app! This gem will satisfy your entertainment cravings like no other.
Let's sail through their 27 exclusive channels, where you can feast on jaw-dropping action or laugh your fins off with their comedy classics. Attention, true-crime addicts! Their crime dramas are so realistic, that you'll be peeking behind your couch for days.
But there's more booty to plunder! With over 1K on-demand movies and shows, you'll never walk the plank of boredom again. Settle in with old faves or embark on thrilling adventures with the latest releases. They even have Spanish-language content and anime voyages.
Now, raise the anchor for the live TV options! From breaking news to legendary sports moments and addictive reality shows, the app has you covered. Their ever-growing lib keeps you hooked with new additions.
What's more, it is as user-friendly as it can be. With its sleek UI, finding your next treasure is a breeze. And brace yourselves as it's all available for free! No hidden costs, just pure HQ entertainment!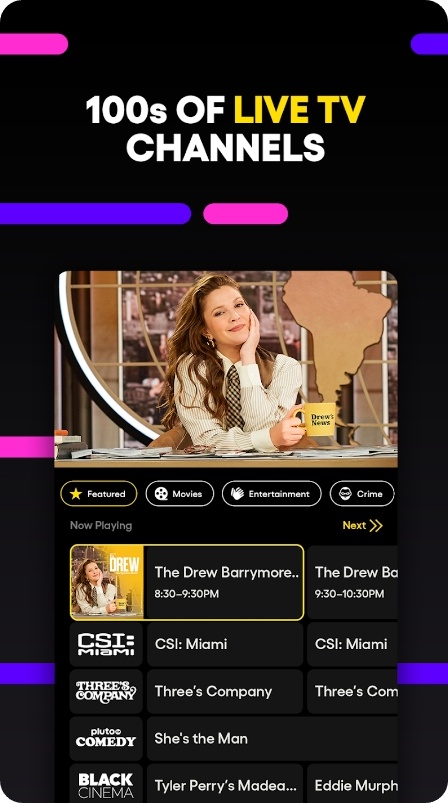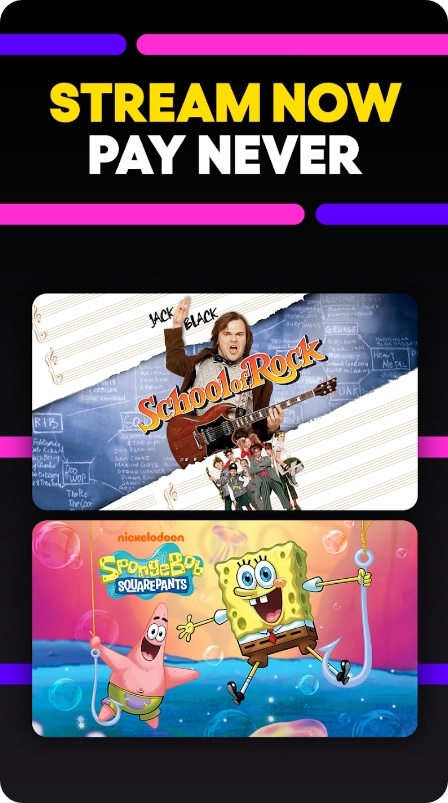 Downloads: 100M+
Customers rating:

(3.7 / 5)

You may also like: 7 Best TV Guide Apps
Plex
This bad boy has it all: live channels, shows, movies and even a lifetime supply of popcorn (okay, maybe not that last one, but we can dream). Say bye to the agony of endless scrolling and limited options, because you'll never run out of things to binge-watch.
Picture this: over 300 channels at your fingertips, catering to your every whim. News, sports, reality TV that's out of this world – you name it, the app has got it. And just when you think you've seen it all, boom! New channels, fresh out of the oven, ready to blow your mind.
It is the ultimate organization guru. No more searching high and low for your fave media: this app scans and sorts it all, like a personal assistant on steroids. And guess what? It's not just about TV shows and movies. We're talking podcasts and free music streaming that'll make you groove like nobody's watching.
The app also has a lib stacked with films that'll make you weak at the knees. Cult classics? Check. New releases? Double check. No matter your taste, this app has smth to satisfy even the pickiest of cinephiles.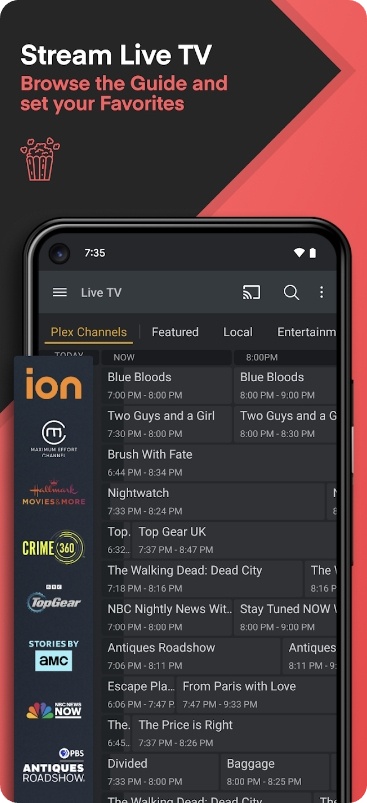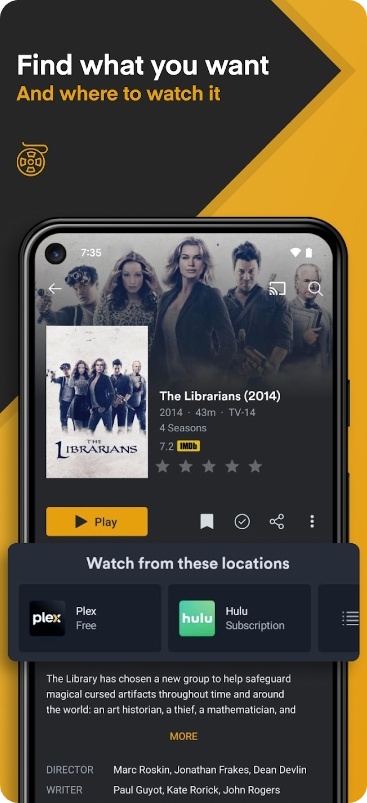 Downloads: 10M+
Customers rating:

(4.4 / 5)

Sling TV
Fed up with overpaying for cable TV and never getting what you want? This app will stop all those issues. It has everything you need, from live sports to breaking news, to reality TV and even programming in over 22 languages.

With over 120K options for on-demand shows and movies, you'll never run out of things to watch. But let's focus on the real MVP here: the live sports offerings. From college basketball to pro football and everything in between, you can keep up with all your favorite teams and never miss a game.

And for those of you who prefer to stay up-to-date on the latest news, all the major news channels are covered. If you're a reality TV fanatic, catch up on the latest episode or dive into a new series. Want to indulge in some guilty pleasure home makeover shows? They've got you covered.

And don't worry about the little ones – there's plenty of content for them too. You get to adjust the channel lineup to fit your budget and never be tied down with long-term contracts or hidden fees.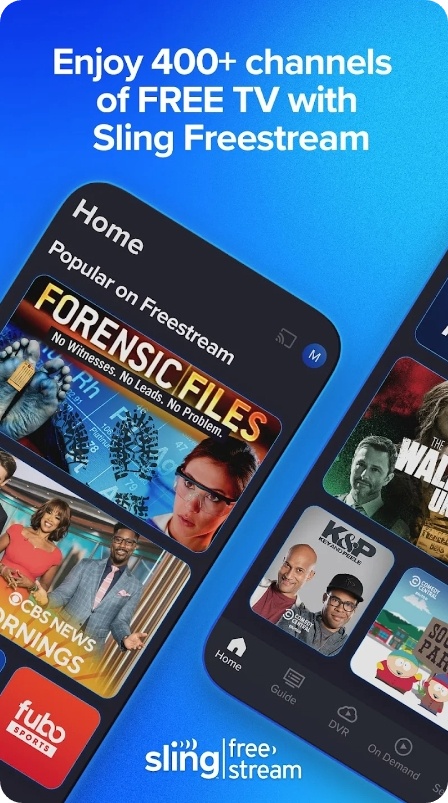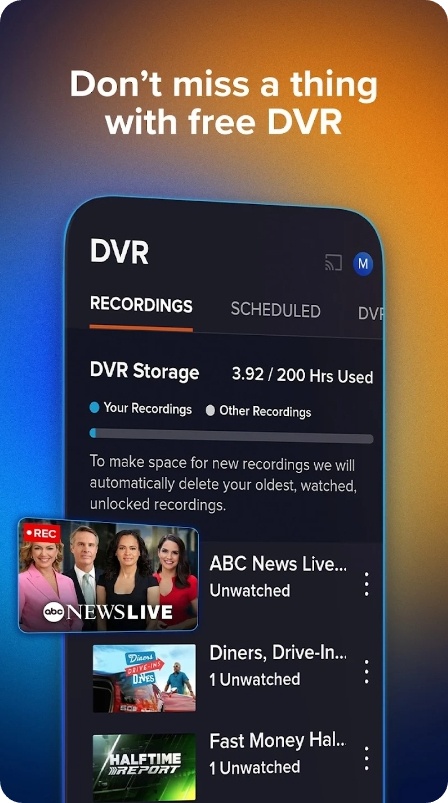 Downloads: 10M+

Spectrum TV
Feel like you're being a captive of your TV? This app is your entertainment on-the-go savior. It's like having a portable TV at your fingertips, streaming live wherever you have a web connection. No more dull moments at the coffee shop, park, or even during a tedious commute.
This app has an enormous lib of on-demand shows and movies that will fulfill your Hollywood fantasies. Say bye to endless scrolling – adjust your guide to see only your fave shows. And if you're indecisive, no worries! Use the search bar to pick by title, network, actor, or even by your beloved sports team!
Need a bigger screen? Cast it to your TV! The app also brings exclusive original shows that you won't find anywhere else. And to never miss out, the watchlist tool monitors all the shows you've been meaning to see.
Best of all, as a parent, the app gives peace of mind with its smart parental controls. Set a PIN, block shows by channel or rating, and make a safe viewing exp for your little ones. Make sure they only watch what's suitable for them on any device in your household.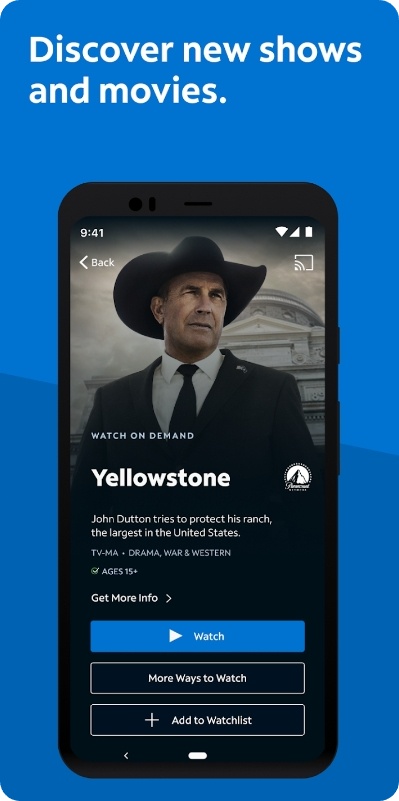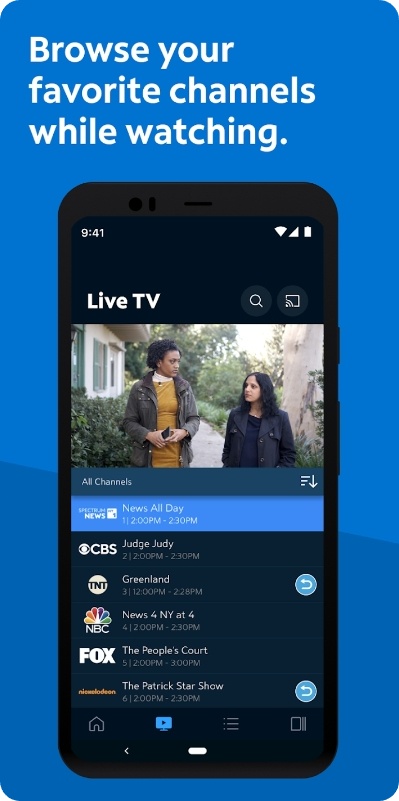 Downloads: 10M+

FREECABLE
Tired of pouring your hard-earned cash into the cable TV black hole? It's the genie in a bottle you've been waiting for.
Hold up, let's talk news first. Get your fix with a whopping 15+ top news channels, so you never miss a juicy scoop. Oh, and did we mention the live news streams and weather updates? Slaying the game! Mark your fave channels for that instant, effortless access you've been dreaming of.
It is all about breaking boundaries. They're dishing out free premium content, folks! You get access to hot TV shows that are currently airing! Over 2K free shows, movies and so much more. It's the ultimate entertainment feast tailored just for you.
The app covers live streams for a bunch of sports. Talk about scoring a touchdown! And hey, we all deserve some giggles and a break from reality. Brace yourself for hilarious cartoons, funny clips, and pet vids galore!
And here's the cherry on top, it comes with a stunning price tag. No more throwing dough at channels you barely glance at. This app is effortless to navigate, and it has more content variety than you can shake a remote at. News? Check. Entertainment? Check.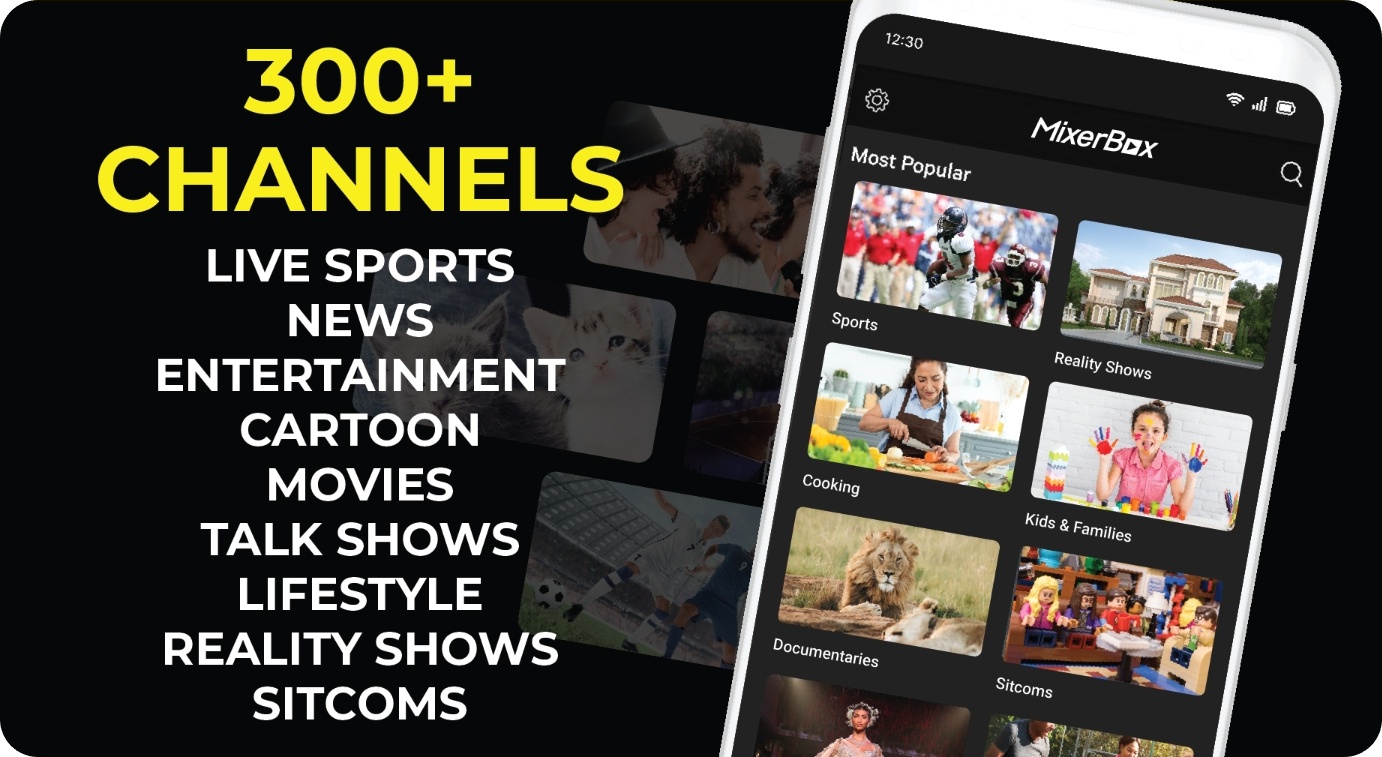 Downloads: 10M+
Customers rating:

(4.8 / 5)

Check also: 11 Best Apps To Watch TV Shows
Crave
Forget those run-of-the-mill streaming services that leave you craving quality content. This one is here to spoil you rotten with thousands of hours of the absolute best series. Yes, you heard it right. Thousands. So, get ready to indulge in some serious binge-watching.
But hold on, it's not just about quantity in the streaming universe. The app refuses to compromise on quality, and boy, does it deliver. You'll get the latest HBO originals, plus the entire HBO lib right at your fingertips. So, whether you fancy diving into some timeless classics or exploring the hottest new hits, you can do that.
It also covers Hollywood's biggest and baddest hits, all available in one glorious place. And hey, if you're in the mood for some multilingual flavor, it has got a smorgasbord of options that cater to your every whim.
Oh, but let me take a moment to gush about the app itself. It's a breeze to use, even for those of us who aren't exactly tech wizards. The sleek and modern UI will transport you to your very own personal cinema, with the power to control what graces that big screen of yours.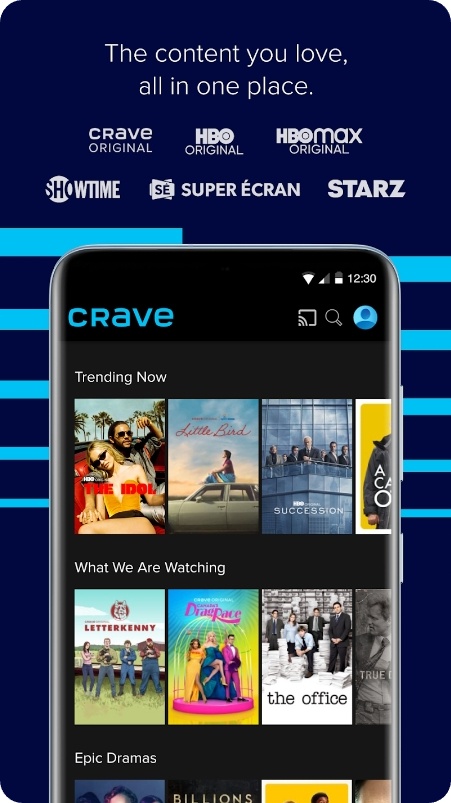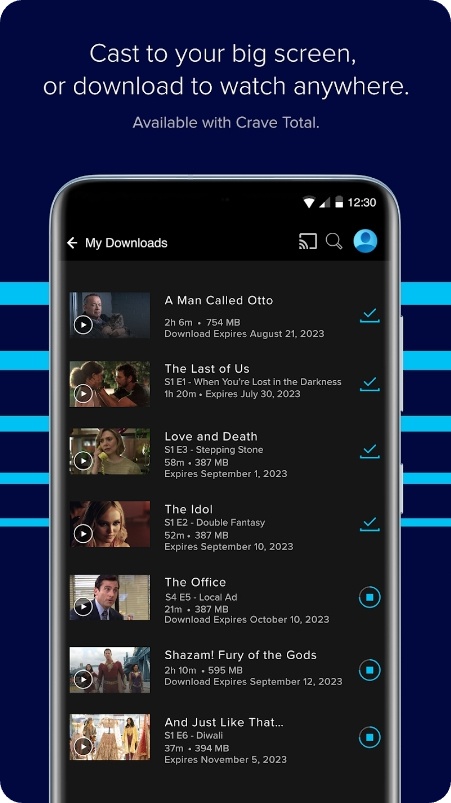 Downloads: 5M+

DistroTV
This is a TV paradise that's got it all – shows, movies, and even live sports. It's like finding the secret stash of your fave entertainment goodies.
From heart-stopping reality TV to courtroom dramas that'll make your heart race, and don't forget the classics. Brace yourself for the chill with horror channels or warm fuzzies. And for some eye candy, it serves up those stunning California landscapes along with gorgeous models.
Sports fan? The app has smth for you too! Catch all the live action, from countless sports channels. It also lets you stay in the know with news and business channels. It's like having a front-row seat to all the world's happenings!
But wait, there's more! It takes you on a trip around the world with its international channels. Dive into any culture, get hooked on foreign language shows and telenovelas, or explore captivating documentaries and world-class films. The best part? This entertainment extravaganza is absolutely free!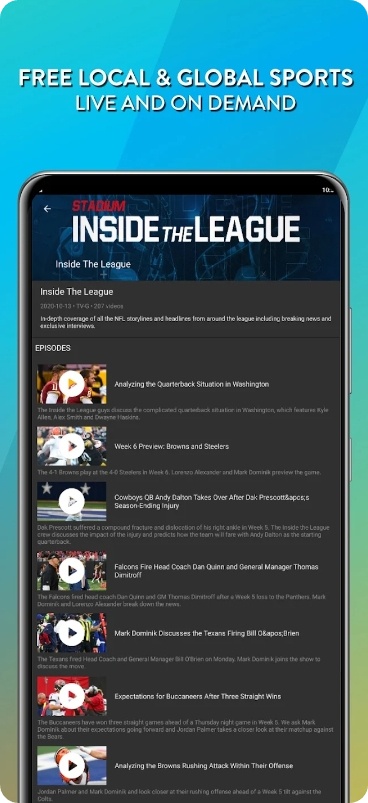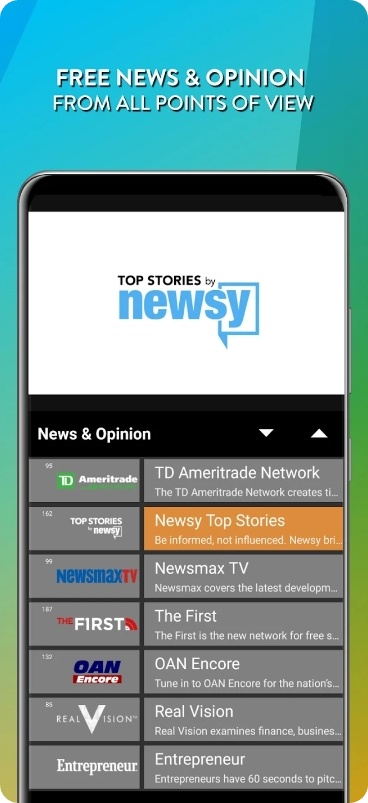 Downloads: 1M+
Customers rating:

(3.8 / 5)

PBS
This app is an absolute gem for anyone who loves to kick back, relax, and indulge in some premium entertainment. First things first: the sheer variety of content is mind-boggling.

From hard-hitting documentaries to indie movies that will leave you feeling inspired, the app has it all. And let's not forget that you can stay up-to-date with current events and even stream live news broadcasts directly from your local station.

The app truly goes above and beyond by curating programming that spans across genres and interests. Whether you're into historical dramas or nature documentaries, you're sure to find smth that piques your interest.

What really sets this app apart, though, is the community-driven aspect of it all. You can explore new shows and share your fave with pals, you'll never run out of things to talk about. And the user UI is a breeze to navigate, which is always a plus.

Now, you might be thinking: "okay, but what's the catch?" Well, there really isn't one. While there are some extra perks if you opt for a paid pack, you can easily use the app for free and still have access to endless entertainment options.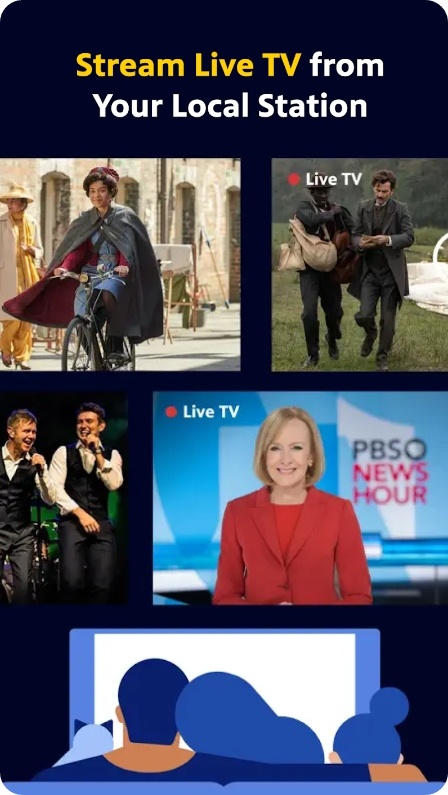 Downloads: 1M+
Customers rating:

(4.7 / 5)

TikiLIVE
It's an all-in-one streaming app, your ultimate answer to streaming prayers. With an impressive lib of on-demand content, you'll be spoiled for choice!
Picture this: the latest and greatest movies and TV shows stacked in a lib that'll make your entertainment-loving heart skip a beat. And guess what? You can effortlessly cast your fave shows to your Chromecast without any complicated setup. It's streaming made oh-so-easy!
No more scrambling to keep up with your TV schedule. The app's DVR tool has got your back! You can now record all your must-watch live events without breaking a sweat. And finding what you want? Easier than pie! Just swipe your finger and search by genre, keyword, title, actor, or network.
It also covers instant playback as if you had a personal entertainment concierge at your fingertips. With its friendly UI, incredible tools, and endless content, the app is the stress-free solution you've been dreaming of. So if you're a die-hard fan of movies and TV shows, the app is your dream come true.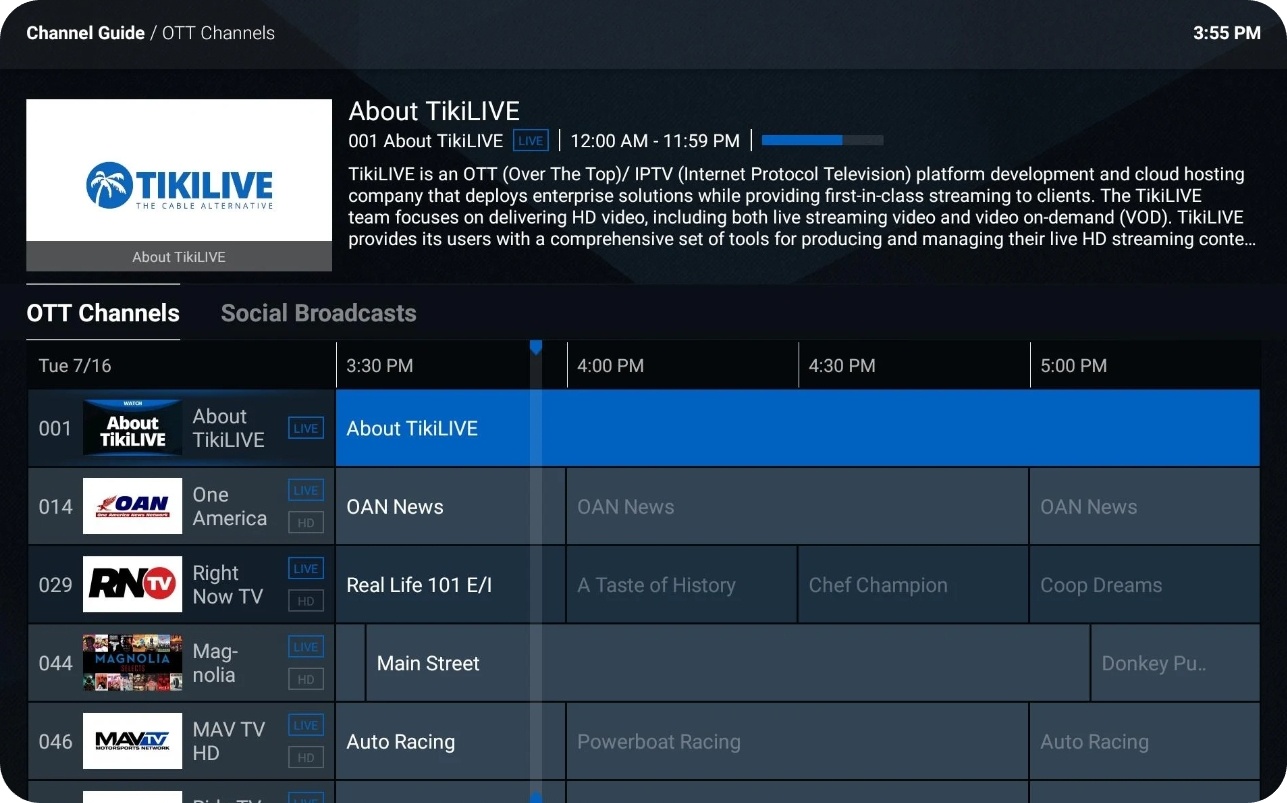 Downloads: 1M+
Customers rating:

(3.4 / 5)

TBN
This app is an inspo hub that's got it all. It's not just your average app, it's like a turbo-charged motivation machine that'll keep you connected, entertained, and begging for more.
It has got everything you need, from live TV streams to uplifting movies and dynamic teachings. The app is suitable for all ages, so the whole fam can join the fun. No more aimless scrolling, the app's tailored content recs will lead you to the hidden gems that'll blow your mind!
Oh, and did we mention it? You can save your fave shows for offline viewing. No buffering, no interruptions. Just undiluted enjoyment, whenever and wherever you want. It's like magic, except it's real.
The app is a game-changer, ready to inject entertainment into your life. Start your day right, bond with the fam, or unwind in style. And it won't cost you a single dime, so you're not risking anything. The ads are there, but they are fully bearable.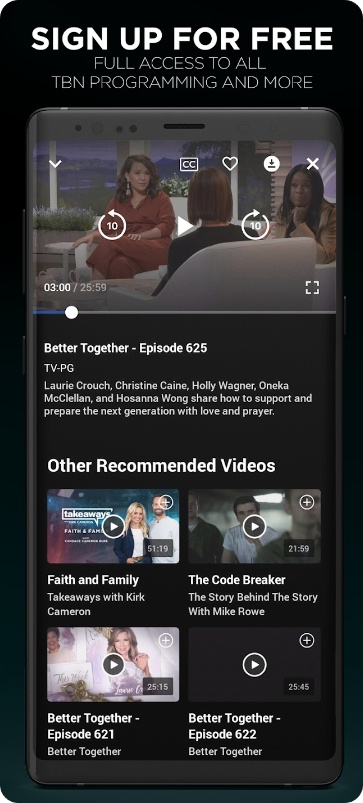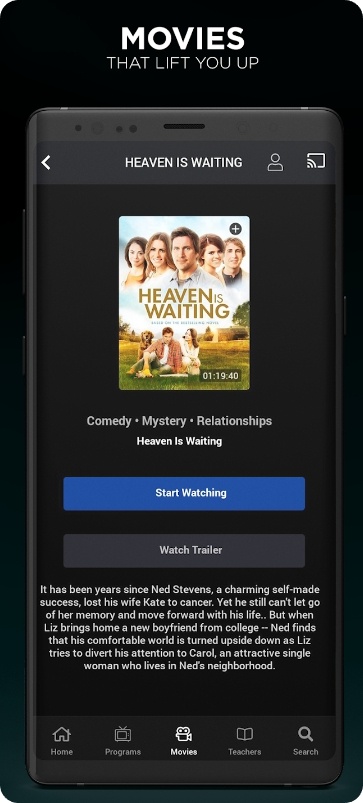 Downloads: 1M+
Customers rating:

(4.8 / 5)

You may also check: 11 Android Apps to Watch Anime in English
Orbitv
Lastly, there's an app that will make sure you won't be paying exorbitant cable bills just to gain access to a handful of channels you actually watch. It will set you free of all the frustration related to TV.
This app covers a vast scope of channels, spanning from sports to entertainment, music, and even politics and religion. You get to pick the channel languages, themes, and continents you want to watch. Want to keep it mainstream? Go for the lite mode on the main screen. Want to take things up a notch? The normal mode is just a click away!

The app makes making channel lists a breeze. Plus, you can add open channels directly through the web in diverse formats. Now that's what I call a personalized viewing exp!

On the app's main screen, you can easily navigate through your channel lists, mark channels as favorites, and access frequently watched channels. And the best part? No subscription fees! It's an ideal solution for cord-cutters who desire a tailored TV exp without breaking the bank.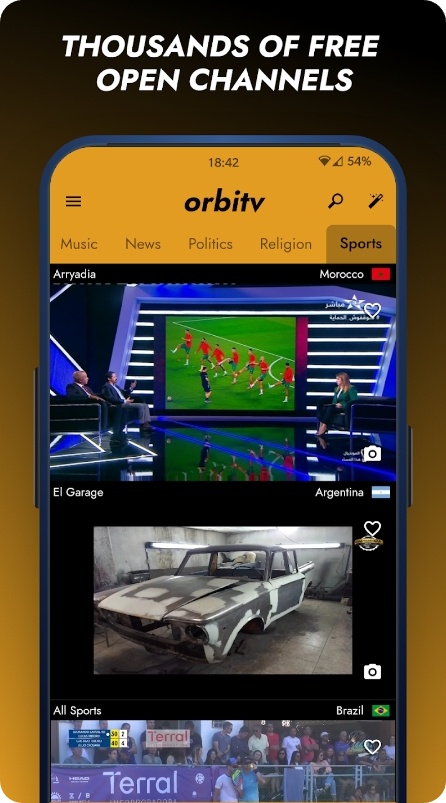 Downloads: 100K+
Customers rating:

(3.9 / 5)