Country music is loved and enjoyed by millions of people all around the world. Tis real stuff! No shitty superstars trying to be perfect and grab as much money as they can. Just a gentle sound of a guitar, nice rhythm and a voice singing about the all-time truths. How about a special app for your Android device that delivers you just that? It sounds like a good idea, doesn't it? Go check 13 kick-ass country music apps that we've manually selected for you. Have fun!
1. Country Music
Country Music is a good old Android app for listening to country music. There are many sub-genres represented in this app: alternative, contemporary, country folk, country blues, honky talk, traditional country, and more. You can find the songs sung by such artists as Dolly Parton, Taylor Swift, Johnny Cash, and more.
The collection of music is impressively huge! Everybody can find something that suits their taste. All the songs are in high quality so don't worry about your ears. The app is frequently updated so new music is added all the time. Recently though there haven't been any updates, but it doesn't make the app worse.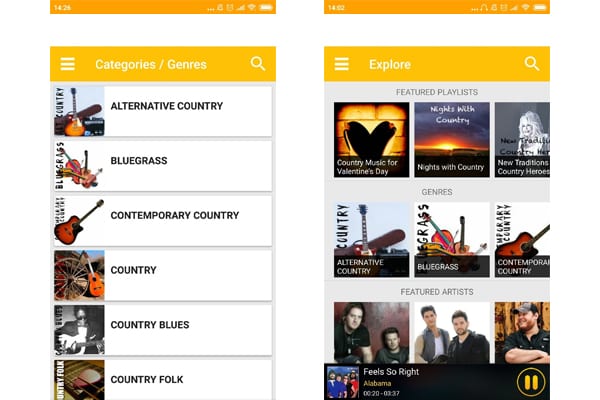 Some other cool features of the app are (1) that it gives you an opportunity to take a look at the lyrics and (2) that it makes it possible to create your own playlist – just of the songs you love. The only evident drawback is advertising. However, why bother creating such an awesome app if you can't get any money from it? All in all, this lovely country music app is definitely worth a try.
Downloads: 1 000 000 +
Customers rating: 

(4.3 / 5)

Also check: 17 Best apps to listen to music without Wi-Fi for Android
2. Best Country Music
Best Country Music is one more great collection of country songs. The users appreciate this app mostly because it has some really good stuff – both old and new. All the songs are carefully selected so be prepared to listen to the best of the best. All the songs are tagged (given appropriate names, artists, albums). You can listen to this app anytime you want to! Just make sure you have a proper internet connection.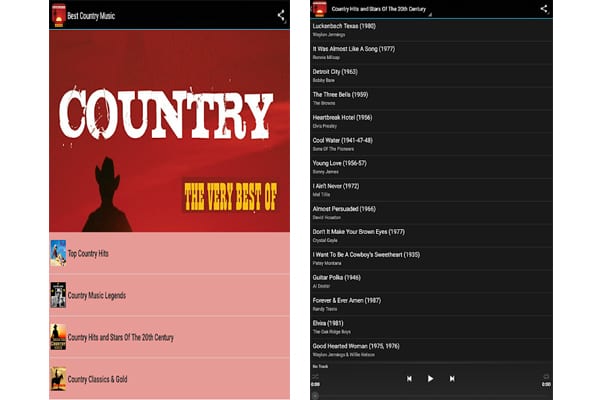 Of course, there are ads. And here you can't make a playlist of your own. It is a pity, but the app is still amazing! If you feel a crave to listen to old-times hits and new cool discoveries, download this app. Just try it and see if it suits you!
Downloads: 100 000 +
Customers rating: 

(4.5 / 5)
3. Classic Country Radio Stations
Classic country radio stations is one more app for country music lovers that is worth consideration. The app has lots of great radio stations that you can listen to. If you like, you can add new ones. The developers encourage you to share your findings so that everyone was able to use them.
The interface of this app looks more modern than the ones of the apps above. It is very simple. There are two very useful features in the app – the first one is a sleep timer and the second one is an alarm. You can set both for different purposes. Imagine what it would be like to wake up to your favorite radio station?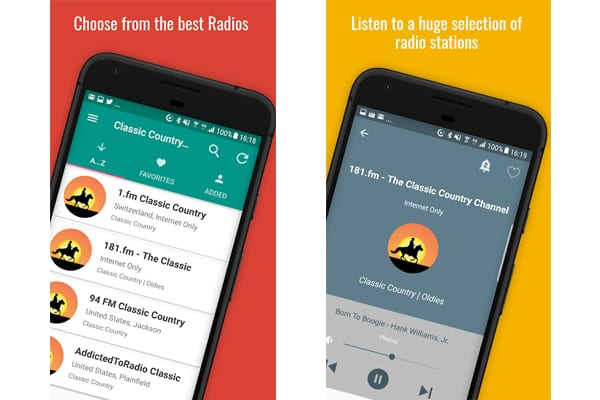 This app has ads, but at least it offers a monthly subscription that rids you of them. This is a nice app. It is not so popular, but there are no reasons not to try it.
Downloads: 10 000 +
Customers rating: 

(4.9 / 5)
4. Country Radio
Country Radio is an app created by MyIndieApp.com – the team of developers which is also responsible for creating such apps as Metal Radio, Soul Radio, Rock Radio, and lot more. Basically, what this app is all about is a bunch of cool radio stations. Just tap on any of them and it will start playing.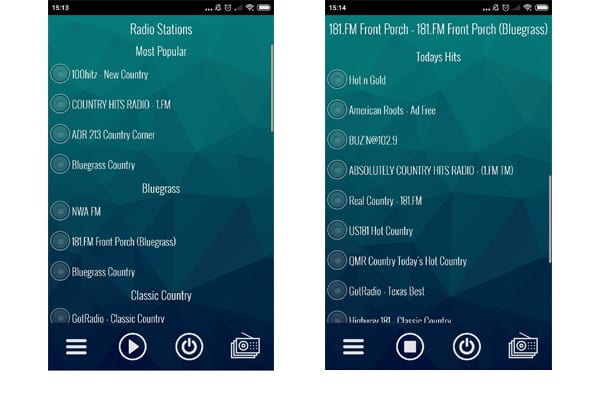 The name of the song and of its author are reflected on the top of the screen. There are not so many details in this app. It just delivers the sound. You can stop playing, you can resume… Just like in any radio. A great app to start with! It will certainly bring you a good mood.
Downloads: 500 000 +
Customers rating: 

(4.4 / 5)
5. Country Music
One more country music app that is not for iOS. This is also a radio streaming app. The songs of Dolly Parton, Darius Rucker, Johnny Cash, a lot of other great performers are what you can discover in the app's collection. Bluegrass music, rockabilly, new country, hit country are just a few of the genres available in this app. Upon the whole, there are thirty radio stations, so you can find a tune that resonates with your mood perfectly.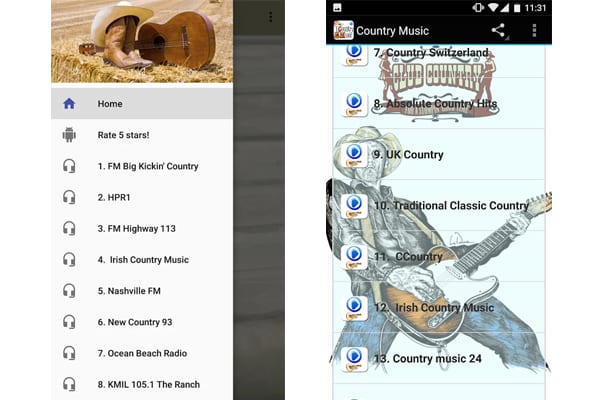 Background mode, which is by the way attributable to most radio apps, allows you to surf the web while listening to the music you love. To sum up, this app doesn't differ much from the previous one. If you like its design better, give preference to it. Of course, you can always have both. Enjoy!
Downloads: 100 000 +
Customers rating: 

(4.6 / 5)

6. Best Country Music Songs
Best Country Music Songs is a collection of classics. Bob Dylan, Alan Jackson, Willie Nelson, John Denver… Should I say more? The app will bring you lots of relaxing moments and let you fly away from the tired moments of today's busy life. Don't worry – you won't get tired of listening to the same stuff over and over again. The collection is huge. There are thousands of songs.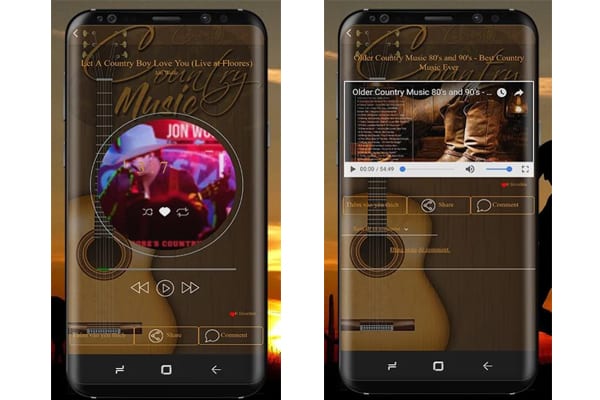 A good thing to remember is that such apps, of course, do require a working internet connection. And you can't download anything. Apart from that and the ads, they are wonderful for listening to country music. You don't need to look for anything on the internet yourself. You don't need to find tricky ways of how to download your findings. Just open an app and listen to what you want to! Easy and cool. Best Country Music Songs for Android is definitely a great option.
Downloads: 50 000 +
Customers rating: 

(4.1 / 5)
If you are wondering whether there are radio apps that don't require an internet connection, read this article and find out everything about them.
7. YouTube music
Today, there are lots of music streams on YouTube. Guess what? They've even created an app devoted to music. So now it is not just music – it is also a beautiful moving picture. The collection of music on YouTube is really huge. You can listen to the songs that are sometimes not allowed for free on other platforms. It all comes at a cost, of course. The premium subscription in this app allows you to listen to the songs on the background and without videos. The basic more is just about listening (and watching).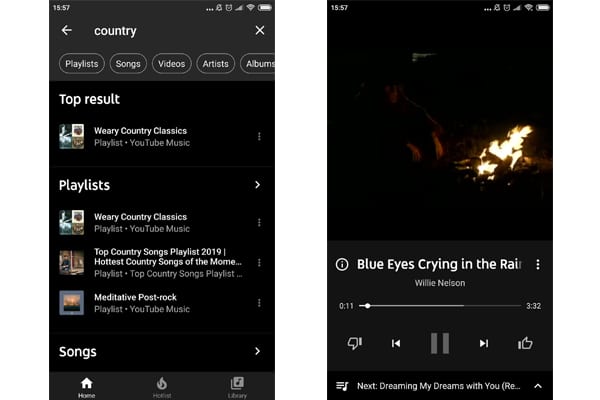 You can get a 1-month free trial if you want to. However, why would you do that if there are so many other wonderful apps for listening to country music? If you love YouTube though, you can still check music streams there from time to time. They post them with marvelous pictures and videos! You'll surely appreciate the aesthetics.
Downloads: 100  000 000 +
Customers rating: 

(4.1 / 5)
8. Pandora Radio
Pandora Radio app is not available in all the countries. Those countries where it is available are quite lucky! The app lets you discover and listen to different types of podcasts and radio stations. It creates personalized playlists based on what you like. First, you use search to find your favorite country hits and artists and then the app offers you to listen to those who are similar to what you search for. It is a great way to find new music that suits your taste!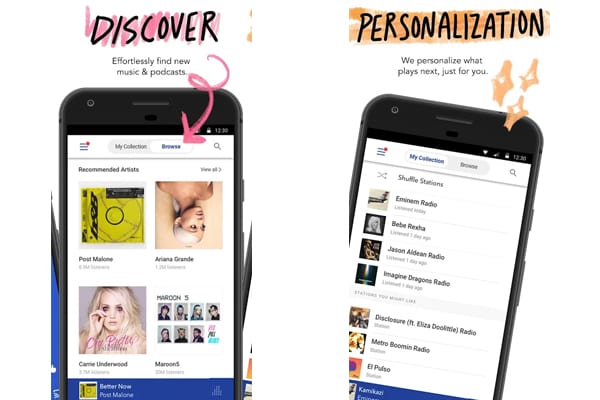 Of course, there is more than just country. The app contains ads and some limitations for those who use basic mode. Once again, you can subscribe to this app. The subscription is monthly, but only you choose whether to do it or not. If you want your music recommendations to be strictly tailored to your taste, then this app might be the one for you!
Downloads: 100 000 000 +
Customers rating: 

(4.4 / 5)
9. Spotify
Spotify is one more popular app for listening to all the genres of music (country music included). It also recommends you songs you will probably like. There are lots of playlists and artists and new stuff, etc. If it is available in your country, you can listen to all the songs for free. The subscription allows you to download songs or listen to them without any ads.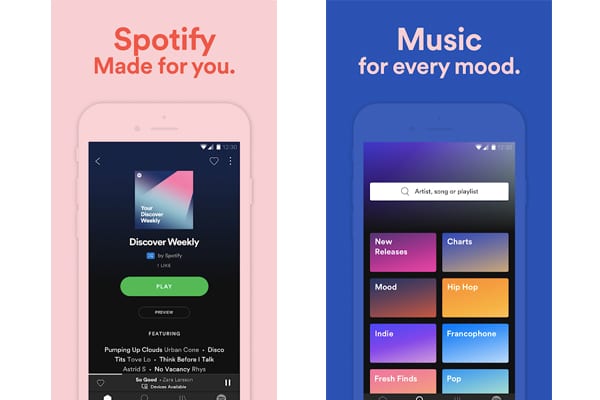 In general, it easy to find the right type of music with this kind of apps. As soon as you start using them, new recommendations start to appear all the time. So, if you don't have this app already, it is probably time to try it!
Downloads: 100 000 000 +
Customers rating: 

(4.6 / 5)
10. Country Music Radio
Back to country radio apps! Country Music Radio is an excellent application for listening to country music on Android. It is pretty simple. There are only 9 stations, but all of them have that rock n' roll vibe in them. What is also cool about this app is that you can change themes or, to be more precise, the colors of the background.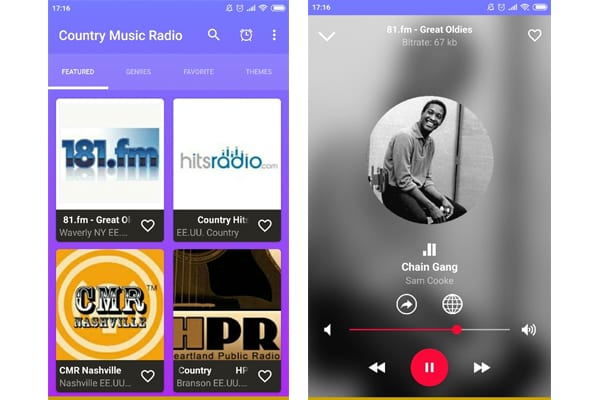 Some ads appear from time to time, but they don't ruin the listening experience, so it is definitely one more country app worth a try!
Downloads: 100 000 +
Customers rating: 

(4.5 / 5)
11. Real Roots Radio
Real Roots Radio is a solo radio station that broadcasts traditional country, bluegrass, and Americana. It has one of the most dedicated audiences. If you want to learn the recent news about country music, listen to good thoroughly selected songs, and a lot more, then this app is for you.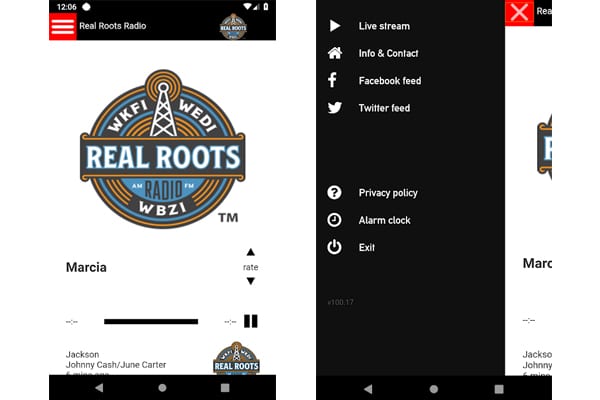 After all, why have lots of various options, when one that is worthwhile can be enough?
Downloads: 10 000 +
Customers rating: 

(4.1 / 5)
12. Country radio stations free
If you are one of those who prefers to have a number of options, take a look at this app. 41 country radio stations are quite enough to find a tune you'd like to listen to. The app contains rockabilly, classic country, new country, americana, texas country, and lots of other subgenres.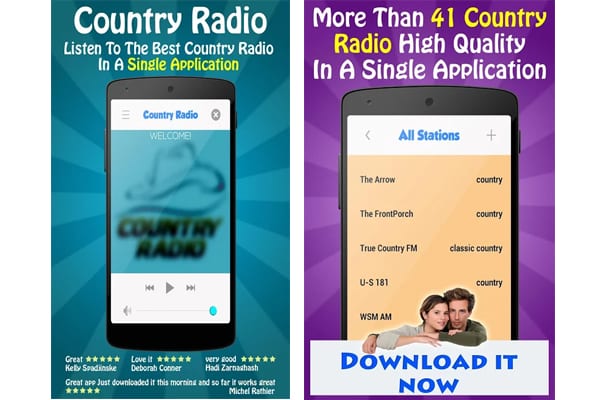 All you need to have is a good internet connection. There are some ads – as always, but basically, this is just another music app for Android that has gathered together all the good stuff from the net. If this is what you're looking for, then go on and try it!
Downloads: 10 000 +
Customers rating: 

(4.5 / 5)
13. Free Country Music Radio
Free Country Music Radio is a name that tells you everything you need to know about this app. The app, however, is more than just a collection of radio stations. There are songs as well. Everything is divided into convenient categories. There are such subgroups as the best country, American country music, country music radio, etc. Country blues, country folk, country gospel, country pop and a lot more are what can be found in this app.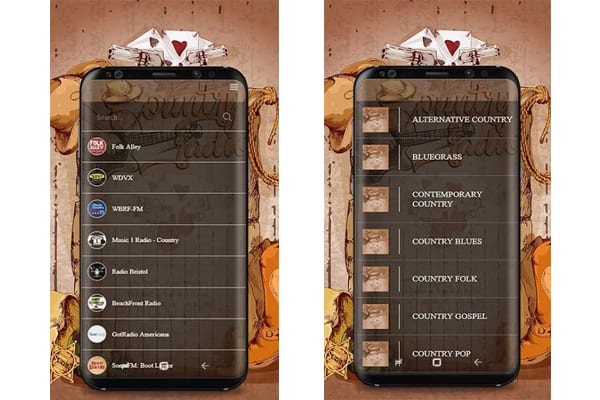 The quality of the songs is cool. It is nice to listen to them. Vizyon Rock is the radio station I've chosen to listen to. What I can say is that it is pretty awesome. The music is not officious at all – you can put it in the background and enjoy working or studying! There are some ads but they are visual, so once you start playing music, nothing is bothering you anymore. A very nice app – certainly worth a download!
Downloads: 100 000 +
Customers rating: 

(4.5 / 5)
---
To wrap up, there are plenty of good country music apps. Some of them represent rich collections of music and old songs. Others provide you with radio stations to listen to your favorite genre of music. The choice is yours! The most important thing is that you enjoy the songs and let them follow you and lift your spirits up! Happy listening.