When a person comes to an ordinary shoe store, it is not difficult for him to make a choice. Experienced sellers will offer him many different models, from which he will necessarily choose a pair that he likes. Thanks to the ability to try on the proposed shoes, a person will be able to appreciate all the advantages of the model that has attracted him. It is important that the shoes were convenient, sturdy, perfectly contour the foot.
But a shoe store that is close to your home, unfortunately, will not be able to satisfy all your desires. Often some stores simply do not have large shoe sizes. And ordering a certain model that has never been imported there will be very costly. Therefore, more and more people trust online shopping.
The greatest joy is the presence of many interesting models: shoes, sneakers, boots, and everything. The order is made quite easily and quickly. However, the most insulting thing is that you can try on such shoes to your leg only visually, so you can mistake with the right size a little. But it does not matter, any kind of shoes can be returned and exchanged for the size you need.
But after the desired purchase, you can watch with pleasure passers-by, who now and then look at your charming shoes. It's always nice when you know that you have your favorite clothes that attract attention, and beautiful comfortable shoes.
What are the applications for buying shoes that should you use for this, read in our selection!
There are some good specialized online shopping apps:
Zappos
Zappos became the largest online shoe store in the US. This was partly contributed by a serious emphasis on the quality of service and the best choice of the goods for all possible parameters (brand, style, color, size, etc.). To compensate the impossibility of fitting, each shoe model is photographed in seven angles and supplied with a video.
An interface deserves special warm words – any product can have several or even a dozen or more color solutions, so that each trading position, in fact, is a whole group of positions, and you can view all the options by simply switching the palette. Perhaps one of the most impressive tools of service is "zoom". You can repeatedly zoom each model in high resolution, and examine almost every detail under the microscope.
If in spite of all the details of the presentation of the goods on the site, it still does not fit you, shoes can be returned back within a year (!) after purchase. At the same time, not only return but also delivery is compensated. You just need to print out the so-called "Return Label" from your account and paste it on the parcel. Money is returned to the card within one week after the delivery of the parcel.
Among the many advantages of the site interface, the shortcomings are almost lost. The only thing that is annoying – if the shoes of the right size are not available, you can find out this only after choosing the size. Of course, it would be more convenient if the information on the availability of goods was more "operational", but since there is a deficit of only "extreme" sizes, this inconvenience can be considered insignificant.
The Zappos online store is also available to you, no matter where in the world you are.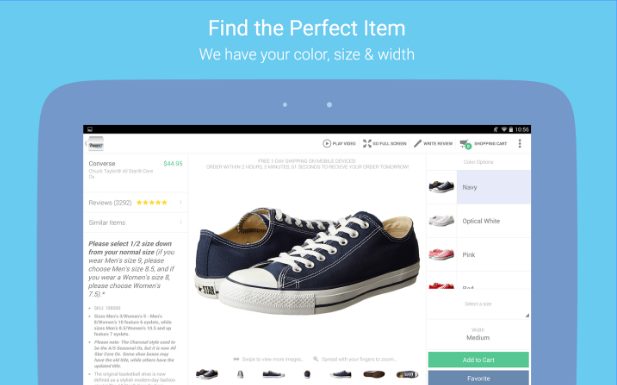 Downloads: 10 000 000 +
Customers rating:

(4.5 / 5)

KicksOnFire
In KicksOnFire app you can find classic models of athletic shoes and sneakers, rare cult releases, as well as technological basketball novelties. Regularly the collection in the store is replenished with exclusive models. KicksOnFire monitors modern trends and upcoming releases. Therefore, its customers have a chance to become one of the first owners of cool new products.
KicksOnFire shoe application is designed for people who live in the rhythm of their city, follow the latest world trends, always find a business for themselves and do not imagine life without comfortable shoes.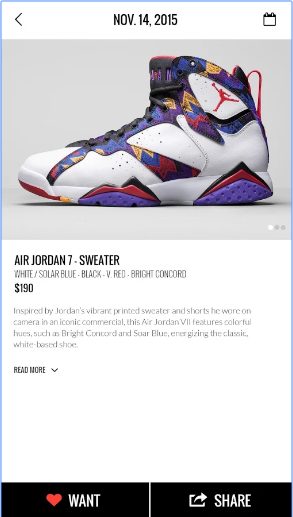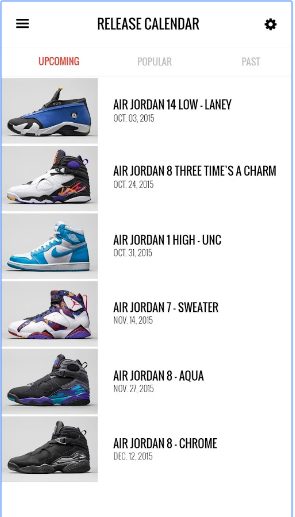 Downloads: 1 000 000 +
Customers rating:

(4.5 / 5)

You may also like: Best Yard & Garage sale apps
GOAT
GOAT is an online store of sneakers for Android users, offers a huge range of high-quality sports shoes. The application is ready to provide its customers with an impressive selection of various sneakers and shoes. Here you will find branded sneakers Nike Air Max, Adidas, Reebok, Jordan … Those customers who have not previously bought sneakers on the Internet can easily select the right sneakers thanks to the most simple and intuitive interface.
In addition to buying shoes in the application, the "sell" function is available. You can put up for sale your sneakers of famous brands adding photos and price.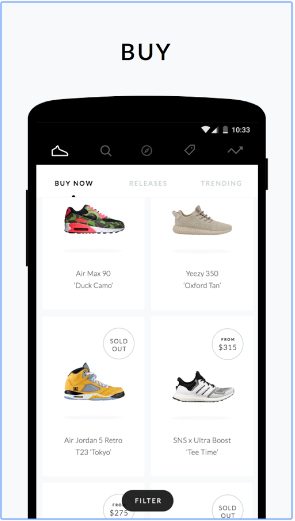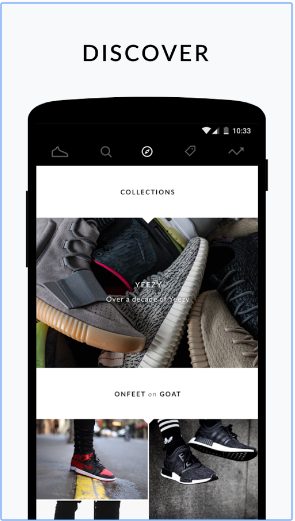 Downloads: 5 000 000+
Customers rating:

(4.7 / 5)

Nike SNKRS
Nike has released an application for mobile devices on the Android platform called SCNRS, which combines off store and releases news. Now Nike store is in your pocket + news about the releases and their dates.
This application transfers the shoe store directly to your mobile device. If you always used Nike's orderly site, so this application is designed to make you feel like at home, but having access to a shoe store. So when you log in, you can mark which style you prefer, and this will be used to find the information you need.
Your account displays the sneakers that you would like to purchase, what buttons you have to click to buy, or if they are not already released, you can be notified when this or that sports shoes go on sale, by email or SMS messages on your phone. You can always get information about new and popular models using the "Discover" button.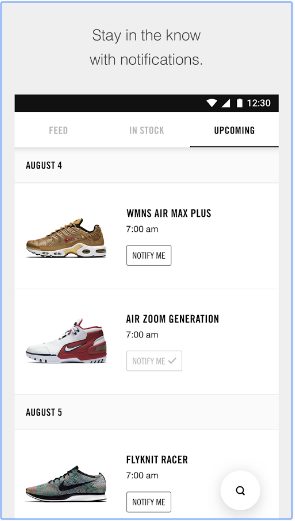 Downloads: 1 000 000 +
Customers rating:

(4.6 / 5)

Kixify
Kixify store is branded sneakers at affordable prices. This online store features a wide variety of different sneaker models. In the present, there are male, female models of sneakers of any size. Sneakers have long been one of the most popular types of shoes. After all, this is the most simple and comfortable shoes. Buying sneakers today is no big deal especially using this app. Of course, absolutely all people dream of buying exactly comfortable, durable, and beautiful sneakers. With Kixify it became possible!
(Using this app you can also sell your stuff!)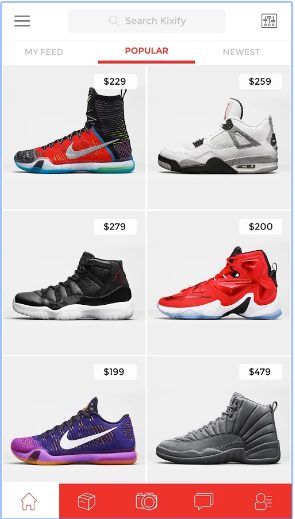 Downloads: 100 000 +
Customers rating:

(4.4 / 5)

JD Sports
For those who just love sneakers and stylish dress, JD Sports offer a huge selection of shoes – both exclusive models and all possible colors of famous models of famous brands. Buying sneakers in this online store is easy, fast, and convenient.
JD Sports works only with the most successful and advanced market companies and offers buyers only the best sports shoes. The team carefully selects each model so that it precisely and harmoniously fits into the concept of the store. The best running and classic sneakers for true connoisseurs of casual-style. Everyone can find a suitable pair for him, but good sneakers cost money. The developers pay close attention to pricing, so they can confidently say that prices in JD Sports are objective.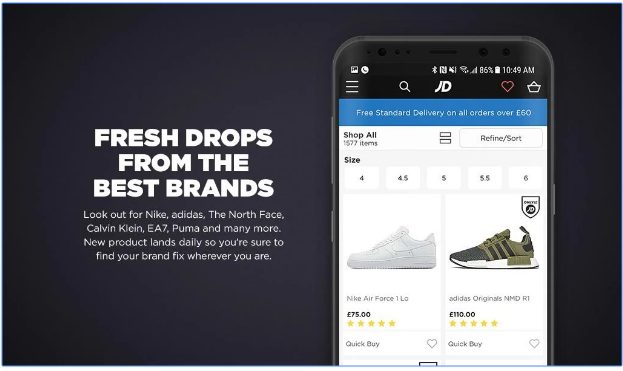 Downloads: 5 000 000 +
Customers rating:

(4.2 / 5)

Sneaker Crush
Appearing as a kind of footwear designed for running and exercising, sneakers are actively included in everyday life. Depending on the material used, colors and designs, the original stylish sneakers can complement the image of a modern person in both the prestigious office and on the red carpet of a social event. You only need to buy shoes in specialized stores: only then will your purchase fully meet your expectations. The online store of sneakers Sneaker Crush offers exclusive models from the world's leading manufacturers.
With this shoe-buying app installed on your phone, you will always be aware of release dates and price. The interface of the app is user-friendly and you will make purchases easily and fast!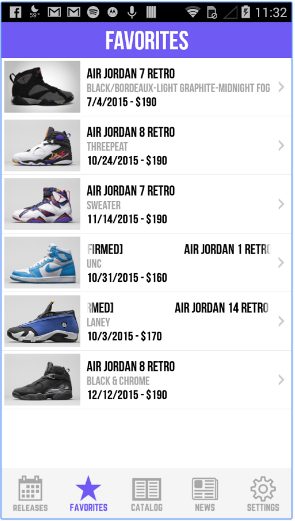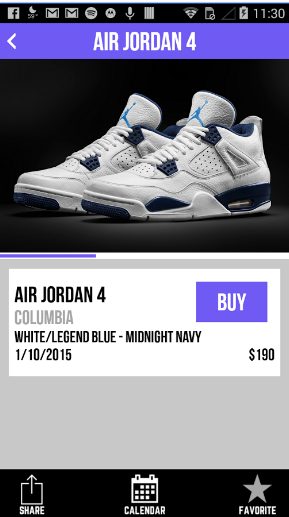 Downloads: 1 000 000 +
Customers rating:

(3.8 / 5)

Shoe Carnival
Shoe Carnival offers for buying quality, stylish, and comfortable shoes for the whole family. It effectively forms affordable prices and a wide range of the best models of European brands. A flexible system of discounts, a large model range allows you to choose shoes for all occasions for every taste and purse.
It is possible to get different discounts and coupons using this app.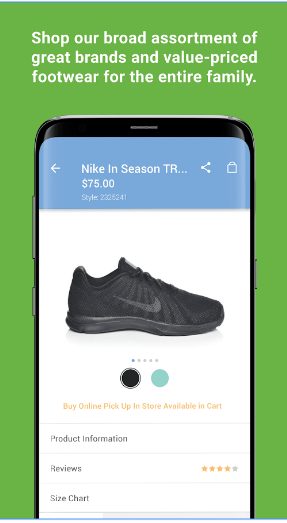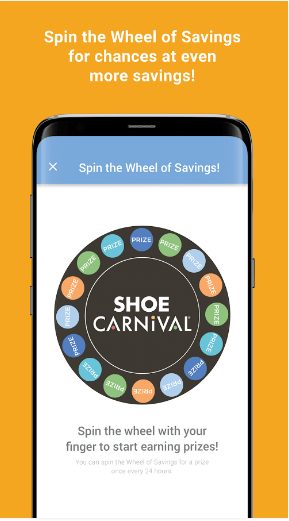 Downloads: 500 000 +
Customers rating:

(3.9 / 5)

adidas
It seems that the Adidas team decided to put an end to the long queues at the shop doors before the start of sales of rare models. The mobile application Adidas will give an opportunity to purchase super-demanded small-volume releases online.
How does it work?
At first, you should sign up in the app and choose the model and the size. Then, the service sends a notification to the user who is near the start of sales, and if he is in the right zone, gives him the opportunity to pre-order from the gadget, pick up and pay for his purchase in a certain time period.
The world's first application for booking sneakers was created to simplify the search and purchase of the most popular models.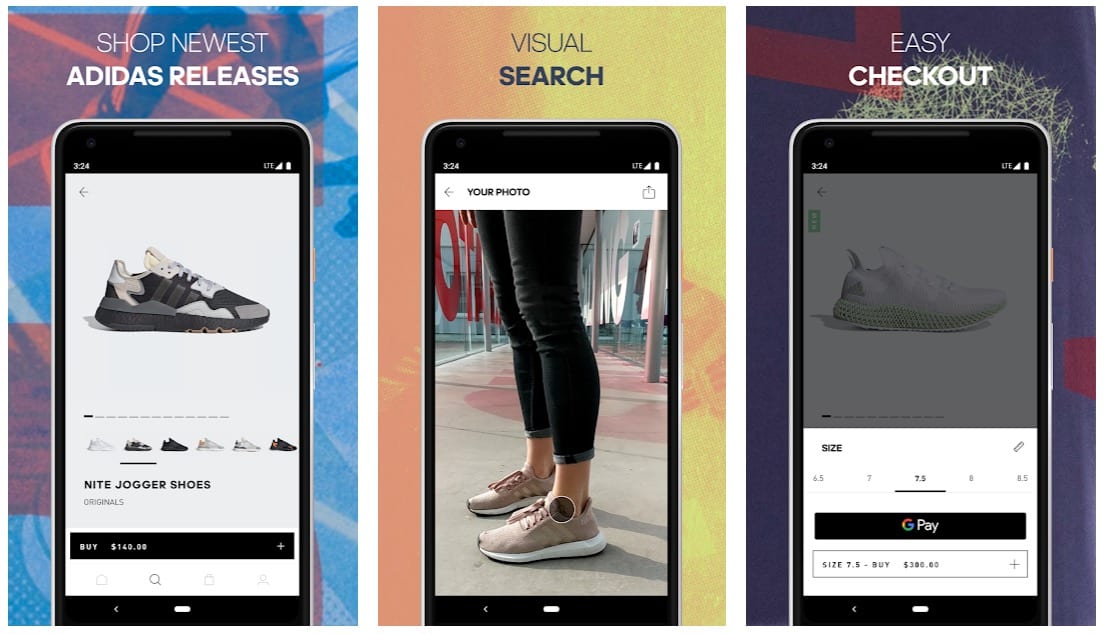 Downloads: 10 000 000 +
Customers rating:

(4.6 / 5)

Also, for buying shoes you can use one of the most popular general shopping apps:
Wish
Wish is an application that will allow you to purchase quality products directly from your Android smartphone at a low price. At Wish, you will also find a wide range of different types of shoes.
Here you will get absolutely any goods: shoes, cosmetics, clothes, pet products at incredible prices, with delivery directly to your door. Today, more than 250 million people around the world appreciated the popular online store and made purchases in it. Wish is the leading shopping center in Europe and North America, providing shoppers with a huge selection of fashionable clothes, accessories, and everything from all over the world. The interface of the app is simple and intuitive, all the management and search of the goods is very simple. You can make purchases of brands with exclusive discounts, reaching 80%.
How does it work? Browse through various categories of products, look for the thing you need, add it to the shopping cart. After you need to choose a method of payment, make a transfer of funds and wait for the parcel at home. In addition, using this application, you will receive unique discounts for goods.
Advantages of buying shoes using Wish:
a wide range of quality shoes;
affordable prices;
contact the manufacturer directly;
a smart system of goods search;
large discounts;
filtering the search for shoes by size, rating, color or price;
safe payment for purchases;
delivery to the doors of your house;
if shoes do not fit, then make a free return;
real reviews and photos of goods left by real buyers.
On Wish, each client will be able to purchase the necessary shoes for themselves: men's, women's, children's, sports and so on.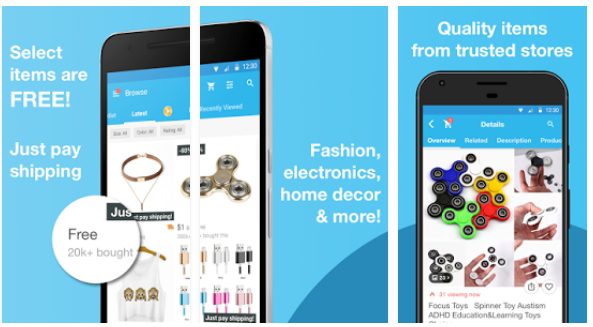 Downloads: 500 000 000 +
Customers rating:

(4.5 / 5)

Mr Voonik
Mr. Voonik application can be used for buying quality branded shoes for all occasions. In addition to shoes, Mr. Voonik app offers you to buy clothes from different brands, jackets, sweaters, suits, and much more. This multi-brand shop for men presents about a thousand brands, including Adidas, Timberland, UGG, Versace, and others. The interface of the app is clear and intuitive.
As in the previous app, you can make your own wish lists swiping left or right (to like or dislike the item). It is even possible to share your choice with friends on social networks. So they can advise you if the item is worth buying or not.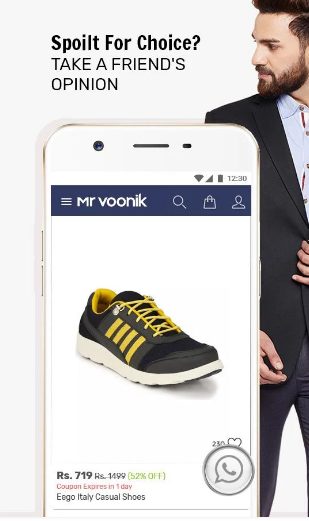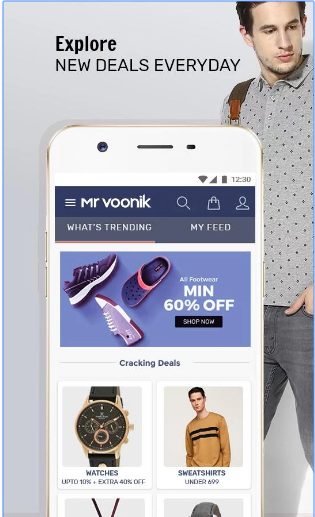 Downloads: 10 000 000 +
Customers rating:

(4.4 / 5)

Shoes and fashion Spartoo
If you own a mobile or tablet device on the Android platform, are interested in novelties of shoe collections and want to make purchases without wasting time and effort, then the application is created for you!
The Spartoo application is a convenient and fast search and order of original models of women's, men's, children's clothes, shoes, and accessories at affordable prices. The application has a convenient functionality that allows you to make purchases in just a few clicks. The quick search function allows you to search both for a phrase and for a keyword. you can save the models you like in your Favorite list for easy access later.
Spartoo is not just an online store for fashion clothes and shoes. It can become your guide to the world of beauty, style, comfort and chic, that can give your life joy, brilliance, and taste!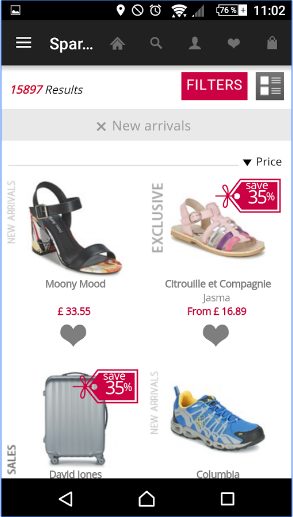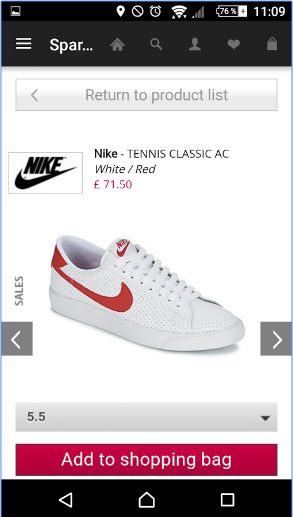 Downloads: 1 000 000 +
Customers rating:

(4 / 5)

eBay
Another useful application that you can use to buy shoes is the world famous eBay. eBay is a tablet and phone program for Android that allows you to purchase quality goods wherever you are. There you will find a great variety of categories and items.
Presented goods are huge, so a search will be an irreplaceable assistant for you. All presented goods are divided into categories and subcategories. The shoe catalog is also huge so you will easily find a pair for you! There are very few settings in the application. In the settings, you can add your country or region, clear the browsing history and enable/disable the feature that displays recently viewed items on the main page.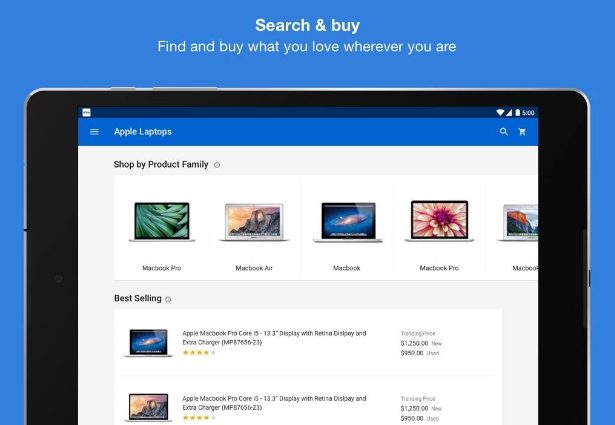 Downloads: 100 000 000 +
Customers rating:

(4.4 / 5)

AliExpress
AliExpress is one of the most popular online stores based in China. It must be known almost by every visitor of the World Wide Web. Such popularity of this service is not surprising – among its advantages, there is an impressive range of assortment, convenient terms of the deal, low prices, and much more. Here, you can buy shoes for every member of your family.
The main page of the application immediately welcomes us with an offer to select a few of the most interesting categories of goods, which, obviously, should facilitate our further use of the online store. You may continue after you make this choice.
Here, as in any other similar application, the product must first be added to the basket, after which, in fact, you can place an order. To do this, you will need to enter the delivery address that will be stored in your profile, and select the payment method. Of course, the application AliExpress Shopping App is not without certain disadvantages – a sufficient amount of advertising, congestion of individual pages, extra functions. But all of them do not have a critical impact on the overall impression – after all, the main purpose of the service is to buy goods, and this function performs perfectly.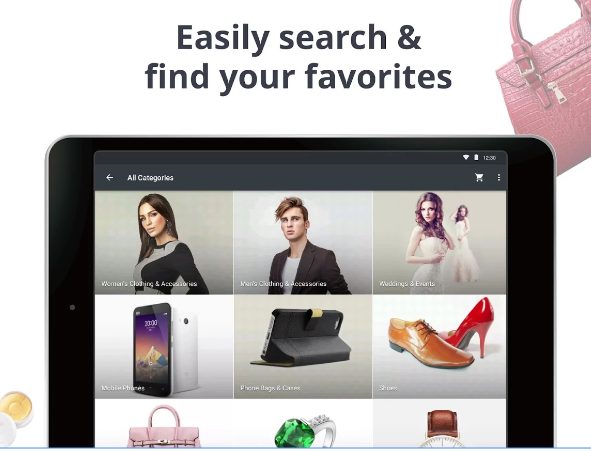 Downloads: 100 000 000 +
Customers rating:

(4.6 / 5)

ASOS
ASOS is the official app from the clothing store of the same name. With this app, you will be able to browse the entire ASOS catalog, which contains more clothes, shoes, and accessories than you can imagine.
With this app, it's really easy to buy on ASOS because its interface is designed specifically for smartphones. You can find everything you want by filtering the results by brand, size, color, and price.
You will be able not only to buy things from a catalog of more than 850 international brands, but you can also add your favorite items to your favorites and share them through WhatsApp, Twitter, Facebook and other applications. The app also has a notification system that lets you know when the items you like will start selling.
ASOS is a great app for buying shoes. It greatly enhances your shopping experience and even allows you to enter your credit card details using your smartphone camera.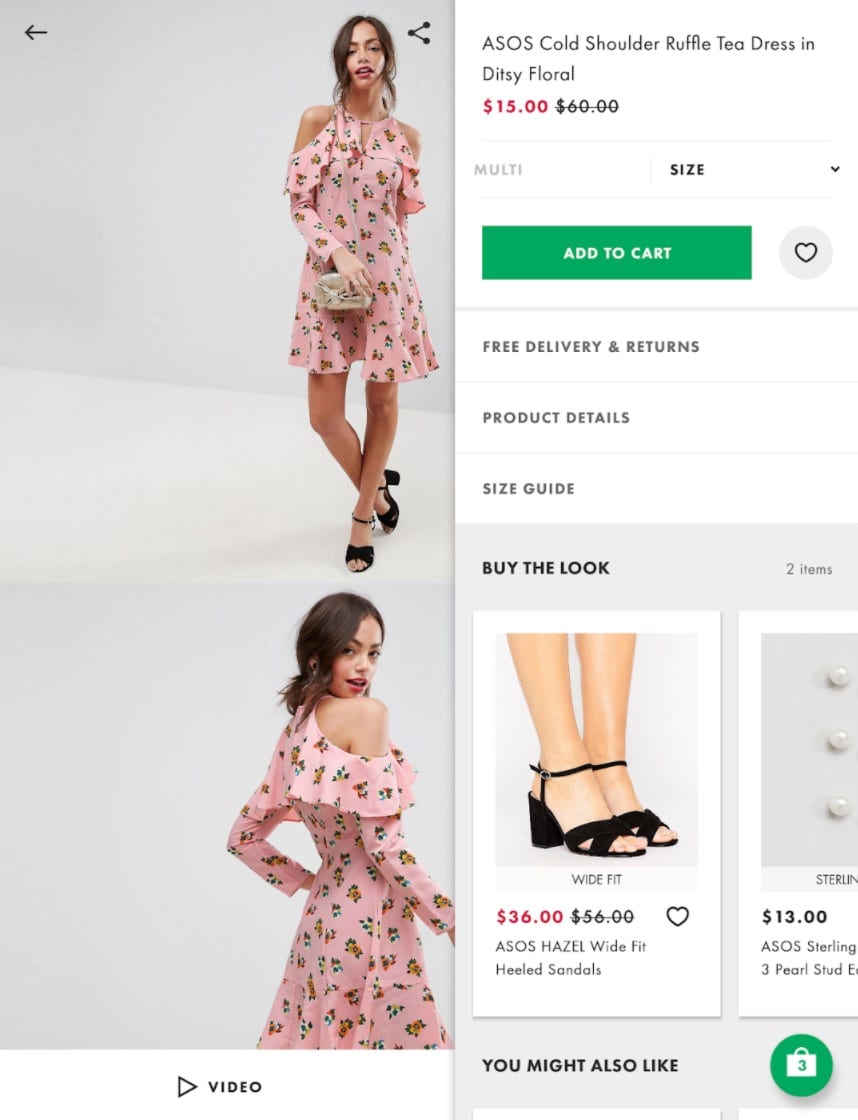 Downloads: 10 000 000 +
Customers rating:

(4.8 / 5)

You may also like: 20 free fashion games for Android
SHEIN
SHEIN is an application for Android devices to explore this company's extensive catalog. Whether you're a Shein fan or just want to get to know the latest fashion trends and update your wardrobe, this app offers thousands of outfits that will fit your style perfectly.
The SHEIN interface is intuitive and designed to make it easy for you to find clothes and shoes that fit your style, needs, and preferences. In the category menu you can filter clothes by type: shirts, trousers, jackets, accessories… everything you need has its own section, where you can find hundreds of different options.
Once you've selected your favorite category or searched for something specific, you can use filters to find exactly what you need, such as black clothing, or clothing of a specific size or style.
One of the benefits of this tool is that you can read the opinions of other users and view the pictures they post and see firsthand how something looks real, rather than in the illustrations on the website.
If you decide to buy something, SHEIN makes it easy to do, just click on the desired product and the desired size. Finally, enter your delivery address and payment details to complete the purchase.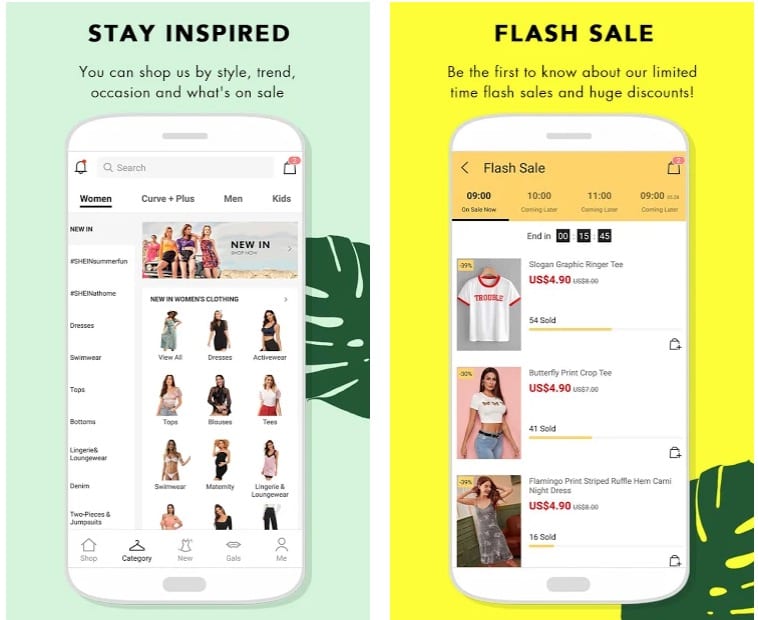 Downloads: 100 000 000 +
Customers rating:

(4.6 / 5)

For modern gadgets on Android, there are a lot of applications associated with fashion and clothing – it's far from new. The abundance of such programs can deceive the user, and the screening of not very high-quality and functional applications will take a lot of time, so in this post, only the most interesting and useful apps for buying shoes online were collected.