New times bring to the world new instruments of expression for creative people, and now no one will be surprised that the artist does not have an easel in his hands, but a touch device – a tablet. However, the most important thing is to choose the right program for drawing on Android. In this article, you will find a good selection of free drawing applications.
SketchBook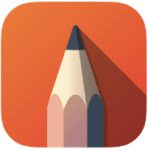 SketchBook application is a professional drawing program for mobile devices with touchscreens.
It is a powerful application for drawing, with an intuitive interface and a huge range of features and settings. The modern module will provide the most natural and convenient drawing process, what will allow you to create with the help of the program both small schemes and sketches, as well as complex, large-scale works.
Zooming the image to 2500% will help to draw the smallest details. The synthetic sensitivity of the brushes to pressure will give softness and naturalness to lines. A special built-in tool will help to track the symmetry and proportionality. In the free version, dozens of brushes are available: pencils, feathers, markers. The program is able to work with layers and offers 16 modes of mixing them.
Those who purchase the Pro version will have the opportunity for using additional brushes (more than 100), a complete library of colors, additional layers, the ability to extract complex shapes (magnetic lasso, for example) and gradient fill.
The process of creating a picture can be recorded on video. Then, you can share this video with friends or fans of your artistic talent. The works themselves are saved in the Application Gallery, but they can also be saved in Dropbox.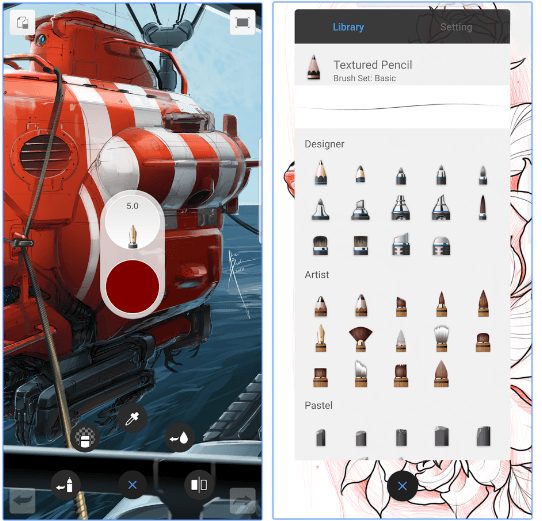 Downloads: 10000000 +
Customers rating:

(4.3 / 5)

You may also like: 9 Best Gesture Apps for Android
PaperOne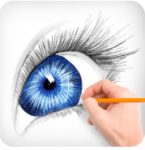 PaperOne is a software for creating fantastic drawings in color and simple pencils and brushes on Android devices.
The application simulates a toolkit for drawing strokes on paper. Choose the right brush style, choose the color and start creating the first masterpiece!
The platform will perfectly help to reduce the waiting time in an airplane or enjoy solitude in a quiet cozy evening at home. You will draw and express your imagination with PaperOne. After completing the drawing, you can make a beautiful signature with a pen. At your disposal, there is a professional toolkit, er, ser and ruler.
It is possible to draw on a blank sheet, on top of the photo or any picture from the gallery. Enjoy every opportunity to show your eccentricity, express your talent. You will get basic drawing skills. Here you can place your selfie instead of the background, make it translucent and just put the contours with pencils. You can adjust the scale with your fingertips. There is a sharing option to show the results of your work to your friends via the Internet.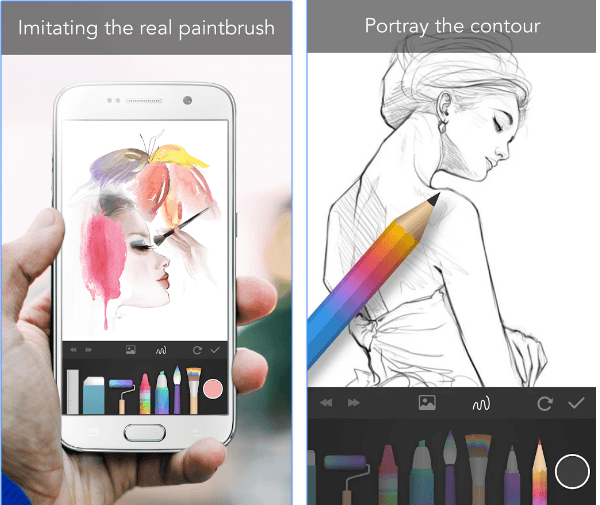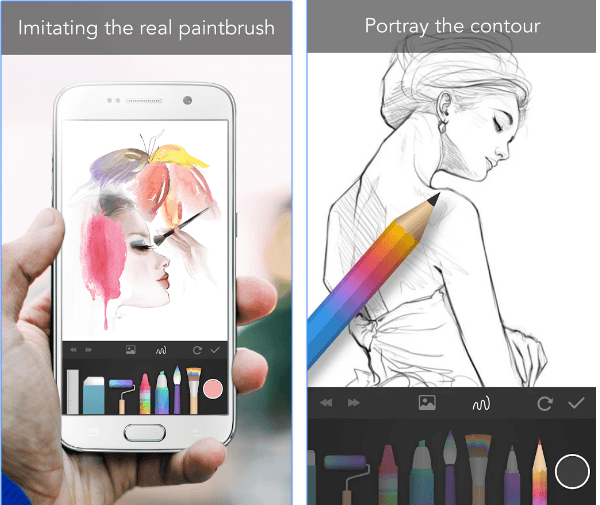 Downloads: 10000000 +
Customers rating:

(4.4 / 5)

ibis Paint X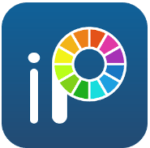 ibis Paint X is an advanced image editor that will allow you to save not only the result but also the process of creating a picture.
ibisPaint X is a social drawing. The program allows you to record the entire process of creating work, adjust the playback speed and put the video in universal access, along with the drawing itself. A link to published work can be posted on social networks.
The technical capabilities of the application are a paradise for the artist. There are more than 140 types of brushes for every taste. You can adjust the force of pressing, transparency, and thickness. For all brushes, there is a convenient preview, which will help you to decide on the choice of the instrument.
The program is designed to work with layers. Their number is limited only by the capabilities of the device itself (free RAM).  You can also individually adjust the transparency of the layers and blending modes with other layers. Layers can be cloned, duplicated, inverted, connected, moved and rotated – all for comfortable creativity.
Work with color includes a color wheel for 256 colors, a palette of 30 colors for quick access, as well as the ability to adjust almost every single pixel. The scale is increased to 4000%.
For the graphic editor, the ability to undo and redo is also important. ibisPaint X "remembers" more than a hundred actions and allows you to return to any of them.
The program can notify you of the comments left to your work. Also, you can download the works of other authors in vector format.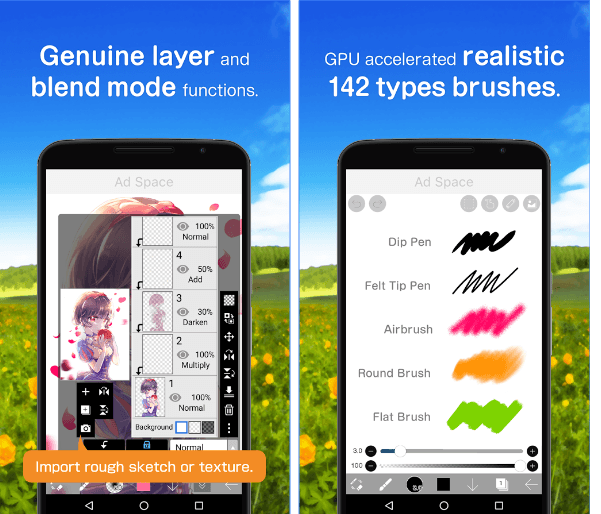 Downloads: 50000000 +
Customers rating:

(4.5 / 5)

MediBang Paint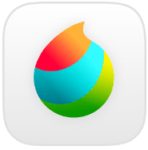 MediBang Paint is a simple and free solution for drawing and creating comics on Android smartphones and tablets.
In the application, you will find more than a thousand tools, including popular brushes, fonts, backgrounds, effects, you can easily create backup copies, save work in the cloud and transfer it.
There are more than 60 brushes. This includes feathers, pencils, watercolors, blur, and symmetry functions, as well as flat and round brushes, a simple school handle, soft pastels and more. The sizes of most instruments can be easily adjusted. The application can also produce a smooth increase or decrease in the clarity of the lines, what allows you to radically change the appearance of the outline or the image as a whole.
Each user of the application can use 850 different textures, backgrounds, visual effects and even text clouds (like in comics). Here you can use backgrounds with images of landscapes, cities, cars, etc. All such images can be easily scaled, rotated and transformed.
The app has a simple and convenient interface. Even a new user can easily apply all the functionality and quickly learn how to create comics and own illustrations.
A popular feature of working with layers here is also present. With her you can, for example, draw a hairstyle on one layer, and an image on the other. You can add the text to the pics. It can be made manually or with the voice.
All the downloaded files can be shared with other application users and employees (convenient while working on joint projects). In case of questions about the operation of the application and its tools, the developers added a built-in help function.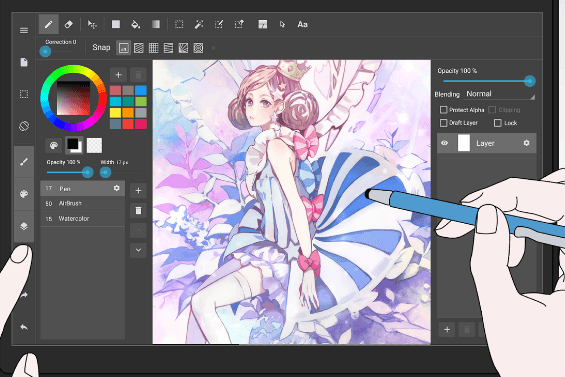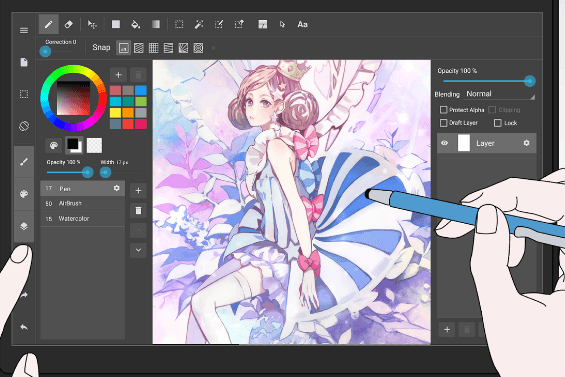 Downloads: 10000000 +
Customers rating:

(4.5 / 5)

PicsArt Color Paint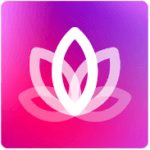 PicsArt Color Paint app opens amazing possibilities for you.  Open up digital illustrations and make them more saturated and amazing!
In the application, there is a pre-installed full set for drawing with great functionality. You will have the ability to overlay layers, blend any color combinations, change brushes, make a symmetrical drawing. All these features are at your fingertips.
Use beautiful fantastic combinations of colors, or do coloring, as you like. The application has a simple user interface. You can do sketches, colorful illustrations, photographs and digital drawings.
The features of the application include the ability to create a symmetrical drawing with a rotating axis, the use of a textured brush, different colors for filling layers, a complete library of customizable brushes, a palette of colors, the ability to overlay several layers, a blending mode and automatic image restoration.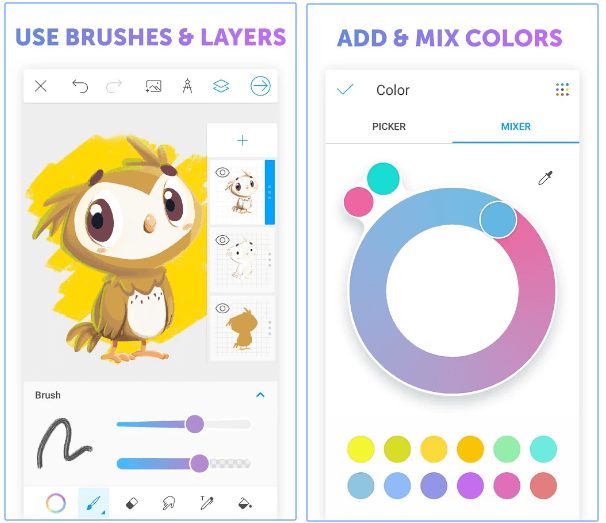 Downloads: 10000000 +
Customers rating:

(4.2 / 5)

ArtFlow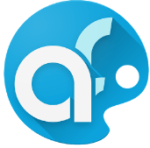 ArtFlow is one of the most popular applications for Android-creativity, and modern artists will certainly appreciate it.
So what are the advantages of this program? First of all, it's free. You do not have to pay for the program, what means that you can download and test it without any problems and limitations. This program, no doubt, will please serious artists because there is support for large canvases (4096×4096, 2560×2560, 2048×2048). It is possible to work with a large number of layers. The PSD format is supported.
There are about 70 different brushes, as well as other tools, which are no less useful. All are made for the full expression of your creativity. A user-friendly interface and a wide range of functions make Artflow one of the best drawers in its class!
It is necessary, however, to note the fact that in the free version not all functions are available.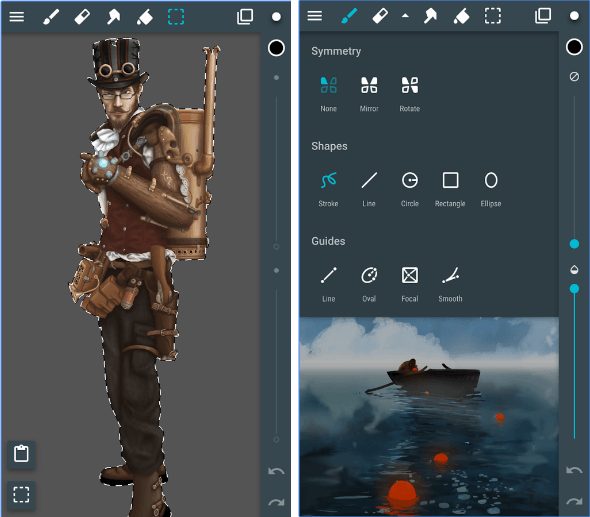 Downloads: 1000000 +
Customers rating:

(4.2 / 5)

Infinite Painter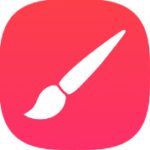 Infinite Painter is the super engine for drawing on tablets. Get improved brushes, open the potential of the artist and have fun!
In the application you will find more than 80 installed brushes, the possibility of creating them, changing the settings of the drawing tool. In addition, you can do experiments with symmetry, overlay several layers, use several blend modes, and draw city landscapes in 3D effect.
Use the improved interface. It's very simple and convenient to organize, turn your photos into pictures, edit them, use several layers at the same time, rotate and scale the images, create seamless models and much more.
Here you can record the process on video. In short, the program can rightly be called a serious professional tool for artists.
According to the developers of the application, this program has unique functions that can not be met in other applications. Looking at the toolbar, you understand that the developers are telling the truth. So, why don't you try it?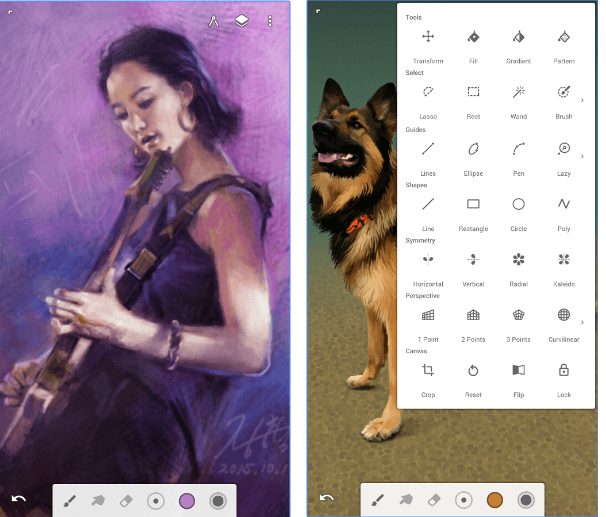 Downloads: 10000000 +
Customers rating:

(4.1 / 5)

Sketch Master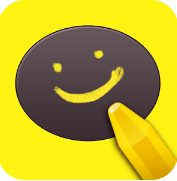 The program Sketch Master on Android is a decent drawing app with the ability to create additional layers. Despite its popularity, the application is not famous for its rich functionality, but for its ease of use and convenience.
In total, there are about seven different brushes at your disposal, what makes Sketch Master far behind in comparison with similar programs. However, we cannot refer this indicator to minuses, since not all users need brushes and their huge number. As it was said earlier, the work with layers is thought out well. You can create an unlimited number of layers, make their copies, impose various effects and much more.
Main advantages:
Exclusive free application
There is a possibility of zooming (almost to infinity)
Supports work with a huge number of layers (layers can be copied, blended, you can customize their transparency, etc.)
A large number of positive reviews about this program on the Internet.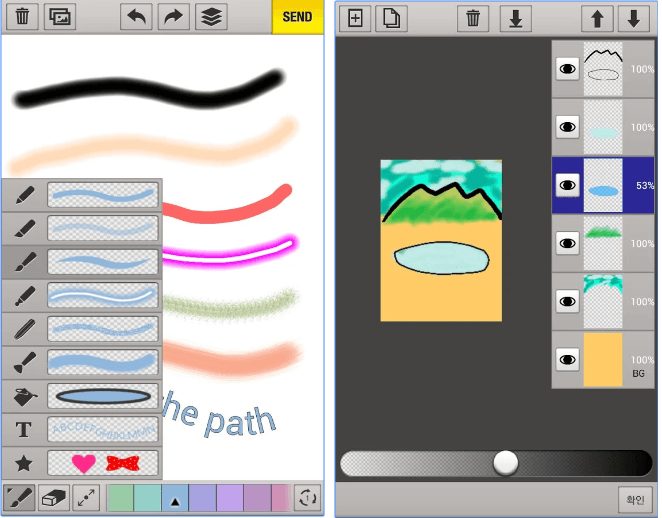 Downloads: 1000000 +
Customers rating:

(4.3 / 5)

 Sketcher FREE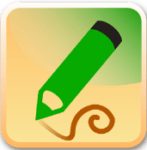 Sketcher FREE is an application for drawing on smartphones running the Android operating system, which is ideal for beginners.
The functionality of the application provides opportunities for experiments. This includes the presence of 12 brushes, most of which are not standard.
With due diligence, this application allows you to achieve very good results. There is a possibility of scaling the canvas and changing its size.
Sketcher FREE is easy to use and has a wide set of features that allow you to create very different pictures. This is what the beginners need to find themselves.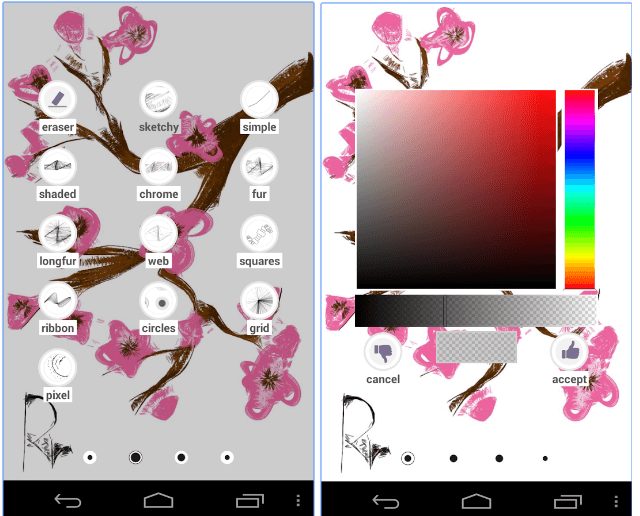 Downloads: 1000000 +
Customers rating:

(4.3 / 5)

Adobe Illustrator Draw

The quality of applications of this company can be appreciated by many users. However, the charm of Adobe products is not only in quality but also in functionality. In the Play Market, there are no such quality alternatives. Adobe Draw is the application which is designed to create vector illustrations.
Adobe Illustrator is the most suitable application for such needs. Here you can create layers, change their transparency. You can change the brushes, colors, their thickness. You can import objects from Adobe Capture CC into the project.
When finished, the project can be published in the selected application, copied to the Creative Cloud or gallery, sent to Illustrator CC or Photoshop CC.
We highly recommend Adobe Draw to anyone who wants to work with vector graphics on a mobile platform.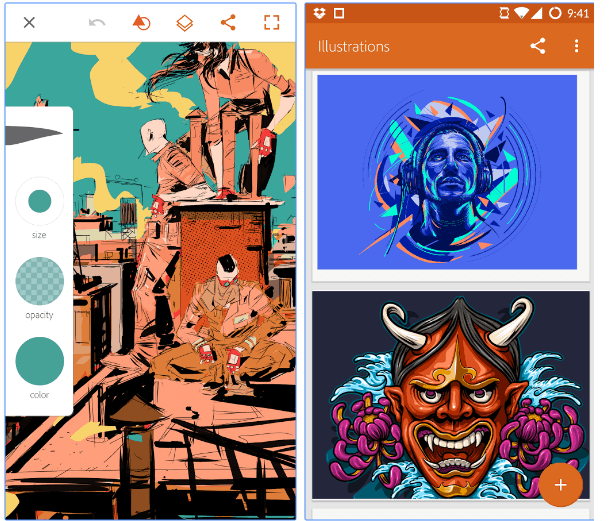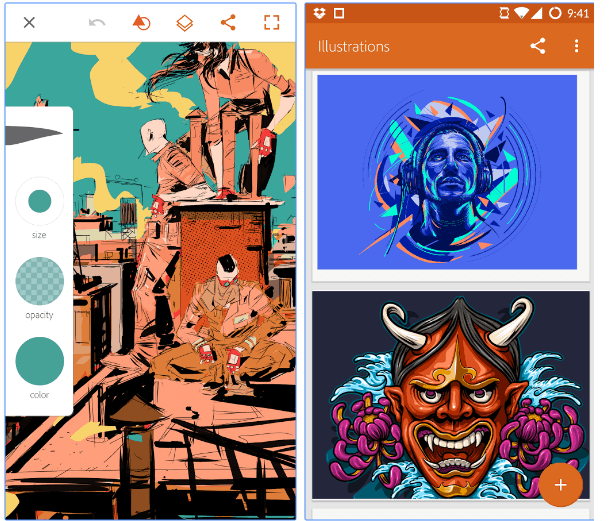 Downloads: 10000000 +
Customers rating:

(4.3 / 5)

Drawing Desk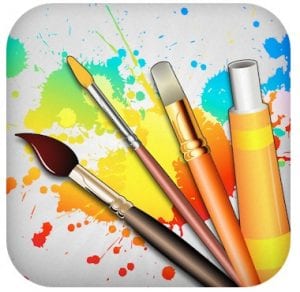 Drawing Desk is a free drawing game on Android for children and adults. Now you can draw on your phone or tablet. This drawing program contains a unique collection of professional tools, including pencils, crayons, watercolors, 3D-brushes, etc., which will help children and adults to create stunning drawings.
The program for drawing has 5 digital modes with which you can draw art: children's panel, sketchbook, doodle, coloring, and photo. This drawing game is suitable for users of any age.
Do you like to sketch, paint and draw on the photo? Want to learn how to draw? Especially for you, this drawer contains the following amazing features:
Tools that let you sketch or draw art: pencil, pen, crayons, watercolor, pour, roller, and more.
Ability to change brush size and transparency.
Drawing program with a full palette and the ability to create custom colors.
Send your drawings, artwork, or sketches to a friend.
This drawer contains 500+ pages of children's coloring – animals, letters, numbers, fruits (orange, apple, etc.).
The drawing application contains built-in colorful stickers, figures, and patterns.
Drawing on a photo, the ability to import an unlimited number of drawings.
This drawing program works both online and offline!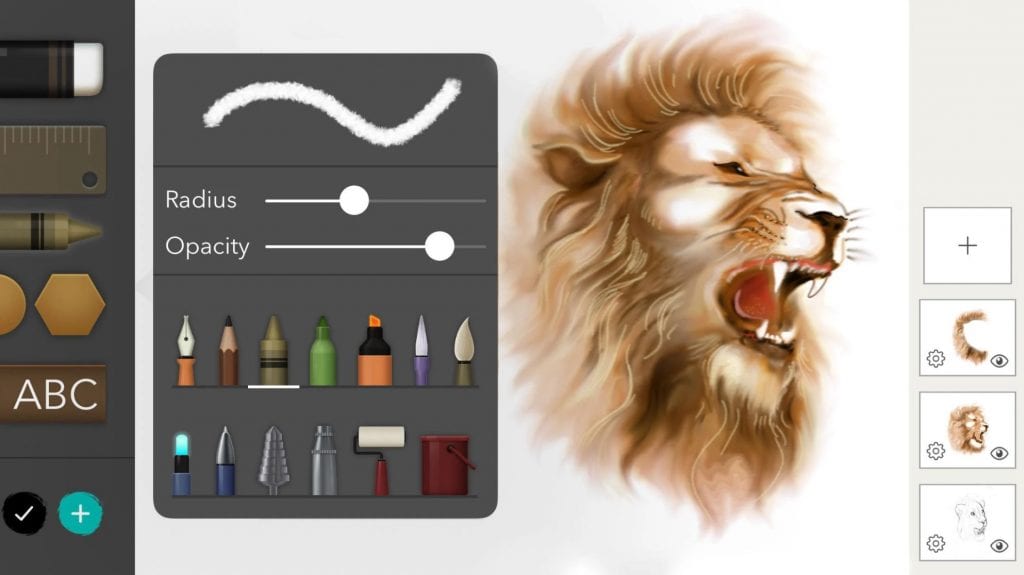 Downloads: 1000000 +
Customers rating:

(3.9 / 5)

Paint Easy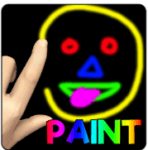 If you have a small artist growing in your house, then the game Paint Easy will help you realize your kid's talent. In this application, the child will be able to develop not only his creative abilities but also the motility of his hands.
Since the users of the game are children, the developers did not specifically complicate the management of the game. The gameplay is represented by only three buttons, clicking which you can select the color, a brush and use the eraser. Therefore, parents do not necessarily have to sit next to the child and control every click. The child will cope with everything on his own.
Drawing can help to develop a child's understanding of what colors are better combined with each other. Also, the drawing process will not be violated due to the appearance of annoying and unexpected advertising, which a child can accidentally click on.
The developers took care of this, removing all kinds of advertising banners from the game, and also provided it in free access. Therefore, parents will be able to save on the purchase of paper, paints, and markers. In return, you only need to download this application.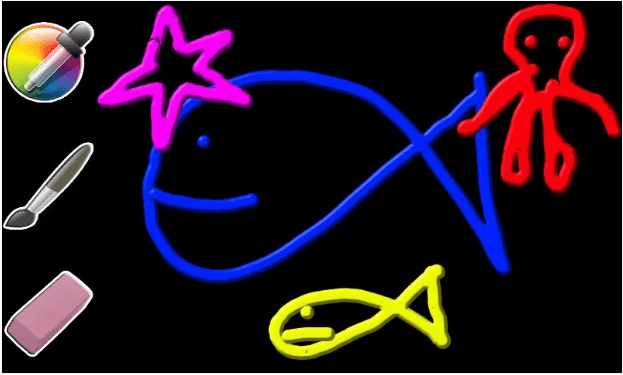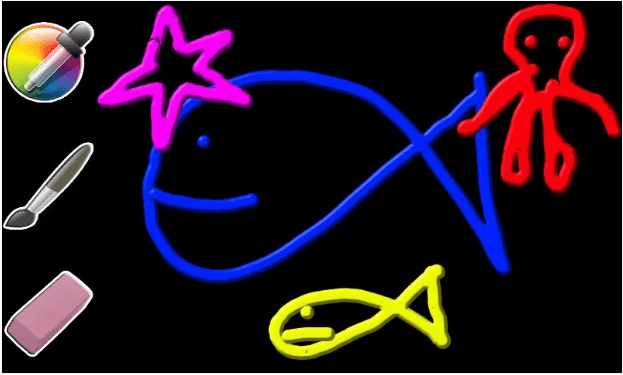 Downloads: 10000000 +
Customers rating:

(3.5 / 5)

Adobe Photoshop Sketch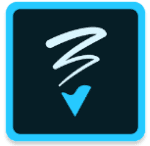 Adobe Photoshop Sketch on Android is a portable edition of the standard graphics editor. It is aimed at creating the drawn images from scratch. To do this, various brushes, airbrushes, pencils, paints, pastels, pens have been added to the program's toolkit … in general, more than a dozen drawing tools with a lot of parameters and properties.
Adobe Photoshop Sketch on Android supports multi-layered compositions with the ability to combine them and attach various images. It also allows you to send illustrations to other applications from Adobe with a multi-layered structure. Each tool has more than a dozen settings to change its parameters (size, pressure, transparency, shape). The toolbar is flexible to suit the needs of any user.
Adobe Photoshop Sketch on Android:
A huge set of tools for drawing.
A large list of adjustable parameters for each of the means of creating drawings.
Sending illustrations and sketches to other applications from Adobe for further development.
Downloads: 5000000 +
Customers rating:

(4.1 / 5)

Paint Free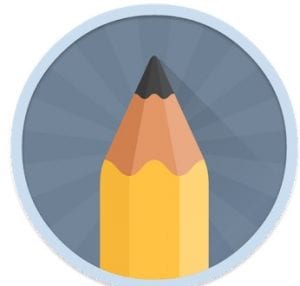 Do you like to draw? If so, this application is for you! Have fun drawing on the screen of your phone! Draw whatever you want, and then share your masterpieces with friends. Store the pictures you made in your phone memory to watch later.
Paint Free features:
You can use many tools to draw: marker, pen, pencil, watercolor brush, colored chalk, highlighters, soft or hard eraser, filling tool…
Use the "Mirror" mode to draw symmetrical objects;
Cancel the errors;
Repeat the last undone action;
Receive photos from your camera or gallery and draw on them;
Change the background color;
Change the width of lines and color;
Share your pics via Facebook, email, Bluetooth, or other programs.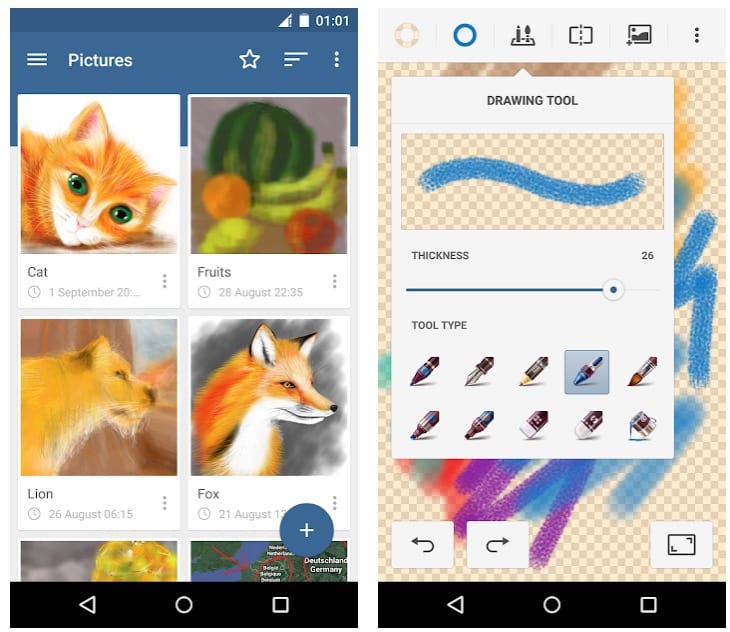 Downloads: 5000000 +
Customers rating:

(4 / 5)

SketchOne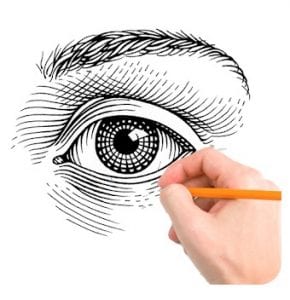 Why don't we all draw a million kitties together? Here we go! Draw your pets and show the world how nice they are!
SketchOne is a creative application for painting and coloring with a social function. It offers different themes that will inspire you to create masterpieces. And you can also see how others drew any picture in the community. This will help you learn new techniques!
Pleasant features of the application:
Record color video process – save video about how you draw.
A lot of themes that will help to charge your inspiration.
A community where you can upload your drawings and watch others'.
Join the community and share your drawings with gurus from around the world!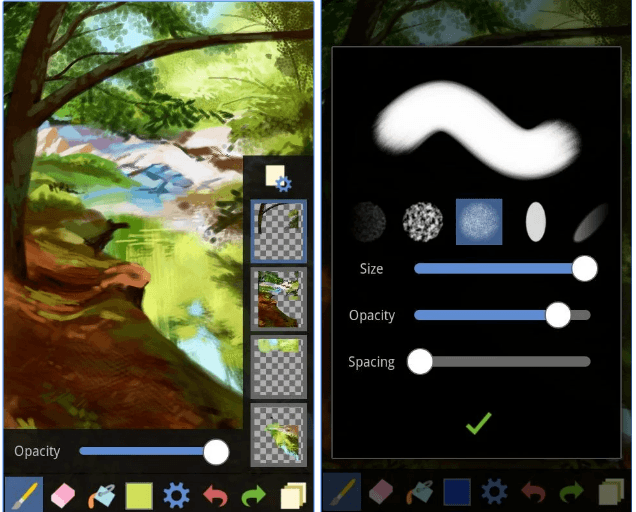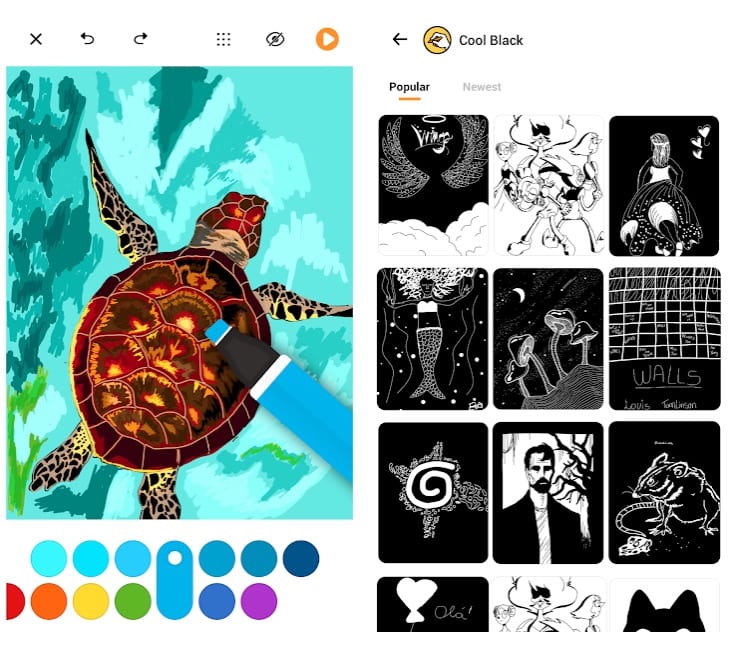 Downloads: 100000 +
Customers rating:

(4.6 / 5)

You may also like: 10 Best cad drawing apps for Android
Now there is a huge number of similar programs, and therefore artists have plenty to choose from. If you have a lot of memory on your tablet, you can install even a few favorite drawing programs, and use them alternately. Thus, you can determine for yourself which application you like best, which you think is more convenient.