Looking to smash your goals this year? You're not alone! Goal setting becomes more and more popular, and we're here to help you pick the best tools for that!
We've rounded up the top free goal-tracking apps for Android you could try. Not only will these apps help you monitor your improvement, but they also offer cool features like motivational quotes, personalized practice tracking, and rewards.
You can use these apps for multiple things, from work-related plans to home routines. Say goodbye to tedious spreadsheets and hello to a more efficient and fun way of achieving objectives. Let's dive in!
Goal Meter
If you're someone who struggles with staying on track with your objectives, don't get past this app. Not only is it totally free, but it is also extremely user-friendly and has a beautiful design that is filled with hilarious cartoon characters.
The app is incredibly convenient and easy to get into. Even if it's your first time getting into planning, you'll get to figure it out. It breaks down your objectives and habits into daily routines, making it easy to complete more in less time. You'll get to earn achievements for extra motivation, too.
Whether you prefer daily or weekly routines, the app has you covered! You can personalize your dashboard to track the progress efficiently. And the best part? The app sends you notifications when it's time to take action and work on your goal!
You can pick from a variety of templates to cater to various goals. From exercise and studying to quitting bad habits and financial success, they have got it all. Plus, the app automatically backs up and synchronizes your data with its servers, so you never have to worry about losing your progress.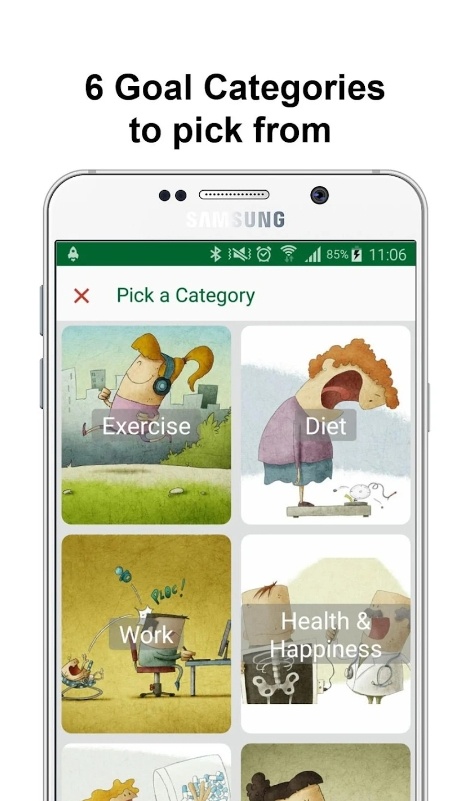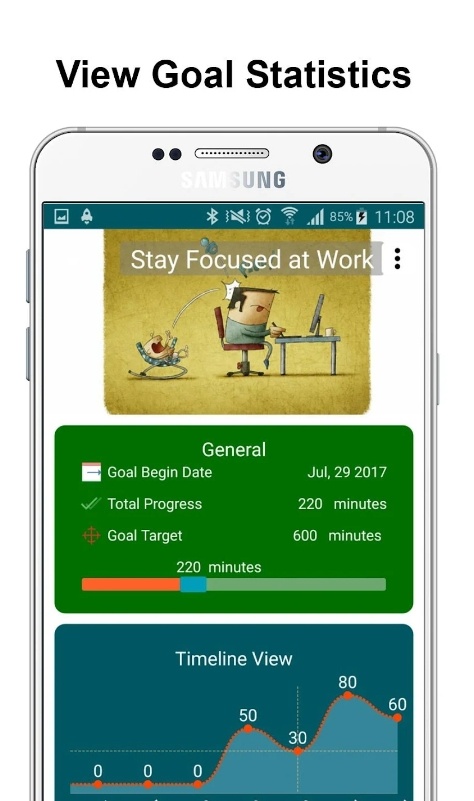 Downloads: 1M+
Customers rating:

(4.1 / 5)

You may also like: 13 Best Day Planner Apps
Avocation Goal & Habit Tracker
Do you ever feel disheartened after setting great expectations for yourself, only to fall short? That's where this app comes in, to assist you on your journey towards self-improvement through small, yet consistent steps throughout the day. It's a gem that encourages you to stay on track and reminds you that it's the little things that add up to reach your goals.
This app offers you a seamless way to add, manage, and organize your plans. Featuring color-coded circles that visualize your daily routine, it helps you see clearly and meet your dreams. With personalized icons, colors, and routines, every habit becomes uniquely yours.
The app is incredibly simple and user-friendly. Its customization options allow for a personalized exp, while built-in reminders help you stay responsible.
Say goodbye to the worry of forgetting objectives, and the frustration of missed tasks! With this app, creating individual notifications for each habit is simple, ensuring you never drop the ball. So get those chores done, and take pride in your progress, because it's the little achievements that keep us moving forward.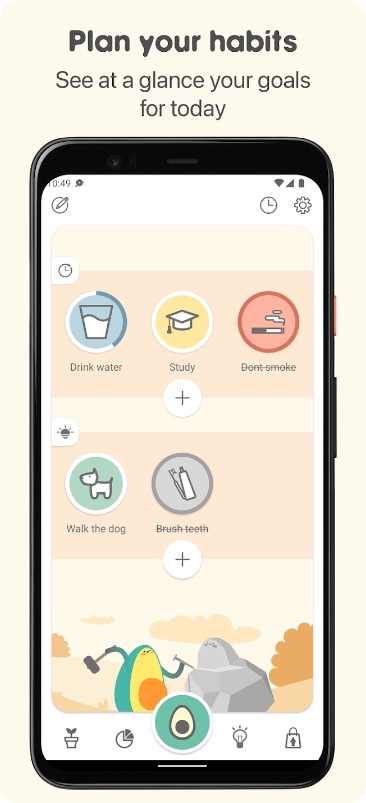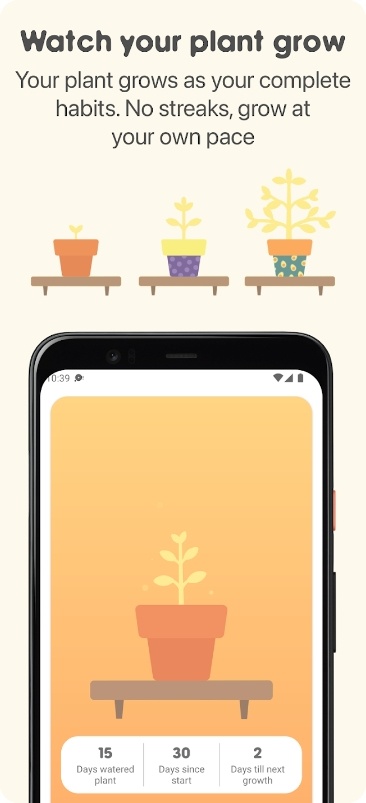 Downloads: 1M+
Customers rating:

(4.2 / 5)

Dreamfora
This adorable app is a game-changer! Say goodbye to procrastination and the strains of planning. Never before has it been simpler to set and accomplish long-term objectives while maintaining the highest quality standard. Not only does it help transform dreams into reality, but it'll also help you unearth hidden passions.
Think of it like having a personal coach guiding you through identifying your dreams and transforming them into achievable plans at the simple touch of a button. This app provides expert-backed plans, tips, guidelines, and resources. It's a lifesaver for busy bees prone to losing track of their workloads-:daily alerts keep you on your toes.
You'll get to track your advancement on a daily, weekly, and monthly basis. Interacting with others who share your aspirations can be incredibly motivating and enjoyable. Receive inducement and challenges from fellow community members!
The app enables you to share your progress while exchanging insightful tips. Additionally, you'll receive daily motivation through inspirational quotes and affirmations to keep you on track. It's free to use and not overloaded with ads, so why not try it?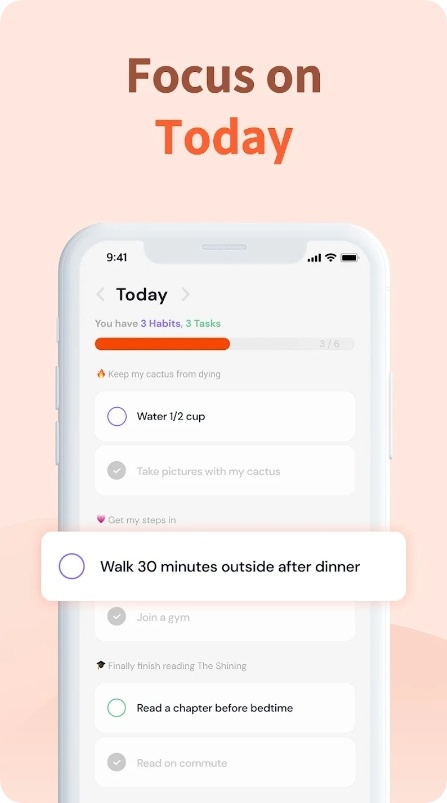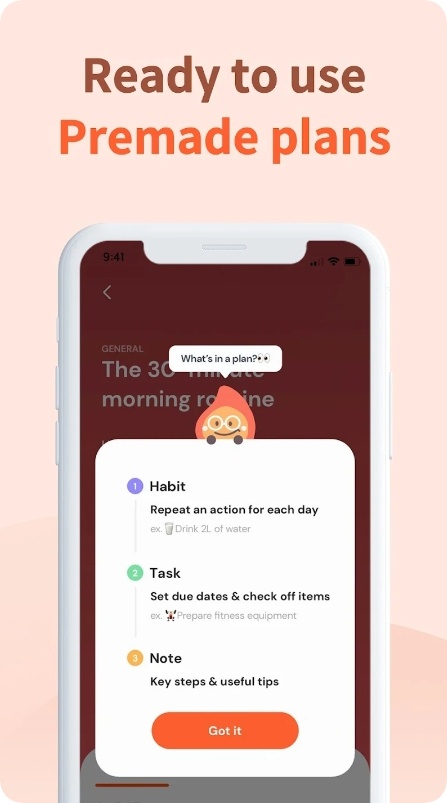 Downloads: 1M+
Customers rating:

(4.4 / 5)

Habitica
This app strikes an ideal balance between productivity and entertainment. Classic RPG game enthusiasts will delight in the retro elements incorporated into the design. Crafting an avatar is a fun and engaging experience, especially with the inclusive personalization option. Adding tasks, chores, and goals is quick and effortless, so you can stay organized and focused.
The level-up system not only keeps track of your current streaks but also visualizes your improvement. The color-coded objectives and streak counters are incredibly helpful, but it's the gear and pets that really steal the show. With so many collectible options, you can create an avatar that's 100% unique and show off your style to the world.
The app effortlessly manages repetitive tasks, elevating the quality of your life. What distinguishes it, however, is its capability to inject an element of fun into mundane activities. Checking off items on your to-do list unlocks gold, exp, and items that can be used within the game, adding a game-like thrill to your daily routine.
It stays fresh and exciting with seasonal events and regular content releases. You'll also get to connect with mates via parties, guilds, and challenges. These not only hold individuals accountable but also facilitate collaborative goal-setting and achievement.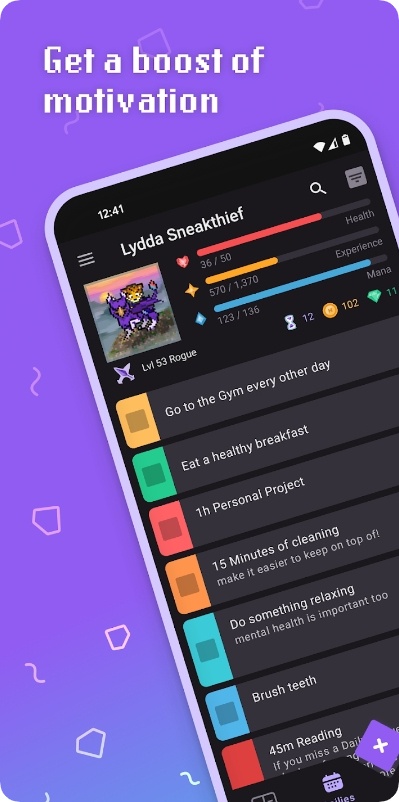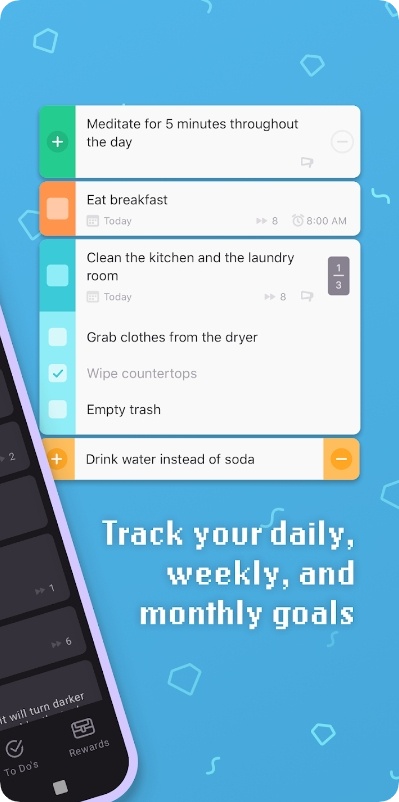 Downloads: 1M+
Customers rating:

(4.2 / 5)

Way of Life
This app is your best bet for monitoring all kinds of habits! The UI is extremely user-friendly, so you'll never feel lost. But it's not only simple. It's loaded with tools that make it one of the most comprehensive habit trackers on the market!
For those who love to see their progress visually, look no further: the charts are made to meet your needs. They serve as motivators to maintain good habits and gradually let go of the bad ones.
The app offers an impressive level of customization. Tailor your goals and categories to fit your unique lifestyle. Take advantage of the notes feature to jot down your thoughts and insights.
Although the free plan only allows tracking up to three objectives, it's still a good deal. You can always upgrade to a higher plan if you need to track more. But some users may find the lack of an OKR tracking option limiting.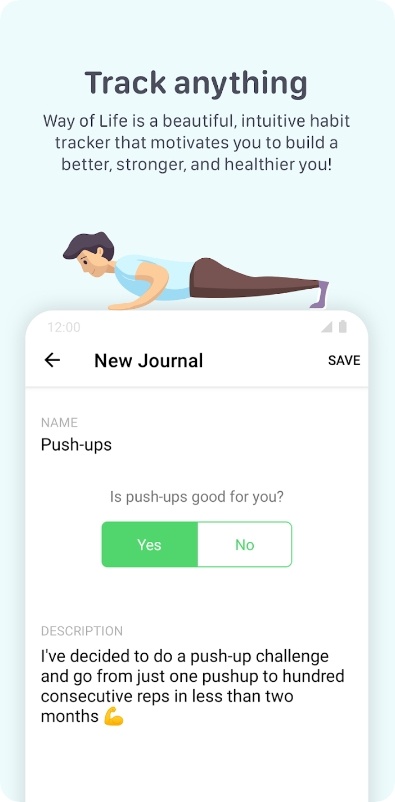 Downloads: 500K+
Customers rating:

(4 / 5)

Higher Goals
Feeling stuck in your goals? Try this app and see how your life improves! It will boost you to form new dreams and meet your objectives. The first thing you'll notice is that the app is a breeze for us. With daily, weekly, and monthly repetition options, you can monitor your advancement in a way that suits your prefs.
And can we just talk about the super cute and adjustable UI? You can modify the color scheme and add your images to make it feel like your own personal space. It definitely helps you get motivated and excited about the plans.
Plus, the app monitors your streaks to see how far you've compressed. It lets you visualize your dreams with percentage tracking, so you always know how close you are to achieving them. And when you check off a habit, you can take a photo to capture the moment and share your progress with friends.
The app is also focused on mindset. It helps you align your plan with your North Star, so you can make sustainable changes that will last a lifetime.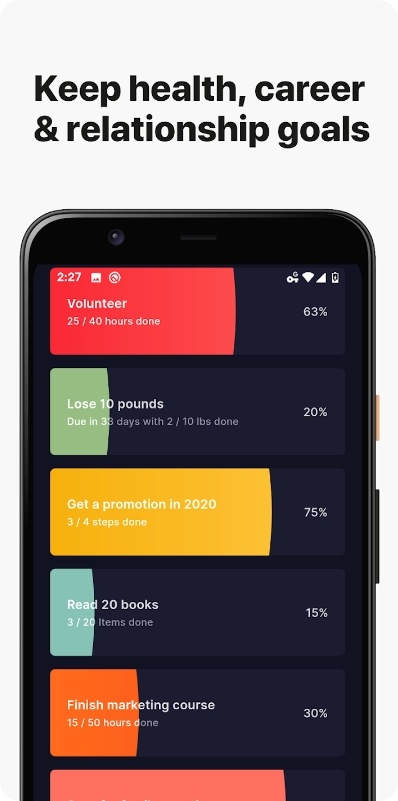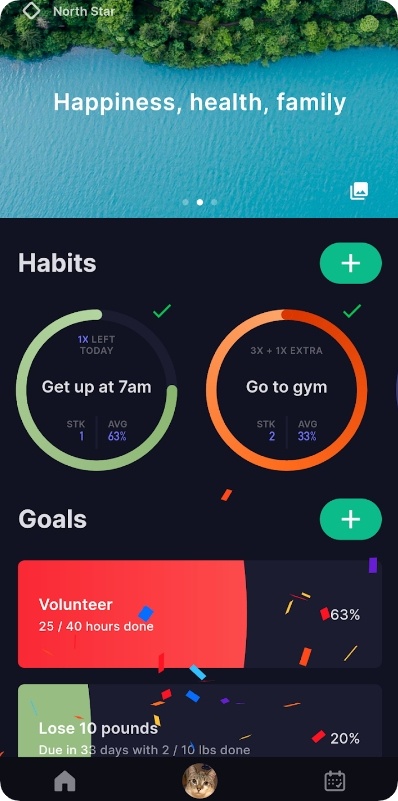 Downloads: 100K+
Customers rating:

(4.1 / 5)

Check also: Goalist: Daily Planner, To-Do, Time & Goal Tracker App Review
Goalify
This tool is a must-have for anyone striving to achieve their goals. It's not just another run-of-the-mill goal tracker, it offers so much more. Besides organizing your plans and to-dos, it lets you monitor your routines, a key element in attaining enduring success.
This app enhances accountability by providing clear progress indicators and the option to start challenges with friends. What's even cooler is the addition of friendly competition! With the ability to follow improvement and compare with others, you can now persevere towards achieving your goals in unison.
Need that extra push? You can form groups to encourage each other. And that's not all! With an integrated chat, motivating your pals as you work towards your goals together has never been easier. The app is made with a simple UI as well. Interactive charts and reports are available to assist you in keeping your plans organized.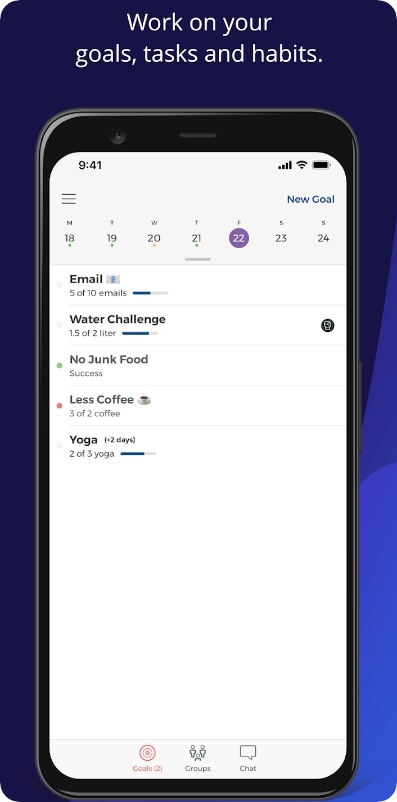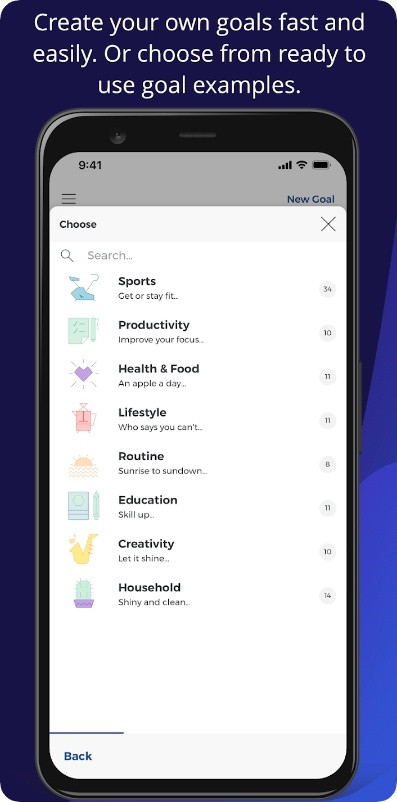 Downloads: 100K+
Customers rating:

(4.3 / 5)

Goal Setting Tracker
Here's an app designed to bolster your focus and organization while working on your plans. It identifies the ones that matter most to you, starting the moment you download it. The fascinating aspect of this app is its ability to evaluate your life's realities and identify areas where you'd like to make progress.
By dividing your objectives into smaller, more manageable ones, the app helps you remain focused on your top priorities, ensuring you achieve them with unparalleled ease. Setting up a morning practice can be a powerful boost to your mood for the day, and this app lets you easily arrange yours.
And with a notepad for jotting quick notes and the ability to regulate your routine, the app lets you take authority in your daily life. Meeting your dreams can be smooth sailing if you reflect on your improvement and cultivate mindfulness toward your needs.
Through daily inquiries and reflections, you will never lose sight of your progress and areas of improvement. With the added support of a dedicated team, you can confidently share your dreams and aspirations. And with seamless device syncing, you can have access to it all anytime, anywhere.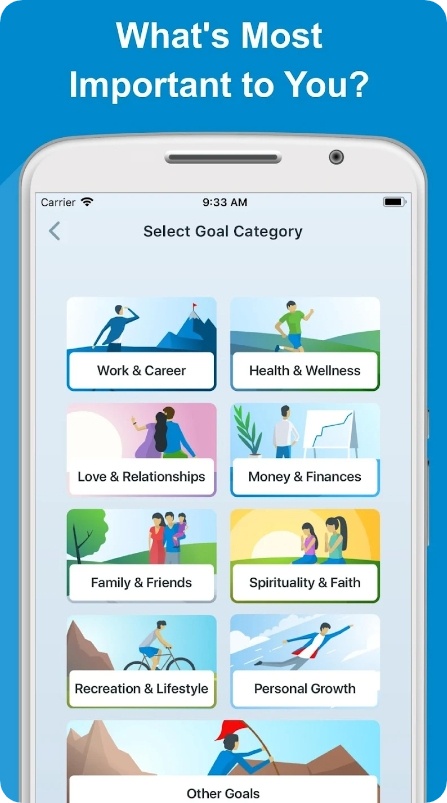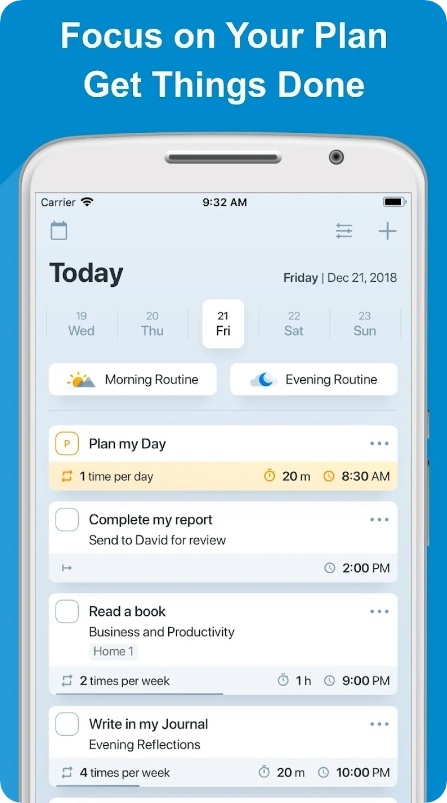 Downloads: 100K+
Customers rating:

(3.6 / 5)

HabitYou
This tool helps facilitate positive habits and eliminate negative ones. It boasts a tracking system that allows for coverage habit monitoring, all for free! You can personalize your tracker and set your own goals. Plus, the graphs provide clear insights into your progress. It's never been easier to monitor your habits and accomplish your dreams!
Additionally, there is a journal to articulate your thoughts and plans. This is ideal for enhancing productivity and self-care. You can modify your journal with pics and notes while highlighting poignant thoughts with bullet points.
Reminders are quite helpful, too. With alerts for all your plans, nothing slips through the cracks. The daily count and time tracker will measure progress and keep the momentum high.
The dashboard presents habits and objectives in one comprehensive view, providing a clear progress overview and areas for improvement. Plus, it keeps a record of your current and longest streak for your self-care habits, so you always know how far you've come!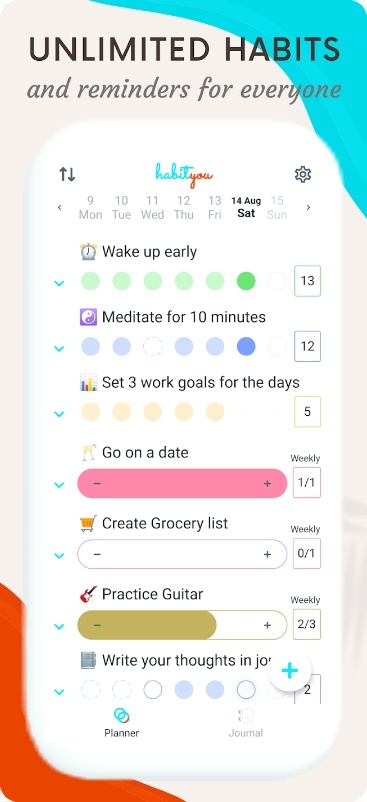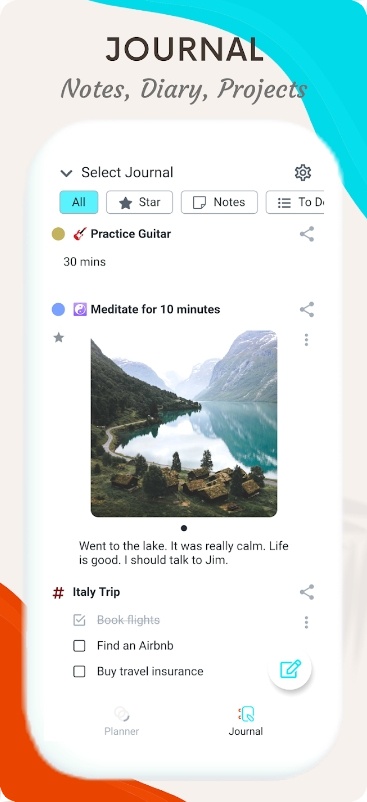 Downloads: 100K+
Customers rating:

(4.4 / 5)

Reach it
Do you struggle with committing to your ambitious goals? This app is here to help! It's a game-changer for anyone trying to make positive changes in life. The smart templates are truly amazing, letting you add new objectives with just a single tap. Say goodbye to procrastination and hello to success.
The app enables you to link habits with desired outcomes effortlessly, ensuring you always stay on track. Subgoals can be established for seamless progress toward your objectives. Icon choices, list organization, and tracking toward goals are also available.
The app not only cultivates wholesome habits but also helps put you back on track with periodic notifications. And if you need an added boost, the morning motivation alert is geared to start your day off right.
With the ability to review objectives via stats and a calendar, the app is exceptionally valuable. Plus, it works offline, so you can make use of it while on the go.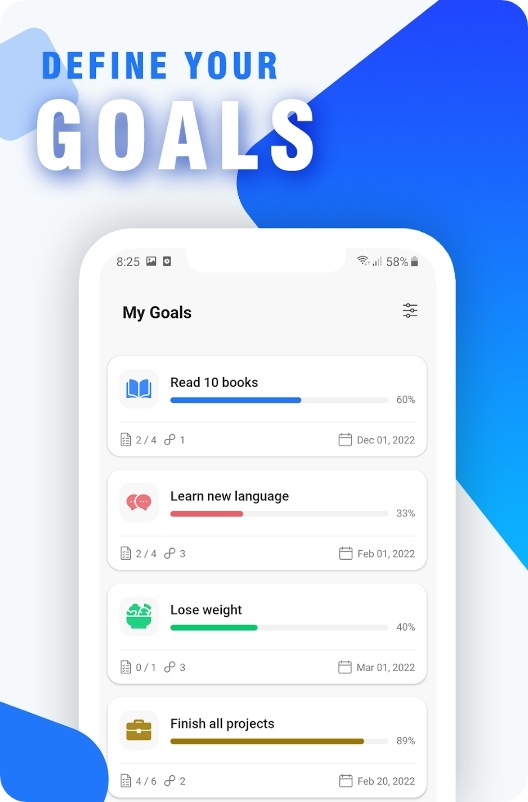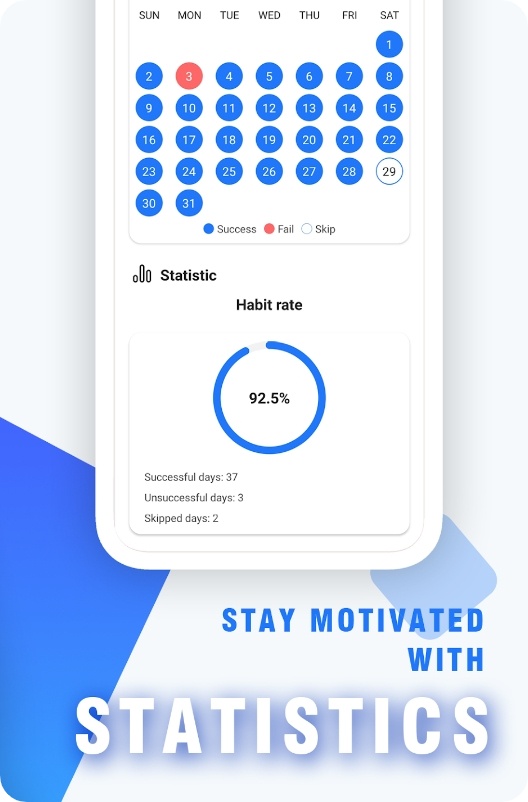 Downloads: 50K+
Customers rating:

(4.4 / 5)

You may also check: 10 Best Wedding Planner Apps
ATracker
And lastly, there's an app to end your struggles with objectives. It's a treat for anyone who wants to break down their goals into manageable tasks. The app has a simple UI and fully adjustable tools, allowing you to categorize your tasks with tags and set reminders.
This nifty app lets you monitor the precise time spent on each goal, keeping you liable and helping you identify patterns to boost productivity. And with comprehensive statistics and charts, you can methodically interpret your performance. The app comes with a free trial, and the one-time fee is budget-friendly, alleviating any concerns about breaking the bank.
The app provides an exceptional level of customization, allowing effortless tailoring according to your needs. With segmented tasks in custom categories, the organization becomes a breeze. Work-related objectives? Easy, done! School-related plans? Check! Personal goals? You can do it too! The app caters to it all, so you don't have to worry about a thing.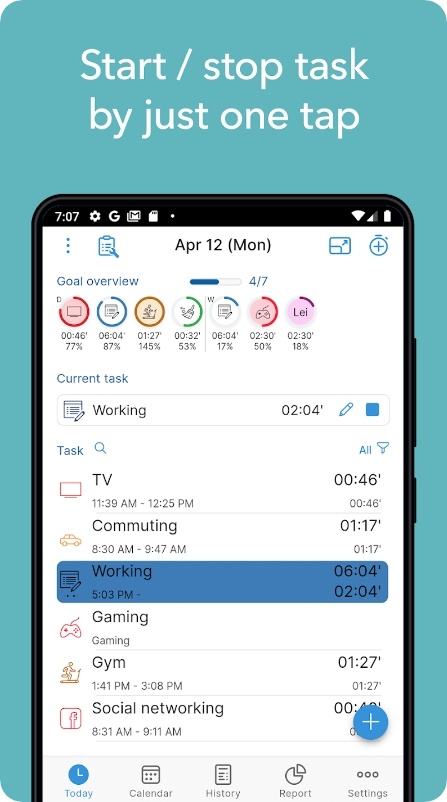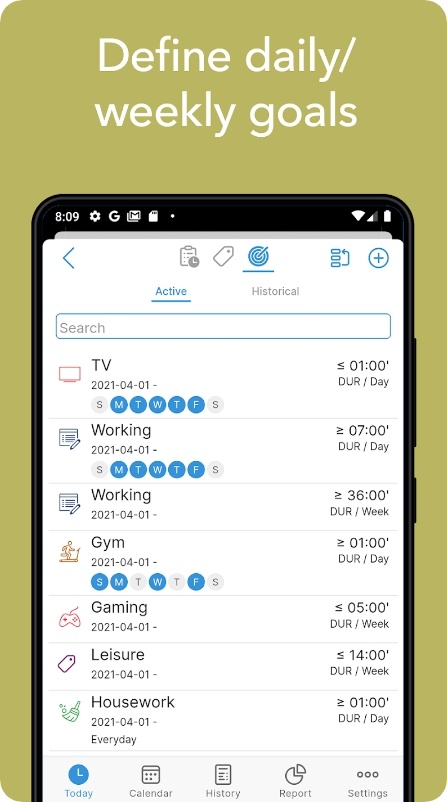 Downloads: 100K+
Customers rating:

(4.2 / 5)