Periodic fasting has become a popular trend over the past few years and for good reason. Not only is it a great way to boost your metabolism and reduce inflammation, but it's also been shown to improve brain function and increase lifespan.
And now, with the help of the best intermittent fasting apps for Android, it's easier than ever to get started on your fasting journey. With features like customizable fasting schedules, meal planners, and diet diaries, you'll have everything you need right at your fingertips.
No need to monitor fast windows manually, these apps will do the hard work for you. Whether you're a newbie or a seasoned pro, these apps are sure to make your journey easier and more enjoyable. Let's get into it!
Fasting
If you're on the hunt for a reliable and easy-to-use fasting app, this might be the one. No matter your skill level, our app offers a diverse range of plans to choose from, catering to both newbies and pros.
Logging s fast is simple: just one tap and you're good to go. And with the ability to alter the plan and adjust your fasting and eating periods, you can tailor the exp to fit your unique lifestyle and needs. And with the bonus of alerts to tell you when it's time to eat, you'll never fall off track again.
But what really sets this app apart is its smart fasting tracker, complete with a timer and even a weight tracker. Tracking progress during a fast has been a game-changer. It provides the convenience of monitoring the duration and seeing progress over time.
And with science-based tips and articles about fasting, you can feel confident in your approach and knowledge about the benefits of fasting. Did we mention that there's no need to count calories? That's right, fasting makes losing weight easy and stress-free. And if that's not enough, you can sync your data with Google Fit to have a more comprehensive view of your health.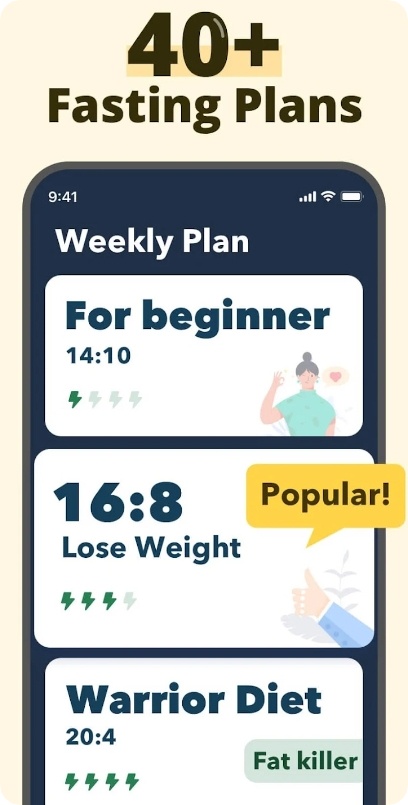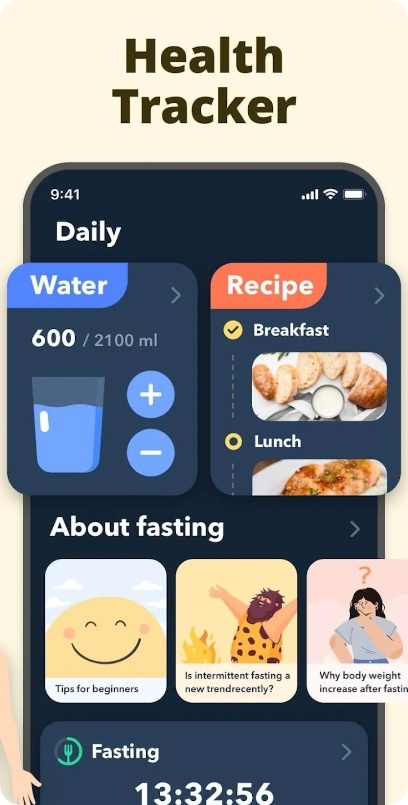 Downloads: 10M+
Customers rating:

(4.8 / 5)

You may also like: 5 Free Detox Diet Apps
BodyFast
Ready to take your fasting to the next level? This app lets you do just that. Whether you're a beginner or an experienced faster, this app has personalized programs to help you reach your objectives and see progress.
Along with daily coaching for motivation and tips, you'll have access to over 100 recipes catered towards fasting success. And don't worry about what you're eating: the app covers helpful info to keep you educated.
One of the coolest tools of this app is the ability to monitor your weight and body measurements. Say goodbye to guesswork and hello to concrete progress. And while you're at it, make sure to drink enough water with the included water tracker.
But the app isn't just about fasting. There are also weekly challenges to encourage physical activity. And if you're new to periodical fasting, don't fret, the app has an educational tool to help you learn everything you need to know.
Oh, and did we mention that the majority of these tools are free? With more than 10 fasting programs and alerts, this app is a must-download.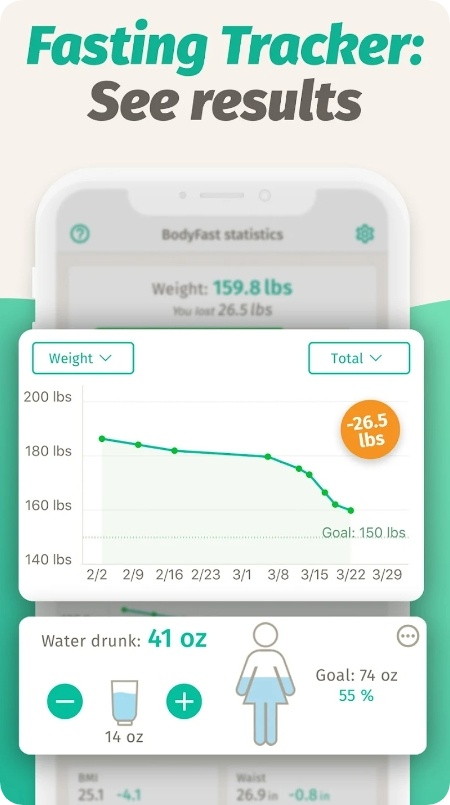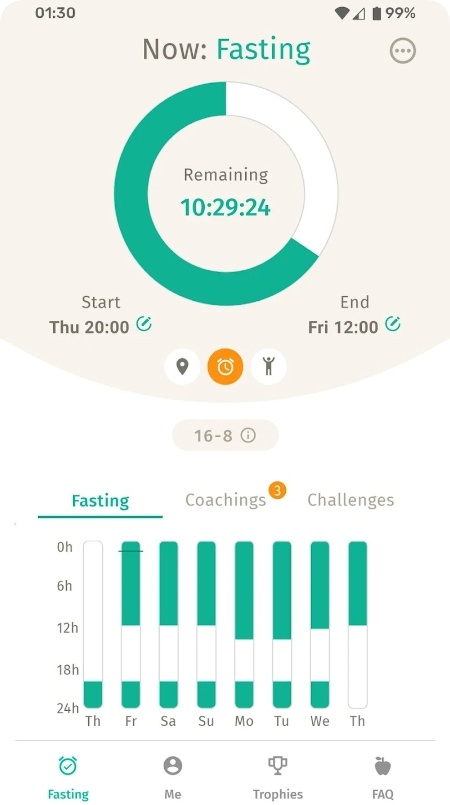 Downloads: 10M+
Customers rating:

(4.6 / 5)

Fastic
If you're about to start periodical fasting and need some extra help and encouragement, this app is your cup of tea. It has everything you need to kickstart your new lifestyle, whether you're a beginner or a seasoned pro.
One of the best perks of the app is its fasting timer. It makes logging a cycle an absolute breeze, so you don't have to fuss around with timers or spreadsheets. And the body status tool is a real game-changer: it helps you identify and track key stages in your journey, so you can see your headway in real-time.
But that's just the beginning! The app is also equipped with a water tracker, so you can easily log your intake and get reminders to stay hydrated. And for those looking to build healthy habits, the step counter feature is truly ideal. You can easily scan your improvement and use it as a motivating tool to take even more steps each day.
The app is also a great source of recipes. With over 400 simple and delicious options to pick from, you'll never be stuck eating the same thing over and over again. There are also tons of challenges to join, so you won't get bored.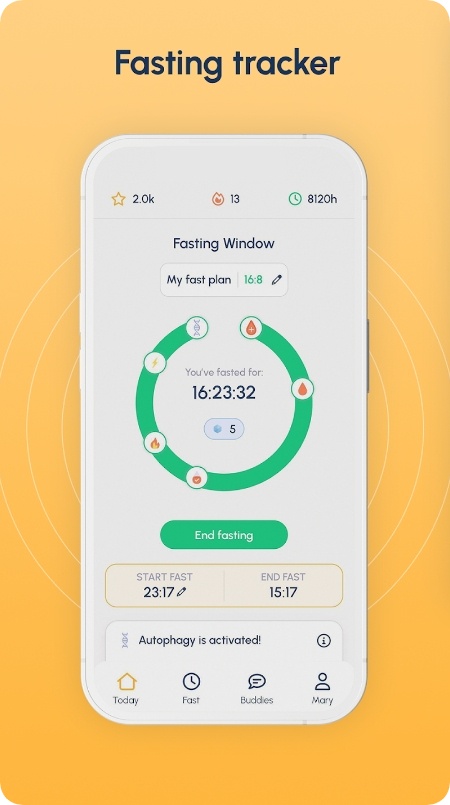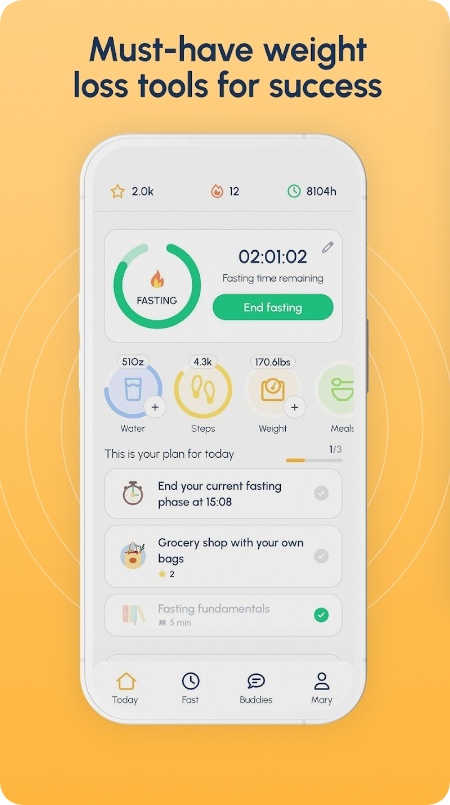 Downloads: 10M+
Customers rating:

(4.6 / 5)

GoFasting
That's an all-in-one periodical fasting app that caters to all exp levels. Whether you're a beginner, intermediate, or advanced faster, this app has got you covered. With over 10 popular plans to select from, you can easily find the one that fits seamlessly into your daily life.
You can also create a custom schedule if needed, how cool is that? The tracker itself is pretty easy to use, you'll quickly figure it out. You'll get to start or stop your fasts with just a few taps, and adjust your fasting time as needed. Thus, you'll never lose track of your fasting progress again!
And with its handy weight loss tracker, you can set weight loss goals, monitor changes, and stay motivated every step of the way. But that's not all: the app also offers a wealth of professional knowledge to help you optimize your fasting routine and achieve your best possible results.
With its informative articles covering everything from the science of fasting to the latest wellness trends, you'll have all the knowledge you need to succeed. It's free to use, and the amount o ads is not too annoying.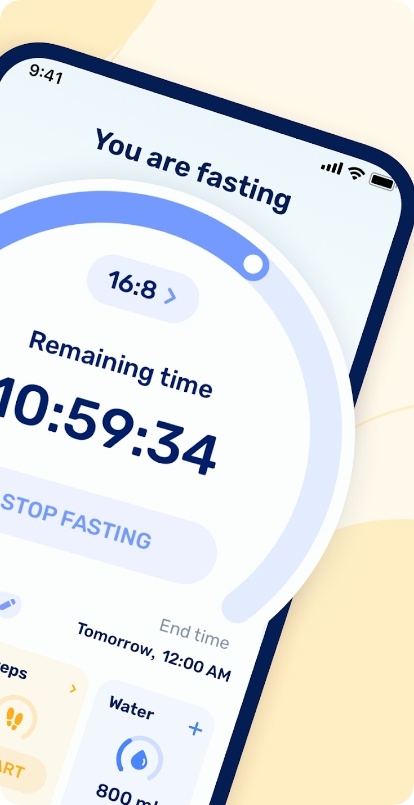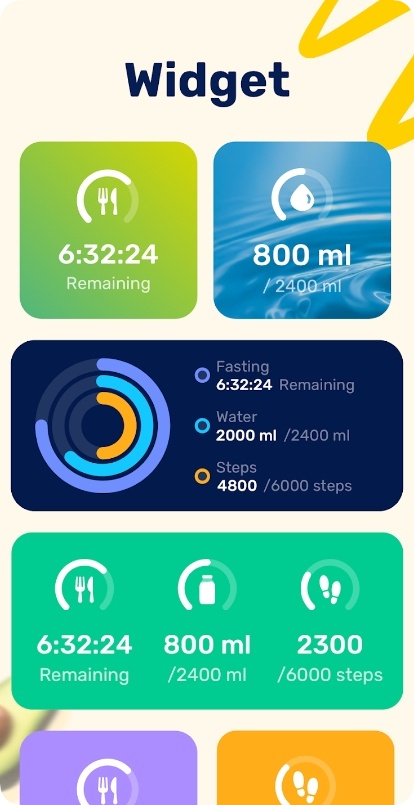 Downloads: 1M+
Customers rating:

(4.6 / 5)

Check also: 15 Best Women's Workout Apps
Simple: Intermittent Fasting
Tired of the endless cycle of yo-yo diets, calorie counting, and never seeing any real progress? This app is here to help! This little gem has everything you need to start your journey and crush your health goals.
With its user-friendly UI, tracking your fasts has never been easier. You can start and stop your fast with just one click, so it's all about flexibility and comfort. Plus, you can set reminders to ensure to stick to the schedule.
And with almost 2K o educational articles, you'll have access to valuable info to help you build new, healthy habits with food, exercise, sleep, and stress. And don't forget about the delicious recipes that will keep your taste buds happy and satisfied.
Above that, the app will encourage you to drink enough water and track what you eat with its food journal. There are tons of pre-made schedules for you to use (which is great for newbies), and you can also make a custom one from scratch.
The app easily integrates with other health apps and devices. No more manually inputting your data: everything is seamlessly synced to provide a more accurate picture of your progress.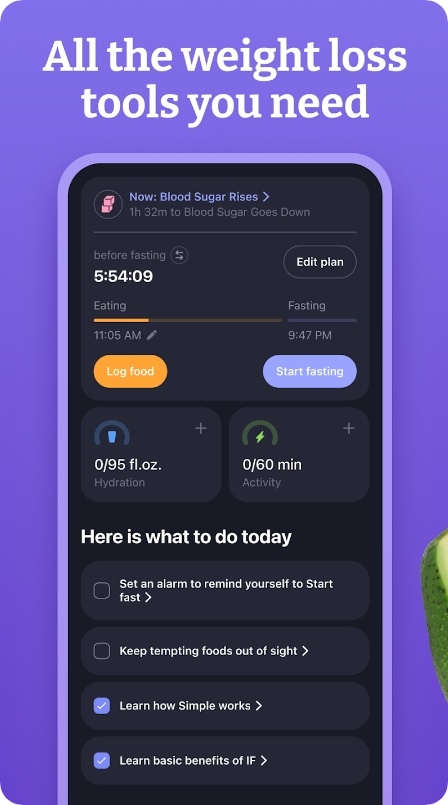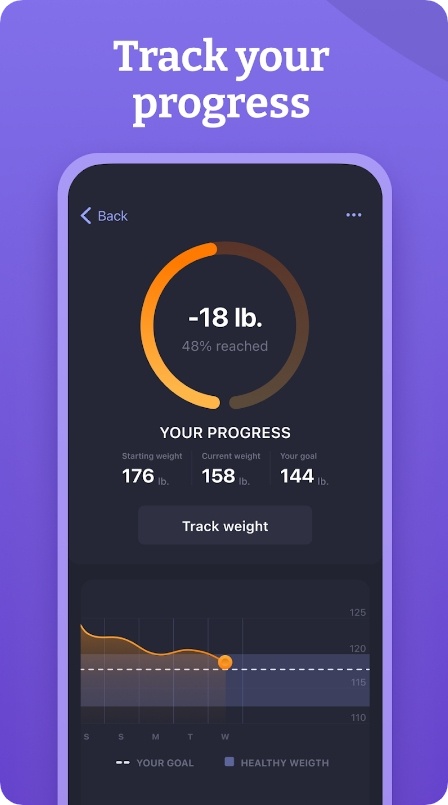 Downloads: 1M+
Customers rating:

(3.9 / 5)

Zero
That's an effective tool to help you get into periodical fasting. First things first, the free version of the app is already pretty great. You get a timer to help you track your fasts, a content library packed with helpful info, and even the ability to journal your moods during fasting.
At this point, you get everything an average user may ever need without spending a dim. Another major bonus? The fasting zones tool. It lets you monitor progress and stay encouraged as you reach key metabolic milestones.
And of course, the advanced stasis is top-notch. You'll be able to see how your practice correlates with other health markers, like weight and heart rate. By tracking your development over time, you'll be able to adjust your pattern and stay on target with your goals.
You can also use custom pesetas to alter the programs to your needs. From doing a longer fast or adjusting your eating window, it's easy to set up a program that works for you.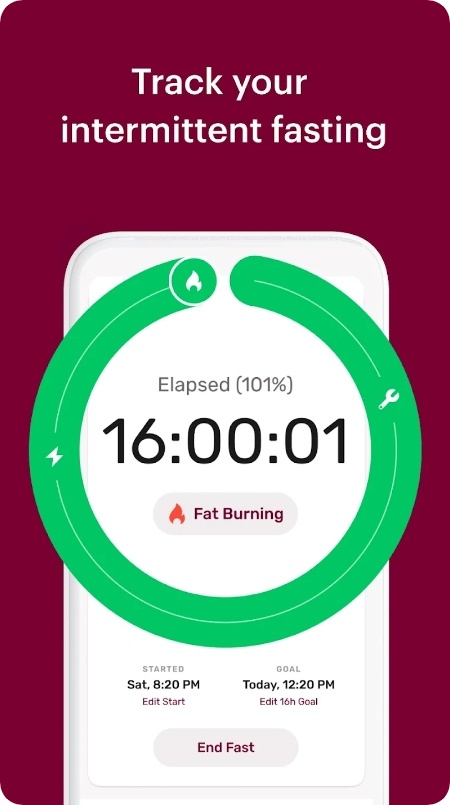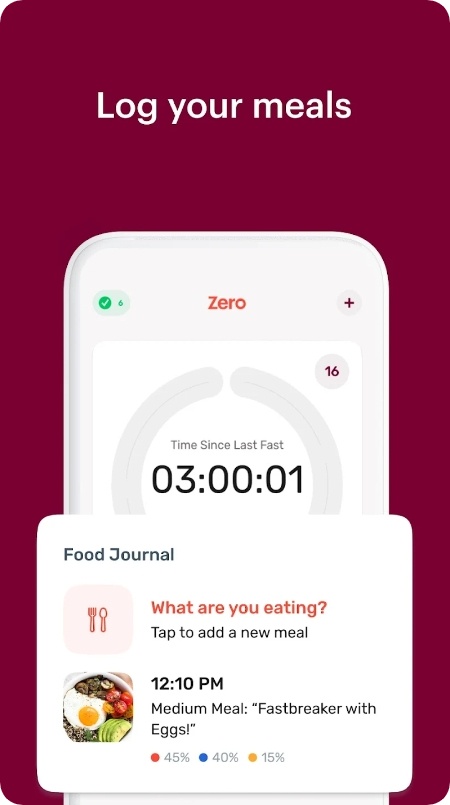 Downloads: 1M+
Customers rating:

(4 / 5)

You may also check: 7 Best TDEE Calculator Apps
FastEasy
And lastly, there's a handy tool for anyone looking to incorporate fasting into their lifestyle. First, let's talk about the tracker. This tool alone is worth saving the app for. It lets you set goals and monitor your progress effortlessly. Plus, you'll get to pick from various fasting plans, making it easy to find one that fits your lifestyle.
Using the timer is a breeze: one tap is all it takes to log the fasting cycle. Plus, the app lets you track your activity in a day. The water tracker is an incredible addition because it aids in tracking hydration goals, and is conveniently built into the app.
The fasting guide and insights on nutrition and health are incredibly helpful, too. You'll get to learn more about fasting and its perks, straight from the app. And a compilation of personal recipes is here to help you stay on track with your diet while still enjoying delicious meals.
The reports are easy to understand as everything is visualized in graphs and charts. You can clearly see the improvement over time, and the push notifications are always there to remind you when it's time to fast or eat.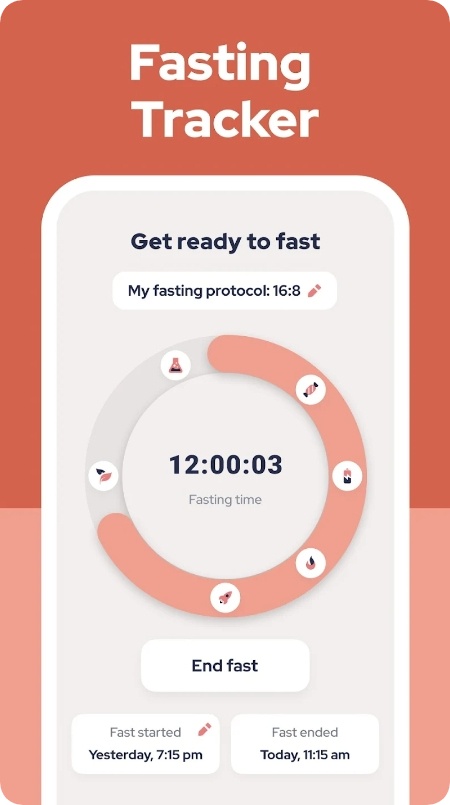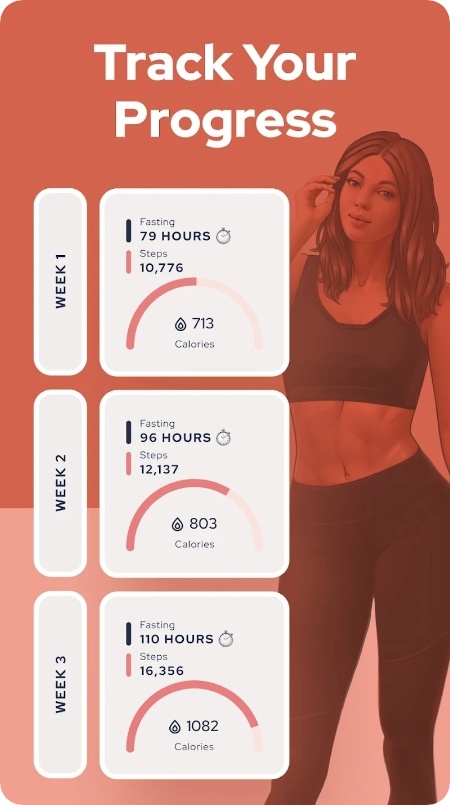 Downloads: 1M+
Customers rating:

(4.2 / 5)