Tired of overspending each month and never being able to save up? But what if we'd told you that handling your funds doesn't have to be a constant headache? And you don't even need to be a budgeting wizard to do so!
That's why we've gathered the best spending tracker apps for Android you could try. These handy apps not only monitor spending but also assist in creating and adhering to a budget.
From payment forecasts to bill-splitting, these apps have everything to up your financial game. You'll be able to see just where your cash is going and adjust your habits to reach bigger goals. Let's dive in!
Money Manager Expense & Budget
Let's start with an app that will make you excited to budget. It sounds exaggerated, but it's actually true. One of the main perks here is the ease of use Even if you're far from being a monetary wizard, it will be a breeze to record your personal and business costs.
Plus, you can generate cost stats and review in-depth financial data to see where your funds are going. The best part? The app breaks everything down by a graph, making it super easy to visualize everything. It even lets you view all the outstanding payments in one place.
There's also an ability to add a passcode for an extra layer of security (you can't really go wrong with these when it comes to funds). And with the ability to transfer between assets and set up auto transfers, you'll get to manage your costs with maximum efficiency.
You'll also get instant stats and the ability to bookmark frequently recurring expenses. There's even a restore tool, so no concerns about losing any important data.
Downloads: 10M+
Customers rating:

(4.6 / 5)

You may also like: 10 Best Accountability Apps for Couples
Splitwise
If you're tired of keeping track of every penny spent when hanging out with mates and fam, don't get past this app. It's a simple yet efficient tool to revolutionize the way you deal with finances and split expenses. You'll get to make custom groups for any splitting situation, which makes bill sharing more simple and fully fair.
Adding an expense is a breeze, too. The app covers offline entry and lets you use any currency needed. Expenses are backed up online, so everyone can log in, view their balances, and add expenses. You'll also get to add informal debts and rank them all for easy navigation.
Speaking of debts, the app will give you the easiest repayment plan regardless of its type. You'll get to adjust it by changing the recurrence and adding multiple payers if needed. The app will keep track of all the spending in general, and you'll get to view the info in simple graphs.
You can also categorize costs, calculate group totals, and even export to CSV. Cover photos for groups and custom avatars add a personal touch to the app, making it fun to use. Plus, with world-class support tea, you're always in good hands if you need help.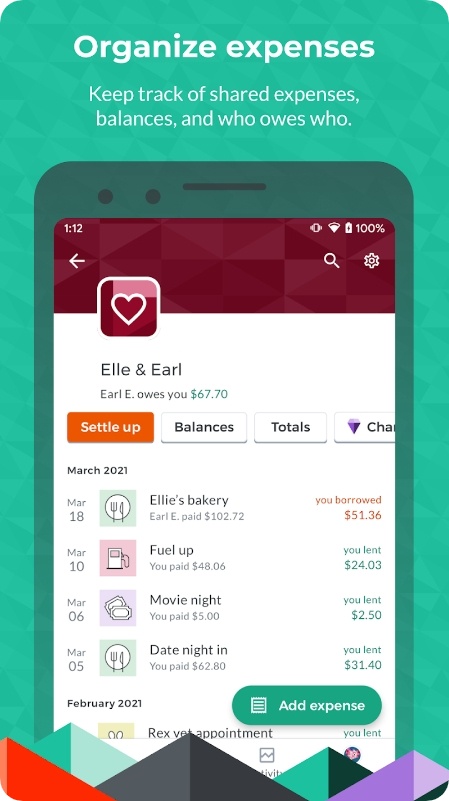 Downloads: 10M+
Customers rating:

(4.3 / 5)

Money Manager
Tired of feeling overwhelmed by your finances? This app is here to help. It's hand down one of the most user-friendly tools for spending management out there. What sets this app apart is its clear UI. Adding a cost is easy with just a couple of clicks, so no concern there.
The illustrative display makes analyzing your costs seem like child's play. The app will make a pictorial diagram showcasing your routines, making it easy for you to make monetary decisions.
With detailed reports for each period and category, you can easily see where your cash is going. It also comes with reminders for regular pay to ensure you won't miss anything. There's also a passcode to protect your data and keep it all the way secured.
Personalization is key in this app, as you can use ready templates or add your own categories. Choose any colors and entitle them to regulate the app just for you. And with support for multiple currencies, the app is ideal for those who travel or receive income in foreign currencies.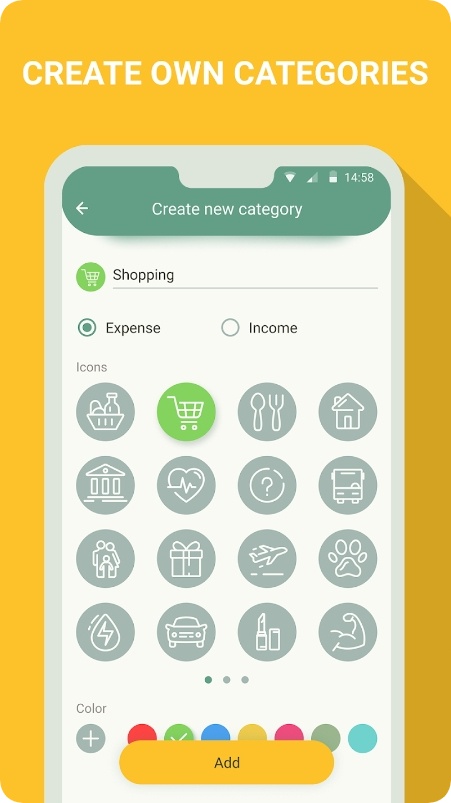 Downloads: 5M+
Customers rating:

(4.8 / 5)

Wallet
Do you know what's better than having money? Having a tool to actually manage it! And that's where this app comes in handy. It's a lifesaver for those who want to monitor their costs and savings.
First off, it covers automatic and secure bank updates. This means that you don't need to waste time tracking every penny you spend. No more manual entries, no more hassle. The app handles it all for you. It syncs your costs from over 3,5K banks worldwide and smartly sorts them, so you can have an accurate overview of where your bucks are going.
The app is also quite flexible. You can set up funding to fit your needs, whether you're in debt, saving for smth, or whatever else. You can adjust everything depending on your needs, which is super helpful.
Plus, you'll get simple graphs and summaries that point out your patterns and pinpoint areas where you could save up. You can also use planned payments for any kind of debt or goal. And all that while monitoring your bills and knowing exactly when they're due.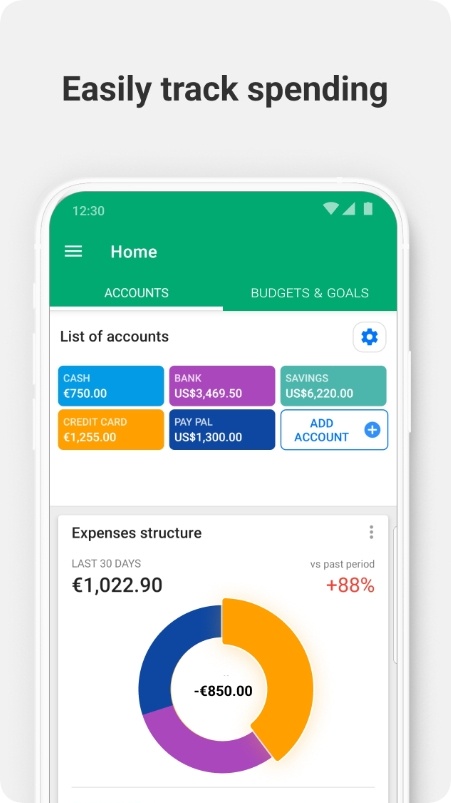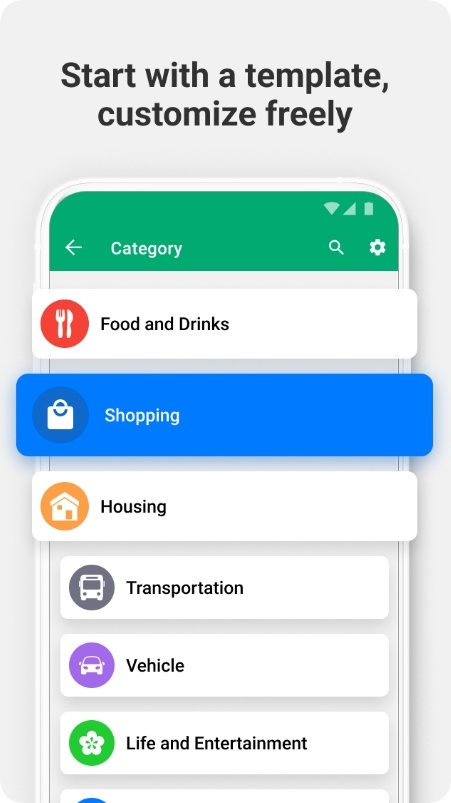 Downloads: 5M+
Customers rating:

(4.5 / 5)

Monefy
Have a feeling that your costs are out of control? Well, this app is here to help. It's an intuitive tool that makes spending tracking way more enjoyable. Adding new records is incredibly simple, and you can easily see your spending distribution on an easy-to-read chart.
With just a few clicks, you can input your costs and stay on top of your costs without any hassle. Plus, there's a chart that lets you see the spending distribution at a glance, or you can dive into detailed records and get a more in-depth view if needed.
The app keeps your info safe and secure through cloud synchronization. No need to worry about your sensitive financial info falling into the wrong hands. It takes one tap to make a backup as well, so no worries there.
It also helps you handle routine costs and lets you track in numerous currencies, making it ideal for those who love to travel or work abroad. There are also tons of handy widgets for the quickest access possible.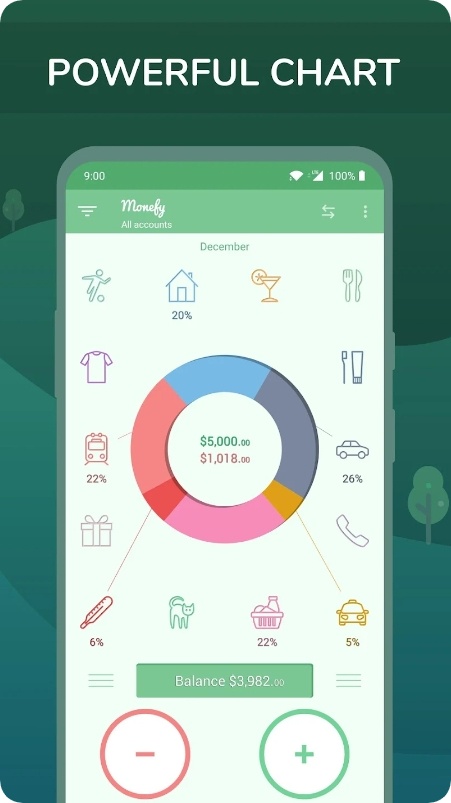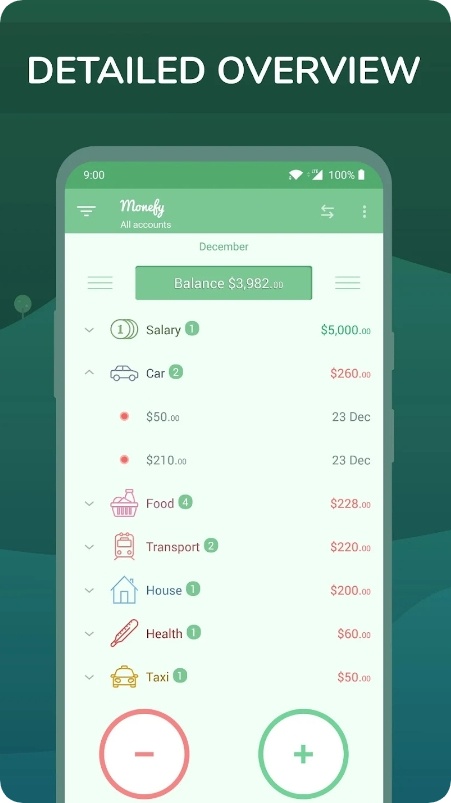 Downloads: 5M+
Customers rating:

(4.1 / 5)

Mony
This all-in-one monetary manager is an ideal solution for those looking to take control of their finances. It lets you easily monitor your income and costs using a powerful tracker. Not only does it support multiple ledgers and wallets for different financial objectives, but it also provides a clear picture of your funds.
Plus, the quick expense recording with pre-defined categories makes it super simple to monitor everything. This app is a mix of the tracker and allotment planner. This lets you handle bills and set goals right away.
You'll also get to alter the time period and cost types to fit your preferences. This lets you adjust your costs for a more personalized approach. And don't worry about it being too complicated: the UI is very easy to navigate.
If you're looking for insightful insights, the app has got you covered as well. The reports provide a full pic of your monetary situation. And let's not forget about the multiple pre-defined categories that make classifying your costs more convenient.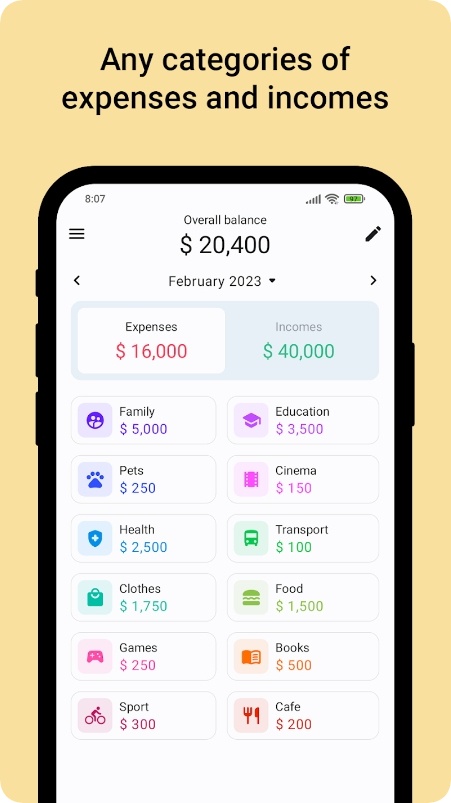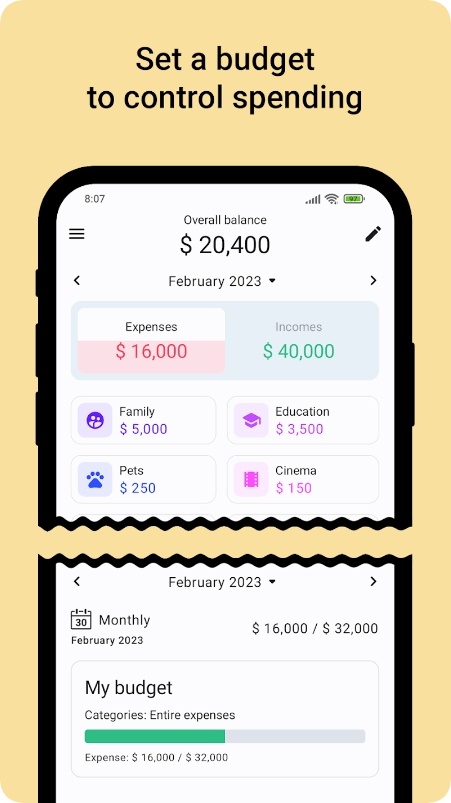 Downloads: 10K+
Customers rating:

(5 / 5)

Check also: 17 Best Bill Reminder Apps
Money Lover
If you're determined to keep your funds in check, this app might just be your amulet. With a vast scope of tools, the app makes it super simple to handle your costs.
One of the most notable tools here is the expenditure monitor. It lets you easily log all the spending, so you won't feel the rush to skip doing so. You can add transactions from the past or even add those that you're expecting. And if you want things to get even more simple, just link your bank acc for automatic tracking.
But that's not all. The app also covers a planning tab for boosting your efficiency even further. Whether you need to plan for a special event or want to monitor recurring bills, this tool got you covered.
As for the reports, these are easy to comprehend and help to point out your routines. You can also use thee to monitor money flow and check your balance in general. You can even pick between daily, weekly, quarterly, or custom viewing options.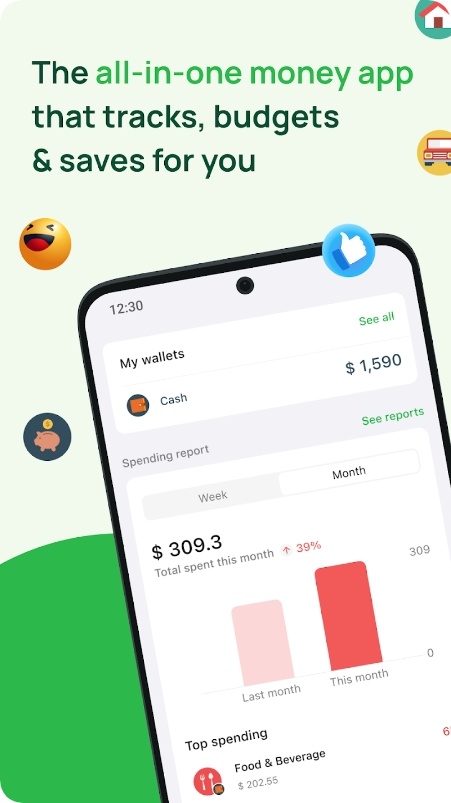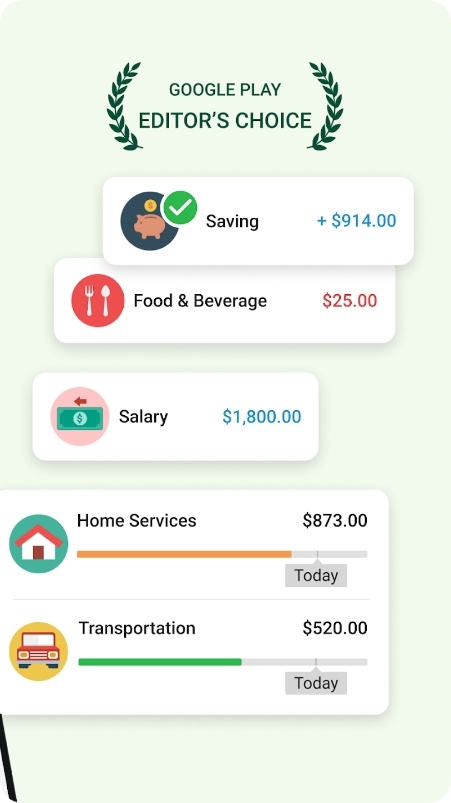 Downloads: 5M+
Customers rating:

(4 / 5)

Spendee
It's a simple app to help you operate your costs with minimal effort. The good thing about this one is that you can link it to all your online banking. It works with multiple apps, e-wallets, and even crypto accs, so you're all the way covered.
Gone are the days of logging in to multiple accs and trying to remember which one has the cash for what. The app puts it all in one place, so you can see your wealth grow and optimize it for your situation.
Plus, it's quite easy to categorize and analyze your costs here. You'll get a clear, full pic of your patterns, thanks to clever infographics and personalized insights. You'll never be in the dark about where your cash is going.
Above that, you'll get to make budgets, add plans and get real-time notifications on your progress. There's nothing more satisfying than seeing your bank acc grow, and with this app, you'll be on top of your funds like never before. Plus, with secure data sync, you can rest easy knowing your info is kept private and confidential.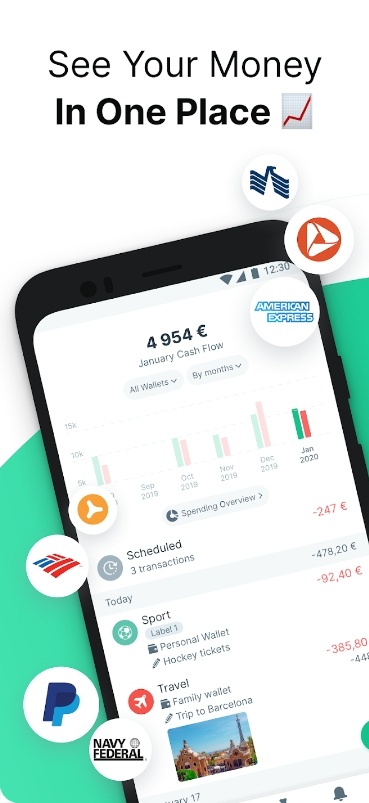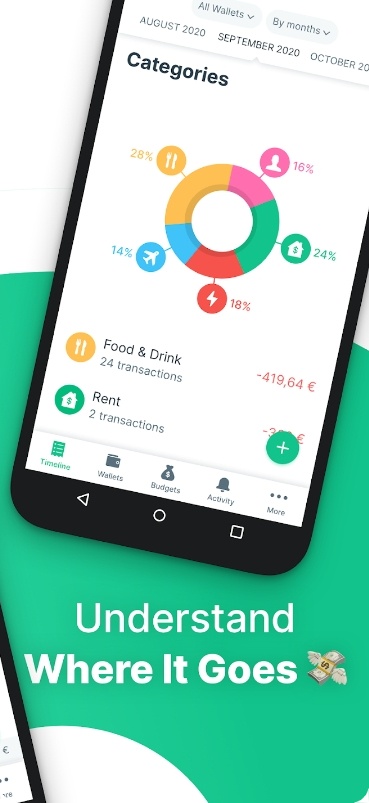 Downloads: 1M+
Customers rating:

(4.5 / 5)

Goodbudget
This app is an absolute gem for all those who live a fast-paced life but still want to keep track of their finances. The tracking instrument is lightning-fast here: no more wasting precious minutes trying to figure out where your cash went.
You can check your envelope and acc balances instantly, and the app suggests smart payee and class recs, making it an all-around efficient experience. It also lets you save for the future by setting all kinds of goals and making envelopes. With scheduled transactions and envelope fills, you will never miss a deadline, and the option to split costs makes life so much easier.
There's also a handy location-based widget. It only takes three touches to enter a cost. You'll also get to transfer funds between envelopes and accs, simplifying the process even further. And let's not forget about the insightful reports that analyze your routines.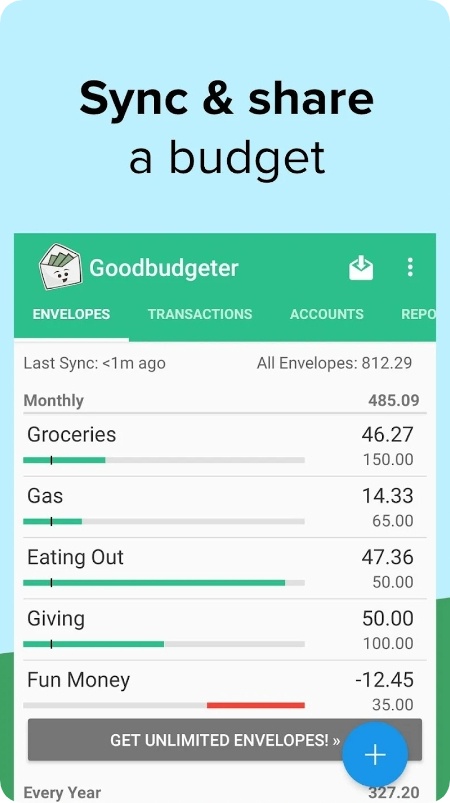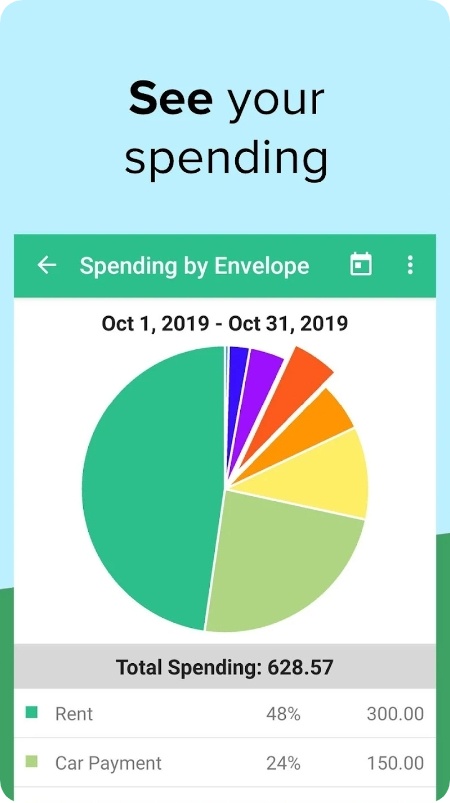 Downloads: 1M+
Customers rating:

(4.3 / 5)

YNAB
This app is here to prove that handling your funds doesn't have to be a messy, stress-inducing chore. It's a godsend, really! No more messy bank statements or guessing if you have enough to pay the bills. With this app, you can securely link all your accs and see a full pic all in one place. You'll never miss a beat again!
You'll get to see the shifts to your budget in real-time across all the devices needed. No more arguing with your partner about who spent too much money on the latest gadget. This app has got your back!
And what about those pesky loans? The app will motivate you to pay off your debts with its automatic interest and time-saved calculations. You'll be debt-free in no time! The app also helps to turn your dreams into reality. Make custom categories for big and small plans and see your progress at a glance.
And if you're a numbers geek, you'll love the reports covered by this app. These will visualize your costs down to the cent. Plus, the customer support team is award-winning and super-friendly. They'll answer any questions you have via email or live chat.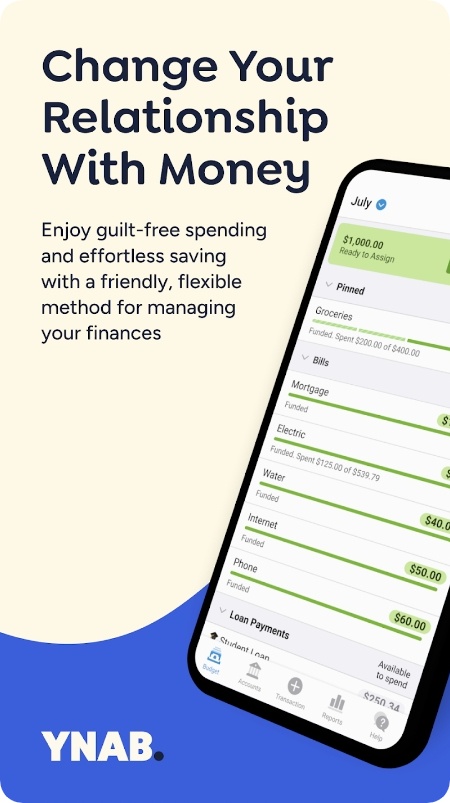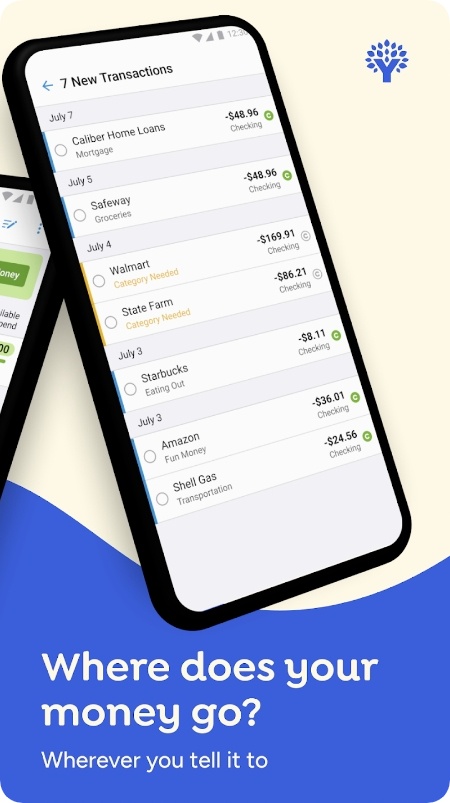 Downloads: 1M+
Customers rating:

(4.5 / 5)

Zenmoney
If you're someone who struggles with monitoring costs, give this app a try. The app brings together data from all of your accs and cards.
You'll no longer have to hop between different apps or websites to figure out your habits. Plus, the app categorizes each of your costs, which is a huge help in analyzing the way you deal with money.
Another great tool is spending stats. It offers in-depth insight into how much money you spend and needs for regular bills and other things. The app breaks everything down, so you can see how much you've spent on coffee, travel, beauty, and all that. This tool is a real eye-opener as it helps to comprehend where you can cut back on costs and put money into savings.
Plus, there's a payment forecast that spotlights excessive or costly sub-packs and reminds you of all the important recurring payments. It helps a lot if you want to avoid late fees or unwanted charges.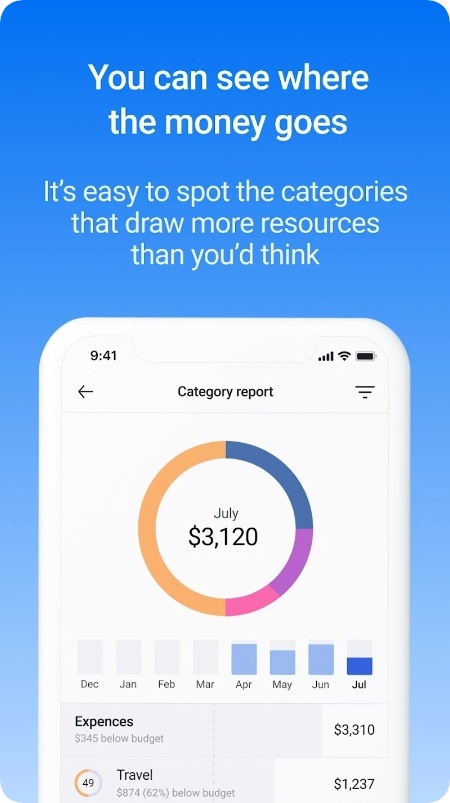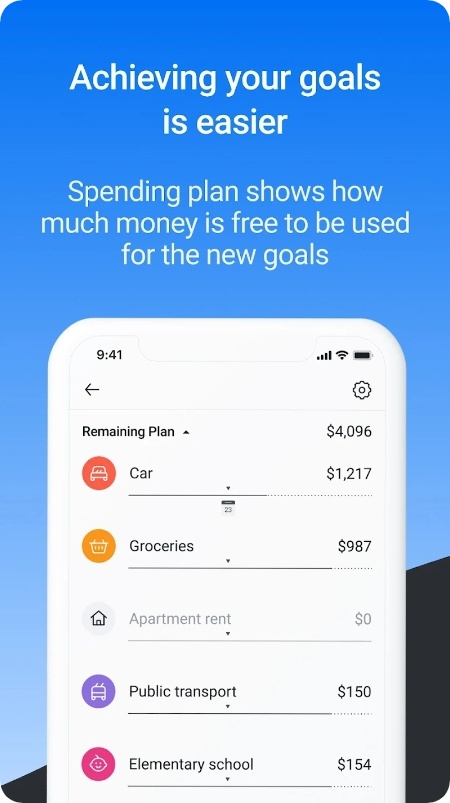 Downloads: 1M+
Customers rating:

(4.5 / 5)

You may also check: 15 Best Android Apps to Make Money Fast
TrackWallet
To wrap up, there's an app to help you handle your costs on the go. If you're tired of trying to manage your costs on a scattered, unorganized mess of a system, this app is your cup of tea. It's rich in features yet completely beginner-friendly, so you won't have any problems or barriers using it.
The app will help to operate all your accs, whether it be cash, bank accs, or credit cards. The best part? You can use numerous currencies with live or custom exchange rates! No more struggling to convert all that in your head.
But that's not all, it also covers a budget manager for forecasting your earnings and costs based on spending patterns. You can add multiple budgets and allocate a specific amount of money for objectives and all that. This makes it easier to quit overspending and stick to plans.
The app also reviews your costs and sorts them by type. Thus, you get a clear overview of every field and subcategory. Your data privacy is also a top priority, and you can turn o the backup tool if needed. You can even lock the app for extra protection.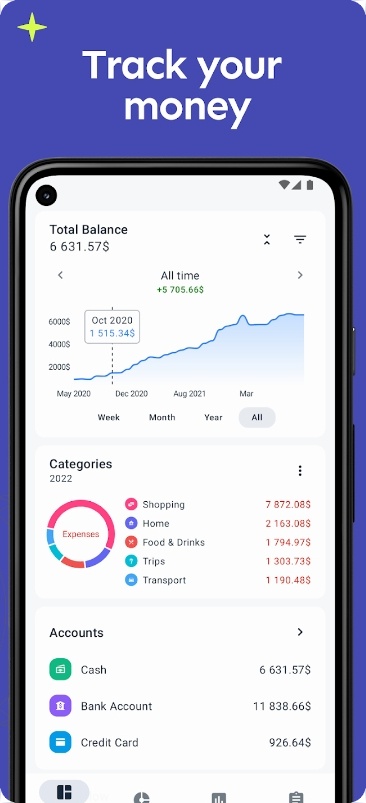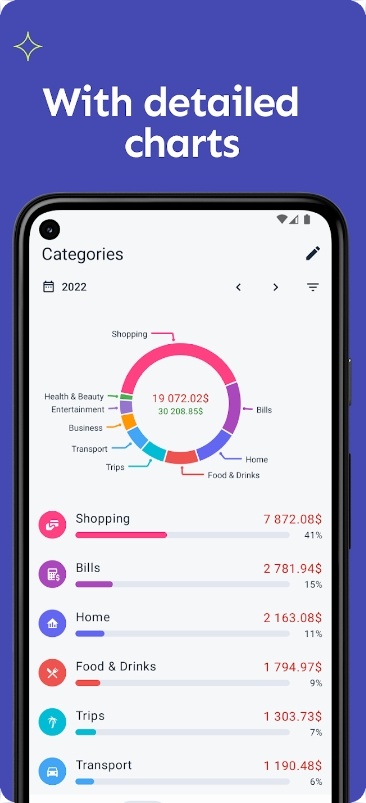 Downloads: 50K+
Customers rating:

(4.8 / 5)