Can you imagine how sometimes it can be monotonous to learn a great number of foreign words? In this case, we would like to recommend an excellent word-memorizing tool. Ling App offers a wide range of languages and makes your study process funny and entertaining.
One of the major advantages of this app is its easiness of usage. It does not require a long registration procedure, as you can log in via Google, E-mail, or Facebook. The homepage of the app shows you various topics for learning and enables you to choose your language level.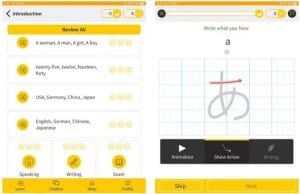 For the ultimate words learning, Ling App offers you to use flashcards with words and images, puzzles, surveys, and interactive games. The proposed mini-games allow you to keep in mind all the words by connecting them with pictures.
Besides, the app helps you to increase your speaking skills, you can record your pronunciation, check its clearness, and speak with natives as well.
Plus, if you want to examine yourself, you can take an exam, which requires placing the words in the correct order. In case of any difficulties, you can use hints.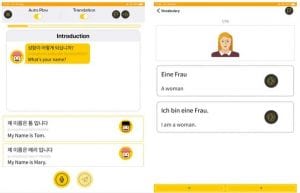 In the following section Chat-bot creates an automatic dialog and offers answers with translation and audio integration. What is more, the incorporated Writing game hones your writing skills and learns how to write letters.
On the profile page, you can easily monitor your results from the beginning of the app usage. The interactive design of the app complements the main idea of the app and makes its interface quite easy to manage.
The app features a reliable technical support service. If you have any problems, you can easily write a customer assistance. Ling App contains free access, but if you want, you can buy a Premium version at an appropriate price.