Hey people! Tonight I want to tell you and a fun app for all karaoke fans. Let me share my positive experience with this fantastic app that combines offline karaoke, a multimedia collection of MIDI files with lyrics, and a fun guessing game.
You may also like: 15 Best karaoke apps for Android
One of the standout features of Midifun is that it provides you with hundreds of songs right after you download and install the app. This means you don't have to go through the hassle of searching and downloading individual songs. The convenience of having a substantial song library at your fingertips is a significant advantage, and it makes Midifun stand out among other karaoke apps.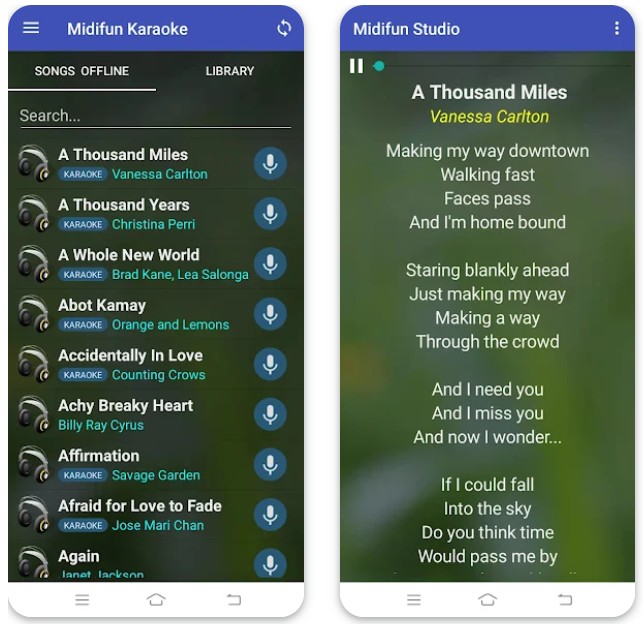 Midifun is not just a karaoke app; it's also a guessing game. As you sing along, you can test your knowledge of songs by trying to guess the title based on the displayed or played lyrics. You are given four options for each song, and you earn points for every correct answer.
The excitement of trying to guess the song quickly and accurately adds an extra layer of fun to your karaoke experience. Be fast, and you can earn bonus points and beat your own records in no time.
You may also like: 10 Best Lip Singing Apps for Android
MIDI, which stands for Musical Instrument Digital Interface, is the underlying technology that powers this app. It's a fantastic way to enjoy karaoke and have a gamified experience. Plus, Midifun is compatible with Bluetooth microphones and headphones, making it versatile and easy to use with your preferred audio equipment.
If you have specific song requests, the developer is open to suggestions and continuously adds new features to this free app. It's great to see a developer who listens to their users and actively works to improve the app based on feedback.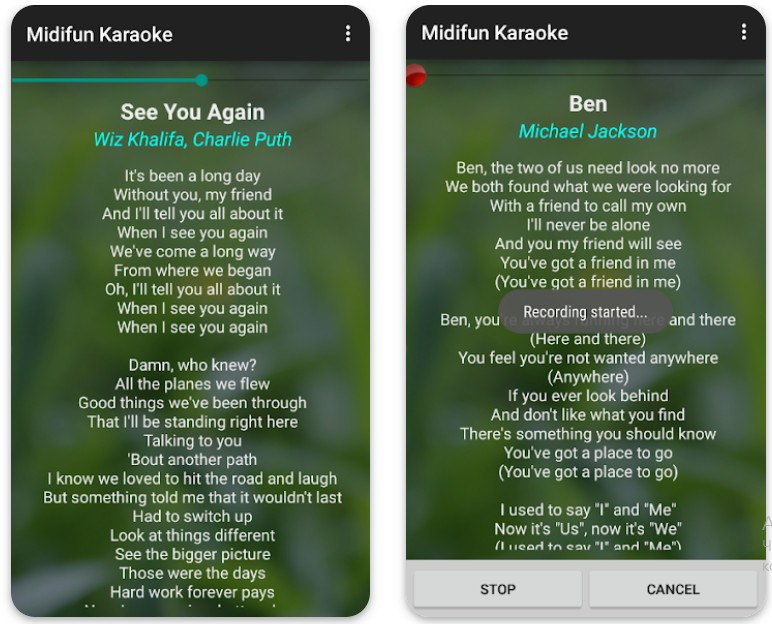 One thing to note is that the size of the lyrics font can be adjusted in the app's settings, giving you the flexibility to tailor your karaoke experience to your liking.
Karaoke apps have revolutionized the way people engage with music, turning ordinary gatherings into lively, musical experiences. These applications allow users to transform their smartphones or tablets into portable karaoke machines, providing a platform for users to sing along to their favorite songs.
With an extensive library of songs spanning various genres and languages, karaoke apps cater to diverse musical tastes and preferences.
Users can choose from a vast collection of popular tracks, ranging from classic hits to contemporary chart-toppers. Many karaoke apps also feature real-time lyrics display, synchronized with the music, aiding users in staying on beat and hitting the right notes.
Social features enable users to record their performances, share them with friends, or even participate in online singing competitions, fostering a sense of community among karaoke enthusiasts.
Additionally, karaoke apps often incorporate customizable features such as pitch correction and voice effects, allowing users to enhance their vocal performance and experiment with different styles.
Whether at home, at a party, or in a karaoke bar, these apps have democratized the karaoke experience, making it accessible to anyone with a smartphone and a passion for singing. Karaoke apps have truly transformed singing from a stage activity to a widespread, interactive, and enjoyable pastime for music enthusiasts worldwide.
You may also like: 11 Best Autotune Apps for Android
In conclusion, Midifun is a user-friendly, engaging, and continually evolving with user input. It's a must-have for karaoke enthusiasts and music lovers alike. Thank you, Midifun, for bringing karaoke and entertainment to a whole new level on Android!